Disclaimer
I am in no way telling you to go out and eat Gyromitra, but, like it or not, they are a traditional food eaten to this day in some places.
As people continue to eat them, with poisonings still occurring regularly from improper cooking, I've tried to present relevant details on these mushrooms and, most importantly, a tried and true method for cooking them that can help those who choose to eat Gyromitra each year, regardless of conflicting information on their edibility, not get themselves or others sick.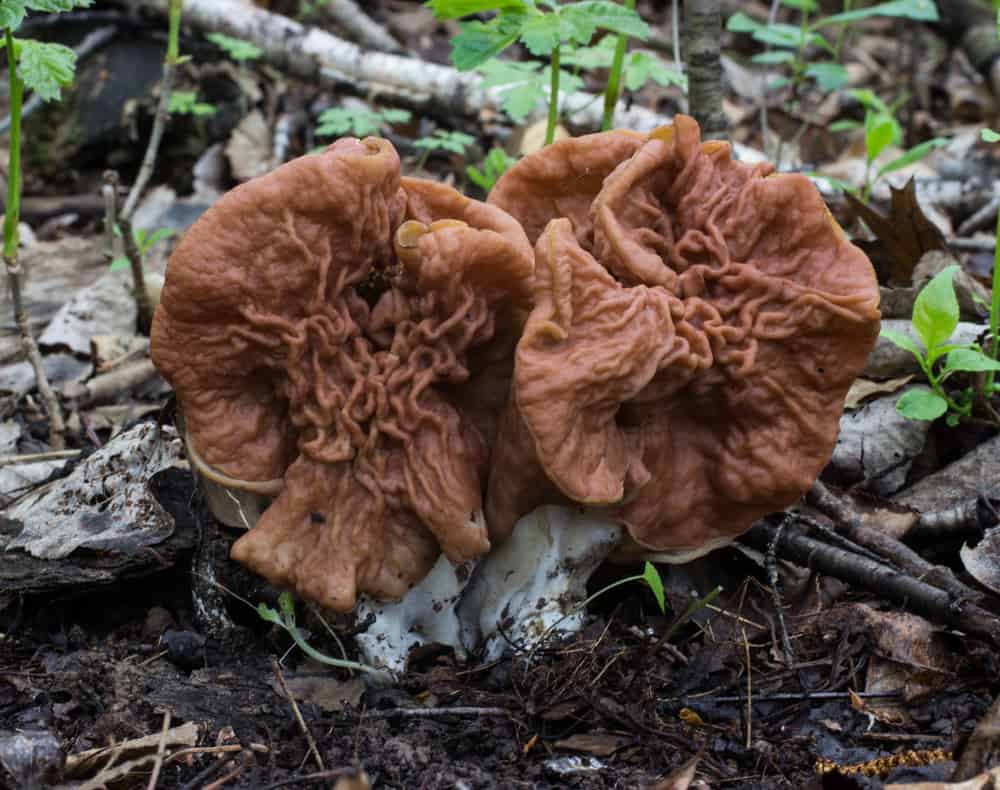 Original text
Behold Gyromitra, the false morel, scourge the mushroom hunters and terror of Spring!
I can still remember the first time I saw one, I felt insulted. I knew they were deadly from seeing a picture of them with a skull and crossbones in a guide, even seeing them was scary.
I looked at them like some sort of desecration of my morel patch, an abomination. I remember stomping on all of them with angry fear, damn right I was going to destroy every single one of them. I was even uneasy cleaning them out of the soles of my boots.
Later that year I saw something strange after I'd put up a couple posts on poisonous mushrooms to help round out the collection of basic ID posts on mushrooms I've done for this site.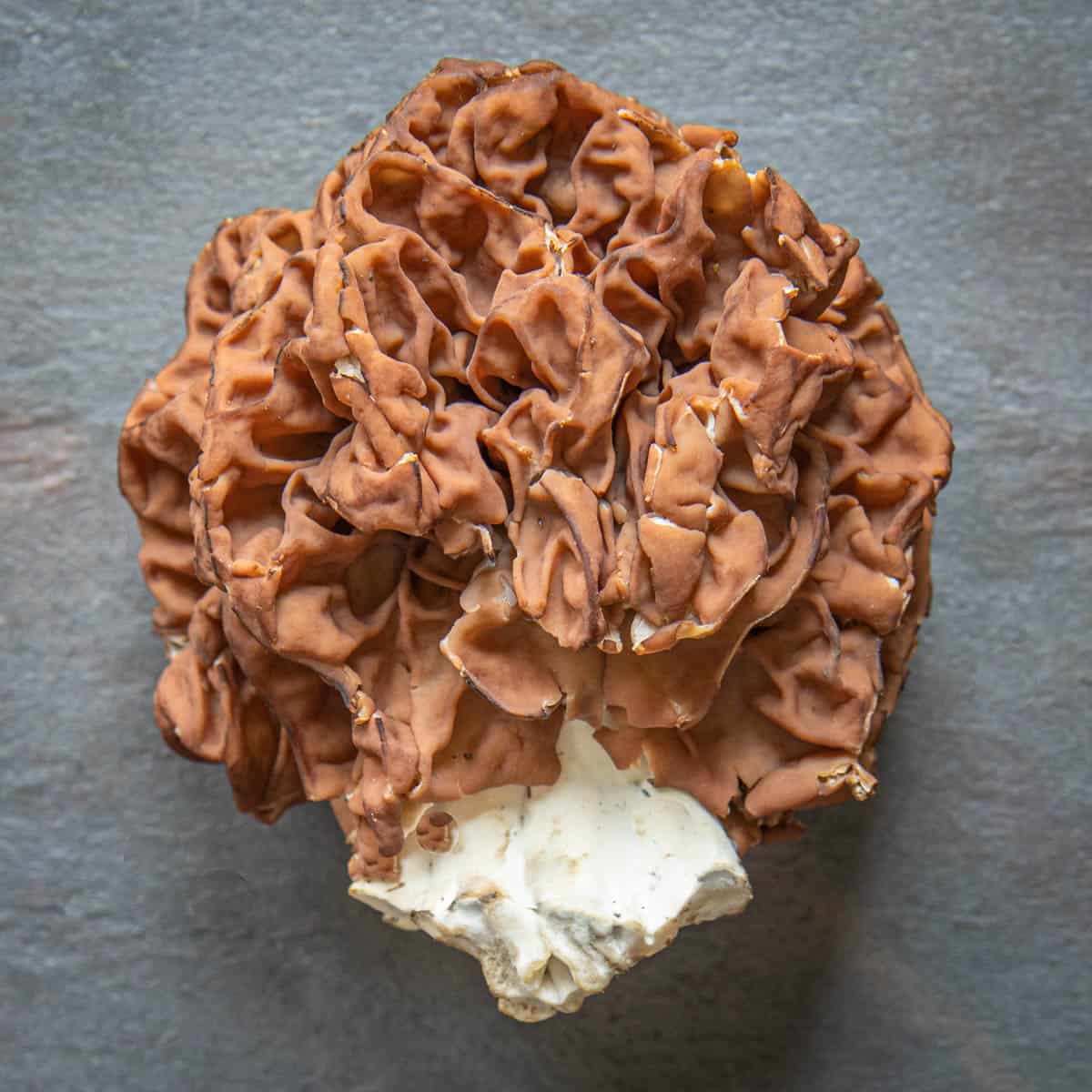 The first post I put up was a basic one on Gyromitra, the family of mushrooms known casually as false morels, death verpas, false peckerheads, beefsteak mushrooms, brain fungus, reds, etc, with a couple pictures and paragraphs.
I would expect the post to get more traffic during morel season, which it did, but when I looked at keywords people were using that led them to the site I was shocked, there were a number of combinations like the following:
"False morel, how to eat/cook"
"Best way to eat false morel, beefsteak mushroom"
"Cooking/eating brain fungus mushroom"
"Best false morel recipe"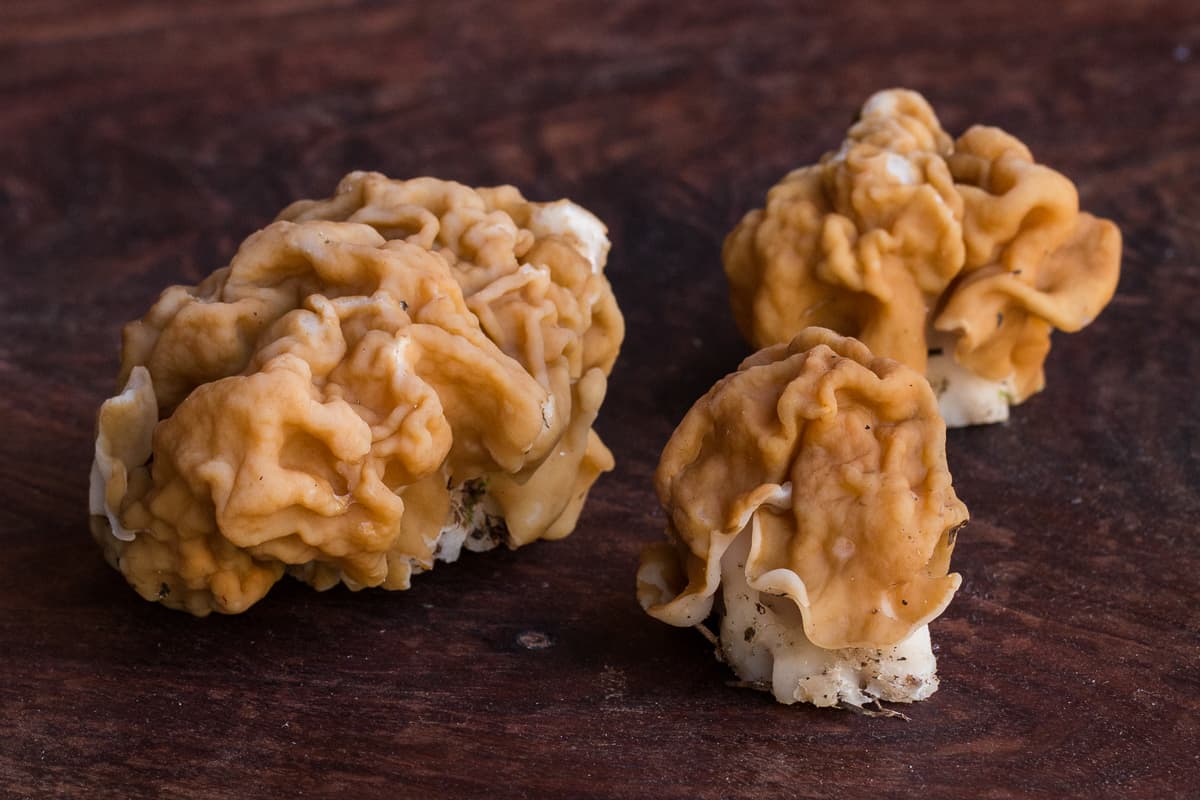 People have eaten false morels around the world, for a long time
Even a few searches for eating a poisonous mushroom would be a little odd, but the kicker was the geographic density of the searches. The vast majority of the searches for cooking Gyromitra were coming from different parts of Michigan, and most of them on the Upper Peninsula. Now I was curious.
I didn't understand, shouldn't they all be dead? What was going on?
About this time, I lost myself hunting morels and forgot about the Gyromitra for a couple years, until I had a conversation with my friend Patrick, the most experienced mushroom hunter I know, and a well connected member of our local mycological society.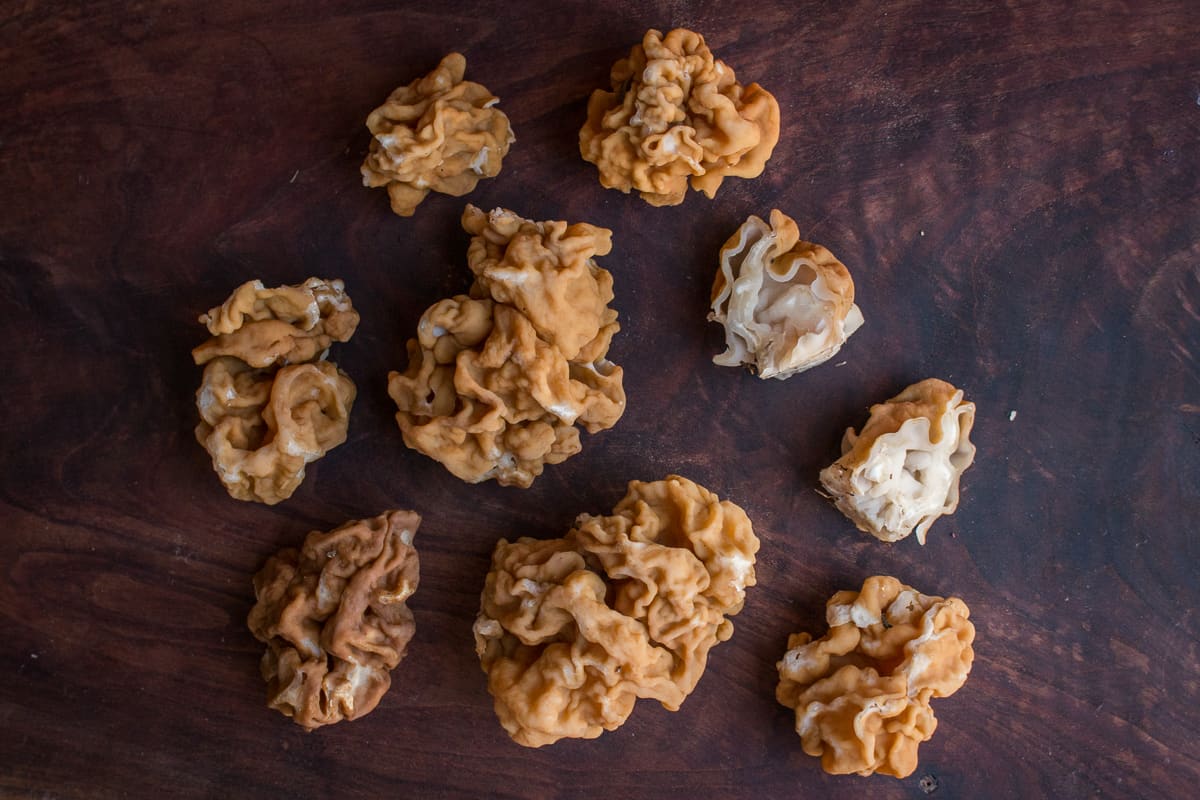 Consumption in Europe
He told me the story of a friend, an old doctor of Finnish descent, and the family doctor to his wife during her chThe doctor, like a lot of people close to their European ancestry, loves hunting his mushrooms.
The doctor's favorite were Gyromitra. He'd told Patrick stories of markets in Finland where dried Gyromitra are piled up to the ceiling for sale, and to boot, Patrick's wife can remember dining on fried Gyromitra in her youth at the doctor's house with her family.
By Patrick's wager, the doctor has probably eaten the mushrooms every year for around 50 years, and similar stories are not hard to find doing a simple internet search.
Lorchel and Murklor
A little deeper search, using terms like Murklor (a Scandinavian catch-all term for Morchella, Verpa, and Gyromitra) will further illustrate historical consumption in Europe, and....they even used to be sold canned in Germany, where they're known as Lorchel. The problem, is that there's conflicting evidence to the tenability of being a long-term false morel eater.
The alleged problem is that Gyromitra contain a compound that gets metabolized into monomethylhydrazine in the body, which is a carcinogenic compound of rocket fuel that is both contained in the flesh of the mushroom, and apparently gets cast into the air during cooking.
This makes false morels the only mushroom I'd heard of that you could get sick from cooking, even if you don't eat them. As fascinating as the natural bio-synthesis of fuel components in mushroom form may be, they're probably not that good to have in your body.
This sounds pretty cut and clear, false morels are bad, obviously, I mean they're called "false morels", right? But, if these mushrooms are truly as deadly, dangerous, and as terrifying as we make them out to be is hotly debated in the mushroom community.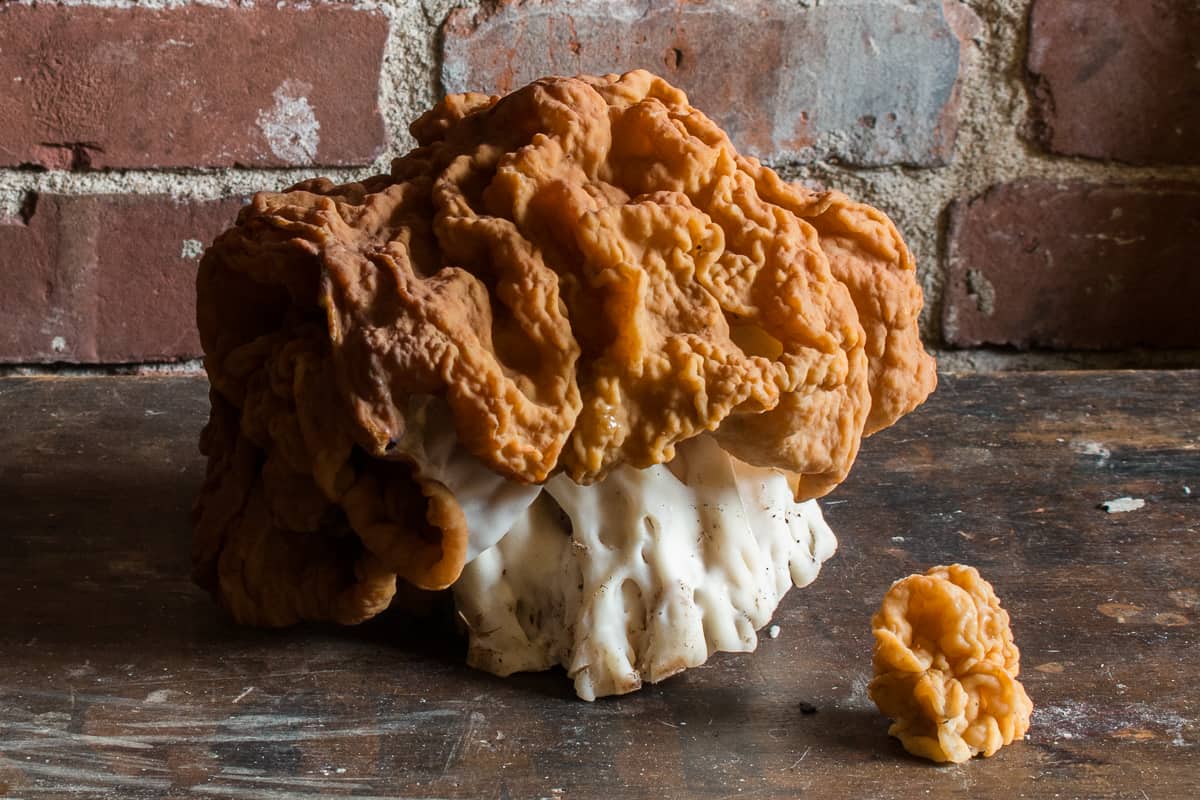 Amounts of Gyromitrin Can Vary Greatly Between Species
The danger seems to be that the toxin gyromitrin from the mushrooms builds up in your body. To further confuse and compound things, different species of Gyromitra can have very little of the toxin gyromitrin (see G. montana and G. caroliniana), or a lot.
This accounts both for deaths involving eating the mushrooms, and for the anomaly of long time, habitual eaters like our friends in the Upper Peninsula. Now we're getting somewhere.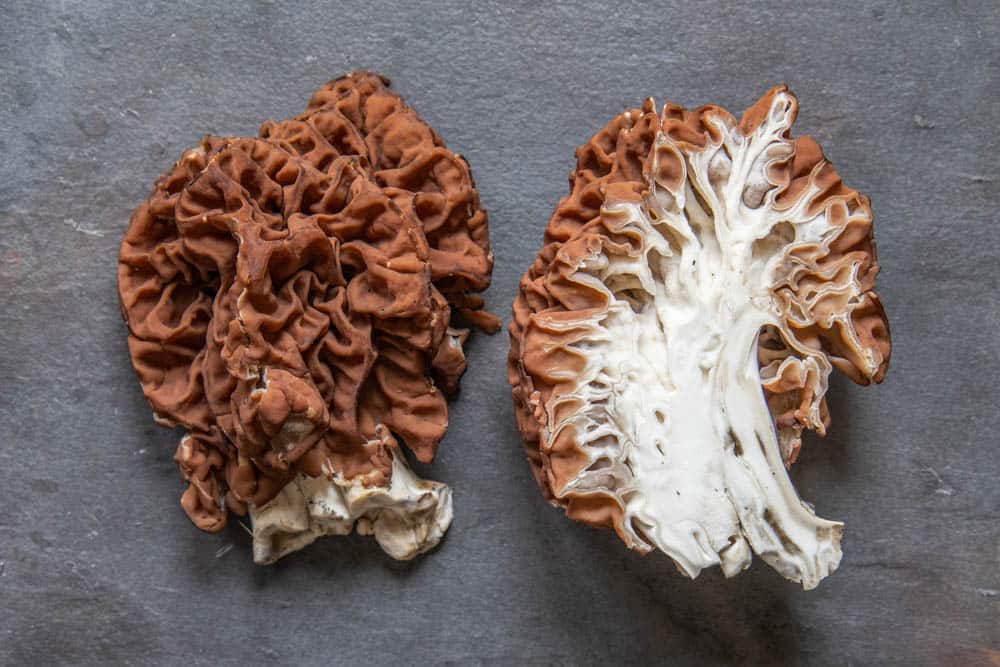 Identification
Gyromitra can look similar to morels for people just starting to hunt mushrooms, but there's two key points that will help you separate them in the field.
Gyromitra have folds, not pits like morels in their caps.
While morels are hollow, false morels are not, as you can see in the above picture.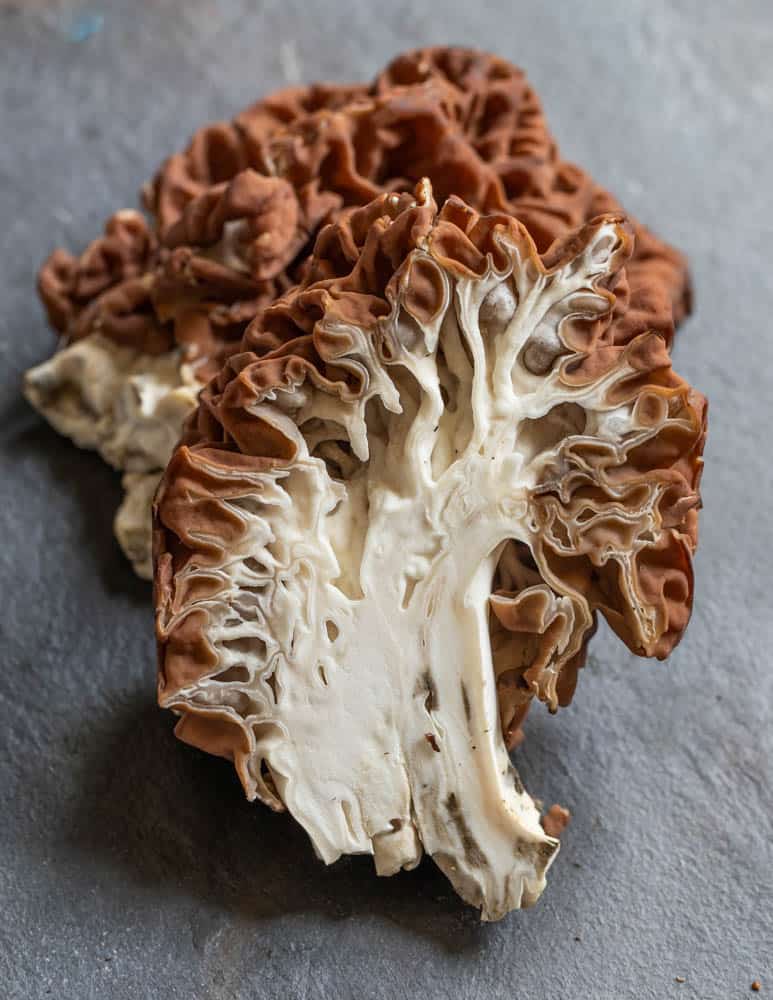 Morphology / shapes
There's a lot of variation with these mushrooms. Here's some really helpful images put together by Wes Lee, a member of False Morels Demystified.
See a link to the popular morel myth-busting Facebook group at the bottom of the post. I'd suggest copying the image below or saving to your phone to help with your identification.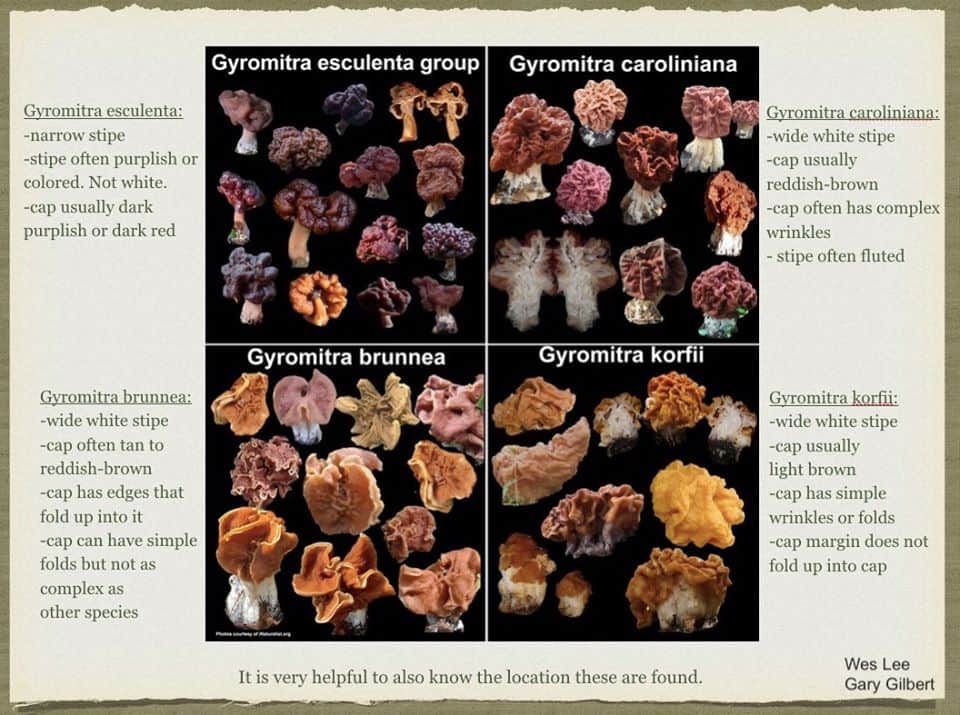 Edibility
In an article for Fungi Magazine, Mycologist Michael P. Bueg writes the following synopsis regarding G. caroliniana and brunea (link to the whole article at the bottom of this post).
"I conclude that Gyromitra
caroliniana and Gyromitra brunnea
(the two species are easily confused)
are probably no more dangerous to
consume than Morchella species"
According to Bueg, Gyromitra are, at the same time, edible, delicious, and dangerous, but it all has to do with the exact species of Gyromitra being consumed. It appears that some Gyromitra could contain levels of gyromitrin so low they're completely edible, some, quite the opposite.
As of this writing, we don't really know for sure the exact levels of gyromitrin in each species, but, from what I can find, (and this should not be seen as a suggestion to eat any of them) G. caroliniana, brunnea, and montana appear safer than more well-known and eaten Gyromitra esculenta.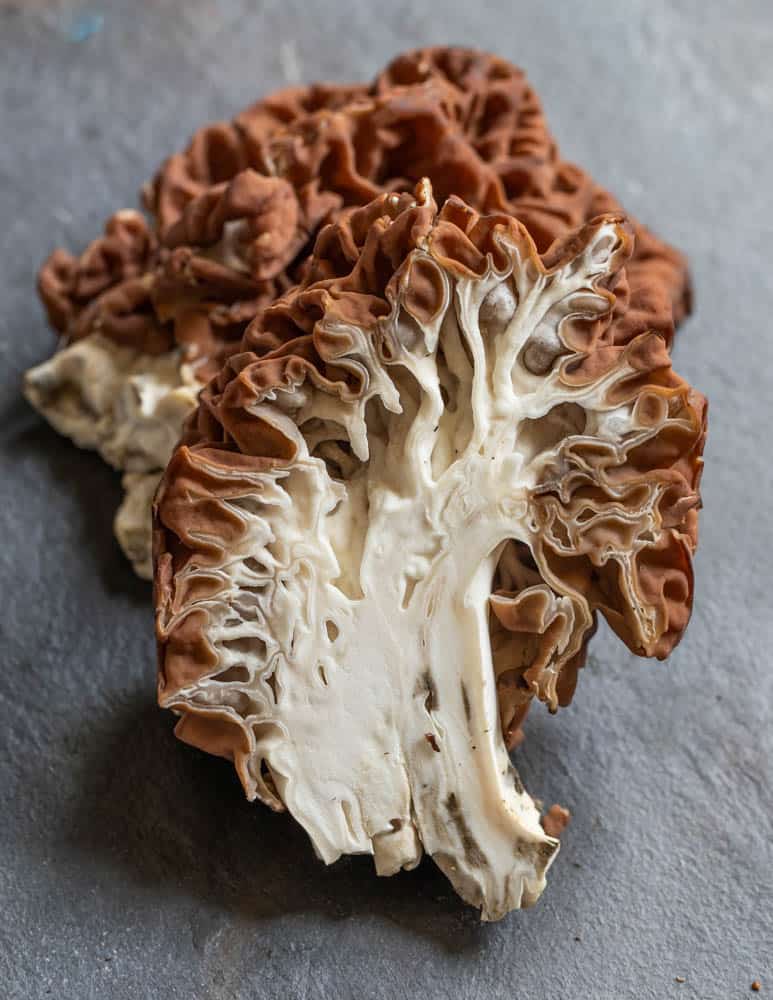 Gyromitra esculenta can be dangerous
For the most part, Gyromitra esculenta, if it isn't confusing enough having the last part of it's name as a word meaning edible, is reputed to be the most dangerous as far as the concentration of Gyromitrin/hydrazine.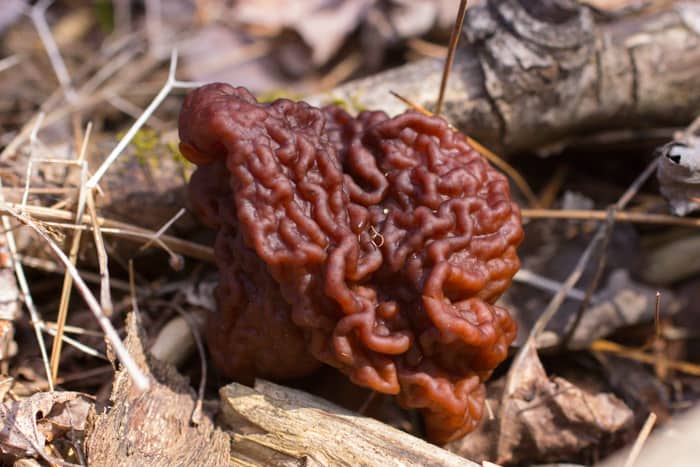 Even more confusing, is the fact that G. esculenta could possibly be the most widely consumed Gyromitra in the world, as countries that have historically eaten the mushroom are known for consuming the particular species.
While some Gyromitra experts will say, yes, all the gyromitra are edible, and some like Gyromitra caroliniana don't even need to be boiled before eating, all will agree G. esculenta always needs to be boiled if it's going to be eaten.
Personally, I'm probably only going to eat caroliniana, brunnea, and korfii, but when I do, it's in small quantities in the spring.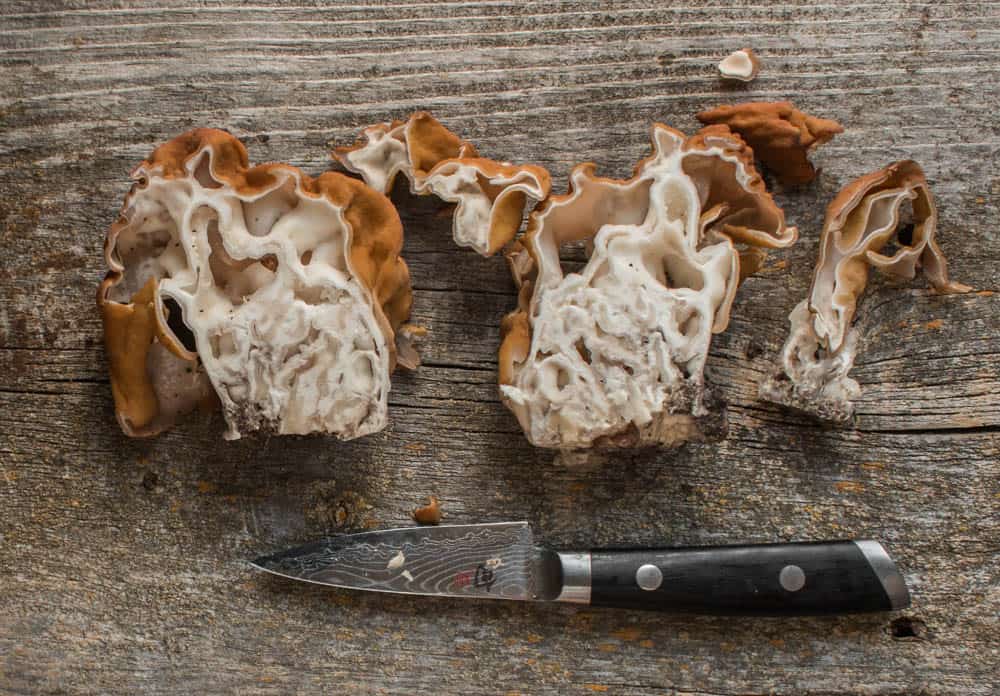 Cooking, Eating, and Safety
Taking all that into account, and going against just about every ounce of logic my brain had, I knew my curiosity wouldn't be sated until I tasted one, so I told my friend Alex, a local mushroom hunting savant to be on the look out for them.
A few days later she came around and I had myself some false morels, along with a few sarcastic jeers.
I waited until I had a day off, opened a window, turned on the fan and the hood vent, brought a pot of salted water to a boil with the mushroom, put a lid on top of the pot and tied a rag around my face for fear of the air-borne hydrazine killing or blinding me.
I went and sat down in the other room while the Gyromitra simmered away. After a few minutes I could start to smell something in the air, it smelled nice and mushroomy, but that was all.
My friend Patrick said that he had walked into the doctor's house while he was boiling Gyromitra and could smell the rocket fuel in the air, so I wanted to know if it was true, again, maybe the varying levels in mushrooms can smell different when cooked, I don't know.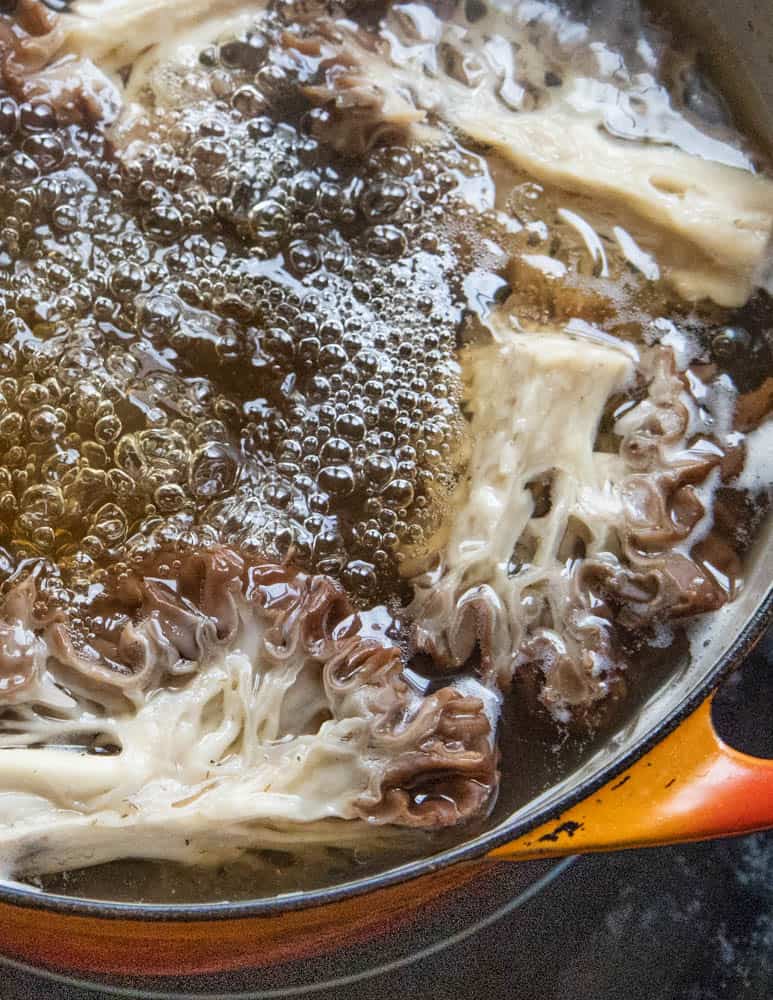 After I could tell my little false morel was totally cooked through, I took it out of the pan, threw away the water, dried it thoroughly (very important since water gets trapped in the cavity of the false morels and will pop and explode in a hot pan), then I fried it in butter and ate it alone, in a dark corner, with a napkin on top of my head to hide my shame from god.
How do they taste?
Here's the thing about forbidden fruit, it isn't usually forbidden because it tastes bad. I would be lying if I said eating the Gyromitra didn't taste very good, these were like eating a giant morel, although milder from the par-boiling.
The folds inside the stem that are usually a hollow in morels catch and hold all sorts of juices, tasting like tender layers of morel-flavored ruffles. You might be wondering why I would describe how to cook a false morel, below-the answer brings us back to what lead me to these in the first place.
People will continue to eat false morels whether you, me or other mushroom hunters think they should or not.
As there's a lack of information on the subject I wanted to provide a template with precautions and clear directions people could find to reference, since they're one of the most common culprits of mushroom poisoning in North America.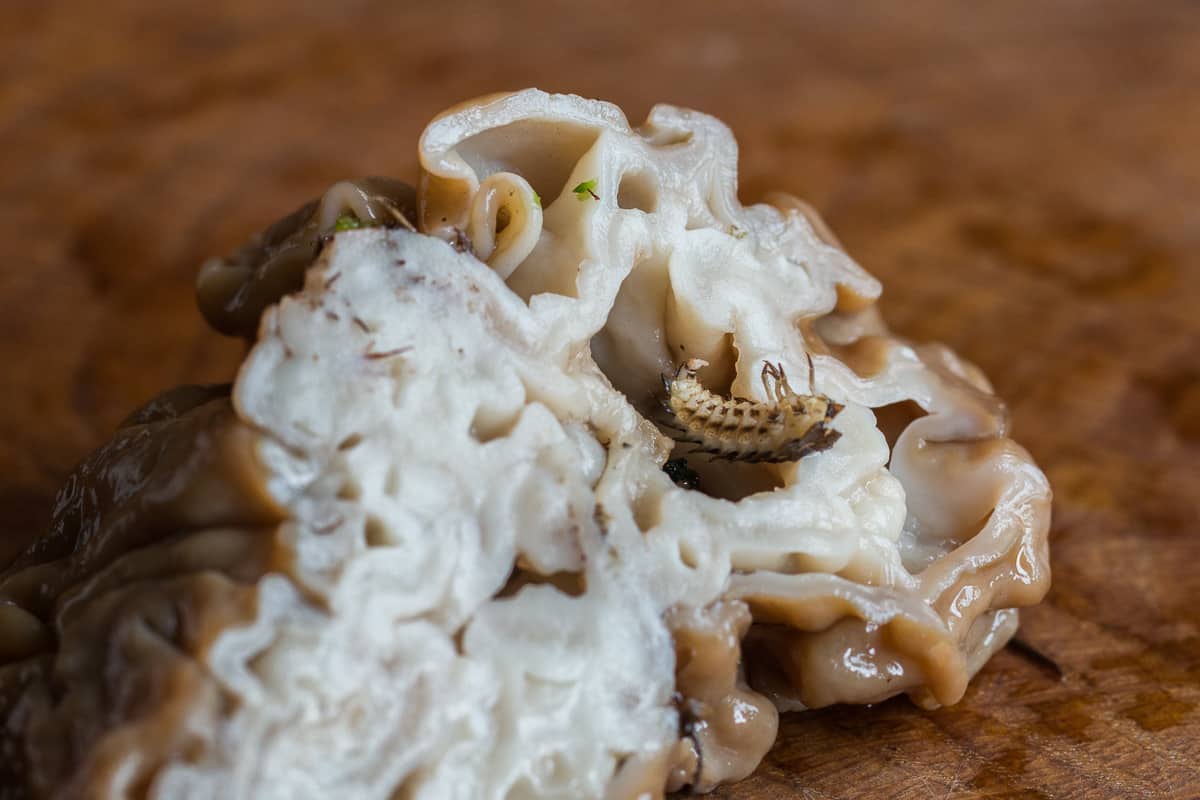 Cleaning
Knowing your species, etc, is only half the battle here. When it comes time to cook them, there's another learning curve---cleaning. Gyromitra korfii that I've eaten have lots of folds in their pileus and stem.
Those folds inside can also be infuriating to clean. Like hen of the woods they can function as shelters for bugs, and even in pristine mushrooms.
I regularly have to rinse and look over mushrooms after blanching to make sure there aren't any cooked slugs, sticks, dirt, or other debris. Yummy, right? After blanching, cut them in half or into large pieces depending on size and inspect them, then proceed from there.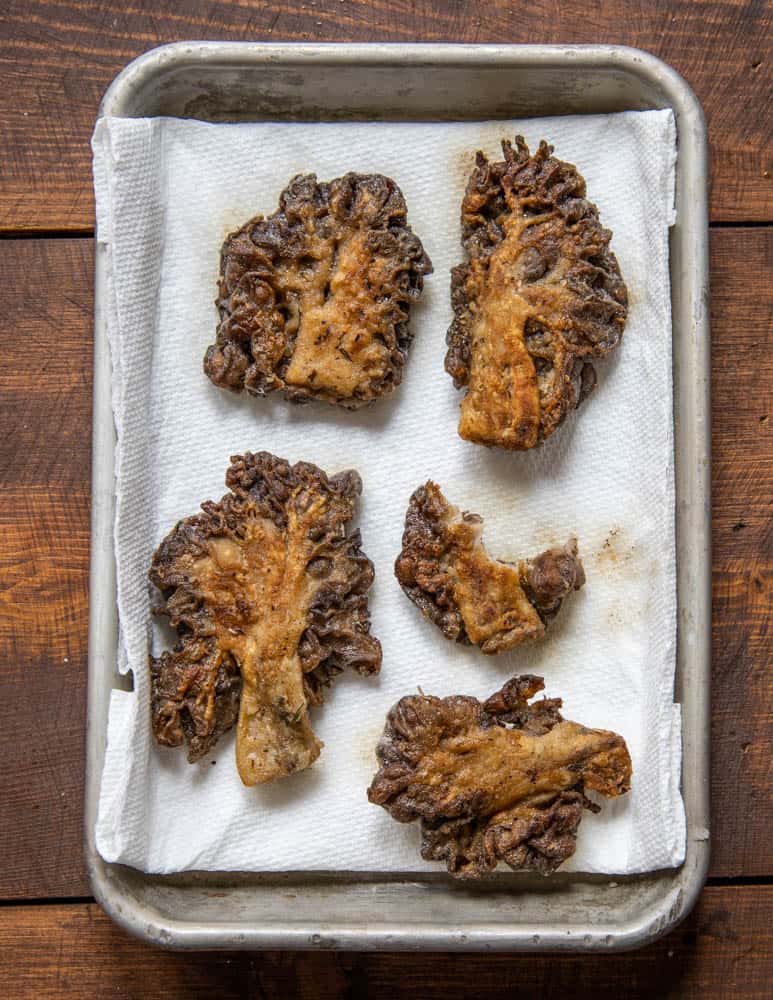 However you feel about false morels, I hope this article has been at least a little helpful for you, and at the very least may help you to not kick them in the woods when you see them.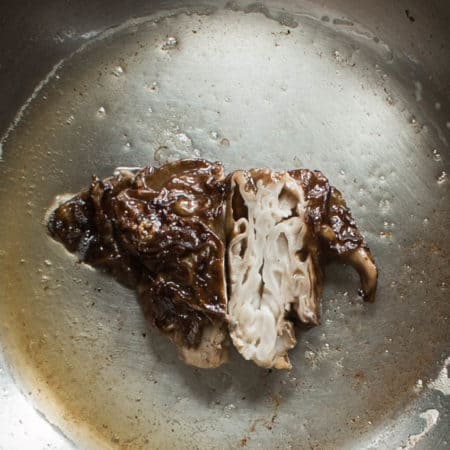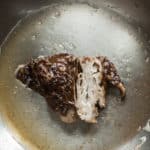 Print Recipe
How to Cook False Morels or Gyromitra Mushrooms
A basic template. This is the simplest way to cook a gyromitra, see note.
Ingredients
A few tablespoons of unsalted butter

or cooking oil

Gyromitra mushrooms

water
Instructions
Inspect the Gyromitra for bugs, debris, and dirt. Clean the mushroom diligently, swishing around in a bowl of cool water as needed to loosen any dirt. Cut it in half if small or quarter them if large and inspect diligently for bugs and debris.

Open all the windows in your kitchen, and use a kitchen hood fan if available, or use a box fan to blow air out of the kitchen if you're cooking Gyromitra esculenta or others with higher amounts of gyromitrin. (See safety note)

Bring a pot of water to a rolling boil, add the gyromitra, put a lid on the pot, bring it back to a rolling boil and cook for 10-15 minutes, depending on how many you're cooking, or until they're completely cooked and wilted.

Remove the Gyromitra. Discard the water. Put the Gyromitra between a few sheets of paper towels and press to get out as much water as possible. Season both sides of the mushrooms with salt.

Heat the butter in a skillet, like cast iron, and cook the mushroom on medium low heat about, flipping once, for about 5 minutes on each side, or until the mushroom is deeply caramelized and browned, then drain for a moment or two on a paper towel to shed fat, and eat. Sprinkle some extra salt as you eat if you think it needs it.
Notes
Safety notes
Don't serve Gyromitra to people who don't know or understand what they are.
Some Gyromitra must be par-boiled before cooking, especially Gyromitra esculenta
Ventilation
I recommend using ventilation, fans, or a hood vent while par-boiling, but it's in the interest of being overly cautious, and some species are fine cooked in your kitchen, like Gyromitra korfii, brunnea, and caroliniana, for example. Gyromitra esculenta must be par boiled, as well as some others. Some species are reputed to not need par boiling, but you're on your own to experiment there.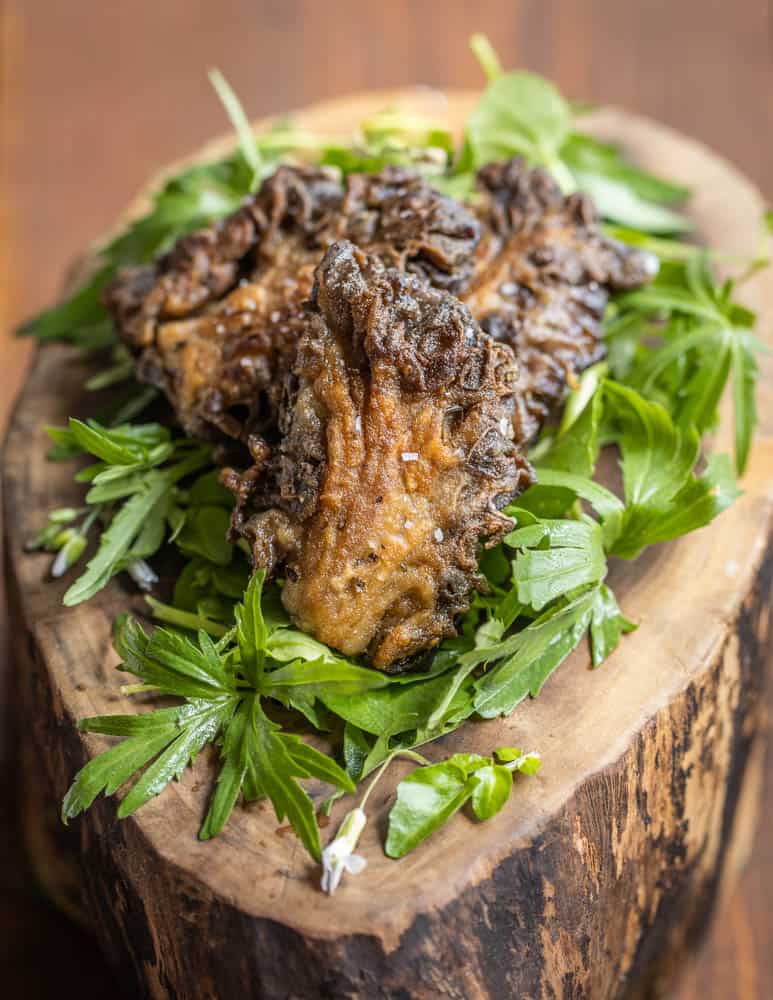 Further Resources and Reading on Gyromitra Edibility
Micheal Bueg, Phd: False Morels, an Age-old Question of Edibility
Various Authors: 30 Years of Mushroom Poisonings from the NAMA Registry
Tom Volk: Gyromitra/False Morels.