Boletus subcaerulescens is an edible cousin of porcini that grows in Northern Minnesota and Wisconsin with conifers. It's a delicious mushroom with a great bug resistance, compared to its cousins.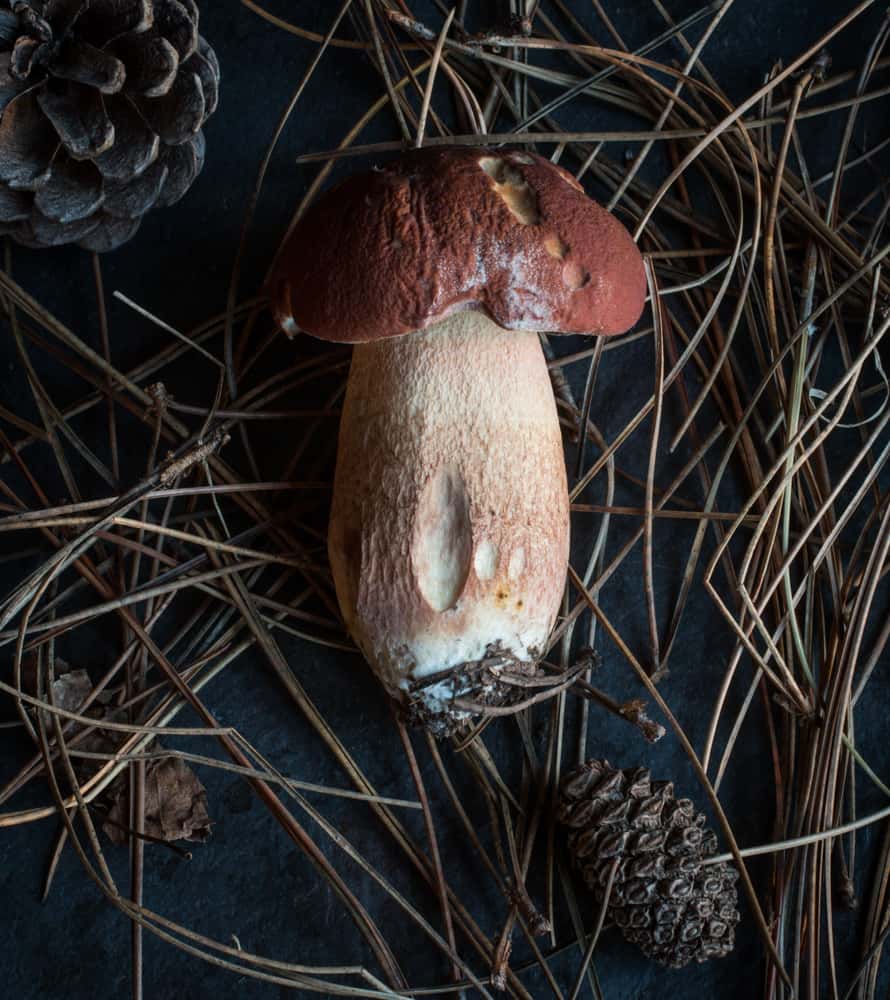 Update 2020
With the help of other local mushroomers, I'm relatively certain that these boletes are Boletus subcaerulescens. I've updated this post with new images in-situ. One thing to mention about these that was so confusing, is the "sub-caerulescens" part of the epithet.
"Almost blue staining"
The confusing part of the name here, and why I didn't originally look at B. subcaerulescens for these, was because I didn't see blue staining. But, one day at the restaurant after my prep cooks had been cleaning the mushrooms, I noticed blue staining/bruising on a number of specimens (just not all of them).
To me, it seems like the variability with the staining is similar to blewits: the inconsistent bruising is in itself one of the most helpful ID characteristics. Either way, these are absolutely delicious, often relatively bug-free porcini you should get to know.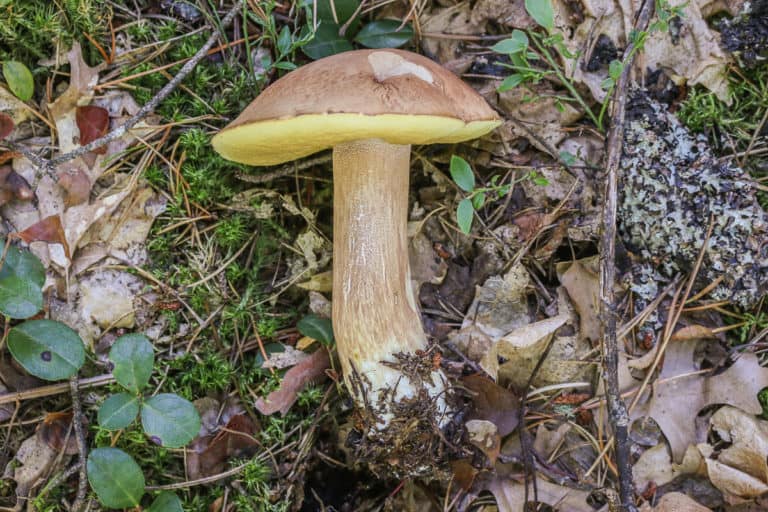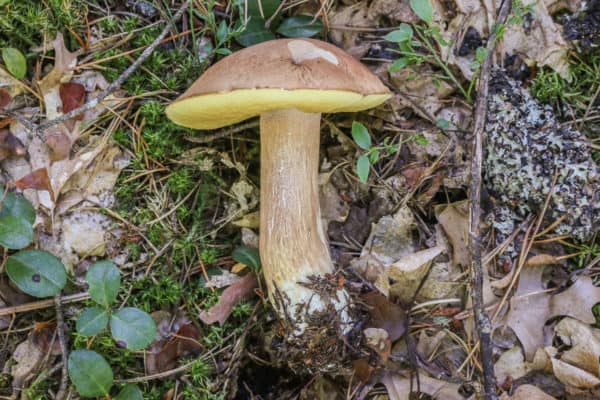 Original Post
It was years before I picked my first porcini. I dreamed of squat little mushrooms looking like something from a fairy tale, but mostly I only found ticks. The few times I did see them, they were one at a time here and there, and saturated with bugs.
Eventually my hunting buddies and I got lucky and one of them stumbled on a patch at a frisbee golf course. They sent me a picture of some mushrooms, and I remember getting so excited that I told my celebrity chef boss that I needed to leave the line for the evening to go pick the mushrooms so I could bring them to the restaurant. I expected him to just say no, or maybe yell at me for acting silly, but he actually gave me the ok, prized local mushrooms and all.
The years have gone by and I've kept picking porcini here and there, not as many as I would ever like, but I know a couple of places now.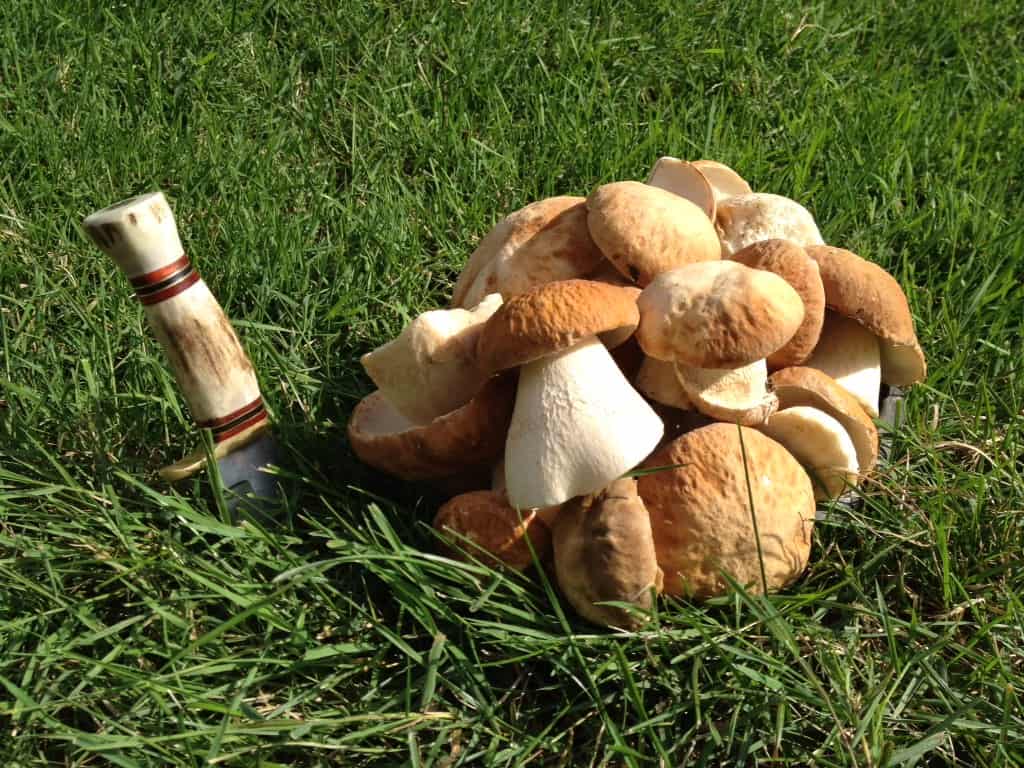 From what I know, the mushrooms we know of as porcini are actually many different species of similar looking boletes, or what's known as a "species complex", having a couple tell-tale characteristics:
A pronounced reticulation or netted look to their stem
Tight, white pores that look "full" when young
A delicious, mild, and pleasant taste, not at all bitter when eaten raw or cooked
For the most part, hunters in the Midwest (including myself) look for porcini in deciduous forest. Over the past few years though, I've learned that porcini can be found under more than just our majestic Midwestern oaks.
Immigrant populations love hunting mushrooms around the metro area in Minnesota, but our Eastern European population in particular hunts mushrooms with a fury I've never seen in any group, and more power to them. They gather (and prize) unsung heroes like slippery jacks and other mushrooms most American born hunters pass up.
More than once I've come across a new-to-me species by following the pine needle mushrumps they turn up, or the scraps and trim from a lactarius they discard from cleaning in the field. They've helped me learn more about a terroir that has been hard for me to push myself to explore: the conifers, the pine forests, or in local Anglo-Saxon mushroom slang: woods where absolutely no mushrooms grow.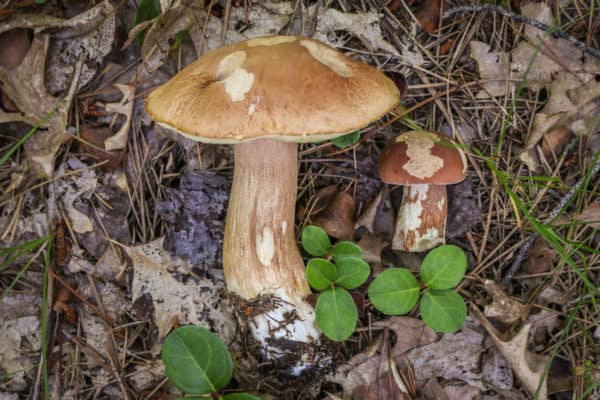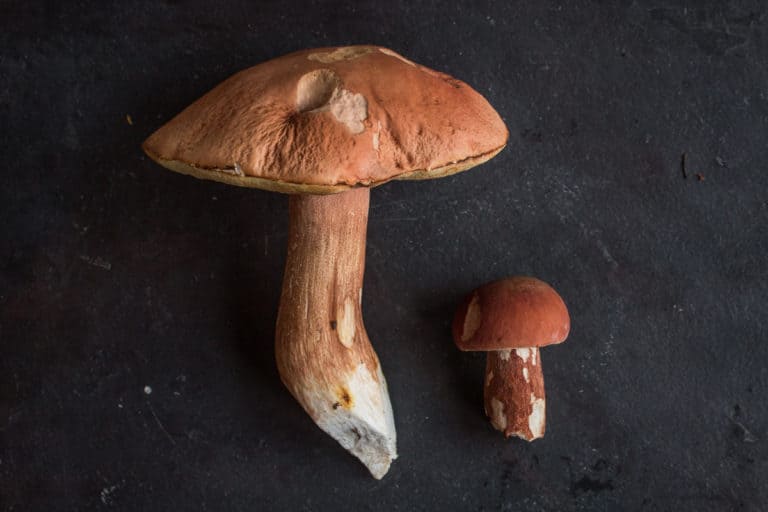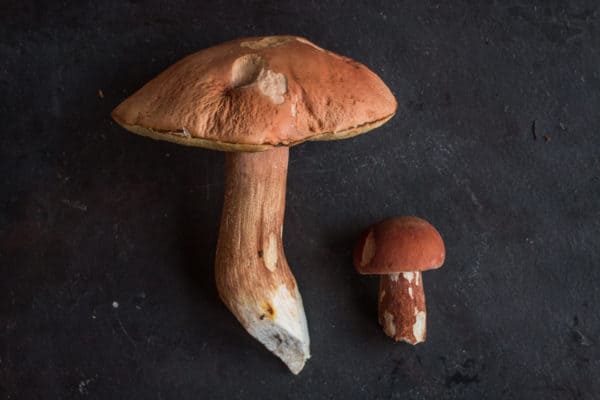 The forests of Eastern Europe and Russia are mainly Taiga, or cold weather hardy-coniferous forest. Midwestern hunters used to picking morels and chicken of the woods might often never think of hunting mushrooms in pine forest, and more than one mushroomer friend of mine has mentioned things to the tune of "I don't usually hunt in the pines".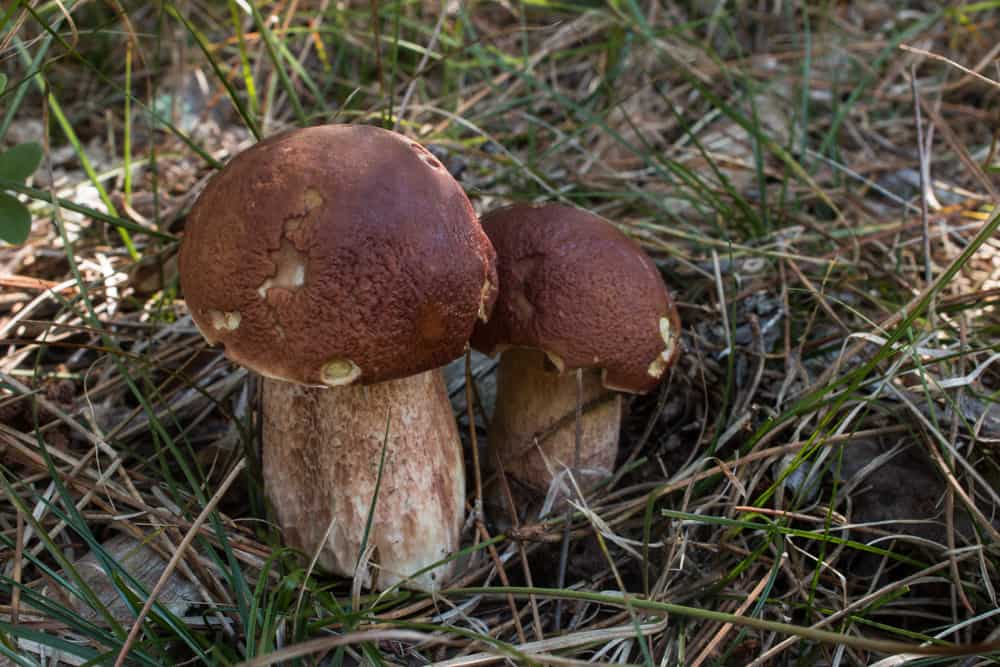 To Immigrants of Eastern European (and Asian) heritage, the pines are where they're naturally drawn to hunt, it's what they know, a familiar feeling woods filled with similar species from home.
I've come across hunters in locally known pine spots who speak zero English, but are fluent in speaking our local mushroom language as long as they're hunting in the pine, a literacy passed down through eons of culture and family/group forays in the same types of woods, just on the other side of the world.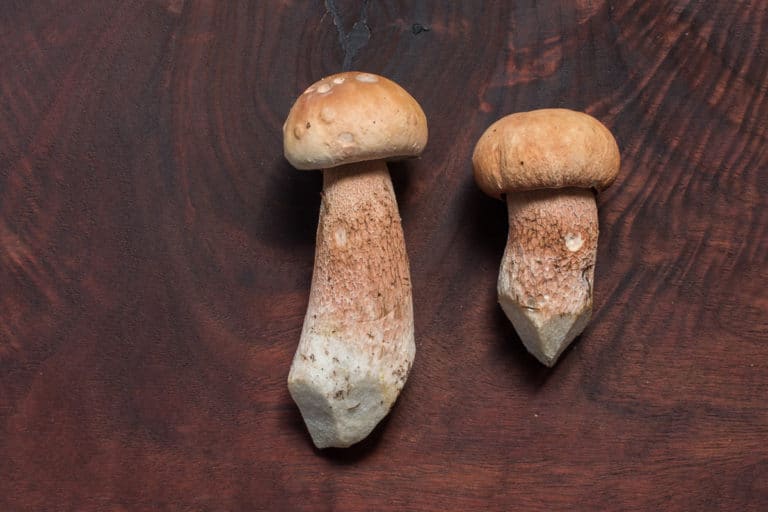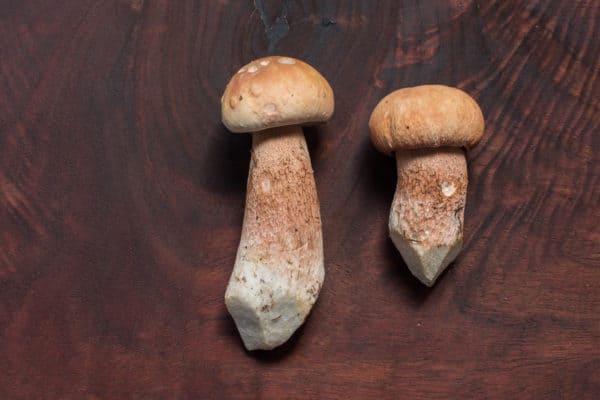 Last year out of the blue, I got a frantic email from an Eastern European mushroom hunter who'd stumbled across "the greatest porcini harvest she'd seen in 30 years".
She said she typically didn't sell them, but had so many she didn't know what to do with them all. Her tone was a bit on edge with genuine concern for the future of her harvest, so I did the right thing: I said I would love to buy all of them.
Then next day she stopped by with bags of picturesque mushrooms, but they weren't the fat-bottomed porcini I dreamed of seeing when I opened her paper grocery bags.
They were different, they had a red flush to the stem, a burgundy cap and a perforation of their stems that resembled the dreaded bug holes of our deciduous loving porcini, but they had noticeably less in the way of bugs than I expected, some of the bouchons (very young buttons) were even fit to enjoy raw.
After we inspected the porcini together, She gave me a gift: homemade slippery jack pickles.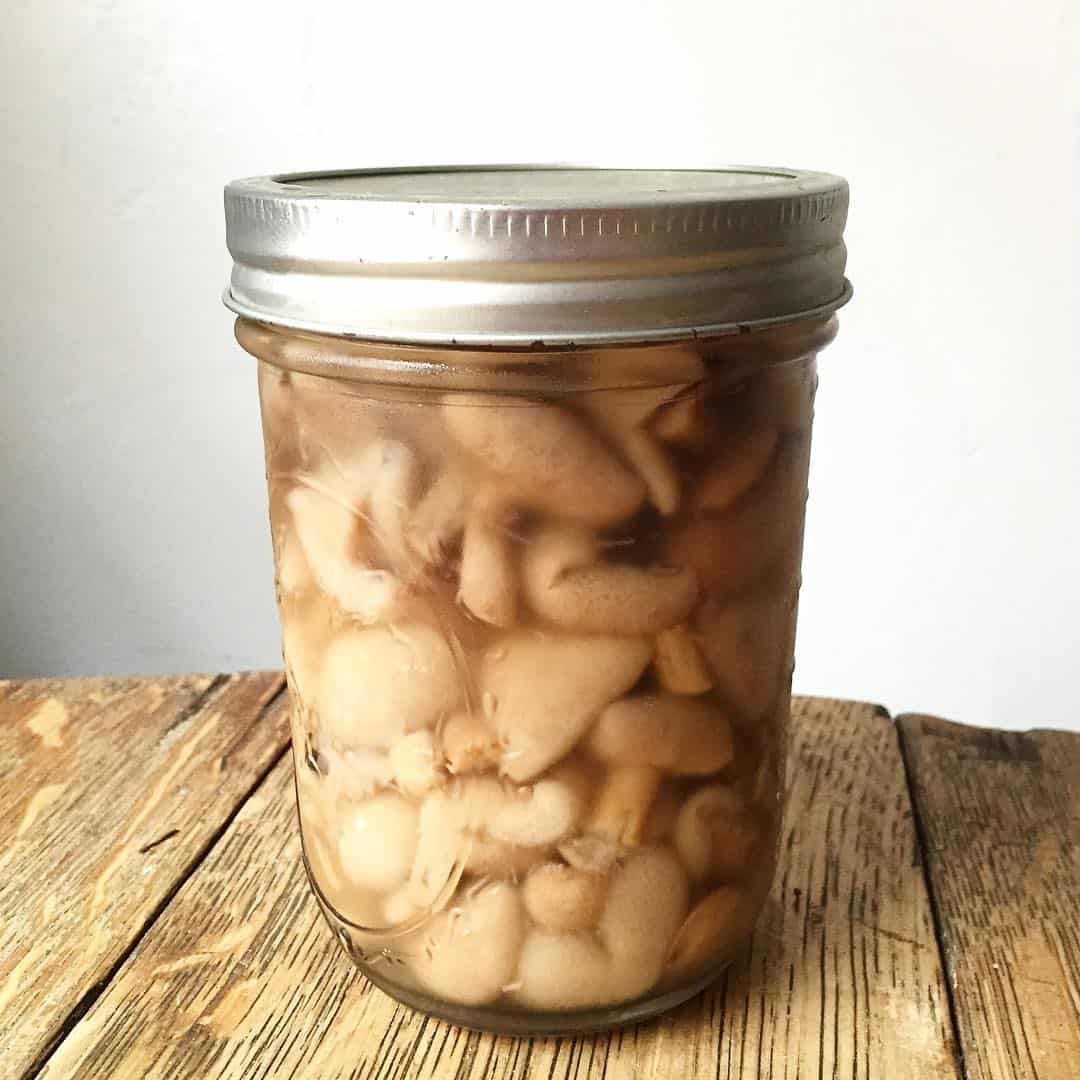 When I mentioned the pine porcini to a few of my veteran mushroomer friends, they all got excited. Most had heard of them, or picked one or two here and there, but never anything like the haul my new friend had picked. When there's a bolete I don't know, I turn to Besette's guide to North American Boletes where they list legions of the fleshy pored mushrooms, 8 different types of porcini alone.
In the book, they show two different variations that I thought were pretty close to what my Eastern European friend was picking, the closest resemblance I think being Boletus subcaerulescens. I'm not a mycologist, so I might never know the exact name, species etc, but I do know that they taste great, and I'm hoping she gets another record haul this year and brings some by the restaurant.
Moral of the story I think is this: if you're a Midwest mushroom hunter and you've been spending all your time hunting porcini around Oak, take a chance on the pine woods sometime, you might get lucky.