A simple soup of with wilted greens, white beans and dried tomatoes is the perfect place for a few handfuls of hedgehog mushrooms to shine.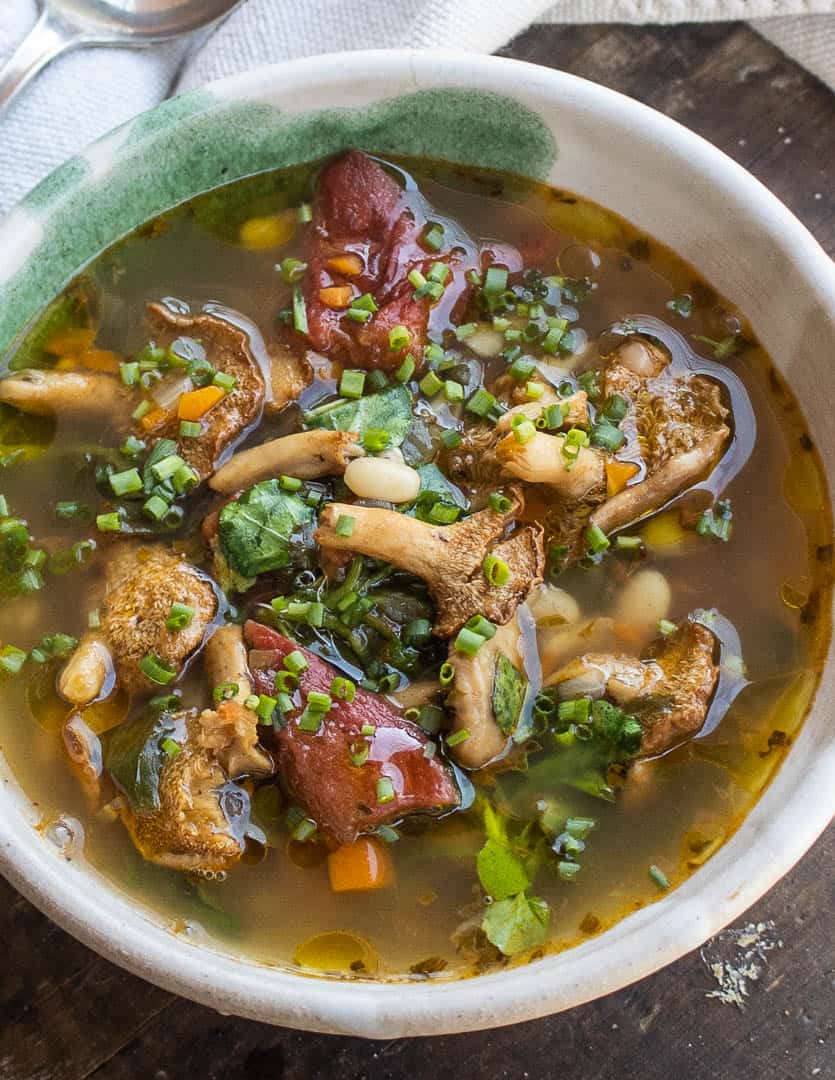 I love hedgehog mushrooms (especially the giant ones) but during the off-season here in Minnesota I sometimes cook with the smaller Hydnum umbilicatum sold commercially out of the PNW during our winter when I have a craving for fresh mushrooms.
Hedgehogs are great in just about anything you'd add them to, but I love them in soup, where their sometimes crumbly, brittle caps are fine if they happen to break into pieces. The teeth underneath the cap also love to soak up juices, making just about any soup you add them to a great hedgehog mushroom recipe.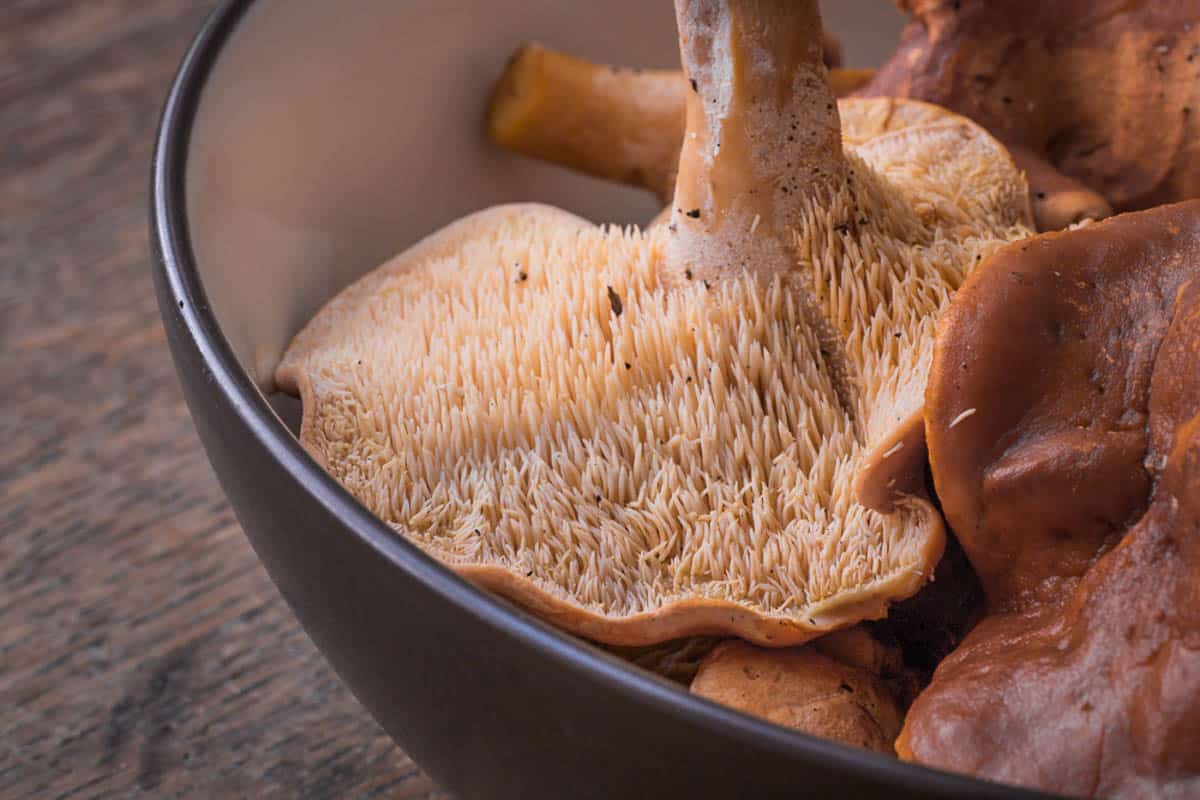 The basic soup is a variation on one that we used to serve at Heartland, an old favorite of Chef Lenny Russo's made with pinto beans, spinach, and tomatoes. Adding a healthy amount of hedgehog mushrooms makes it more substantial. It's good as an appetizer, or with some tiny pasta thrown in as a meal.
Adding watercress is a nice touch instead of the spinach, and something I'm lucky enough to be able to harvest all winter long in Wisconsin. The basic soup is vegetarian (if you use vegetable broth) but you can add meat to it to make it more substantial, if you do, reach for some leftover roast chicken or poultry to keep it light.
Cured tomatoes with wild herbs
The cured, herby, rich tomatoes I use here are one of my favorite ways to use wild herbs like bergamot and dried ramp leaves. If you don't have any, you can substitute some peeled, chopped canned tomatoes, squeezed to remove their seeds, but I encourage you to try the cured, dried ones, since they're really addictive.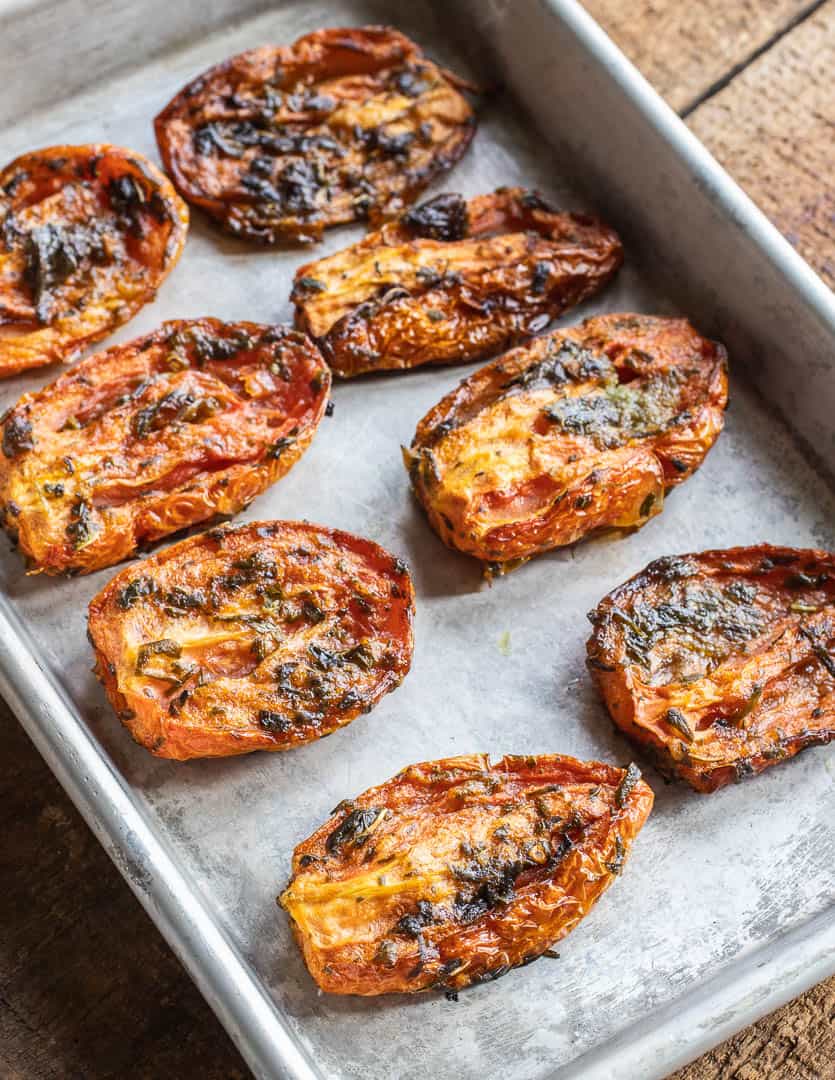 To make them, toss 2 pounds roma tomatoes (halved the long way, squeezed to remove the seeds) with a good splash of extra virgin olive oil, a generous pinch of salt, a generous pinch each of dried bergamot and ramp leaves, along with a grated or minced clove of garlic.
Lay the tomatoes on a sheet of parchment on a baking sheet, cut-side up, and cook at 200F for 5 hours, or until dried, but still soft and tender. Peel the tomatoes and store in olive oil in the fridge, they'll last for a week. See the formal method for the tomatoes here.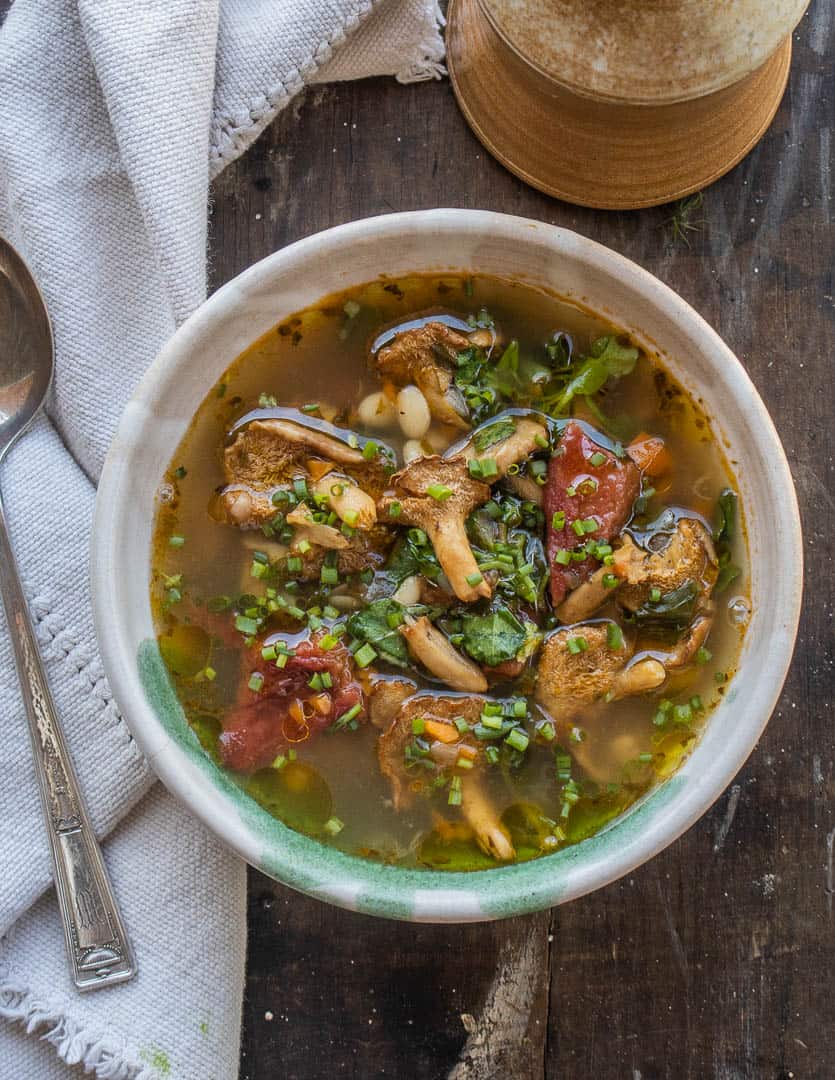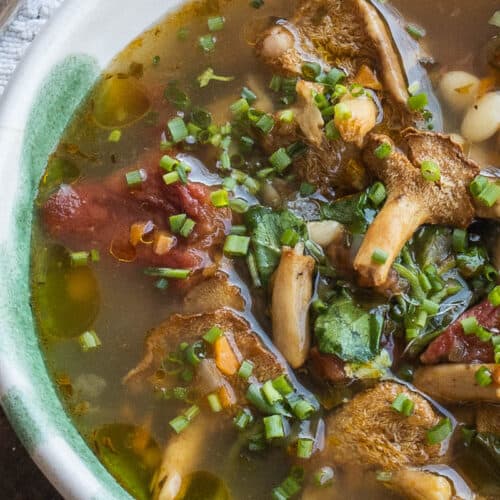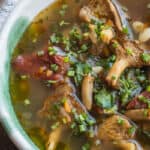 Print Recipe
Hedgehog Mushroom Soup with Beans, Watercress and Tomato
A light, brothy stew highlighting the excellent texture and flavor of hedgehog mushrooms. Serves 4 as a lunch or light entrée to accompany a salad
Ingredients
Soffrito
1

oz

each: carrot

onion and celery

1

medium clove garlic
Soup
1

tablespoon

extra virgin olive oil

plus more for finishing

5

cups

light chicken or vegetable stock

8

oz

fresh hedgehog mushrooms or chanterelles

½

cup

dried beans or 1 15 oz can cooked

with their juice

4

oz

a few handfuls fresh tender wild greens, like lambsquarters, amaranth or watercress washed, and spun dry

¾

cup

oil-cured tomatoes quartered

or seeded, chopped tomatoes cut into pieces that will fit on a spoon

Pinch

of dried ramp leaves

optional

Kosher salt and fresh ground black pepper

Fresh chopped herbs

to taste, such as dill, chives, parsley or cilantro optional
Instructions
Soffrito
In a food processor, grind the carrot, onion, garlic and celery to a paste, mince by hand, or mash in a mortar and pestle. This is called making a soffrito.
Trim the mushrooms
Cut any large hedgehog mushrooms into 1-2 inch pieces. Small and medium sized mushrooms should be left whole.
Greens
Roughly chop the greens if they have any long stems. Small leaves like lambsquarters or spinach that will shrink and wilt can be left whole.
Building the soup
Sweat the soffrito in the oil for a minute or two, without allowing it to color. Add the mushrooms, ramp leaves if using and stock and bring to a simmer. If you have some bean cooking liquid, you can add it in combination with the stock. Simmer the soup for 30 minutes at a gentle bubble.

Add the beans and greens and heat through.
Finishing
Double check the seasoning and adjust for salt, stirring to dissolve, and re-tasting until the soup tastes good to you.

Finally, slip the tomatoes into the soup, then add some of the chopped fresh herbs to taste just before serving. I add the tomatoes at the very end to keep their flavor from permeating the soup as a sort of warm garnish here, but if you want to add them with the beans and greens you can.
Serving
Serve the soup in bowls garnished with additional extra virgin olive oil, a scattering of fresh herbs if using, and fresh cracked black pepper.
Notes
To make it more of a meal, add some cooked small pasta like rings or small shells and garnish with grated parmesan.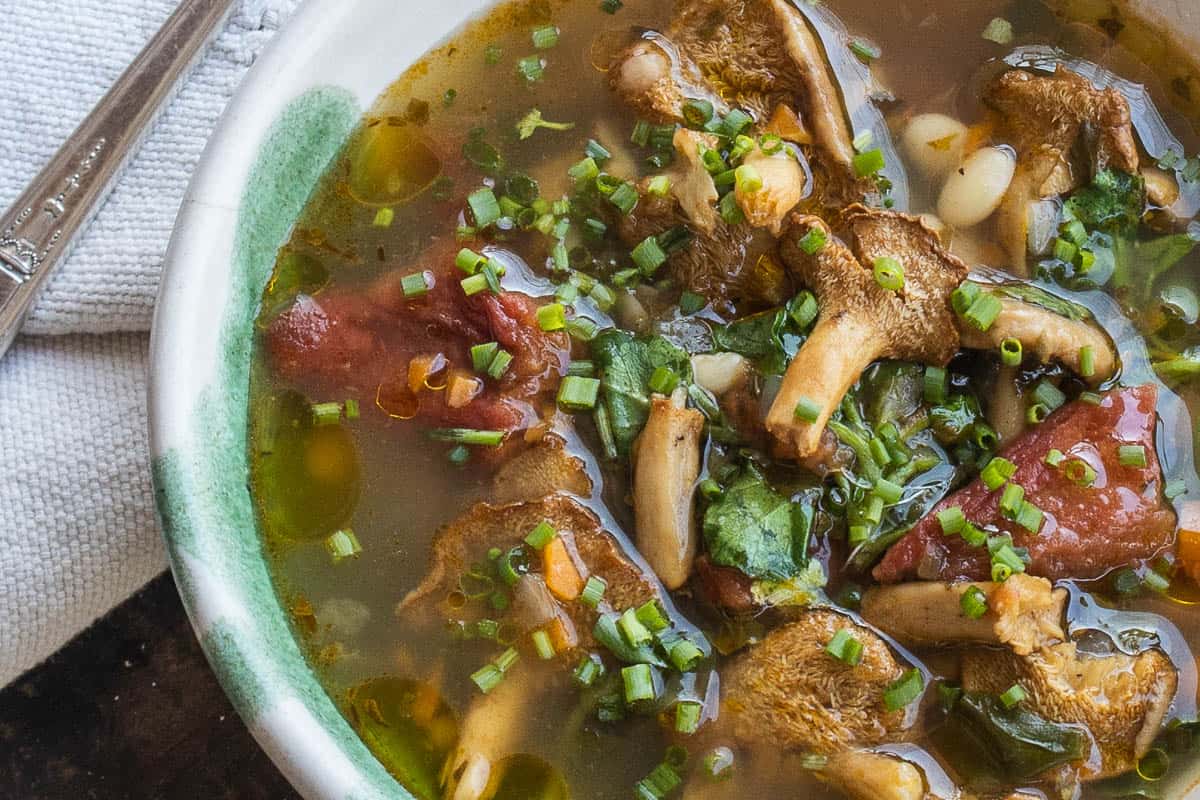 More