Honey Mushroom Goulash / Gulyas has been in the works for years over here, and I'm excited to finally share it with you. It's without a doubt, one of the best things I've had with them, and, it's pretty traditional, more or less. I know I'll get some contentious comments about my creative liberties here, so, before you send me a turf burning email about how your grandma makes a true gulyas, know that this is based directly off a family recipe, from Hungary, just with the addition of venison shoulder instead of ground beef, and honey mushrooms, because honey mushrooms.
What a goulash or gulyas is, like so many recipes with deep cultural connections, is a little open for debate and interpretation. Some like it thick, some like it thin, some like it sparse, others loaded with vegetables. My recipe here is a loose, juicy stew with chunks of vegetables based off a family recipe from Hungary a friend of my girlfriends family brought over to a potluck one day. I'd never met the man that brought over the goulash, but once I spoke to him, heard the accent, and saw his crock pot of family secrets, I grilled him a bit on what he considers a proper gulyas.
Brief ingredient history
I'm not a goulash scholar, but I do know my ingredients. What I find interesting about goulash/gulyas in particular is that it's a dish deeply cherished in Eastern Europe and Hungary, but it's made from mostly new world ingredients, placing it, in the form we know it, around a couple hundred years old.
The key ingredients here: peppers, potatoes, tomatoes, and paprika (also a pepper) are all ingredients from the Americas, probably added to an existing, simple stew of meat and roots like carrot, celery root or parsley root scented with aromatic seeds like caraway, (you can still see mentions of the old roots being used in some recipes) which were already common soup and stew staples in the region. As an aside, potatoes seem to be a point of contention in some places, with millet probably being the first grain that was added to bulk out the soup.
Soup, not a thick stew
Honey mushrooms are the big addition here, and this recipe is chockful of them, a good 6-8 oz, depending on your harvest. Honey mushrooms are enjoyed in Eastern Europe, and they are the perfect candidate here. Besides adding some good texture and a pop of dark color in a sea of red, honeys are perfect for soup because they need long cooking, plus, they have another function: they help thicken the soup.
I like the consistency of my gulyas on the thicker side of soup, but not stew thick, just velvety enough so that you want to slurp up every last drop of broth. The paprika and tomato give a little bit of body, and, combined with the natural mucilage of the honey fungus, make for a velvety soup born to be mopped up with a piece of sourdough.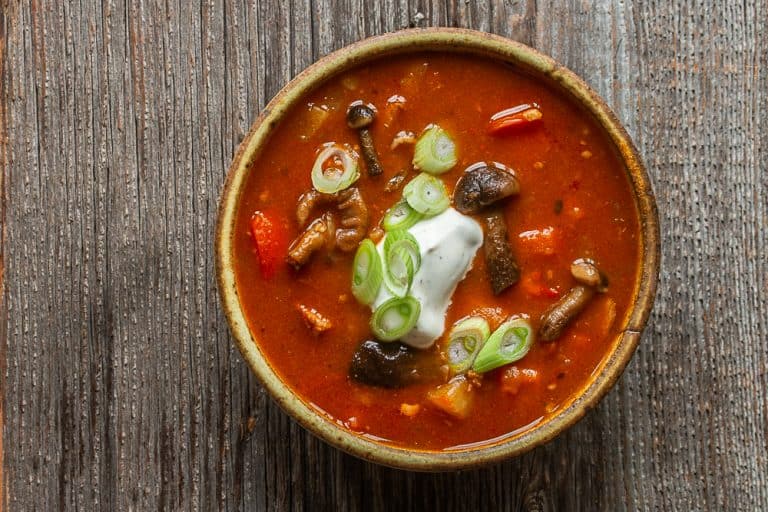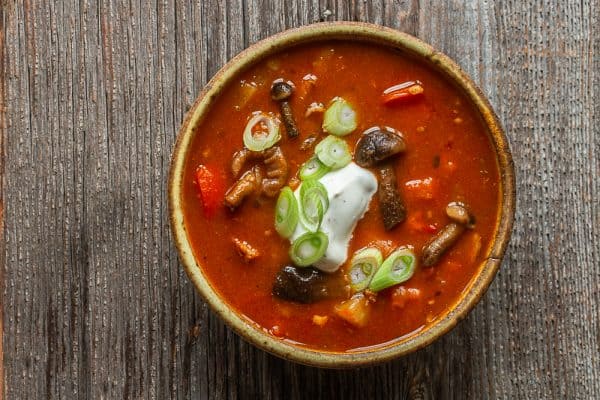 Print Recipe
Venison Gulyas with Honey Mushrooms
A semi-traditional gulyas made from venison shoulder or other meat, paprika, vegetables and honey fungus.
Ingredients
Stew
2

lbs

venison

pork, or beef shoulder, cut into stew chunks

Kosher salt and fresh ground black pepper

4

tablespoons

bacon grease or lard

2

tablespoons

sweet paprika

1

tablespoon

smoked paprika

¼

cup

tomato paste

8

oz

1 large yellow onion ½ inch dice

8

oz

1 large russet potato* peeled, 1 inch dice

6

oz

1 medium celery root or parsley root (optional, additional potato can be substituted) 1 inch dice

8

oz

Hungarian wax peppers*

or 2 large bell peppers, any color but green, 1 inch dice

6

oz

1 medium carrot, 1 inch dice

¼

cup

dry white wine

6

oz

fresh young honey mushrooms

young buttons left whole, large mushrooms quartered*

2

large cloves garlic

6

cups

meat stock or water

1

teaspoon

chopped fresh thyme or a pinch of dried thyme

2

dried bay leaves
Finishing
8

oz

Sour cream

2

tablespoons

heavy cream

or 1 tablespoon milk

Ground caraway to taste

Sliced green onions
Instructions
Season the venison or other meat with salt and pepper and spread out on a tray or cookie sheet. Refrigerate the meat overnight to dry it out and improve browning (optional but recommended)

Heat the grease in a soup pot, then brown the meat well. Add the onions, stir, and cook for a minute, then add the tomato paste and paprika and cook a few minutes more. Grate the garlic directly into the pot or mince it. Add the wine, then the remaining vegetables along with the honey mushrooms, along with the stock and herbs. Bring the mixture to a simmer and cook for 45 minutes, or until the meat is tender.

Cool the stew and reserve.

For the caraway sour cream garnish, mix the sour cream with the caraway, cream and a pinch of salt and reserve. Garnish the stew with fresh sliced green onions and a dollop of the sour cream.
Notes
The potato is optional here, if you want, make the stew without potatoes, adding cooked millet at the end instead.
Hungarian wax peppers can be spicy.
If you are at all sensitive to heat you will want to use bell peppers.
Honey mushroom stems can be used here, but only use the tender portions or a few inches under the cap. Tough honey stems can make good broth or duxelles.
More