If you're a mushroom hunter, the thought of making wild mushrooms tacos has probably crossed your mind, as it has mine. The thing is, wild mushroom tacos aren't some gringo adaptation, or heretical thing, they're actually a traditional way of preparing mushrooms in certain parts of Mexico, specifically (to my knowledge, chime in if you have info) the Michoacan peninsula, but probably other places too, as I know I've had invites to hunt around some of the volcanoes near Vera Cruz. Mushrooms growing in hyper-rich volcanic soil is a fascinating topic by itself, so before I get off track, back to mushroom tacos.
Tromba de Puerco: the Mexican Lobster mushroom
The preparation is simple: mushrooms are harvested, boiled, then sauteed with onions, tomato, and jalapeno, then eaten with tortillas—that's it. In reality, the method of cooking here isn't so much "tacos" as Americans would think of the term, but more so fresh tortillas are just a vehicle for the mushroom mixture, which, as you'll see shortly, are used as a sort of meat substitute. In the video I'll link to, they use lobster mushrooms, or Hypomyces lactiflourum, that go by the fascinating name of "Tromba de Puerco" (the pork horn), in my mind referencing both the shape their local Russula or Lactarius take after parasitization, and the fact that the finished product is eaten as a meat substitute.
Boiling mushrooms: a common practice around the globe
For a minute though, lets back up and talk about boiling mushrooms. Here's my opinion. Boiling mushrooms is a common practice around the world, and I can think of specific examples from Russia and Italy besides here where it could be said that it's one of the most common treatments for them. Boiling a mushroom before sauteeing might sound odd, like a technique that could rob them of flavor, but there's a deeper meaning there.
Some mushrooms have compounds that are denatured by high heat and a good boil, a process that mushrooms like some Ramaria, Amanita, and Gyromita species will benefit from, ensuring that no one will get tummy aches after eating. When dealing with multiple species of different mushrooms at the same time, somewhere along the line, humans discovered than many were made safe by the practice, and it likely spread as a cure-all treatment for all the mushrooms people in the region harvest to ensure safety, mushrooms being the strange creatures they are.
What I'm alluding to here, is that the boiling part of the original recipe you can see in the Youtube video is probably more of a passed down safety precaution than it is local culinary technique, per se. And, with that in mind, if your mushrooms are ones that don't need to be blanched to ensure they're thoroughly cooked, or to prevent upset stomachs (Ramaria) you can probably get away with just sauteeing them, as I have here with the shrimp of the woods (Entoloma abortivum).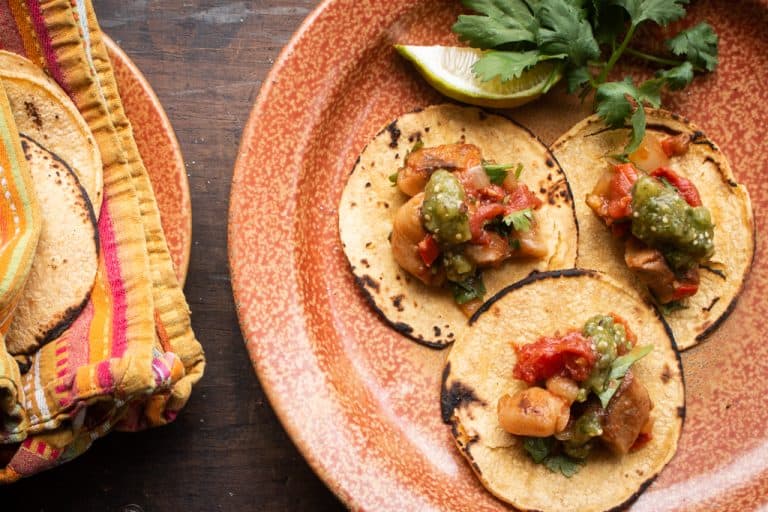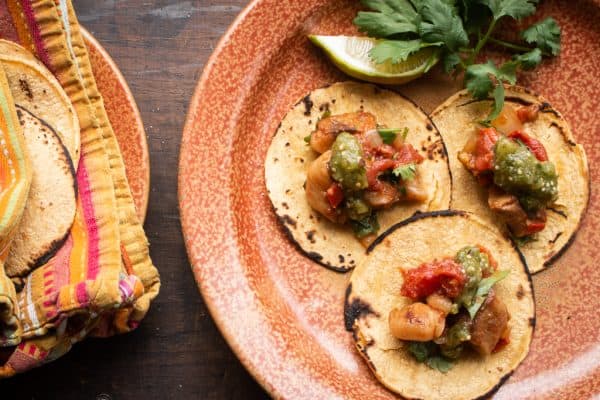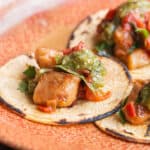 Print Recipe
Wild Mushroom Tacos
Wild mushrooms cooked with onion, jalapeno, tomato and cilantro, served with tortillas. Serves 4, or two very hungry mushroomers with leftovers.
Ingredients
1

lb

aborted entolomas

3

Tablespoons

lard or cooking oil

2

large cloves garlic

finely chopped

1

large jalapeno

or another hot chili of your choice

1

small yellow onion

8

oz

peeled

seeded tomato, chopped (or 1 15 oz can)

½

teaspoon

fresh ground cumin
For serving (mix and match your favorites)
Corn tortillas

Salsas of your choice

Crumbled queso fresco or another cheese

Fresh chopped cilantro

Lime wedges
Instructions
Cut the mushrooms into 1 inch, bite sized pieces. Sweat the mushrooms in a large skillet in 2 Tablespoons of the oil for 10-15 minutes on medium-high heat until browned, then push the mushrooms to the side of the pan, add the additional tablespoon of oil, and cook the garlic until golden.

Add the onion and jalapeno, salt and cumin, stir, and cook a few minutes more until the onion is translucent. Add the tomato and any reserved juice and cook until the pan is nearly dry, then toss in the cilantro, double check the seasoning for salt, cumin, and spiciness until it tastes good to you, and serve. While you cook the mushrooms, prepare the tortillas.
Corn Tortillas
Heat the corn tortillas directly over a gas burner to char them and soften them a bit, holding finished tortillas wrapped in foil or a thick towel in a warm oven until they're needed.