I've been foraging and cooking wtih prairie turnips (thíŋpsiŋla), and they're so delicious. One of my favorite things I've made with them so far is a Native American inspired bison stew.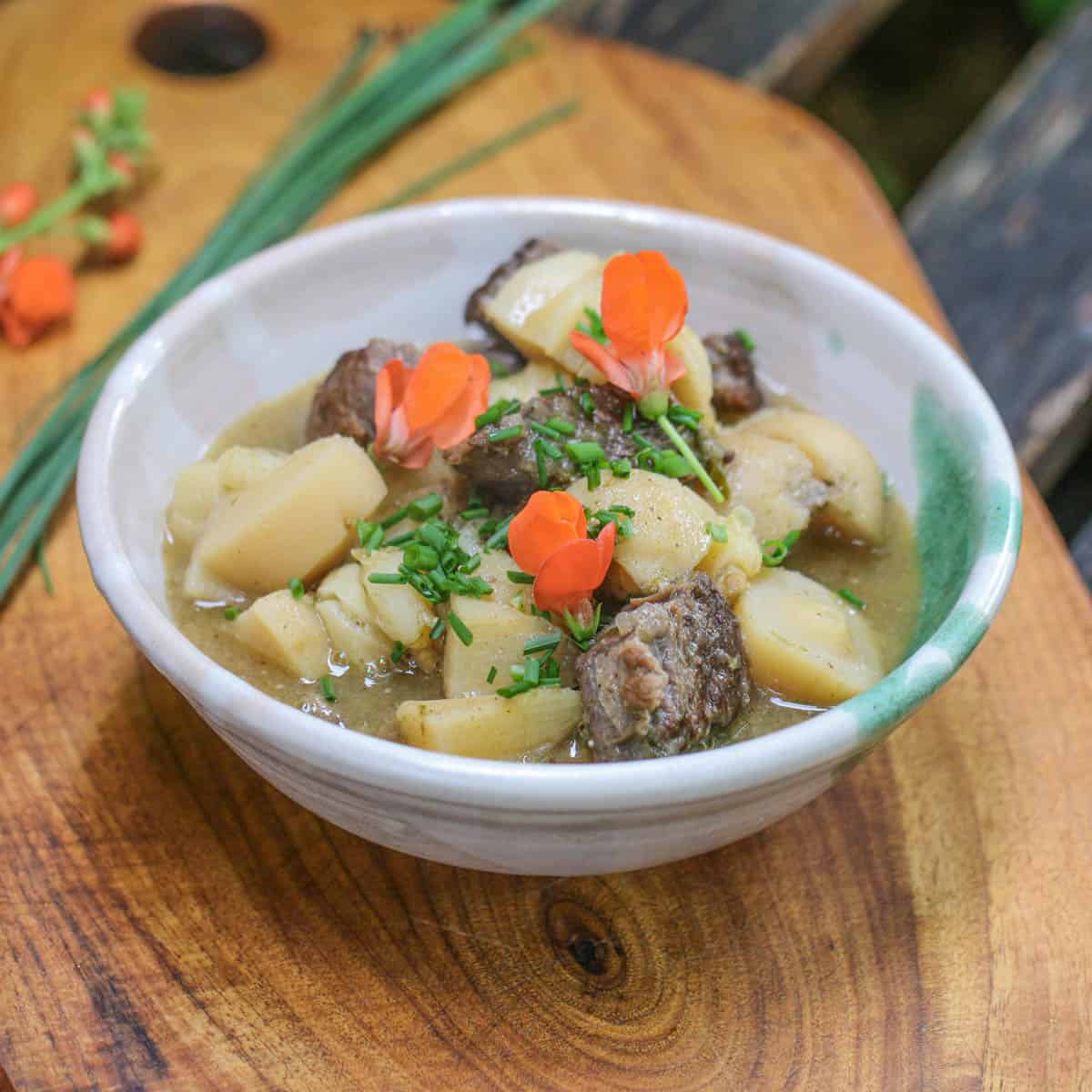 I was lucky enough to get invited out near the Standing Rock Reservation by my friend, Native American ethnobotanist Linda Black Elk this past summer, and I felt so lucky and honored to be able to work hard enjoying the timpsila harvest with them.
Thankfully my pale skin survived the prairie sun and the rattlesnakes. I managed to get two large braids of dried timpsila. I really wanted to do the wild tubers justice, so I asked Linda's mother in law Candace about how to cook the tubers.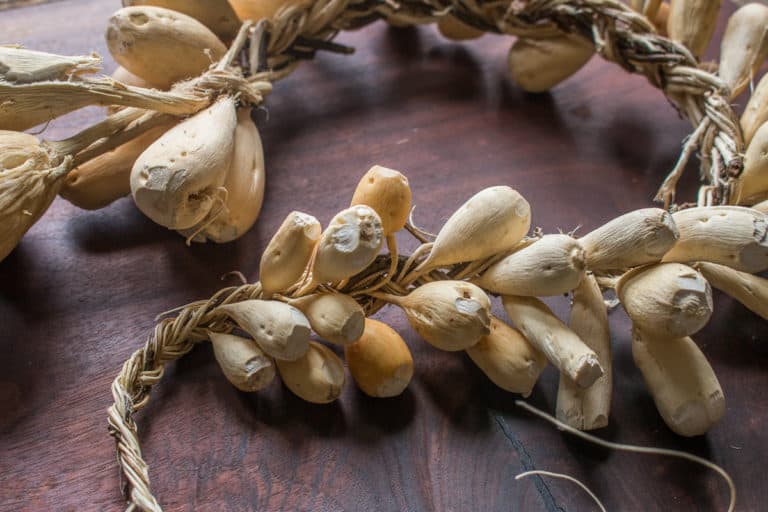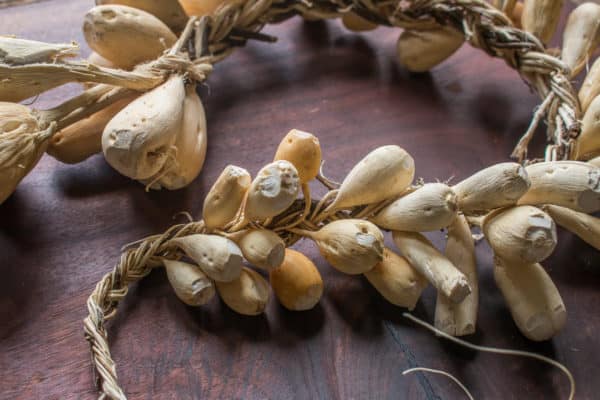 Candace mentioned a few traditional indigenous bison recipes. The first being was cooking the prairie turnips with bison tripe. Fresh out of bison tripe I went to her next suggestion: a Native America buffalo stew.
She mentioned used wasna or dried bison. I ended up just using stew meat to make it approachable. If you want to try a very traditional version using dried buffalo, Linda's husband Luke makes a great stew called bapa wohanpi.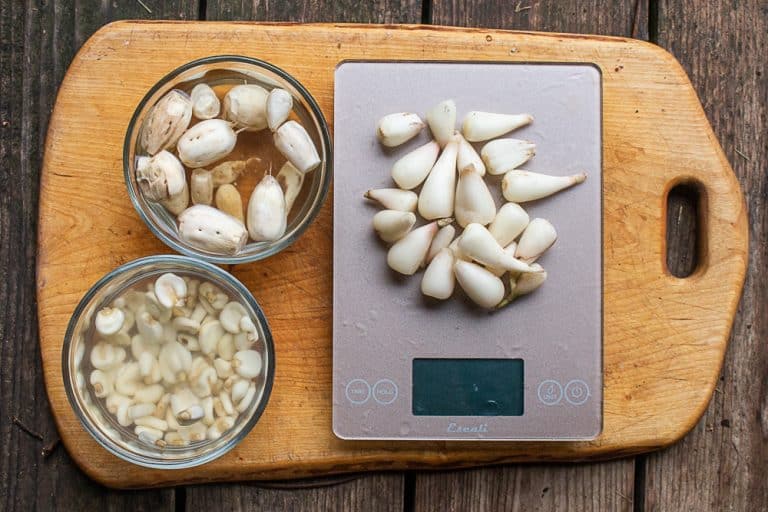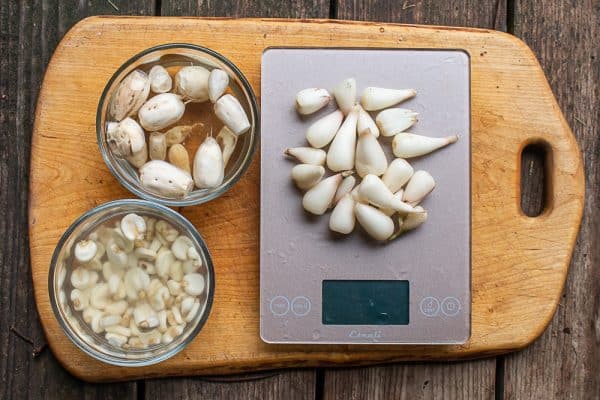 Sustainably Raised, Grass-fed Buffalo
The folks over at Wild Idea Buffalo were kind enough to send me of their Bison just for this. The meat is deep garnet and richly flavored, and is never fed corn, unlike some commercial varieties.
The quality of the meat goes hand in hand with their regenerative management practices and prairie restoration. Their company has a great story, and sells a quality product, so if you want to try some great bison, head on over to their website.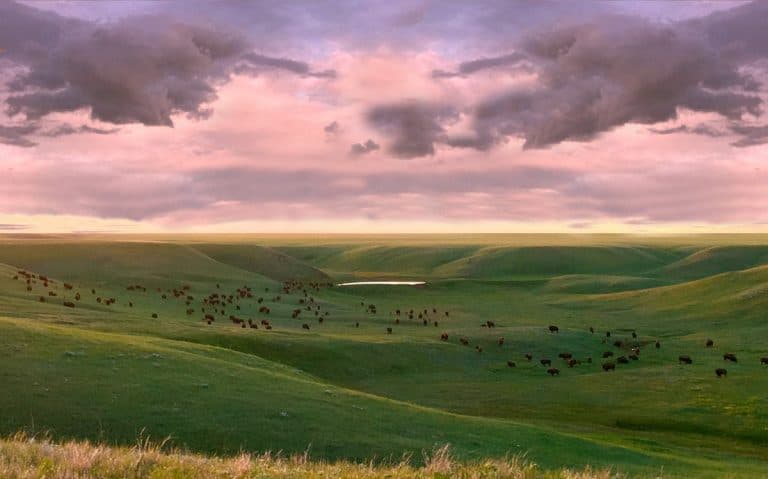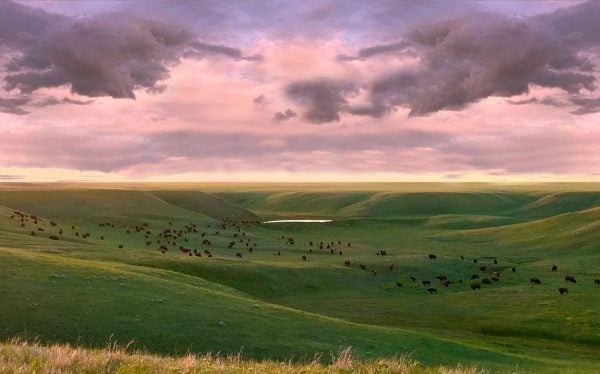 As the stew cooks, the tubers soak up the broth of whatever they're cooking with, and it makes them eat a bit like meat flavored potatoes or vegetables. If you don't have wild onions or buffalo, you can still make a good version of this, but there's really no substitute for the prairie turnips.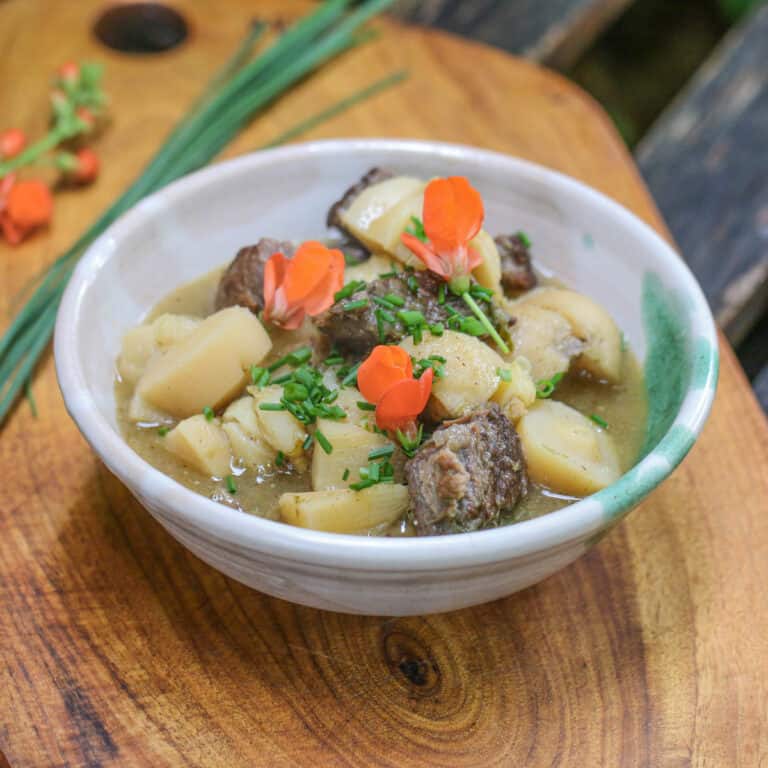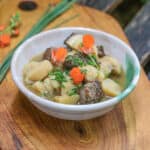 Print Recipe
Bison Stew with Timpsila, Hominy, and Ramps
A rich hearty stew of bison with timpsila and hominy. Serves 2 with leftovers or 4 as a small entrée. I like to make a double batch.
Ingredients
1

lb

Venison or bison shoulder

neck, or stew meat, cubed

Cooking oil or lard

as needed, a few tablespoons

4

oz

wild onions

ramps, or 1 small yellow onion

2.5

oz

dried timpsila

2

oz

dried hominy

Kosher salt and fresh ground black pepper

to taste

Generous pinch dried ramp leaf spice

optional

2

tablespoons

cornflour

Garnishes like fresh cut chives and or wildflowers

optional
Instructions
Bison and hominy
The night before cooking (if possible), season the venison all over with salt and pepper. Put the hominy and timpsila in separate containers, then cover both with twice their volume of boiling water.
Assembling and cooking
The next day, or a few hours later, Remove the timpsila, reserving the liquid, and cut into pieces about the size of the venison. Large timpsila should be cut in half through the tap root, then cut into smaller pieces from there (roughly ⅛ths for large ones) very small timpsila can be cut into rounds or quartered.

In a heavy pot of dutch oven, brown the meat over high in in the oil. Add the cornmeal, cook until golden, then add the onions and cook for 3-4 minutes. Add the hominy and timpsila and soaking water along with the pinch of ramp leaves if using. Add water just to barely cover the ingredients, bring to a boil. Turn the heat to low and cook 1.5 hours or until the meat, timpsila, and hominy are tender.

The hominy and timpsila will be slightly chewy, this is normal.

Double check the seasoning for salt and pepper, adjust as needed. If you think you'd like it thicker, toss in another spoonful of cornmealand cook until it thickens.

When the stew tastes good to you, ladle into warmed soup bowls, garnish and serve. Like most stews, it tastes better the next day.
Notes
This is great with buffalo, but venison is a great substitute too. 
Nutrition
Serving:
2
cups
|
Calories:
358
kcal
|
Carbohydrates:
17
g
|
Protein:
55
g
|
Fat:
6
g
|
Saturated Fat:
3
g
|
Polyunsaturated Fat:
1
g
|
Monounsaturated Fat:
2
g
|
Cholesterol:
147
mg
|
Sodium:
207
mg
|
Potassium:
1002
mg
|
Fiber:
3
g
|
Sugar:
3
g
|
Vitamin A:
1
IU
|
Vitamin C:
4
mg
|
Calcium:
28
mg
|
Iron:
7
mg