A simple grilled hen of the woods with a sweet and tangy ginger-soy vinaigrette is a great thing to make during the late Summer or early Fall when you can still use the grill. It's also one of my favorite vegan mushroom recipes.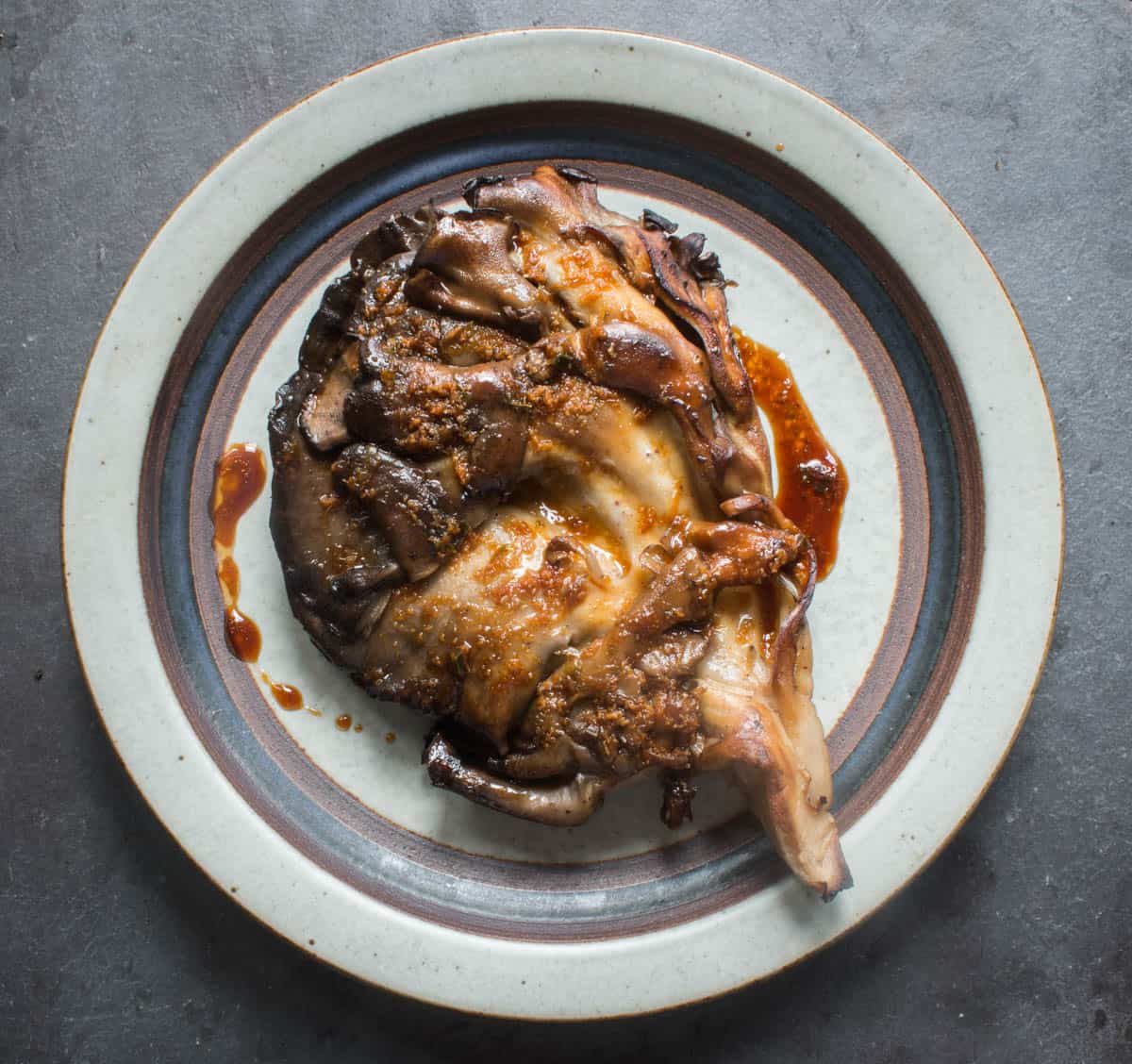 There's something so primal about a big hen of the woods and breaking off giant clusters to cook whole like a piece of meat, there a great entry level mushroom too, easy to identify, big in size, typically worm-free, delicious.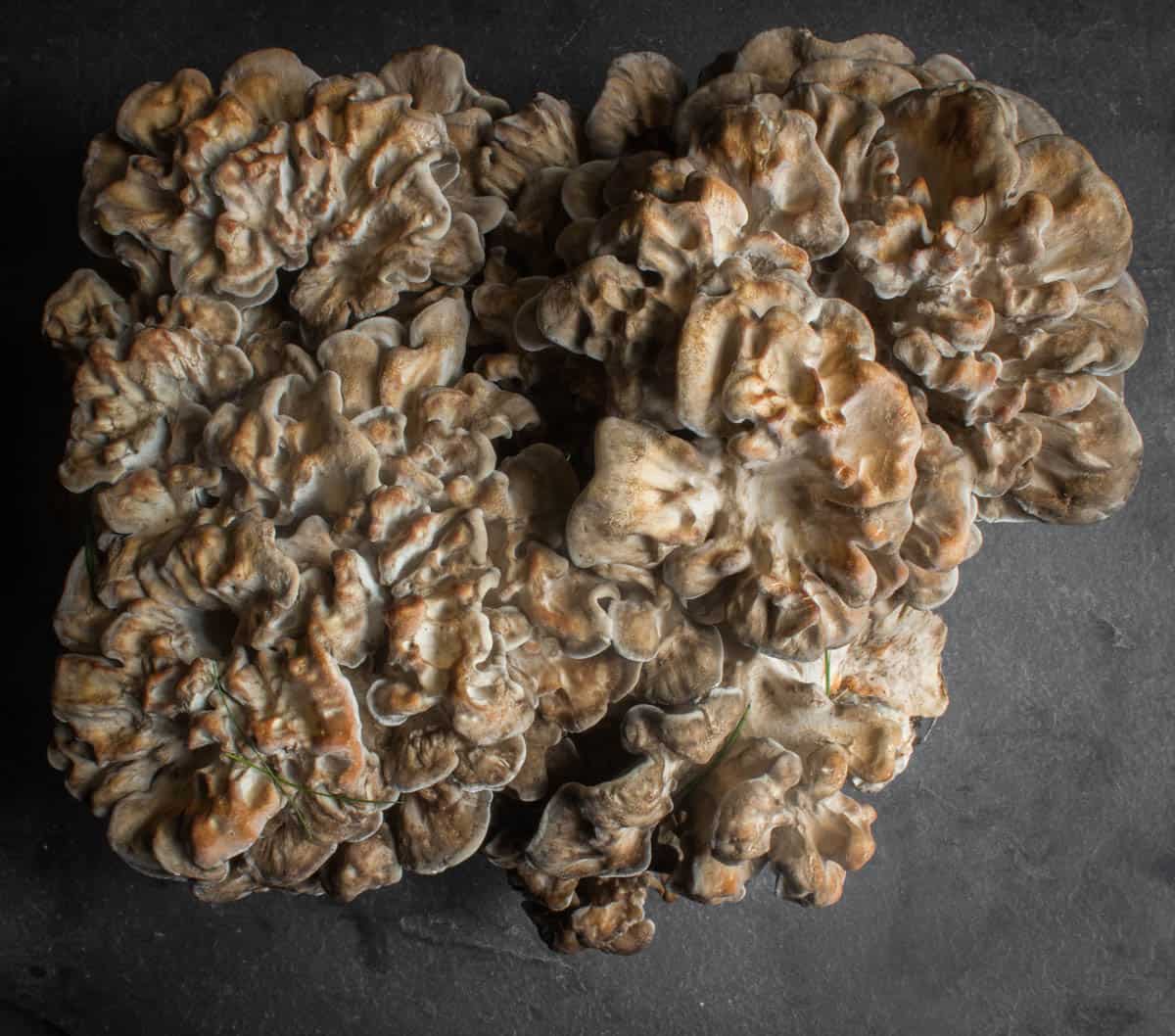 I don't know any cooking technique more raw than cooking over burning wood, so what better way to treat those giant caveman clusters of mushrooms than on the grill?
Get some matches, a handful of dried logs and light'em up. When they're ready, the slow burn of the wood embers gives you a totally different flavor than conventional charcoal too, it's almost like smoking them.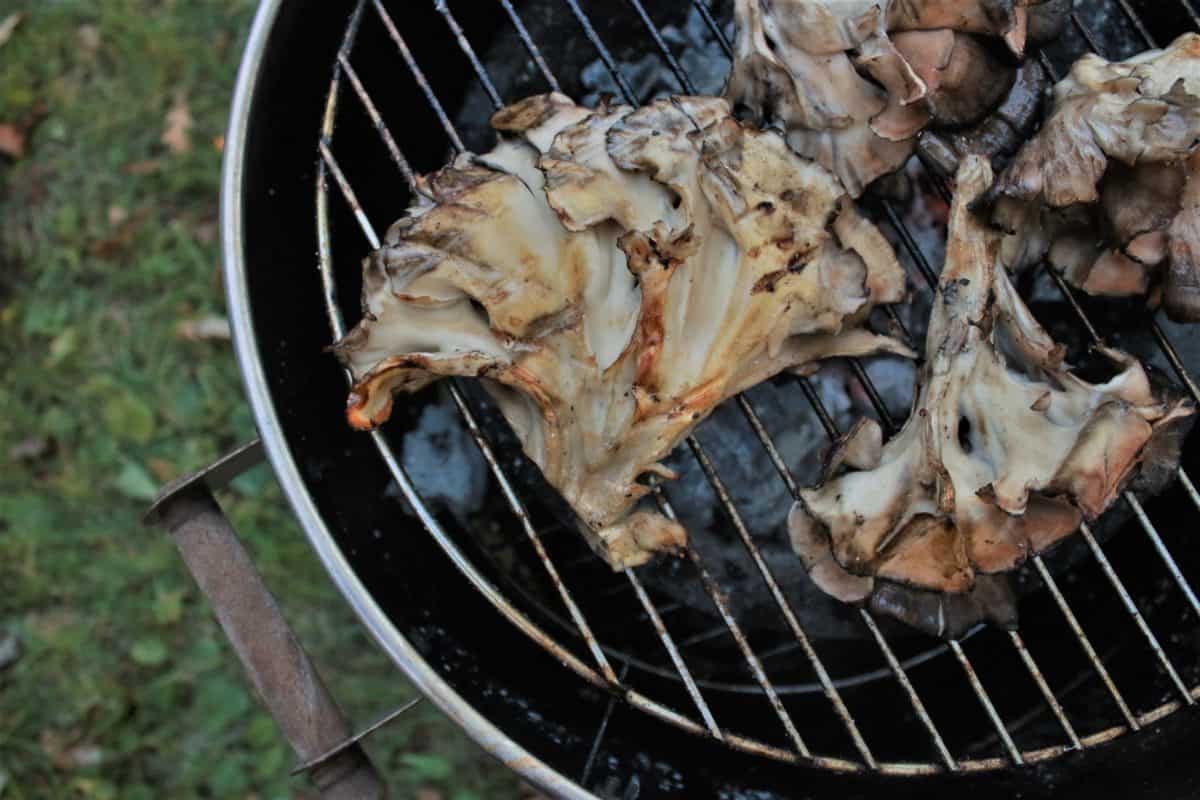 After your hens/maitake are all grilled, browned and caramelized, one of the best things I know to do is just to hit them with a little vinaigrette to cut through the richness of the grill, then add a little salad or some vegetables and call it a day.
The vinaigrette here is a heady combo of soy and ginger, with an adjustable amount of heat. It's great with a bowl of rice and a few wilted greens, or whatever you want.
This specific recipe I did for an issue of Make it Minnesota Magazine, which came out in 2018, if I remember correctly, I'm not exactly sure which issue, or I'd point you to it, but I am sure that grilled hen steaks are great, and this is a fun treatment for them if you want something new to try, and also works with chicken of the woods mushrooms if they're tender.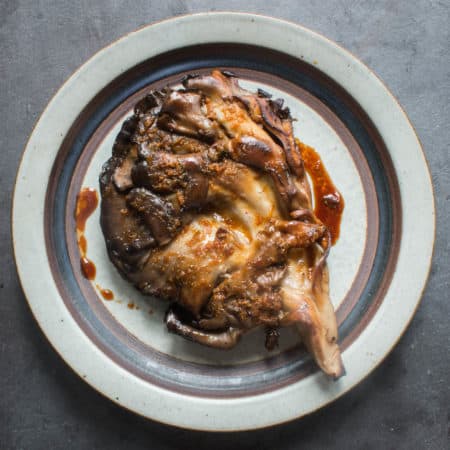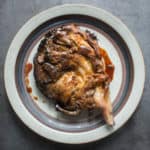 Print Recipe
Grilled Hen of the Woods Mushrooms with Ginger-Soy Vinaigrette
Grilled hen of the woods with a zippy ginger vinaigrette.  By themselves, a 4-6 ounce cluster will feed a person as a vegetarian entree. Serve these with a little steamed rice (or wild rice), extra vinaigrette on the side, sliced scallions, chopped cilantro, and toasted sesame seeds. Serves 2.
Equipment
1 small mixing bowl

1 Grill

Dried firewood

A pastry brush

for applying the vinaigrette
Ingredients
Hens
2

large 4-6 ounce clusters of hen of the woods

cleaned and left whole
Ginger-Soy Vinaigrette (makes a cup)
Ingredients

¾

cup

soy sauce

3

tablespoons

sugar or maple syrup

¼

cup

+ 2 tablespoons sesame oil

2

tablespoons

finely chopped ginger

½

cup

fresh lemon juice

1

tablespoon

Sriracha style hot sauce

or more to taste

1

large garlic clove

1

teaspoon

ground szechuan peppercorns / prickly ash berries

they won't be completely ground
Instructions
Grill the hens
Prepare a wood fire. When the embers are nice and hot, about 30 minutes, rub the grill grates with the oiled rag, then grill the hens, turning every few minutes to brush them with the vinaigrette.

Make sure not to put too much vinaigrette on the hen steaks or the grill can flare.

When the mushrooms are completely cooked through and caramelized, remove and serve with some of the vinaigrette on the side.
Vinaigrette
Put all ingredients in a blender except the sesame oil.

Puree the mixture on medium speed, drizzling in the oil to reduce friction and help everything get smooth.

Transfer the vinaigrette to a labeled, dated container and refrigerate until needed.
Notes
This treatment is good with different mushrooms that can be cooked in large pieces on a grill. Lions mane, chicken of the woods mushrooms, and clusters of oyster mushrooms all make good substitutes. 
Nutrition
Calories:
392
kcal
|
Carbohydrates:
30
g
|
Protein:
10
g
|
Fat:
28
g
|
Saturated Fat:
4
g
|
Polyunsaturated Fat:
11
g
|
Monounsaturated Fat:
11
g
|
Sodium:
4864
mg
|
Potassium:
378
mg
|
Fiber:
1
g
|
Sugar:
21
g
|
Vitamin A:
4
IU
|
Vitamin C:
24
mg
|
Calcium:
54
mg
|
Iron:
2
mg
Related Posts
Vegetarian and Vegan Mushroom Recipes
Hen of the Woods Mushroom Recipes