Here's a way to use up those dried black trumpet mushrooms that really showcases the mushroom itself-a rich puree or coulis. Read on and I'll show you how to make your own.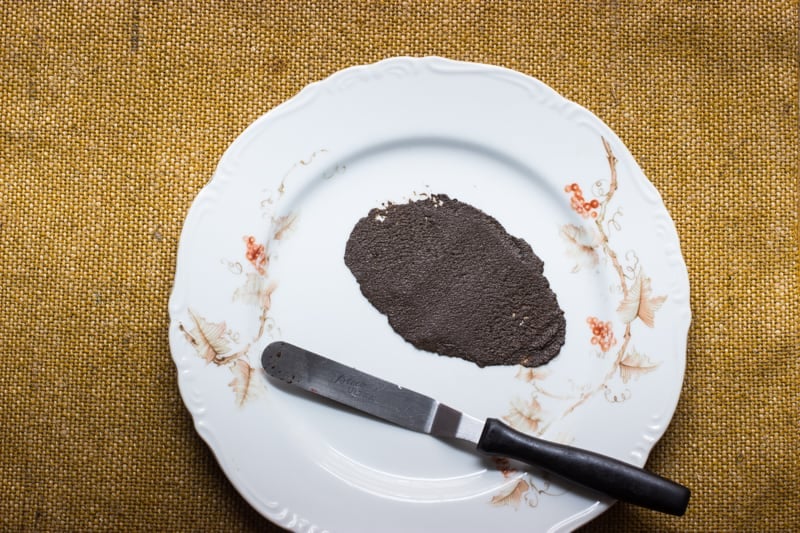 Technically a coulis is a dessert sauce made from fruit, but I've used the term coulis to refer to any sauce that resembles a smooth puree for years, and I'm definitely not the only chef to do so.
The recipe here was inspired by the black trumpet coulis served at Chanterelle Restaurant in New York, run by David Waltuck (the restaurant is now closed). I find a puree of pure black trumpets to be a bit on the bitter side, so my version is tempered by adding some cultivated mushrooms to the puree, which tames the bitterness in the same way I talked about in my black trumpet-shell pea soup here.
After cooking some dried trumpets down with shallots, herbs and brandy and then pureeing, you get a concentrated mushroom bomb that has great potential for plenty of fun, and experimenting. Here's some ways I'd use it:
Warm or cold on toast as the basis for a canapé topped with some chopped greens, tomato, etc.
Spread on a plate (pictured below) with meat and vegetables for an entree
Dolloped on a creamy soup, not necessarily containing cream-like potato or celery root
Spread on a thin omelet, with some wilted ham and sliced soft cheese, rolled up and sliced (called a rotolo)
As the basis of a ravioli filling, to be mixed with ricotta or marscarponé
Mixed in between the layers of a potato or vegetable gratin
As the basis of a vinaigrette or dressing, mixing it with a flavorful oil and a dash of vinegar and chopped herbs
That should be enough to give you some ideas.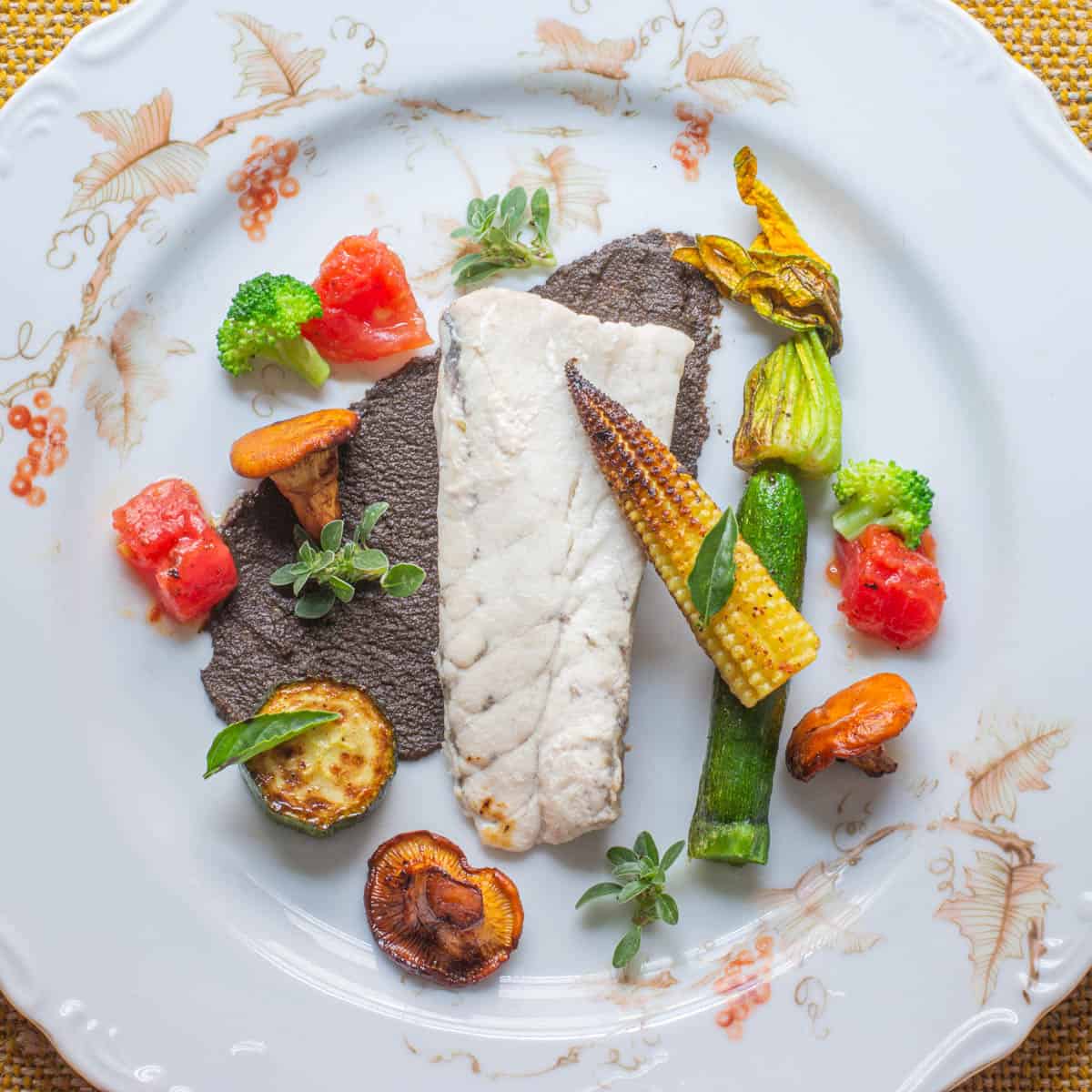 After trying out a number of ways of using the coulis, I found my favorite way to enjoy it was as a sort of condiment for a simple dish of protein and vegetables. It's much lighter than a sauce made from stock, and works really well with light, summer preparations when eating heavy food doesn't sound appealing.
The example dish above with poached bass and fresh vegetables I'm including here is great, but I encourage you to use whatever is on hand and fresh.
You can also use the puree to flavor Mushroom Mashed Potatoes.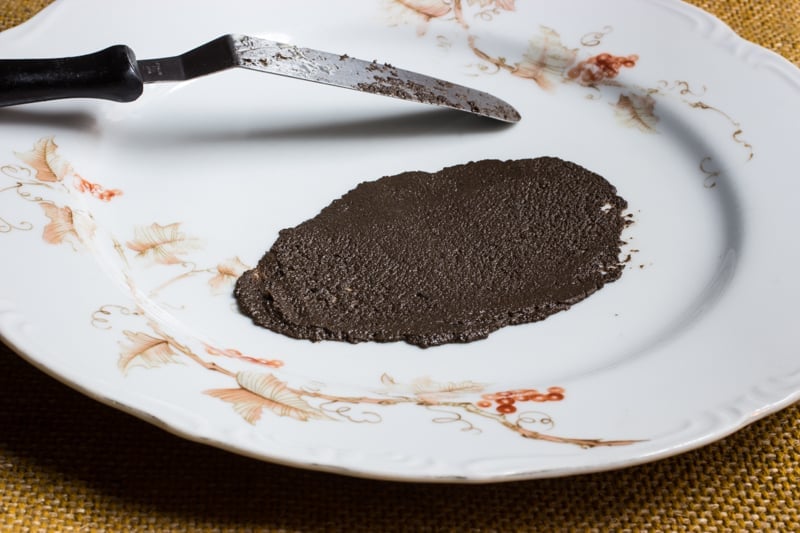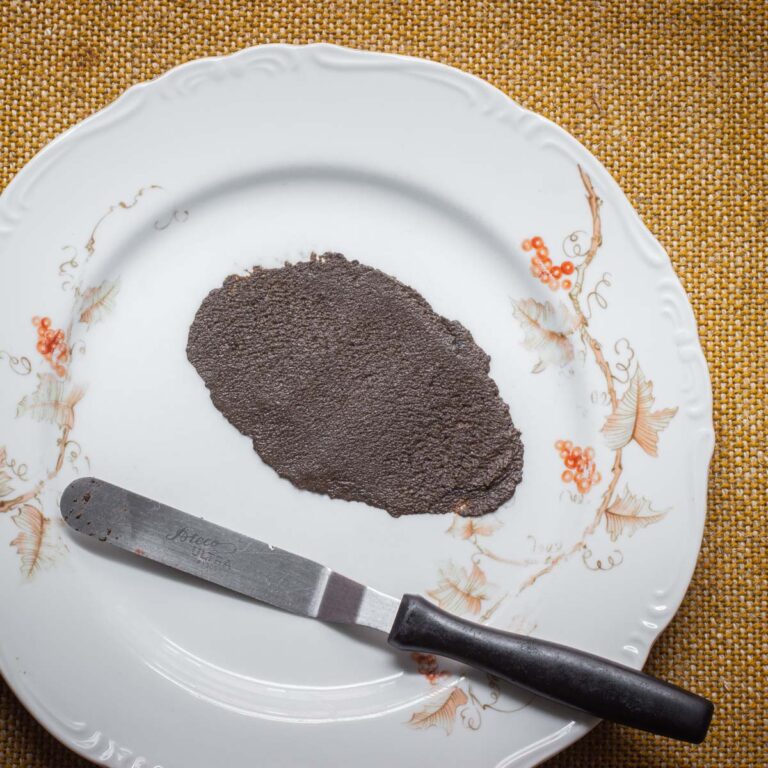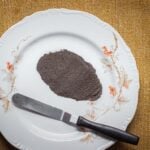 Print Recipe
Black Trumpet Mushroom Puree 
A thick, rich puree of black trumpet mushrooms. Yield: enough to garnish 8-10 entrees.
Equipment
1 food processor or high speed blender
Ingredients
1

oz

dried black trumpet mushrooms

roughly 2 cups

2

tablespoons

unsalted butter

3

cup

chicken stock

3

tablespoon

shallot

½

teaspoon

salt

¼

teaspoon

pepper

¼

cup

flavorless oil

2

tablespoons

fresh chopped thyme

¼

cup

brandy

½

lb

white button mushrooms

roughly chopped
Instructions
Re-hydrate the dried mushrooms in the stock for 15 minutes. Agitate the mushrooms to remove any grit, then remove the mushrooms, chop roughly, strain the stock through cheesecloth and reserve both separately.

Melt the butter in a saucepot, add the shallot, button mushrooms, thyme, and black trumpets and cook for 4-5 minutes, stirring occasionally until the mixture is lightly caramelized. De-glaze the pan with the brandy, then add the chicken stock and reduce the mixture by half.

Transfer the mixture to a highspeed blender and puree, adding a little water or additional stock to help the mixture become smooth. The mixture should be a bit loose to help the blending process.

After it's finely pureed, transfer it to a sauté pan and heat gently, stirring occasionally until it is thick enough to spread into a layer with a spatula on a plate without weeping water. Afterwords, taste the mixture for salt and pepper adjust if needed, transfer to a labeled container chill, and reserve until needed.

The puree will last for 5 days in the refrigerator, and can be frozen.
Notes
How to use black trumpet puree 
Think of this as an all-purpose mushroom "sauce". Instead of spooning it on the top of things, you spread it on the bottom of the plate. It's great with vegetables, fish and chicken. 
Nutrition
Serving:
1
oz
|
Calories:
155
kcal
|
Carbohydrates:
7
g
|
Protein:
4
g
|
Fat:
11
g
|
Saturated Fat:
3
g
|
Polyunsaturated Fat:
4
g
|
Monounsaturated Fat:
3
g
|
Trans Fat:
0.2
g
|
Cholesterol:
10
mg
|
Sodium:
277
mg
|
Potassium:
253
mg
|
Fiber:
1
g
|
Sugar:
2
g
|
Vitamin A:
91
IU
|
Vitamin C:
1
mg
|
Calcium:
7
mg
|
Iron:
0.4
mg
More