When I brought my first fried chicken mushrooms home from the coop, after the basic "fry in pan with butter until brown and add salt" method, this is what I made, It's simple, and a good example of my style of cooking: interesting, high quality ingredients, cooked with classical technique.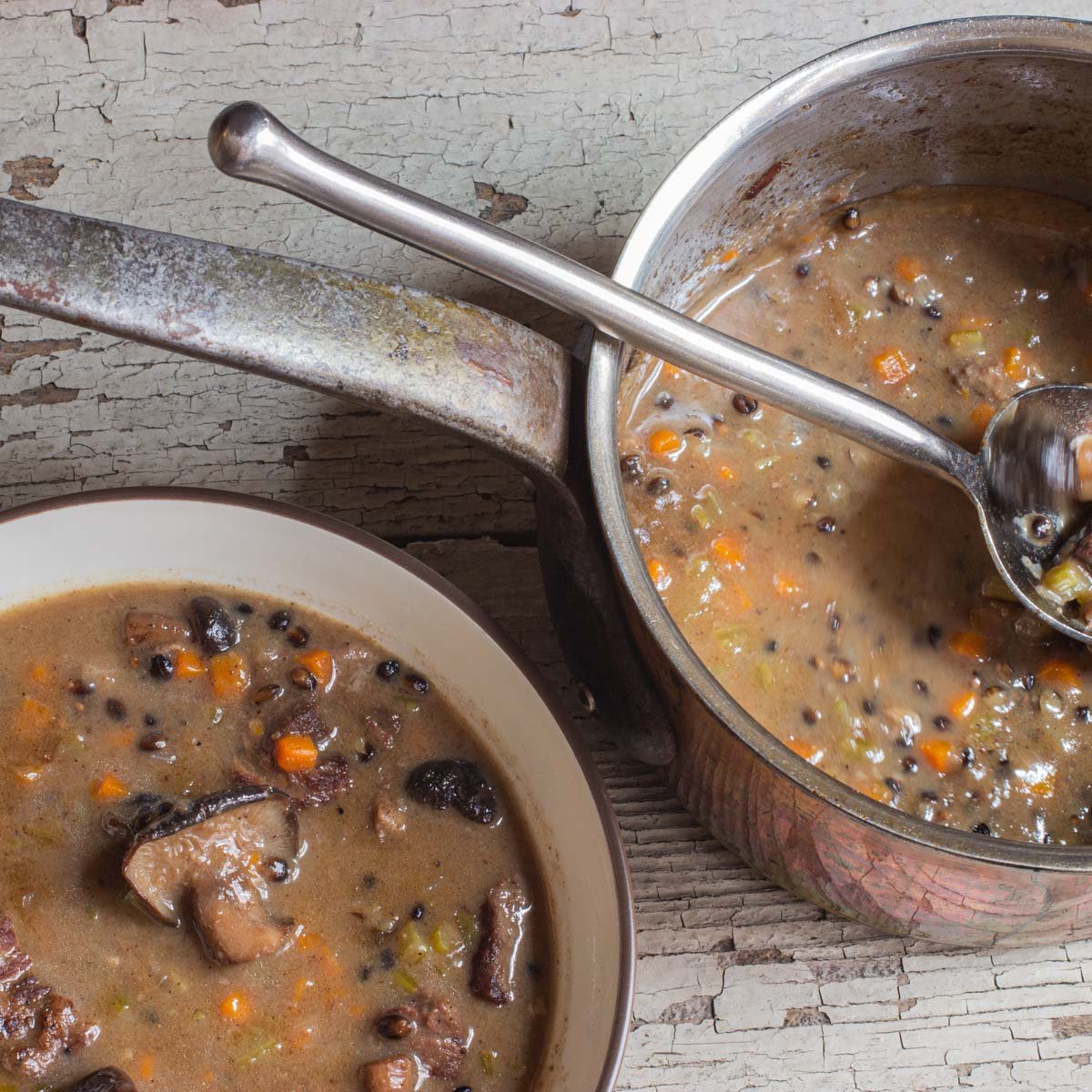 I remembered my foraging buddy Dan mentioning that Wild Man Steve Brill recommended cooking fried chicken mushrooms in soup. After digesting Steve Brill's notes about them online, and being sightly unimpressed with how they came out sauteed, I thought I'd give the mushrooms a shot in a wet method, like a stew or soup.
I made a fun variation on the ol' beef 'n' barley using bison and black barley-a nice, stick-to-your-ribs-in-cold-weather kinda dish. The fried chicken mushrooms thickened the soup very subtly, and it was great. If I have some on my hands any time soon, I'll be cooking them in the same way.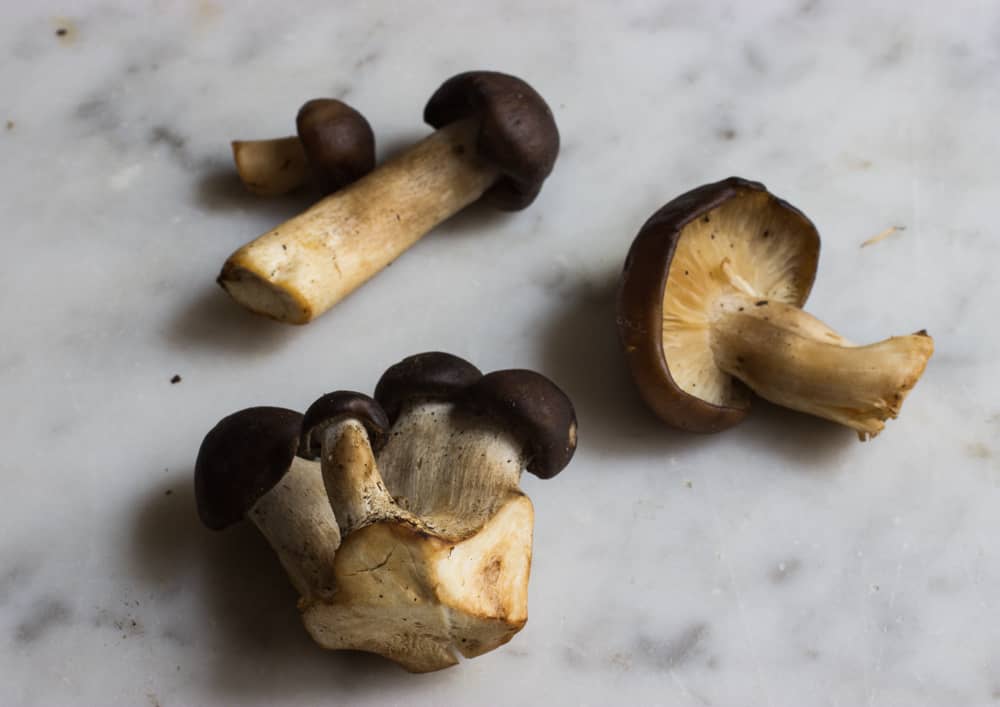 As far as the thickening quality goes, honey mushrooms are related to fried chicken mushrooms, and I knew from experience that honeys have a natural thickening property, something I noticed after I pickled a bunch en masse a couple years back. They gave off a sort of mucilage that was exacerbated by the low amount of liquid involved in pickling via mason jar, when I opened the jars it was like they were covered in snot.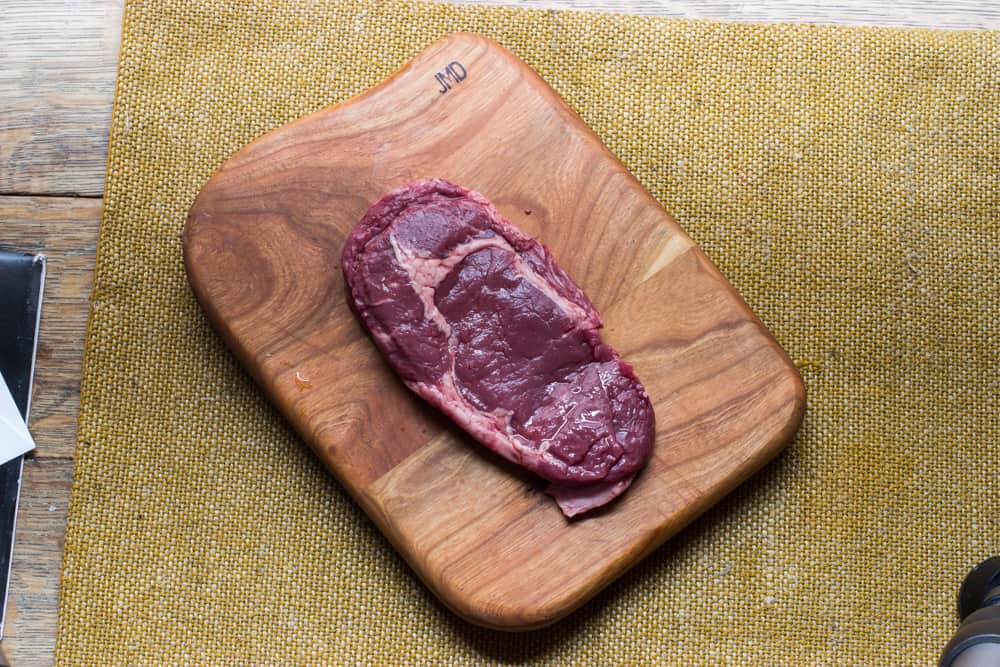 Once I read that Steve Brill said the Lyophyllum/fried chicken mushrooms would thicken a soup, I knew they were possessing the same effect I had experienced before with the honeys, which I had thought of as kind of a draw back to cooking with Armillaria/honey mushroom species. I hadn't ever thought of using the property to thicken a soup though, so props to Steve Brill.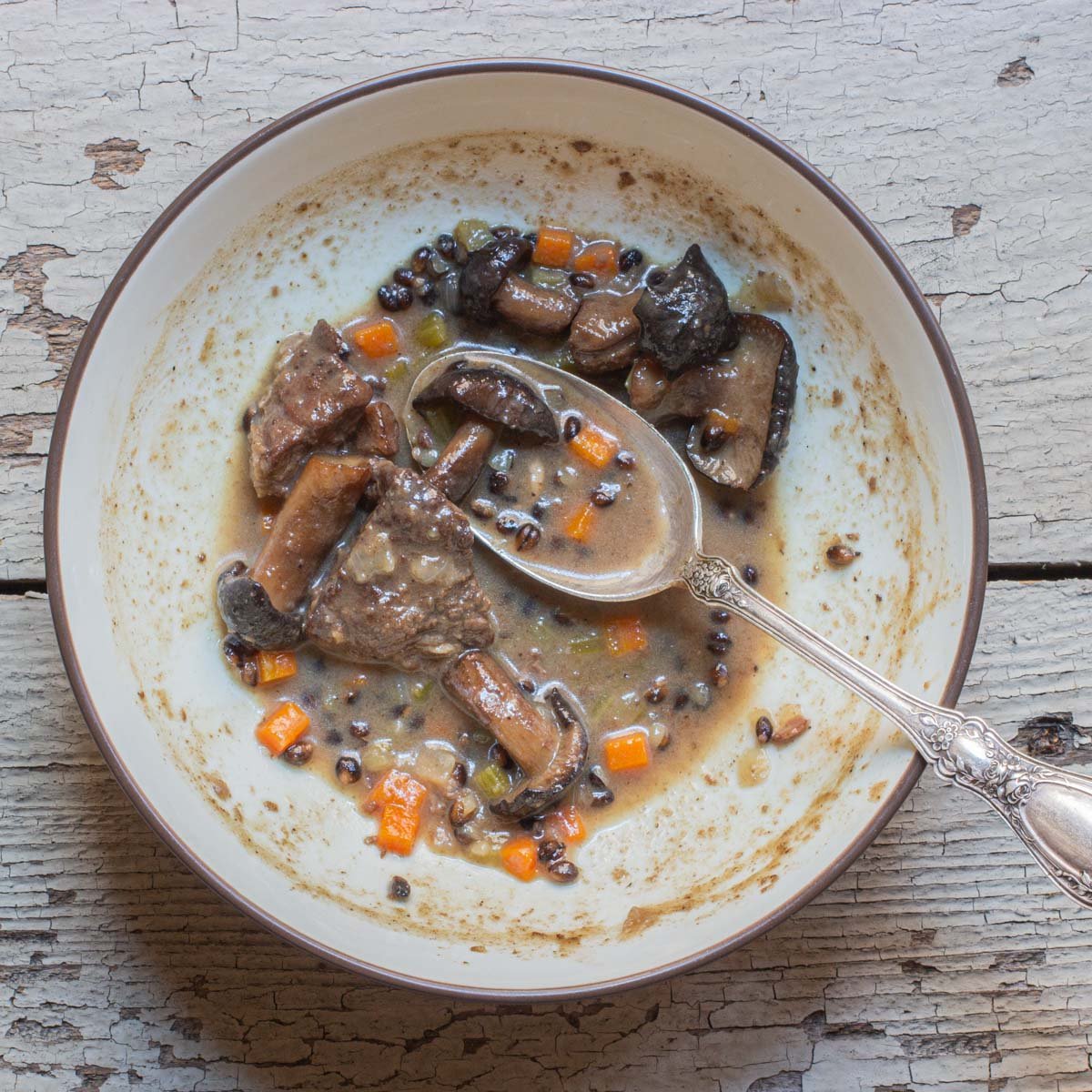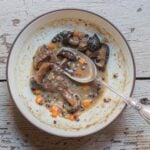 Print Recipe
Bison-Black Barley Stew, With Fried Chicken Mushrooms
Bison-black barley stew thickened naturally with fried chicken mushrooms. Honey mushrooms could also be substituted.
Ingredients
1

lb

bison chuck

top or bottom round (beef or pork are fine substitutes too)

4

ounces

fried chicken mushrooms

cleaned

¼

cup

dry red wine

½

cup

black barley

8

cups

meat stock

homemade

2

cups

mirepoix

carrot, onion, and celery diced ¼ inch

Rendered animal fat or cooking oil

for browning the meat. (I used beef lard)

Bouquet garni consisting of: 1 dried bay leaf

2 garlic cloves, 5 sprigs of thyme, and 5 black peppercorns

Kosher salt and fresh ground pepper

to taste

Wild rice flour

as needed for dredging (optional)
Instructions
Cut the bison into ½ inch cubes.In a 4 qt or similar size saucepot, heat the lard or oil. Season the bison liberally with salt and pepper, then dredge in the wild rice flour if using. Tap off the excess flour and brown deeply, working in small batches. Remove the bison meat to a towel to catch excess fat.

Discard the spent lard or oil from the pan, then add a little more for cooking the mushrooms. Heat the oil until, then brown the mushrooms lightly. Season the mushrooms with salt and pepper, then add the mirepoix and cook for a few minutes until translucent and no longer raw, stirring occasionally. Add the barley. De-glaze the pan with the red wine, then add the browned meat, bouquet garni, and stock to the pot.

Bring the mixture to a boil, then simmer, with the pan slightly off center of the heat, which naturally pushes scum to one side of the pot. Simmer the soup gently, covered, skimming off the scum from the stock occasionally, until the meat is tender and yielding, about an hour and a half. Remove the bouquet garni.

Double check the seasoning of the soup for salt and pepper, then serve immediately, or chill immediately in an ice bath, label, date, and reserve until needed. The soup can also be frozen.
Notes
I was experimenting with the thickening qualities of the fried chicken mushrooms here by using gluten free wild rice flour when browning the meat, you could easily substitute all purpose flour, if you want. Wild rice flour adds a nice, subtle taste to a broth or stew though, without making it gummy.
If you want to gild the lily, serve a little sour cream mixed with chopped dill with something like this.