A simple, hearty stew recipe made with bison stew meat, barley, vegetables and mushrooms. I use a few special ingredients for this, but you can use whatever you have on hand.
Fried Chicken Mushrooms
Recently I got to try my first fried chicken mushrooms (Lyophyllum decastes). The first time I try a new mushroom I always cook them simply sauteed. They were ok, but they weren't incredible.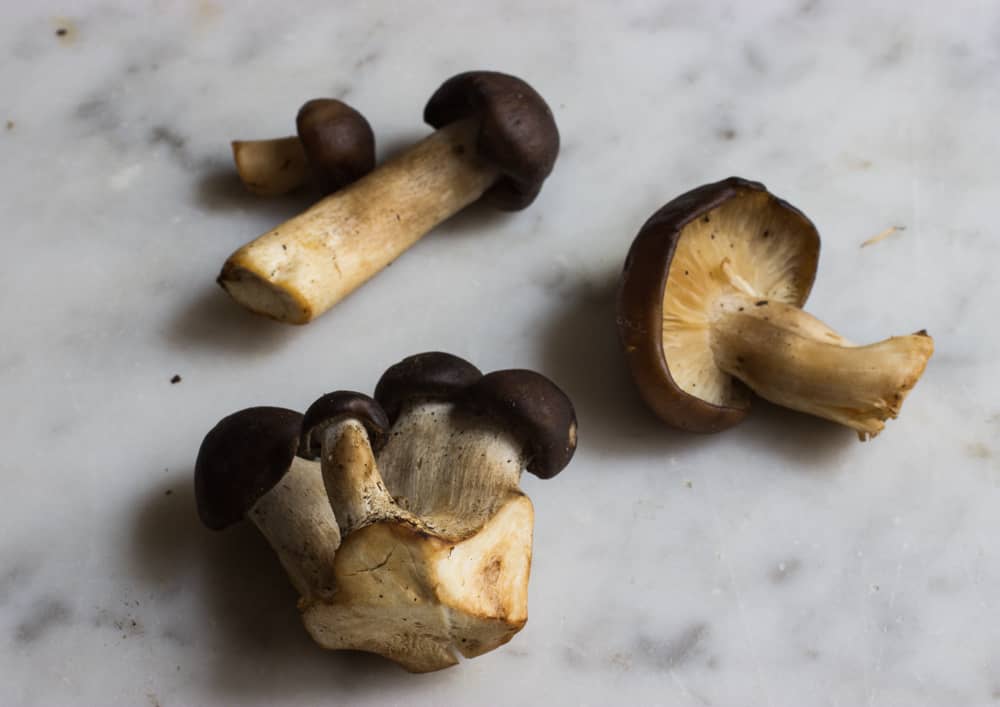 Then I remembered a friend telling me that Wild Man Steve Brill recommended cooking fried chicken mushrooms in soup. After reading Steve Brill's notes about them, I thought I'd give them a shot in a soup or stew.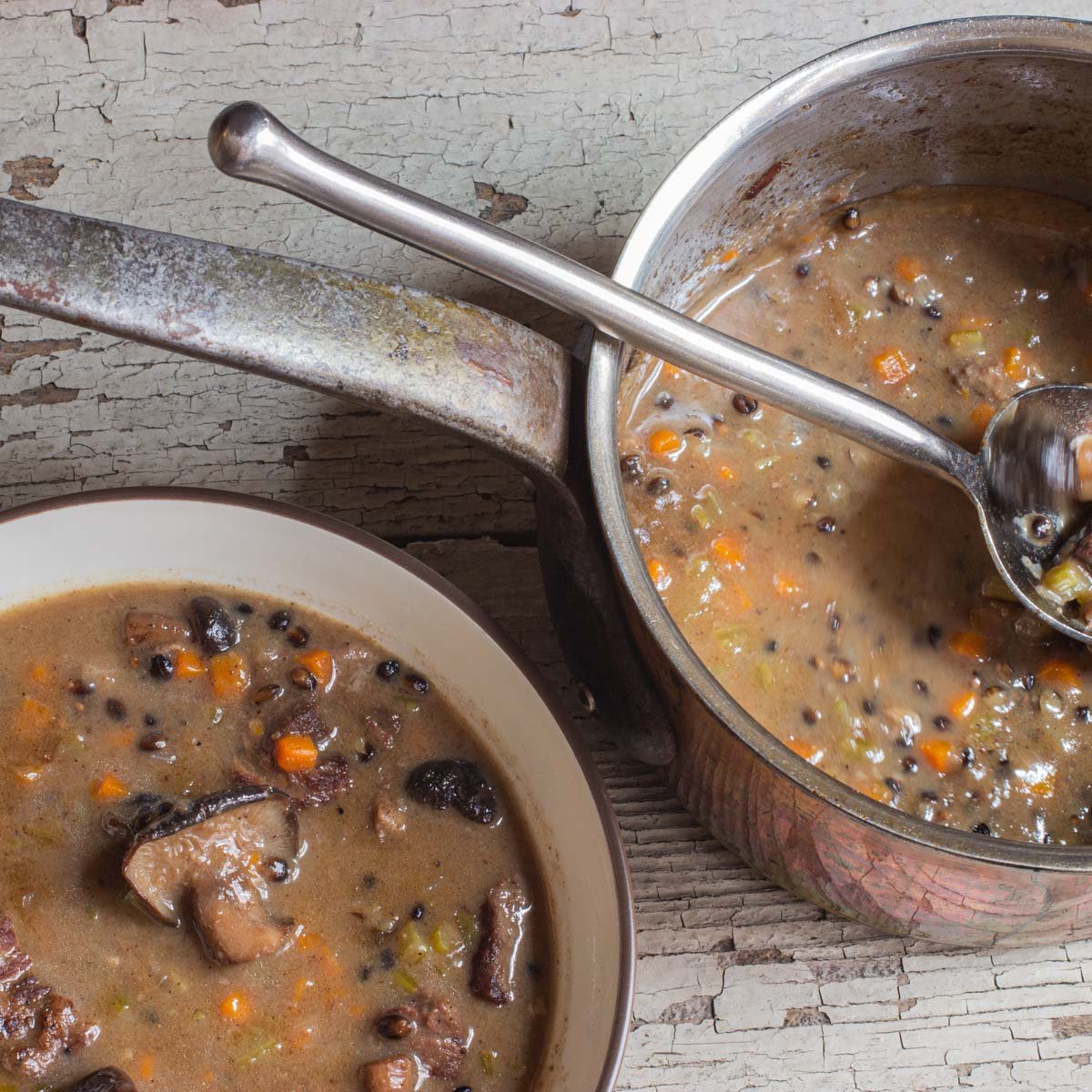 The fried chicken mushrooms thickened the soup subtly and it turned out really good. Honey mushrooms (Armillaria mellea) will thicken soups too, as will a few other wild mushrooms I know. If you've tried these mushrooms before and were put off by the mucilage, make a point to try them in soup.
Black Barley
I made a fun variation on the beef and barley stew using bison and black barley. It's a good cold weather dish.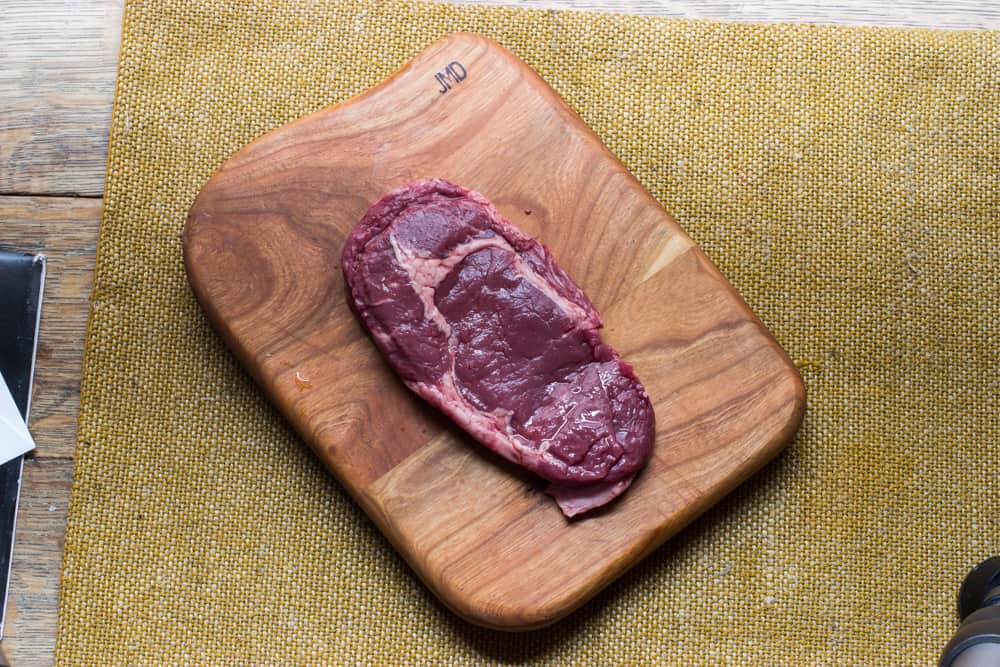 Black barley is similar to regular barley, but takes longer to cook. It's a beautiful grain with a deep purple color from the high amount of anthocyanins it contains. You can order it from specialty purveyors like Woodland Wild Foods.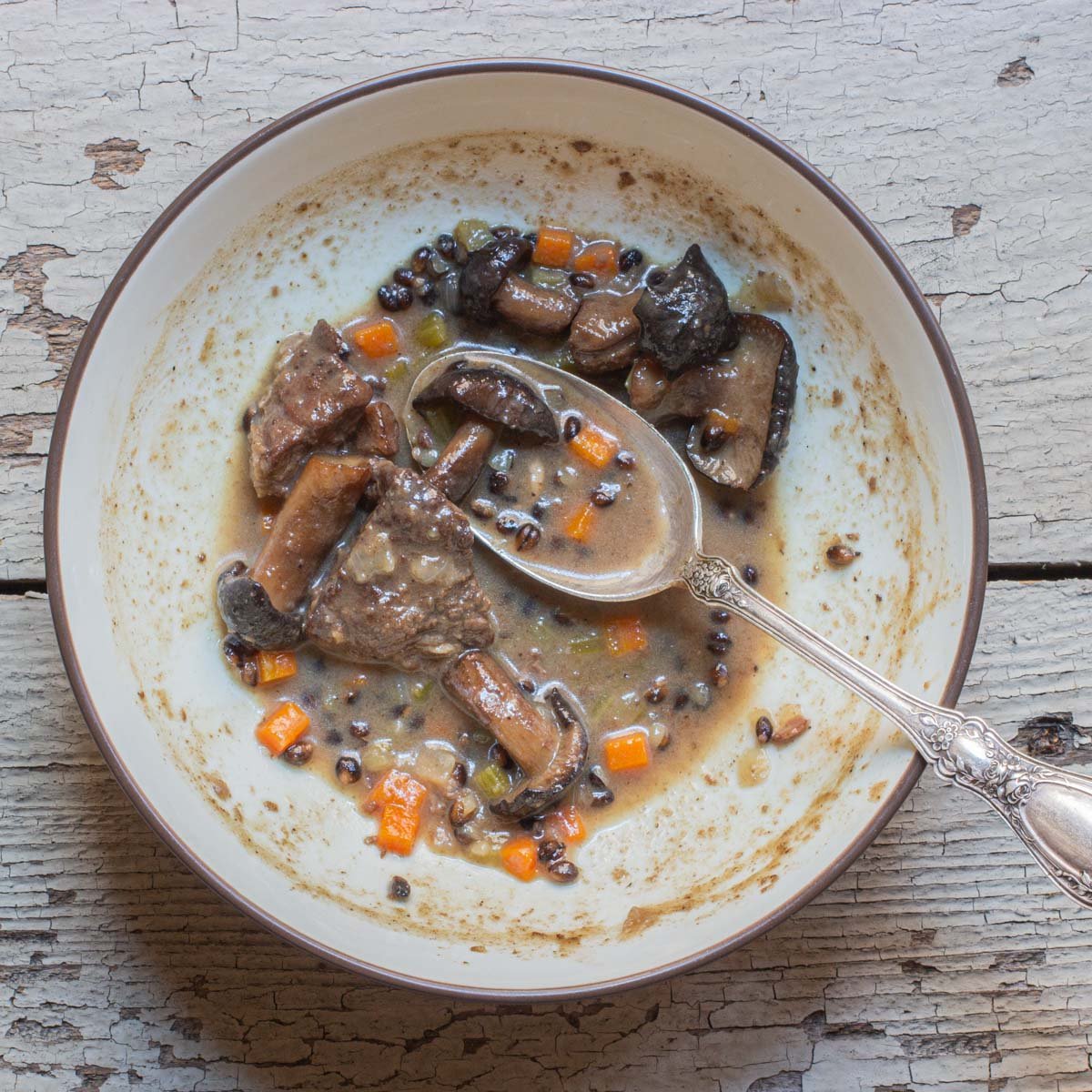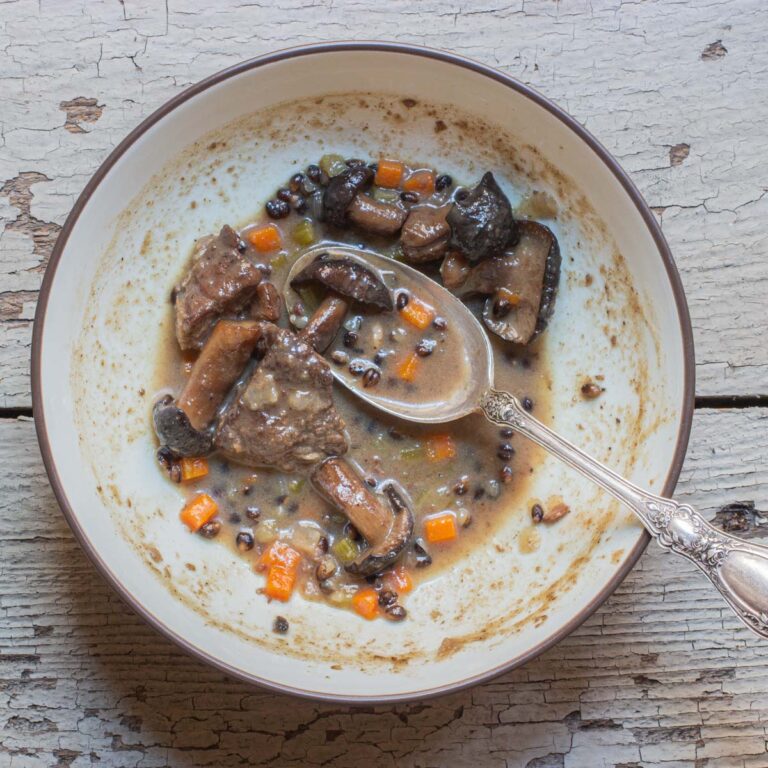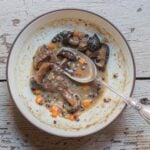 Print Recipe
Bison Stew with Barley and Mushrooms
Bison-black barley stew thickened naturally with fried chicken mushrooms. Honey mushrooms could also be substituted.
Ingredients
1

lb

bison chuck

4

ounces

fried chicken mushrooms

you can substitute shiitakes

¼

cup

dry red wine

½

cup

black barley

or regular barley

8

cups

meat stock

preferably homemade

2

cups

mirepoix

carrot, onion, and celery diced ¼ inch

Rendered animal fat or cooking oil

for browning the meat. (I used beef lard)

Bouquet garni consisting of: 1 dried bay leaf

2 garlic cloves, 5 sprigs of thyme, and 5 black peppercorns

Kosher salt and fresh ground pepper

to taste

½

cup

Wild rice flour

as needed for dredging (optional)
Instructions
Cut the bison into ½ inch cubes. In a 4 qt or similar size saucepot, heat the lard or oil. Season the bison liberally with salt and pepper, then dredge in the wild rice flour if using. Tap off the excess flour and brown deeply, working in small batches. Remove the bison meat to a towel to catch excess fat.

Discard the spent fat from the pan. Add a little more for cooking the mushrooms. Heat the oil until, then brown the mushrooms lightly.

Season the mushrooms with salt and pepper. Add the mirepoix and cook for a few minutes until no longer raw, stirring occasionally.

Add the barley. De-glaze the pan with the red wine, then add the browned meat, bouquet garni, and stock to the pot.

Bring the mixture to a simmer. Simmer the stew, covered until the meat is tender, about 1.5 hours. Skim off any scum from the stock occasionally. Remove the bouquet if using and discard.

Double check the seasoning of the soup for salt and pepper and adjust until it tastes good to you. Serve it garnished with a few fresh cut chives and a spoonful of sour cream. The stew will taste better the day after it's made.
Notes
Thickening the soup 
I use wild rice flour here. Wild rice flour adds a subtle taste without making a broth gummy like flour can. It's also a traditional Native American food that loves bison. 
If you want to use all purpose flour instead, mix a tablespoon of flour and oil together until it makes a paste. At the end of cooking, stir the paste into the soup to thicken it as you would roux. Simmer it for a few extra minutes before serving.
Making in a slow cooker
I use a small soup pot here, but you can easily make this in a slow cooker by doubling the quantities listed.
Nutrition
Serving:
12
oz
|
Calories:
812
kcal
|
Carbohydrates:
56
g
|
Protein:
58
g
|
Fat:
38
g
|
Saturated Fat:
18
g
|
Polyunsaturated Fat:
1
g
|
Monounsaturated Fat:
0.3
g
|
Cholesterol:
159
mg
|
Sodium:
3954
mg
|
Potassium:
557
mg
|
Fiber:
14
g
|
Sugar:
13
g
|
Vitamin A:
95
IU
|
Vitamin C:
11
mg
|
Calcium:
286
mg
|
Iron:
8
mg