Mashed potatoes flavored with wild burdock root is one of the more creative ways I've cooked these interesting roots. It makes for a good compliment to fish and poultry.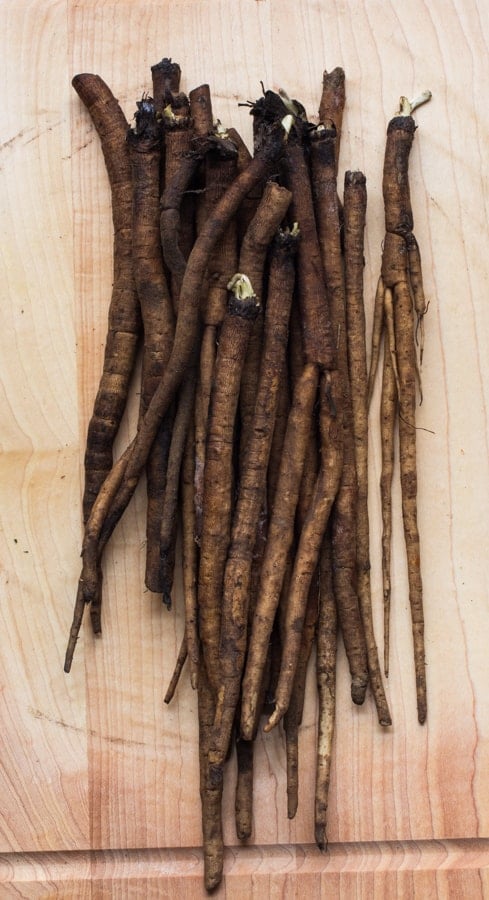 When I dug my first burdock root and cooked it I didn't know that it was a typical ingredient in sushi. All I knew was that it was a root that tastes a bit like oysters, or something similar, it's a bit hard to describe.
I approached the burdock how I do most food, through a lens of classical European technique. What I found is a root that requires long cooking, but develops a very cool flavor as a reward.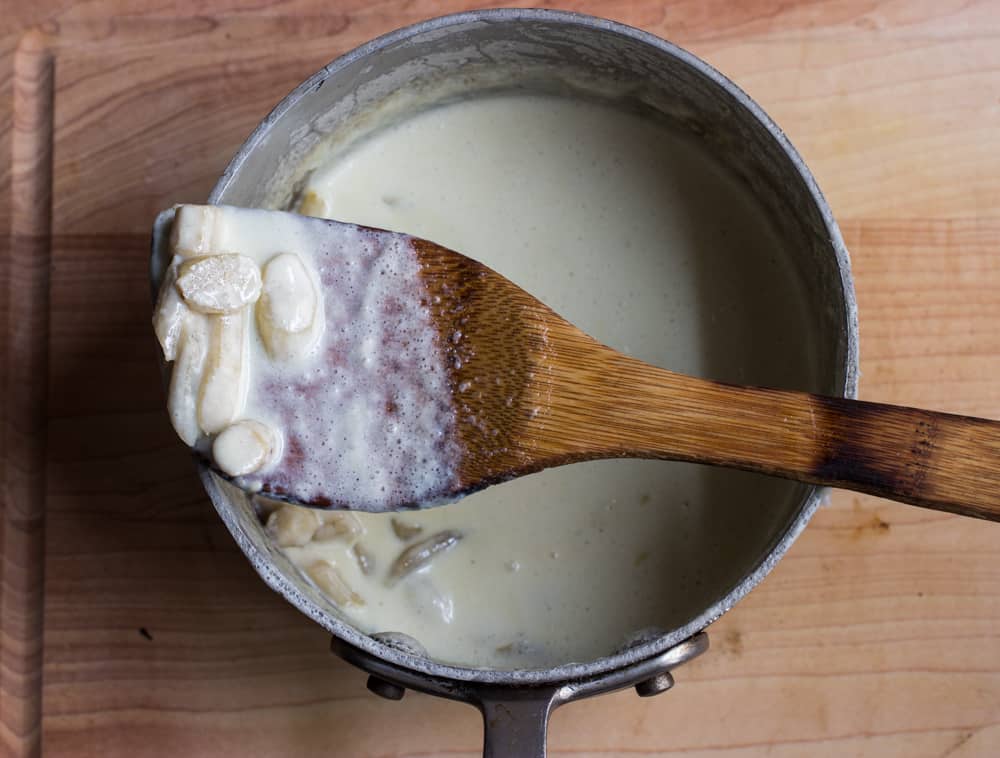 Since local and wild burdock roots I've worked with are generally small, I knew it would be difficult to use on a large scale unless I found a way to amplify their flavor.
One of the best mediums of transferring flavors I know of is cooking something in a liquid or broth. Following that, cream is a neutral tasting liquid that loves to take on flavors of things it's cooked with. That knowledge, as well as the request of a photographer friend of mine for a cook book recipe contribution containing less than 13 ingredients, was how this recipe was born. (I'll keep you updated on the cookbook, don't worry) 🙂
Mashed potatoes are great in their simplicity They're a blank canvas for introducing other flavors. Adding the flavor of burdock takes a little extra effort, but it's worth it. I guarantee you, once you taste them you'll have a new weapon in your arsenal.
The technique I use here of pureeing a flavorful vegetable in cream, passing it through a sieve, and then adding the flavored cream to the potatoes is a great trick to know too too, since burdock is one of many many things you could do this with. Celery root, rutabaga and turnips are good examples too (the exception being scarlet turnips, since their color becomes unappealing when pureed).
One last thing. Don't write this recipe off because you can't find any burdock at a grocery store, or don't want to go through the painstaking process of digging some yourself. Gobo root is identical in flavor, and can be found at any Asian market I know of. It's cheap too, and larger in width, which means it's much less putsy to peel. Try it sometime.
If you like flavored mashed potatoes, you might also like my Mushroom Mashed Potatoes.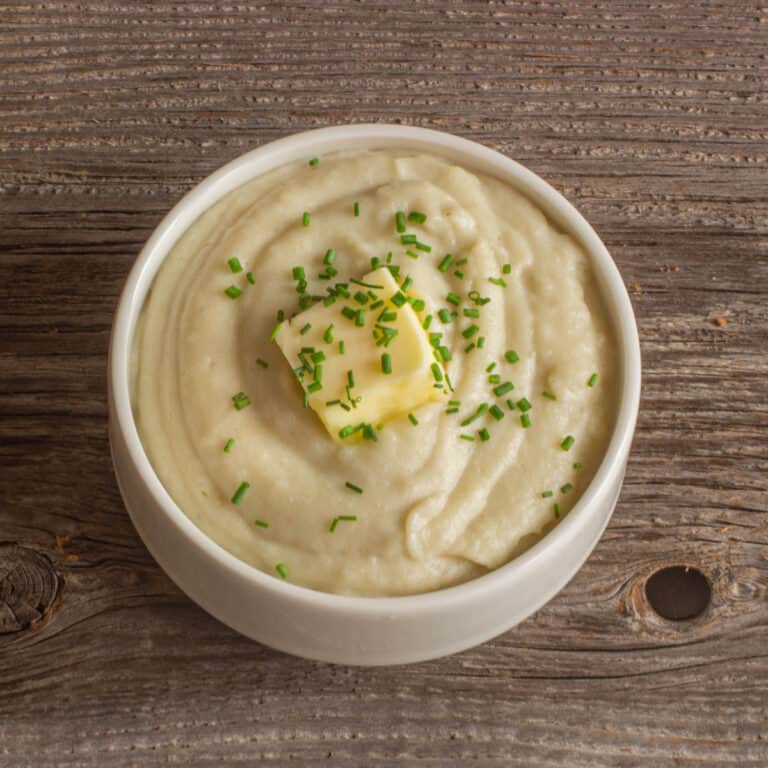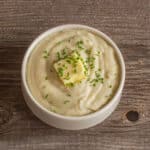 Print Recipe
Burdock Mashed Potatoes
Yield: about 6 cups, enough to feed 4-8 people as a side dish
Equipment
1 Blender

1 2 quart sauce pot
Ingredients
Kosher salt and white pepper

2

tablespoon

unsalted butter

2

lb

russet potatoes

6

ounces

burdock root

2

cups

heavy cream
Instructions
Fill a container with some water seasoned to taste with lemon juice. Working root by root, peel the roots and place them in the water with to prevent oxidization. When the burdock is peeled, remove the roots from the water and slice thinly.

Preheat the oven to 250. Put the chopped burdock and cream into a small, non-reactive saucepot and bring the mixture to a simmer, seasoning lightly to taste with salt and white pepper. Transfer the pot to the oven and bake, covered, until the burdock is tender, about 30-45 minutes.

Next remove the burdock and cream from the oven, then puree in a blender, adding a little water if necessary to thin the mixture and obtain a smooth puree. Pass the burdock cream through a strainer and reserve until needed. The burdock puree can be made a day or two ahead of time, it can also be frozen and reheated, although it may need to be pureed again since freezing can cause it to separate.

To cook the potatoes, heat a pot of lightly salted water. Peel the potatoes and add to the pot, cook the potatoes for 15 minutes, or until tender. Remove the potatoes and pass through a ricer. Add the reserved burdock cream and the butter to the potatoes and stir to combine. Taste the potatoes for salt and pepper and adjust if needed. Transfer the potatoes to a serving dish and keep warm, covered, until needed.

Serve the potatoes topped with a little knob of butter, and some sliced chives, if using.
Notes
These are excellent with meat and fish. At The Salt Cellar, I serve a variation of this with our sea scallops-a play on the burdock's "oyster" flavor.
Nutrition
Serving:
4
oz
|
Calories:
665
kcal
|
Carbohydrates:
52
g
|
Protein:
9
g
|
Fat:
49
g
|
Saturated Fat:
31
g
|
Polyunsaturated Fat:
2
g
|
Monounsaturated Fat:
12
g
|
Trans Fat:
0.2
g
|
Cholesterol:
150
mg
|
Sodium:
46
mg
|
Potassium:
1191
mg
|
Fiber:
4
g
|
Sugar:
6
g
|
Vitamin A:
1926
IU
|
Vitamin C:
15
mg
|
Calcium:
127
mg
|
Iron:
2
mg