A story about the craziest morel recipe I've ever heard of. Read on for more. If you're looking for a simple, creamy morel soup to make that doesn't require 2 lbs of mushrooms per serving, try my creamy dried morel soup (bisque).
I'll never forget the day I met Boyd. While I was walking to work at the restaurant, I saw the sous chef at the entrance, a few hundred feet in front of me.
There were two big men with him; they were all teaming up caravan style to carry a bunch of giant coolers. When the sous saw me he started to point at the coolers, yelling excited gibberish from across the parking lot. We hadn't received a shipment of morels yet that spring. Could it be? I had been picking a few locally, but the amount of morels I pick with my good friends is not even close to any amount that could feed a restaurant, even for a couple days.
I ran up to the door and followed the guys inside. When they opened the first cooler, I was shocked. I never imagined what 100lbs (96 to be exact) of morels looked like. These were no ordinary morels either, these were picked by professional mushroom hunters.
Each and every stem was cut clean with a knife to prevent any dirt from clinging to their product; they were fresh as can be. I couldn't even see a single dead or mushy one in the whole lot.
I was introduced to the leader of the pack: a monster of a man named Boyd. He was about 60 years old, standing upwards of 6 feet with a barrel chest, pearl white beard, plaid shirt and suspenders.
He was what I imagine a child born of Santa Claus and the Sasquatch would look like. His helper had a bushy mustache and looked like he came directly out of a logging camp, he didn't speak a single word the entire day. Afterword I learned that they were Canadian, and his helper only spoke French.
After we unpacked and weighed all of the morels, Boyd started to get excited: "You guys have so many morels that you could put morel soup on the menu!". He explained his favorite morel recipe to us, which was a "soup". What Boyd described was not a soup per-se, but something very interesting:
"Here's how I make morel soup: you start off cooking a little onion, not too much though. Then you add your morels and cookem a bit, and kinda brown them, then add some salt and kinda press down on them with a wooden spoon. 2lbs should make about a bowl, I call it my hundred dollar bowl of soup."
After he was done explaining his method for morel soup I was shocked. I thought to myself:
"Dear god! The man stews 2 lbs of morels for himself and calls it SOUP!?"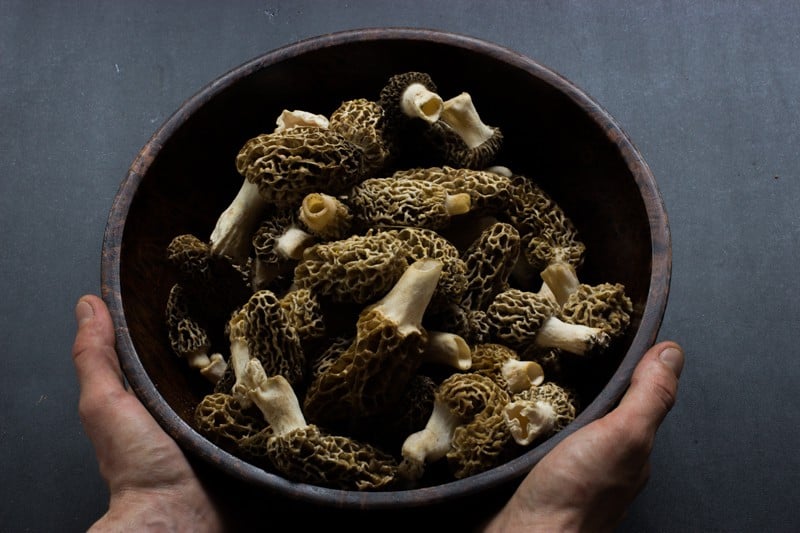 We set the interns to cleaning the morels, but there were so many that everyone joined in. My boss came up to me while I was picking out every "stuffer" that I could find. At the restaurant I'm supposed to be the resident mushroom guru, but he said with a laugh to me: "Makes you feel like an amateur, huh Alan!". It Did.

Boyd and his partner collected their money, ate a sandwich, and disappeared as quick as they came; we've never heard from them since.
They made out with about 1000 dollars, an absolute steal for us considering they could've piece-mealed them out at 20 dollars a pound or more, if they so chose. This got me to thinking, and I realized that they were going to have to split the cash about 4-5 ways, since he had other pickers under his employ.
These guys were not picking morels to get rich, they were picking morels because their leader asked them to, because he trusted them with the knowledge of his patches. Boyd said that twenty years earlier he would pick 100lbs by himself in 2 days. Two Days! I remembered Boyd, and I knew someday I should share his story.
I thought long and hard about how to develop a recipe using Boyd's guidelines. I wanted to keep it as simple as possible, but I also saw a couple ways that it could be improved without changing it's identity. While I was cleaning the 2lbs of morels to make this, I was shocked at how much trim came off of the mushrooms.
Not wanting to waste anything, I took the trim and used it to infuse the stock. Another useful change I made is that the mushrooms are browned first to deepen their flavor, afterword the morels are pushed to the side of the pan and the ramps or onions added, then the pan de-glazed to capture the browned morel bits that stick to the bottom.
I write down recipes from people whenever I can, but this one may just be my favorite. It's larger than life, in more than one sense. The portion size is massive, sure, and if you bought them from a grocery store it would probably cost about 150$, but that's not my favorite part.
What I loved is that in another sense this recipe let me see into someone's life, a type most people will never even see or hear about. I got to meet the kind of character urban legends are made of, a man who has been hunting morels in quantity for over 60 years; loving every minute of it.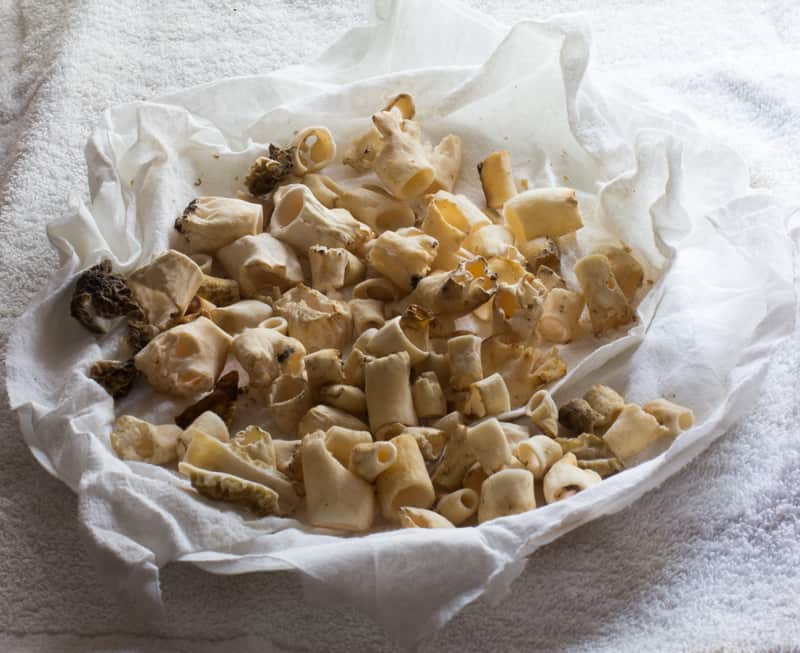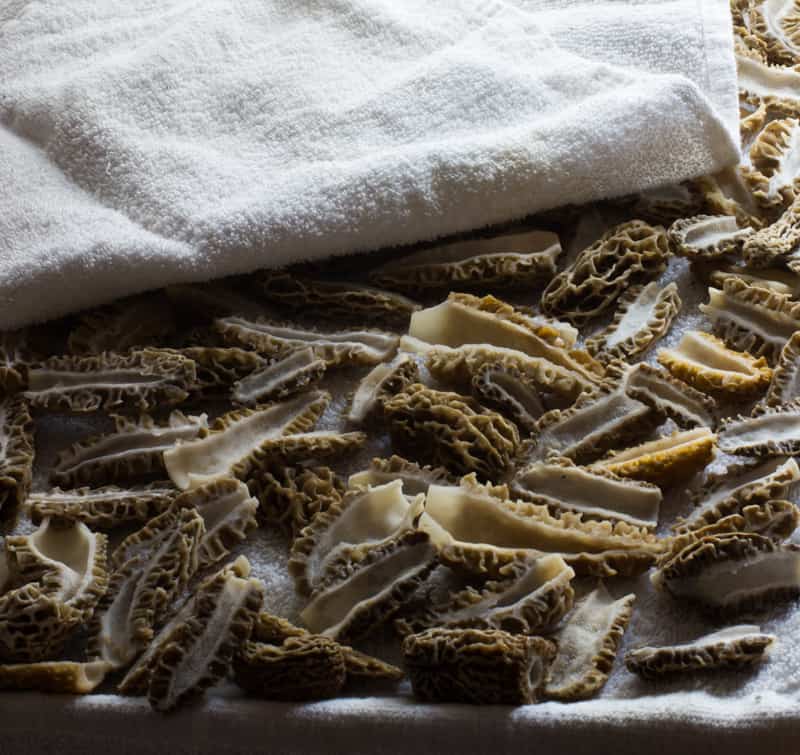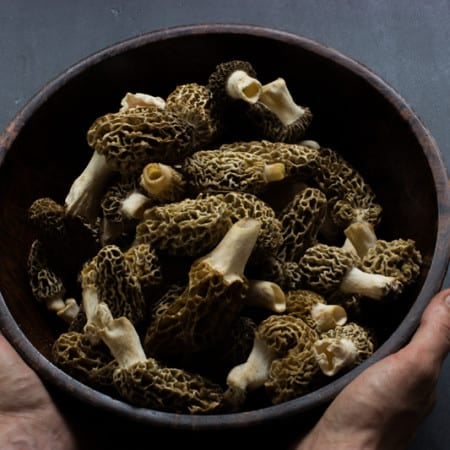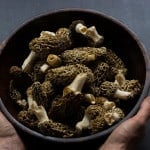 Print Recipe
Boyd's 100 Dollar Morel Soup
Boyd uses 2lbs for one serving: which borders on obscene. In keeping as close to his recipe he told me as possible, there is not a ton of broth in this it's essentially a giant stew of morels. Treat it like a side dish.
Ingredients
2

lb

fresh morels

rinsed if dirty, then cut in half lengthwise or left whole if desired

Reserved morel stem and trim

½

cup

dry white wine

4

cups

chicken stock

preferably homemade

8

tablespoon

of oil

Kosher salt

as needed to taste

¼

cup

finely chopped ramps
Instructions
Trim the morels and clean them, washing, rinsing, and laying them to dry on towels. Reserve the trim.

Heat the trim in the chicken stock. Bring the mixture to a boil, then reduce the heat and simmer for an hour. Strain the stock through cheesecloth to remove any dirt or debris and reserve.

Heat the oil in a large, high sided saute pan until lightly smoking. Add the morels and cook until wilted, stirring occasionally. As the morels cook you will notice some might stick to the bottom of the pan, this is fine.

Scrape the bottom of the pan with a wooden spoon to loosen these brown bits and prevent burning. When the morels are wilted and caramelized, push the to the side of the pan and add the ramps, seasoning to taste with salt and cooking until they are translucent, do not allow the ramps to darken.

When the ramps are translucent and opaque, deglaze the pan with the wine, and reduce by 75 %. Now add the morel infused chicken stock and cook on low heat until it's reduced and concentrated in flavor, about 30 minutes.

Season the "soup" to taste with salt and pepper, then ladle the morel bonanza into bowls.
Notes
This isn't really a soup, it's more of a simple side dish. Please remember that while Boyd may have been fine eating so many morels, even if you've eaten them many times, it's best to eat modest portions of freshly cooked wild mushrooms. 4 ounces per person is plenty. 
Nutrition
Serving:
4
oz
|
Calories:
214
kcal
|
Carbohydrates:
10
g
|
Protein:
7
g
|
Fat:
16
g
|
Saturated Fat:
1
g
|
Polyunsaturated Fat:
5
g
|
Monounsaturated Fat:
10
g
|
Trans Fat:
0.1
g
|
Cholesterol:
4
mg
|
Sodium:
196
mg
|
Potassium:
603
mg
|
Fiber:
3
g
|
Sugar:
3
g
|
Vitamin A:
4
IU
|
Vitamin C:
0.2
mg
|
Calcium:
54
mg
|
Iron:
14
mg
More
Forager's Guide to Morel Mushrooms