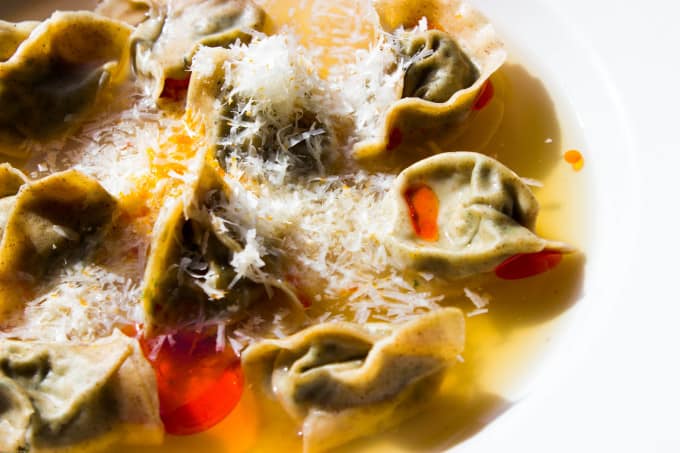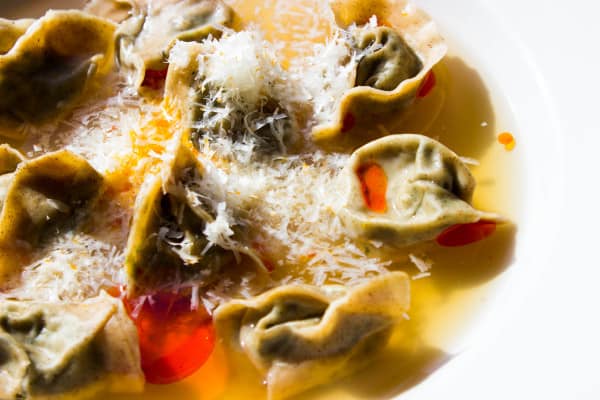 Winter is the time to use up dried goods and preserves. In my pantry, one of the things I had been waiting to experiment with was dried lactarius salmoneus mushrooms, which I discovered a nice little flush of last year. Most of these particular milk caps I found had a little too much damage to eat fresh, as often happens with lactarius species unless you catch them really young.
See some pictures of perfect ones here. Worry not though, milkcaps have a hollow stem, and dry very easily after a little time in the dehydrator. After they are dried you can pretty much do with them whatever you like, whenever you like; they aren't going anywhere.
I knew that I wouldn't be rehydrating the lactarius and frying them up or stewing them due to their damage, so powdering was the only option.
With the powdered mushrooms, you have a couple different options for using them in the kitchen: you can use the powder to flavor broths and sauces, and you can also use it as a seasoning for meat, or anything where you can make the dried powder adhere to something. I chose to make a broth with the lactarius first, and it makes for a great saffron milk cap recipe.
To my surprise, a simple broth made with only the lactarius powder and salt alone tasted remarkably like roasted chicken broth, so this is where I started to plan the recipe.
For some reason my mind went immediately to tortellini en brodo, a classic Italian dish of filled pasta in broth. Tortellini en brodo hails from Emilia Romagna, a region in Northern Italy whose historical affluency made if possible for them to create pasta with egg yolks alone, giving it a golden hue.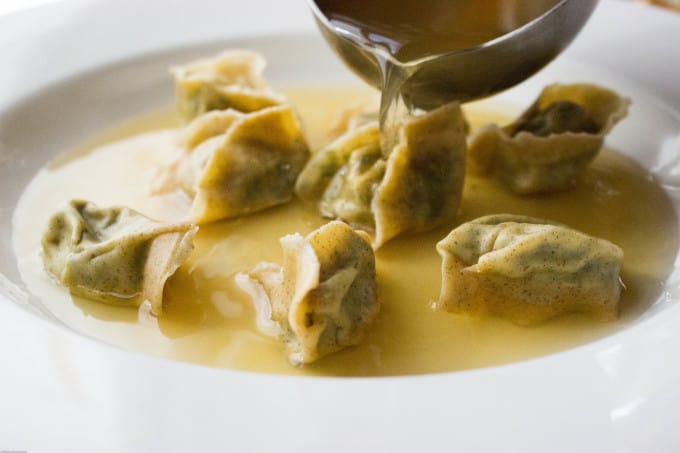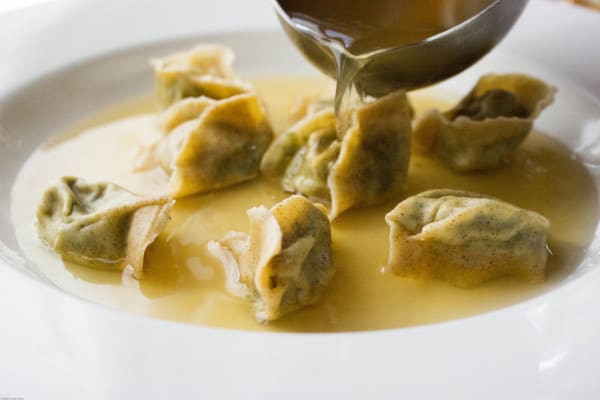 The lactarius tortellini en brodo is a little different though, as well as being vegetarian (sans lobster oil), I wanted to incorporate a vegetable in the filling somehow, and I wanted to showcase the lactarius mushrooms in more than just the broth. Dried mushroom powder can be used like flour a bit, so I added enough ground lactarius to the dough to give it a speckled look, and deepen it's flavor a bit.
Making pasta with dried mushrooms is not going to give off tons of flavor, but it does work, especially if you cook the pasta in a broth made from the same dried mushrooms, just like Italians do bigoli pasta, which they cook in duck broth. The recipe for broth here includes enough for you to do this.
A common filling for ravioli is spinach and cheese, stinging nettles have flavor similar to spinach, but are much more interesting. Just so happened I had some blanched and frozen in my freezer just for occasions like this, so in they went for the filling.
In the end I made a fun little riff on classic tortellini en brodo. Soft tortelli with a filling of nettles and cheese, floating in a rich, clear, lactarius broth. Since I love to float colored oils on clear soups to garnish them, I made one flavored with lobster shells to round out the dish, and add some fatty richness.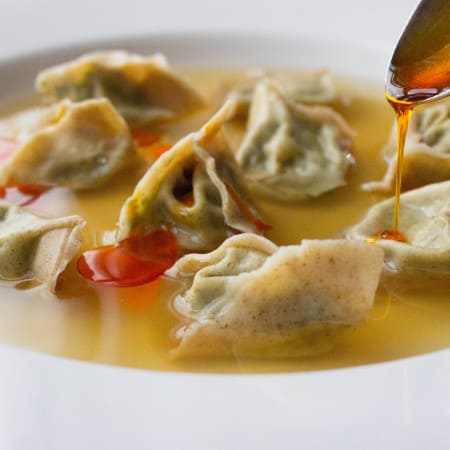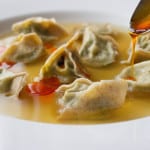 Print Recipe
Stinging Nettle Tortelli In Lactarius Broth
Makes 40 tortelli to serves 4-6

Ingredients
Tortelli Dough
1

cup

ap or OO flour

1

egg

large

4

tablespoon

ground lactarius powder

you could substitute another dried mushroom here, lobster mushrooms would be great

3

tablespoon

water

½

t

salt
Tortelli Filling
4

oz

cream cheese

at room temperature

3

tablespoon

ground parmigiano or domestic parmesan plus more to garnish

¼

teaspoon

salt and a pinch of fresh ground black pepper

3

oz

stinging nettles

blanched and chopped (this is about ½ cup packed)
Lactarius Broth
⅔

cup

dried

Powdered, dried lactarius mushrooms

2

carrots

chopped

2

ribs of celery

chopped

2

yellow sweet onions

chopped

2 to

matoes

halved

12

cups

water

Kosher salt to taste
Optional Lobster Oil Garnish
1

cooked or raw lobster body

chopped, crushed and broken into tiny pieces

½

cup

flavorless oil like grapeseed or canola

1

clove

of garlic

1

tablespoon

paprika

Sprig of fresh thyme
Instructions
Optional lobster oil
Heat all the ingredients for the oil and simmer for 20 minutes, then cool strain and reserve.
Lactarius mushroom broth
The broth can cook while you make the dough, let it rest  and make the filling; so do that fist. Combine the broth ingredients in a small stock pot, bring to a boil, simmer at low heat for an hour, then strain and cool. Season the broth to taste lightly with salt.
Lactarius pasta dough
In the bowl of a stand mixer, or food processor, combine the egg, powdered lactarius mushrooms, salt, and flour, work the dough adding the water as needed to create a stiff dough. Work the dough for about 5 minutes until it springs back a bit when pressed with a finger. If the dough struggles to come together, continue adding water a teaspoon or two at a time until you get a nice, firm dough. Wrap the dough in plastic wrap and allow to rest for 30 minutes while you make the filling.
Cheese and nettle filling
Combine the chopped nettles, cream cheese, salt and pepper. Reserve until needed. (This can be done ahead of time)
Filling and shaping the tortelli
Roll about ¼ of the dough out at a time, going down to the lowest setting available on your pasta machine, some machines may list this as "zero". When the dough is rolled out, cut out rounds using the rim of a glass or a ring mold and then brush half of each circle with beaten egg. Fill each circle with a teaspoon of filling, then fold in half to seal.

Fold the half moons in half again to create the tortelli shape. (The tortelli can be made like this, then frozen on a cookie sheet and held in plastic bags, lightly floured. You could do this a month or two in advance and just have them ready, frozen fresh pasta will cook straight from the freezer.)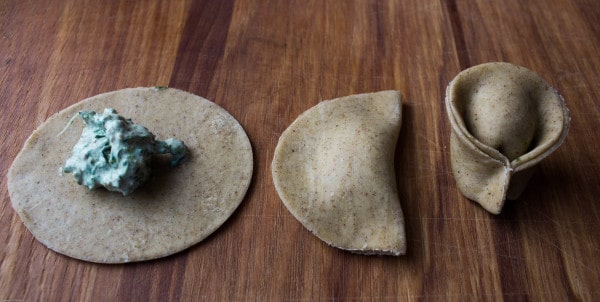 Lobster oil
Combine the chopped lobster shells, oil, paprika, and garlic in a food processor. Blend the ingredients for a few minutes until they are nicely chopped together, it will not break down into a puree, you're just trying to smash it all up a little to speed the cooking process. Transfer the mixture to a pan and cook on low heat for 30 minutes, then chill completely, strain through mesh or a chinois and reserve. (This can be done days ahead of time, and the longer that you let the mixture sit without straining, the stronger it's flavor will be)
Finishing and plating

Bring a few quarts of very lightly salted lactarius broth to a boil. Add the tortelli and cook until they are done, they will cook quickly, and should be done within a couple minutes. Transfer the tortelli to a bowl, then ladle in some of the broth, about ½-3/4 cup is plenty. Garnish with the lobster flavored oil and the parmesan, then serve.
More
Forager's Guide to Saffron Milk Cap Mushrooms