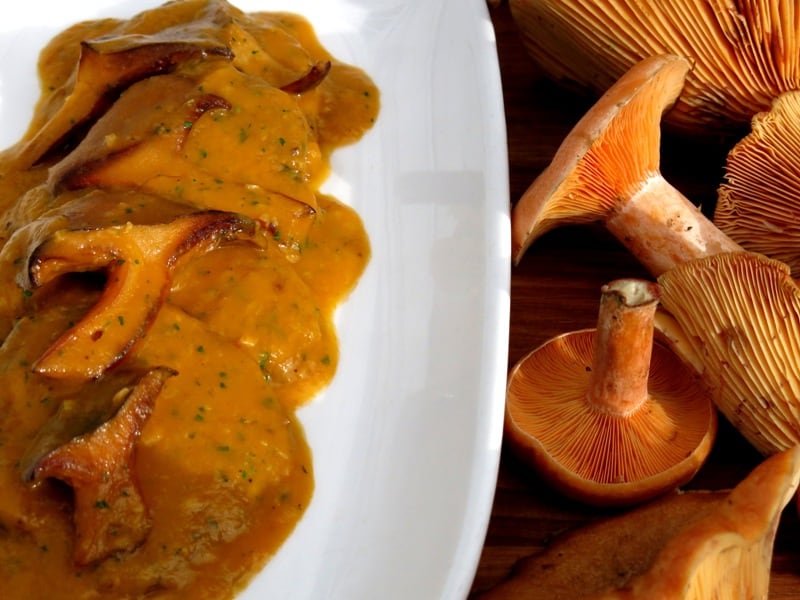 With a fridge full of saffron milkcaps, I started doing research on any cultures that might use them in traditional recipes.
Of course the first way I tasted them was simply sautéed last year, and I thought them ok, the specimens I had were not the greatest though, and now that I am aware of the look alike (L. Deterrimus) most likely the lack of flavor was due to them being false saffron milk caps. It wasn't until recently though that I had a whole bunch of real ones to play with.
While dreaming up what I should make with them I remembered that I had downloaded a really fun book written by Gordon Wasson and his wife recently, and I seemed to remember his with Tatyana waxing poetic about saffron milkcaps in a passage or two.
A quick glance at the first couple chapters gave me the inspiration I needed, in Spain, they have a long and treasured history, and are known as their cherished "Rovellon" (PR: rovayohn).
Now, armed with the name used by Spanards who cook these, I began to do research. Oh man did I find what I was looking for! Much like searching for "recitas per porcini" in Italian will yield many results, so It was with the saffron milk cap and searching for "recitas con rovellons". Scores of you tube videos from homey Spanish kitchens started to pop up, as well as personal blogs and plenty of Spanish recipe archive websites.
I continued to see recipes for something called a "fricando" Essentially, a fricando is the Spanish variation of a French dish called "fricandeu" in which a piece of veal loin is studded with pork lard, and braised, often in the form of thin slices.
Apparently the Spanards really took to this preparation, as there are tons of individual recipes for fricando that I saw, and only wiki articles and the like for the old French fricandeu. As with many recipes, everyone has their favorite way to make one, some include carrots, some use chunks of meat.
There were plenty of variations of fricando: some with beef cut in chunks, some calling for veal, recipes with and without mushrooms. What seemed to be the favorite was a fricando using saffron milkcaps. Experimenting with the mushrooms in the kitchen for a few days showed me a lot of things.
Saffron milk caps have a wonderful flavor, but cooked in cream with beef, their flavor was lost and the beef totally took over. From here it's easy to see how the traditional use of veal is warranted, since it's flavor is much more mild, and will allow the saffron milkcaps to shine. If veal is unavailable, small cutlets of chicken or pork could easily be used for this as well.
I chose to use cutlets too, since many more recipes seemed to use thin cutlets compared to chunks of meat. Cutting the meat into cubes would make the dish look a little too soupy for what I was going for: a grand entree.
The "Picada"
Traditionally a flavoring agent called a picada is used to finish a fricando. A picada is nothing more than some parsley, garlic, and toasted nuts chopped together until very fine. The nuts will slightly thicken the dish, and add some nice texture as well. Some variations of fricando I saw don't use the picada, but I definitely recommend it.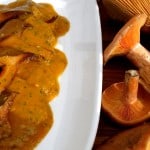 Print Recipe
Fricando Of Veal, With Saffron Milkcaps
Serves 2 as a main course
Ingredients
12

oz

veal

pork or beef loin, sliced thinly into cutlets, about ¼ inch, if you want to use chicken breasts, slice skinless breasts on a bias to create thin slices

½

cup

white flour for dredging and browning the cutlets

1

qt

saffron milk caps

sliced in half if medium sized, whole if small buttons, or quartered or cut into ⅙ths if very large

1

cup

chopped tomatoes

peeled and seeded

1

cup

diced sweet yellow onion

½

cup

diced carrots

3.5

cups

water

Salt and pepper to taste

Tasteless oil for cooking

like grapeseed or canola

Picada

¼

cup

loosely packed Italian flat leaf parsley

1

clove

of garlic

about the size of a nickel

⅛

cup

toasted marcona almonds
Instructions
Begin by getting a wide saute pan (a 10" will do) hot and adding oil, season all the cutlets with salt and pepper on one side only (to prevent over seasoning). Dust each cutlet in flour, tapping off any excess, and then cook until nicely browned on both sides, about ten minutes.

You may need to work in batches if you have a small pan, just remove the browned cutlets, add some additional oil to the pan, and repeat until all the cutlets are browned. When the cutlets are browned, add the vegetables to the pan the meat was cooked in and saute for a few minutes, making sure the bottom of the pan and the meat drippings do not burn.

Add the water and scrape the bottom of the pan with a wooden spoon to remove the drippings. Put a lid on the pan so too much water doesn't evaporate and cook until the vegetables are very tender, about 10-15 minutes

While the veggies cook, prepare the picada: chop the parsley, garlic, and toasted marcona almonds until very fine, set aside and reserve. When the vegetabes are soft, transfer them and their liquid to a blender and buzz on high until the mixture is smooth and creamy.

Get a big saute pan and add some oil, heat until hot and then add the mushrooms. Cook the mushrooms for about 5 minutes until they have taken on some color and are golden brown, cooking on medium high heat. When the mushrooms are nicely caramelized, return the beef and the pureed sauce to the pan, cover with a lid cook this for another 20-30 minutes until the meat is very tender.

When the sauce has thickened and the meat is tender, add the picada and cook for 2 minutes, then finally check your seasoning for salt and pepper if needed and serve. Some plain rice, (or saffron rice) would be great with this.
More