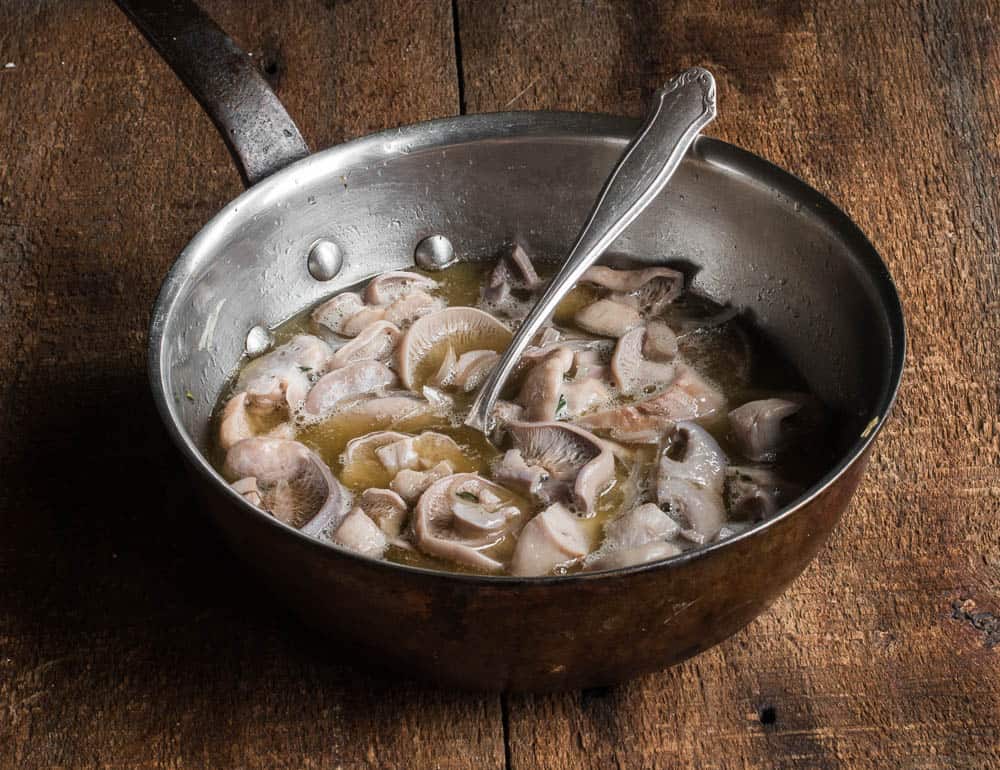 I have a lot of different ways I like to preserve mushrooms I've learned or come up with myself over the years. This method is one of the more interesting ones, and, I can't take credit for it. When I started working at Heartland, with it's daily changing menu that the staff collaboratively designed, one of the first things I remember before opening was that we had a stash of preserves from the old restaurant, treasures taken from one spot to another as the restaurant moved to it's new home across the street from the St. Paul Saints new stadium.
There were dried morels, herbs, pickles of all kinds, flavors and textures, ferments, and some button mushrooms with a label I'd never seen before that said preserved in walnut oil. I already knew a thing or two about preserving mushrooms, but that was new to me, and sounded pretty darn good.
The preserves were the work of the head preserver/chef tournant/fermenter and all around creative-as-hell day chef Matt, a super tall Scandinavian-looking guy with a penchant for riding bikes, everywhere. Twenty or thirty mile bike rides to and from work were like a stroll in the park for this guy, if you're a person all about bikes, you'll know what I mean. Either way, he was one of the most creative cooks I've ever met, and this was a mushroom preserve I saw him make a number of times when some needed processing at the restaurant.
Do I have to use walnut oil??
It's only a teency bit more expensive than your average preserve to use nut oil, and it really doesn't take that much to make a batch. I used a brand of nut oil similar to this one. If you're really concerned, the liquid left over can be used to make salad dressings, dress roasted vegetables, etc, if you want to re-use it, I suppose.
The flavor is great, and as you might suspect, the mushrooms get perfumed by the oil. Natural, ultra-minimally processed fats from nuts and seeds are just great to have around for all-purpose cooking, too. In my mind, natural nut oils are in the same league with other healthy fats like animal fats and pure butter. While we're on the topic though, avoid heavily refined nut oils (cheap ones in big jugs) and those intended for polishing wood or other non-culinary products.
Good tasting nut and seed oil substitutions
You could use lots of other nut and seed oils, too, just make sure they have a strong aroma. Smudes sunflower, pumpkinseed, pecan, black walnut, hickory nut and sesame oil would all be fine.
The preserves themselves are best eaten by themselves as an appetizer alongside some charcuterie or cheese, since the flavor of the nut oil is good to appreciate all by itself. If you want to use them in cooking, warm them up and put them on something mild. Warmed up, the mushrooms and their liquid would be great on a little bowl of mashed potatoes, polenta, on top of baked or steamed fish, or some wilted lacinato kale or other cold weather greens.
I used blewit mushrooms (Clitocybe nuda) here, but you could use any small, firm button that would make a great preserve. Chanterelles, Laccaria ochropurpurea caps, and honey mushroom buttons would all make good choices.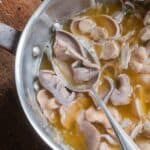 Print Recipe
Wild Mushroom Conserve with Walnut Oil
Wild mushroom preserves cooked in walnut oil
Ingredients
6

ounces

fresh blewit or other mushrooms

preferably buttons, cut into 1 inch pieces, left whole if small, or quartered. The best preserved mushrooms will be made from whole, small buttons.

1

small shallot

halved and sliced very thin

1

teaspoon

kosher salt

¼

cup

dry white wine

5

cracks of the peppermill

or ⅛ teaspoon fresh ground black pepper

½

cup

walnut oil

1

tablespoon

cooking oil

for sweating the mushrooms

2

teaspoons

chopped fresh sage

thyme, or oregano

⅓

cup

apple cider or champagne vinegar
Instructions
Rinse the mushrooms with water to clean them, but also help add liquid to the preserving liquid.

In a pan with deep sides, sweat the mushrooms and shallots with the salt, pepper, sage, and the tablespoon of cooking oil until the mushrooms are soft, covered, about 5 minutes.

Be careful the mushrooms and shallots don't brown, as you want them to stay blonde. Add the wine and simmer for a few minutes more to cook off the alcohol.

Finally add the vinegar and walnut oil, double check the seasoning by tasting a mushroom, then transfer to a container and refrigerate until needed.

Make sure the mushrooms always stay under a layer of liquid, otherwise they could go bad. The mushrooms will keep for a long time, but you should eat them in a month or two.

For long term preservation they could be canned, but the liquid must completely cover everything in the jar.
More