I cannot take credit for this awesome method, that honor is due to Jack Czarnecki, author of numerous books on mushroom cookery and an inspiration to people who delve into the strange circles of mycophagy (people that are obsessed with eating mushrooms).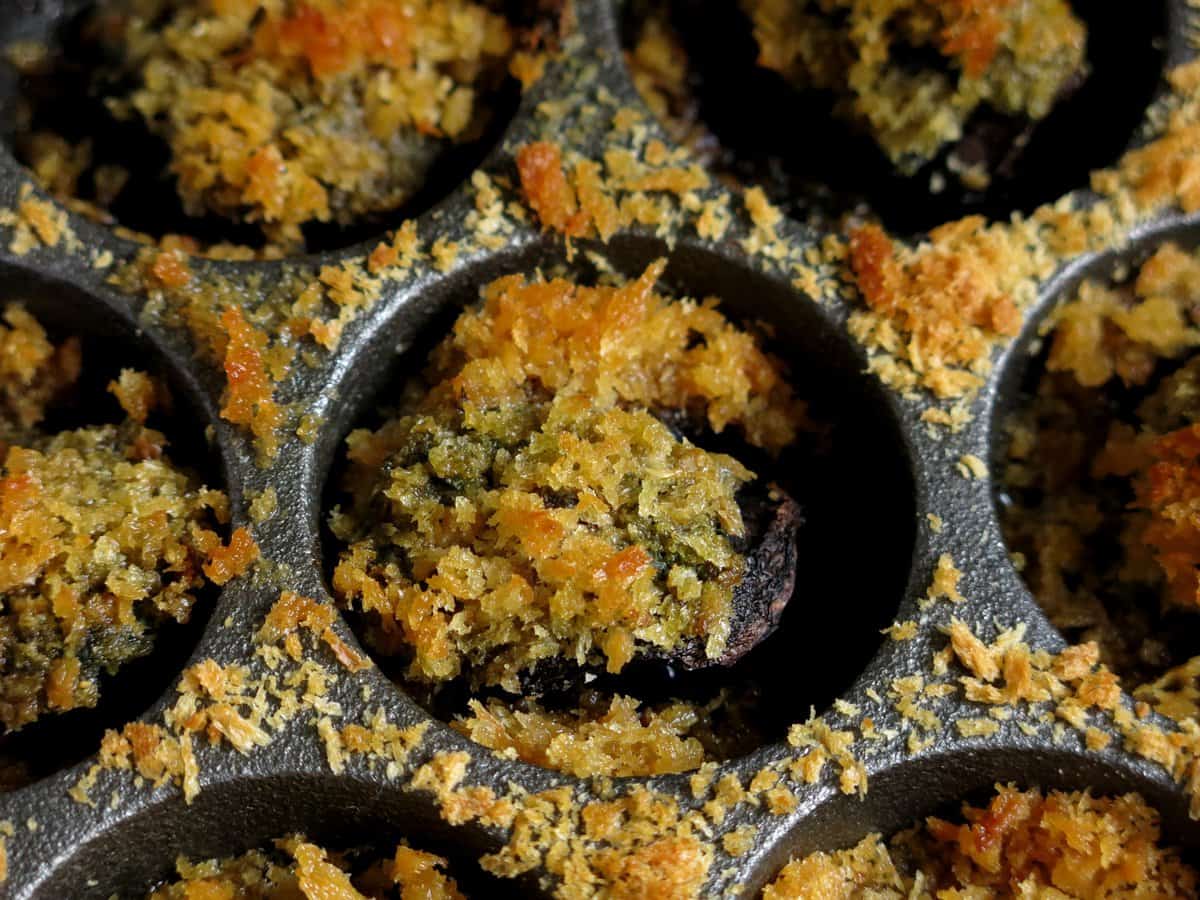 In his book Joe's book of mushroom cookery, he describes a recipe in which slippery jacks are cooked as if they were snails. Snails are not mushrooms, but they are a watery gastropod that can have a bit of a slippery texture when cooked. Traditionally the favored way to cook snails is simply baked with some garlic butter and bread crumbs on top until.There is no picture in his old book, but the method is all I needed to understand it in my mind. The use of technique for preparing slippery jacks here is paradigm shifting.
Allow me to explain, first with a segue through the Russian affinity for slippery jacks. In Russia, slippery jacks are also known as "Maslyata" or "buttery ones". The buttery name doesn't refer to a buttery flavor, but rather to the caps being viscid and slick when wet or moist, something that in mushroom terminology we would call a glabrous pileus, or a sticky cap.
A synonym could be slimy. The Russians and their love of fungi will not accept giving a mushroom an unappetizing description, and instead of using a title for the Suillus family like "slippery jack" as we do in English, they refer to them affectionately as "the buttery ones", or "the fat of the earth". It is fascinating how the simple use of a particular adjective can change a food from "strange" to "special", and from "low class" to "delicacy"
The real genius of this recipe hit me immediately when I read it. You see not only are we emulating a famous dish, we are elevating a traditionally scorned and overlooked ingredient. Combining a slippery-textured ingredient with something crispy and crunchy will not only fool your mouth and tastebuds into thinking it is not as viscid as you thought, it will also make this dish taste strangely of...escargot.
Unless they are dried, slippery jacks don't have the craziest flavor, and I probably wouldn't sit down to devour a fried plate of them, In fact I'll tell you I definitely wouldn't. Combined with other ingredients though, whether in a simple recipe like this or in a soup, they add a nice flavor, and their texture is perfectly fine; all you could want in a fresh bolete.
While I was hunting fall mushrooms the other day I happened to stumble upon a nice group of slippery jacks that had not even broken their veil yet. Finding young ones like this is not easy, and I knew that they should have a special preparation. Obviously for what we are going to do I suppose use pieces of a larger, more mature mushroom.
To make maximum use of the space in your ebelskiver pan though, you would want to pre-cook large caps, then cut them into appropriate sizes when they are done cooking, and then finally put them in the pan and cover with the butter and crumbs, then re-cook. Saving this dish for when you find tiny young buttons will be much more fun, as little baby mushrooms are much more of a delicacy themselves.
Preliminary note on this recipe: I purchased a nordic ebelskiver pan specifically to cook these in, since traditional escargot dishes are rare and more expensive, and are probably ceramic. I find cast iron to be the finest cooking ware, so I definitely suggest picking one up. Check your local thrift store, this one was 2 bucks. The bonus is that you can make ebelskiver in it as well!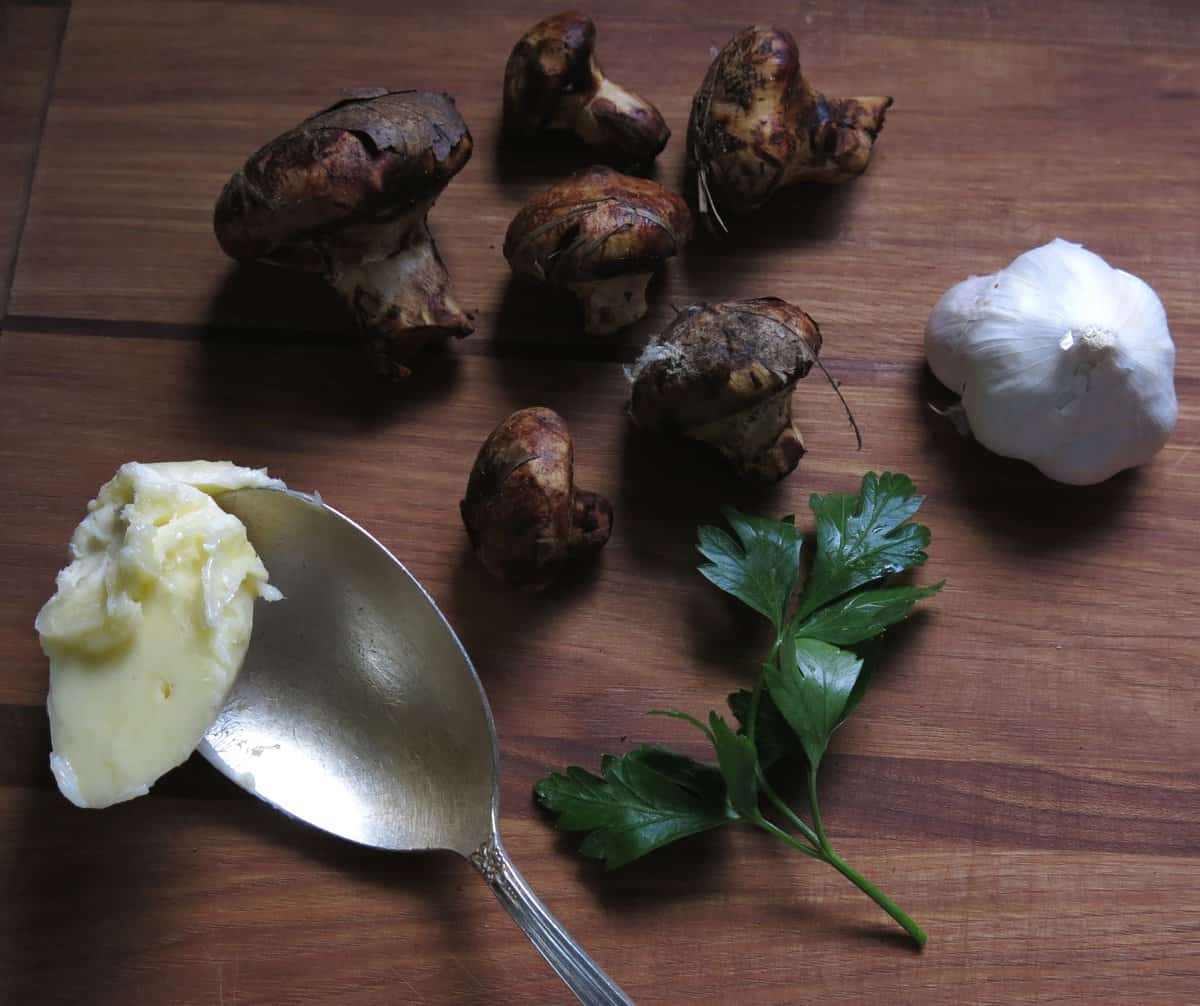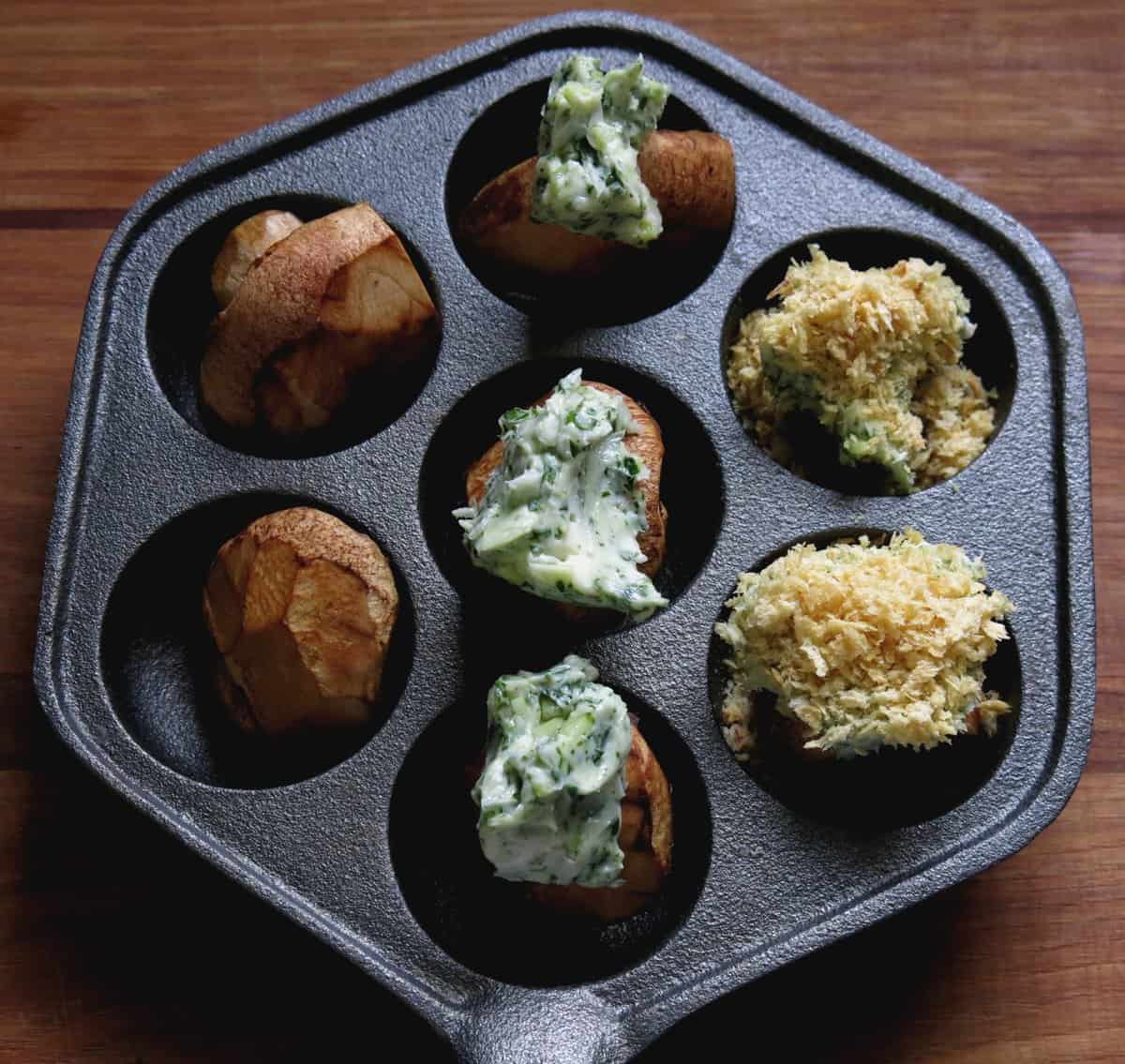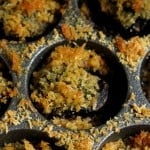 Print Recipe
Slippery Jack Escargot: With Garlic Butter, Parsley, And Breadcrumbs
Serves two as an appetizer
Equipment
1 baking dish

like an escargot pan or aebelskiver pan
Ingredients
7

very small slippery jack buttons

preferably with the veils still closed

2.5

tablespoon

unsalted butter

at room temperature (soft)

½

clove

of garlic

¼

cup

loosely packed flat leaf parsley

Kosher salt and fresh ground pepper

to taste

¼

cup

or so of bread crumbs

I like to use japanese panko, since they're lighter and don't absorb so much oil
Instructions
Toast the bread crumbs lightly for about 5-10 minutes on a cookie sheet at about 350 to give them a little bit of color.

Chop the garlic together with the parsley until very fine, then fold into the room temperature butter and season to taste with salt, say ¼ tsp, season with a couple grinds of the pepper mill as well.

Remove the viscid skin from the caps of the slippery jacks, using the back of a knife or your fingers, it will come off pretty easily.

Put the whole buttons in an ebelskiver or escargot dish, top each with a teaspoon of garlic-parsley butter, then a nice and generous sprinkling of bread crumbs.

Bake at 375 until golden brown, about 10-15 minutes then remove from the oven and let cool for a minute.

Dig in with a cold beer or glass of wine, and toothpicks!
Notes
Ideally you will want and abelskiver pan or an escargot pan to bake this. 
Nutrition
Calories:
142
kcal
|
Carbohydrates:
3
g
|
Protein:
2
g
|
Fat:
14
g
|
Saturated Fat:
9
g
|
Polyunsaturated Fat:
1
g
|
Monounsaturated Fat:
4
g
|
Trans Fat:
1
g
|
Cholesterol:
38
mg
|
Sodium:
6
mg
|
Potassium:
230
mg
|
Fiber:
1
g
|
Sugar:
1
g
|
Vitamin A:
437
IU
|
Vitamin C:
2
mg
|
Calcium:
8
mg
|
Iron:
0.4
mg