Chewy, meaty mushrooms cooked golden brown and finished with shallots and tarragon is something to look forward to every fall. This simple blewit mushroom recipe isn't just one of the easiest things to make, it's also one of my favorite ways to enjoy them. Read on and I'll show you how it's done.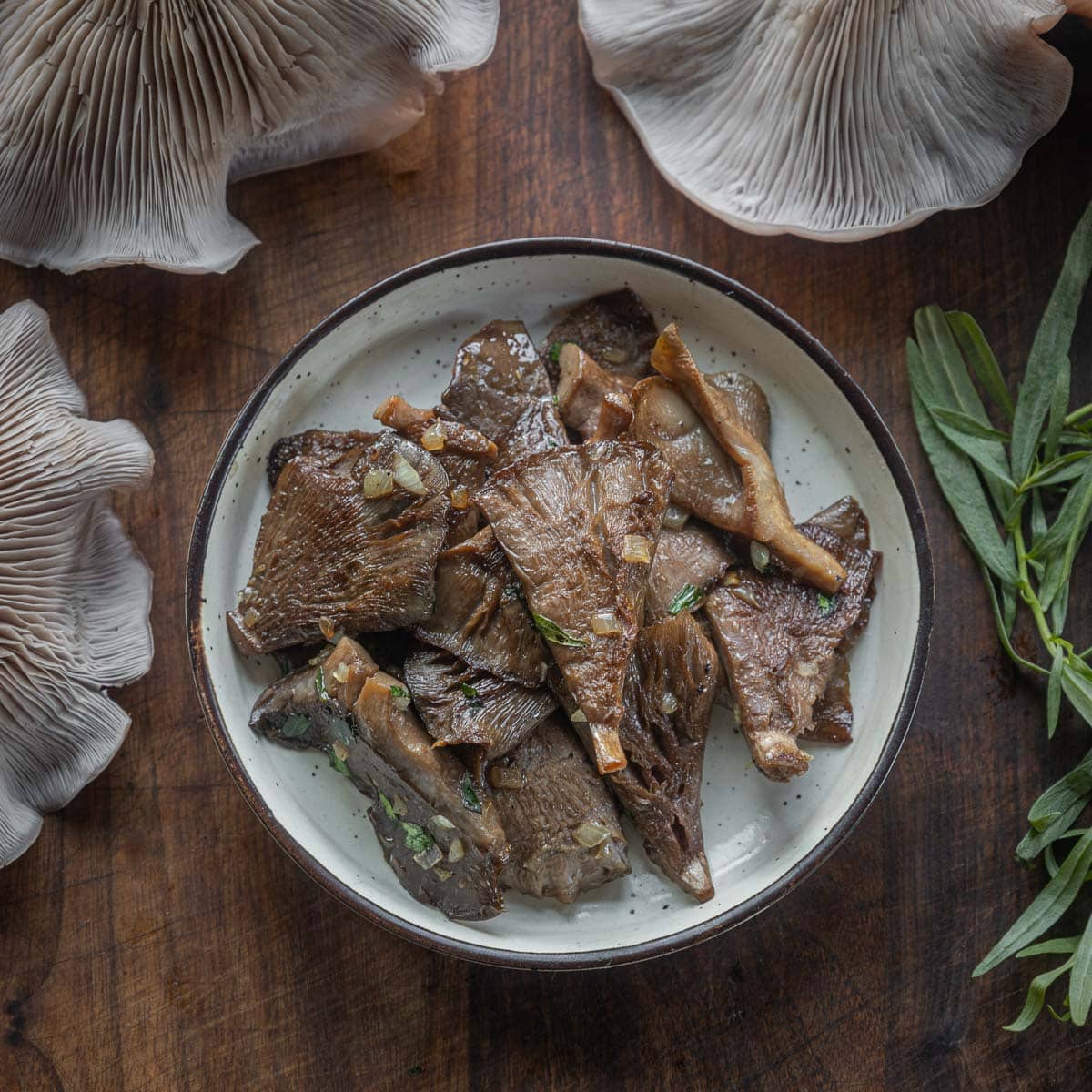 The first few times I eat something new I try to keep it very basic, so I can learn what the flavor is like and then plan appropriately. There is varying information on the internet regarding the cooking wood blewits and field blewits, mostly just basic techniques and blewits being cooked in places where you might use any mushroom.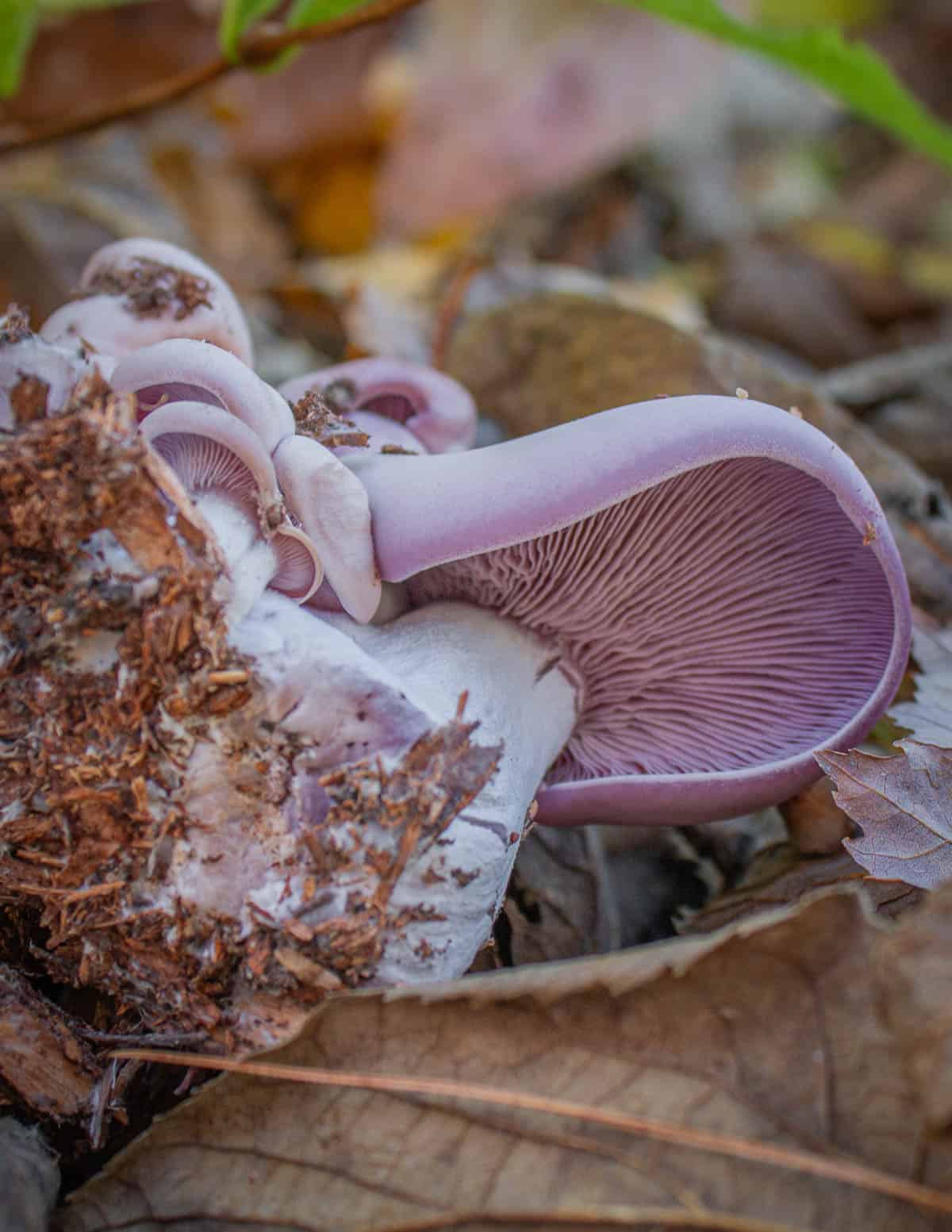 Some recipes say you should avoid using garlic with them, and I do agree it could have the potential to taste funny or overpower their flavor. They're a delicate mushroom like chanterelles, so it's natural that their flavor can be highlighted and magnified by cooking in cream, or in a simple saute.
If you're new to these mushrooms, I write more, especially on blewit identification in my Forager's Guide to Blewit Mushrooms.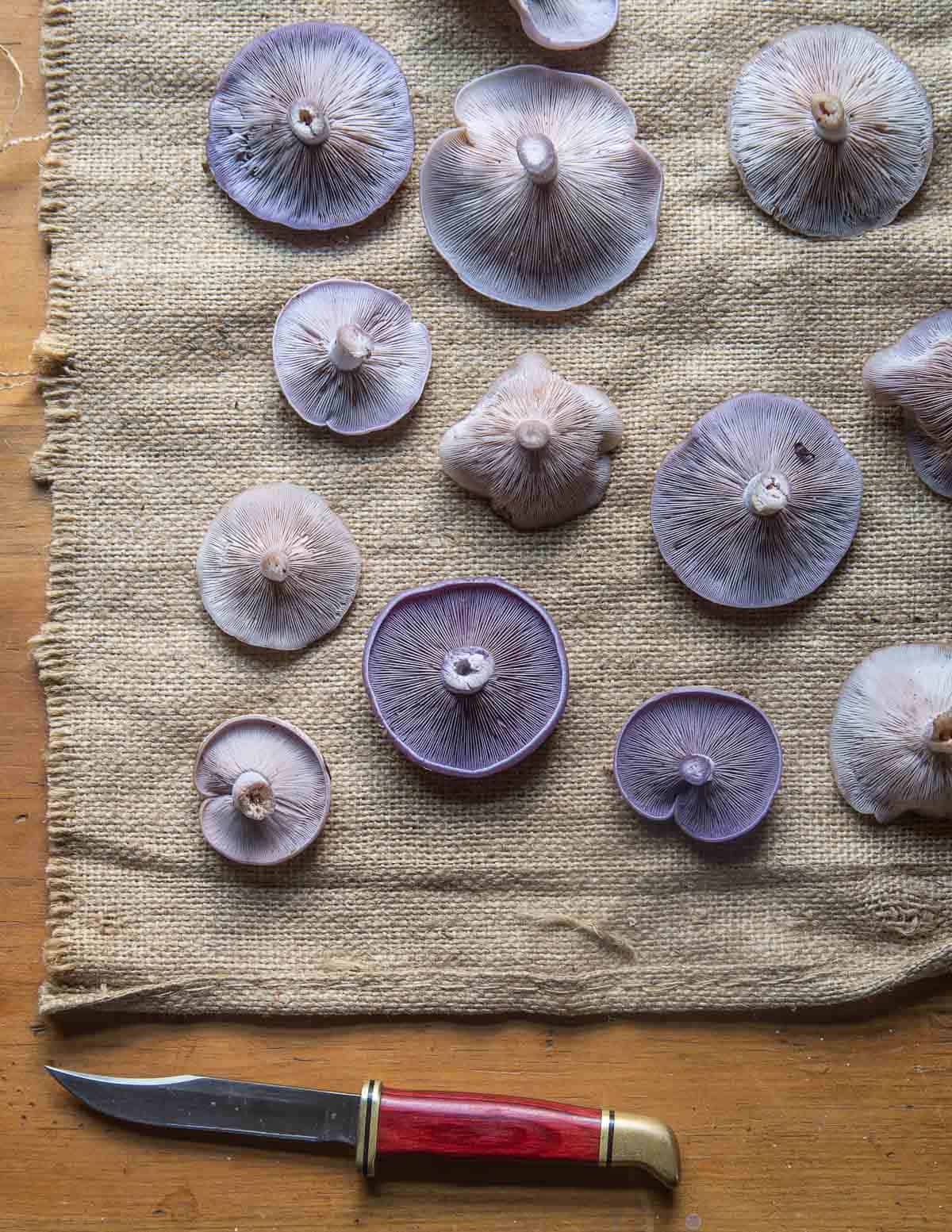 The Dry Saute, Step by Step
My blewits were damp from the rain the previous days, and I needed to find a way to make it so they would take a nice sear, without becoming soupy or stewed in their own juice. Blewits have a lot of moisture, so a really useful technique is the "dry saute".
It's a great technique for any mushroom that contains extra water, such as golden chanterelles.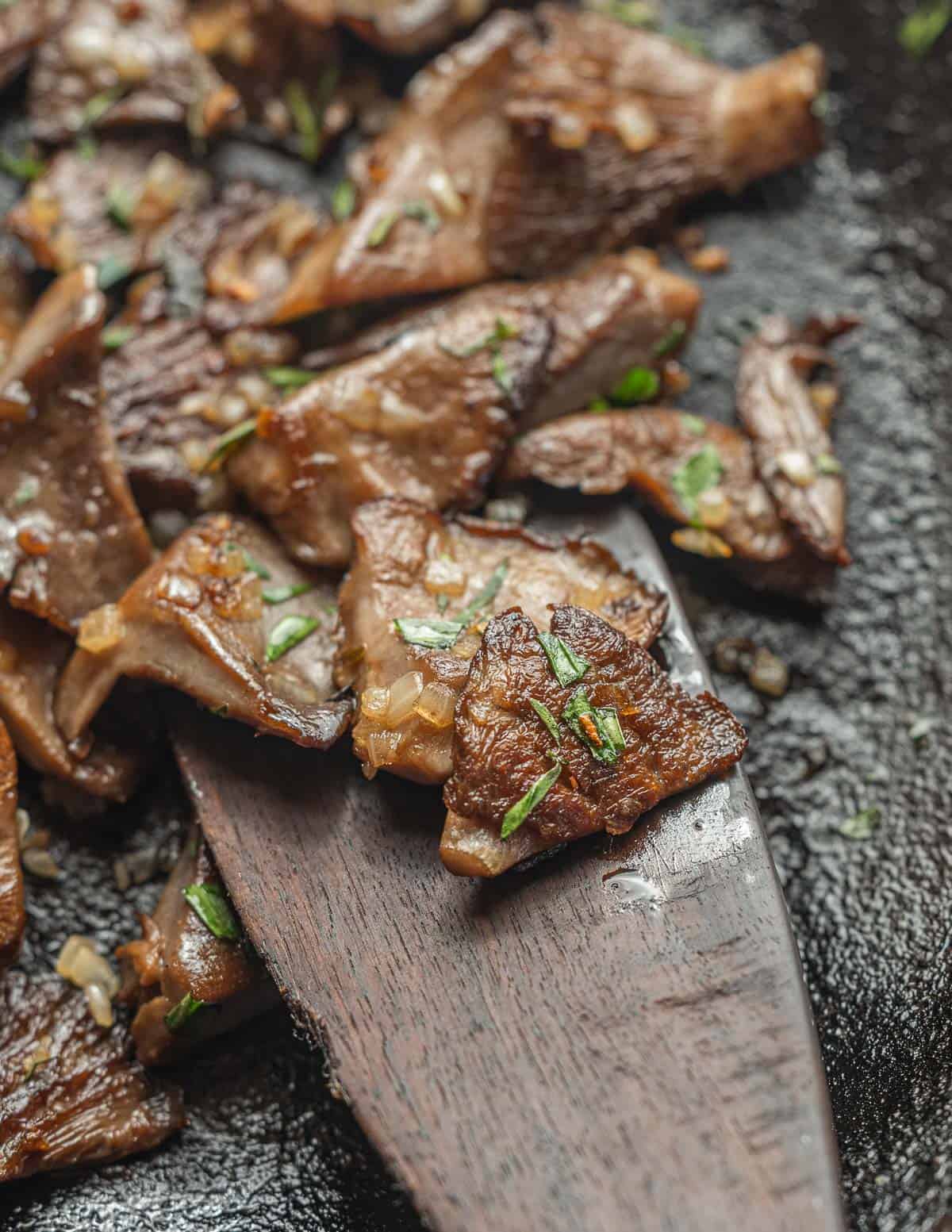 To do it, you start sautéing the mushrooms in a pan without oil, allowing their water to evaporate for a bit and helping them caramelize when the oil is added to the pan later. The images below illustrate the process.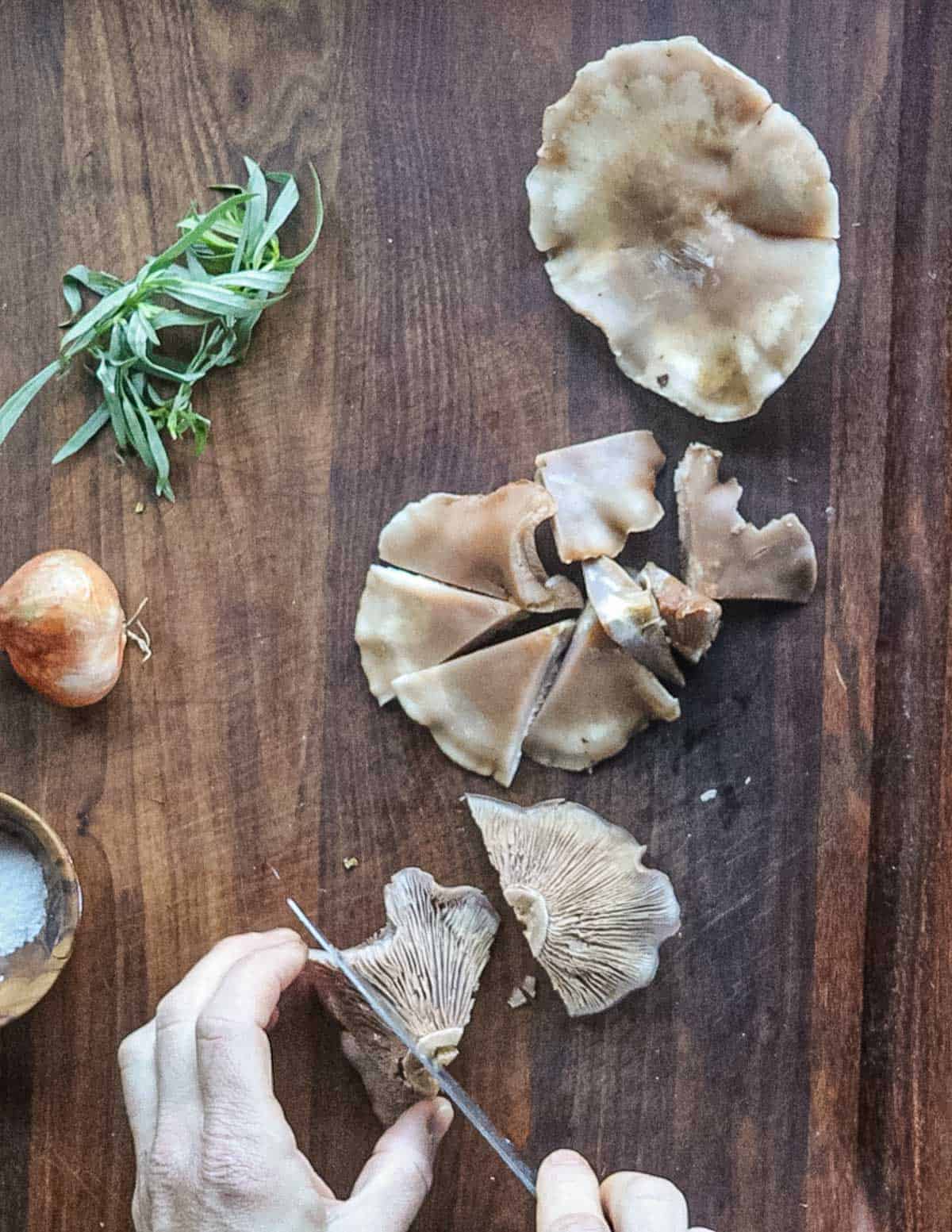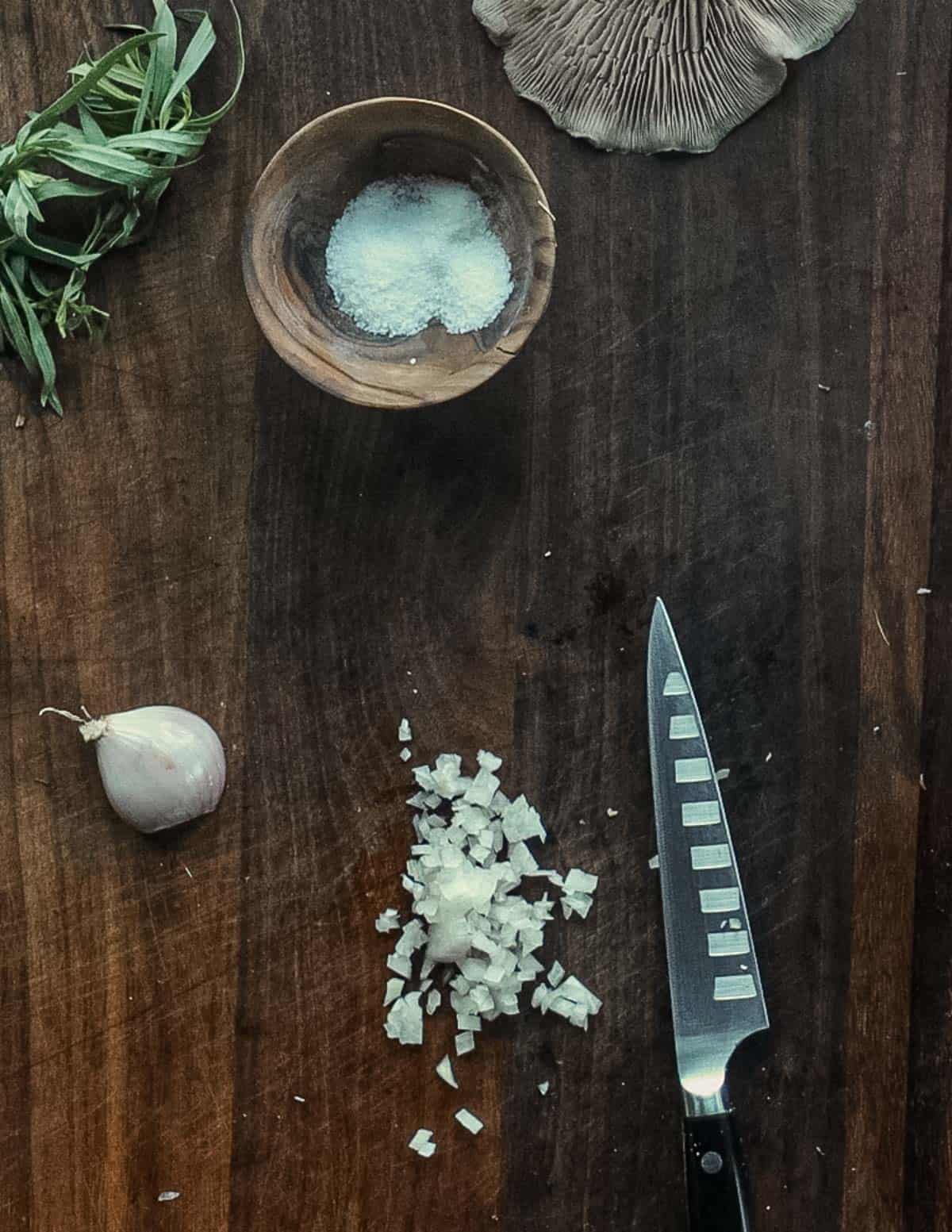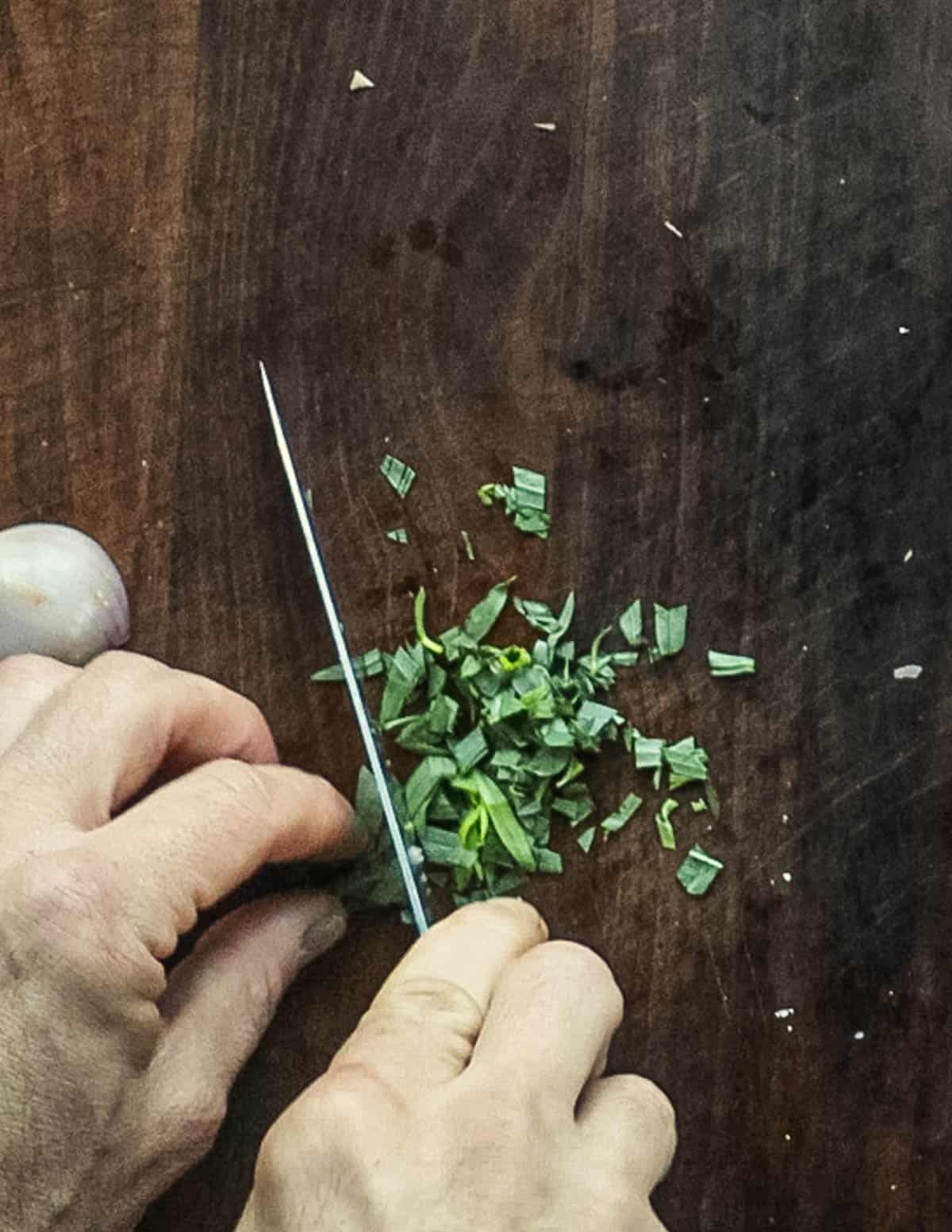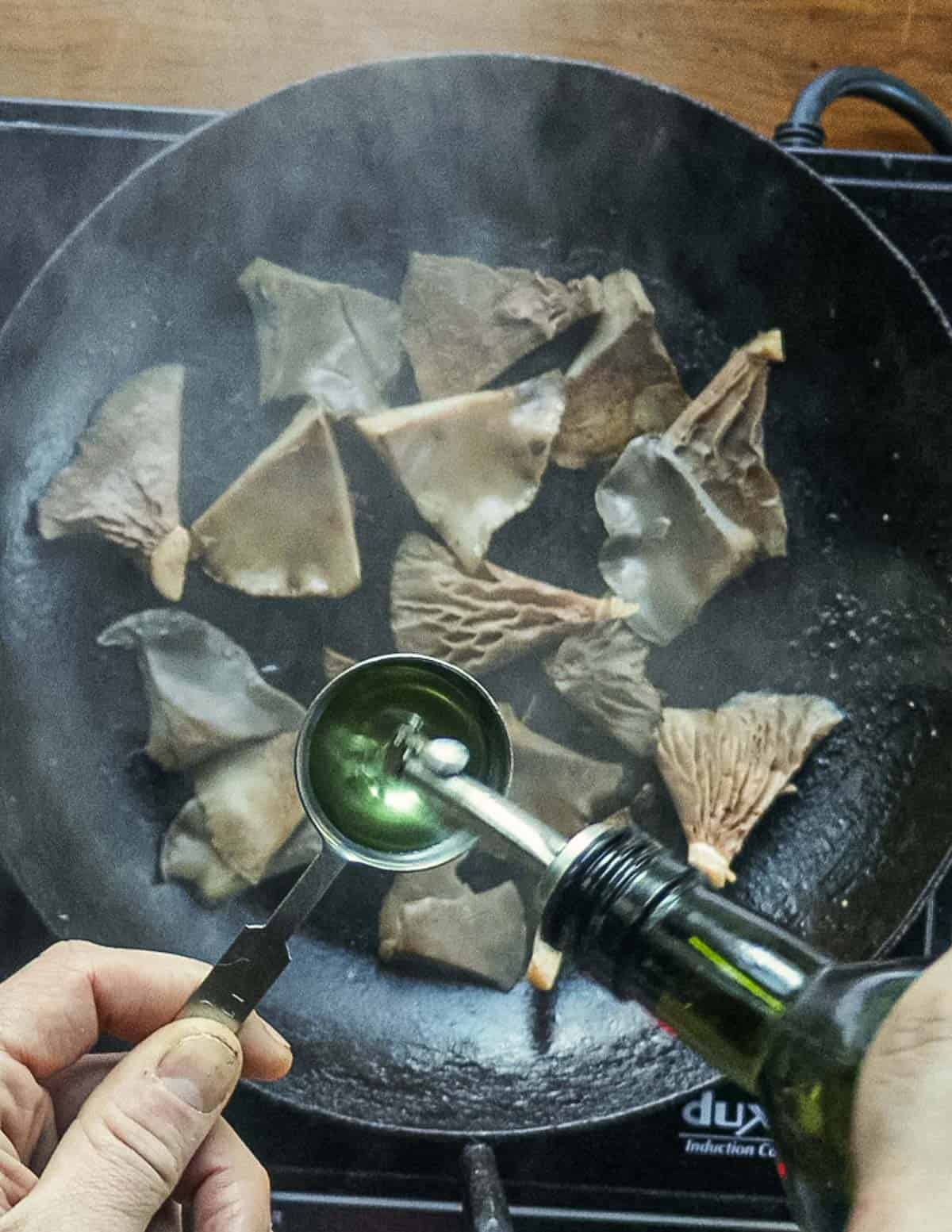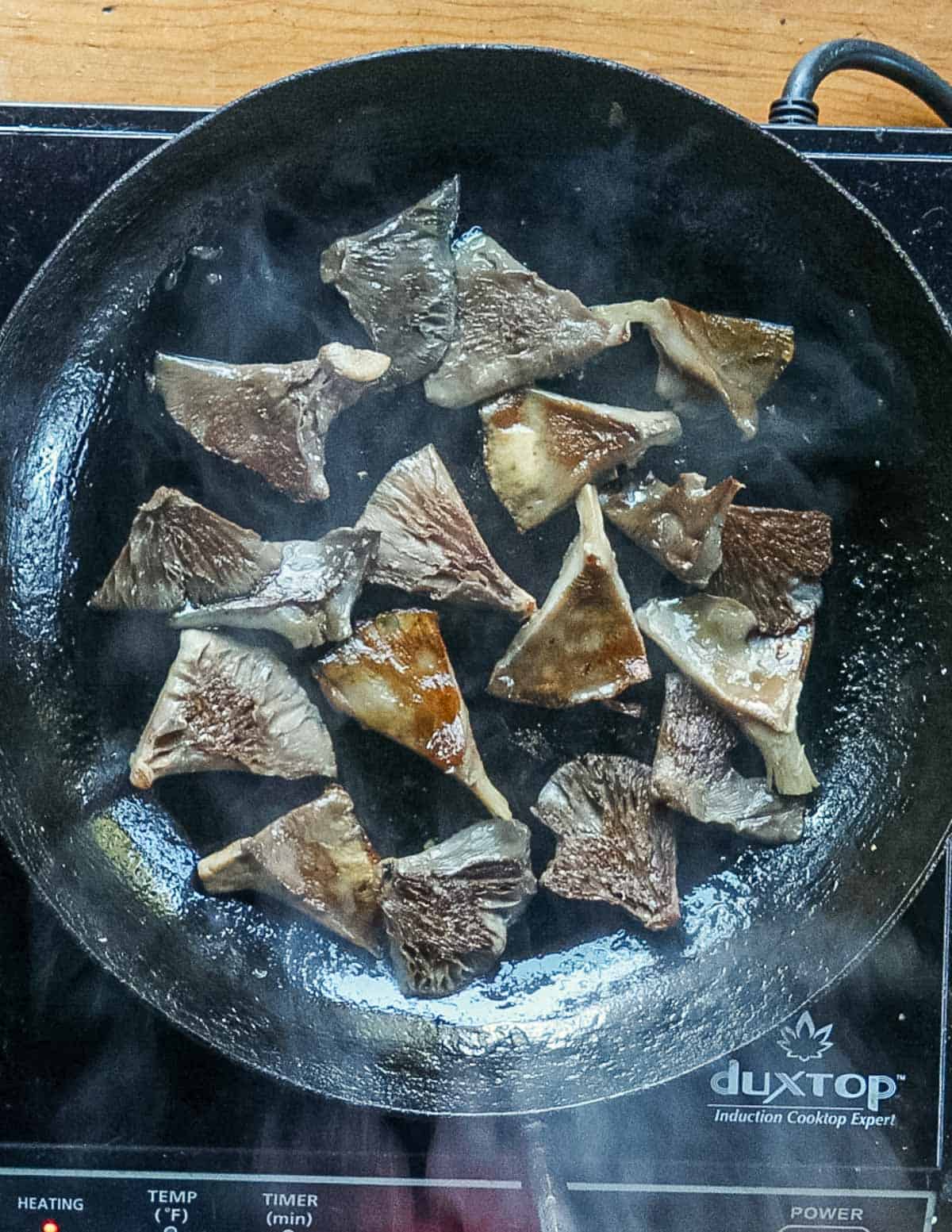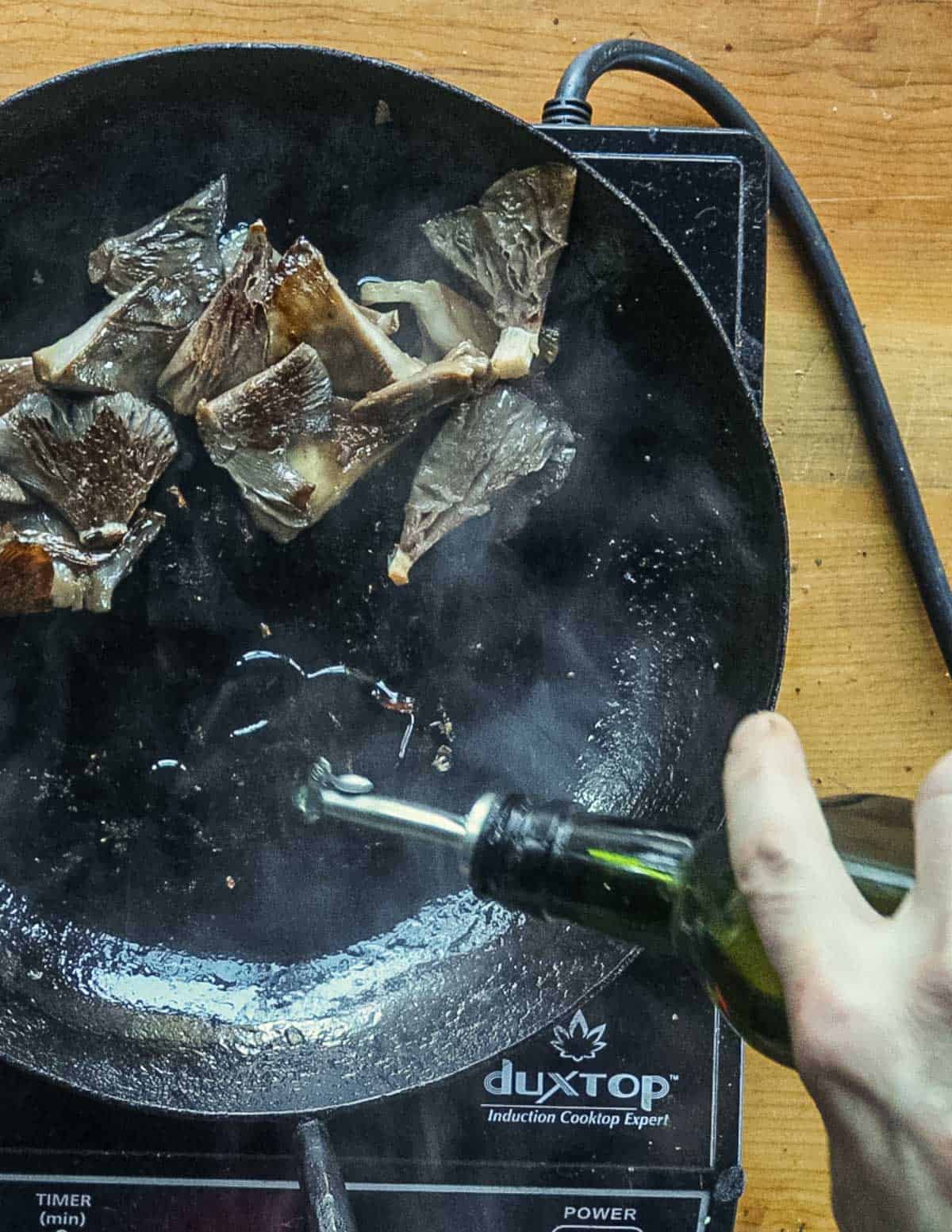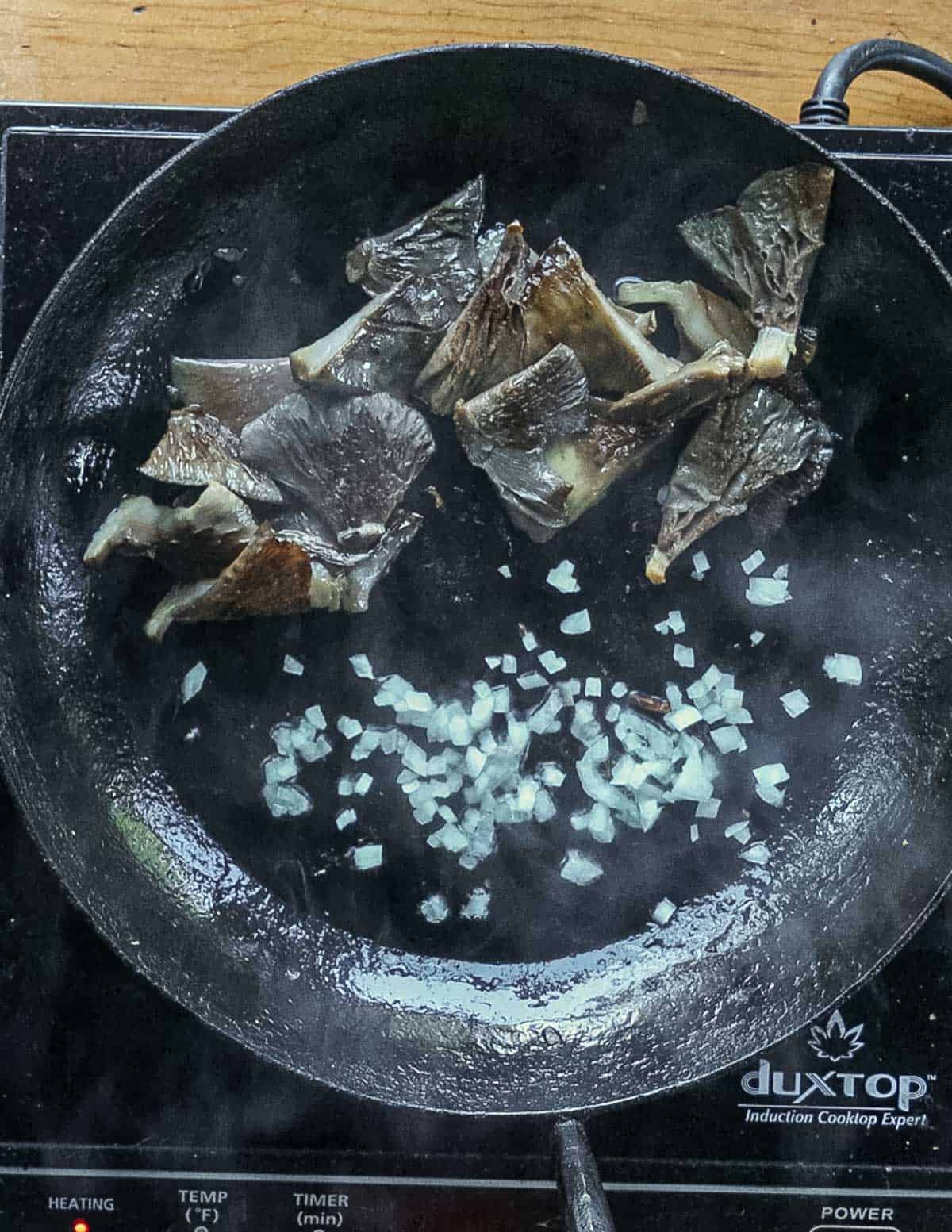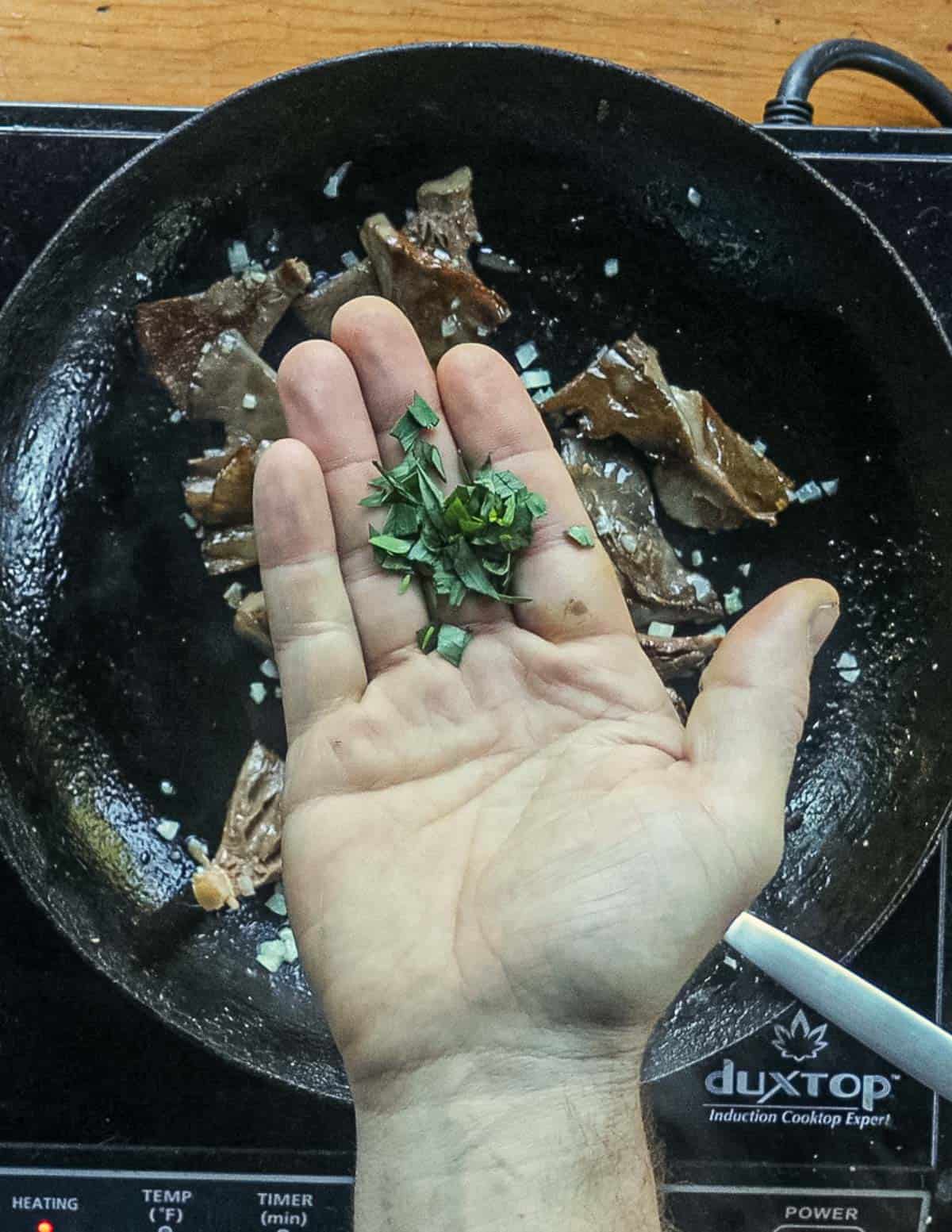 This preparation is simple and straightforward. Afterword, you could eat them straight from the plate with your fingers, or they'd love to put on top of a piece of meat as a garnish.
Tips
Use a cast iron pan or teflon pan since they're naturally non stick. Get your pan very hot, but not hot enough so that whatever goes into the pan will burn.
Avoid using stainless steel pans as the mushrooms can become glued to the pan, sticking and ripping, leaving a crust that and will inhibit the caramelization of the mushrooms due to their lack of contact with the steel.
The mushrooms should be cooked for 10 minutes, as undercooked blewits could make you sick, just like morels.
If you add the oil too early before the water is cooked out of the mushrooms, geysers of water and fat may shoot out of the pan directly at your eyes, it can pop and burst like a cannon, depending on how hot the pan is.
After the mushrooms are browned you can also deglaze the pan with white wine, if you like.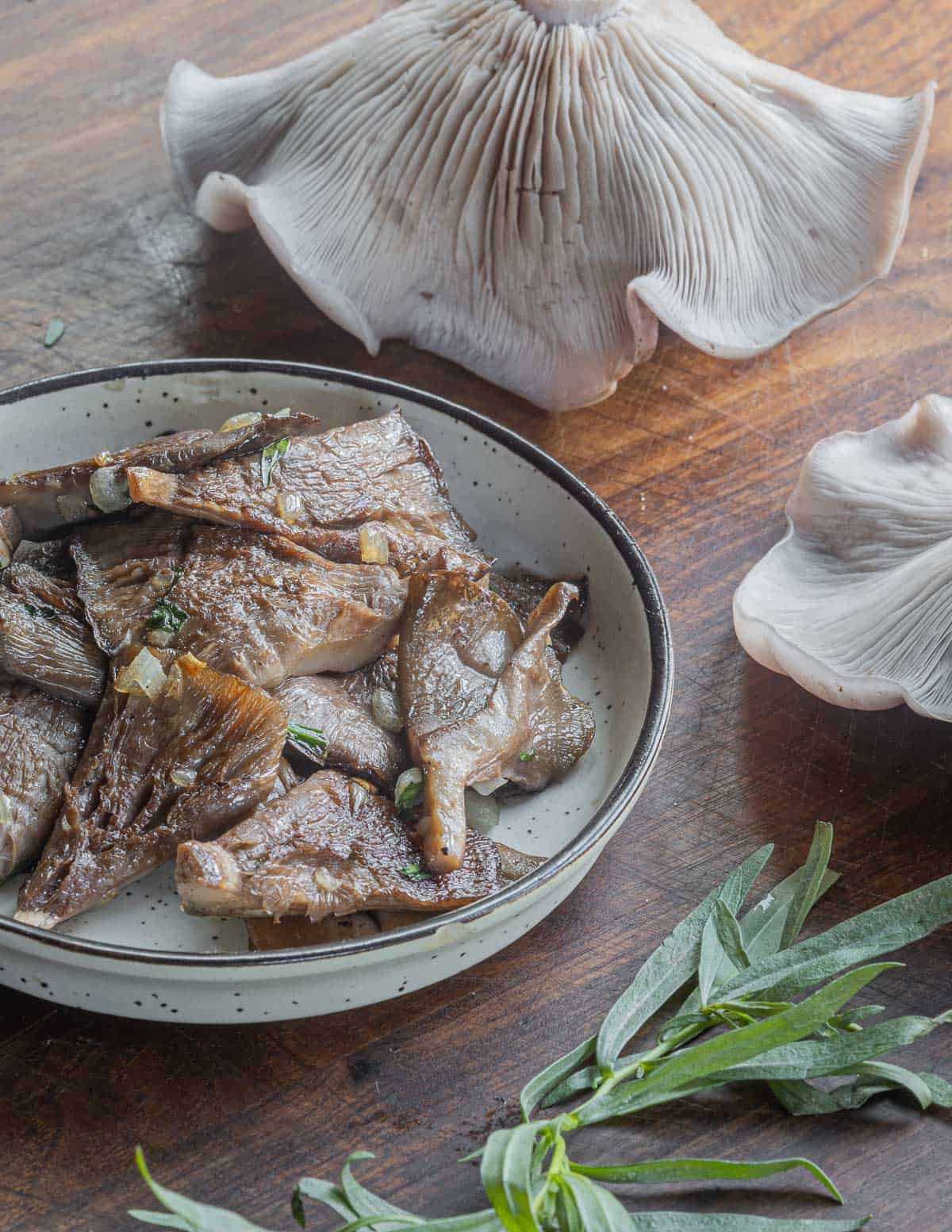 More Easy Mushroom Recipes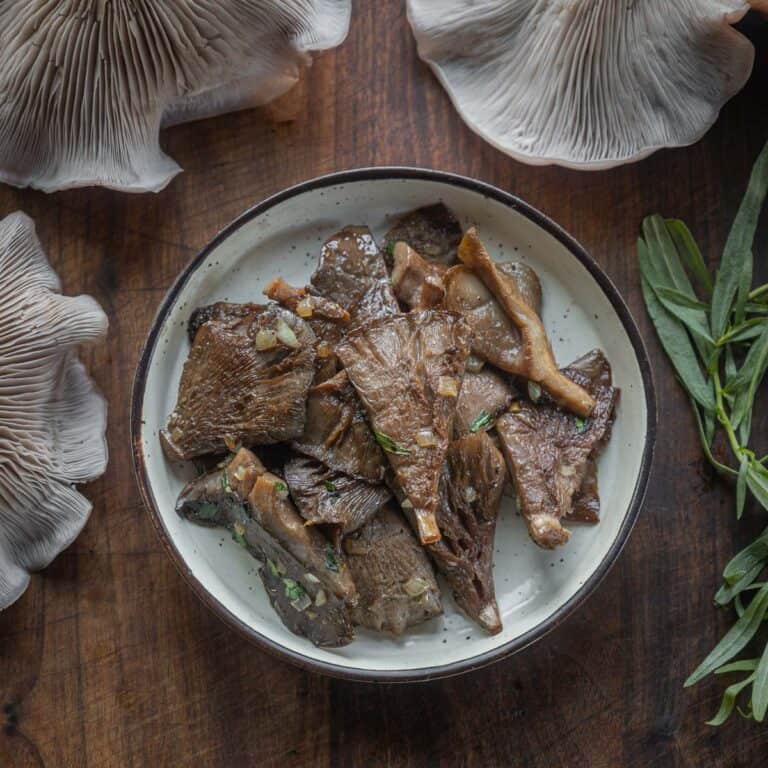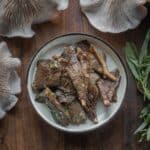 Print Recipe
Sauteed Blewits, Shallots And Tarragon
Dry sauteed blewits with shallots and tarragon.
Ingredients
4

oz

Blewits

quartered if large, halved or left whole if very small

1

tablespoon

Finely diced shallot

1

pinch

Fresh chopped tarragon

Salt

1

tbsp

Flavorless oil for cooking

such as grapeseed or canola, or unsalted butter
Instructions
Clean the mushrooms by brushing with a cloth or swishing in water if needed, then dry on paper towels. Cut the mushrooms into thick pieces.

Begin by heating a cast iron pan until hot.

When the pan is hot, add the mushrooms, season with salt, and cook them until they've wilted, lightly browned, and released water.

Add the oil to the pan if the pan gets dry, add a little more.

Add the shallots, then the tarragon and cook for a minute or two, double check the seasoning for salt, adjust as needed, and serve.

The mushrooms should be cooked for about 10 minutes at least, since blewits need thorough cooking.

You can also toss the mushrooms with a small knob of unsalted butter right before cooking.
Notes
This is a very basic recipe and the ingredients and proportions are just a guide. Feel free to add different herbs, or skip them. After cooking the mushrooms can be eaten as is, served as a side dish, used to garnish a steak or a piece of cooked fish, etc. 
Nutrition
Serving:
2
oz
|
Calories:
66
kcal
|
Carbohydrates:
3
g
|
Protein:
2
g
|
Fat:
6
g
|
Saturated Fat:
4
g
|
Polyunsaturated Fat:
0.2
g
|
Monounsaturated Fat:
1
g
|
Trans Fat:
0.2
g
|
Cholesterol:
15
mg
|
Sodium:
5
mg
|
Potassium:
272
mg
|
Fiber:
1
g
|
Sugar:
1
g
|
Vitamin A:
175
IU
|
Vitamin C:
0.4
mg
|
Calcium:
14
mg
|
Iron:
0.3
mg