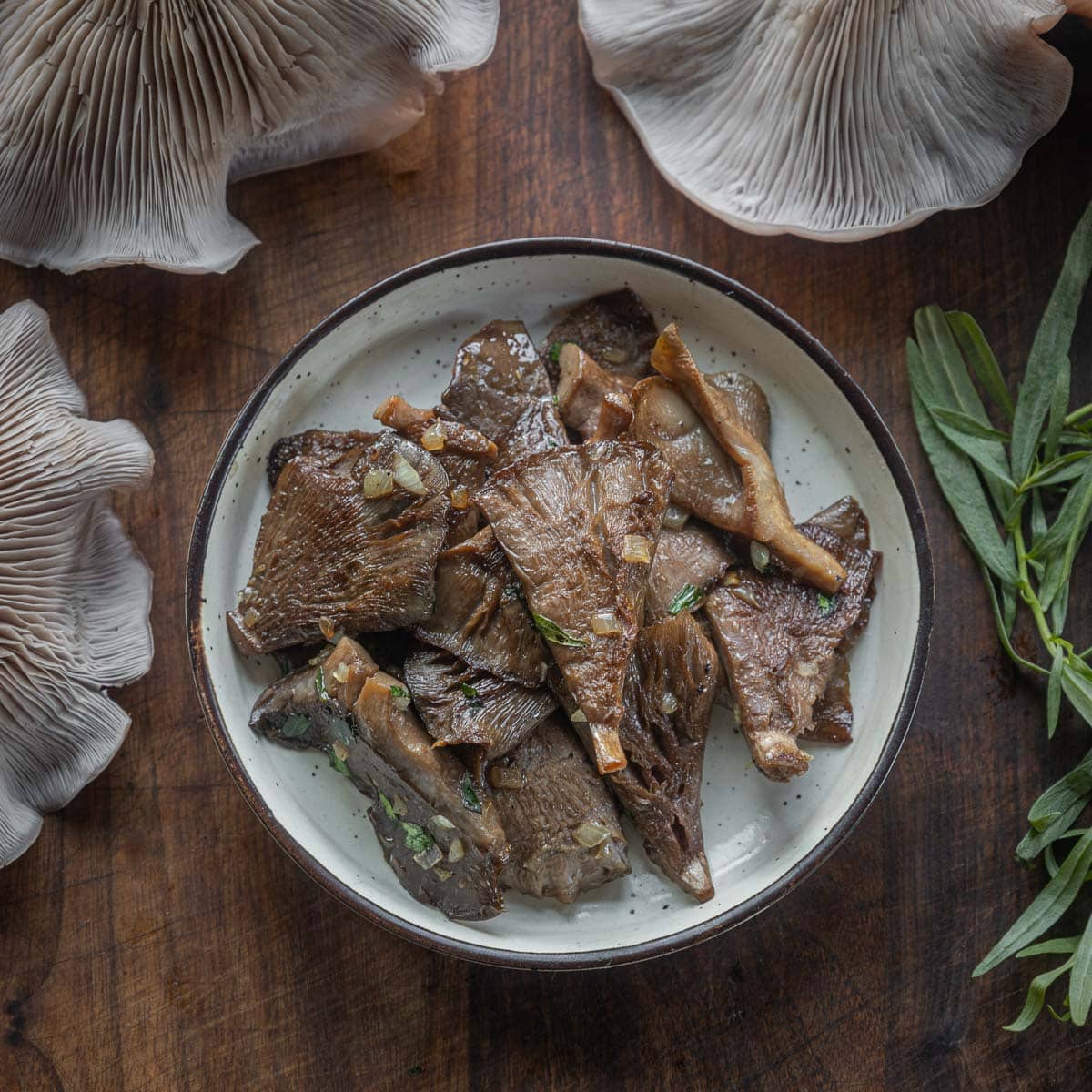 The first few times I eat something new I try to keep it very basic, so I can learn what the flavor is like and then begin to plan appropriately for it. There is varying information on the internet regarding the cookery of blewits, mostly just basic techniques and blewits being cooked in places where you might use any mushroom.
Some recipes say you should avoid using garlic with them, and I do agree it could have the potential to taste funny, or just overpower their flavor. They are a delicate mushroom, like chanterelles, so it's natural that their flavor can be highlighted and magnified by cooking in cream, or in a simple saute like I have done here.
I was discussing various ways of cooking delicately flavored mushrooms with a chef friend of mine a while back who has worked with many varieties. We agreed that the mushrooms with subtle, sweet flavors are complimented nicely by the gentle flavor of shallots and sweet herbs.
This preparation is basic, and doesn't really even need a recipe, but I'll include one for posterity. Afterwords, you could eat them straight from the plate with your fingers, or they would love to put on top of a piece of meat as a garnish.
The Dry Saute

A useful technique is that of the "dry saute". My blewits were quite damp from the rain the previous days, and I needed to find a way to make it so they would take a nice sear, without becoming soupy or stewed in their own juice. Blewits in particular seemed to contain much more water than others I have cooked. Dry sauteeing them in a pan without oil, then allowing their water to evaporate for a bit allows them to then caramelize beautifully when the oil is added to the pan.
All you have to do here is get your pan very hot, but not hot enough so that whatever goes into the pan will burn. If you are using stainless steel to cook in, you will need to hit the pan at just the right moment to avoid the mushrooms becoming glued to the pan and then sticking and ripping, leaving a nasty crust that takes up space in your pan and will inhibit the caramelization of the mushrooms due to their lack of contact with the steel.
A shortcut here is to use cast iron or teflon since they are naturally non stick, stainless will work too, but requires a bit of intuition as to the perfect temperature at which to add the ingredients.
Simply heat the pan until hot, then add the mushrooms and don't move them for a while.
You will start to see liquid steaming off of them as they cook, when they have wilted and given up their water, now you may add the oil, a teaspoon at a time, until the pan is nice and moist with it.
Now cook the mushrooms until they are lightly golden brown and colored, making sure to pay special attention to the stems, as undercooked blewits could make you sick, just like morels.
If you add the oil too early before the water is cooked out of the mushrooms, geysers of water and fat may shoot out of the pan directly at your eyes, it can pop and burst like a cannon, depending on how hot the pan is. Often this happens to me when I get a pan of brown butter too hot and then deglaze with wine, which can make the pan explode oil and boiling, acidic water in your face.

Print Recipe

Basic Blewit Recipe: Sauteed Blewits, Shallots And Tarragon

Dry sauteed blewits with shallots and tarragon.

Ingredients

4

oz

Blewits

quartered if large, halved or left whole if very small

1

tablespoon

Finely diced shallot

1

pinch

Fresh chopped tarragon

Salt

1

tbsp

unsalted butter

Flavorless oil for cooking

such as grapeseed or canola

Instructions

Begin by heating a cast iron pan until hot

When the pan is hot, add the mushrooms, season with salt, and cook them until they've wilted, lighlty browned, and released water. Add the butter to the pan with a little oil, if the pan gets dry, add a little more.

Add the shallots, then the tarragon and cook for a minute or two, double check the seasoning for salt, adjust as needed, and serve.




More