A simple gravy made can be a great way to use up some of your dried morel mushrooms. Especially around the holidays when company's around and you can brag a little about how good of a mushroom hunter you are. Read on and I'll break down the details.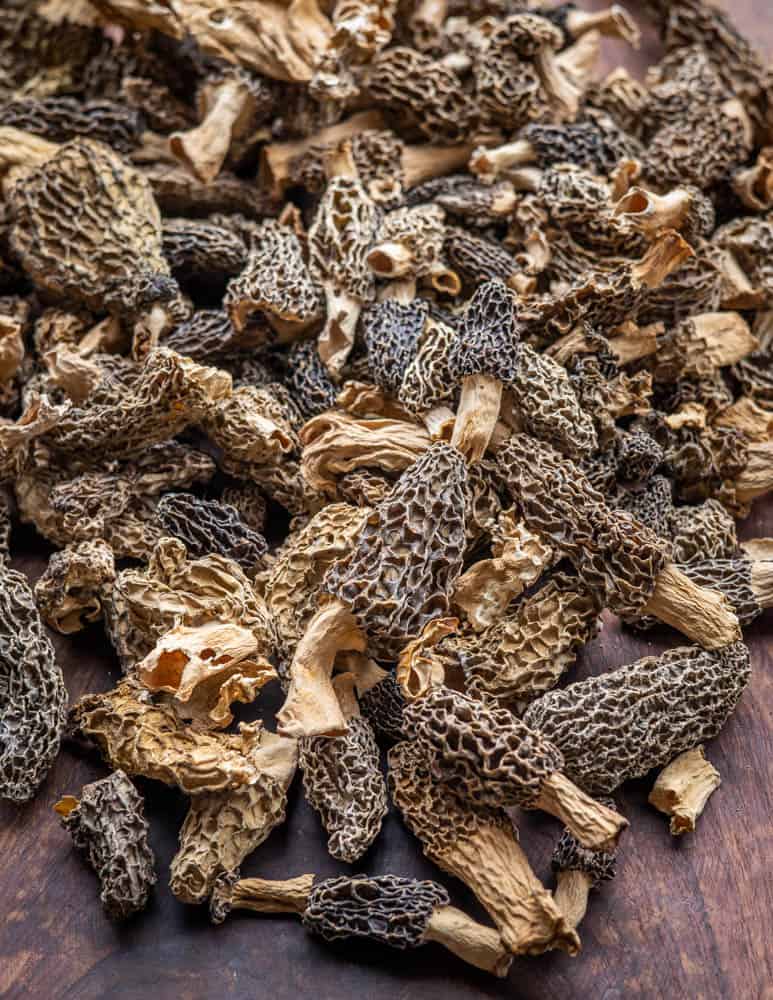 If I've learned one thing, it's that less is more, and minimalism is how special ingredients are going to shine the brightest, especially those precious morels of yours you fought the ticks, elements and other mushroom crazed hunters to get.
One of the easiest things to make with my winter morel stash is a good ol'bowl-a gravy. But before you ready the sails of your sauce boat for the journey, you should know the answer to an important question: how are you going to thicken it?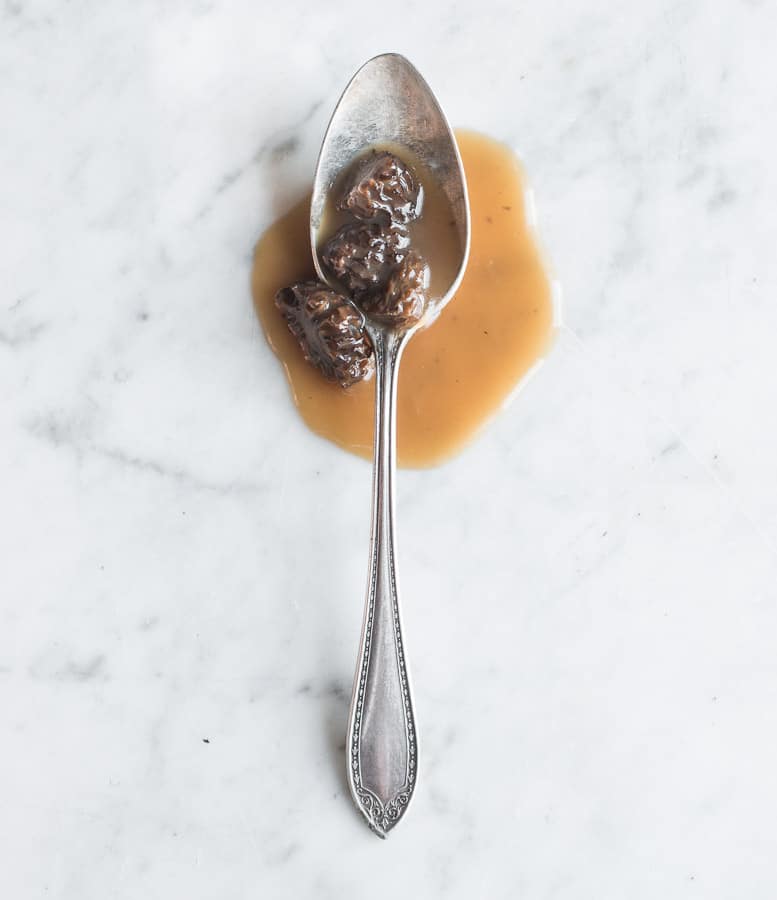 Cornstarch vs flour
In my world there's two doors to open. One leads to flour and the other cornstarch. (a third one leads only to butter, but that's another post) There's also other ways to thicken things like this, like using rice starch, arrowroot and other things.
To keep this under 1000 words I'm only going to talk about the two most popular (from my experience). I use either method depending on how I'm feeling, but there are basic strengths and weaknesses to each approach, here's my opinion(s) and a couple other tips and ideas:
Flour and or roux
Pro: Adds rich body. Quick acting. Can emulsify large amounts of fat if you like to save lots of pan drippings
Con: Makes the color opaque if you have a really nice stock you're using, and if the flour isn't cooked out they can taste floury. Also easier to burn than cornstarch.
Cornstarch
Pro: Gluten free, less heavy handed tasting, keeps more of the see-through visual of a nicely made stock
Con: Generally contains genetically modified corn. Also can have a particular flavor if used in excess. Less rich mouth feel than roux based sauces, which could be good, depending.
I'm going to give you a recipe for both, but whichever you choose it's going to be good, as long as you have some nice stock, a few morels, and a piece of meat that's going to make some great pan drippings.
I'll add that you can make this without de-glazing a roasting pan and it will still be great, but someday you need to try the deep, caramel sauce that comes from scraping up browned bits of meat cooked slowly cooked in the oven, if you haven't.
Making sure the morels are in bite-size pieces
It may not seem that big of a deal, but it's worth thinking about, especially if you mushroom averse people coming over for dinner, or you want to impress someone with a spoonful of only the most picturesque baby black morels. Hint: this is the best place to put the itsy-bitsy morels you picked last year when you didn't want anyone to find your patch, they're the perfect garnish.
Depending on the species you were picking and at what time in the season too, you might have massive Iowa pigs that were a foot long, or some tiny black morels the size of a button, both will work.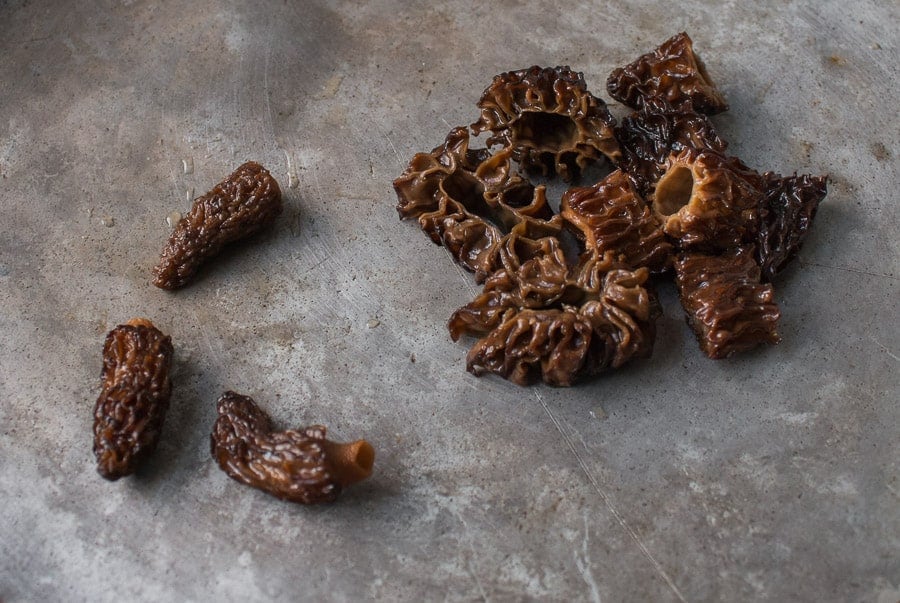 For large morels, I re-hydrate them, then cut them into rings if medium sized, or chop coarsely if large. If the morels are very small, I trim the stems off to make them pretty, then serve them whole.
If you can find small-bite sized or medium sized morels that will fit on a spoon, they'll hold pockets of gravy inside the cavity, and it makes them extra juicy. Don't go too crazy though, we want there to be pieces of morels, not whole mushrooms that are awkward to get out of the gravy boat/dish.
Drying morels whole
This is one of the best examples of why I don't cut morels before I dry them, since keeping them whole helps allows the cavity to fill up with juice, or allow you to have round slices (see picture above) that have a great texture.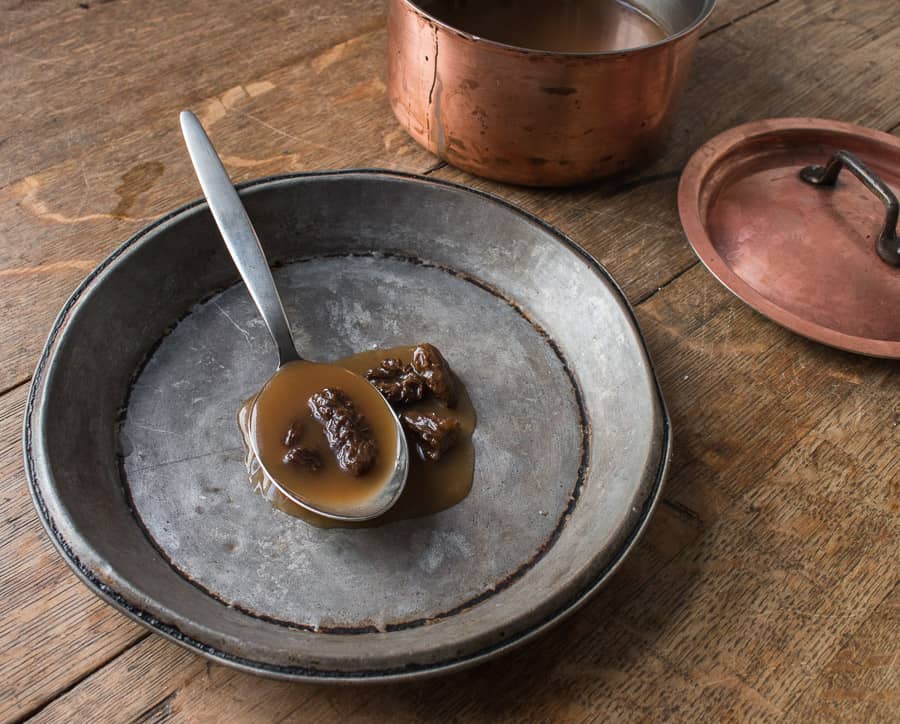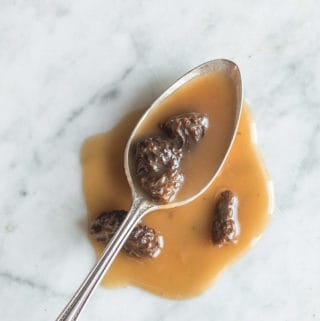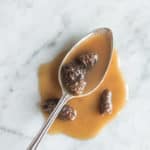 Print Recipe
Morel Mushroom Gravy
Yield: ~3 cups after cooking, enough to serve 4 mushroom hunters or 8 civilians
Ingredients
4

tablespoons

cornstarch

¼

cup

water

4

cups

chicken or meat stock

highest quality available, preferably homemade

2

tablespoons

unsalted butter

optional

Kosher salt

to taste

.5 ounces dried morel mushrooms

on the small side. Depending on the size of your morels, this is about ¾ cup, or roughly ½ cup crumbled morel pieces

¼

cup

brandy or dry sherry
Instructions
Re-hydrate the morels in the stock for 30 minutes, or until hydrated. Agitate the mushrooms to remove any grit, then strain the liquid and reserve both separately. Trim the morels into bite size rounds that will fit on a spoon.

When your roast, chicken, or other roasted meat is done, remove it from the oven and allow it to rest in a warm place while you prepare the gravy. Stir the cornstarch with the water and reserve.

Place the roasting pan on the burner on medium heat, then deglaze the pan with the brandy and scrape with a wooden spoon to loosen up the browned bits. Cook until the brandy is almost evaporated, then add the stock, trimmed morels, and cornstarch and bring the mixture to a simmer.

Cook until the sauce is thickened nicely, slightly reduced and glossy. Whisk in the butter if using. Season the mixture with salt to taste, then double check the seasoning one last time, transfer to a dish with a ladle and serve immediately.
Notes
Drippings are the best 
Ideally, this is something you make when you're cooking a roast, since the pan drippings are what helps to give it such a great flavor. Make sure to cook your roasted meat or poultry on a rack in the oven pan to allow juices to drip down and caramelize.
Using Kneaded Roux 
Use the same recipe as above, but instead of cornstarch, knead together the following until you have a soft dough:
2 tablespoons of unsalted, room temperature butter
⅓ cup of all purpose flour
When the stock comes to a simmer, whisk in the kneaded roux to thicken. Kneaded roux can be kept in the fridge and used whenever you want to thicken something, but I like to bring it to room temperature first.
More