Flecked with mushroom duxelles, lemon and herbs, trotter mushroom sauce is one of the richest sauces for fish I know of. When I have trotters, the first thing I usually make are crispy-fried cakes, but this earthy, mushroomy, herby sauce lifted with lemon is a great recipe for using up leftover minced trotter (you'll have plenty if you cook a few feet) and to have a little variation.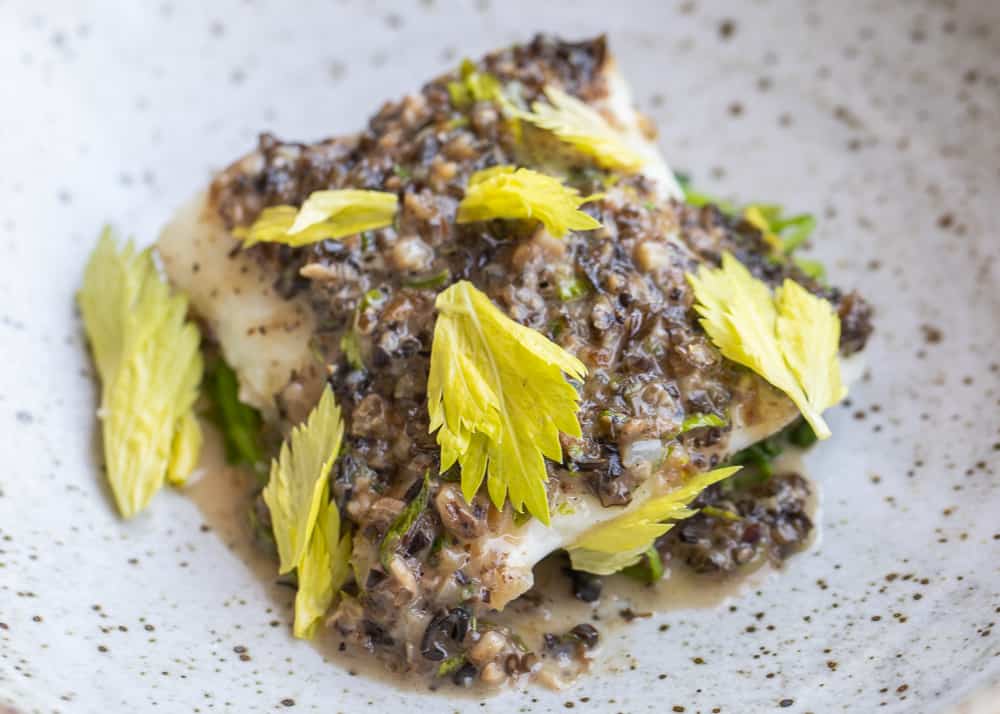 Here I'm using venison trotters, but you could easily use pork, lamb or goat feet too, which will give a bigger yield, especially pork since they're generally scalded with the skin on (for the record your local Halal market will carry lamb and goat feet too, peeled, scorched, and everyway in between). 
Fish with sauce made from an animals foot might sound a little out of place, but they're actually perfect companions. Sound weird? Bear with me. A sauce made from pure trotter meat would be rich, rich stuff, in my mind not really the best choice for pairing with, say, a venison backstrap. Keeping in mind that the sauce is heavy means that we should look for something to pair with it that's light, extremely light, and there's just about nothing lighter than steamed, flaky white fish, amirite?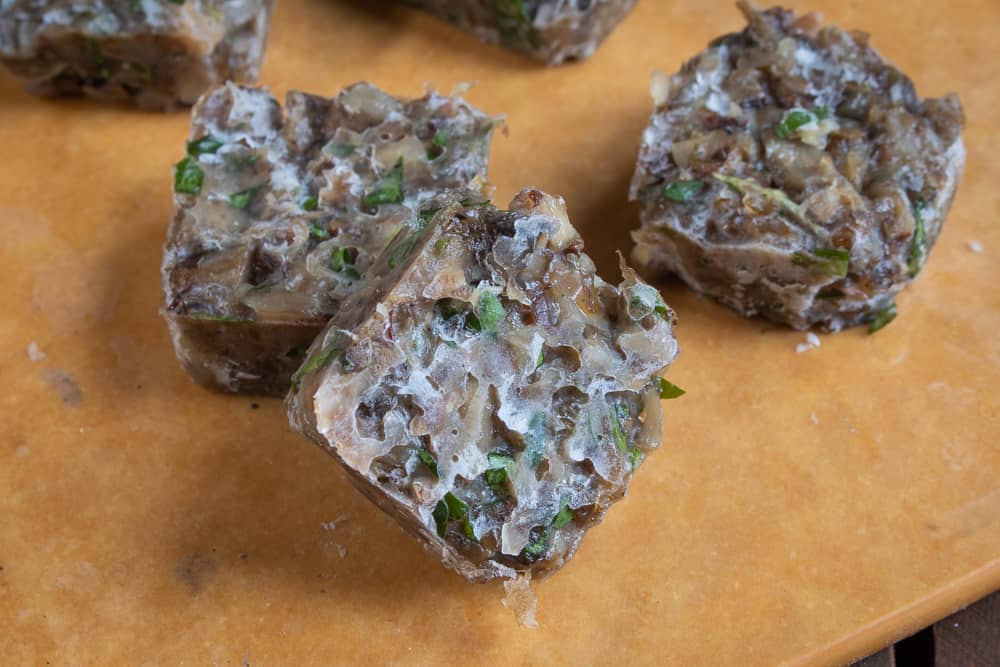 From there, it's just a matter of fashioning minced, cooked trotter meat into a sauce, which you can easily do with some good stock (I use smoked trotter stock) a splash of wine mushroom duxelles and fresh herbs. It's decadent for sure, but the lemon and herbs help give it lift, and, just like the trotter cakes, no one will know they're eating bambi feet if you don't want them too.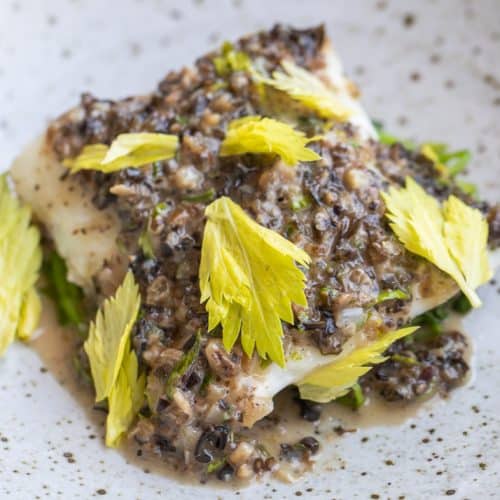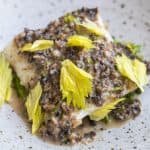 Print Recipe
Steamed Cod with Wild Mushroom-Trotter Sauce
Flaky white fish of your choice with a rich sauce of trotters, duxelles, lemon and herbs.
Ingredients
Cod
4

six ounce pieces of cod

or your favorite mild, flaky white fish

Kosher salt and fresh ground black pepper
Trotter Sauce
1.5

oz

mushroom duxelles

3

oz

Smoked trotter, cooked, minced and chilled (see link for the mother recipe)

Choose from venison, lamb, or goat, or pork as a last resort.

½

cup

strong

leftover stock from cooking the trotter, or 4 cups homemade chicken stock reduced to 1 cup, or equivalent

¼

cup

dry white wine

Good pinch of chopped fresh oregano

use parsley in a pinch

1

small lemon

3

tablespoons

unsalted butter

Tiny pinch cayenne

Fresh celery leaves

to garnish
Instructions
Season the cod with salt and pepper, then steam or bake at 325 on oiled parchment until just cooked through and flaking.

Meanwhile, in a small saucepan, about 3-4 cup capacity, melt the chopped trotter, mushroom duxelles, and the wine together, then bring to a simmer.

Add the stock and butter, increase the heat to medium high and whisk. Season the sauce with salt, pepper, parsley, a few scrapes of lemon zest and lemon juice to taste along with a tiny pinch of cayenne.

Continue whisking until the sauce is thick, emulsified, and creamy.

Plate the steamed fish on top of some wilted greens on the middle of 3 pre-warmed dinner plates, spoon the sauce over the top, garnish with a few leaves of celery and serve.