Faced with a couple bags of frozen hen of the woods mushrooms this year, I set out to come up with some trusty ways to eat through large hauls of mushrooms quickly.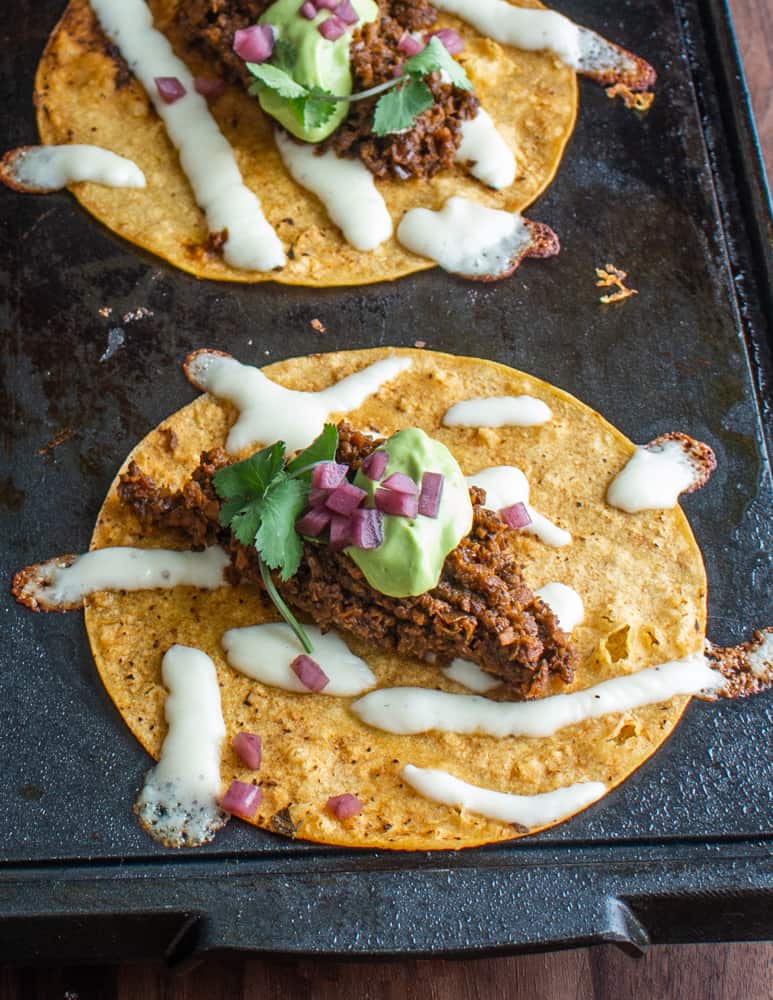 These mushroom tacos were one of the winners, and they're a great way to use up that winter stash before the season comes, although they'll be even better made with fresh mushrooms.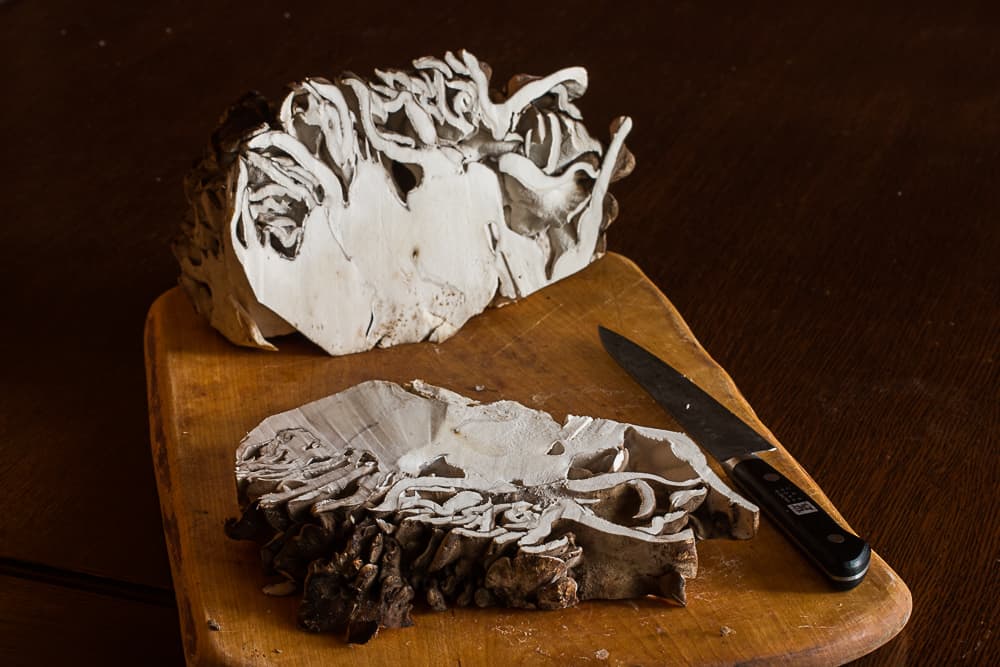 Mushroom tacos are nothing new-they're actually traditional, as I wrote about years ago in my post on tacos made with gomphus, lobster or shrimp of the woods. The traditional mushroom taco recipes I've seen are more like stewed mushrooms served with tortillas--they're good, but they're not going to be as punchy and deeply flavored as tacos made from chicken tinga, pork al pastor, or any of the myriad of fillings you're likely to find at your favorite taco joint.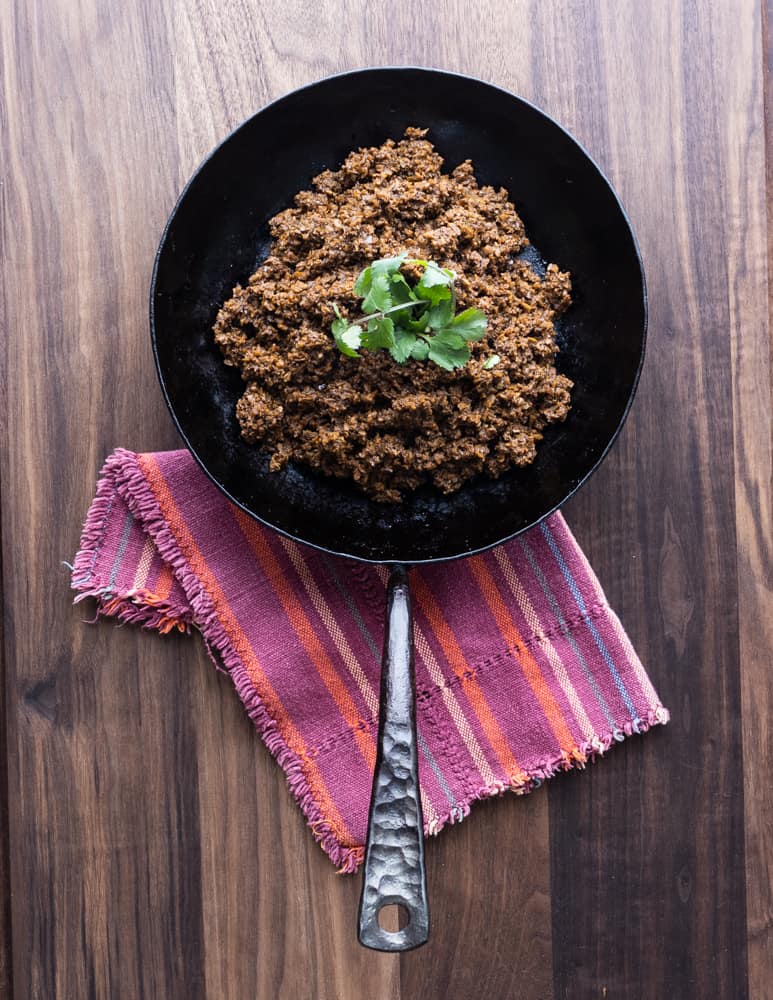 Mushrooms, while similar in some ways to meat, are also very different. Eating a chunk of mushroom stewed in sauce can be good, but to really mimic the classic "American-style" taco meat I grew up with, I knew I'd need to figure out a way to mimic the texture of ground meat. The first thing I thought of was mushroom duxelles, the famous French mushroom preserve that makes all kinds of things taste good.
Mushroom duxelles are basically finely chopped, cooked mushrooms, but you can also blend them in a food processor if you're using sturdy mushrooms like hen or chicken of the woods, which gives a finely-ground product not unlike ground beef in some ways.
For the tacos, instead of the classic shallot, thyme and sherry combo I typically use for duxelles, I just imagined the ground mushrooms were ground beef, and went on from there.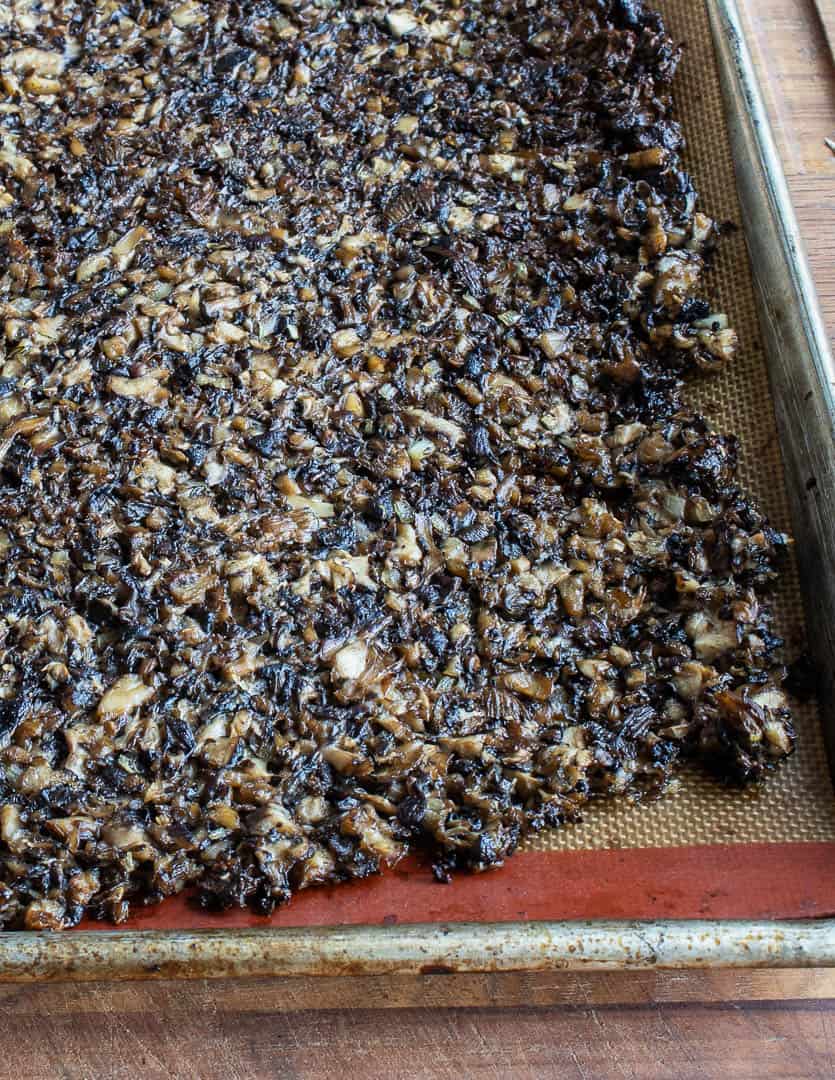 To be clear here, you don't necessarily need to use your own seasoning blend, this will be just fine made with your favorite packet of Ortega or whatever taco seasoning, but making your own is always going to taste better. Even more important than the seasoning you use though, is the fat.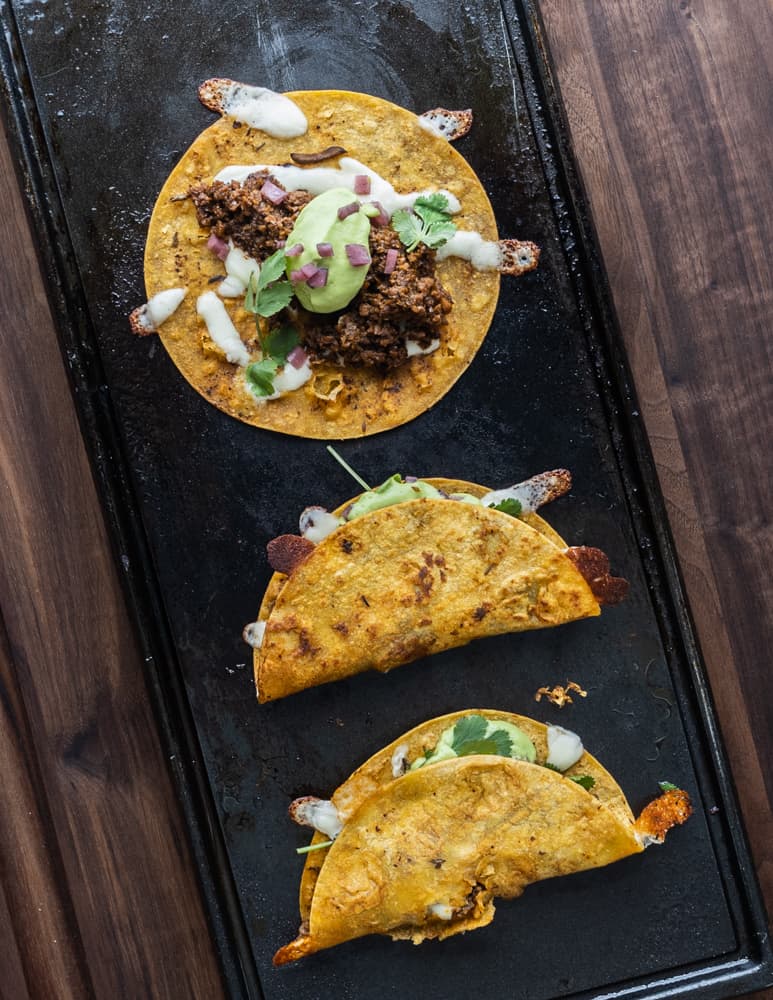 The importance of fat
One of the biggest ways that mushrooms differ from meat is that they don't contain fat, which is part of what helps ground meat taste like ground meat.
Starting the pan off with a bunch of butter or oil helps give the mushroom taco mix the creamy mouthfeel you expect-so don't skimp on it. Once you get the mushroom taco meat made, you can use it anywhere you would ground beef taco meat, and made with care, some people probably won't be able to tell this is vegetarian.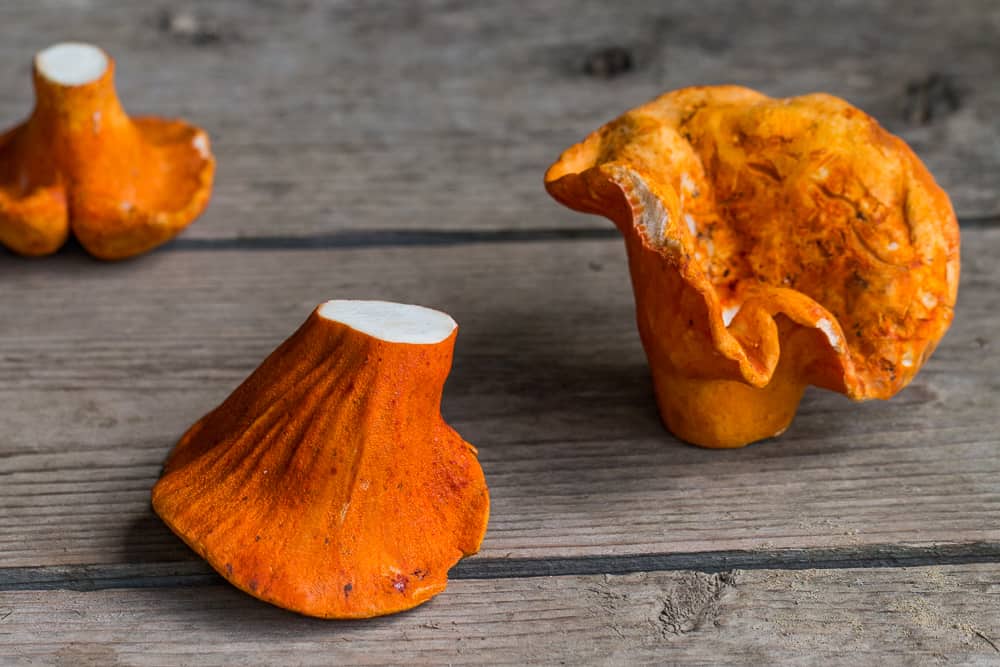 Soaking the tortillas
One last thing on the finished tacos. The finished tacos you see pictured are soft, supple, cheesy and delicious, and they're made with corn tortillas as I prefer them to flour.
In order to make them pliable and soft, and encourage the "leoparding" pattern on the finished tacos, I take a page from Tacos de Birria here, soaking corn tortillas in chili broth for a few seconds before putting the tacos on the griddle. Try it and be changed.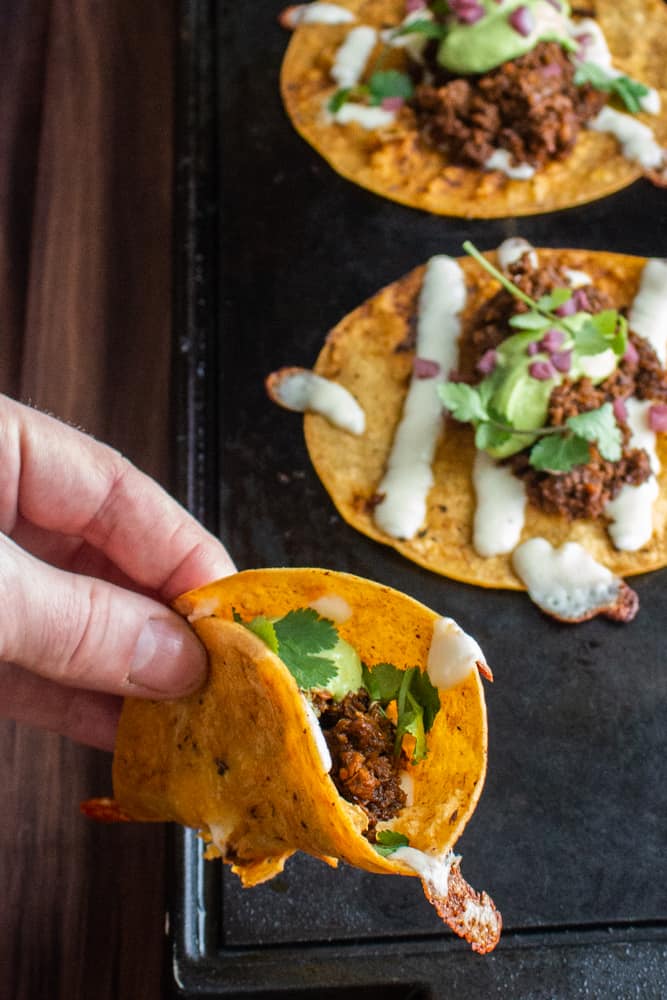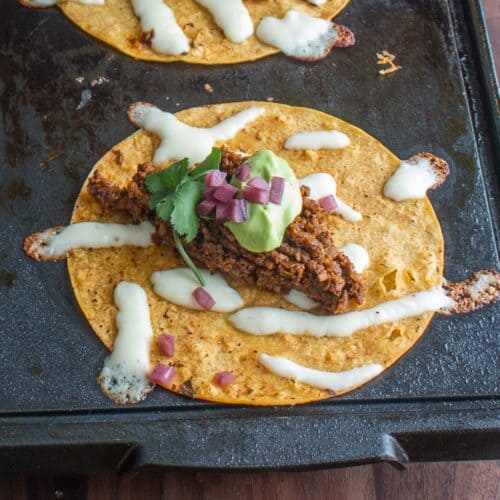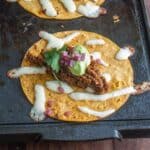 Print Recipe
Wild Mushroom Taco Meat (Vegetarian)
Tacos made with wild mushrooms-it will tastes like ground beef taco meat. Makes about 8 tacos.
Ingredients
Mushroom Taco Mix
8

oz

hen of the woods or other wild mushrooms

Huitlacoche works good too

½

teaspoon

kosher salt

plus more to taste

good pinch

dried oregano

crumbled between your fingers

3

T

chili powder

preferably made from freshly toasted and ground, dried chilis, such as guajillos

1

teaspoon

ground cumin

1

large garlic clove

1

small onion

4

tablespoons

unsalted butter

½

teaspoon

smoked paprika

¼-½

teaspoon

cayenne pepper

to taste (you may not need this if you make your own chili powder)

1

cup

meat or vegetable stock
Serving
Guajillo broth

3

dried guajillo chilis

3

cups

mushroom

vegetable or meat stock
Garnishes
Cooking oil

as needed

Grated cheese

such as queso chihuahua or mozzarella

Pickled red onions

Chopped cilantro

Sour cream

Your favorite salsa
Instructions
Mushroom taco mix
Preheat the oven to 300 F.

Melt the butter in a 1 quart or similarly-sized saucepot. Grind the mushrooms, onions and garlic to a coarse paste in a food processor, then add to the saucepot and sweat for five minutes.

Add the remaining ingredients and bake for 30 minutes hour, or until the pan is nearly dry. Season the mixture to taste with salt until it tastes good to you, then serve as you would taco meat.
To make the tacos as pictured
Toast the guajillo chilis until crisp and brittle, then break in half and remove the seeds. Combine the warmed stock in a blender with the chilis and puree until smooth, then strain and reserve.

Heat a comal or griddle lightly with oil. One at a time, put a corn tortilla into the stock and allow it to sit for a five-count. Remove the tortillas directly to the griddle, top with some cheese, and cook until the tacos are lightly browned and crisp on the bottom. Put a dollop of taco meat, along with red onions and cilantro on each taco if using, then fold the tacos over, pressing them down lightly. Transfer finished tacos to a warm oven while you finish the rest.