Cooking huitlacoche to make a simple taco filling is probably one of my favorite vegetarian tacos. It's also a very traditional recipe for huitlacoche, and you can find all kinds of versions of it online, from all over Mexico and the surrounding area.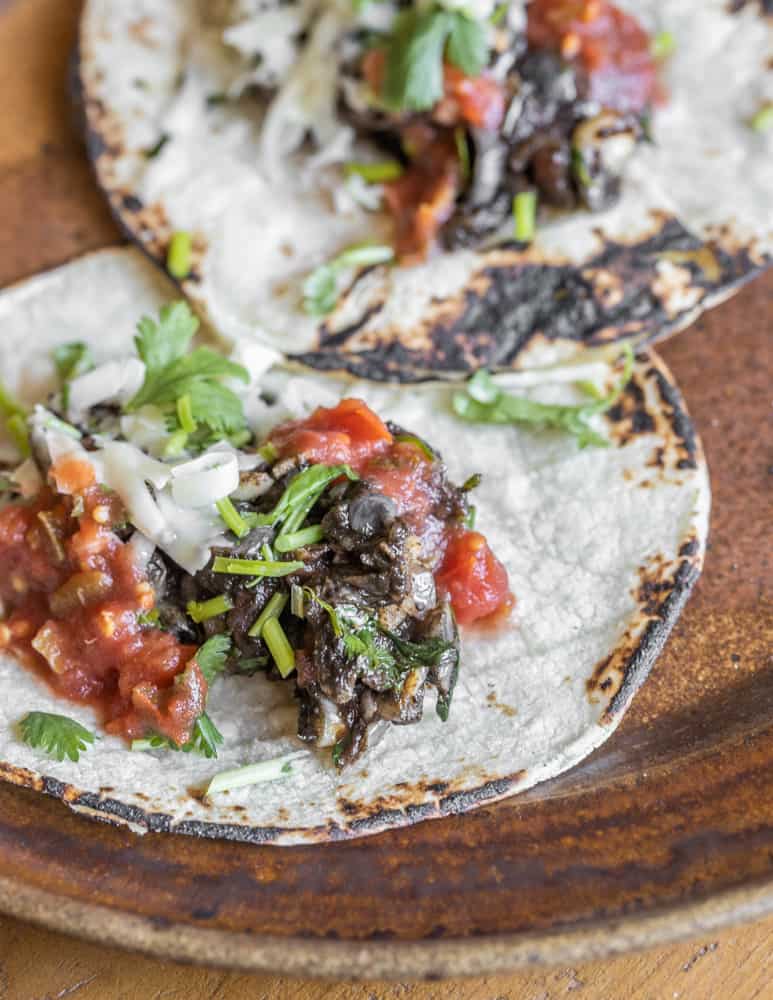 Traditionally, the corn fungus is gathered and typically stewed with onions, garlic, jalapeno, and possibly some tomato. Some versions crush everything together in a metate (a semi-flat basalt grinding stone) beforehand, which makes it into a sort of smooth puree, which can be good too. The finished juicy, mushroomy goodness is an all-purpose taco filling, great in tacos, quesadillas, spooned on top of sopes or masa cakes, etc.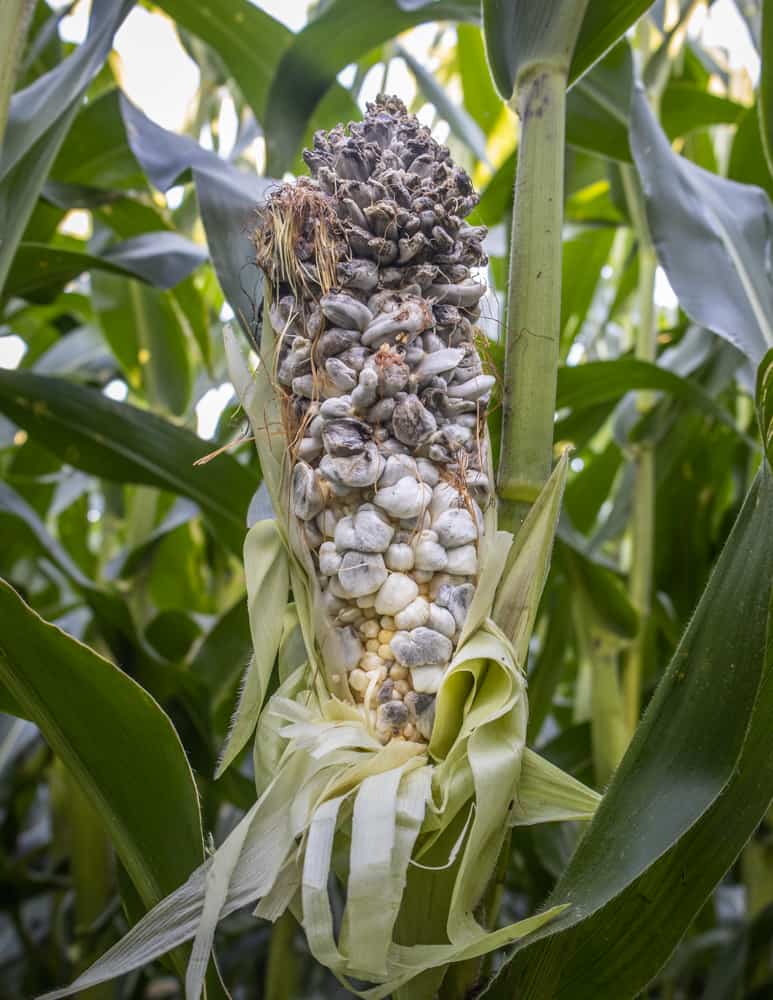 This version is nothing fancy, I wanted to really honor the huitlacoche and present it in a way that you'd find on a street corner, or a small taqueria, so it's nothing more than huitlacoche cooked with onions, garlic, tomato, and cilantro.
Epazote is traditionally added too (and I recommend it) but is optional. If you like it hot, you can add some jalapenos as some do, but I prefer to serve it with some spicy salsa on the side for the pop of red color, since, without it, the plate can look a little drab.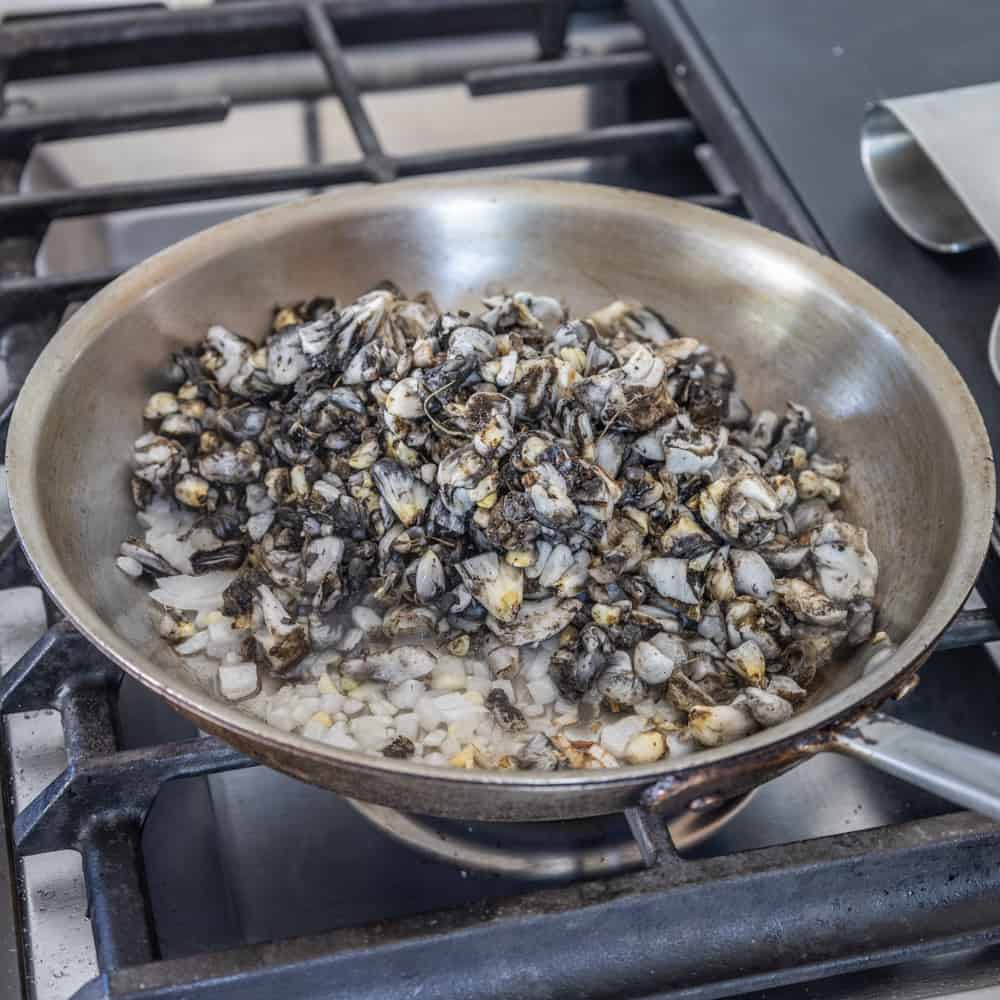 Fresh or frozen huitlacoche is fine here. If you want to use huitlacoche from a can, you can, but it isn't my first choice as all the products I've tried are already seasoned, and typically contain more un-colonized field corn than I like in my huitlacoche.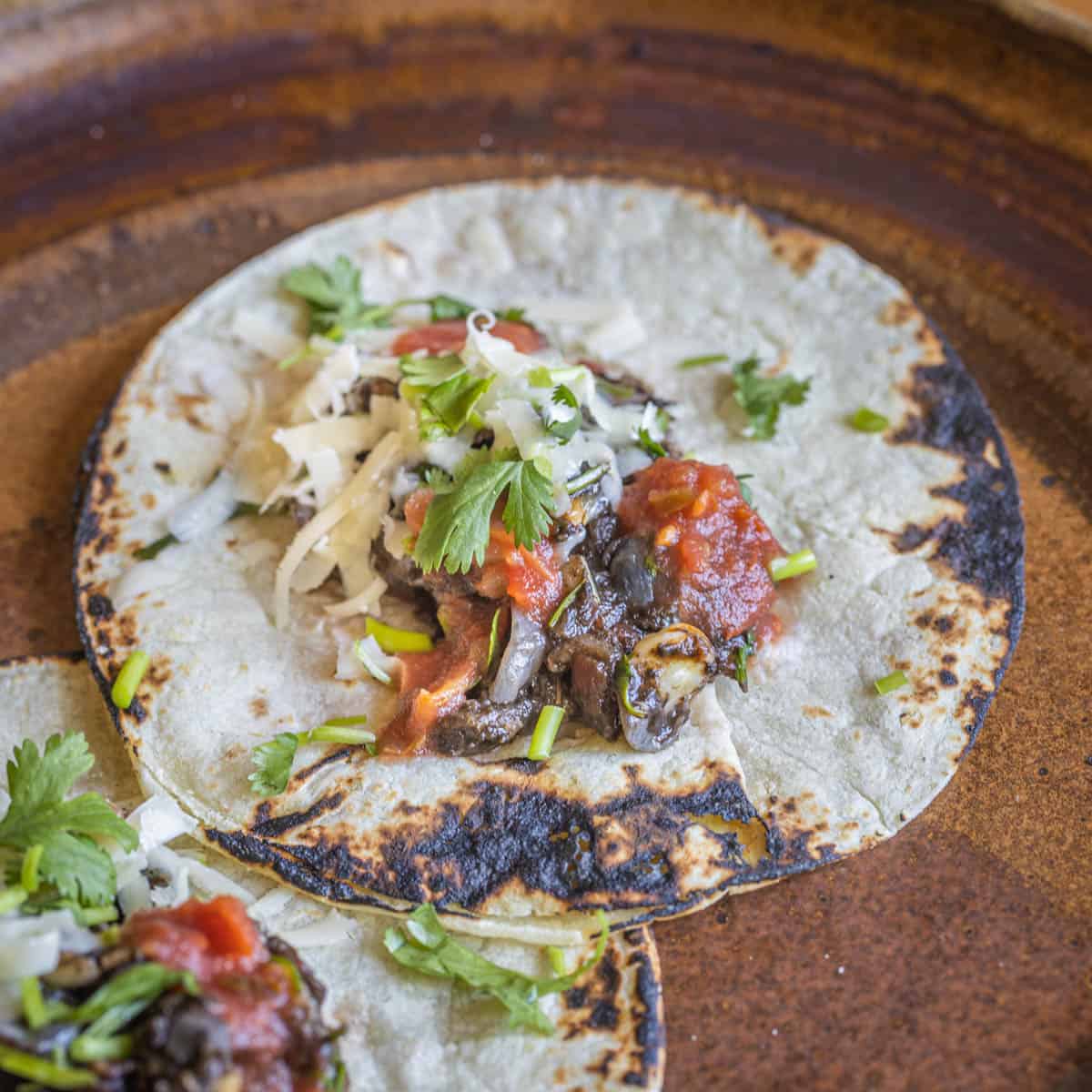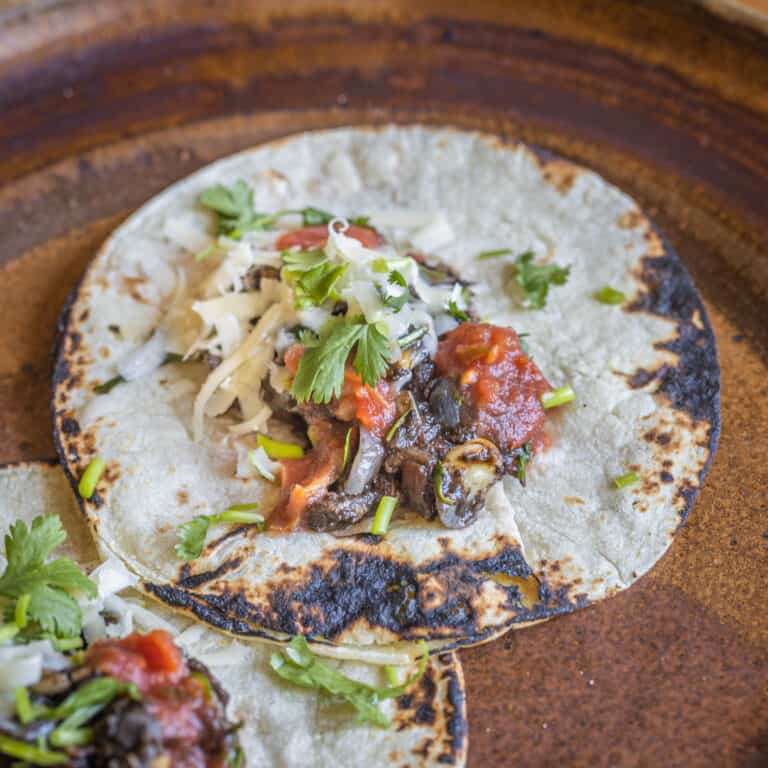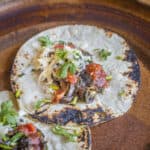 Print Recipe
Traditional Huitlacoche Tacos
Huitlacoche (corn mushrooms) cooked with onion, garlic, tomato, epazote and cilantro. It makes a great vegetarian taco filling. Makes enough for 6-8small tacos or street tacos. Scale as needed.
Ingredients
Basic Huitlacoche Filling
8

oz

huitlacoche kernals

fresh or frozen

1

15

can whole peeled tomatoes

or 1 lb fresh tomatoes

1

small

5 oz white onion, diced ¼ inch

1

large clove garlic finely chopped or grated

1

Handful

Cilantro

2 Tablespoons chopped

3-4

leaves

fresh epazote

torn, optional

Kosher salt and fresh ground black pepper

2

tablespoons

lard or cooking oil

1

small

jalapeno

halved, seeded and cut into thin slices
For serving as tacos
Grated queso chihuahua

or your favorite Mexican cheese, such as queso fresco

Your favorite salsa

Warm corn tortillas
Instructions
Using canned tomatoes
Remove the tomatoes from the can, reserving the juice. Holding the tomatoes over a bowl in the sink, squeeze out the seeds, reserving the tomatoes. Discard the seeds. Chop the tomatoes roughly, combine back with the juice, and reserve.
Using fresh tomatoes
Cut the tomatoes into ½ inch slices, then into cubes and reserve.

Preheat the oven to 350.

In a large stainless steel saute pan, cook the garlic in the oil until light golden and aromatic. Add the onion to the pan and cook for a minute or two, then add the huitlacoche and a pinch of salt, cook, stirring occasionally for 4-5 minutes, or until the huitlacoche has started to release some juice.

Continue cooking the huitlacoche until the pan is nearly dry. Add the tomatoes and their juice, then cook, uncovered, until the pan seems nearly dry.

Transfer the pan to the oven and bake, uncovered, for 10-15 minutes, stirring once during the process, until you have a thick mushroom, tomato and onion pulp.

Stir in the cilantro and epazote, if using. Double check the seasoning for salt and adjust as needed, then allow to cool for a minute or two, and serve with warm corn tortillas, cheese and salsa, or your favorite condiments.
Notes
You can improvise and add a few different things to the mushrooms depending on how much huitlacoche you have. Adding 8 oz chorizo sausage, browned in the pan before the huitlacoche makes a great meat and mushroom version. 
Nutrition
Serving:
3
oz
|
Calories:
174
kcal
|
Carbohydrates:
10
g
|
Protein:
4
g
|
Fat:
14
g
|
Saturated Fat:
1
g
|
Polyunsaturated Fat:
4
g
|
Monounsaturated Fat:
9
g
|
Trans Fat:
0.1
g
|
Sodium:
10
mg
|
Potassium:
479
mg
|
Fiber:
2
g
|
Sugar:
5
g
|
Vitamin A:
213
IU
|
Vitamin C:
15
mg
|
Calcium:
23
mg
|
Iron:
1
mg
More