Fresh masa tortillas stuffed with huitlacoche and cheese. Yes please.
When I hired a new prep cook from Oaxaca, one of the first things I asked him about was how mushrooms are traditionally prepared in the region. I remember scribbling down "fresh tortilla with Oaxaca cheese", assuming it was a sort of quesadilla made with tortillas. I was both write and wrong in my assumption, but I didn't understand why until I ate a fresh tortilla stuffed with cheese in Costa Rica.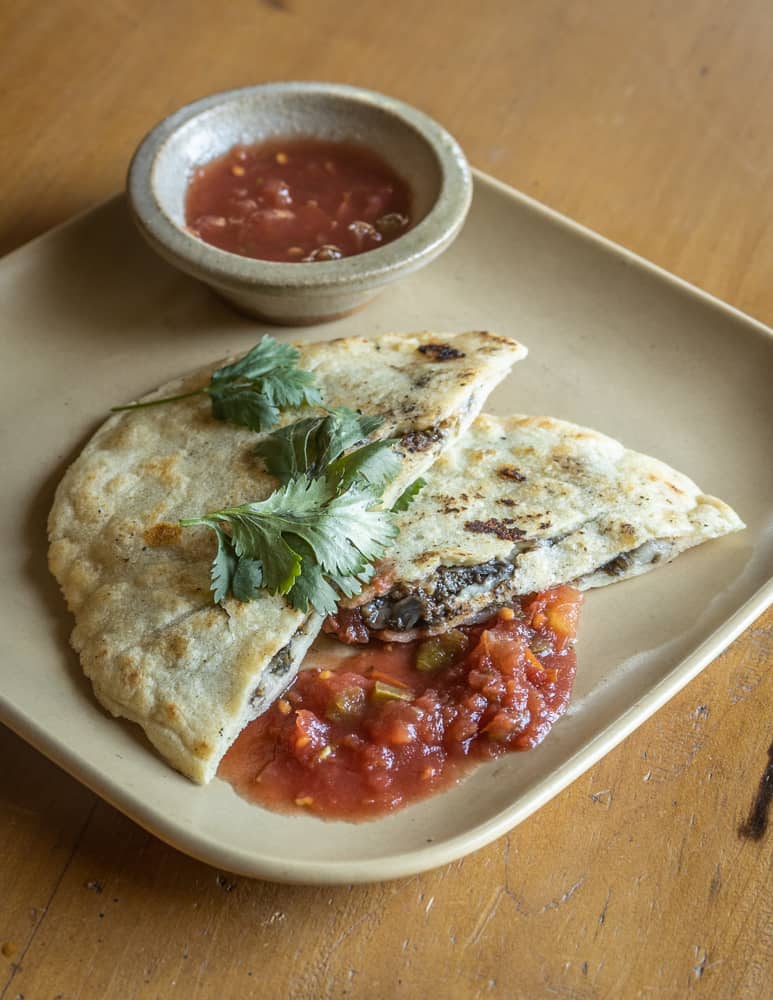 The "tortilla" that my employee spoke of wasn't a cooked tortilla sold in stacks like we're used to seeing in the United States. After my Costa Rica trip, there's no doubt in my mind that he was referring a tortilla made from fresh masa, cooked on a plancha, as that's how the one I ate was served.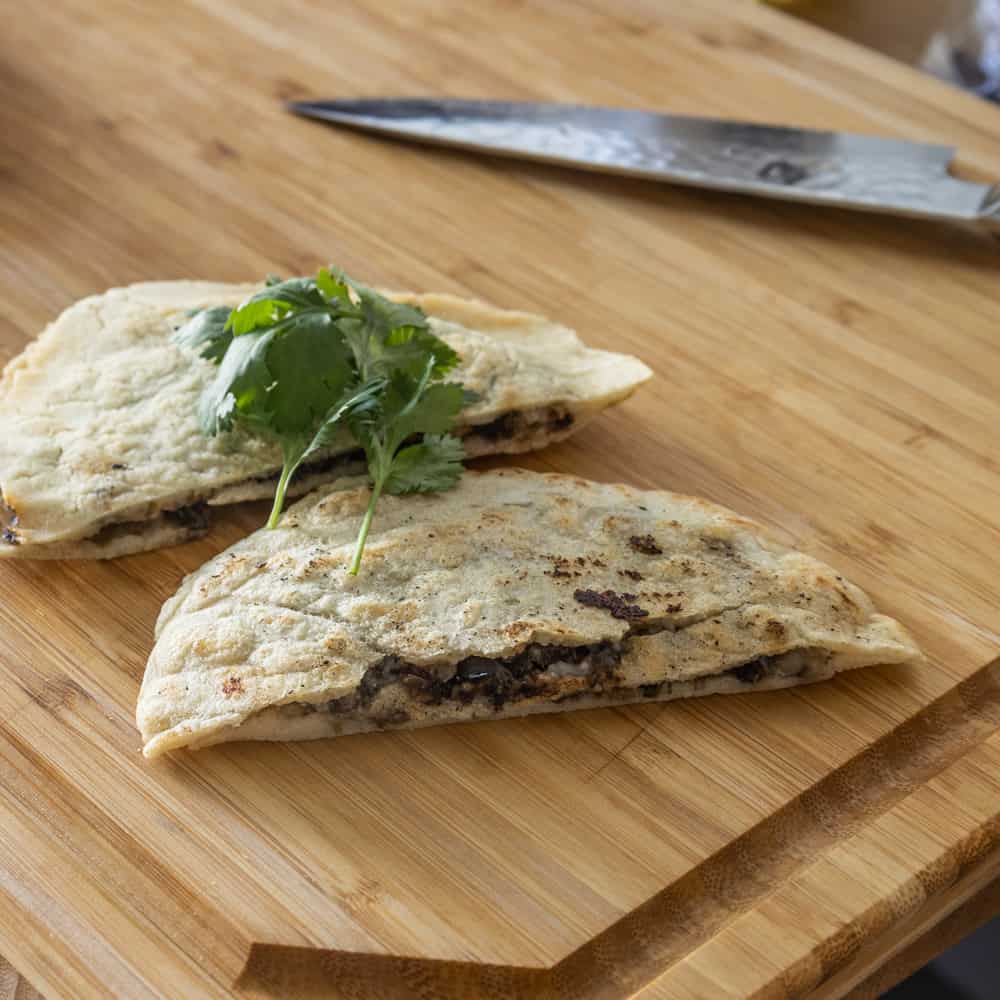 It's a quesadilla or sorts, but eats a little differently in that the tortilla or fresh masa is essentially stuffed with the corn mushrooms and cheese, instead of the sides being open in the more common quesadilla using a flour tortilla cooked that gets folded over.
Both methods are good, but I liked this one so much that I ended up turning them into pupusas and making 400 of them for the Midwest Wild Harvest Festival. They were a hit, to say the least, with people shoveling them onto their plates and eating more than their fair share. If there's a next time, I'll be having people hand those out individually.
Two options for forming
There's more than one way to go about making these. I think the easiest way to make them at home is by making the tortillas with two individual disks of corn masa. But, if you'd prefer the look of an empanada, you can make smaller ones, folding them over into little hand-pies. If it's your first time working with masa, I'd make them flat as pictured in this post below.
Flat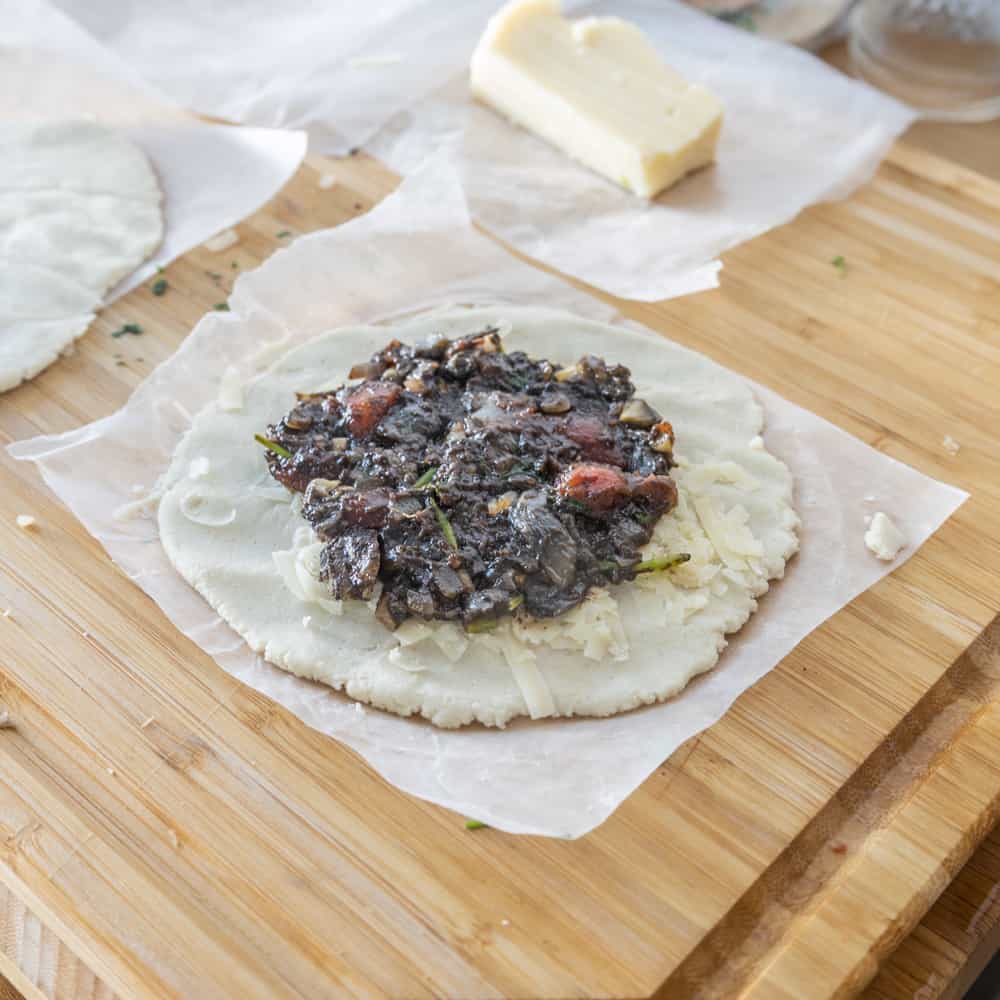 Folded
Similar in shape to an empanada, you can also make smaller versions of this. Personally I prefer the flat, stuffed/fresh tortilla version. As these aren't flat, they should be deep fried for the best color.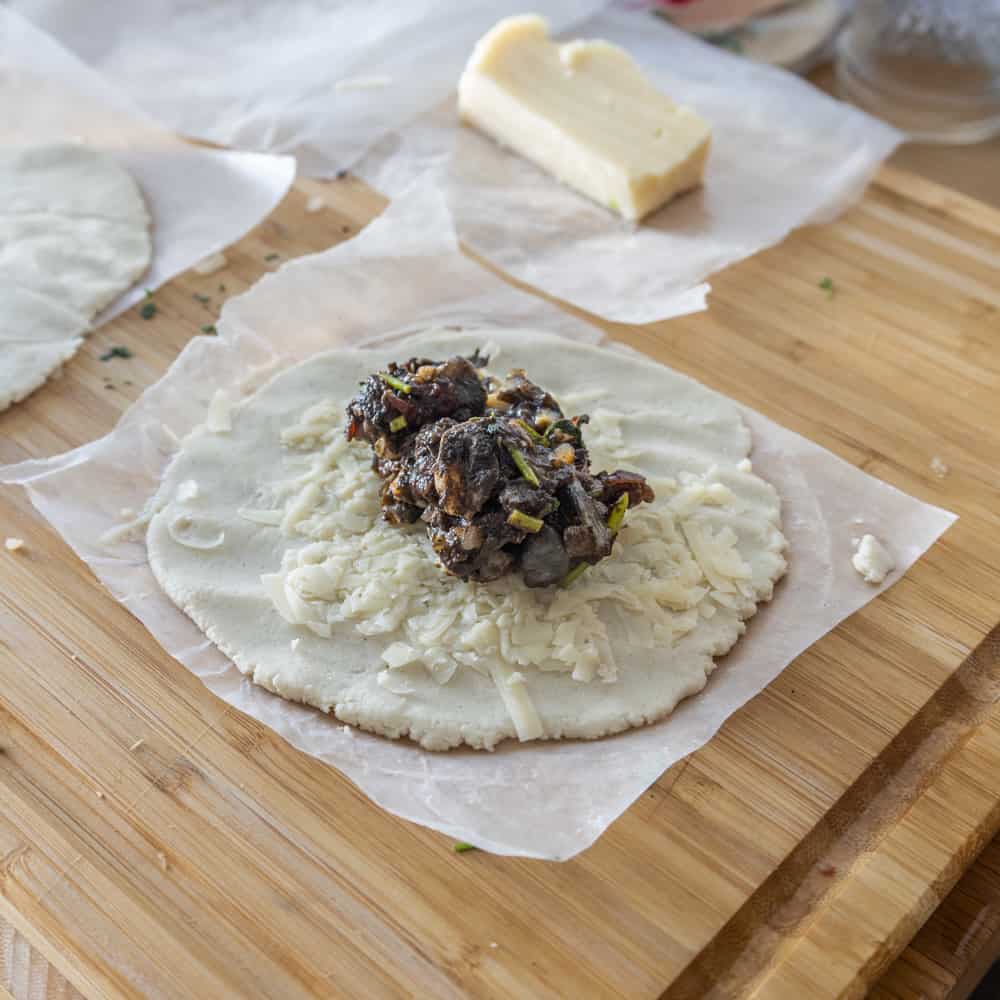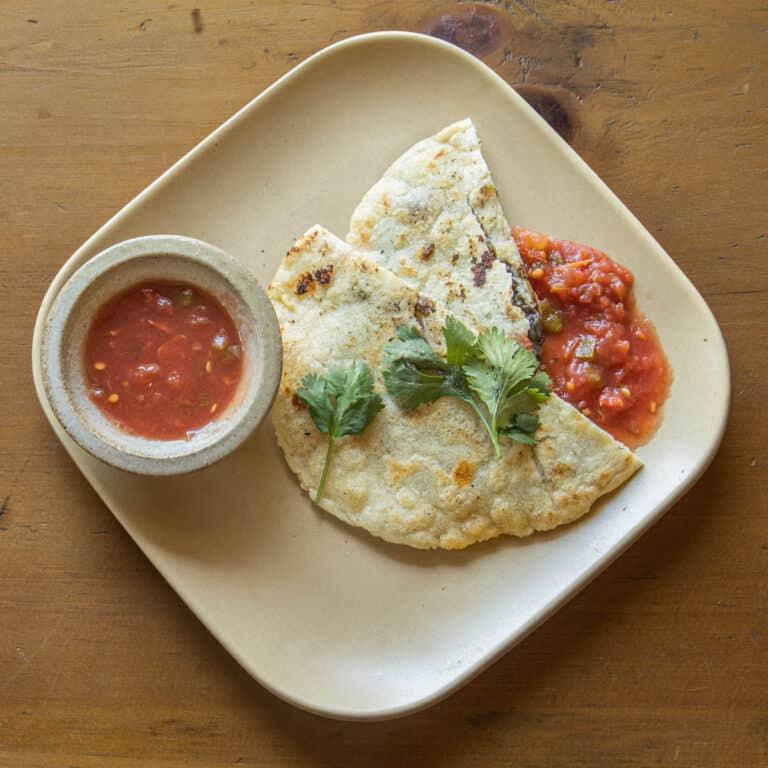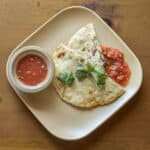 Print Recipe
Fresh Tortillas Stuffed Cheese and Mushrooms
Fresh masa tortillas stuffed with huitlacoche and cheese filling.
Ingredients
Huitlacoche filling
8

oz

huitlacoche kernals

1

small can whole peeled tomatoes

with juice

1

small

(5 oz) white onion, diced ¼ inch

1

large clove garlic finely chopped or grated

Small handful

roughly 2 Tablespoons chopped fresh cilantro

3-4

leaves

fresh epazote

torn

Kosher salt and fresh ground black pepper

2

tablespoons

lard or cooking oil

1

teaspoon

chili powder

8

oz

grated oaxaca cheese

see note
Masa
2

cups

masa flour

2

cups

warm water

1

teaspoon

kosher salt

1

Tablespoon

ghee or cooking oil
Instructions
Huitlacoche
Remove the tomatoes from the can, reserving the juice. Holding the tomatoes over a bowl in the sink, squeeze out the seeds, reserving the tomatoes. Discard the seeds. Chop the tomatoes roughly, combine back with the juice, and reserve.

Preheat the oven to 350.

In a large stainless steel saute pan, cook the garlic in the oil until light golden and aromatic. Add the onion to the pan and cook for a minute or two, then add the huitlacoche and a pinch of salt, cook, stirring occasionally for 4-5 minutes, or until the huitlacoche has started to release some juice.

Continue cooking the huitlacoche until the pan is nearly dry. Add the tomatoes and their juice, then cook, uncovered, until the pan seems nearly dry.

Transfer the pan to the oven and bake, uncovered, for 10-15 minutes, stirring once during the process, until you have a thick mushroom, tomato and onion pulp. Stir in the cilantro and epazote, if using.

Double check the seasoning for salt and adjust as needed, then allow to cool for a minute or two.
Assembling the Tortillas
For each tortilla form two 2 oz balls of masa. Form the balls into thin patties on top of squares of wax paper then, for each ball of masa, put another square of wax paper over it, and press the patties down into a thin fresh tortilla using a tortilla press as pictured. You can use a rolling pin in a pinch, but it's not ideal.

Put a generous tablespoon of grated cheese, and 2 tablespoons of huitlacoche filling in the middle of one tortilla, then, remove the wax paper from one side of the other tortilla, pressing down to form a ravioli shape.

Press the edges closed, then fry on a hot comal on both sides until golden and hot. Serve with salsa or hot sauce on the side.
Notes
Cheese 
You can use a number of different types of cheese here, preferably a melting one like Oaxaca or cheddar cheese.
Nutrition
Serving:
4
oz
|
Calories:
260
kcal
|
Carbohydrates:
24
g
|
Protein:
10
g
|
Fat:
14
g
|
Saturated Fat:
6
g
|
Polyunsaturated Fat:
2
g
|
Monounsaturated Fat:
5
g
|
Trans Fat:
0.01
g
|
Cholesterol:
28
mg
|
Sodium:
484
mg
|
Potassium:
231
mg
|
Fiber:
2
g
|
Sugar:
1
g
|
Vitamin A:
547
IU
|
Vitamin C:
3
mg
|
Calcium:
244
mg
|
Iron:
2
mg
More