Venison shanks (any shanks, really) make great soup and stews, and this one, with Mexican flavors of dried beans and huitlacoche, is fantastic. Originally I was trying to recreate a soup my mother described to me from a trip to Mazatlan, but, instead of the brothy soup I intended, it turned into a more stick-to-your ribs sort of meal, so I just went with it.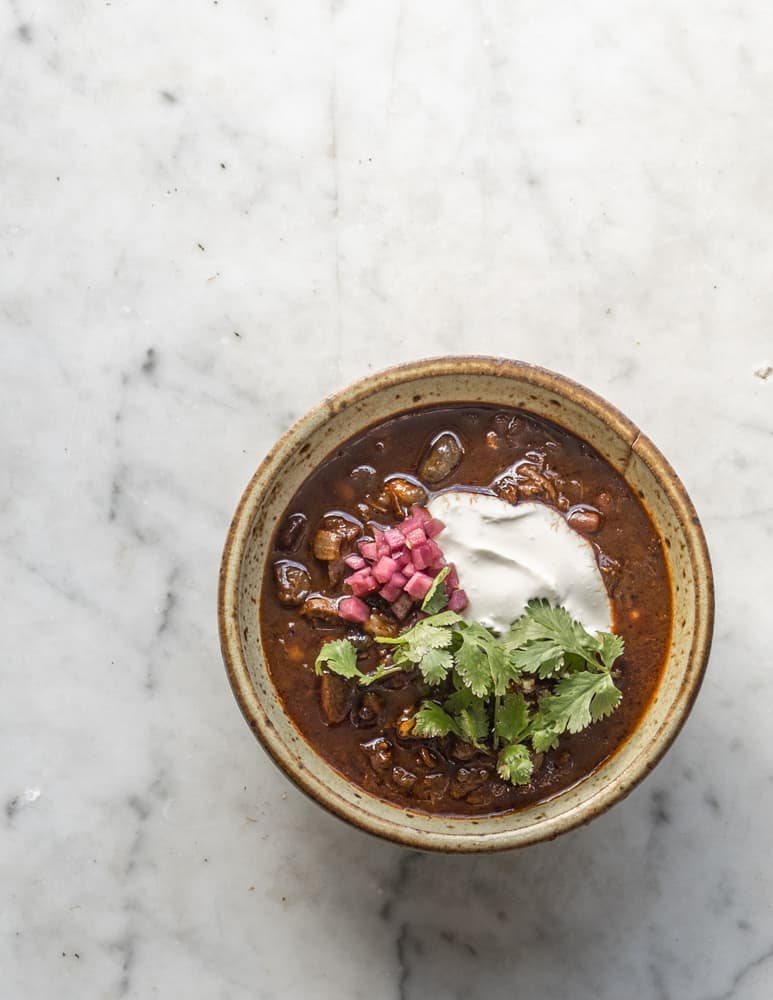 The original soup was just broth, a couple vegetables, and some huitlacoche floating in it, and, to be honest, my mother said it wasn't her favorite thing. To be fair to corn smut, it was also her first time eating huitlacoche.
Huitlacoche has an acquired taste, for sure, but once you start to like it, you'll crave it. The real trick for me is finding places where the color can be supported. Dark, rich things, especially dishes that don't mind being black (dishes with black beans work great) are perfect.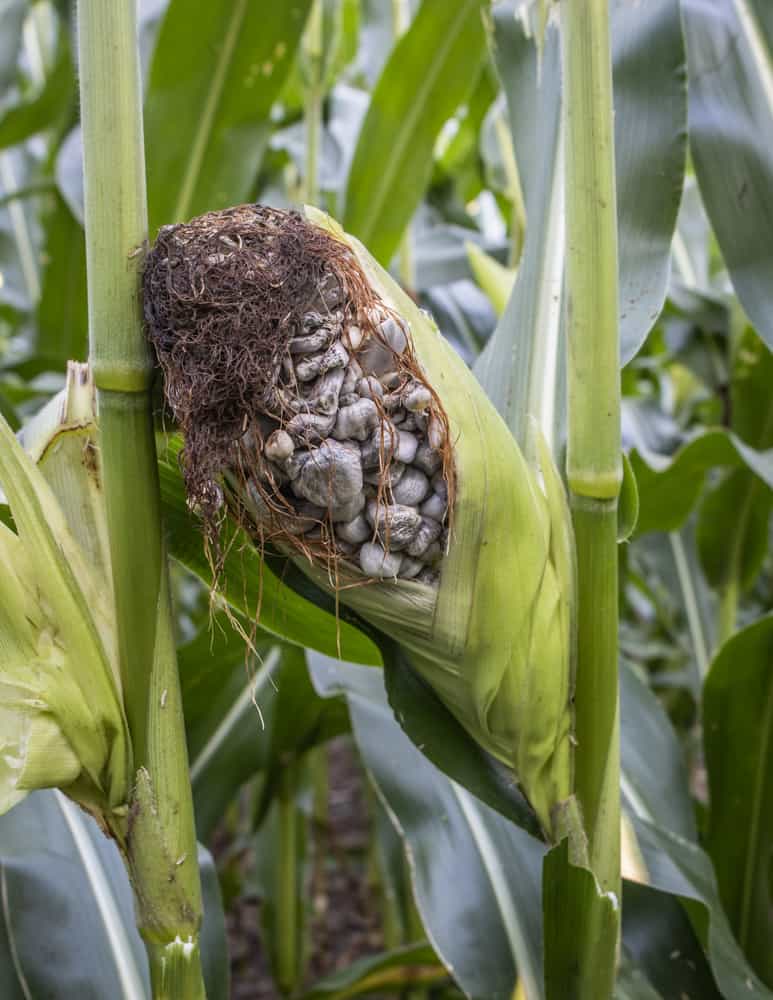 To make this recipe, I smoke season and smoke some venison shanks for a couple hours, then transfer them to a pot with onions, garlic, and a bunch of huitlacoche, along with meat stock, chili powder, the venison shanks, a few herbs, as well as the secret ingredient: unsweetened cocoa powder.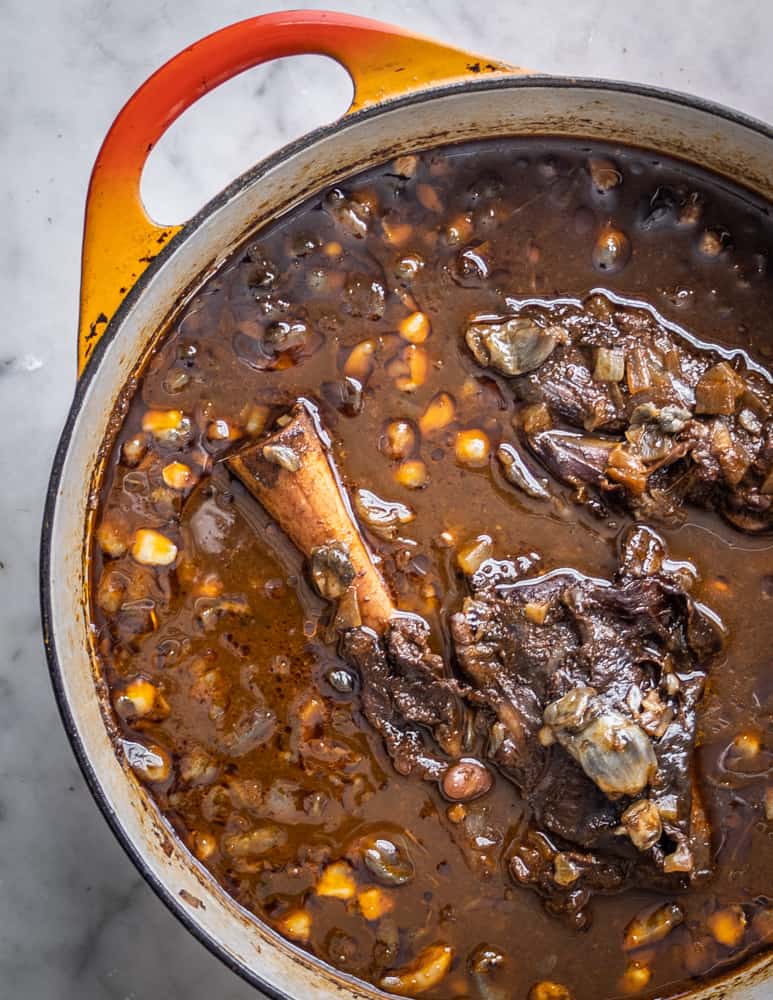 The magic of bitter cocoa
The cocoa, along with the chili powder, to gently thicken the dish a bit, but, unlike adding extra chilis, the cocoa won't make things too spicy. As the Aztecs used both cocoa and huitlacoche (the tradition of cocoa living on in mole and other things) the flavors blend very well. Huitlacoche and cocoa share a similar flavor profile too, being earthy, slightly metallic.
Once the pot was on the stove, I could really understand why there's a tradition of putting corn mushrooms in soup. Even in a pot with smoked meat and ground chilis, the unmistakable aroma of huitlacoche is what hit my nose first when I walked back into the kitchen, say, every 30 minutes to check on it. There's nothing quite like it.
I served it to a few family members to rave reviews, topped with a little Mexican crema, pickled onions, and cilantro, and, after the pot was cleaned out after 1 meal, I made another double batch.
Keep it on hand if you see some frozen, fresh, or canned corn mushrooms. Know that while canned huitlacoche can work, it contains more of the field corn the mushrooms colonize than I like, so I definitely prefer the frozen or canned product. If you've ever opened a can of it, you'll know what I mean here.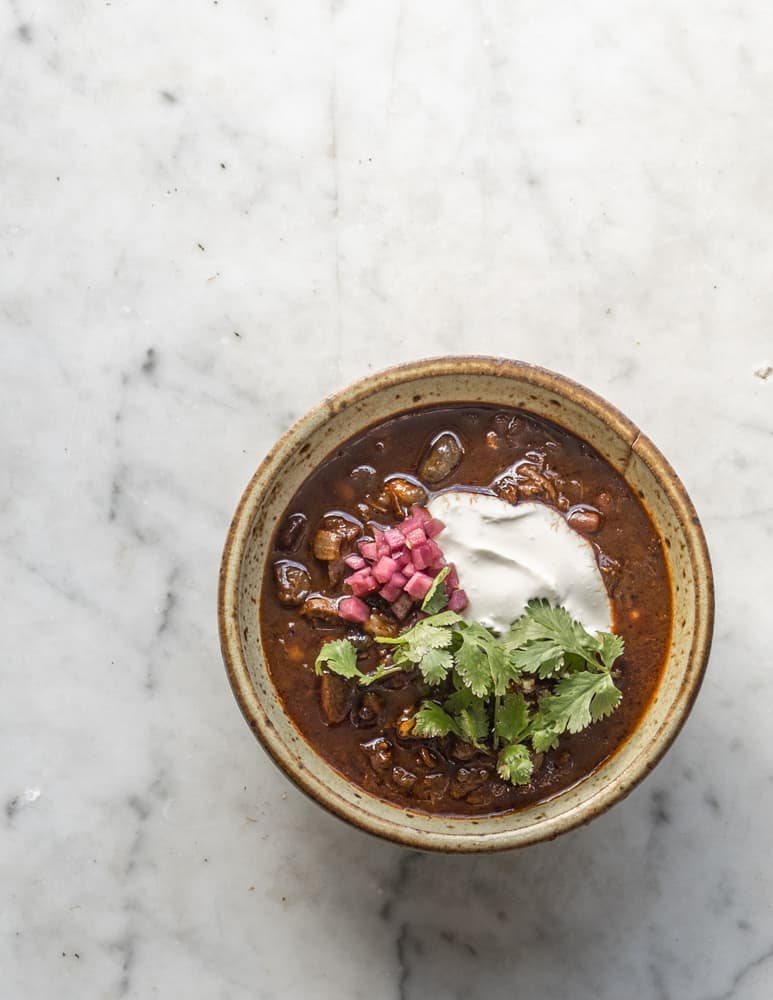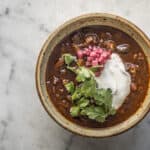 Print Recipe
Smoked Lamb Shank Stew with Huitlacoche
A rich, smoky stew with corn mushrooms, tepary beans, and tender smoked venison shanks.
Ingredients
Stew
1

lb

venison or other shanks

with bone

1

teaspoon

kosher salt

1

Tablespoon

lard or cooking oil

3

large cloves garlic

minced

1

large

8oz white onion, finely diced

6

oz

fresh or frozen huitlacoche

1

teaspoon

fresh ground cumin

1

dried bay leaf

1

oz

dried pasilla chilies

guajillo, or similar chilies can work too, (or use 1.5 Tablespoons chili powder)

1

Tablespoon

unsweetened cocoa powder

5

cups

meat stock or water

½

cup

dried black tepary beans
Serving
Sour cream or Mexican crema

Chopped fresh cilantro

Pickled red onions

Freshly cooked rice

optional
Instructions
Season the shanks with salt and allow to rest overnight, uncovered. The next day, smoke the shanks at 250F for two hours, then remove and reserve until needed.

Toast the chilies on a comal or in a cast iron skillet until aromatic and crisp, about 5 minutes. Cool the chilis, then remove the stems, and seeds and discard. Grind the chilis to a powder in a spice grinder and reserve.

In a dutch oven or similar stew pot, sweat the onion and garlic for 2 minutes in the lard. Add the huitlacoche and cook for 2 minutes more. Add the shanks and remaining ingredients and bake in the oven, covered, for 3 hours, or until the beans are tender.

Remove the shanks from the pot, pick the meat, discarding any flubbery bits. Coarsely chop the meat and add back to the pot, then taste and adjust the seasoning for salt until it tastes good to you.

If too much water evaporated and the mixture looks too thick to be called soup, add some water to restore the consistency.

Serve the stew with rice on the side if you like, or serve as a stew. Pass the crema, pickled onions and cilantro at the table.
More