Sweet potato gnocchi with black trumpet mushrooms and braised rabbit is a recipe I made for Halloween one year when I was the chef at Lucia's Restaurant in Minneapolis. I thought it would be fun to run a dish that combined orange and black. Black trumpets and squash gnocchi fit the bill, and it's a dish that's stayed in my repertoire ever since.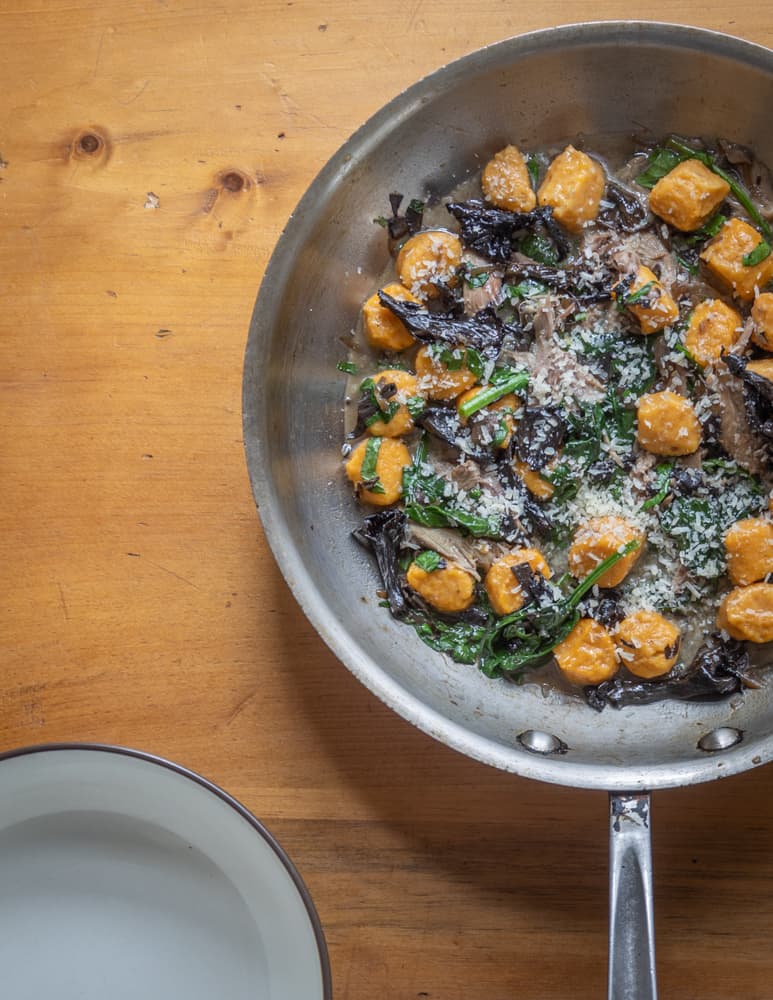 Making gnocchi from sweet potatoes or squash is a little more tricky than potatoes, since most types of squash and sweet potatoes contain more water than potatoes, which means the dough will be a little more loose than you're used to if you're a gnocchi maker.
To get around working with the finicky dough that can't be rolled out by hand unless you use a very dry squash, like kabocha, I put the mixture into a pastry bag, and pipe them into simmering water a la gnocchi Parisienne.
After the gnocchi are cooked, I let them cool on a cookie sheet, which helps them set up from the residual heat. If you're used to shocking cooked gnocchi in water (I never do) resist the urge to do that, as it may make them soft and liable to fall apart or get smushed easily.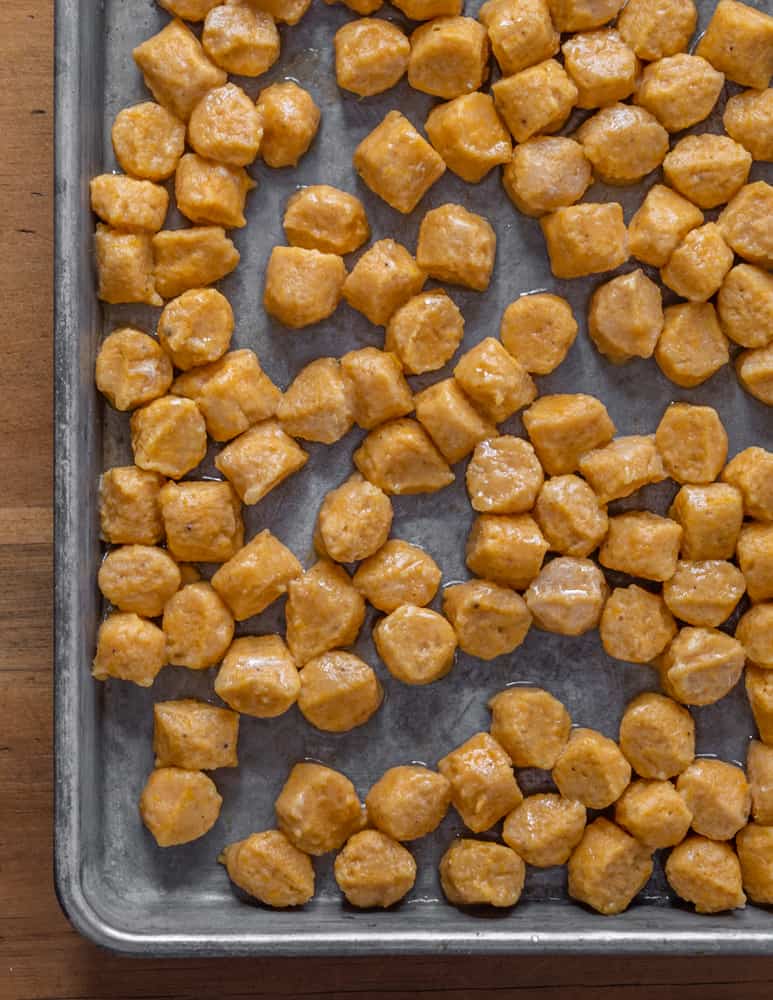 The sauce is just a simple one made in the pan with dried mushrooms, stock, butter, and a handful of leafy greens. I used some rabbit confit since I had some leftover, but any tender cooked meat will be good here. It's a light-bodied sauce that helps show off the contrasting colors of black and orange.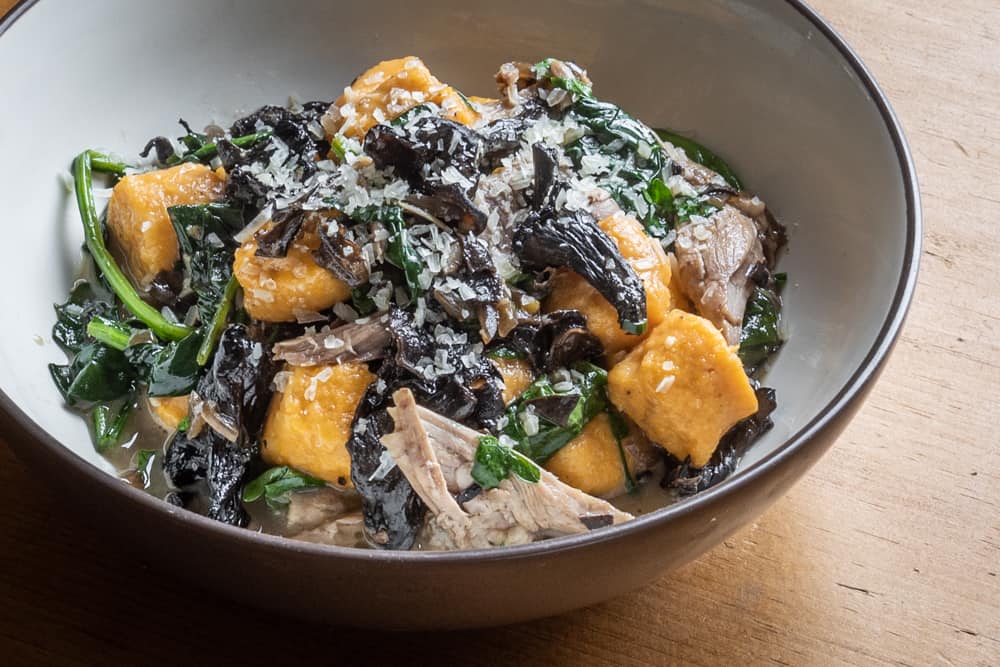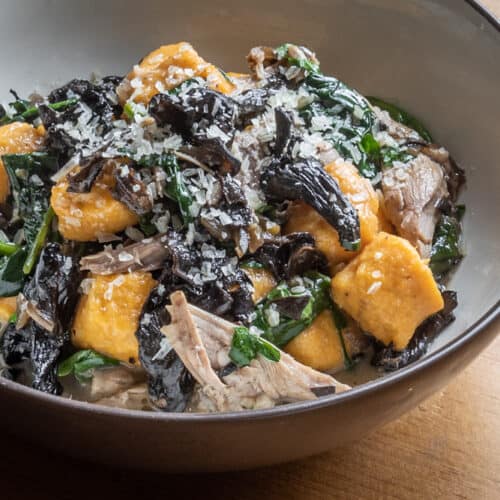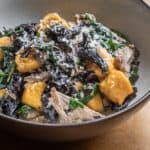 Print Recipe
Sweet Potato Gnocchi with Black Trumpets, Spinach, and Rabbit Confit
Serves 4
Ingredients
1

lb

sweet potato gnocchi

par cooked (see recipe below)

8

oz

rabbit confit

or other leftover, very tender meat, such as braised, pulled chicken, etc

3

large leaves of fresh sage

thinly sliced (optional but recommended)

4

handfuls (4 oz fresh spinach

long stems removed

High quality grated parmesan

to taste

2

+ 2 tablespoons unsalted butter

½ pz

dried black trumpet mushrooms

or use another type of dried mushroom you like, such as porcini

1

cup

meat stock

preferably from the rabbit

Kosher salt and fresh ground black pepper

small

handful

Freshly chopped Italian parsley

to garnish, optional
Instructions
Rehydrate the mushrooms in the meat stock until pliable, about 15 minutes. Agitate the mushrooms to remove grit, then squeeze dry and set aside.

Warm 2 tablespoons of the butter in a large saute pan, at least 12 inches in diameter. Add the trumpets and warm with the butter, along with the sage, seasoning with a pinch of salt. Add the stock and bring the mixture to a simmer.

Add the gnocchi, spinach, rabbit confit and heat through, adding the butter and adjusting the sauce for salt as needed. Stir to help incorporate the butter which will help thicken the sauce.

Toss the mixture once or twice. When the gnocchi are heated through and the sauce tastes good, toss in a small handful of parmesan, along with the parsley if using, mix and serve, with more parmesan at the table.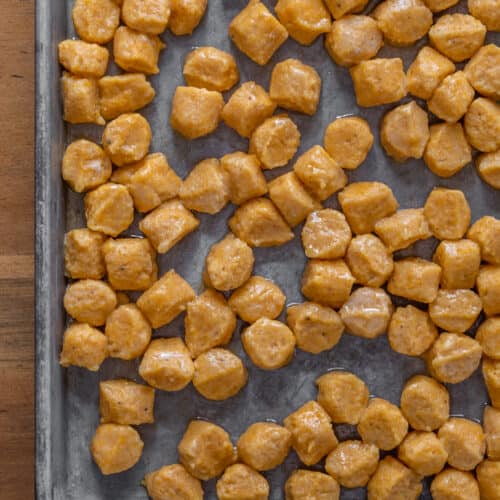 Print Recipe
Sweet Potato Gnocchi
Simple gnocchi made from sweet potatoes or squash. The dough is more wet than usual, so they must be piped in a pastry bag.
Ingredients
2.5

lbs

sweet potato

1.5

cups

00 flour

5

egg yolks

½

teaspoon

sea salt or kosher salt

⅛

th teaspoon grated nutmeg

½

cup

grated grana Padano or parmesan
Instructions
Roast the sweet potatoes, then cool, peel, and rice, you should end up with about 4 lbs of riced sweet potato. Combine all ingredients except the flour.

Gently fold in the flour to make a soft dough.

Put the mixture into a pastry bag, and, working in batches, pipe directly into simmering salted water, cutting the dumplings off using a scissors or a knife that you occasionally dip in the hot water.

When the gnocchi float, cook for a minute more, then remove the gnocchi to a lightly oiled sheet tray and cool until needed.
More