Biltong is a great piece of South African beef charcuterie. If you like making charcuterie at home, or just like a good bag of jerky you'll love it. Just think beef jerky, but softer, more tender.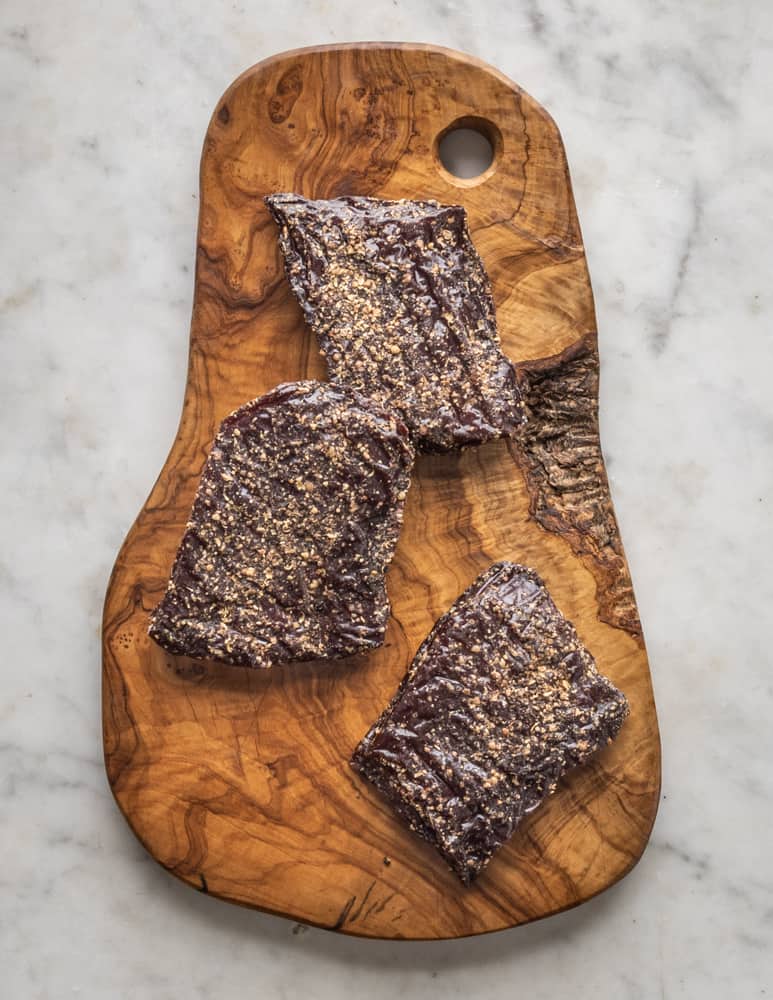 If you're not familiar, biltong is made by cutting meat into slabs about an inch thick, seasoning, with black pepper and coriander seed, and allowing to air dry for 1-2 weeks or so. Some recipes use brown sugar, but that ends up tasting like American jerky from a bag.
Typically the meat used is beef, specifically the cut called the "silverside" in the U.K. or what we'd call the top round. In my case, I cut up an elk, using the same muscle, and it worked like a charm. Other venison, like whitetail deer, will give the same result.
How I make it
The real hack here is using UMAi Dry bags, a high-tech cousin of a vacuum bag that makes it easy to cure charcuterie in a refrigerator at home. Other biltong recipes may call for making biltong boxes for the drying process.
For the curing process, all you need to do is season the meat with the spice mix, vacuum seal for two days, then transfer to the Umai bag and age for two weeks. This is a long time compared to some other similar recipes for biltong and jerky, and other dried meats, but once you taste it, you'll understand.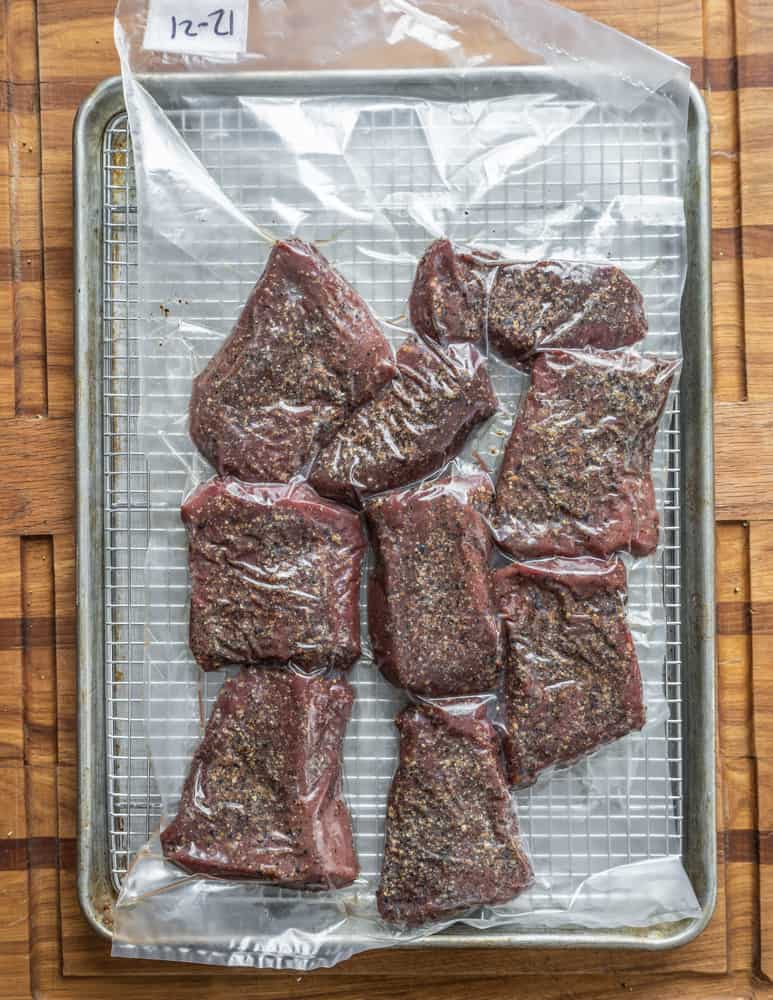 I cured a few batches of biltong myself and liked it, but, I was inspired to make another batch when I heard on Minnesota Public Radio that there's a new company called Zambezi in Minneapolis making biltong commercially and shipping it around the country.
The Zambezi biltong is delicious! I ate two bags in a sitting, and then starting making a few more batches of my own with some elk and venison cuts from the freezer.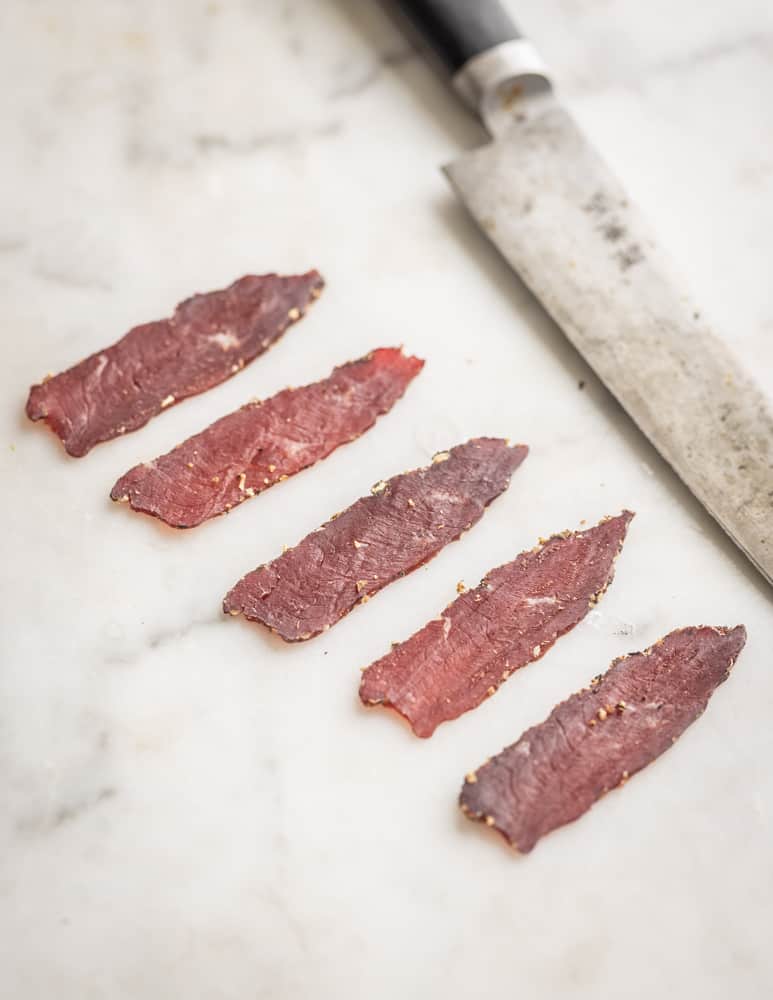 Finding your perfect tenderness
Unlike longer cured meats like salami, or whole muscle cures, biltong is much more casual charcuterie, meaning that it I consider it "done" when it tastes good to me, as opposed to having to weight the meat for a specific amount of water loss.
Two weeks of drying was just about perfect for me, but some people may like it dried for a few more days.
It's totally fine to cut up a few chunks of biltong to eat, and leave the rest in the bag in the fridge to continue curing, enjoying them at your leisure.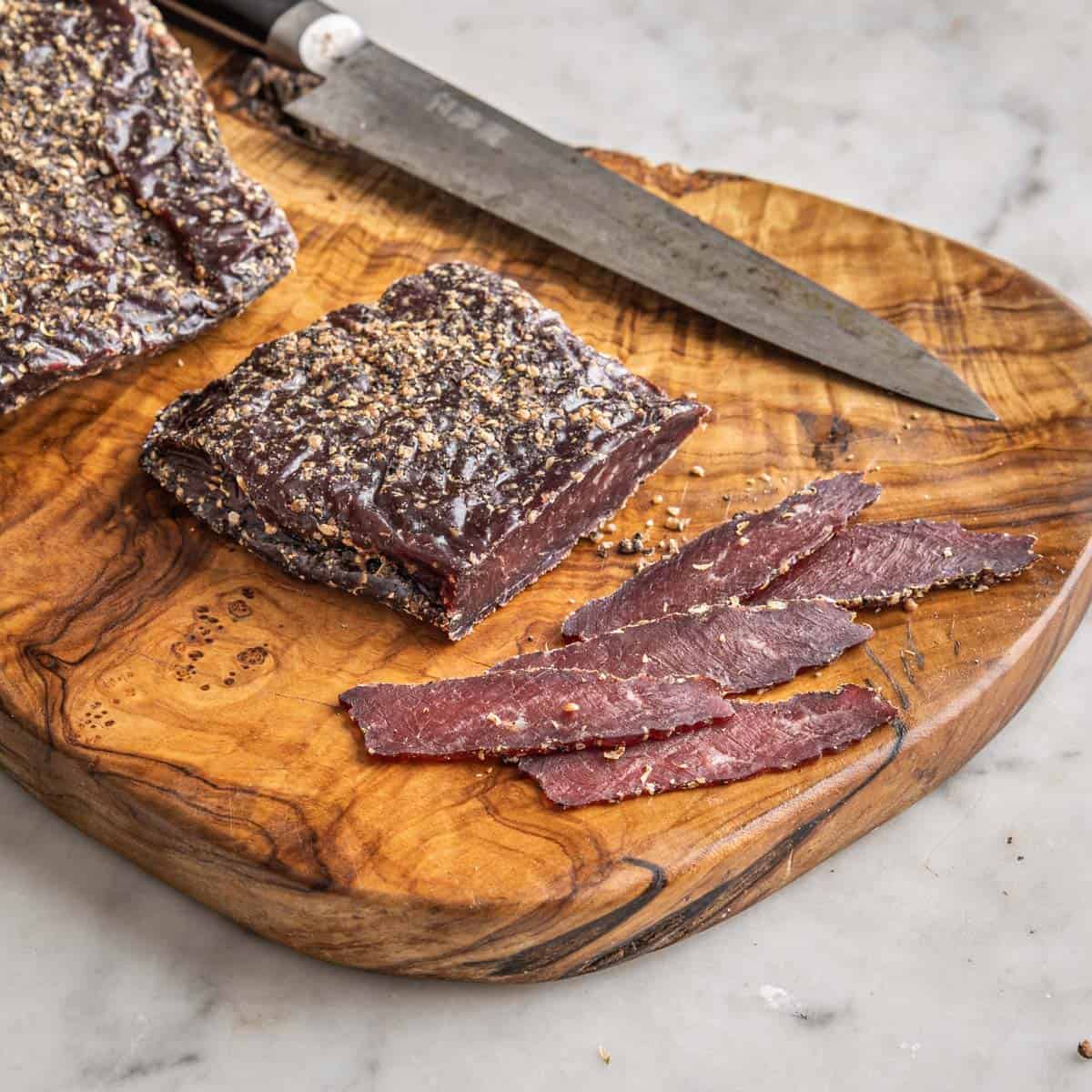 Cutting Against the grain
I know one biltong fanatic from South Africa, and they told me to make sure I mention that the meat should be cut against the grain after drying.
After curing the pieces of meat and cutting into them, it can be a little tricky at first to figure out which way that is, so I cut some both ways to show the tell-tale pattern in the meat you should see.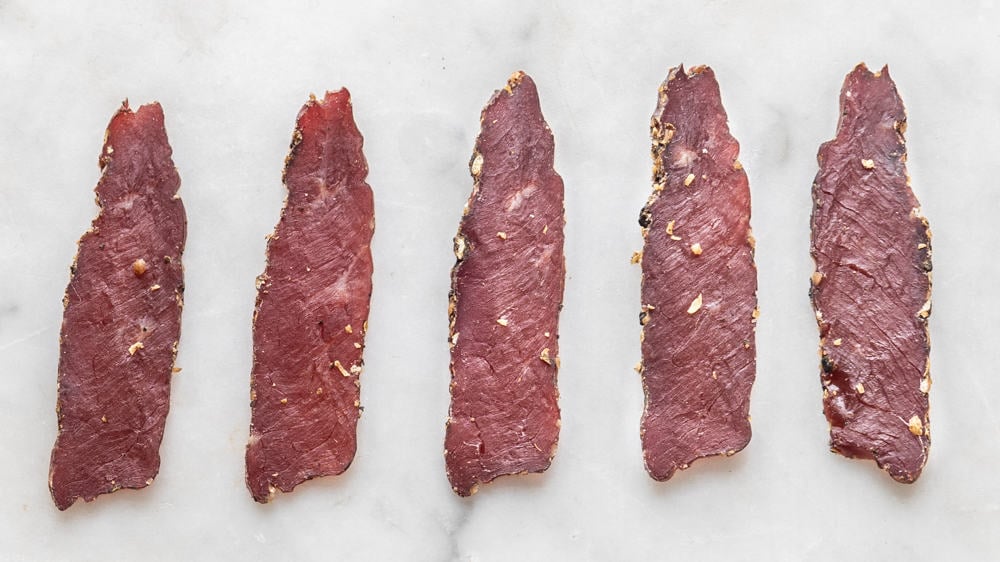 If you cut it with the grain first, simply rotate your chunk of biltong 90 degrees and slice the other way. That being said, dry cured meat is pretty tender any which-way it's sliced, but I find it just slightly more tender cut against the grain, which makes it worth taking the extra time to do it, in my opinion, especially if you're serving to first timers.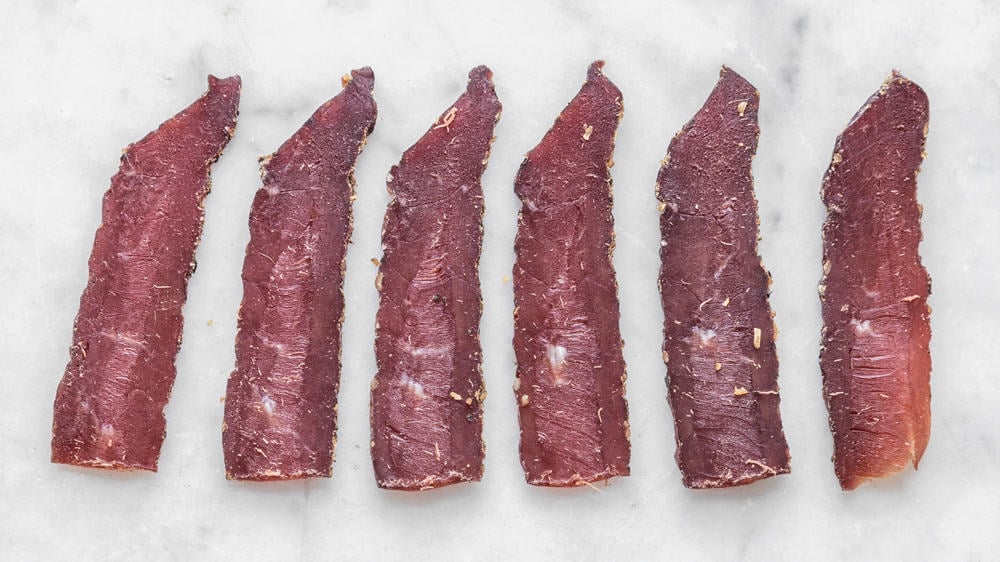 Storage
Most jerky makers will know that it's nearly shelf-stable indefinitely after drying. Biltong is a little different. After cutting into a piece of biltong, it will have a slightly shorter shelf life as the inner portion of the meat has never been exposed to air, say a week or so in the fridge.
Uncut pieces of biltong can be frozen for extended periods of time (6-months to a year or more), thawed, and enjoyed with no harm to the texture or flavor.
 More venison charcuterie
If you like this, make sure to try my wild fennel seed venison chorizo, and smoked venison neck pastrami.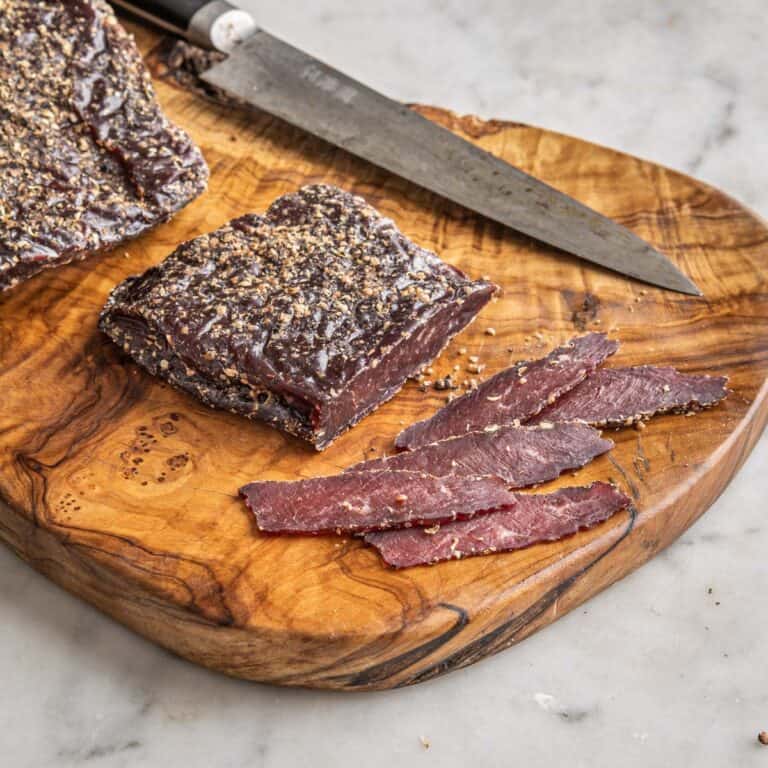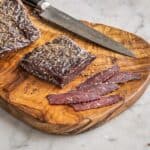 Print Recipe
Elk Biltong
Dry cured elk Biltong, inspired by the traditional South African charcuterie. Think of it like slabs of jerky that are cut to order. Like jerky, it's a great, high protein snack.
Ingredients
1000

grams

(2.2 pounds) Elk or venison

preferably the top round or bottom round. *see note

½

teaspoon

instacure no 2

20

grams

kosher salt

roughly 4 teaspoons

2

teaspoons

black peppercorns

2

Tablespoons

coriander seed

4

Tablespoons

apple cider vinegar
Instructions
Toast the black pepper and coriander, then grind coarsely in a spice grinder. In a separate bowl, mix together the salt and instacure.

Trim the meat of all sinew and connective tissue, then cut into 1 inch thick slices. Mix the meat with the salt seasonings, then vacuum seal for 2 days.

Remove the meat from the bag and lay the slices on a cutting board. Soak a towel in apple cider vinegar and blot each slice of meat on both sides, then transfer to an UMAi Dry bag (I like to use the ribeye-striploin bags for this) seal using the vac mouse strip (refer to their instructions here if you're unfamiliar) and refrigerate for 14 days, or until the meat no longer feels "springy" to the touch.

If you really want to go the extra mile, vacuum seal the meat again, in a regular vacuum bag, and refrigerate for 24 hours to refresh the texture.

From here, you can pull out pieces of biltong as you like. To serve, slice the biltong into thin slices using a sharp knife and eat as you would jerky. I like to keep the chunks of meat whole until I'm ready to slice and serve them.
Notes
Types of meat to use 
I use elk here, but other venison will work fine. As a second choice I'd use grass fed beef, but you can also just use your favorite beef you have access to. 
Nutrition
Serving:
2
oz
|
Calories:
59
kcal
|
Carbohydrates:
1
g
|
Protein:
12
g
|
Fat:
1
g
|
Saturated Fat:
0.3
g
|
Polyunsaturated Fat:
0.2
g
|
Monounsaturated Fat:
0.3
g
|
Cholesterol:
28
mg
|
Sodium:
417
mg
|
Potassium:
170
mg
|
Fiber:
0.3
g
|
Sugar:
0.01
g
|
Vitamin A:
2
IU
|
Vitamin C:
0.1
mg
|
Calcium:
8
mg
|
Iron:
2
mg