A barbacoa recipe made with wild mushrooms? *dodges tomatoes* Absolutely. It might seem odd at first glance, but mushrooms, especially in Mexico, have been eaten as a substitute for meat in some areas for a long time, so simmering them in spicy chili broth and eating with tortillas or stuffed into a burrito isn't really that much of a stretch. It's a great vegan mushroom recipe if you're craving some Mexican food.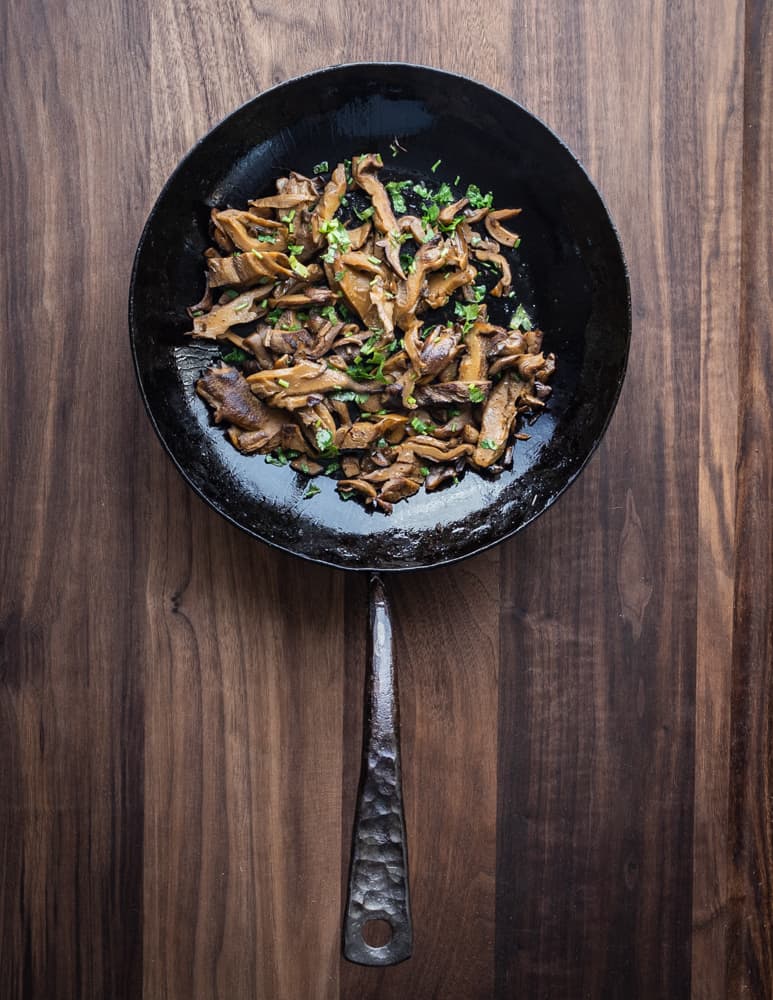 The process is basically the same as when I make barbacoa from beef. I make a simple broth infused with dried, toasted chilis (feel free to use your favorite kind) then I simmer the mushrooms in it all day.
Mushrooms are obviously very different from meat in many ways, so there's a couple things to take into account here to make this the best that it can be.
That being said, the recipe here is only a guideline to get you started, so feel free to play around with what you have and make it your own.
Mushrooms to use
You want a chewy, firm wild mushroom for this. Polypores are going to be much better than a mushroom that gets soft, so stick to hen of the woods, chicken of the woods mushrooms, pheasant back, or similar mushrooms. Gomphus and lobster mushrooms will also work just fine.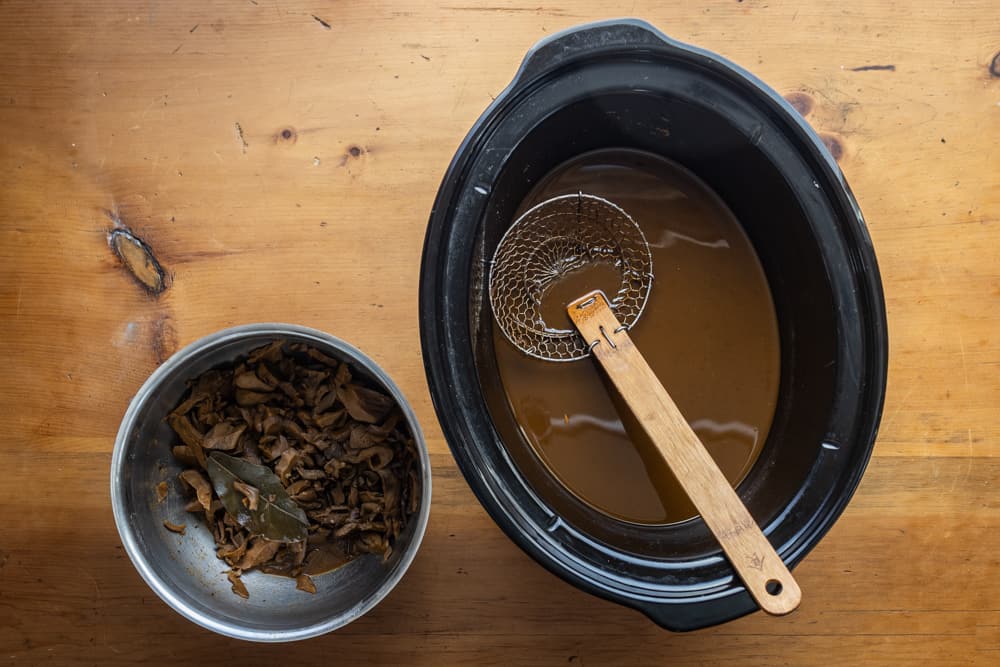 Cooking time
After mushrooms are cooked and have released their water, they're done cooking, and, unlike beef, won't get more tender from extending the cooking time.
Even so, to get the best flavor here, you really need to cook the mushrooms in the liquid all day to allow the flavor of the broth to penetrate the mushrooms.
It takes a while, and, unlike a big chunk of beef, the mushrooms need to be sliced thinly before adding to the liquid, where beef is pulled/shredded after cooking when it's become tender.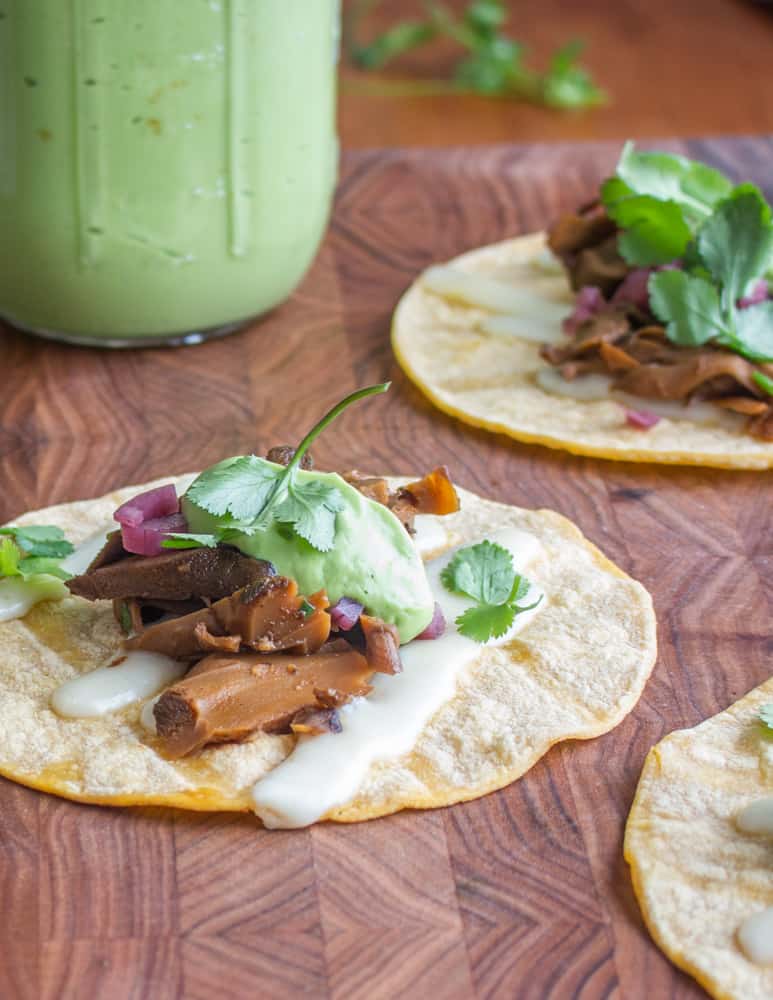 Seasoning the mushrooms after cooking
Another thing people take for granted with dishes made with shredded meat is proper seasoning, and this is no different. You can cook a giant piece of meat or a bunch of mushrooms in some really good stock and seasonings, but, most of the flavor is going to stay in the broth.
If you remove the mushrooms from the broth and just eat them, they might not taste too interesting. Key number two here is to season the mushrooms with some of the cooking liquid, salt, and, most importantly, extra fat before serving.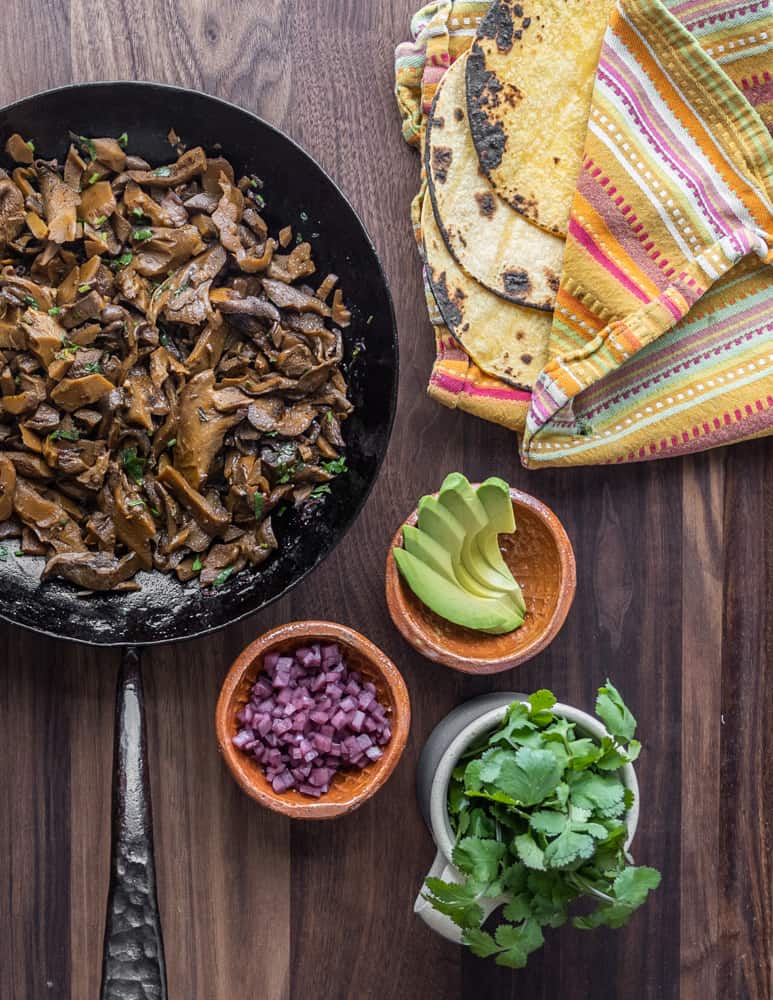 Related Posts  
Vegan and Vegetarian Mushroom Recipes
Chicken Mushroom Thai Red Curry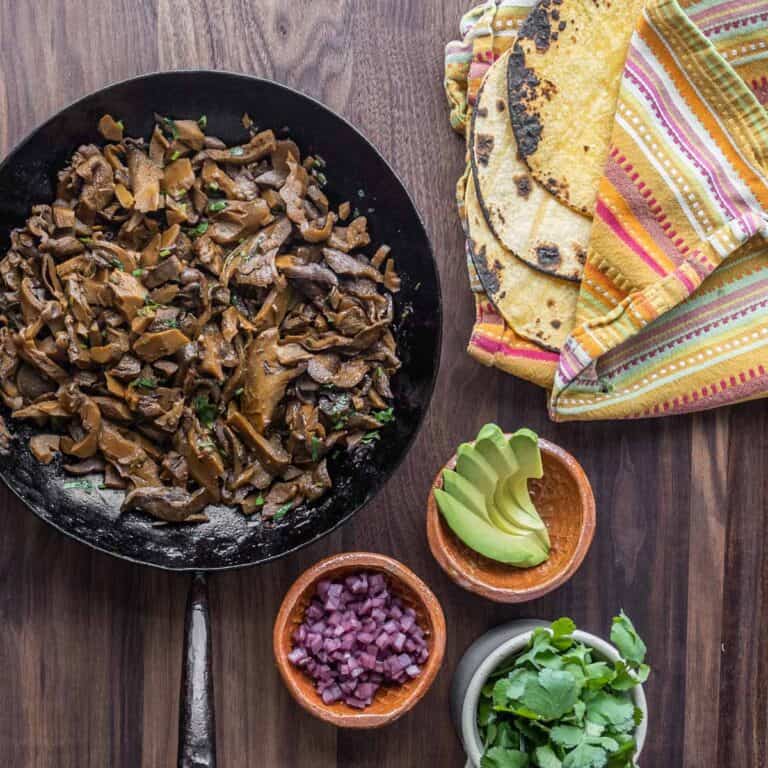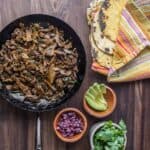 Print Recipe
Vegan Mushroom Barbacoa
Vegetarian barbacoa, made with hen of the woods mushrooms.
Ingredients
1

lb

hen or chicken of the woods mushrooms, thinly sliced

You can use fresh or frozen hen of the woods here

30

grams

dried chilis

or roughly 2 heaping tablespoons chili powder

1

chipotle pepper in adobo (optional)

you can add more if you like it extra spicy

2

teaspoons

toasted, ground cumin seed

3

large garlic cloves, lightly crushed

1

large onion, peeled and cut into quarters

6

cups

vegetable, mushroom or meat stock
Finishing and serving
Kosher salt, to taste

Reserved cooking liquid, to taste (about ½ cup)

Cooking oil, to taste (about 2 Tablespoons)

Chopped fresh cilantro, to taste
Instructions
Toast the dried chilis in a 325 F oven for 15 minutes or until crisp, then allow to cool. Break the tops/stems from the chilis, shake out as many seeds as possible, then grind to a powder in a spice grinder and reserve.

Put all the barbacoa ingredients into a slow cooker and cook on low for 8 hours. If the level of liquid gets low in the cooker, top it off with a little more to the mushrooms are submerged.

Remove the mushrooms to a bowl with a slotted spoon, then season to taste with salt, a good splash of the cooking liquid, and cooking oil, olive oil, or melted butter to taste.

Heat the mushrooms up in a pan to disperse the fat and cook for a few minutes (you don't need to brown them, just cook them for a few minutes to dry out) then add them to tacos like you would shredded meat, or another preparation you like. Double check the seasoning for salt, heat/chili, before serving. garnish with a good handful of chopped fresh cilantro to give it some color.
Notes
Mushroom Substitutions 
Many mushrooms can work here, but the best will be meaty ones like shiitakes, hen of the woods, chicken of the woods, and oyster mushrooms. 
Nutrition
Serving:
4
oz
|
Calories:
33
kcal
|
Carbohydrates:
6
g
|
Protein:
3
g
|
Fat:
1
g
|
Saturated Fat:
0.1
g
|
Polyunsaturated Fat:
0.3
g
|
Monounsaturated Fat:
0.02
g
|
Sodium:
8
mg
|
Potassium:
334
mg
|
Fiber:
2
g
|
Sugar:
4
g
|
Vitamin A:
1324
IU
|
Vitamin C:
3
mg
|
Calcium:
5
mg
|
Iron:
1
mg