The foods of the Caucuses are fascinating. One of the most interesting things I've found is Phkali--a recipe for sort of spread that might remind you of pesto made from nuts, herbs and spices.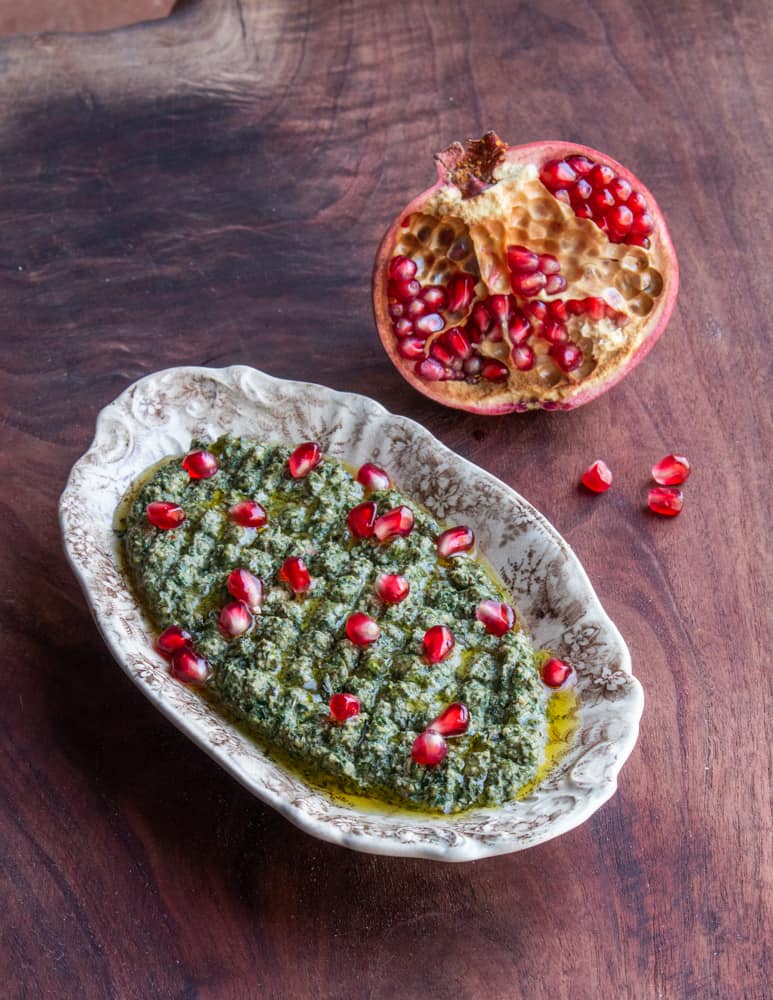 I think I found my first version of the recipe in Dara Goldstein's book on Georgian food, and from there I made some tweaks, most importantly being that I use black walnuts here, which make the best version I've had, although other nuts will work just fine.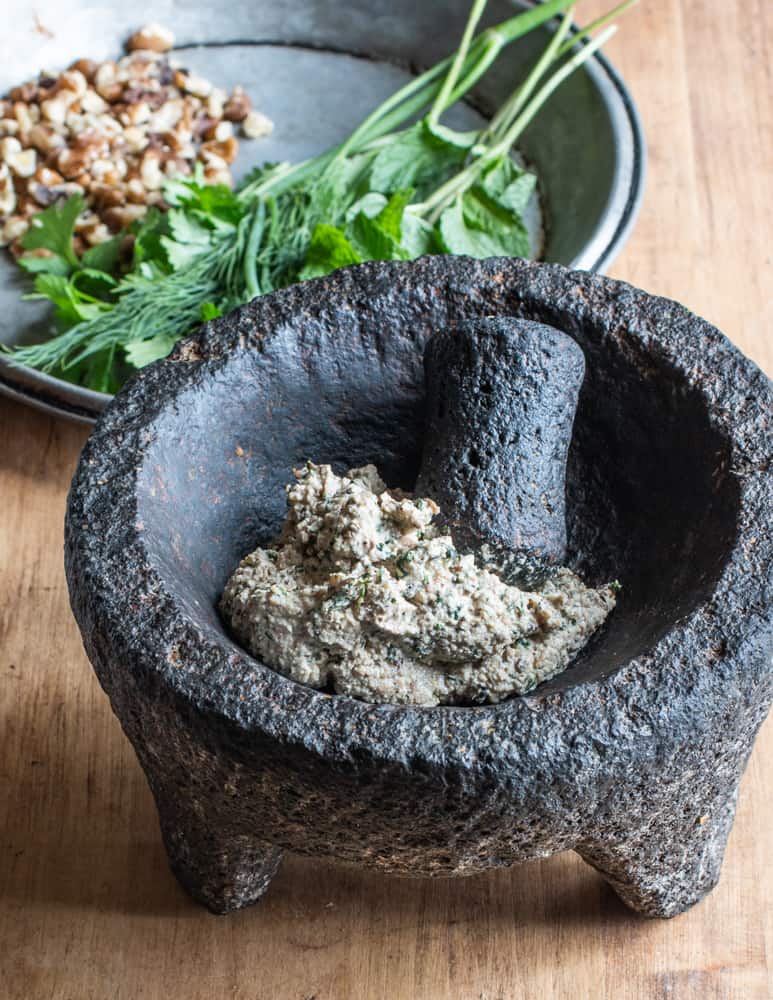 Traditionally, the word phkali should usually refer to an actual dish using the spread-not the spread itself. The spiced, herby blend of nuts is used to bind a mixture of cooked greens molded into a ball or small cake, which are topped with pomegranate seeds and eaten by hand.
Alternately, you can prepare the greens and nut mixture as a spread or dip, which I think is a better way to start out to make sure you like it. The combo of greens and fatty nuts is a great power-snack, and a testament to how plants and nuts are combined around the world to make food that's more sustaining than one or the other by itself.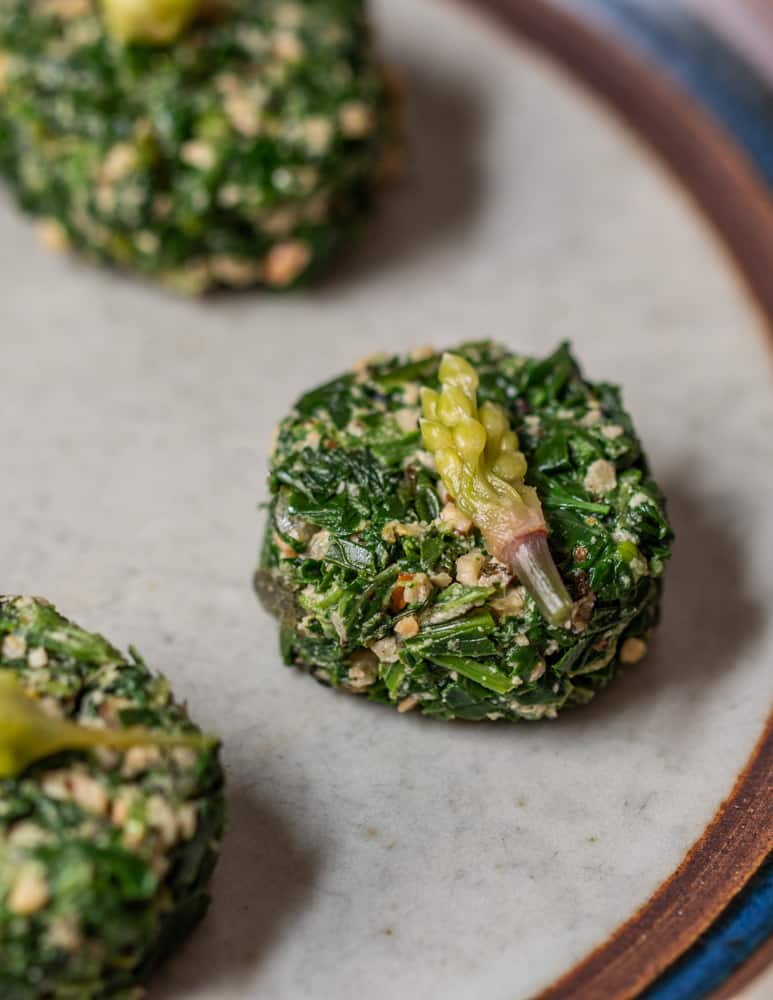 Eaten a ball of cold greens bound with spicy, herby nut paste might sound a little odd, but it's genius, really, as they can be prepared ahead of time, transported and served without having to reheat anything.
They're good for a picnic or when you don't want to eat lots of hot food in the summer, not to mention the flavor is fantastic. The nuts add a creamy richness, punctuated with spices, aromatic herbs and a little heat that really helps make a simple handful of greens taste exciting.
It's not the same, but some people I served it to compared it to spinach-artichoke dip, with different flavors, no artichokes, and more spinach. The traditional pomegranate seed garnish adds a splash of color and a little tartness that brings everything together.
Greens to use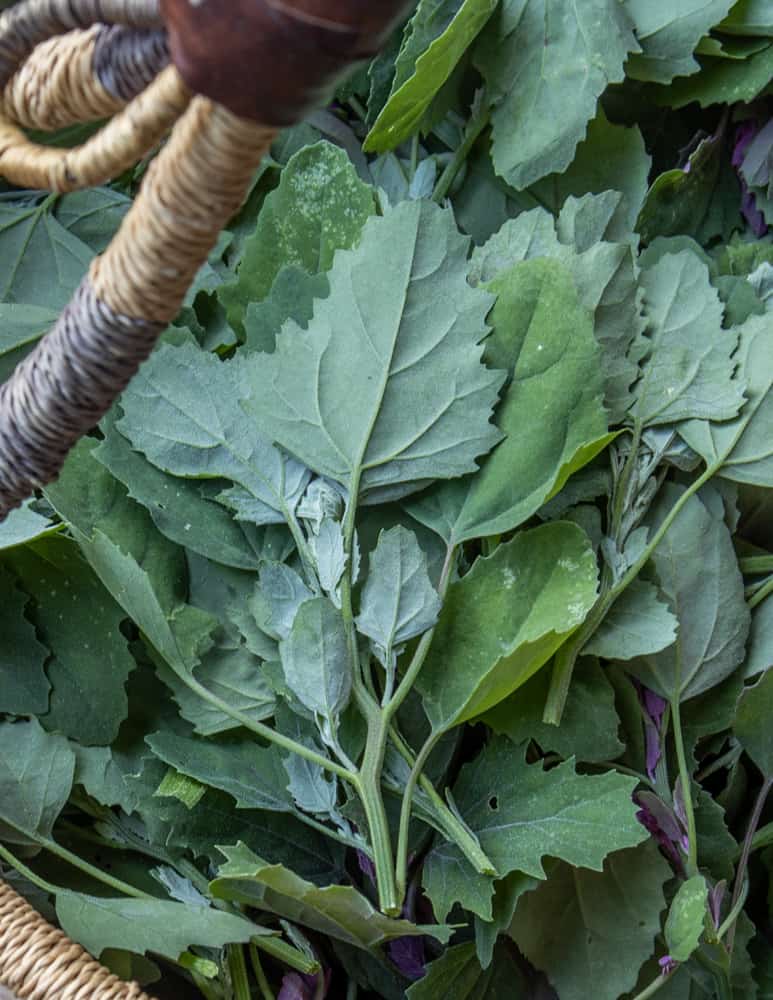 Spinach and chard are traditional here, but you could use just about any green you have assuming it's been cooked until it's tender and tastes good to you. The best with be soft, tender greens, especially wild spinach (lambs quarters) and watercress, along with others that don't have an abundance of stems. Mallows and Malabar spinach are two other good candidates.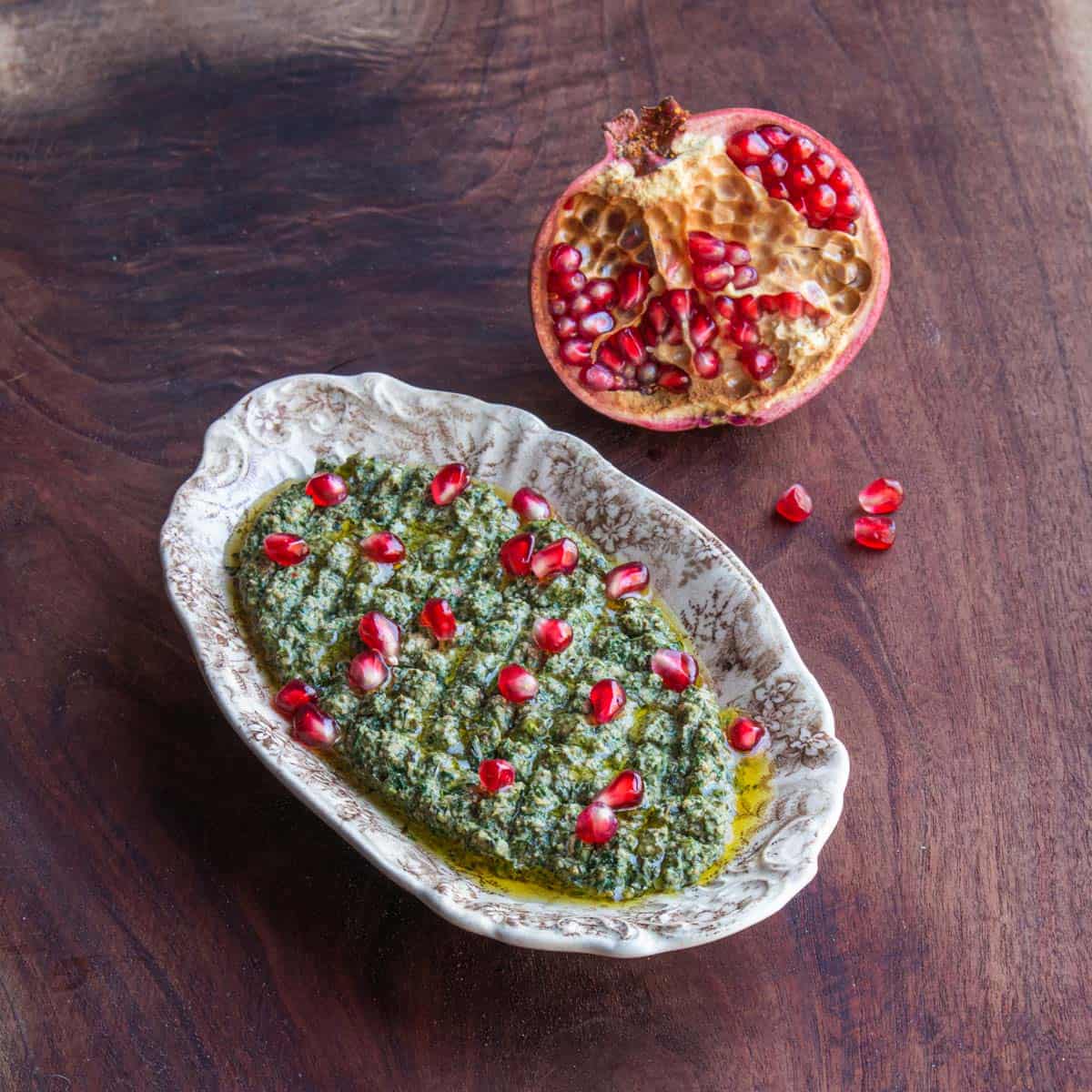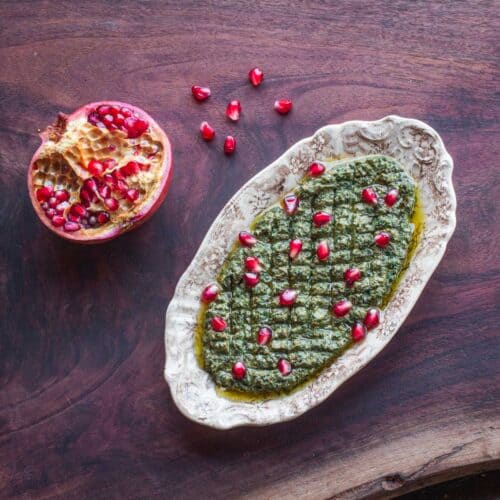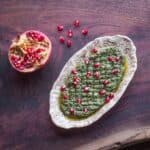 Print Recipe
Georgian Walnut Spread / Phkali
A traditional dish made from greens, nuts, herbs and spices. Just think spinach artichoke dip, without artichokes or dairy. Since it's served at room temperature, or cool, the most important thing is to make sure the greens are tender, soft, and taste good to you before you start mixing them with the nut paste.
Ingredients
1

packed cup of cooked wild or cultivated greens especially lambs quarters, mallows, watercress, spinach chard

Steam or blanch the greens to tenderize them

½

cup

of phkali paste

or to taste (see recipe)

2.5

Tablespoons

mild tasting oil

1

Tablespoon

water

Fresh lemon juice

to taste

Pomegranite seeds

to garnish (optional)
Instructions
Before you begin, taste the greens to judge their tenderness.

I often make this with blanched frozen greens, and depending on how long they were originally blanched, they usually need to be cooked a bit longer to ensure they're soft.

Drain the greens, then cool and squeeze out as much water as possible, then cut into a cross-hatch pattern to ensure there are no long stems.

Blend the greens and nut paste in a food processor, slowly drizzling in the water, and then the oil like you would with mayonnaise.

Taste the mixture and correct the seasoning, for salt and lemon, it should be smooth and spreadable. Transfer to a shallow bowl or plate, smooth out the dip, and gently press the blade of a knife down to make a cross-hatch pattern in the greens. Sprinkle on pomegranate seeds and olive or walnut oil before serving.
To make the dish in cake form
To serve, squeeze any remaining liquid from the greens, then, for about each packed cup of greens, add ¼ cup plus 1-2 tablespoons of the nut mixture, and a dash of fresh lemon. Mix well, taste and adjust the seasoning with another tablespoon of nut paste, a dash of lemon, or pinch of salt as needed.

Form the greens mixture into tablespoon-sized balls or ovals, decorate with pomegranate seeds, and serve as a cool or room temperature appetizer. Eat the green cakes with your hands.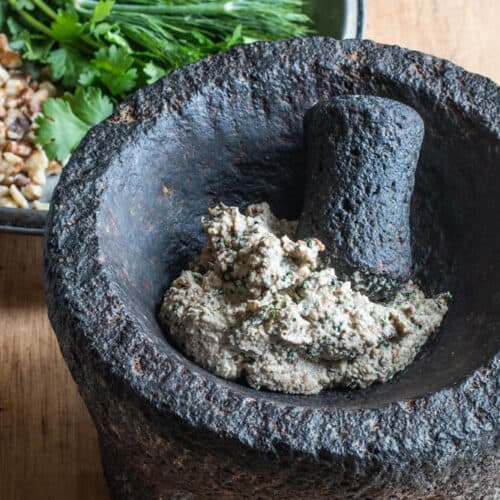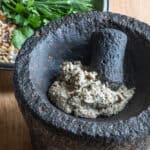 Print Recipe
Georgian Walnut Paste / Phkali
Yield: Generous ½ cup
Ingredients
Walnut Paste
1

cup

4 oz toasted black walnuts English walnuts, hazelnuts, or sunflower seeds

1

teaspoon

freshly ground coriander

½

teaspoon

freshly ground fenugreek

1-2

large cloves of garlic

or 1-2 Tablespoons minced, depending on how much you like garlic "heat"

½

teaspoon

kosher salt

½

teaspoon

crushed red pepper, or to taste

Fresh cracked black pepper to taste

¼

cup

good tasting oil

I used walnut oil here, but flavorless cooking oil is fine, or a mix of extra virgin olive and other oils

2

tablespoons

water

¼

cup

chopped cilantro

2

Tablespoons

chopped mint

2

Tablespoons

chopped dill
Instructions
In the bowl of a food processor, grind the garlic garlic, fenugreek, salt, pepper, crushed red pepper, coriander, and nuts or seeds to a meal, add the water, then continue processing until the mixture smooths out a bit, allow at least five minutes, scraping down the bowl occasionally.

Add the herbs and pulse a few times, then drizzle in the oil to get a smooth-ish paste. If the mixture breaks and looks very oily, process it with another tablespoon of cold water to bring it back together. The paste will keep for a week in the fridge.