One of my all-time favorite wild rice flour recipes, this "cornbread" is something I serve to hundreds of people each year.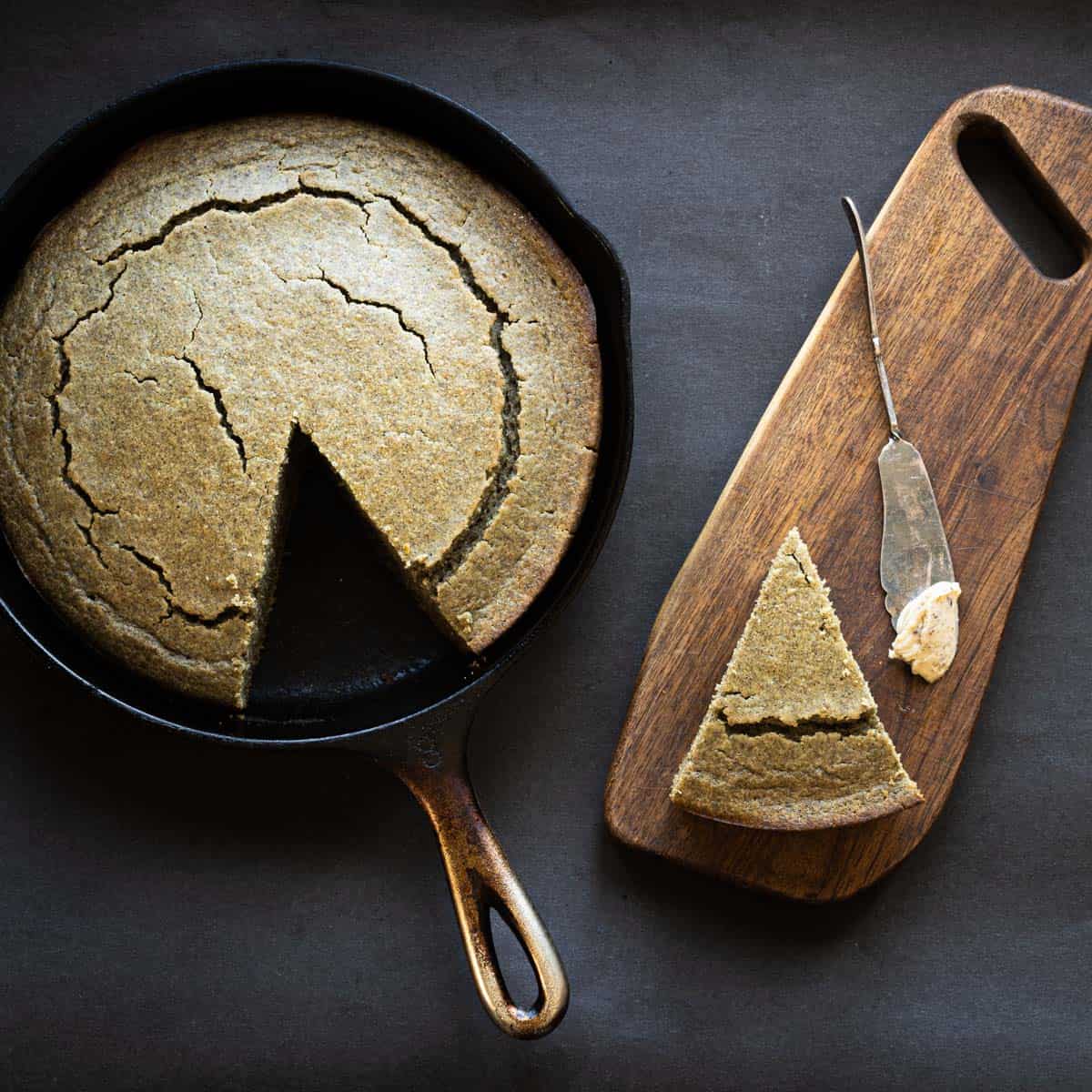 A few years ago I set out on a mission to make wild rice cornbread to serve 200 people for the Wild Harvest Festival. I tested out a batch using the last of my wild rice flour that I'd bought from the White Earth Reservation, and it came out good, but I needed to test larger batches to really dial in the pan-sizes and portioning.
Unfortunately, when I went to order more wild rice flour, it was out of stock, and has continued to be out of stock for about 3 years, which is a crying shame as it was a steal at five pounds for ten dollars--an unbelievably low price. So, I started grinding my own wild rice flour from wild rice, using a Vitamix. The result was, not good, and, as I made a larger batch, it was expensive.
The wild rice cornbread appeared to cook up fine, but cutting into it revealed a thick, gummy layer on the bottom with a fluffy layer on top. I knew that the wild rice was ground too fine as I'd had the same thing happen grinding my father's corn to flour using a bullet blender to make cornbread.
My assumption is that the very finely ground particles absorb water faster, turning the bottom of the cornbread into a sort of polenta. So, I ordered a flour mill attachment for my stand-mixer so I could control the texture of the wild rice flour, grinding it as fine as possible, and made another batch. This batch also appeared to cook up nice, but when I took my first bite--more failure--it was offensively crunchy.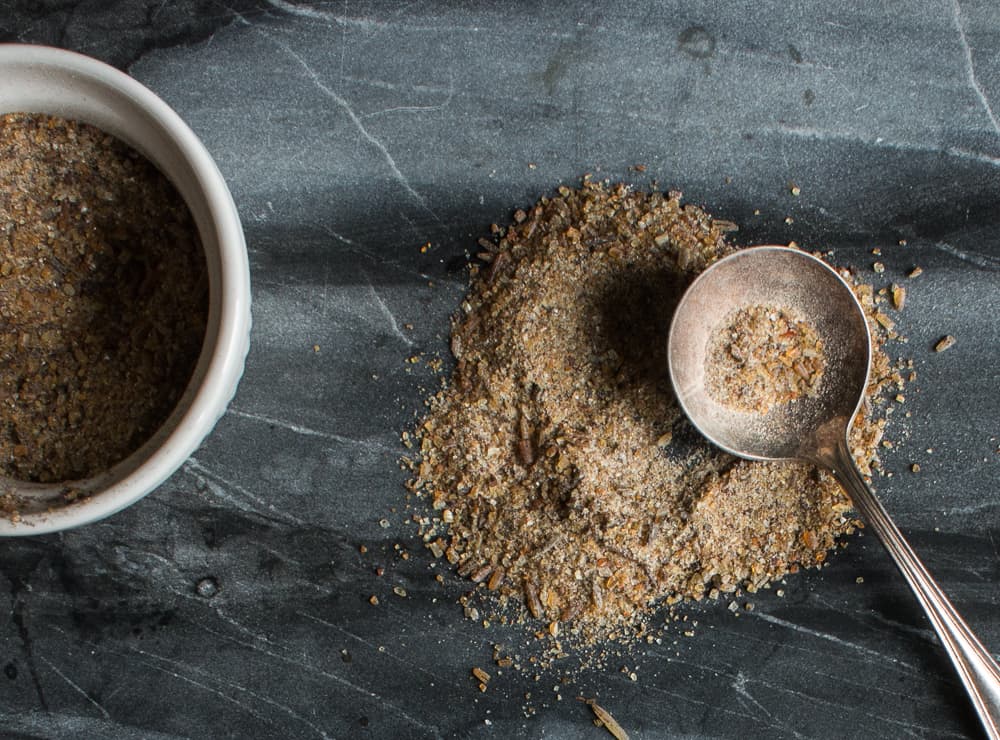 Next, I ground the wild rice flour very fine, sifted it, and made another batch. It was less crunchy, but still crunchy. I felt like giving up. Then I remembered a little bread-making trick from Peter Reinhardt (funny enough he's a friend of the family and gave me some good advice a few years ago while I wrote my book). The trick was from his book on baking with whole grains.
One of the keystone techniques of Peter's book is cooking with soakers, or grains that have been soaked with water or hydrated for a period of time before baking. I'm not able to break down the science as eloquently as he does in the book, but, basically, when you hydrate flour or grains and do not add sourdough starter, there's an enzymatic reaction that releases natural sugars, along with softening the grains/flour.
So, I tried yet another batch (you can imagine how tired I was of failing by now) pouring boiling water over my sifted wild rice flour and letting it sit overnight before baking. It was magic, and the recipe I used is the one I have continued to serve at the Festival for the past few years. It's a crowd favorite, and, no matter the theme of the menu, I don't think I'll ever stop making it. Spread with warm maple butter, or butter and a drizzle of your favorite syrup, it's to die for.
What kind of wild rice?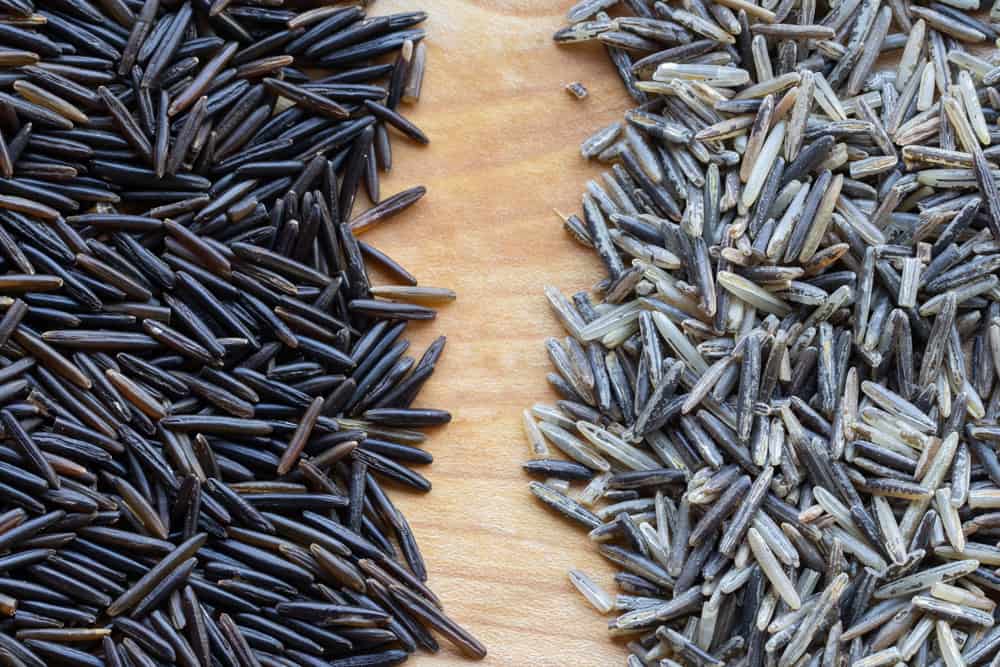 This is important. If you have my book, or if you've read my Wild Rice or Manoomin: A Buyer's Guide (it's confusing) you'll know that all wild rice is not created equal. It's counter-intuitive, but the wild rice that is best for baking is not the wild rice that's best for eating.
Natural wild rice, or rice parched quickly after it's harvested (the expensive stuff) doesn't make good flour--it's best cooked as is, with water or stock as you would other grains.
Blackened wild rice, or rice that's been left wet after harvesting (the cheap-ish, shiny black kernels most will know) has a stronger flavor, which comes through better in baked goods. Blackened wild rice is also cheaper, so you don't have to feel bad about grinding it up into flour.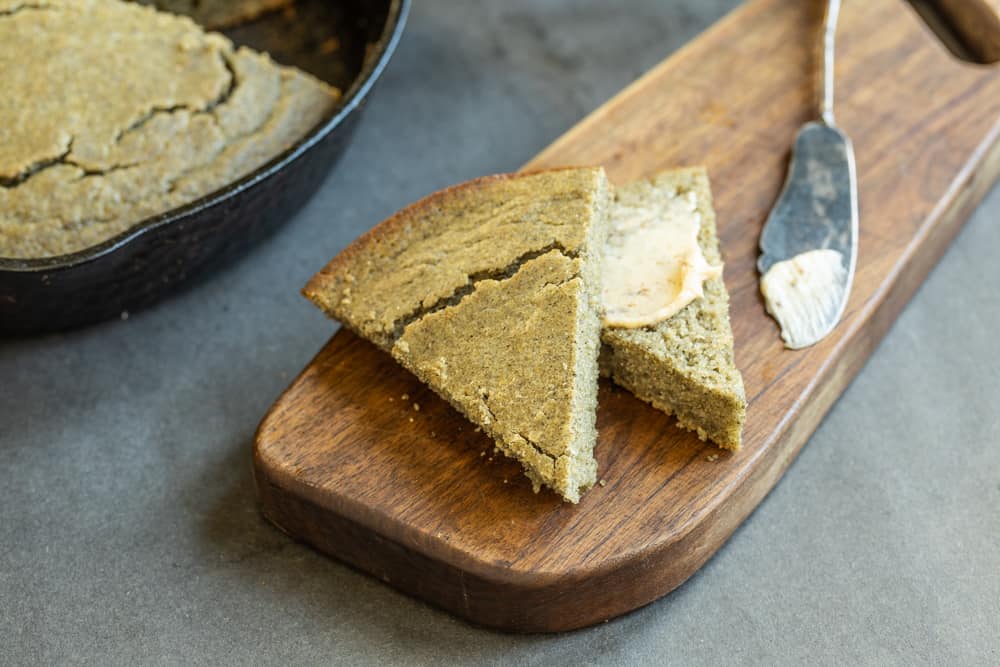 More Wild Rice Recipes
Parched Wild Rice-Mushroom Bisque
Wild Rice and Mushroom Casserole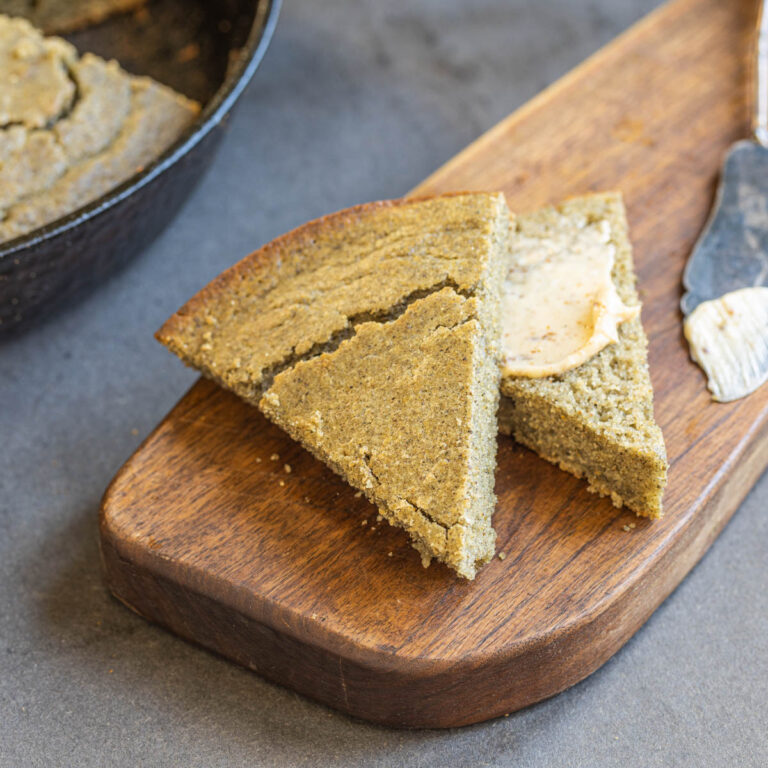 Print Recipe
Wild Rice Flour Cornbread
A simple cornbread made from finely ground, sifted wild rice flour. If you don't have a grain mill, you can get a similar result using a spice grinder--see my note at the bottom of the recipe for instructions on that.
Ingredients
1

cup

(240 ml) water

1

cup

(140 g) wild rice flour, or a heaping cup of cultivated black paddy wild rice, ground to a fine flour and sifted

See note on using a spice grinder as an alternate option

1

cup

(240 ml) buttermilk

2

large eggs

1

cup

(120 g) all-purpose flour, or equivalent

⅓

cup

(65 g) maple sugar

2

teaspoons

baking powder

¼

teaspoon

baking soda

¾

teaspoon

kosher salt

½

cup

(135 ml) melted lard or butter

Maple syrup and soft, salted butter

for serving
Instructions
For the wild rice flour, grind the wild rice through the finest setting of a grain mill, then sift using a flour sifter (I use a tamis sieve). You can grind the leftover pieces and sift again, or add them to a soup, oatmeal, etc.

Pour a cup of boiling water (I use a steam kettle) over the wild rice flour, cover, and allow to cool, preferably overnight in a container covered with clingfilm.

Preheat the oven to 375°F (190°C). Mix the remaining wet ingredients with the soaked wild rice flour, then whisk together the dry ingredients separately before folding them into the wet ingredients until just combined.

Transfer to a greased 10-inch (26 cm) cast-iron skillet for tall, thick corn bread, or a 12-inch (30 cm) cast-iron skillet for thinner corn bread, and bake for 25 to 30 minutes, or until just set.

Serve with plenty of butter and maple syrup.
Notes
Using a spice grinder to make wild rice flour 
This is not my first choice, but it can work. Grind the wild rice in a spice grinder, then sift, repeating the process until you have 1 cup, then proceed with hydrating the wild rice flour as directed. 
Nutrition
Serving:
1
slice
|
Calories:
300
kcal
|
Carbohydrates:
38
g
|
Protein:
7
g
|
Fat:
14
g
|
Saturated Fat:
8
g
|
Polyunsaturated Fat:
1
g
|
Monounsaturated Fat:
4
g
|
Trans Fat:
0.5
g
|
Cholesterol:
75
mg
|
Sodium:
501
mg
|
Potassium:
188
mg
|
Fiber:
2
g
|
Sugar:
10
g
|
Vitamin A:
467
IU
|
Calcium:
119
mg
|
Iron:
2
mg