If you're a mushroom hunter who likes to pick different types of boletes this mushroom bisque is for you. 2018 was a great year for boletes with our steady, late summer rain, and I got a lot more variety than what I'd say a typical year brings.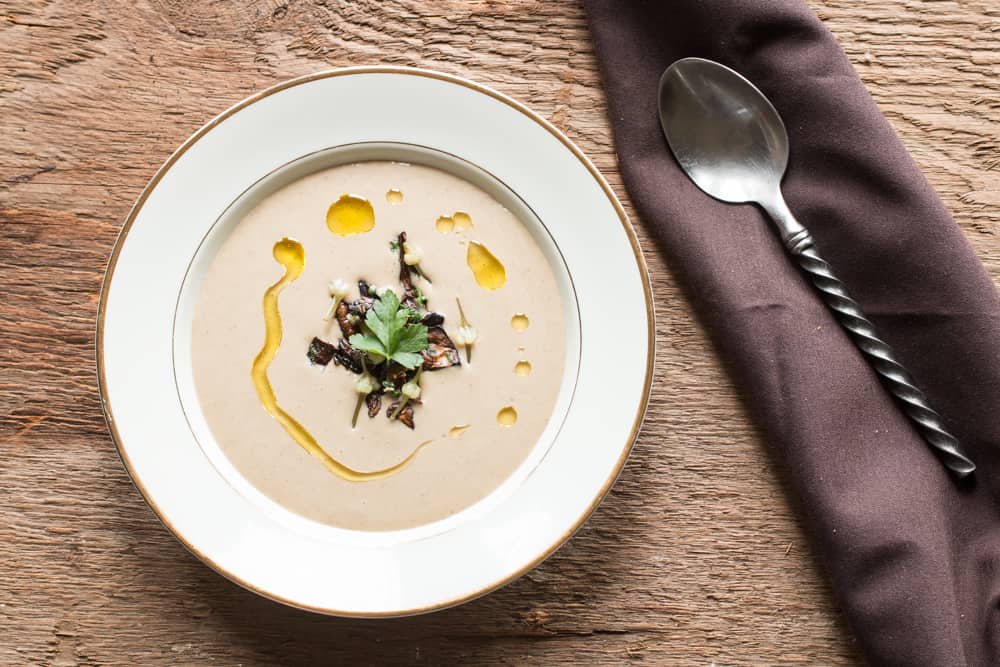 The great part about boletes is that with a good rain, at least in my areas in Minnesota, they can seem to be just about everywhere.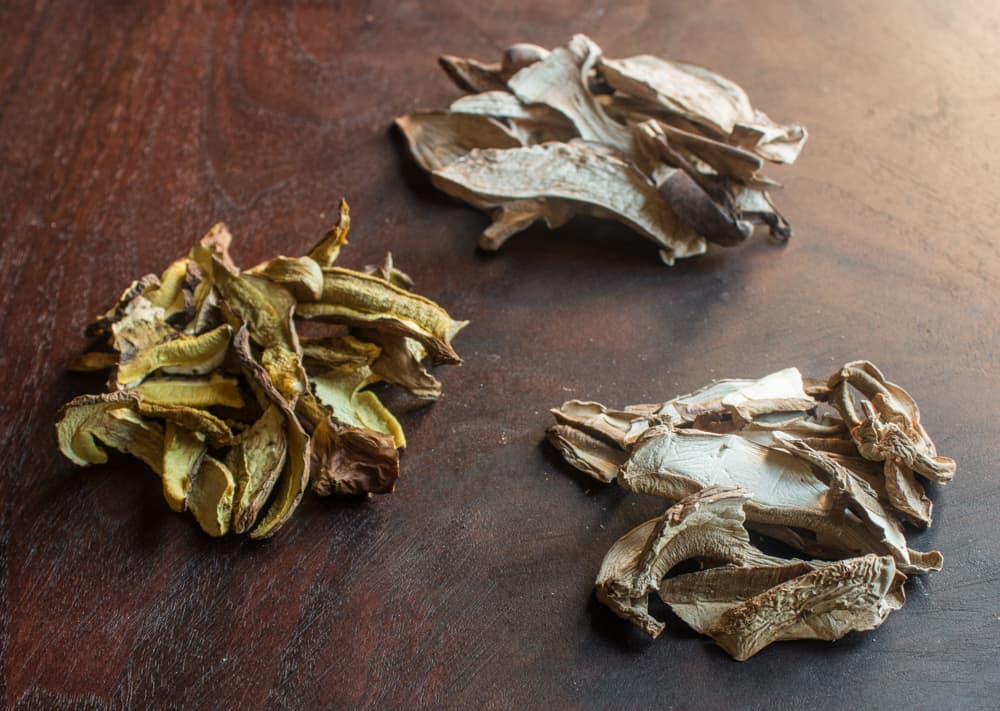 The downside, which isn't that bad, is that I might be drying them due to bug damage, and, after they're dried, some of the small harvests of random boletes, as interesting as they might be, often aren't as strong or delicious as the more heavy-hitting, dependably flavored porcini type mushrooms.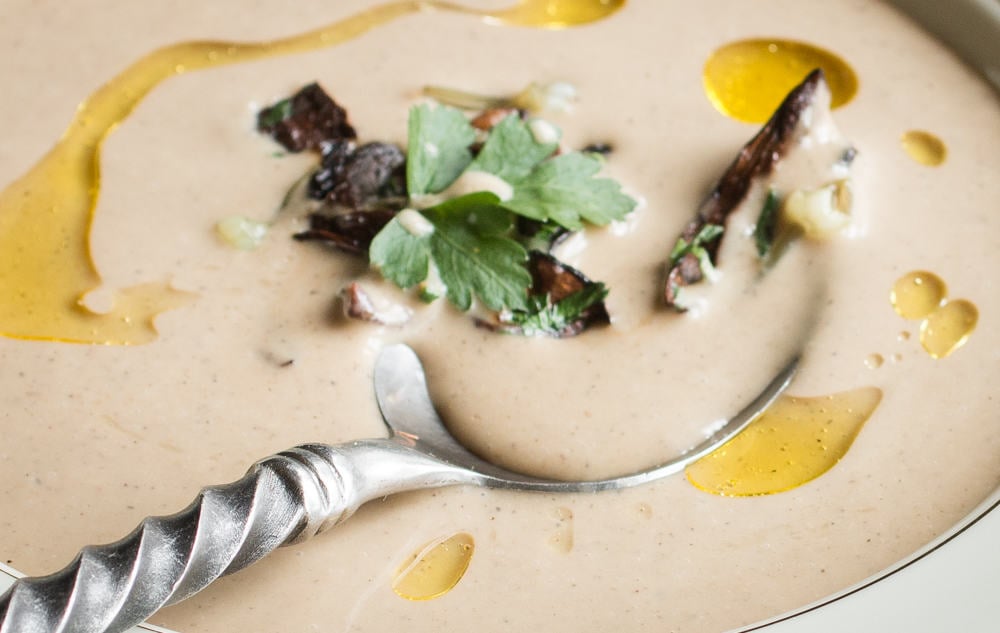 The "other boletes" are great for one thing though, and thats in blends. In this bisque, I work with both, light flavored boletes, and stronger ones, using them as the backdrop for another one of my favorite flavors: really good wild rice. Besides being a background flavor to the wild rice, I use a few extra dried mushrooms (Tylopilus in this case) that get fried slowly until crisp, and floated on the top of the soup like croutons.
The second, and more innovative part is how the wild rice is used. Typically, when you think of wild rice, you might think of soup, cooked to the beyond, the wild rice long exploded and curled into balls, or what we call "curly worm stage" in kitchen parlance. Don't get me wrong, I'll crush a chicken and wild rice bread bowl like any other red-blooded Midwesterner, but it's not the most finessed way to use wild rice, especially since most of the time, real, traditionally parched wild rice is not being used.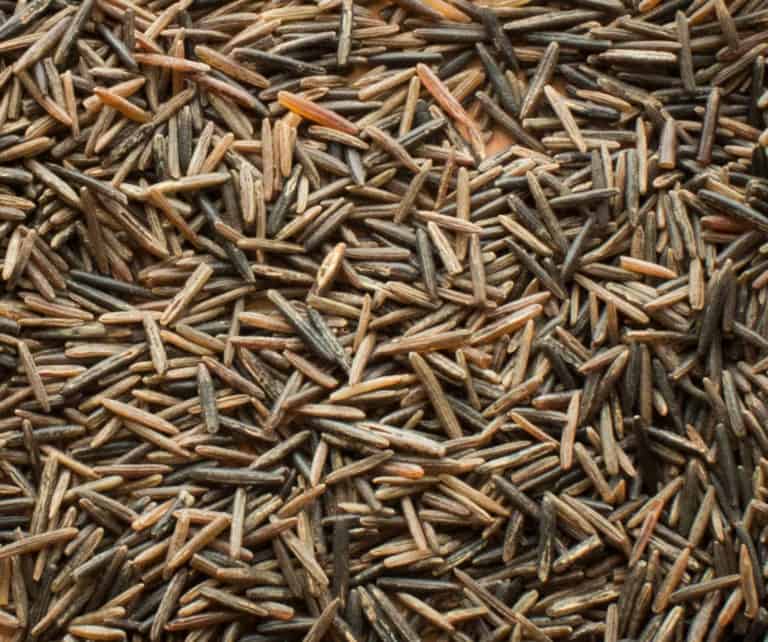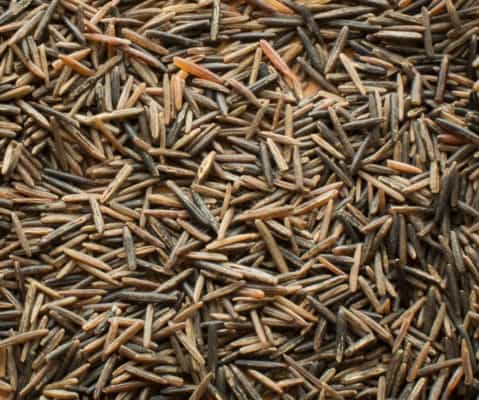 Real wild rice = parched wild rice
Real parched wild rice is toasted over a wood or gas fire, and it shortens the cooking time of the rice to about 15 minutes. The real magic though, is what it does to the flavor. The parching brings out flavors from the rice that completely shame un-parched wild rice, there just isn't a comparison in how much better it tastes, like fresh garlic vs. garlic in a jar. To me, the very dark black paddy rice tastes like mothballs. Real wild rice is usually about 12$/lb retail, too.
White Earth Reservation does a good parched rice, Sam Thayer does an even better one, and If you're a chef at a restaurant, KC's Best is a great quality/price combo, given that they also sell gas-parched rice and wood parched. If you're not 100% sure you're getting the real deal, parched wild rice, call someone and ask, as even some good suppliers carry both kinds.
Using Manoomin/ natural wild rice as a flavoring
The flavor of traditionally parched wild rice is so much better that you can actually have the wild rice as the focus of a dish, unlike something else where it's just starch. Since traditional bisques are thickened with rice, too, it was only a matter of time until I worked out some kind of soup using it as a binder. Not only does the rice thicken the soup, it's flavor permeates the cooking broth, and then gets amplified even more from pureeing.
This is a rich soup, too, it's silky and full of flavor, and a little goes a long way. Honestly, it's likely the best wild rice soup I've ever made, and probably the best I've ever tasted. I will still crush a breadbowl here and there though. If you have parched wild rice, dried mushrooms and homemade stock, try it sometime.
Can you use common/blackened wild rice ?
Yes. While the natural wild rice is great here, you can use regular black wild rice too and it will be ok, although you may have to adjust the consistency a bit.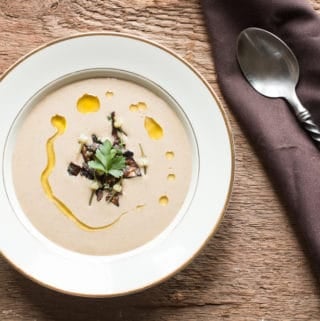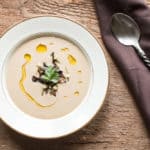 Print Recipe
Wild Rice Bisque with Toasted Mushroom Croutons
Creamy wild rice bisque with toasted mushroom "croutons"
Servings:
5
cups serves 2-4
Ingredients
1

qt

meat stock

mushroom or vegetable stock

½

cup

high quality wild rice

see my post on wild rice here for a list of suppliers

20

grams

mixed, dried bolete mushrooms, or substitute some of your choice (this is roughly 1 cup of dried mushrooms) plus an additional handful of dried mushrooms to garnish (optional)

¼

teaspoon

finely minced garlic

for the mushroom croutons

Fresh sliced Italian parsley

a pinch for the mushroom croutons

1

oz

¼ cup small diced celery

1

oz

¼ cup small diced yellow onion

1

oz

¼ cup small diced fennel, or leek

Kosher salt and fresh ground black pepper

to taste

3

tablespoons

lard

bacon grease, or cooking oil

½

cup

heavy cream

or substitute mild cooking oil

2

tablespoons

dry sherry

optional

Hickory nut oil

to garnish (optional, or sub good olive oil)
Instructions
Rehydrate all of the dried mushrooms in water to cover for 1 hour, swish to clean and remove dirt, then squeeze dry, strain the soaking water and keep both separate. Reserve some of the mushrooms to be cooked as croutons, a couple slices per person will do.

Chop the remaining mushrooms, then sweat with the rice and vegetables in the lard on medium heat until translucent, about 10 minutes. Do not color the mixture. Season with a good pinch of salt, it should smell nice and nutty. Deglaze with the sherry, cook off the alcohol, then add the mushroom liquid, reduce by half, and add the meat stock.

Simmer on low until the rice is completely cooked, covered, about 45 minutes. Add the cream, then puree the mixture in a highspeed blender until as smooth as possible. If you want to substitute oil for the cream, drizzle in the oil while you puree in the blender.

Pass the bisque through a chinois or fine strainer (optional). Double check the seasoning, adjust as needed, then chill until room temp and refrigerate, or serve, topped with the mushroom croutons, drizzle with a thread of good tasting oil (I used hickory nut) and serve immediately.

For the mushroom croutons

Pat the reserved rehydrated mushrooms dry, then sweat in a small amount of oil on low heat until crisp and toasted. Add the garlic and cook until just ligttly browned, then season with salt, toss in the parsley and cool. The mushrooms should be crisp, nutty, completely dry, and addictive.
Notes
On the wild rice
While the natural wild rice is great here, you can use regular black wild rice too and it will be ok, although you may have to adjust the consistency a bit since it takes longer to cook and may make the soup a bit thick as a result. Make sure to check on it so it doesn't burn.