This rich, smoked sausage made from ground hearts was a special course on a winter tasting menu. It's a fun thing to make if you have a lot of beef hearts, or hearts from another animal you want to use up.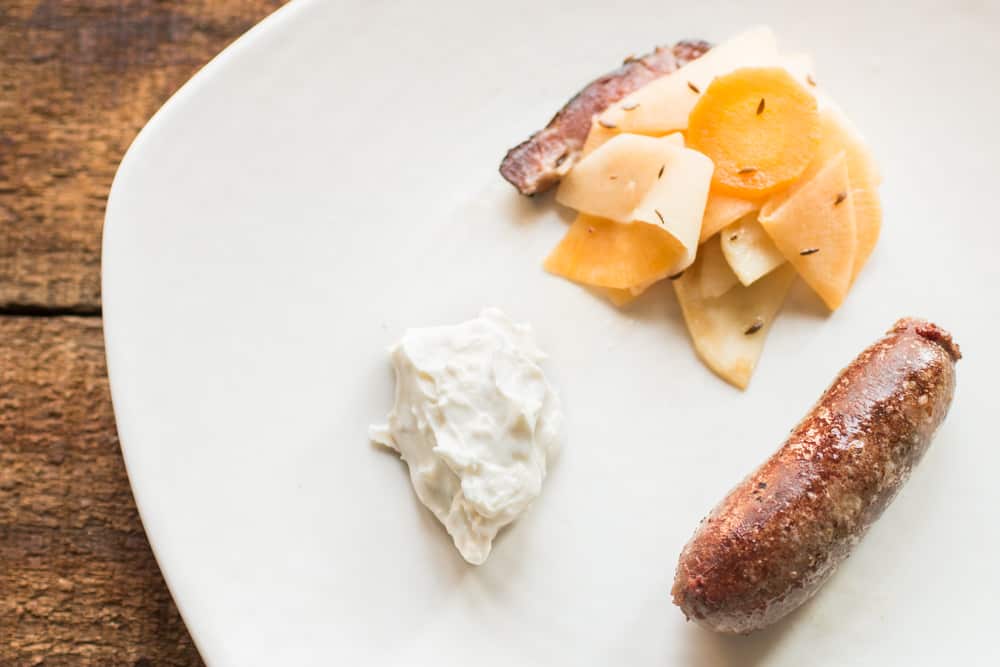 A while ago I was planning the menu for a dinner revolving around lamb, which was going to take the shape of 3 separate courses dedicated to the animal. The first course in a menu like that I usually like to include offal, to convey the importance of whole animal butchery and how creative you can get working with the odd parts.
I wanted to make a sausage for the dinner, but out of offal. I've made liver sausages, and they're good, but I wanted to see if I could make a type of emulsified sausage like mortadella out of lean tongue.
Unfortunately the tongues turned out a little hard to emulsify, but I had some hearts laying around too, so I played around and worked a good braunshweiger-y type of link out of them. I thought it was a great sausage, and if you don't know, it's hard to tell that it's made exculsively using hearts, a good thing for budget-minded chefs who like to shop the sale bin with meat purveyors to watch food cost here and there.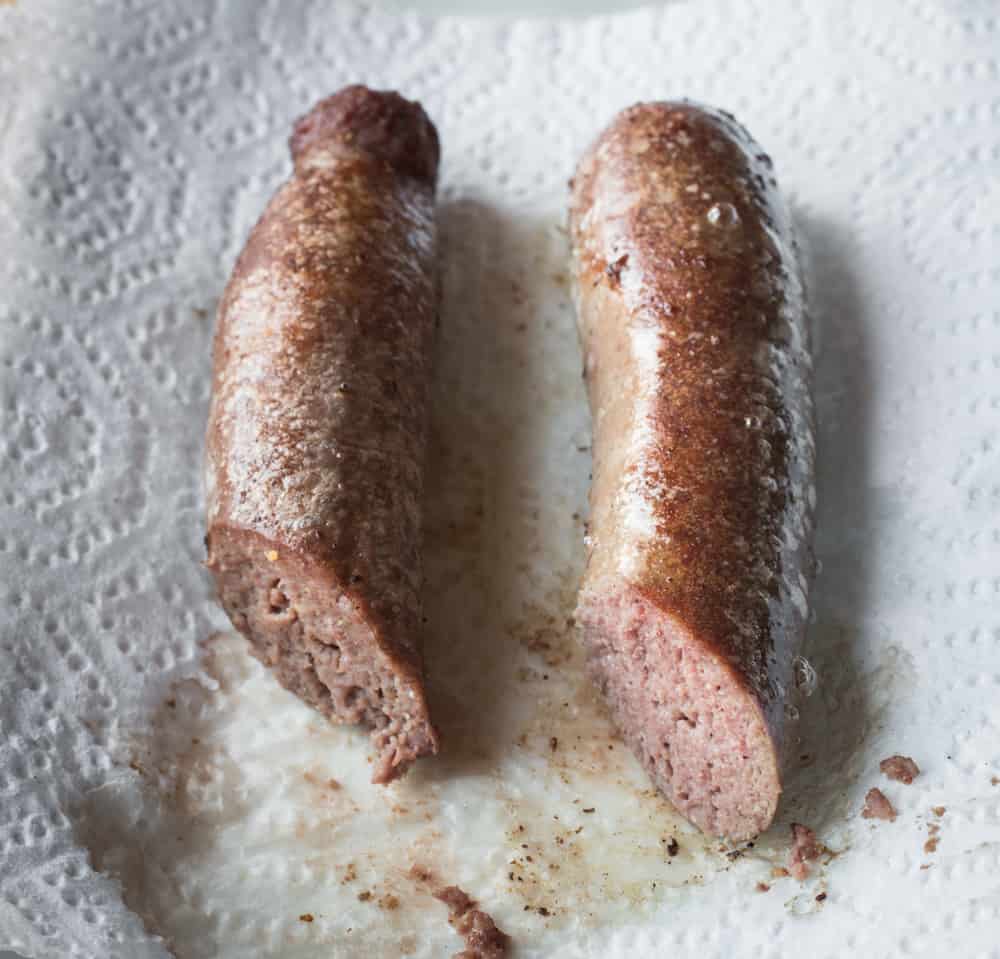 Keys to a good heart sausage
The key with these, revolves around 2 things: not overcooking them, and adding a binder, like cornmeal, or milk powder. Milk powder is more widely used and gives a firmer bind, but toasted cornmeal adds a great depth and rustic texture.
You should know too, it can also be a little tricky to make an emulsion in a food processor using meat if you haven't done it before, so reading the directions carefully and working in small batches will help ensure a good, juicy bite with these heart weiners. For added flavor, I really suggest cold smoking them to get the full effect.
For the tasting dinner, and the finished dish, I griddled these with lamb lard and served them with hot horseradish sour cream, and root vegetables fermented with wild carraway, brasied with a little butter and lamb stock until tender. Want the recipe for the fermented vegetables? I have the recipe posted here.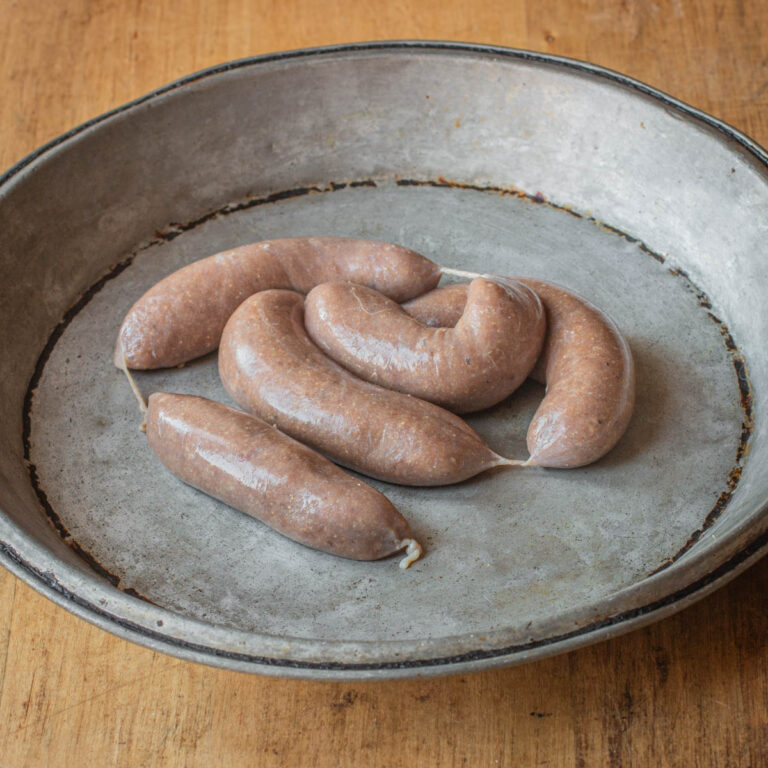 Print Recipe
Smoked Heart Sausage, Like a Braunshweiger 
A delicate sausage made from lean heart, cold smoked to taste like braunshweiger. Yields 3.5 lbs or 28 2 oz small sausages
Ingredients
2.5

grams

pink salt

Tiny Splash

brandy

15

grams

salt

roughly 1.25 tablespoons

125

grams

heavy cream cream

18

grams

milk powder

roughly 1.5 tablespoons or substitute 100 grams toasted cornmeal

2.5

teaspoons

baharat spice or quatre epice

3.5

grams

powdered mustard

½ tablespoon

1.5

grams

fresh ground black pepper

1 teaspoon

50

grams

egg yolk

4 yolks

3.5

lbs

lamb hearts

or another heart, like beef
Instructions
Cut each heart in half and remove any chewy looking arteries, all you want is meat and fat here. Cut the hearts into pieces that can fit in the meat grinder, then combine with the salt and brandy and  marinate overnight. The next day, drain the hearts then freeze for 30 minutes. Grind the hearts through the fine die of a meat grinder, then mix with the egg yolks, baharat or quatre epice.

Working in small batches, puree the mixture in a food processor, drizzling in the cream to form an emulsion. When all the meat and cream has been used, transfer the heart mixture to a bowl and mix with the cornmeal or milk powder. Case the sausages and tie off into 1.5 ounce lengths, then cold smoke for 30 minutes, or as long as you like. The sausages must be served med-med rare for the best result.
Notes
I make this with heart, but you could also make it using liver. 
Nutrition
Serving:
4
oz
|
Calories:
48
kcal
|
Carbohydrates:
1
g
|
Protein:
1
g
|
Fat:
5
g
|
Saturated Fat:
3
g
|
Polyunsaturated Fat:
0.3
g
|
Monounsaturated Fat:
1
g
|
Cholesterol:
50
mg
|
Sodium:
493
mg
|
Potassium:
30
mg
|
Sugar:
1
g
|
Vitamin A:
195
IU
|
Vitamin C:
0.2
mg
|
Calcium:
23
mg
|
Iron:
0.1
mg