Fresh sauerkraut is a world of difference from the mostly overcooked, mushy versions sold in jars at the store. Besides having a mild flavor (if you choose) the cabbage is still crisp, which gives you more freedom for cooking with it in the kitchen and having it keep it's integrity.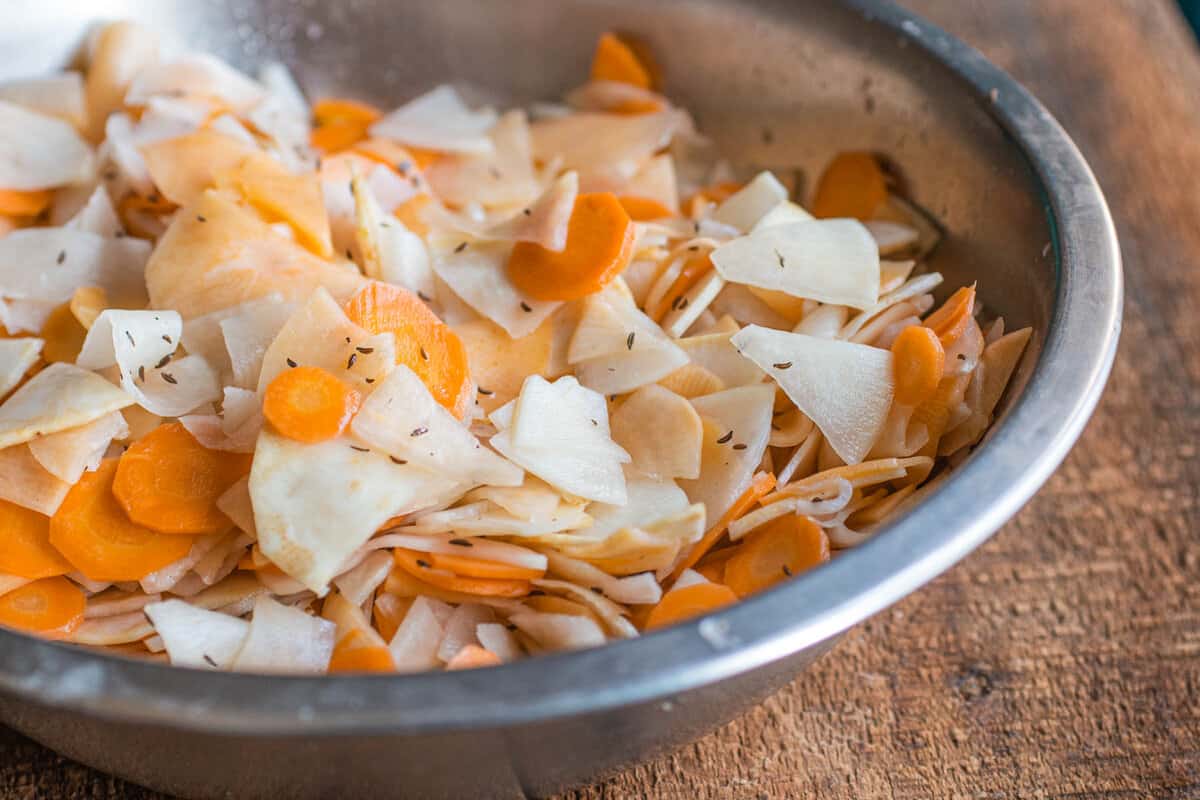 Cabbage is only one thing that you can make a la sauerkraut though. Root vegetables, in all the sizes, shapes and colors, make a great substitute for green cabbage, and can be a really colorful, impressive alternative if you're in the mood for a delicious science project.
A while back I needed a component for a lamb sausage dish I was doing for a private dinner, and I wanted it to be colorful, so I developed this recipe. It's a basic ferment, but, to further tip my hat to traditional kraut, it has precious, tiny, wild caraway seeds to boost the flavor and perfume the veggies as they bubble away in their own brine.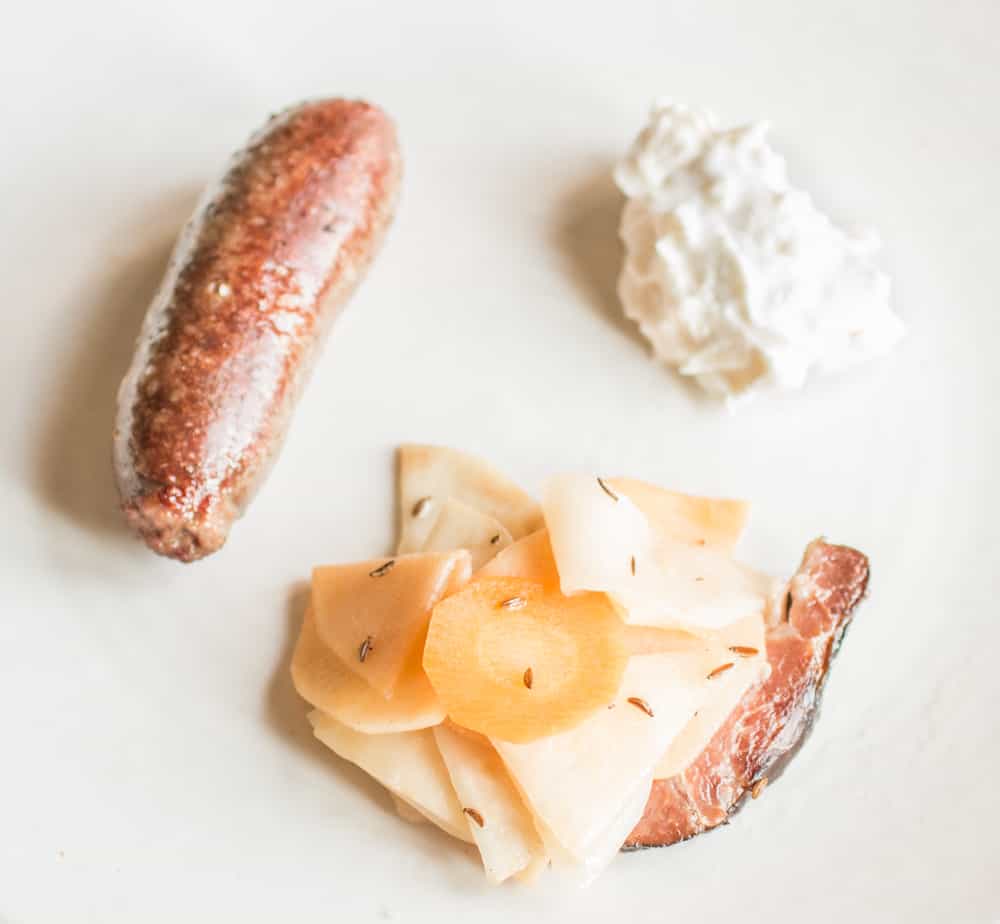 Root Vegetables for the Kraut
Here's a list of some of the veggies I used, or would use. Try to make a colorful blend, but stay away from blue roots as they bleed
Golden, scarlet, hakurei or purple top turnips
All species of winter radish, i.e. watermelon radish, black radish, lavender radish, daikon, etc
Rutabaga
Celery root
All species of carrots except purple
White or golden beets, in small amounts
Parsnips
Using a mandoline
Root vegetables are more firm than cabbage, so it's really important to use a mandoline here for the perfect texture.
Similar Recipes
Fermented Turnips (Sauerruben)
If you like interesting roots like I do, take a look at my glazed sunchoke recipe too.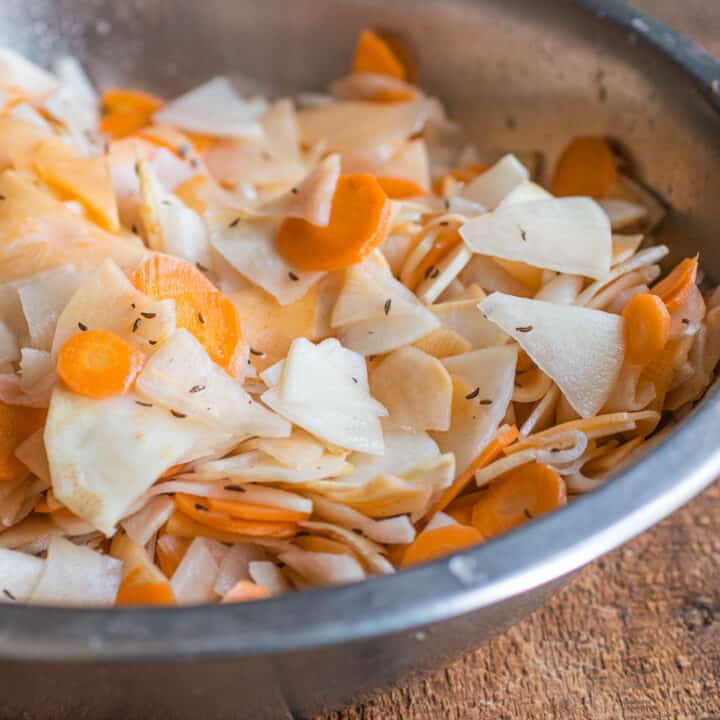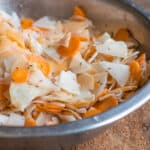 Print Recipe
Root Vegetable Sauerkraut, with Wild Caraway 
Sauerkraut made from root vegetables, scented with wild or cultivated caraway seed
Equipment
1 Fermenting crock

1 Mandoline
Ingredients
~5

lb

The biggest mix of root vegetables you can find

peeled and trimmed to yield 3.5 lbs

1

oz

kosher salt

2

teaspoons

lightly toasted wild or conventional caraway seeds
Instructions
Cut each type of vegetable into different shapes for slicing on the mandoline to show off the individuality, you don't have to do this, but it looks pretty to have a variety of shapes. If you don't want to do shave each veg into a different shape, you can just cut paper thin slices, rounds, or you could even just shred or grate it, which will make it's own brine much faster.

Combine the shaved vegetables, salt and caraway and pack into a plastic container or a fermenting vessel, then wait for 30 minutes so the vegetables can give off their liquid and start to make a brine.

When you can press down on the vegetables and have them just lightly covered with brine, put a weight on top of the vegetables, or cover with 2 thick garbage bags filled with very cold water to keep the mixturre underneath the brine.

Put the mixture in a cool dark place away from sunlight, and allow it to ferment for 9 days, checking on it and stirring every other day to help it along, and making sure the brine is always covering the vegetables. If you like the flavor after less or more time, go for it, sometimes I even go as long as 14 days.

When serving, you'll want to cook the root veg kraut to soften them up a bit and allow you to introduce other flavors, like meat stock, butter, a piece of ham, etc, as much to flavor them and soften the acetic acid from the fermentation, as to make the vegetables soft and tender for better eating.
Notes
Feel free to use a mix of vegetables here. Some of the best are turnips, carrots, rutabaga, parsnips, and winter radishes. Do not use more than 20 % carrots as they contain too much sugar. 
Nutrition
Serving:
4
oz
|
Calories:
703
kcal
|
Carbohydrates:
167
g
|
Protein:
32
g
|
Fat:
4
g
|
Saturated Fat:
0.5
g
|
Polyunsaturated Fat:
2
g
|
Monounsaturated Fat:
0.3
g
|
Sodium:
11600
mg
|
Potassium:
5513
mg
|
Fiber:
48
g
|
Sugar:
87
g
|
Vitamin A:
25310
IU
|
Vitamin C:
1293
mg
|
Calcium:
1027
mg
|
Iron:
18
mg