Sauerruben is sauerkraut's hot cousin, made from fermented turnips instead of cabbage. It's a traditional Germanic preserve from a time when cabbage and turnips were the big staple crops in Europe, before potatoes were introduced.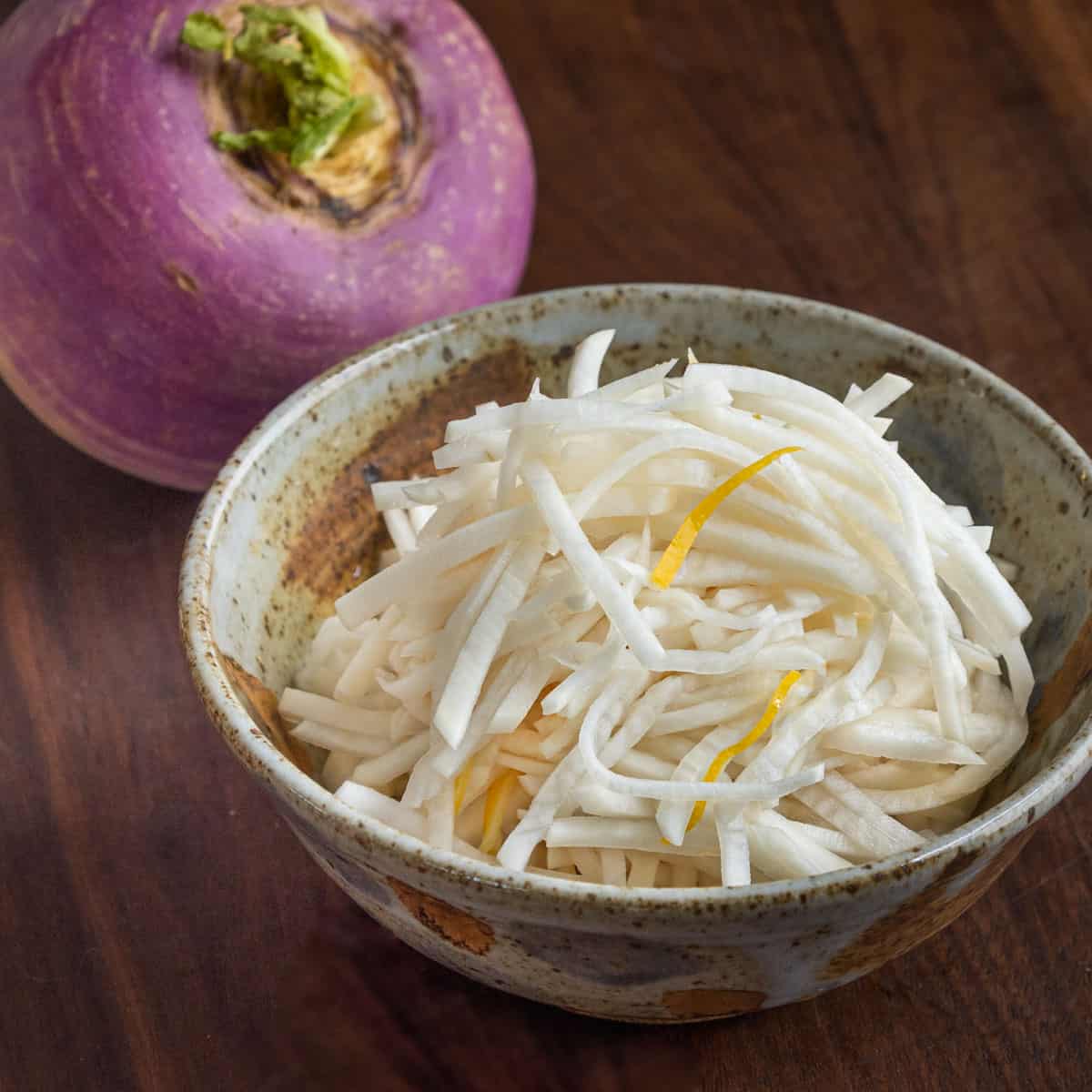 The flavor is crisp, tart and fizzy like a good kraut, but it's more delicate with a flavor all it's own. If you like to make ferments at home it'll be up your alley.
Kinds of Turnips to Use
I like the different varieties of turnips and their subtle differences. Here's a breakdown of some you might see at a farmers market or your local coop. Each turnip variety has a different level of sweetness.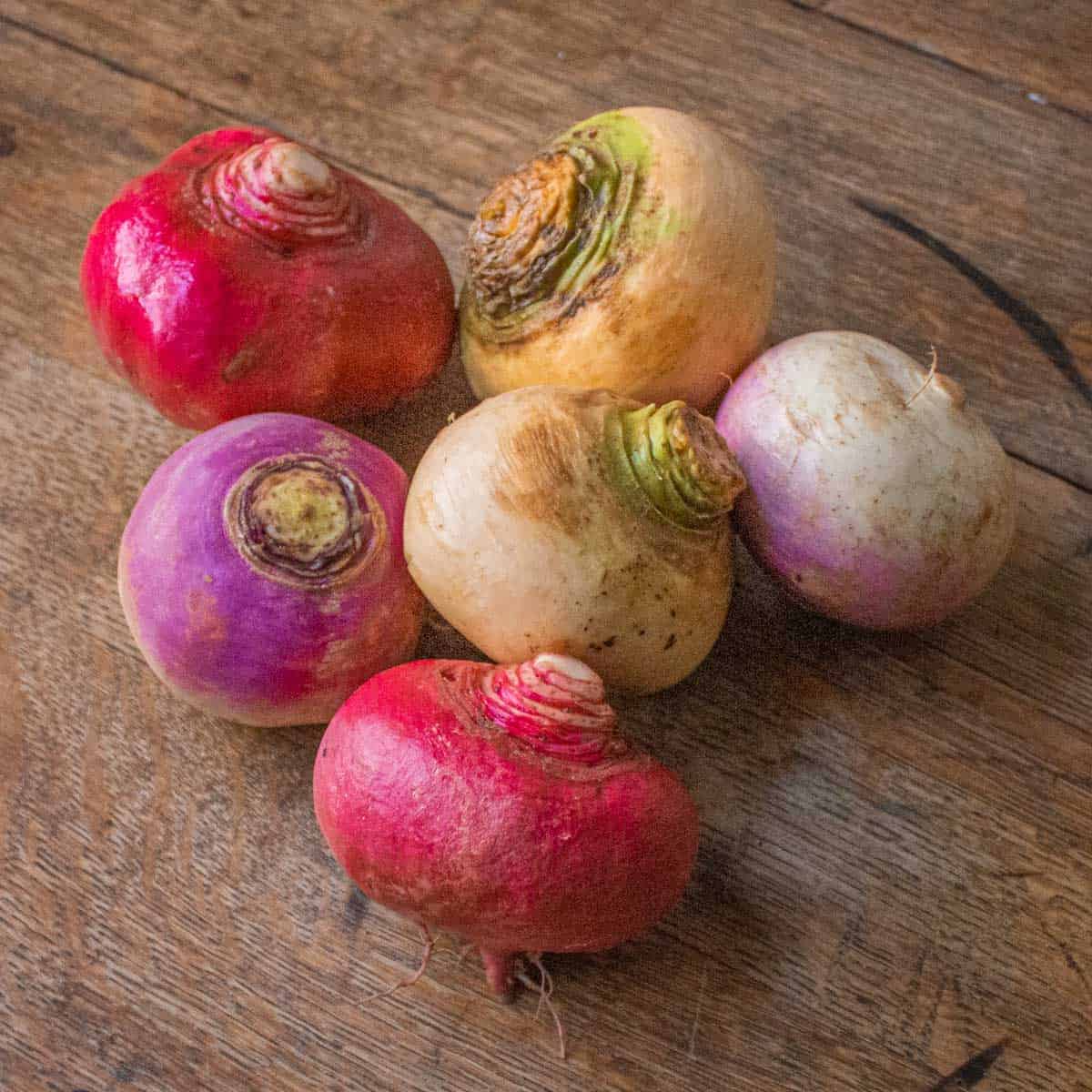 Scarlet is the sweetest turnip variety.
Purple top turnips are the most common and least sweet.
Gold turnips are slightly sweet.
Hakurei turnips (not pictured) are the most tender and don't require peeling.
Choose a Shape
It takes more time to prep turnips than cabbage, but they make up for it by giving you more options in how they can be cut. Here's a few examples.
Shredded or grated turnips
Sliced into thin wedges
Julienne
Shaved "noodles"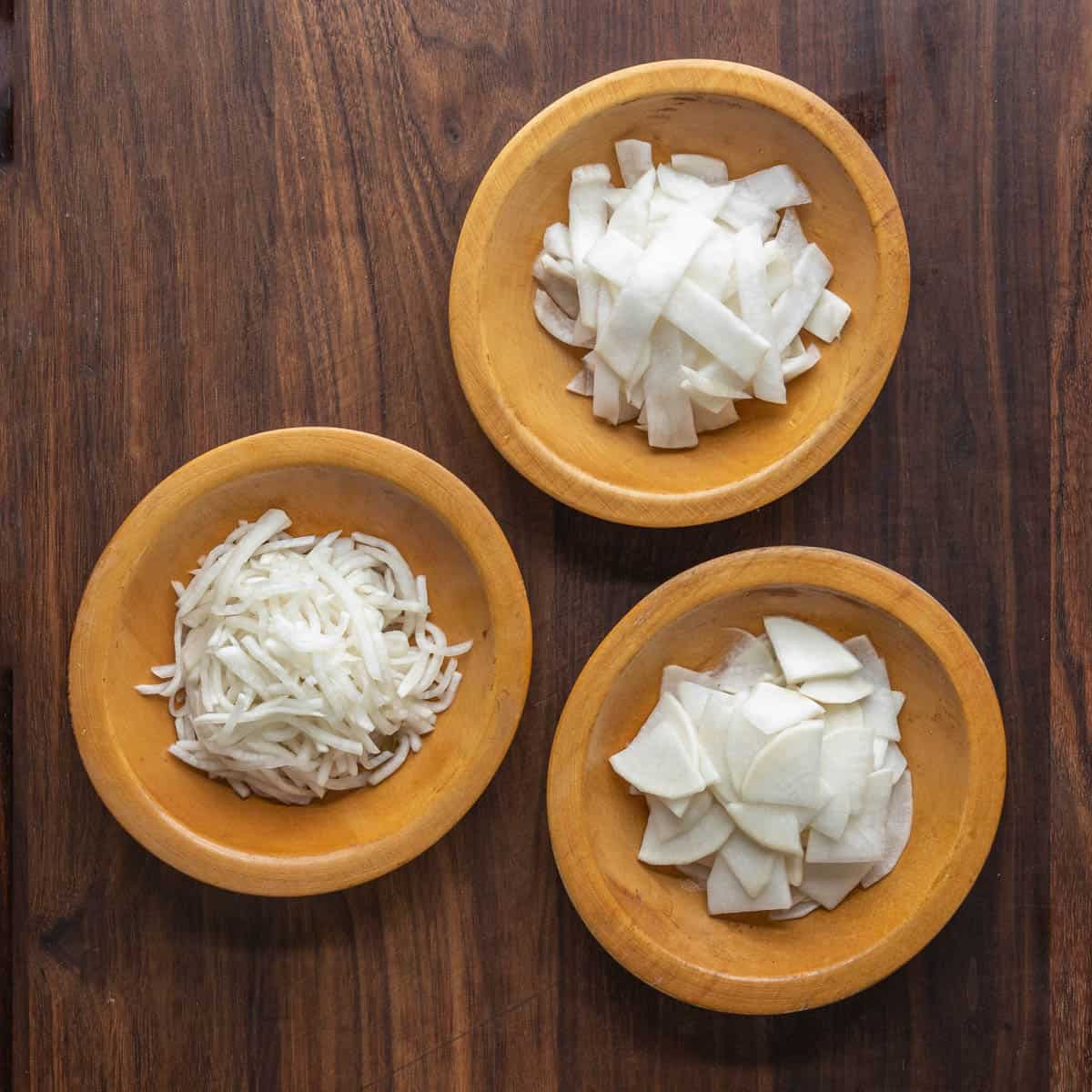 Two Fermentation Methods
Traditionally you'd mix the turnips with salt, weighing them down in a fermentation crock like sauerkraut. Depending on how I'm feeling, I may use one of two methods: traditional fermentation in a crock or jar, or vacuum fermentation. All methods work fine, but vacuum fermenting creates a slightly stronger flavor.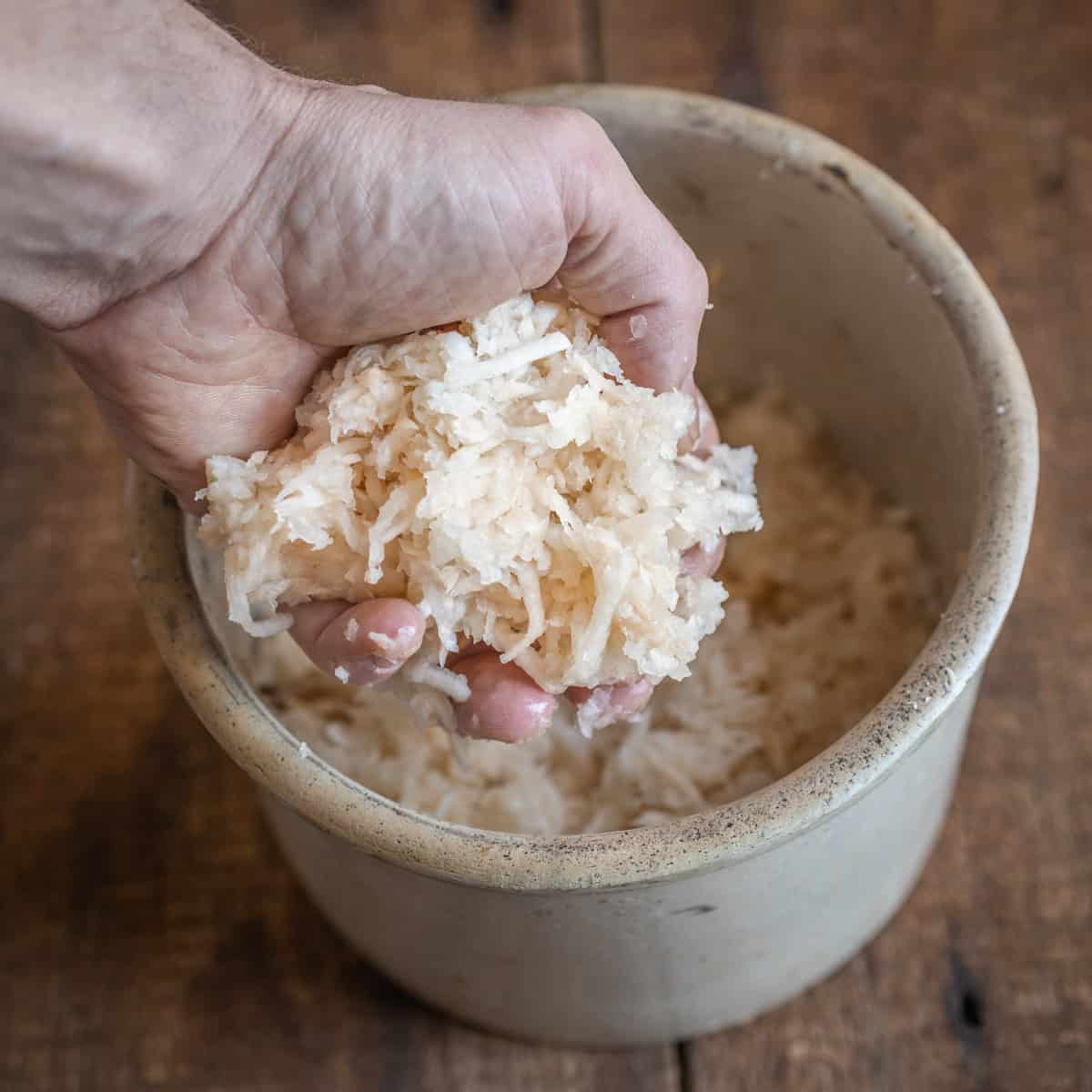 Vacuum Fermentation
To ferment the turnips under vacuum, I mix the cut turnips with 2-3% of their weight in salt, mix quickly, and seal in a vacuum bag.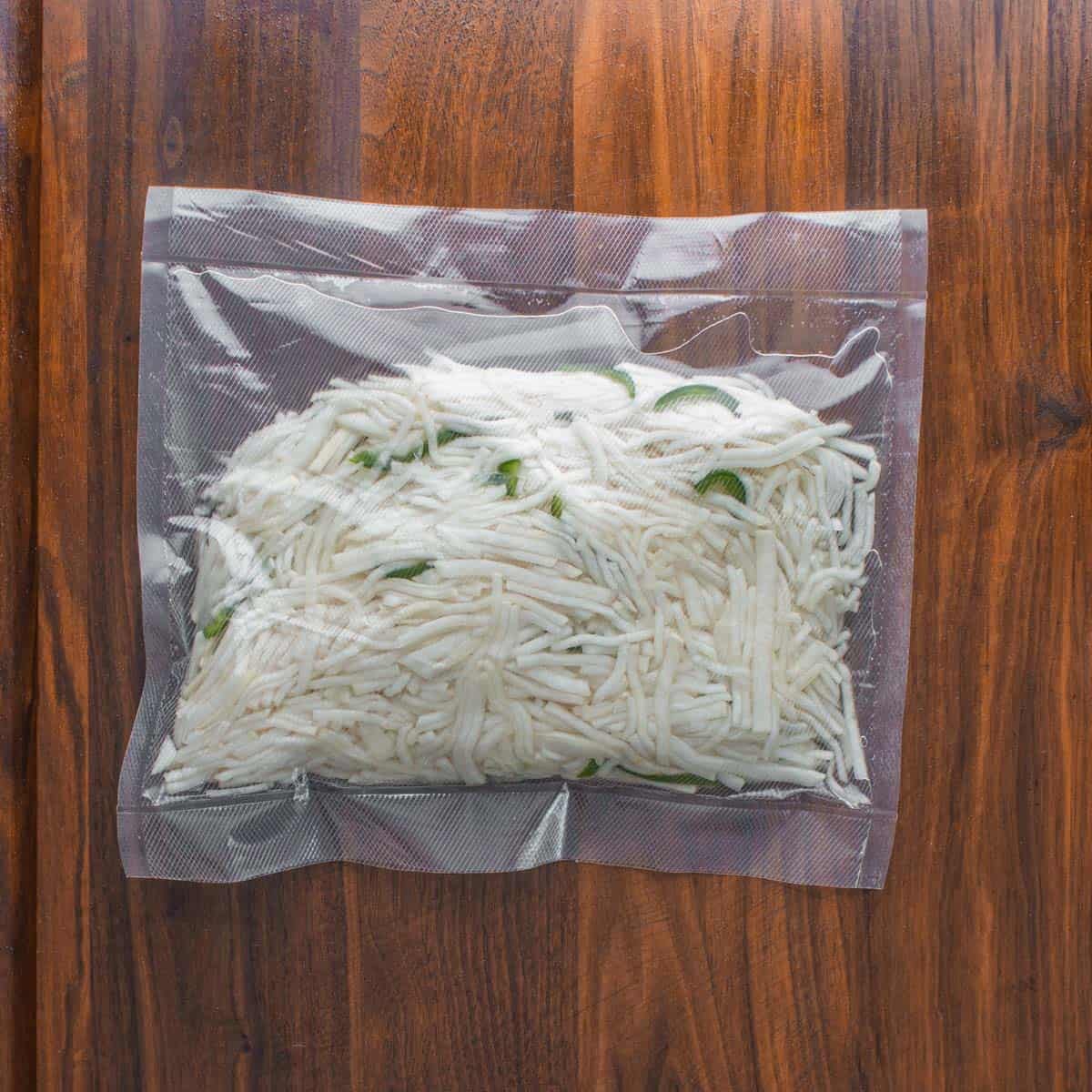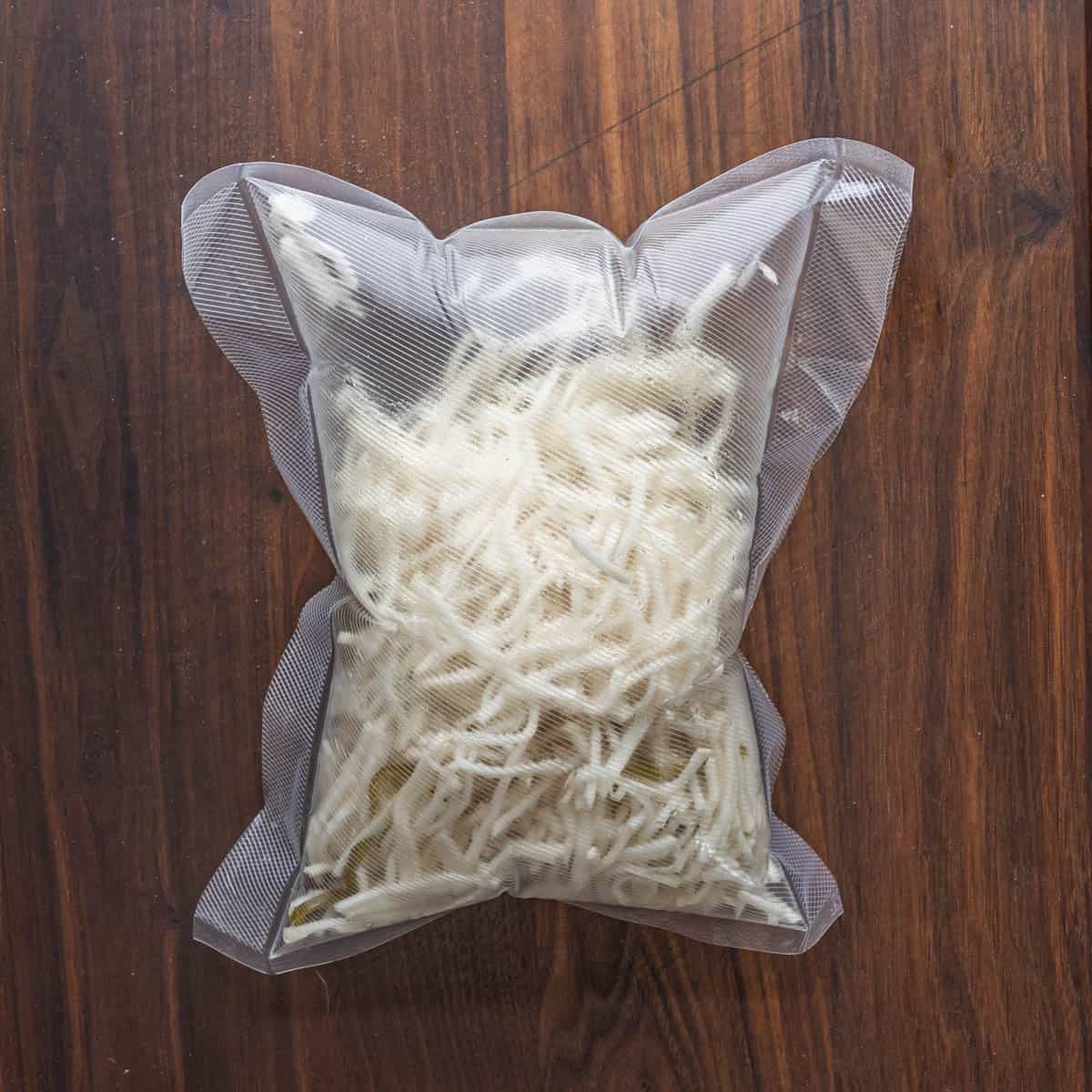 After seven days the bag will be filled with carbon dioxide, so I cut off a corner to release the gas and reseal. 2 weeks of fermenting is usually enough time for either method to get the taste of lactic acid we all know and love.
Fermenting in Brine
To ferment the turnips in brine you can put the turnips in a jar or other fermenting vessel and add brine to cover. I use 5% brine, or 5 grams of salt for every 100 grams of water. You'll add a fermentation weight to keep them under the brine as they ferment and the pH lowers. You can also use an airlock lid.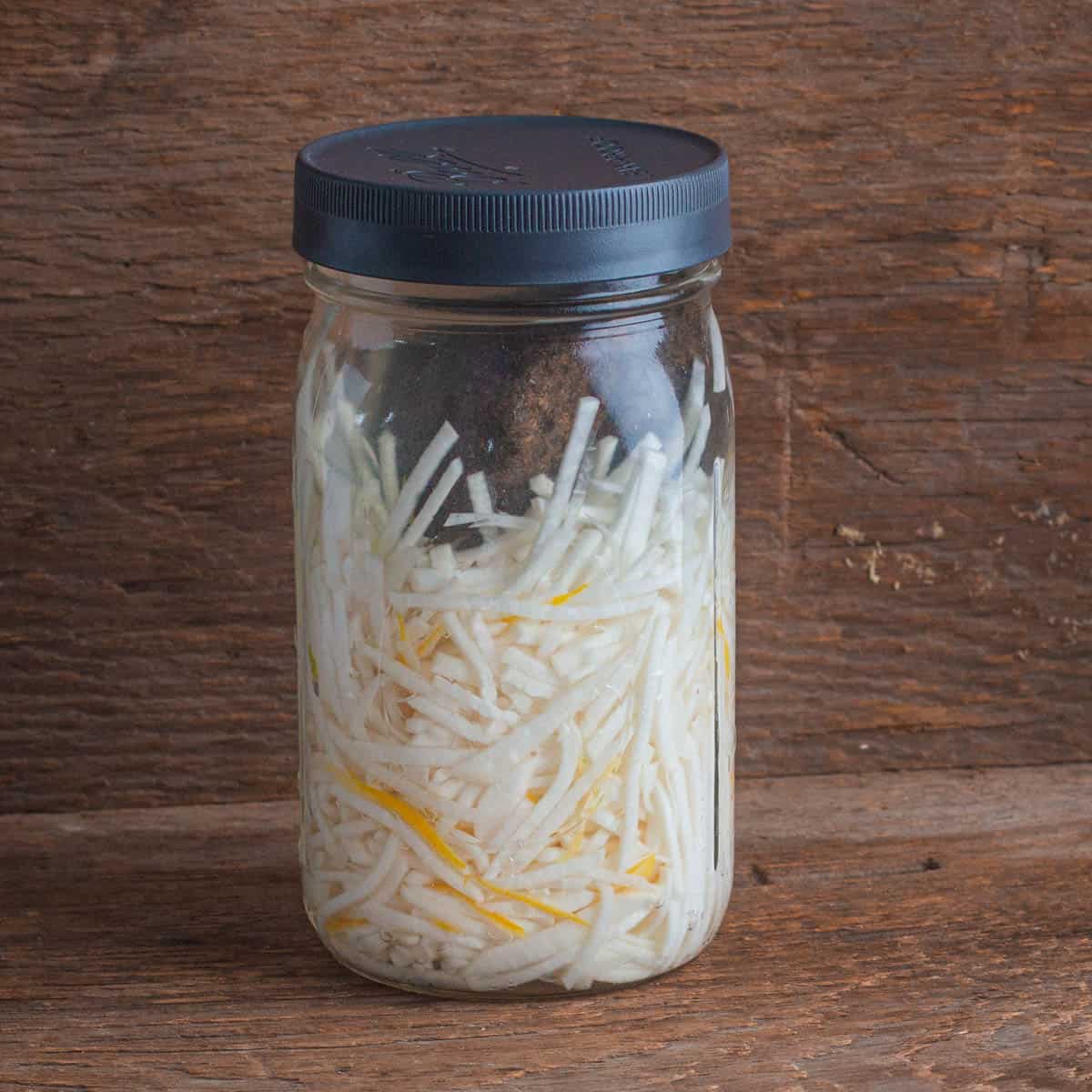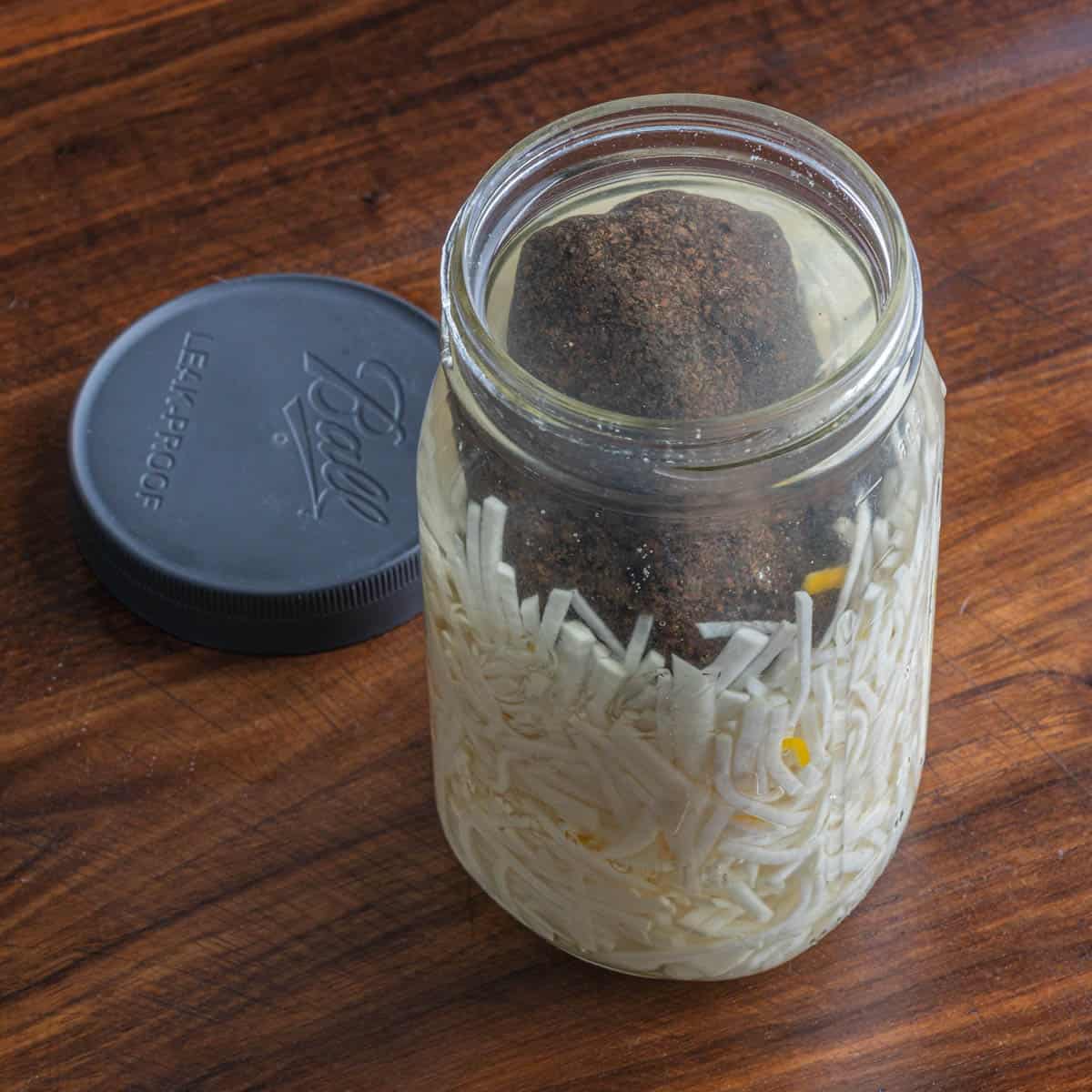 Variations
Think of the turnips as a blank slate you can add things to. Here's a few ideas I've used over the years.
My favorite is a few strands of thinly sliced lemon rind.
Add sliced jalapeno peppers for a little color and heat.
Use the proportions for my Hosta Shoot Kimchi to make extra spicy fermented turnips.
You can add caraway or other seeds, I do a version like that in my Root Vegetable Sauerkraut with Wild Caraway.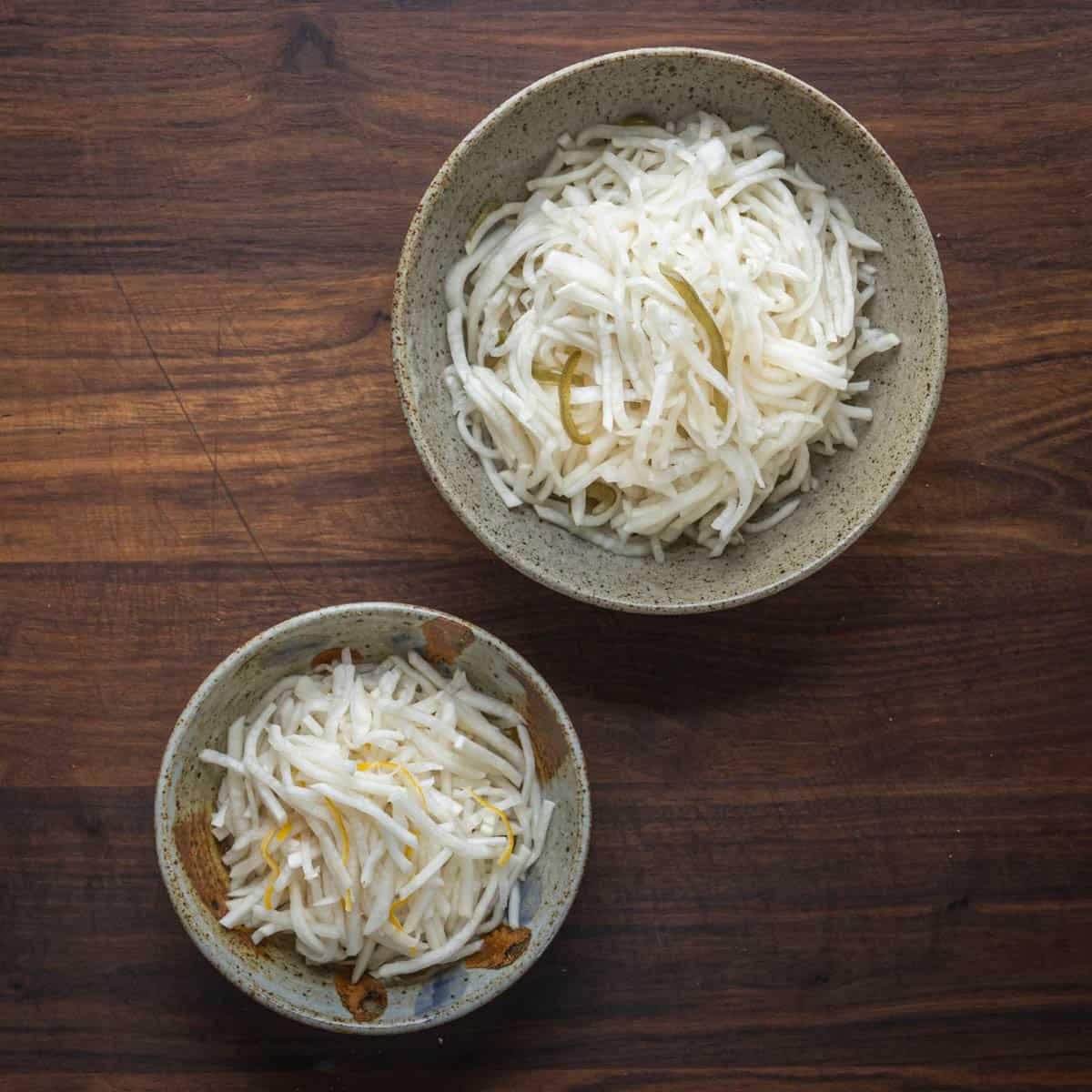 How to use
You can use sauerruben anywhere you'd use sauerkraut. At my first restaurant I served it with my choucroute garni, warmed with sliced apples, fresh turnips and butter. It's great with pork.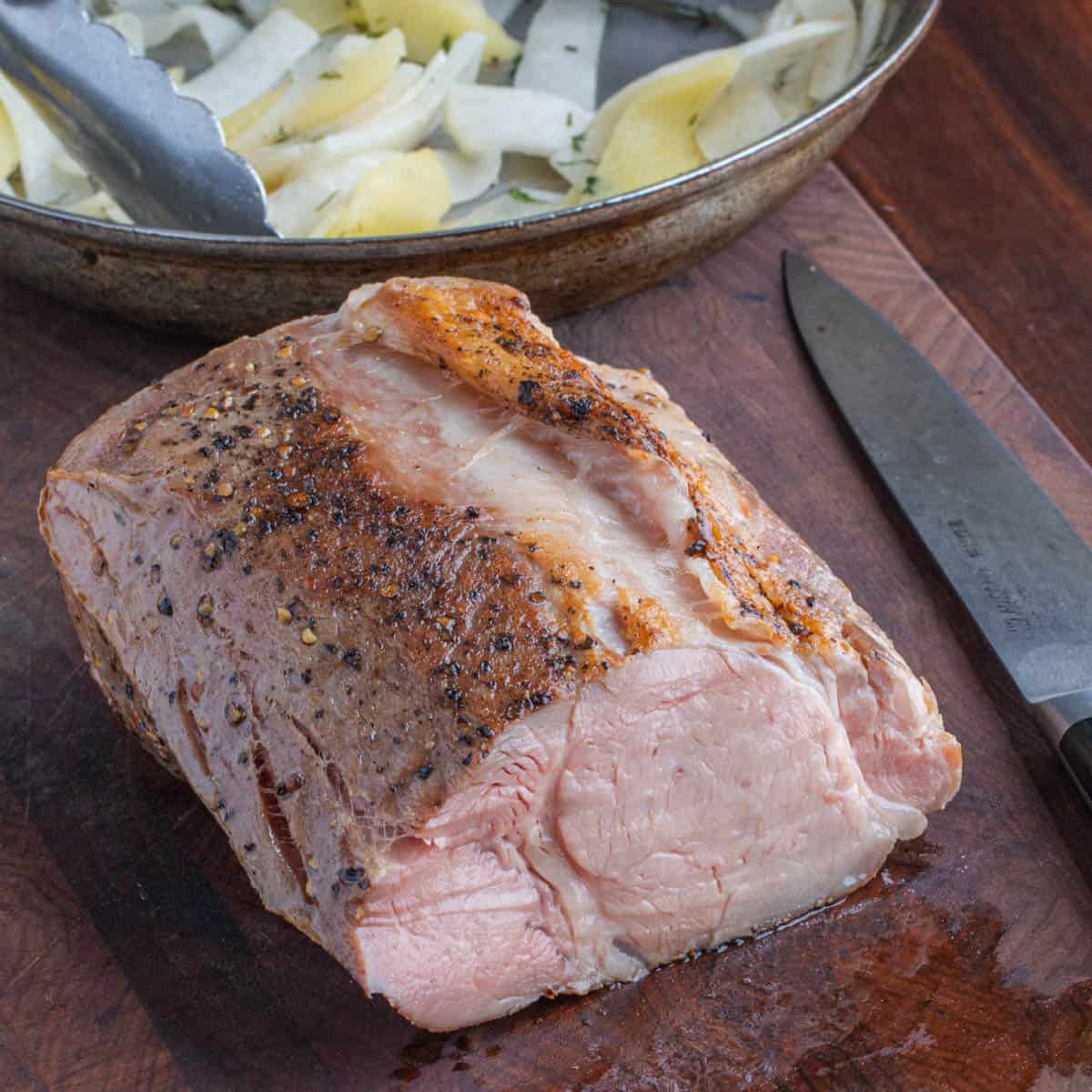 If you want to try that side dish, cook equal parts fermented and fresh turnips with sliced apples, finishing with butter and chopped fresh dill. There's a demonstration of it in the video. I also like adding ferments like this to soups, especially ones made with smoked meat. I think the ultimate might be a sauerruben Rueben.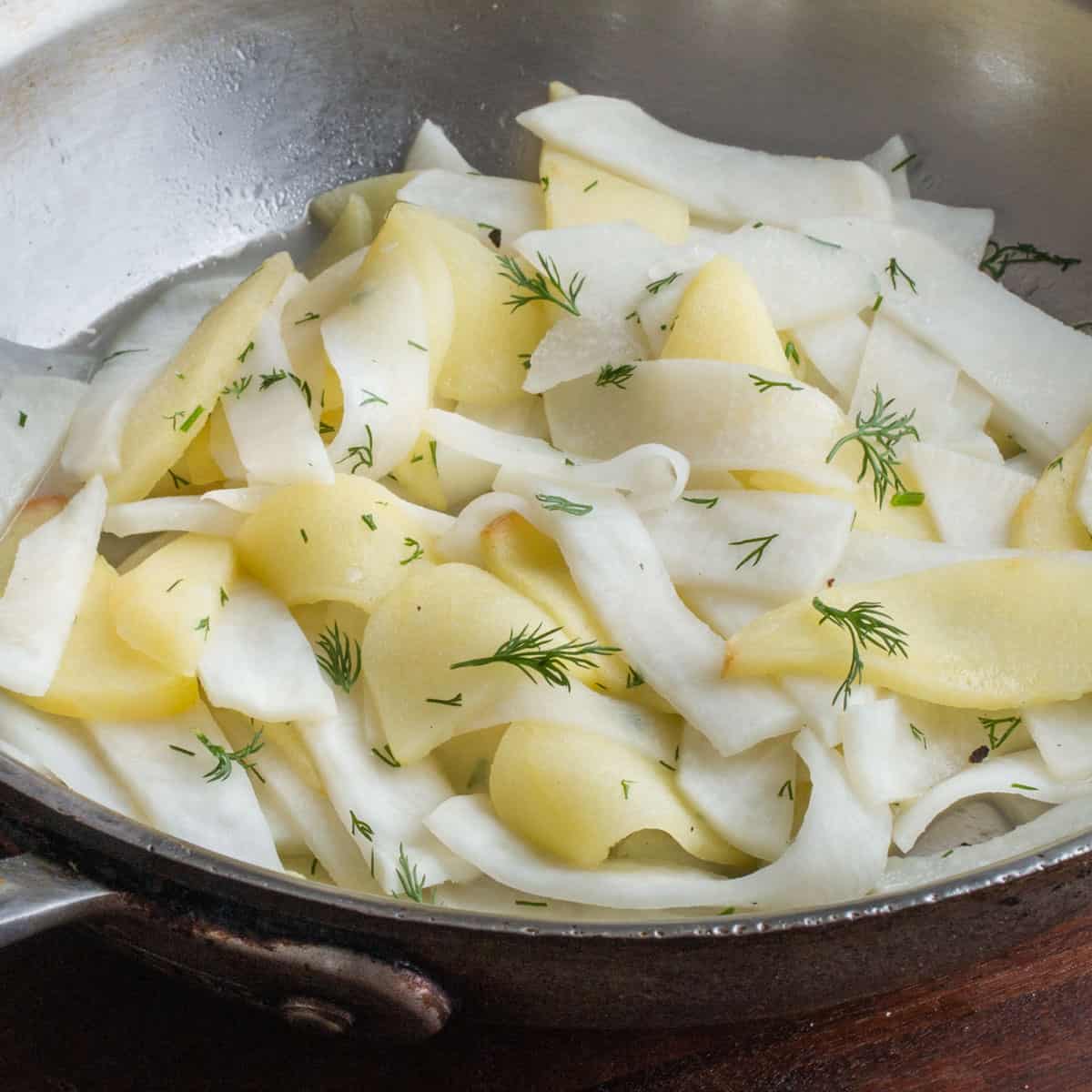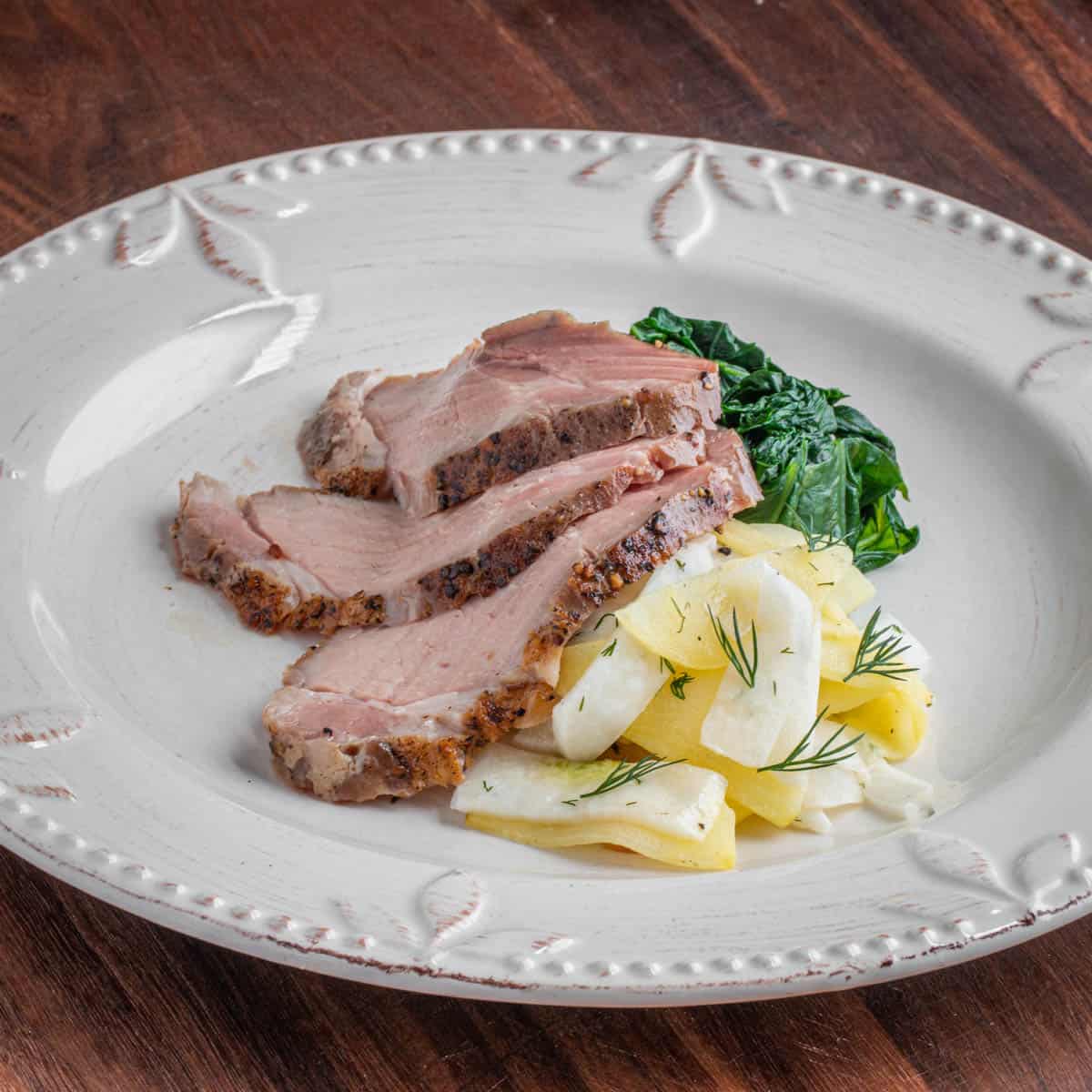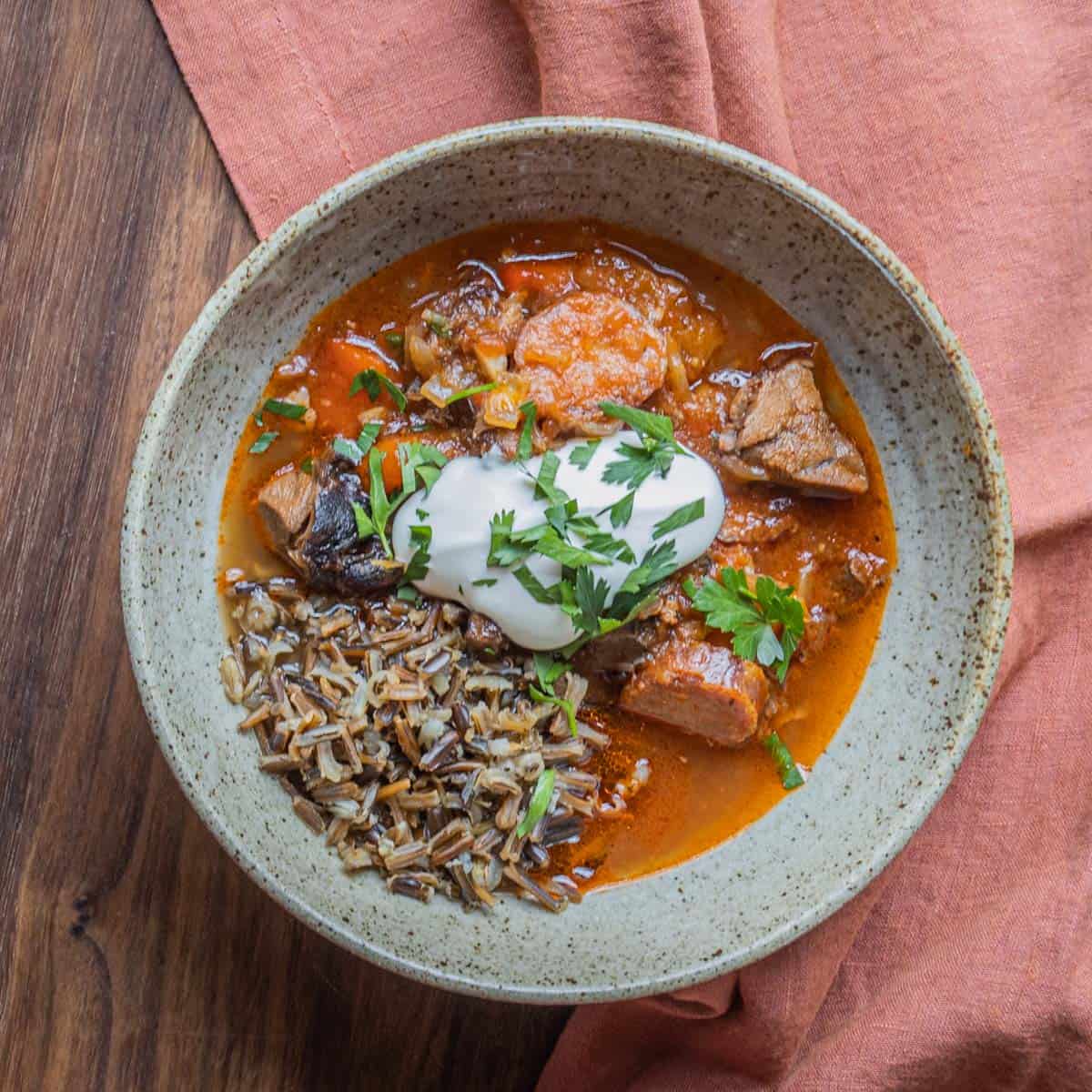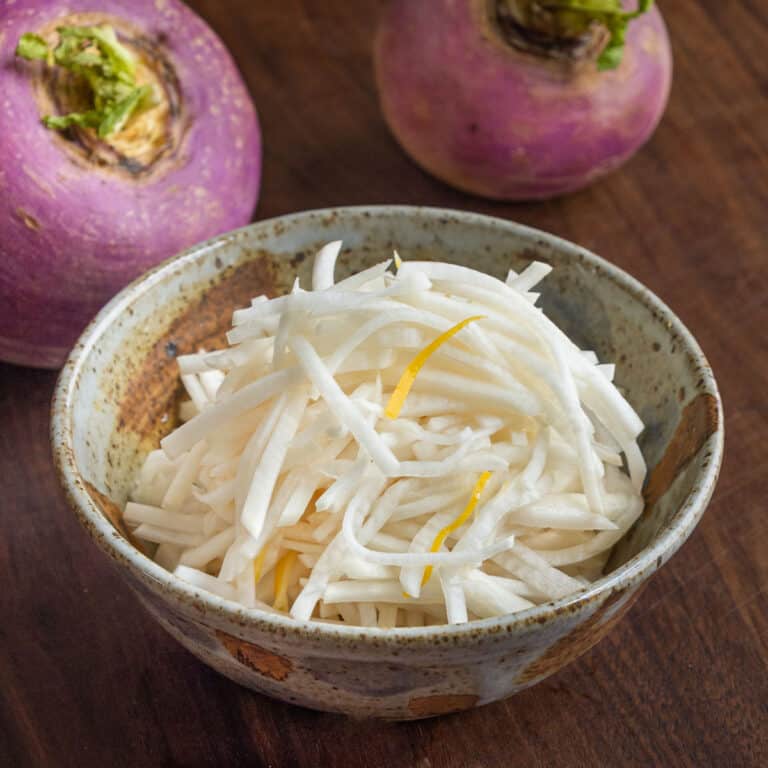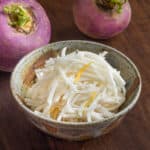 Print Recipe
Lacto-Fermented Turnips (Sauerruben)
A traditional German ferment made from turnips. It can be used anywhere you'd use sauerkraut. 3 lbs of raw turnips will yield about 2 lbs of finished pickled turnips.
Equipment
1 Mandoline slicer or cabbage slicer

2 Quart mason jars or vacuum bags

1 Non-reactive lids

if using jars
Ingredients
3

lbs

purple top turnips

Kosher salt or sea salt

as needed

1

Meyer lemon

optional

Filtered water

Optional
Instructions
Cut the turnips
Wash the turnips if needed. Peel the turnips well, then slice thinly on a mandoline slicer into rounds and cut into ¼ inch julienne.

You can also grate the turnips or cut them into thin strips or thinly sliced wedges.
Fermenting under vacuum
Weigh the cut turnips in grams. Multiply the weight by .03 and add that many grams of salt.

Mix the turnips and salt in a bowl, add some julienned lemon zest to taste (a pinch) then quickly pack into a vacuum bag and seal. Mark the date on the bag with a sharpie.
Fermenting in brine
Pack a quart mason jar ¾ full with prepared turnips. Add one tablespoon of salt and filtered or non-chlorinated water to cover completely. Leave ½ inch of headspace in each jar.

Weigh down the turnips with a fermentation weight. Cover the jars with a lid. Shake the jar to disperse the salt. Place the jar on a plate to catch any drips.

As the turnips ferment, open the jar occasionally to release any built up gas.

Ferment the turnips at room temperature for two weeks or until sour to your liking, then refrigerate.
Notes
Getting Creative with Garnishes 
You can add color with a thin julienne of carrots or peppers.
Some people may add sliced onions. If I add any onion, I like to add it after a week of fermenting. 
In the video I add julienned jalapeno to one batch, and finely julienned meyer lemon zest to another. Try the lemon zest first. 
You can add seeds like caraway, cumin, mustard seeds or coriander seeds. 
Turnips and beets will make a hot pink ferment. Use 25% grated beets to 75% white turnips. 
Peeling 
Peel the turnips completely. Leaving any purple skin on will stain the turnips during the fermentation process.
Beneficial Bacteria 
I like to cook this, but if you're interested in "probiotic benefits" of fermented foods you'll want to eat this raw, without cooking. 
Nutrition
Serving:
2
oz
|
Calories:
1
kcal
|
Carbohydrates:
0.3
g
|
Protein:
0.04
g
|
Fat:
0.01
g
|
Saturated Fat:
0.003
g
|
Polyunsaturated Fat:
0.01
g
|
Sodium:
0.1
mg
|
Potassium:
9
mg
|
Fiber:
0.1
g
|
Sugar:
0.2
g
|
Vitamin A:
38
IU
|
Vitamin C:
4
mg
|
Calcium:
0.5
mg
|
Iron:
0.01
mg