It's hosta shoot season, and besides just throwing them in a hot pan (which is great) kimchi makes a great hosta recipe.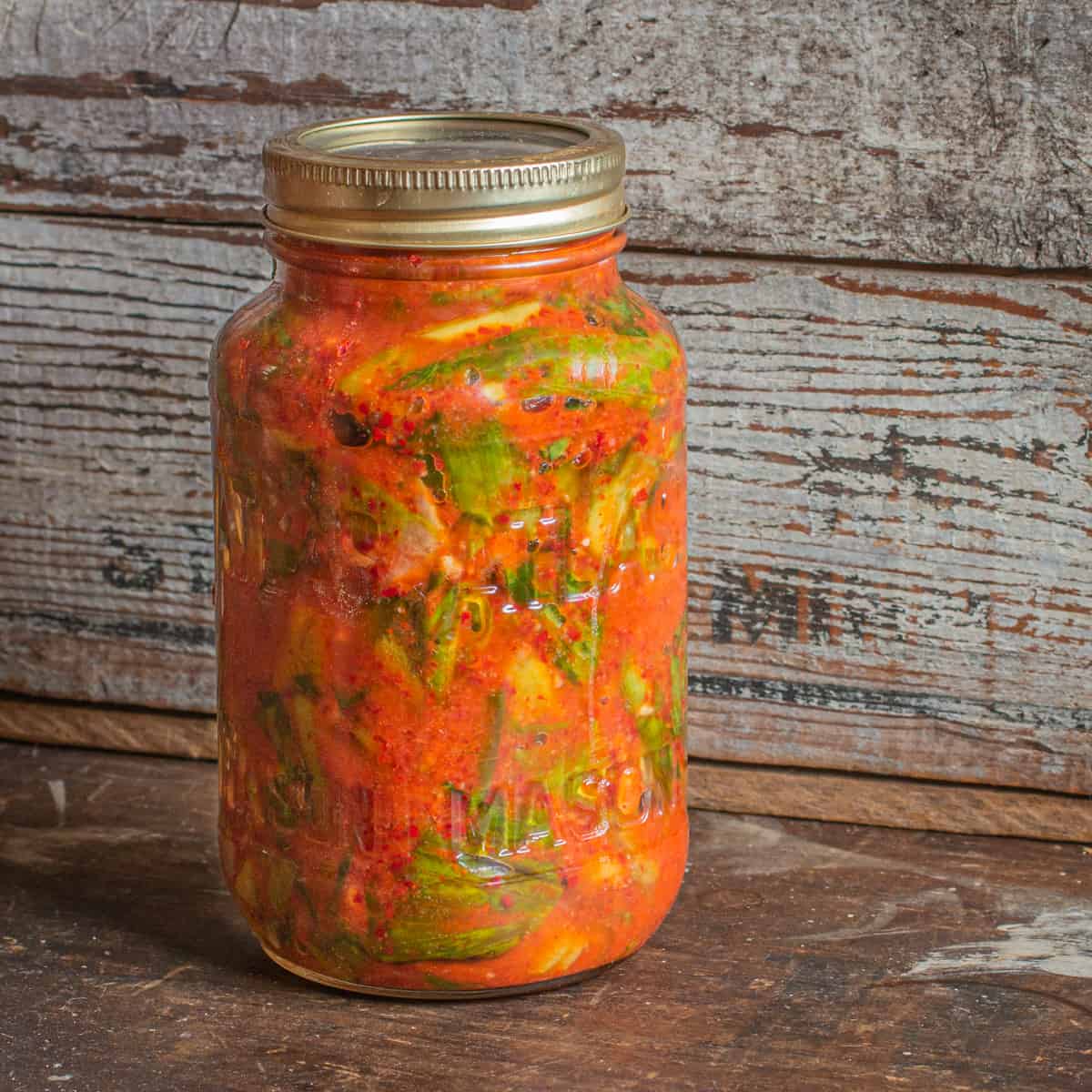 It's easy. To prepare them for fermentation, you don't even need to cook the hostas before you first, just cut them into 1 inch pieces, macerate in a bit of salt water, drain, mix with a little rice paste and a seasoning made from gochugaru chili flakes, fish sauce, ginger and scallions or ramp leaves, mix it all up, and let it sit on the counter for a week, then refrigerate.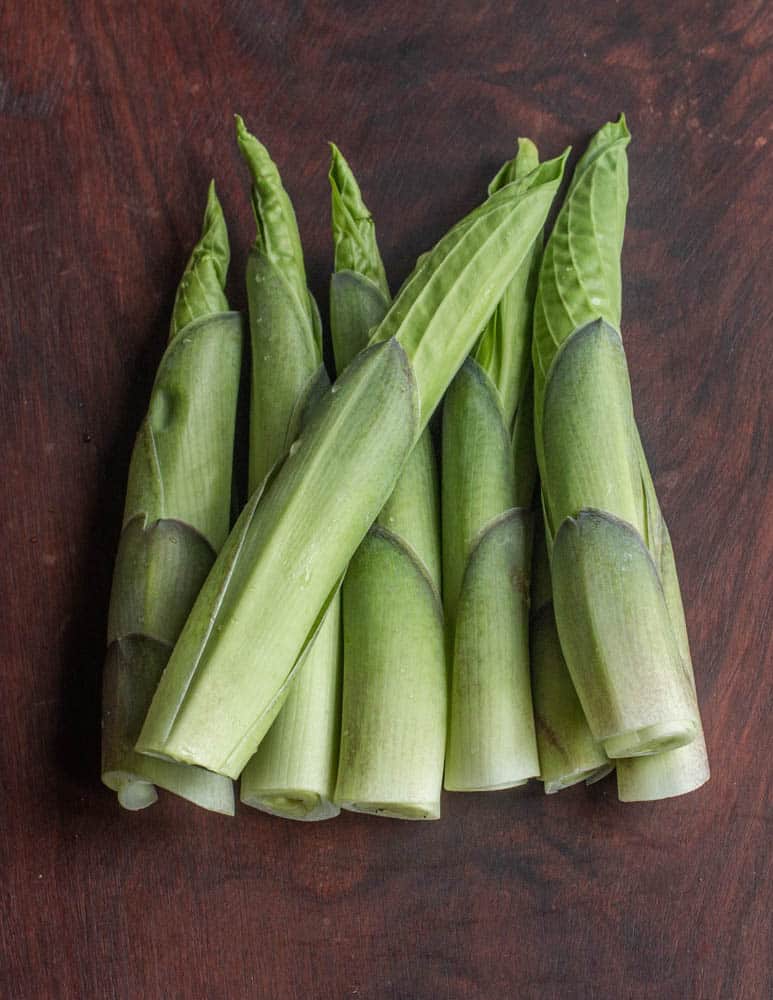 Using other shoots and plants
That being said, the basic measurements here will work with just about any plant, and would be especially good with aromatic plants like blanched cow parsnip or angelica blossoms, or even napa cabbage. Here's a few other ideas:
Purslane
Adding a few handfuls of purslane can be great. This is not available during the spring when I harvest hostas in the Midwest, but it may be available in different places where their season can overlap, or be supplemented in another way.
Day lily Shoots
Day lily shoots are similar to hostas in many ways, but, unlike hostas, many people need to have them cooked or blanched before eating, and they should never be served raw.
To use them in a preparation like kimchi, you will want to blanch them in boiling water for 15 seconds or so, then drain and allow to cool naturally without shocking in cold water. From there, you would brine the shoots as per the recipe below.
Fiddleheads
You can also add fiddleheads of your choice to this, but you will want to blanch them exactly as I call for the day lilies above, increasing the blanching time to no more than 1 minutes.
Fiddlehead ferments are also notorious for going soft during the fermentation process, so you'll want to make sure that you refrigerate the ferment after 3-4 days, which should keep them crisp.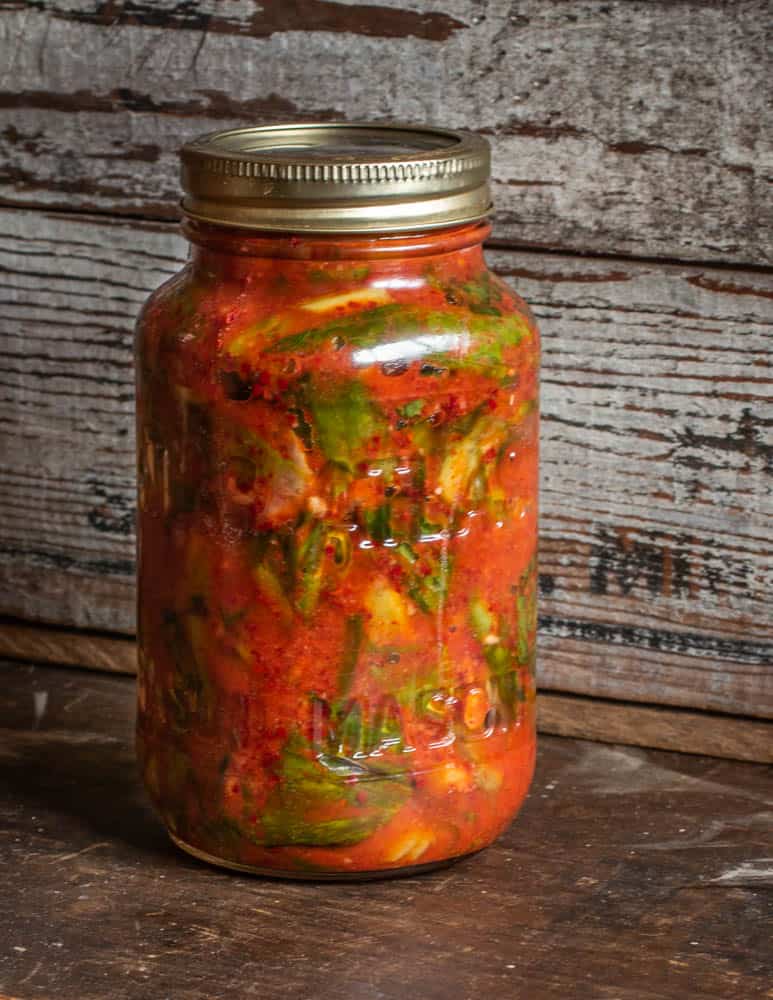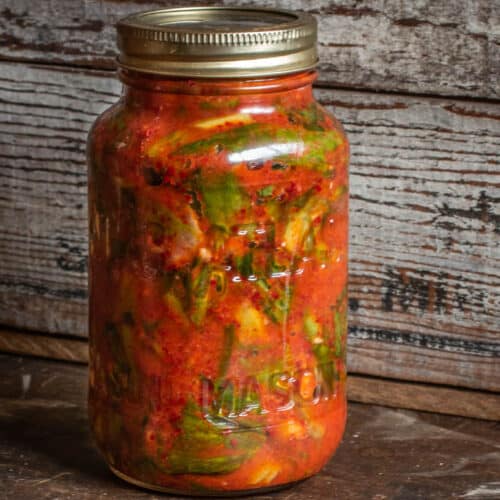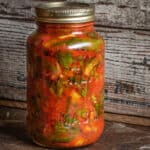 Print Recipe
Hosta Shoot Kimchi
A basic lacto-fermented kimchi recipe using hosta or day lily shoots. Use ¼ cup (30 g) of gochugaru flakes for a mildly spicy kimchi, or ½ cup (60 g) for a spicier version.
Equipment
3 cup or 1 quart mason jar. Use a plastic lid to avoid corrosion if it will be held for longer than a few weeks.
Ingredients
Hostas
1

pound

455 g hosta shoots (or napa cabbage, or other vegetable) (roughly 6 loosely packed cups)

3

ounces

85 g daikon radish, sliced into ¼-inch (6 mm) half-moons (about ½ cup)

3

ounces

85 g ramp leaves (or green onions, sliced into 1-inch / 2.5 cm lengths)

Scant ¾ ounce

20 grams / 3 teaspoons kosher salt
Chili paste
½

cup

135 ml water

1

tablespoon

maple syrup or equivalent

3

tablespoons

fish sauce

1

tablespoon

white rice flour

or grind white rice as finely as possible in a coffee grinder

¼

cup

30 g Korean gochugaru chili flakes (coarse)

3

large cloves garlic

minced

1-

inch

2.5 cm cube fresh ginger, minced
Instructions
Cut the hostas into 1-inch (2.5 cm) pieces and combine in a bowl with the radish, ramp leaves or onions, and salt, mix very well, and allow to sit for an hour or two.

Bring the water, maple syrup, and fish sauce to a simmer with the rice flour until thickened, cool to room temperature, then mix with the chili flakes, garlic, and ginger.

Rinse the salted hosta mixture well, drain, and pat dry with a towel if needed to remove excess moisture. Toss the hosta mixture with the chili paste, then pack into a quart (945 ml) jar.

Screw on the lid and leave out for 2 to 5 days, depending on how sour you want the kimchi to be, removing the lid occasionally to let carbon dioxide escape, then refrigerate.

The kimchi will for a month or longer if regularly pressed under its liquid.
Notes
Adjusting the sour flavor 
As the kimchi ages the flavor will get stronger. If you want a stronger flavor faster, leave it out at room temperature for longer and it will sour quickly. 
Nutrition
Calories:
24
kcal
|
Carbohydrates:
5
g
|
Protein:
2
g
|
Fat:
0.1
g
|
Saturated Fat:
0.03
g
|
Polyunsaturated Fat:
0.04
g
|
Monounsaturated Fat:
0.01
g
|
Sodium:
428
mg
|
Potassium:
157
mg
|
Fiber:
1
g
|
Sugar:
3
g
|
Vitamin A:
428
IU
|
Vitamin C:
6
mg
|
Calcium:
23
mg
|
Iron:
1
mg
More