There's a few different ways people typically cook sunchokes. Like other root vegetables, I like them oven roasted on a baking sheet with salt and pepper or made into a puree. But this glazed sunchoke recipe is by far my favorite.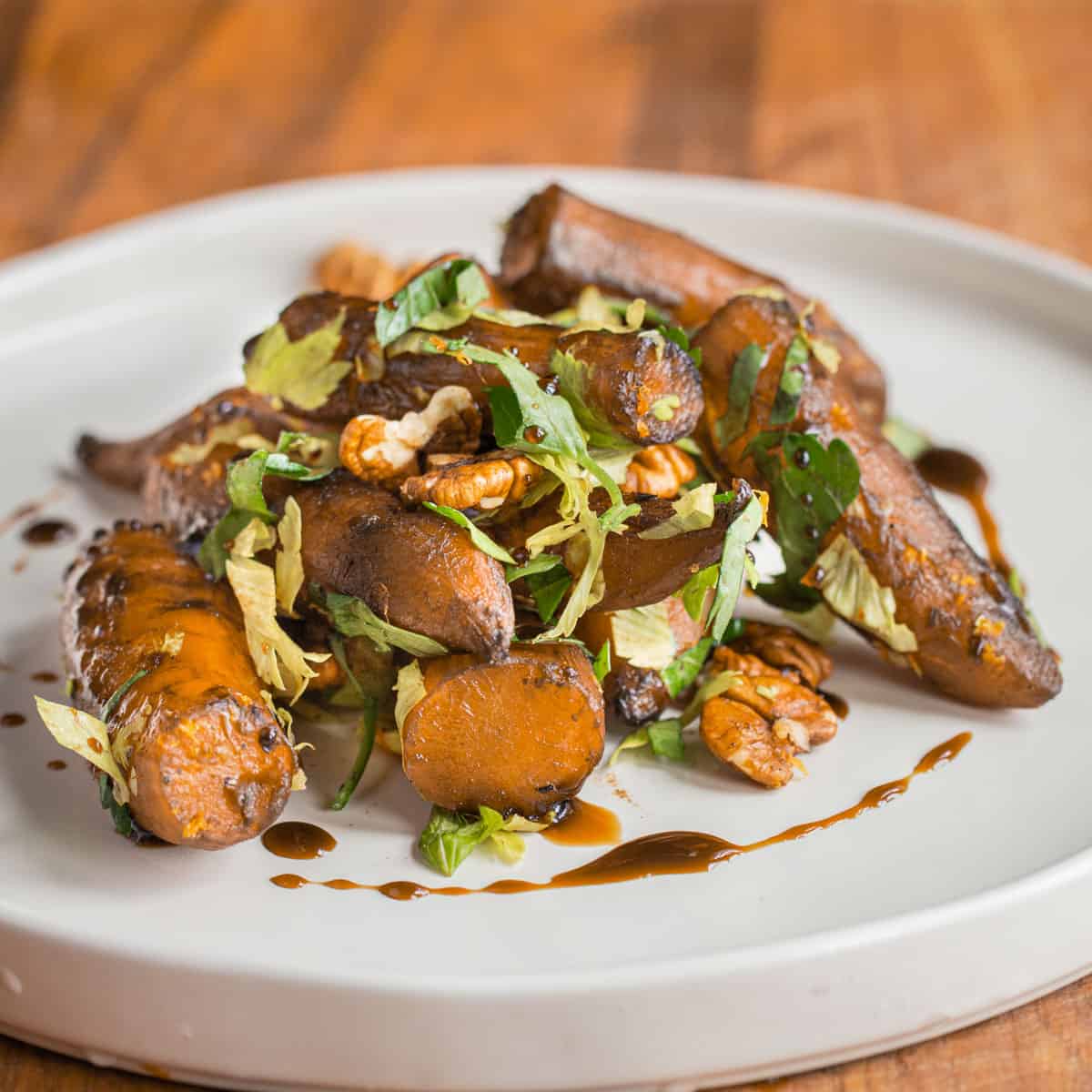 Until I learned to glaze sunchokes from a friend of mine glazing seemed like an uncreative method of cooking that relied on sugar.
The Sugar-Free Glaze
Vegetables all have natural sugars, but bringing them out can be a trick. I don't know where this particular method of glazing came from or where my friend learned it, but it makes one of the most interesting glazed veggies I've had.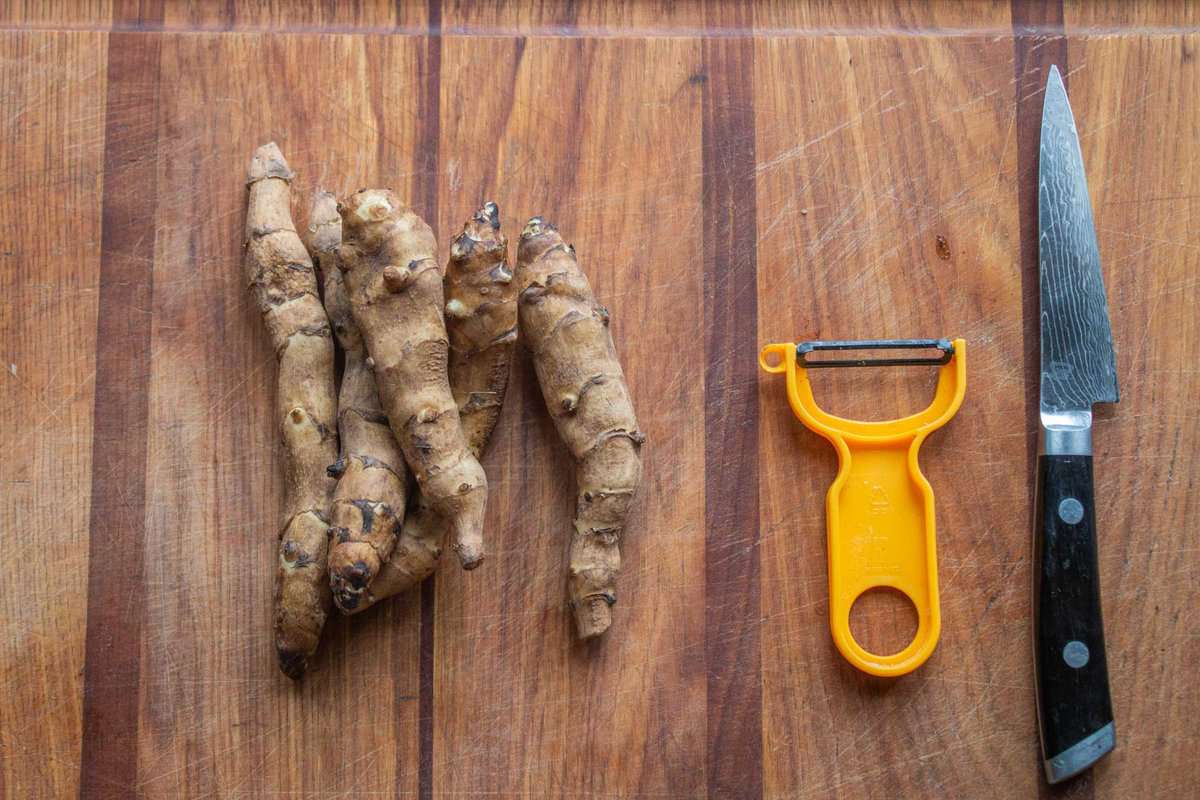 The magic is in repeated deglazing, covering the pan for a minute, and then cooking the pan liquid down again, and repeating the process. If it sounds hard to understand, don't worry, there's a video at the end of the post.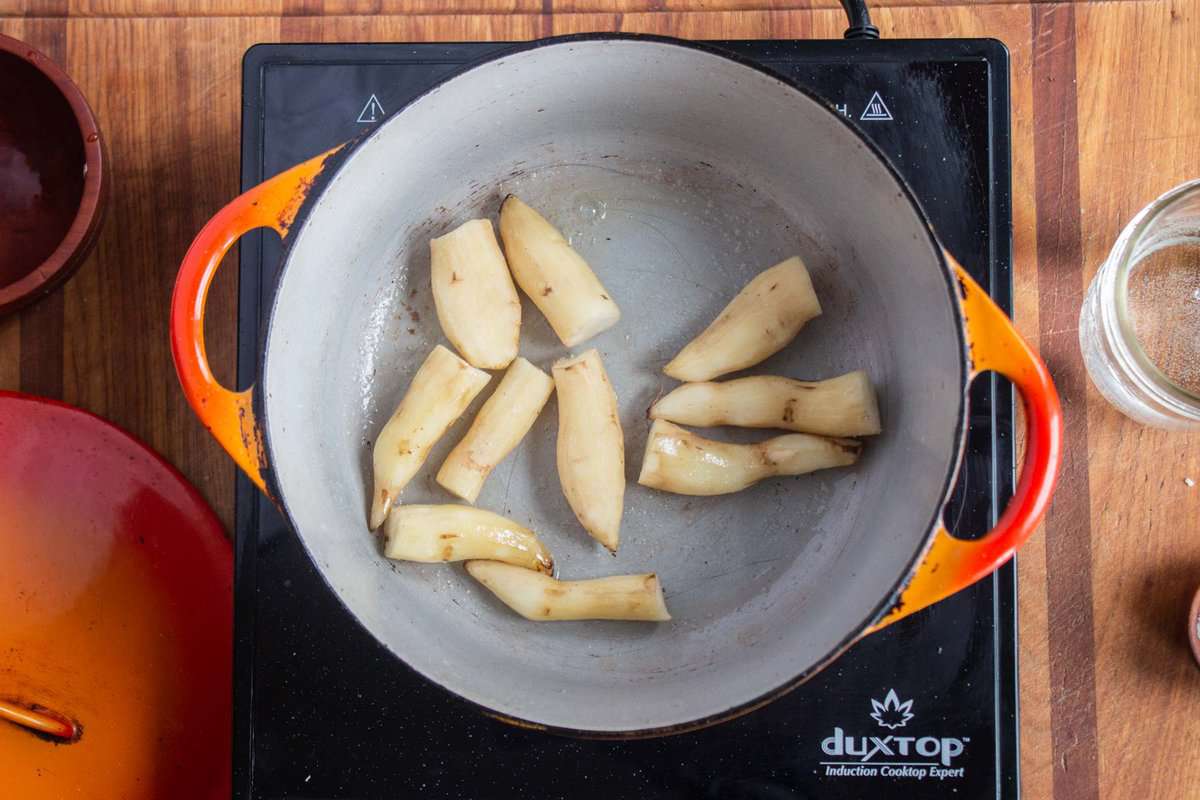 Gradually, the water absorbs some of the sunchoke's natural sugar (which they are pretty rich in) and natural caramel gets all over everything, without the addition of any sugar at all. In this recipe I do add a little birch syrup to the recipe for fun, but it's a far cry from the sugar of any other glaze I've seen, and you can make it without any sweetener at all.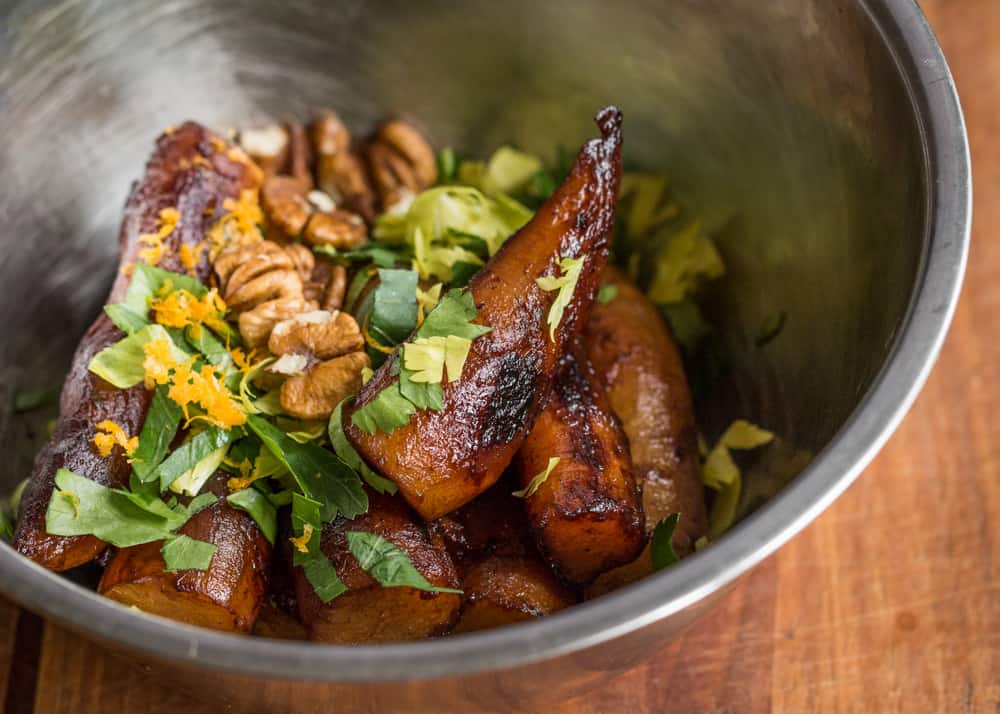 What you end up with is a refined, golden brown tuber with hints of sweetness that taste great. It can nearly be a meal on it's own if you're a vegetarian, or a small plate or side dish. They also can and should be made ahead.
Glazing vs Charred
If I had a nickel for every time I had to pick a burnt sunchoke out of a line cook's pan! The only tricky thing here is that since you cover these and there's only a small amount of liquid they will burn easily if the pan is on high heat. Keep an eye on the pan. You want them deeply colored, but not burnt.
Wild vs Cultivated
Since they're peeled, this method is easiest to do with sunchokes from a farmers market, coop or grocery store.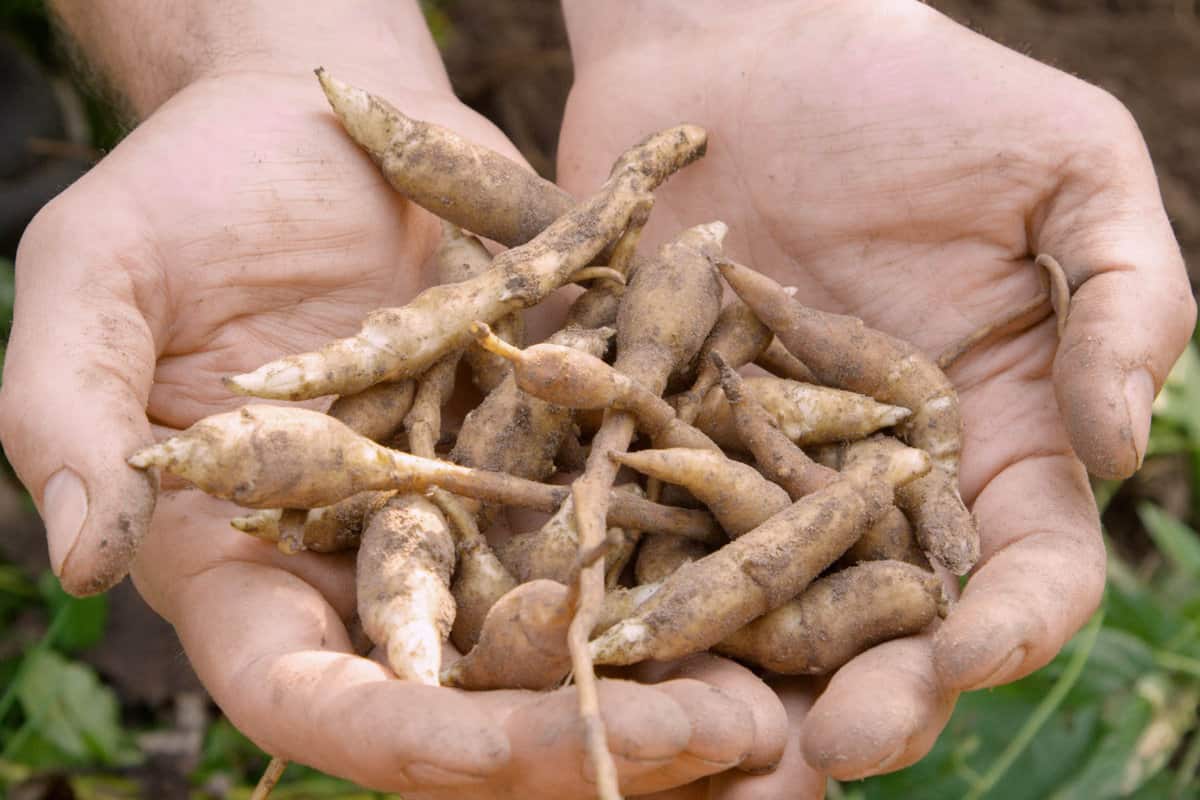 Wild sunchokes are usually thinner and peeling them creates too much waste. If you have wild ones you've dug yourself, make roasted sunchokes instead.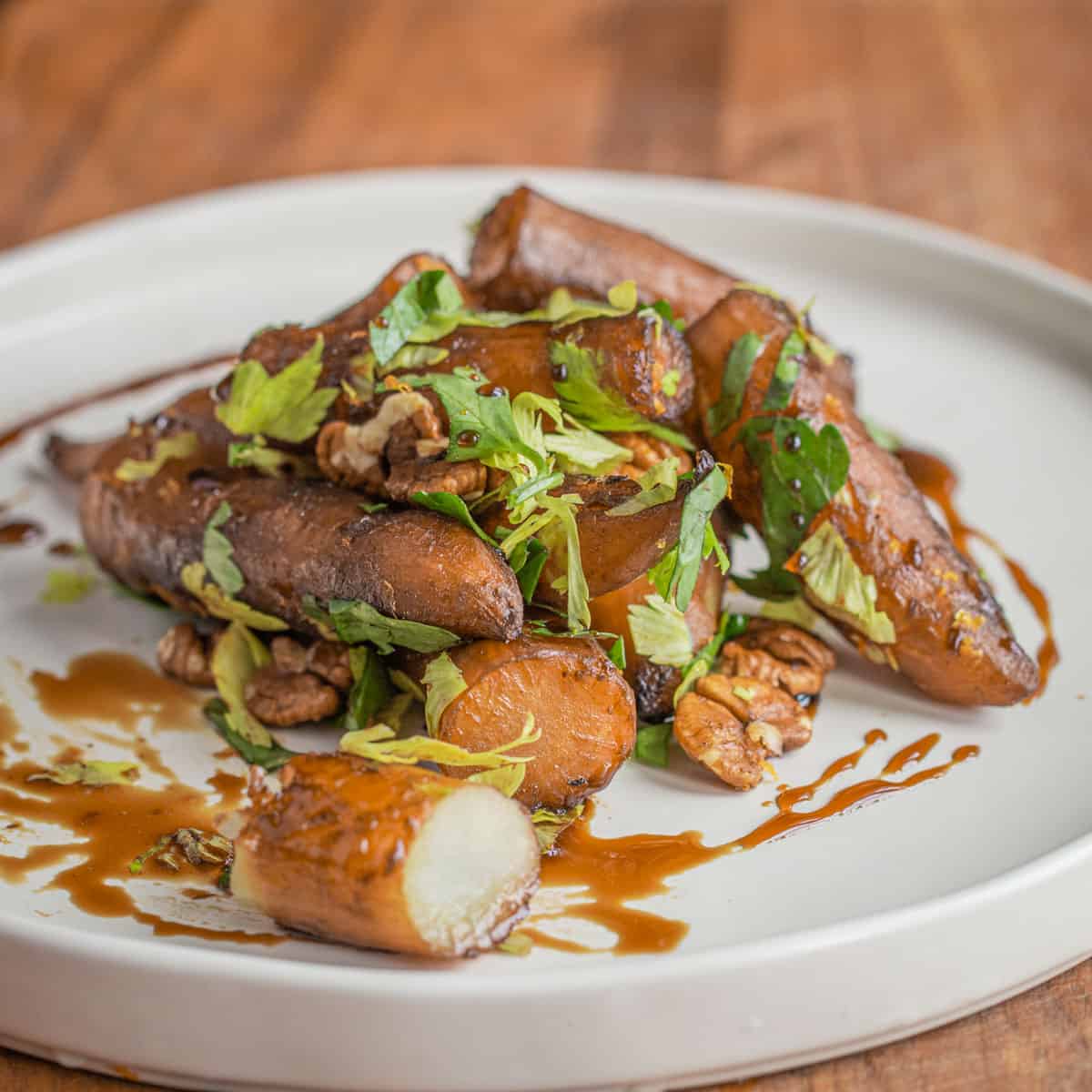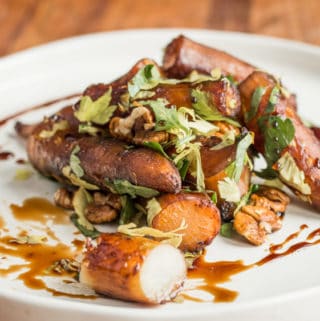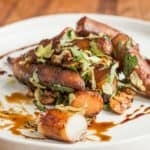 Print Recipe
Glazed Sunchokes with Birch Syrup, Hickory Nuts and Orange 
Tender caramelized sunchokes are delicious, with or without hickory nuts and birch syrup
Ingredients
½

lb

sunchokes

choose slender, evenly shaped sunchokes as they will be peeled

1

tablespoon

light olive oil

or cooking oil

Water

as needed for deglazing

1

Tablespoon

birch syrup or maple syrup

optional

Kosher salt

to taste

fresh ground black pepper

to taste
Finishing (optional)
Toasted hickory nuts

to garnish (optional)

1

pinch

Chopped herbs

such as fresh thyme or tarragon

Fresh orange zest

a few scrapes to taste
Instructions
Peel the sunchokes, then cut into even sized pieces, about 1-2 inches. Heat the oil in a pot to medium heat, add the sunchokes, stir to coat with the oil, season with a pinch of salt, and cook, stirring occasionally for a few minutes until they begin to lightly caramelize.

Deglaze the pan with a tablespoon or two of water, put the lid back on, and cook until the liquid is evaporated. Shake the sunchokes around in the pan a bit, the pan should have brown residue starting to build up. Add the birch syrup and more water and cook again.

Continue adding small amounts of water, covering the pan to steam the sunchokes , until they're tender when pierced, about 15 minutes. The sunchokes should be deeply brown and glazed. Toss the sunchokes with the fresh herbs, orange zest and toasted nuts if using and serve.
Making ahead
For restaurant service we used to make these ahead and it saves a lot of time. To do that, follow the recipe as directed, then cool the prepared sunchokes and refrigerate.

To serve, reheat the sunchokes gently in a 300 F oven in a pan with a drizzle of oil until hot throughout, and serve.
Nutrition
Serving:
4
oz
|
Calories:
172
kcal
|
Carbohydrates:
27
g
|
Protein:
2
g
|
Fat:
7
g
|
Saturated Fat:
1
g
|
Polyunsaturated Fat:
2
g
|
Monounsaturated Fat:
4
g
|
Trans Fat:
0.03
g
|
Sodium:
5
mg
|
Potassium:
509
mg
|
Fiber:
2
g
|
Sugar:
17
g
|
Vitamin A:
23
IU
|
Vitamin C:
5
mg
|
Calcium:
27
mg
|
Iron:
4
mg