Made from ground thighs, livers, bacon and mushrooms scented with brandy and fresh thyme leaves. This is my all-time favorite chicken terrine recipe. If you can make meatloaf, you can make this.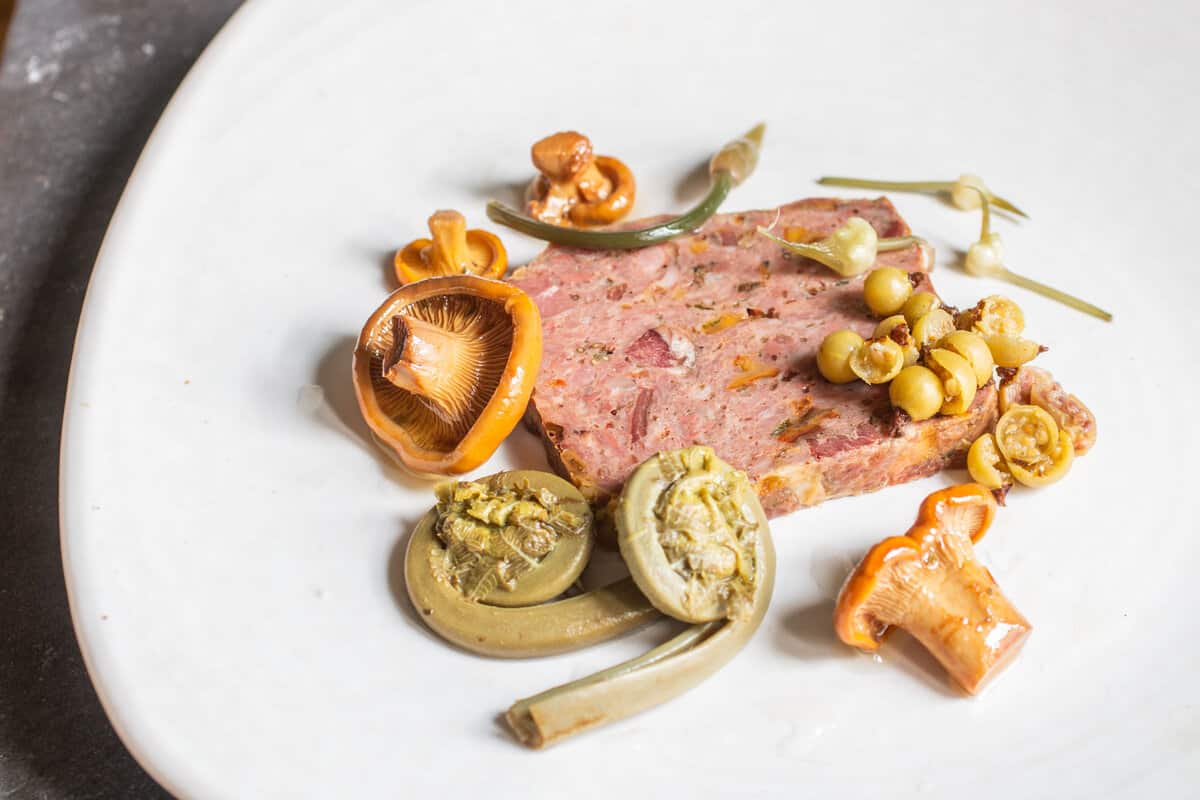 At my first restaurant I had a daily-changing charcuterie tray, with anywhere from 8-15 items at a time. The chicken terrine was almost always on there. If someone made a sausage that was only ok, I felt better knowing that at least they'd get the chicken terrine.
The recipe is easy, and cheap. You start with with a base of chicken leg meat (with the skin), livers, bacon and mushrooms. Here's some important notes on the ingredients and equipment.
Using caul fat
Lining the cooking mold with fat is traditional and helps keep everything moist. If you can find pork caul fat it's one of my favorite things to use. If you can't find caul, use thinly sliced Italian prosciutto.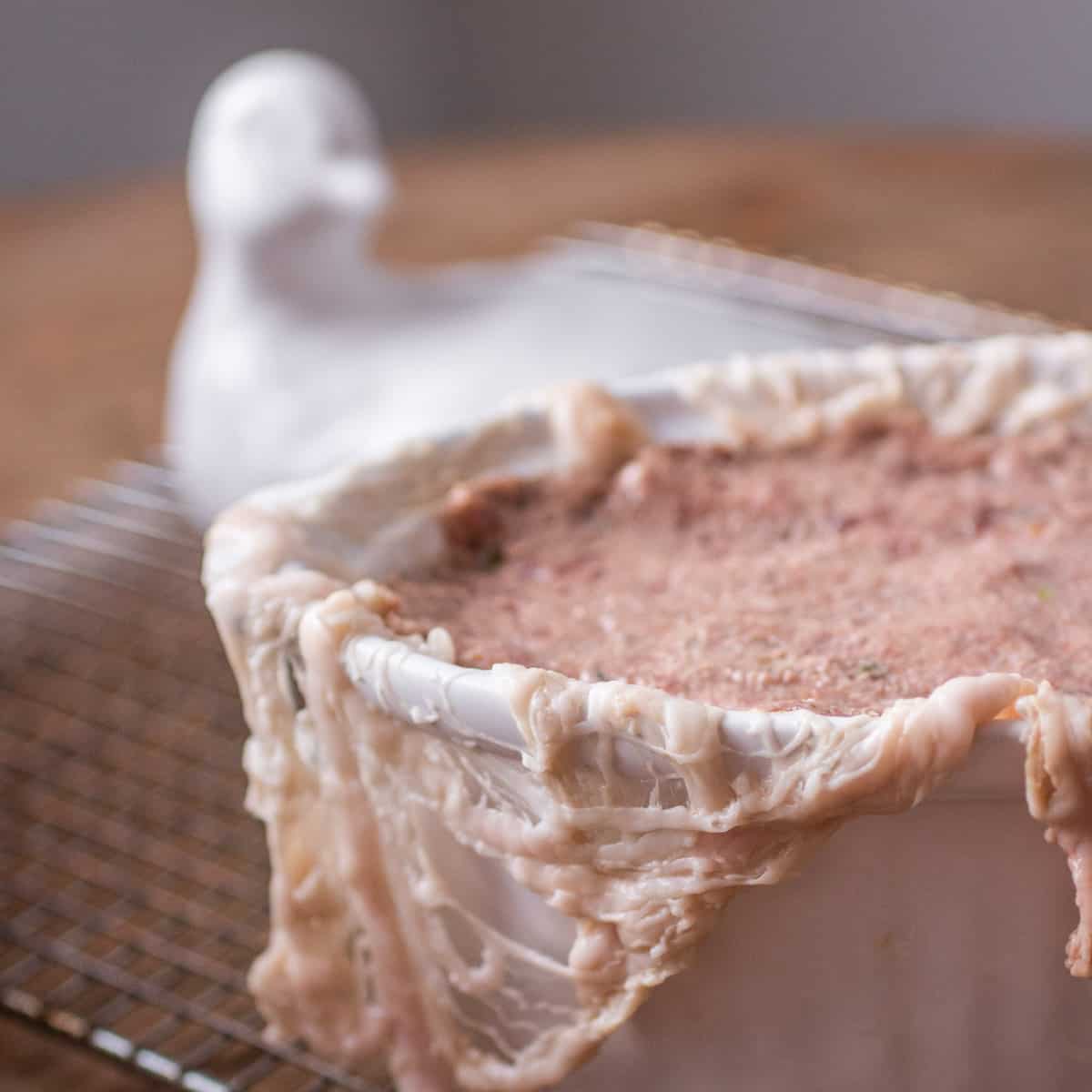 Some recipes will say it's ok to line mold with slices of supermarket bacon. With a couple exceptions, I don't recommend that. Meatloaf is a different story. Regular bacon is too thick and salty for my taste here and with the texture of this terrine, it won't work right.
The Cooking Mold
I use a traditional three lb terrine mold made from cast iron. They're bigger than a bread loaf pan. You can bake terrines in many types of molds, and I have some of different sizes I'll use depending on how much meat I have.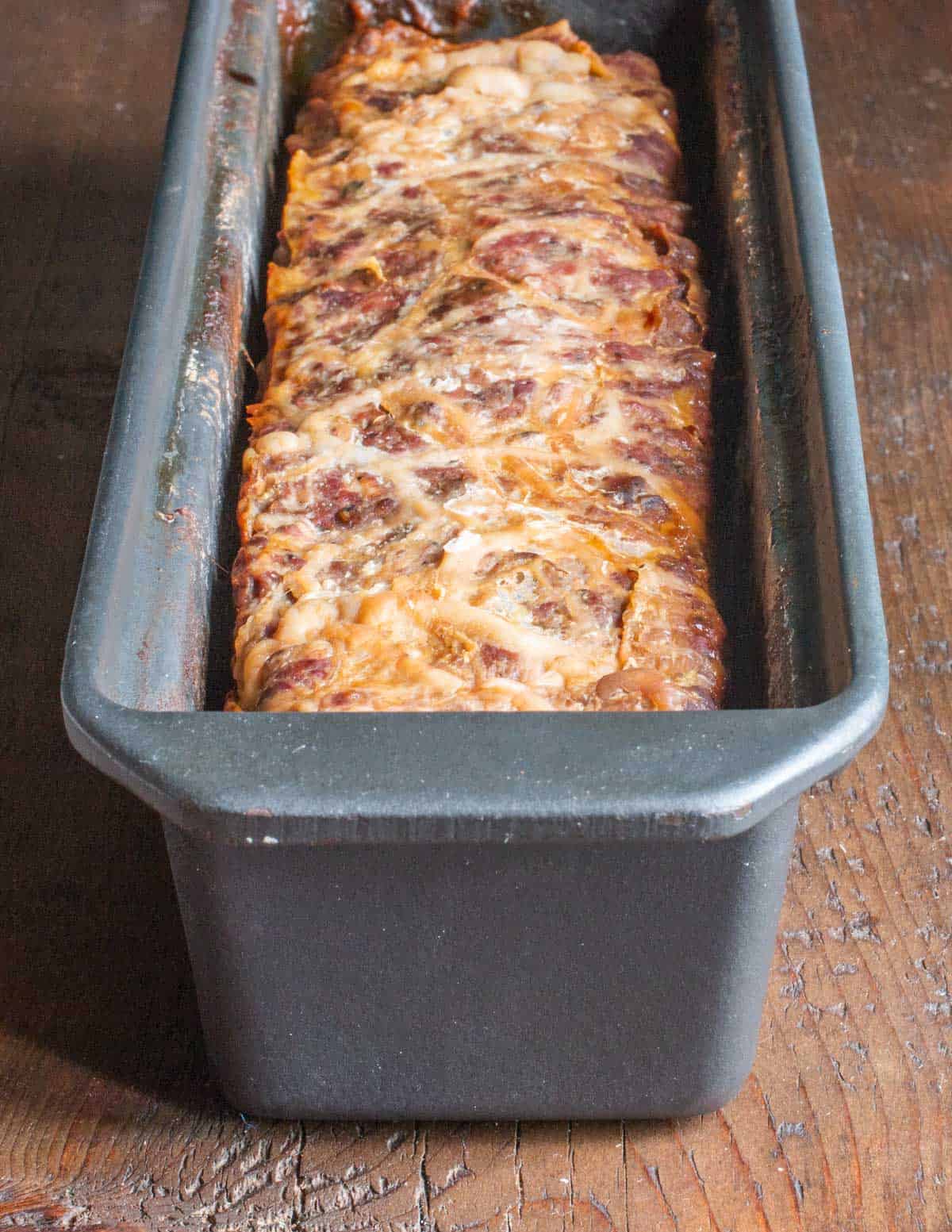 How to serve
Terrines are more than a cold cut! I like the statement they make on a tray with other cured meats. But, one thing you should definitely try is slicing it and serving warm on a sandwich. Describe it to people as really fancy hot bologna and they'll love it.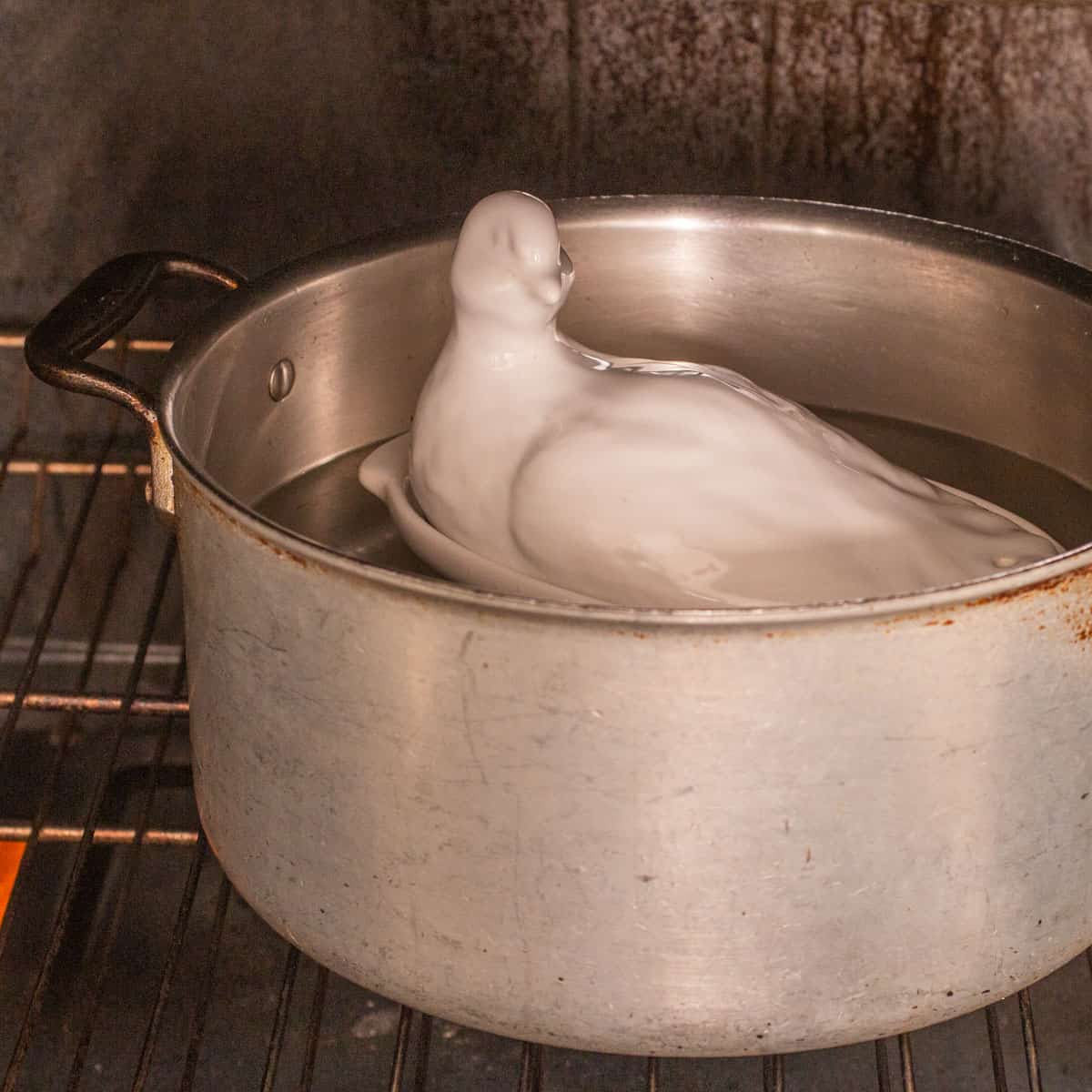 The most traditional way to serve terrines is sliced, with mustard, pickles, and slices of bread (preferably grilled).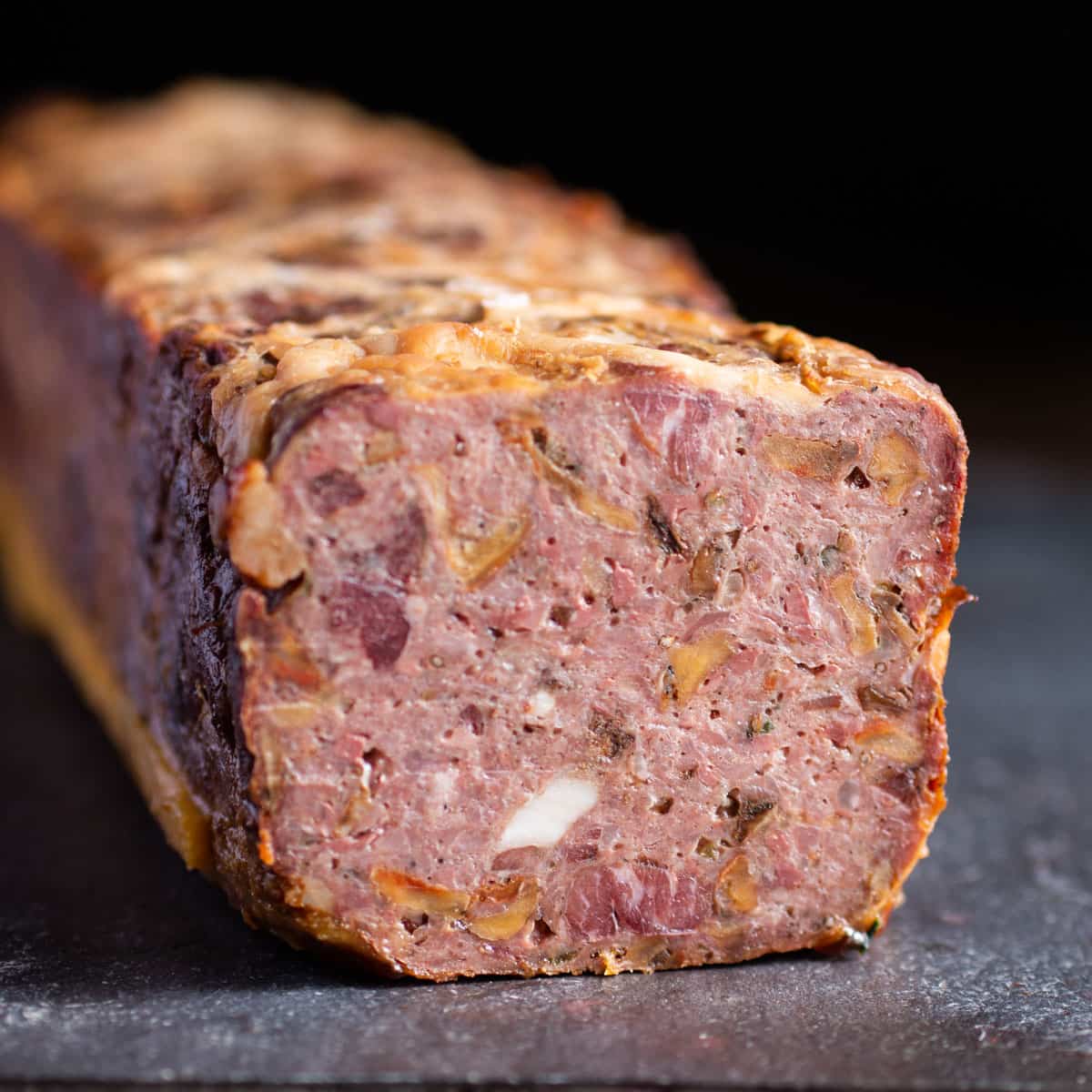 Adapting the recipe
Sometimes I make it without the mushrooms and bacon. I may add a few other garnishes like salami, or diced chicken breast.
How to unmold
Warm the bottom of the cooking mold in hot water or over a flame, then slide a knife down the side of the terrine to free it. Carefully invert the mold onto a cutting board with a drip groove, remove the parchment paper and pat dry.
More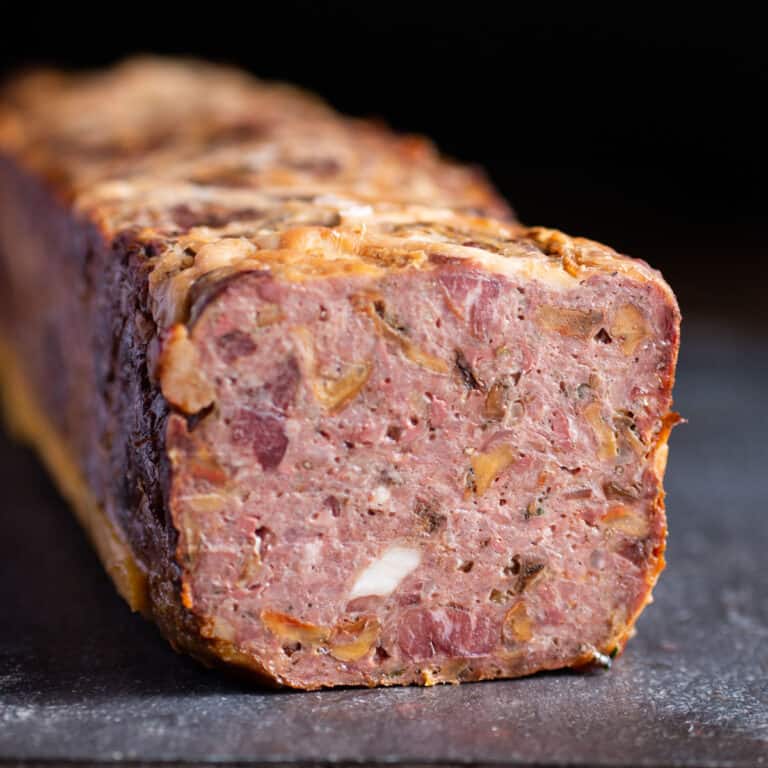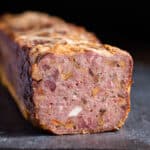 Print Recipe
Chicken Terrine with Bacon and Mushrooms
A rustic terrine made from chicken leg meat, livers, bacon and mushrooms
Equipment
1 3 lb terrine mold

1 Meat Grinder

1 large mixing bowl

Parchment paper

for lining the mold
Ingredients
8

oz

lbs chicken livers

soaked overnight in milk

3

oz

fresh wild mushrooms

preferably a firm type, like lobster mushrooms, chanterelles, or hen of the woods

24

oz

chicken thigs or legs

cut into large pieces to go through a meat grinder, skin diced into ½ inch pieces

4

oz

diced bacon

such as pancetta

¼

teaspoon

pink salt

1

teaspoon

quatre epice

equal parts ground clove, nutmeg, allspice and black pepper

3

bay leaves

2

teaspoons

chopped fresh thyme

2

teaspoons

brandy

10

grams

(¾ tablespoon) kosher salt

plus more to taste

Freshly ground white pepper

to taste

About 4 oz thinly sliced prosciutto

for wrapping the terrine, or caul fat, or thinly sliced bacon

2

egg yolks

8

ounces

inside of white bread

torn into pieces, plus a good chunk of heel or similar for cleaning the grinder

¾

cup

milk
Instructions
Mushrooms
Finely chop the mushrooms, then saute in a pan without adding fat until they've given up their water and are wilted. Add a drizzle of cooking oil and a pinch of salt and cook until the mixture starts to brown.
Grind the meat
Soak the bread pieces in milk for a 5 minutes, gently squeeze them dry and reserve. Discard the milk.

Toast and grind the bay, thyme and spices and reserve. Combine the chicken leg meat and livers with the soaked bread, spices, salt and pepper and grind through the medium die of the meat grinder, then transfer to a bowl, preferably resting in ice in another bowl to keep it cold.

Making sure the meat is well chilled, grind again through the smallest die of the meat grinder. pass a heel of bread through the grinder at the end to make sure you get as much meat as possible. This step is optional, but gives the best texture.

If grinding through the fine die is difficult for you, it's ok to grind it through the medium die twice.

Mix in the bacon, mushrooms, brandy and egg yolks, then cook a small piece to test the flavor. Adjust by mixing in some salt to taste, then repeat until it tastes good to you. It should be a little salty, since you'll be serving it cold.
Cooking
Ideally you'll let the chicken mixture rest overnight to build flavor now.

Preheat the oven to 250. Line a terrine with parchment, then the prosciutto, caul fat or bacon so that it lays over each side of the terrine as a wrapping.

Cook the terrine in a water bath with the fan on low, covered with foil, for roughly 1.5 hours, or until the terrine reaches an internal temperature of 150 F. Remove the pan from the oven and cool for 30 minutes, uncovered, then cover with the lid or cling film and chill.
Chill and Press
I typically set a weight on top of the terrine as it cools in the fridge, but you can skip it if you have to since it can take up some space.
Unmolding
The terrine will firm up as it cools. To unmold it, heat the outside of the pan by putting it in hot water. I used to warm the sides using a blow torch. Put a cutting board on top of the terrine, flip it over confidently, pat dry, wrap in clingfilm and reserve until needed.
Notes
Different livers can be used in this recipe. Rabbit and turkey make good variations. 
Nutrition
Serving:
3
oz
|
Calories:
167
kcal
|
Carbohydrates:
1
g
|
Protein:
12
g
|
Fat:
12
g
|
Saturated Fat:
4
g
|
Polyunsaturated Fat:
2
g
|
Monounsaturated Fat:
5
g
|
Trans Fat:
0.1
g
|
Cholesterol:
129
mg
|
Sodium:
141
mg
|
Potassium:
183
mg
|
Fiber:
0.1
g
|
Sugar:
1
g
|
Vitamin A:
1781
IU
|
Vitamin C:
3
mg
|
Calcium:
25
mg
|
Iron:
2
mg