Have you ever seen packages of acorn starch in your local Asian market and wondered what it's used to make? Acorn starch is used to make dotorimuk (doh-tohree-mook) a sort of traditional Korean jelly, and, as far as I can tell, it's probably the most widely consumed acorn recipe in the world.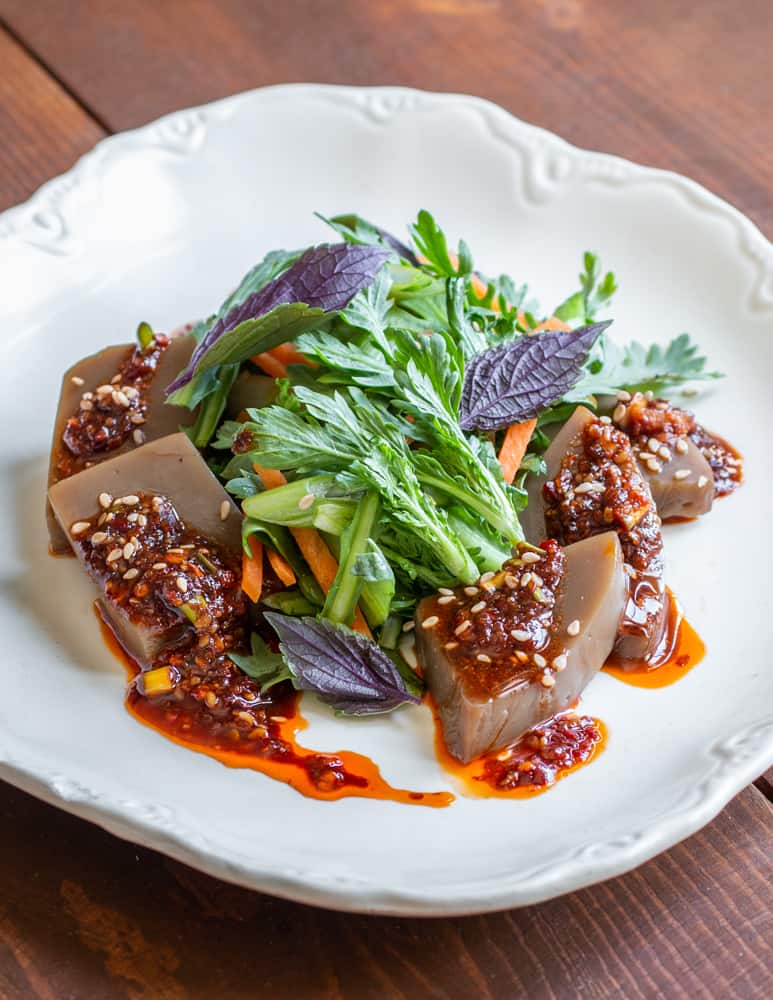 Acorn starch vs flour
Acorn starch is pretty common in Asian markets, but there's a huge difference between starch and flour. Acorn flour is made from the acorns themselves. After drying, shelling, grinding and leaching to remove tannins (for cold-leached acorn flour) the wet mass of acorns is dehydrated, and that's where the flour comes from.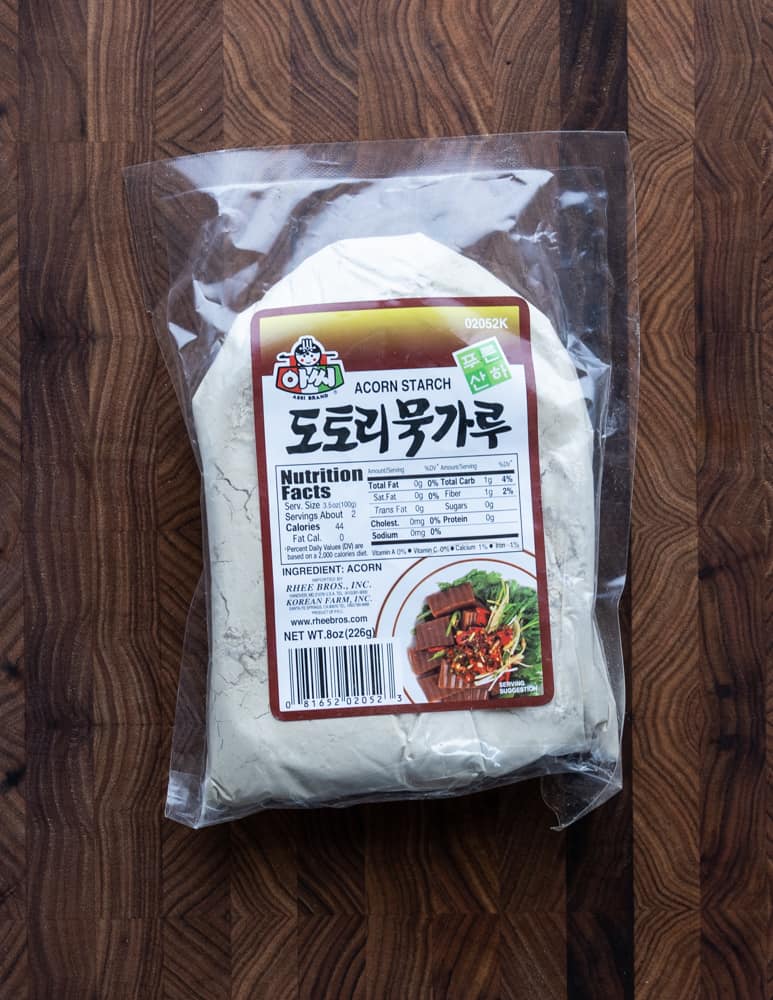 Acorn starch on the other hand, should be a quicker process. Whether acorn starch is leached or not I couldn't tell you, but I know it's made from passing water through crushed acorns. If you've ever seen a layer of starch develop on the bottom of a container of cut or shredded potatoes in water, it's basically the same thing.
I can only assume there's a quicker turnaround and less of a processing timeline needed for commercial acorn starch compared to acorn flour making it more economical to sell the latter, but not the former, but that's speculation on my part.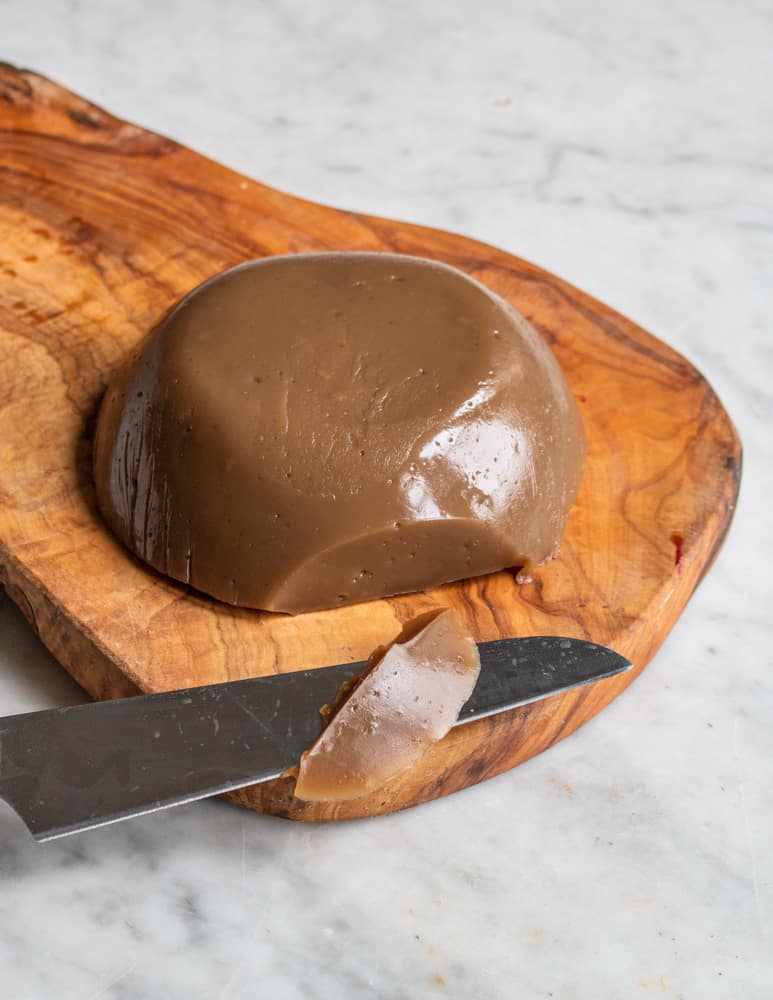 In Korea (the only producer of commercial acorn starch I know of) the starch is used to make dotorimuk, which, as I mentioned, is basically savory acorn jelly.
On the plate it functions as a starch, and is typically eaten with a sauce made from gochugaru chili flakes (also used in kimchi) and a delicious, aromatic salad of chrysanthemum leaves. I have to be honest here, the chrysanthemum leaves are really the star of the show here, and are worth searching out on their own. Look for them at your local Asian grocer.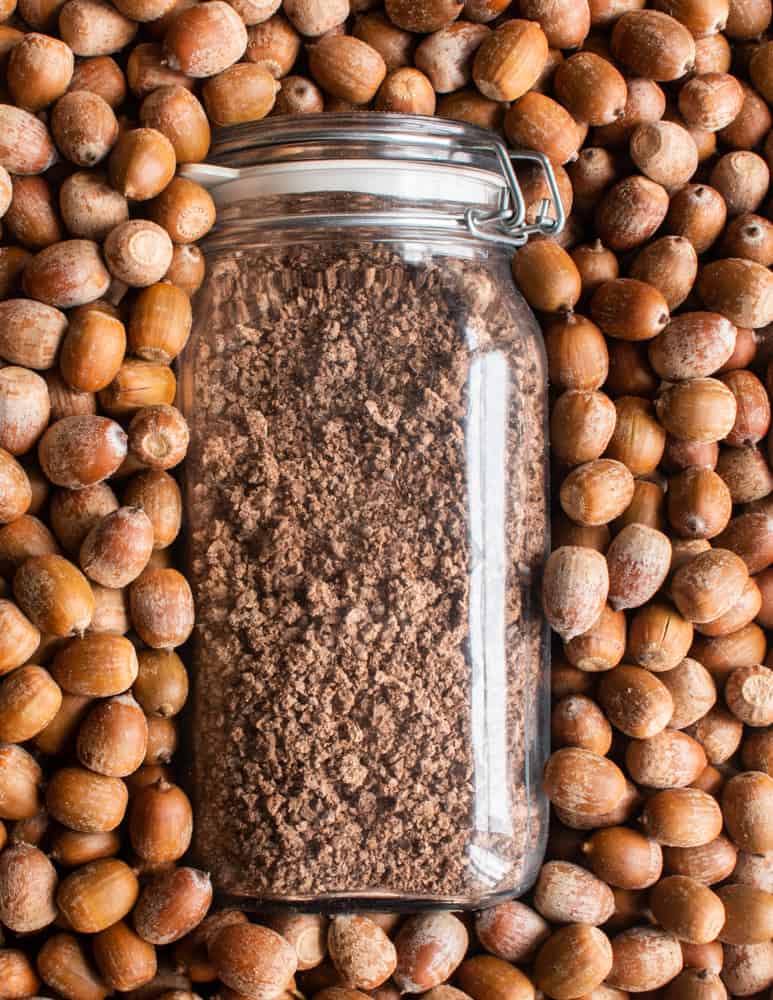 What's acorn jelly taste like? Well, it's interesting. Acorn flour has a very mild flavor that casually reminds me of hazelnuts, albeit much more mild, and the comparison is a bit of a stretch, to be honest. Acorn starch is even more mild-tasting than acorn flour, which means dotorimuk tastes a bit like eating a firm Jell-O that has a very subtle nutty flavor you have to search for.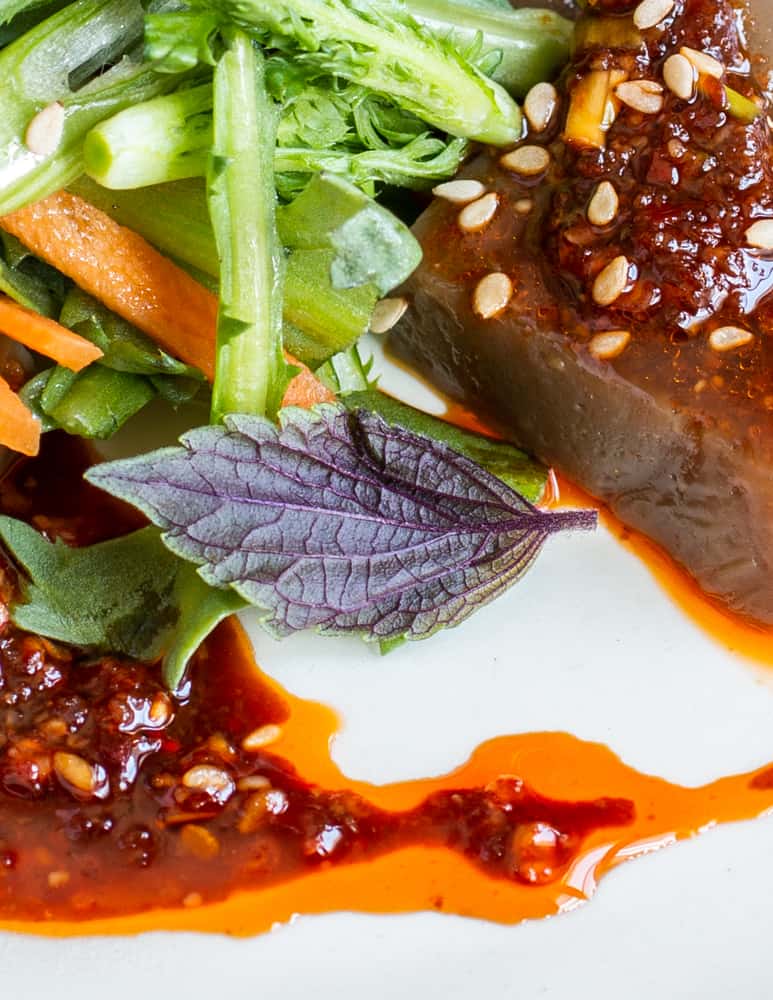 It doesn't taste like much, and it's not supposed to. Similar to how white rice helps fill up a plate and can help be a vehicle for other ingredients, dotorimuk functions as a vehicle for the chili sauce and salad of aromatic greens.
Without the salad and hot chili sauce, it won't taste like much, but the fact that it even exists is fascinating to me, and it deserves credit as a wild-harvested food sold around the world in large volume.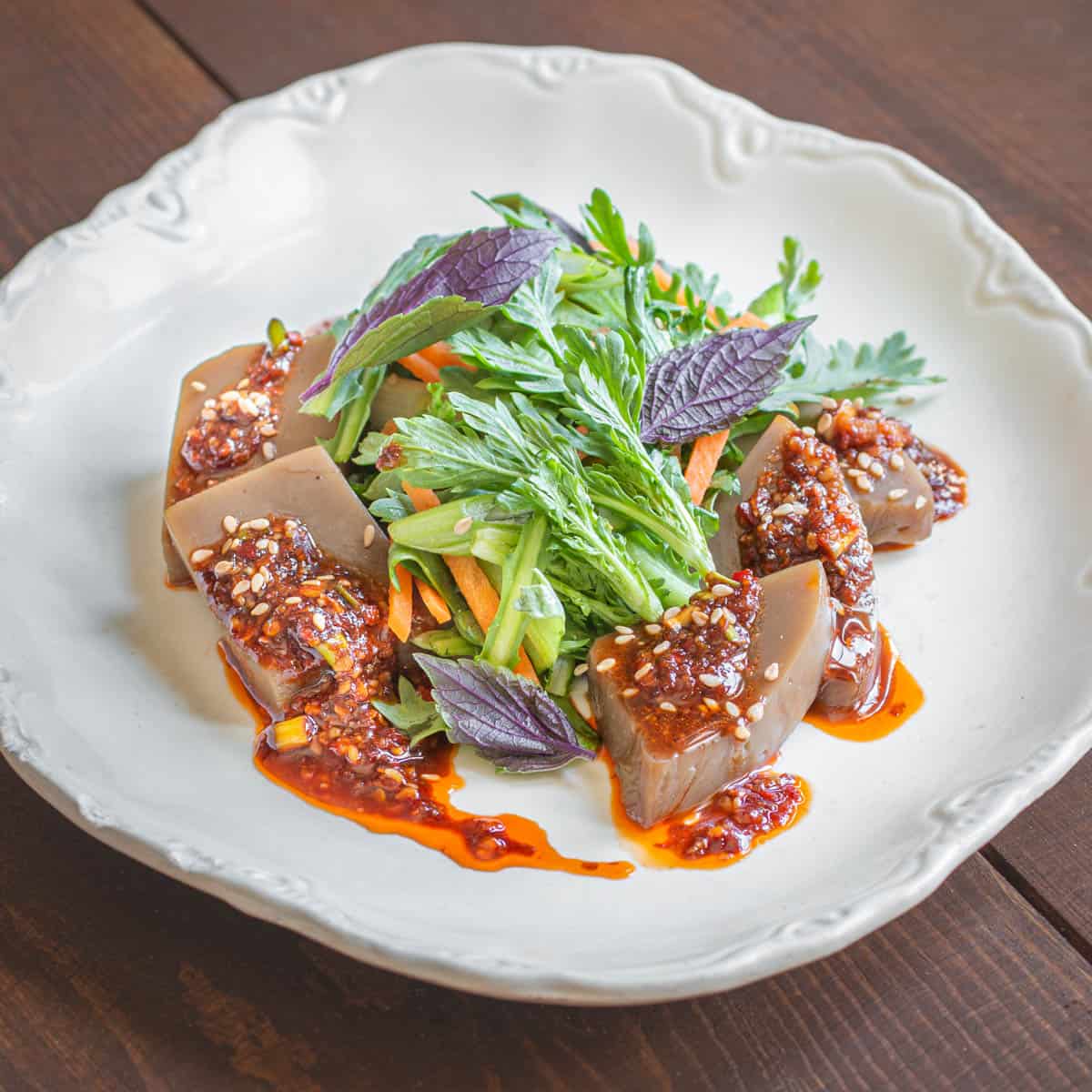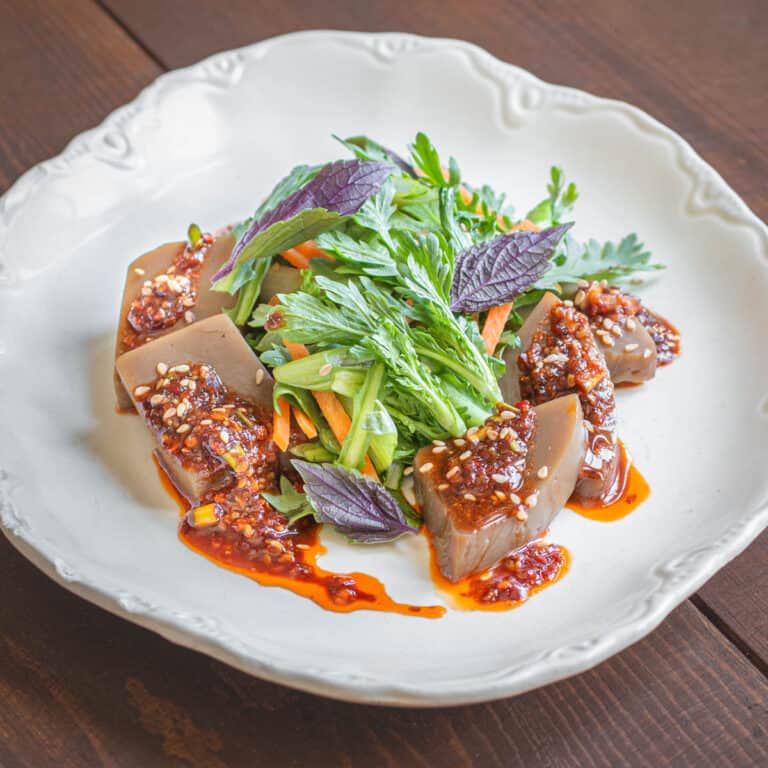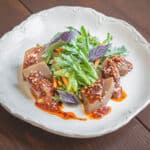 Print Recipe
Korean Acorn Jelly with Chrysanthemum Leaf Salad (Dotorimuk)
A basic acorn jelly / Dotorimuk, served with gochugaru chili sauce and a salad of chrysanthemum leaves. You can scale the recipe for the dotorimuk in larger proportions as long as you use the same proportion of 1 part starch to 4 parts water. Serves 4-6
Equipment
1 1 quart mixing bowl

or another mold for the jelly
Ingredients
Dotorimuk
½

teaspoon

salt

½

cup

acorn starch

2

cups

water
Dressing
1

Tablespoon

freshly toasted sesame seeds

plus more to garnish

1

Tablespoon

maple syrup

or 1 teaspoon sugar

2

Tablespoons

gochugaru flakes

1

Tablespoon

ground Szechuan peppercorns

optional

2

large cloves of garlic

1

inch

piece of ginger

2

scallions

sliced ¼ inch

¼

cup

soy sauce

1

teaspoon

fish sauce or equivalent

Red Boat brand is my standard

2

Tablespoons

sesame oil
Serving
Chrysanthemum leaves

tender clusters only, larger stems removed, about 2-3 oz

1

oz

scallions

sliced ¼ inch

Small handful of finely julienned carrot

about 1 oz as a garnish

Fresh shiso leaves

whole if small or torn if large, to taste

Fresh lime juice or a dash of vinegar

to taste
Instructions
Dotorimuk
Mix the water, starch and salt until completely dissolved, then simmer on medium heat until the mixture has darkened in color, and begins to drop from the whisk like thick whipped cream, about 10 minutes. When in doubt, cook it longer. Transfer the mixture to a small bowl lined with cling film, pour in the dotorimuk, cool, then cover and refrigerate until firm, preferably overnight.
Dressing
Grind the sesame seeds to coarse powder in a spice grinder. In a bowl, mix all ingredients except the garlic and ginger, then finely grate the garlic and ginger in the mix. The sauce will improve after sitting overnight.
Serving
To serve, then the dotorimuk into ½ inch slices or whatever size is convenient, then arrange a few on a plate, spooning some of the dressing over the top. Toss the greens with the carrot, scallion and shiso, season with a dash of fresh lime juice and a pinch of salt, arrange on top of the dotorimuk, garnish with the reserved sesame seeds and serve with chopsticks.
Notes
The Mold 
I use a small mixing bowl here and it works great, but you can be creative with the mold you use, as well as the shapes you cut. 
Nutrition
Serving:
3
oz
|
Calories:
101
kcal
|
Carbohydrates:
13
g
|
Protein:
1
g
|
Fat:
5
g
|
Saturated Fat:
1
g
|
Polyunsaturated Fat:
2
g
|
Monounsaturated Fat:
2
g
|
Sodium:
741
mg
|
Potassium:
56
mg
|
Fiber:
0.4
g
|
Sugar:
2
g
|
Vitamin A:
87
IU
|
Vitamin C:
2
mg
|
Calcium:
16
mg
|
Iron:
0.4
mg
Related Posts