There is a lot of info out there on how to process acorns, some better than others. I'm defintely not the first, or last to write about this process, but hopefully I can share some of what I've learned personally over the last few years.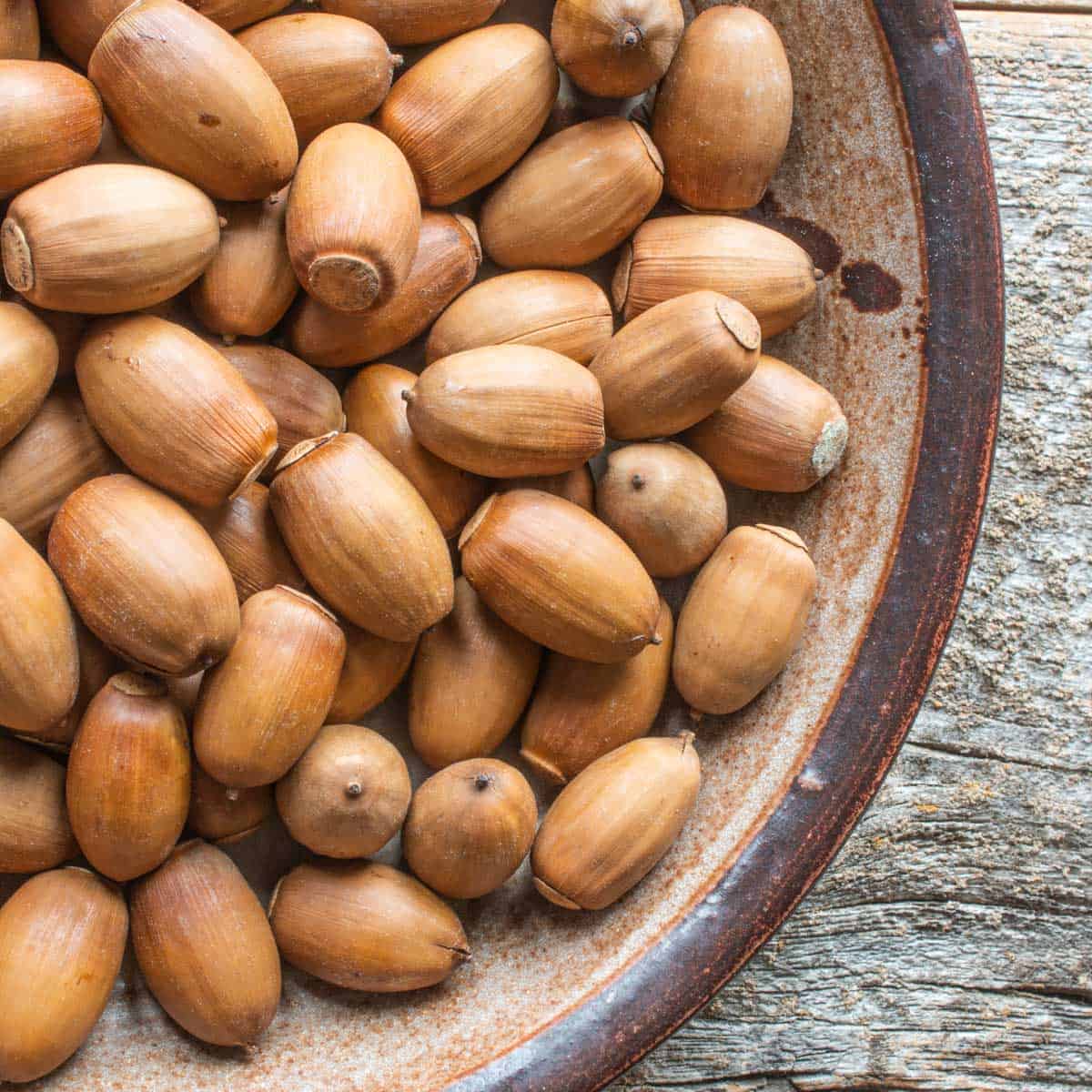 I'm not going to go crazy in depth on different species of oaks, as that information is out there already, rather, I'm going to outline the process of selective harvesting, cold-leaching and drying, which is the best method for making acorn flour that will stick together after it's processed, or meal for making something like grits. Before you pick your first acorn though, it really helped me to know the difference between good and bad acorns.
Selective Gathering
1.Don't pick acorns with a cap attached
The only thing acorns with caps attached are good for are craft projects. These are acorns that have been rejected from the tree, and they're not what you want to eat.
2. Don't pick acorns with holes in them.
Acorns with holes in them have been eaten by something else: grubs, wriggling, writhing grubs. Recently a very popular foraging book came out where the author said "I just go out and pick acorns that look good to me". If you don't mind having ½ the acorns you pick bieng spoiled and filled with half-digested acorn grub excrement, or if you're an entomophagist bent on eating live, writhing acorn grubs, "cool".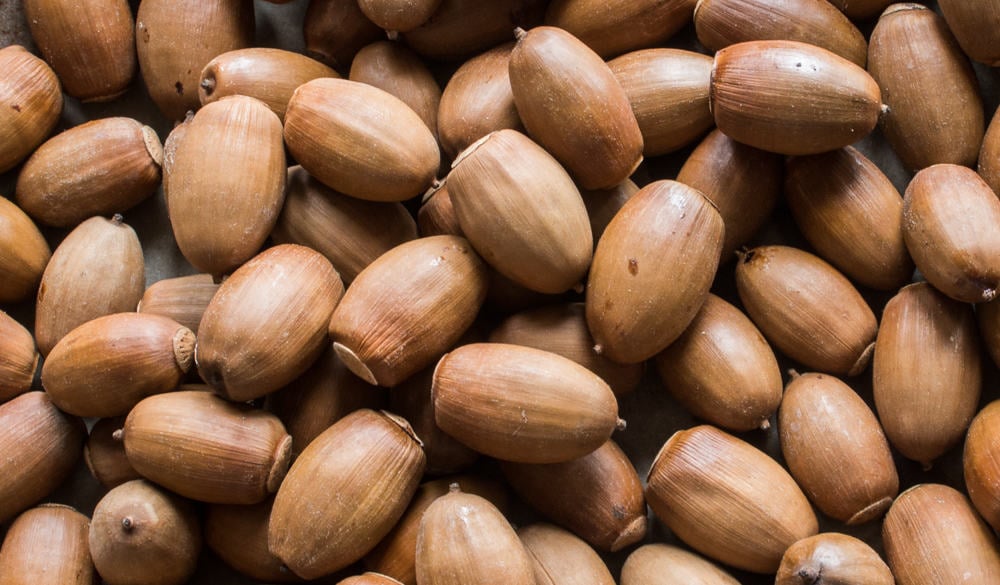 I've been picking acorns for a few years, and when I pick them, I want nuts, not grubs, and making sure I pick acorns without a hole in them means that I have, not a single time, had an acorn come home with me that had a grub in it. I'm sure the time will come when I get some visitors, but it hasn't happened yet.
3. If you can, gather white acorns
Red acorns are high in fat, and my friend Sam Thayer makes acorn oil out of them occasionally (It's delicious), but, unless they're the only acorns available to you, I suggest picking white. The reason is in the skin inside the acorn. The skin, or the testa, that hugs the nutmeat inside the shell, is incredibly tannic.
The composition of the inner nutmeats on red oaks is different, and, kind of similar to a chestnut, there are folds inside and the skin can be a bit wrapped up in the nutmeats. To make it more difficult, red acorn skins tend to stick to the nut meat, and are a pain in the ass to remove. The result, from the red acorns I've processed, is a darker flour as an end product, and one that takes much longer to leach to remove the bitter tannins.
Basic Acorn Cold Leach Method
Here's the basic method I use for making flour or meal
1. Dry the acorns
When I bring the acorns home, the first thing I do is fill my dehydrator with nuts and let it ride on the lowest heat setting for 24 hours, then, I'll repeat the process with the rest until they're all dry. From here, the nuts will keep, preferably in a cold garage, for a long time, but I will try to crack them during the Winter while I have some free time.
The drying ensures the nuts don't go rancid before you get bored enough to sit in a chair and process them, but it also makes them a breeze to crack. Cracking fresh acorns is pointless, and possibly dangerous in my opinion, since the shells are bouncy. Trying to cut into hundreds of fresh acorns with a paring knife means a few hundred chances to put that knife right into your pointer finger or thumb.
2. Cracking
Lots of ways to do this. Once the acorns are dry, the shells will be brittle. Sam Thayer like a davebuilt nut cracker, and if you plan on shelling lots of nuts, I'd reccomend it.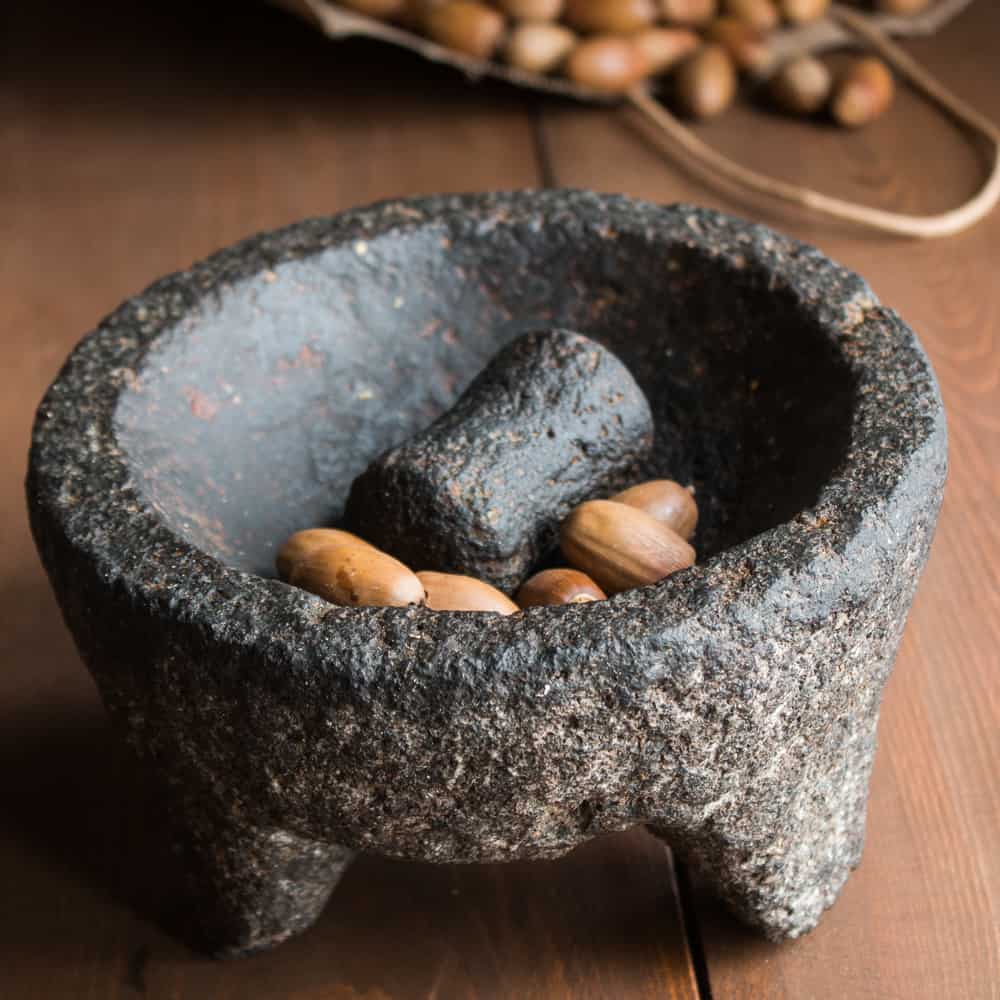 I don't have the space for one, so I use the "old man" method. I turn on the tv, get out my mocajete, and crack crack crack. I fill the molcajete with a small handful of acorns at a time, crack them all, then empty the cracked acorns into a bag. When all the acorns are cracked, I remove the nuts and discard the shells.
3. Removing the testa
There's some debate on whether you have to remove this or not. To be clear, the testa will rise to the surface of the water while leaching, so it isn't a huge deal, but I do try to remove it as it will shorten the leaching time.
With white oak acorns, the testa should slide right off if you roll the dried acorns between your fingers. With red oaks, the testa can stick to them, and it will be a pain to remove.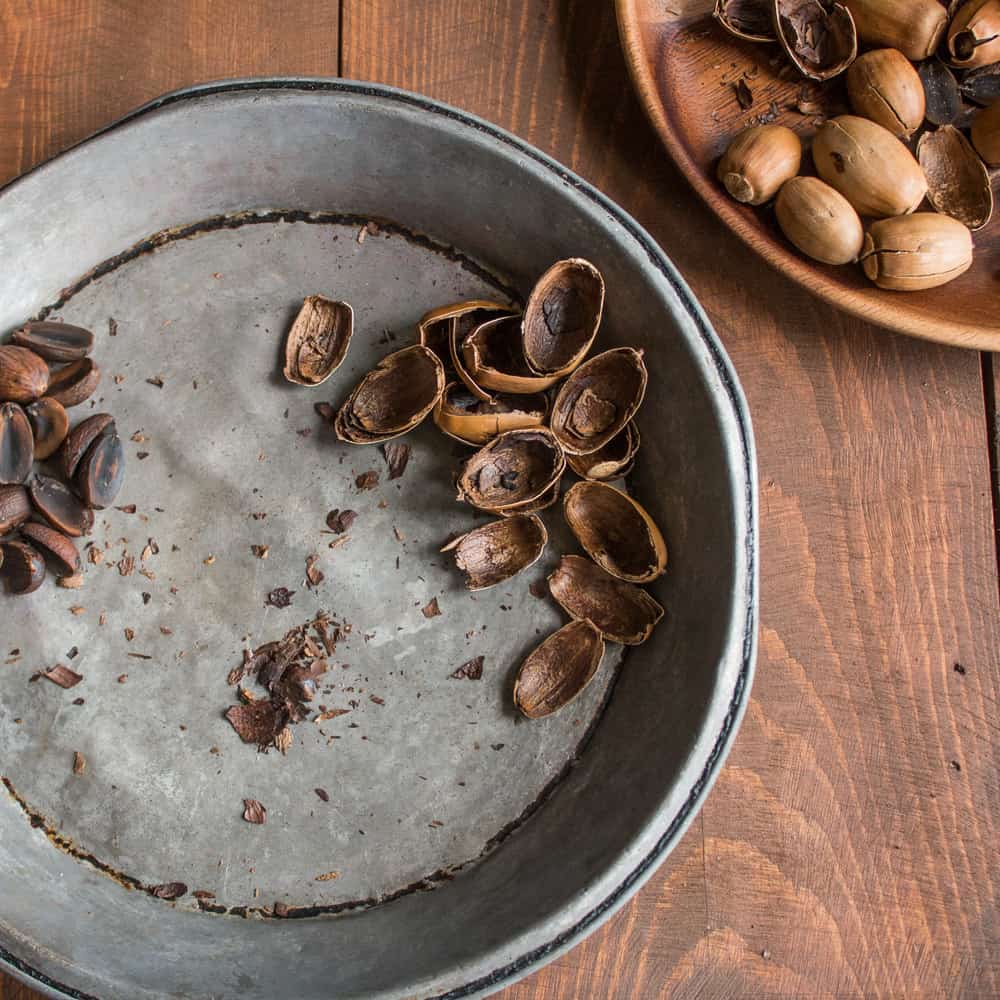 What I do is roll the acorns around in my hands, and let the skin fall off, or, if it's not too cold outside, bring a large bowl of them out, and, after rubbing with your hands to loosen the skins, toss the acorns in the bowl in front of a fan and watch the skins blow away.
3. Grinding
The next step is to grind the nuts. I do this in a vita mix with a mix of 1:3 acorn to water, as I'm going to be cold-leaching them. You could also grind them in a grain mill.
4. Cold leaching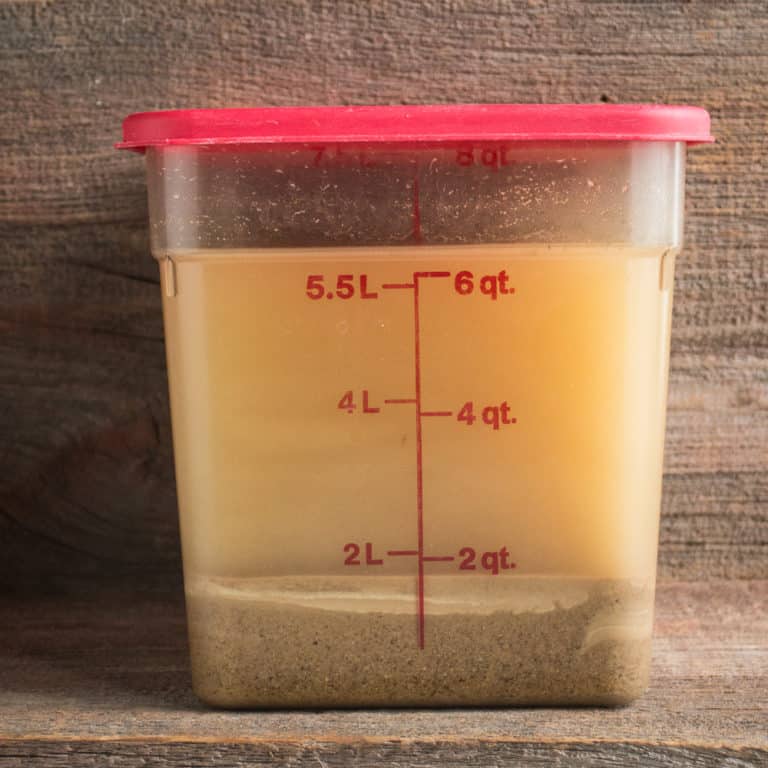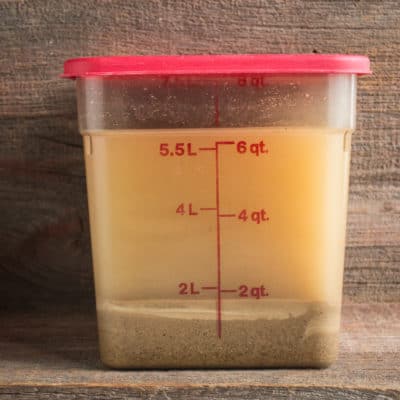 Once the acorns are ground, you cover them with 3x their volume of water. It should look like a brown slurry. Every day, for as long as it takes, carefully pour the water off, and add new water. After a few days, taste a bit of the nut meal and check for bitterness, once the bitterness is gone, the acorn meal is done leaching.
5. Straining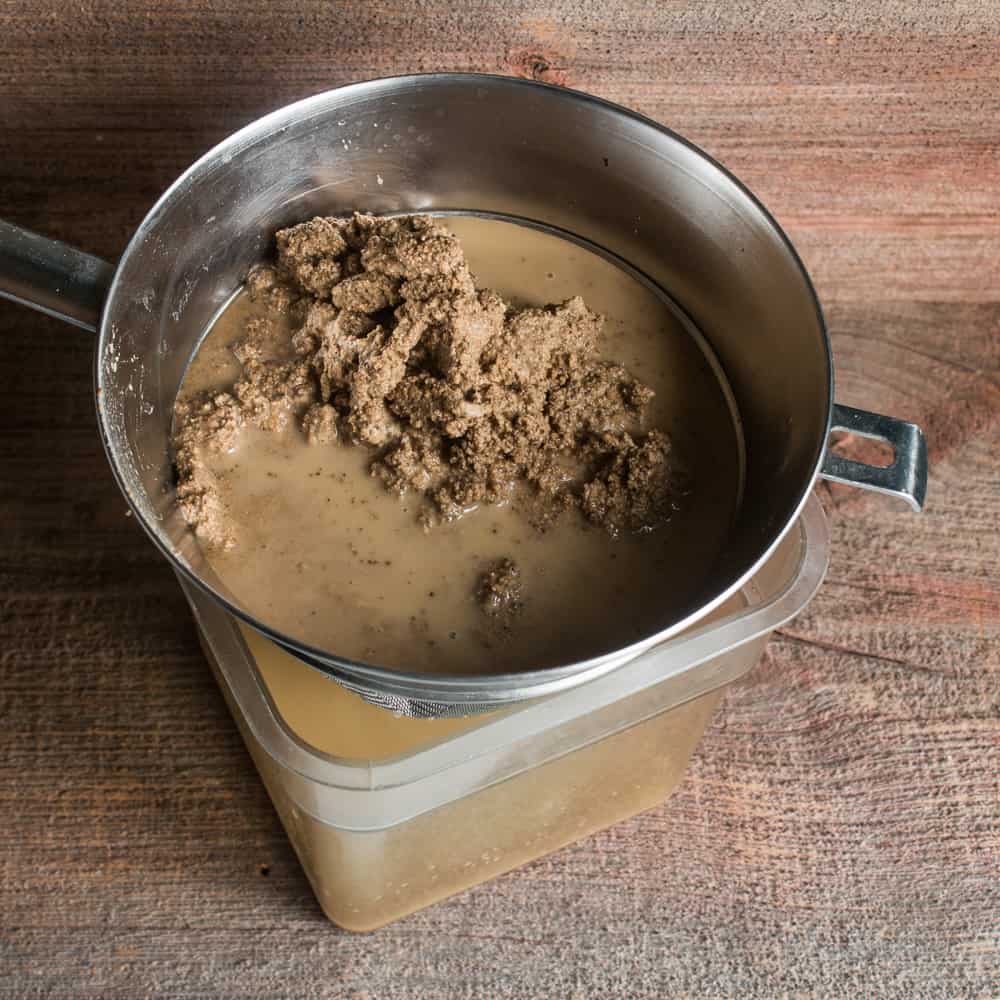 Once the acorn meal is compltely leached, you're going to strain it out. But, not so fast. This time, instead of straining out the liquid and discarding down the drain, you can harvest it for eating. Think of it as low-tech nut milk. Indigenous cultures have been cooking with nut milk like this for a long time, and it is a really good base for a soup, or if some of the starch and fat is in it, cooked down into a sort of milk shake or sweet drink with a touch of cinnamon and maple syrup.
There will also be a layer of starch you could harvest off the the layer of soaking meal, but I haven't done too much with that yet, so I pour it into the liquid and cook it down for cooking wild rice in. I don't usually save all of the pour-off water, but I'll save it when I start to get close to "the good stuff" if that makes sense.
When you strain the acorn milk, line a strainer with cheesecloth, or use a chinois strainer (what I use) that is very fine to catch what will look like a big mess of clay. Leave the strainer in the fridge for a few hours to drain, and if you want, add the drained starch and water to what you poured off before for cooking or whatever.
6. Dehydrating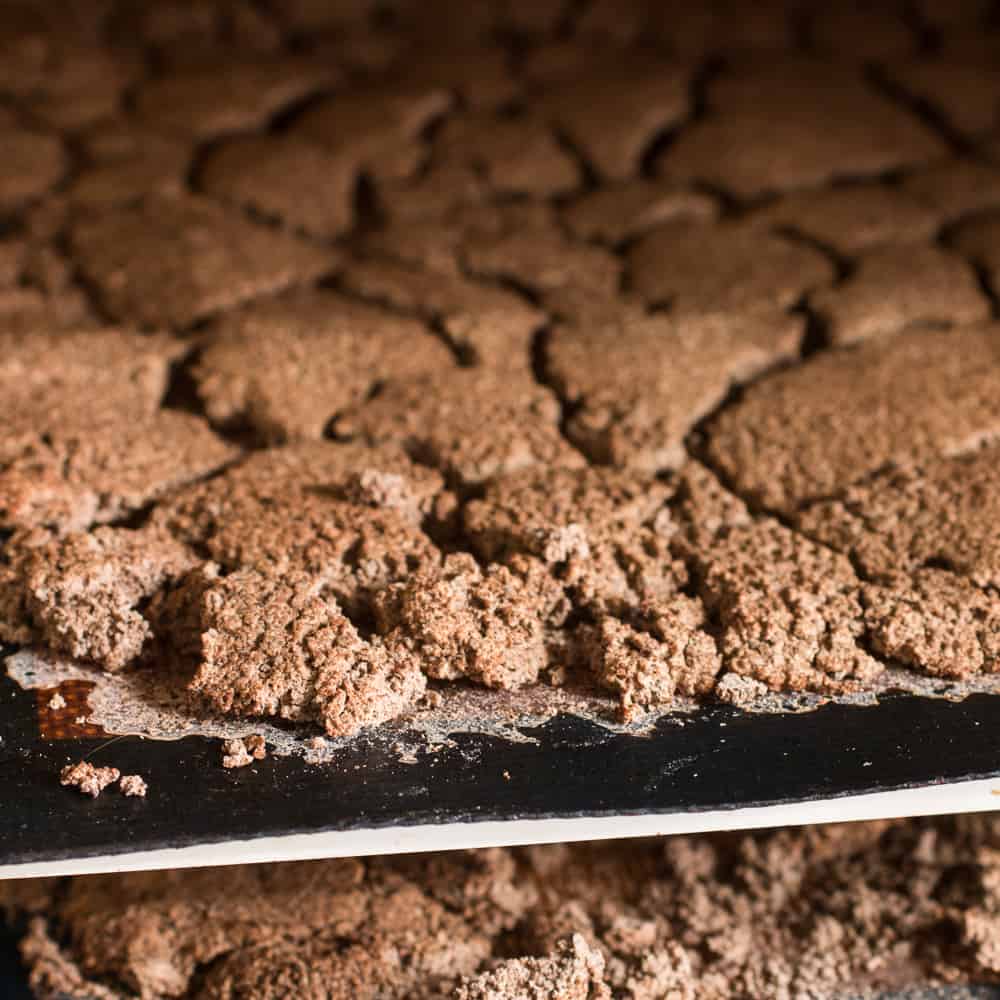 Finally, take the acorn ball of clay and spread it out on a tray to dry. I put mine on silpats and dehydrate at the lowest setting. From there, I take the dehydrated acorn and either put in a jar in the fridge, or vacuum seal and freeze. Remember that acorns, especially red, are high in fat, and that fat can get rancid, just like any other nut, if left at room temperature for too long. Rancid nuts, if you haven't tasted, are foul-tasting-you'll know if they go bad.