When I sat down to write the nut chapter in The Forager Chef's Book of Flora, I knew I had to do some fun things with acorns, and I really wanted to make a dessert to illustrate how acorn flour can be used as a substitute for chestnut flour Italians use to make things like castagnaccio, the chestnut flour cake.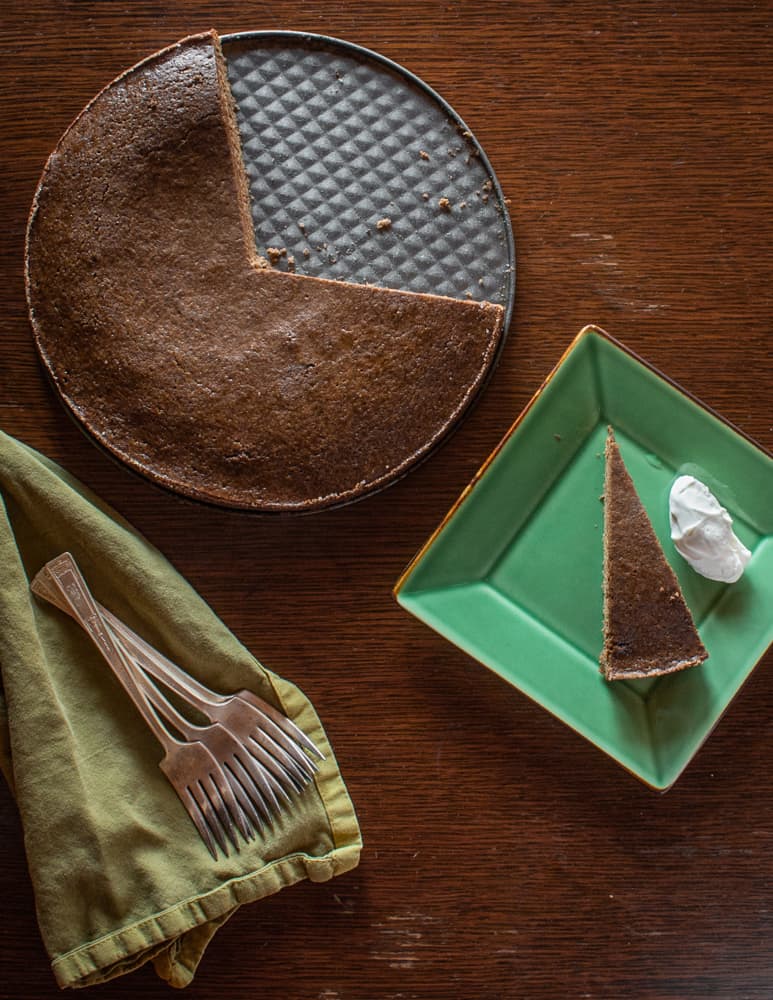 I don't know how much precious acorn flour I used on batches of this acorn cake that I didn't like and fed to friends and family, birds or hungry pitbulls, but it was a lot, if you're familiar with the process you know it's an effort to harvest, cure, crack, leach, grind and cook acorns.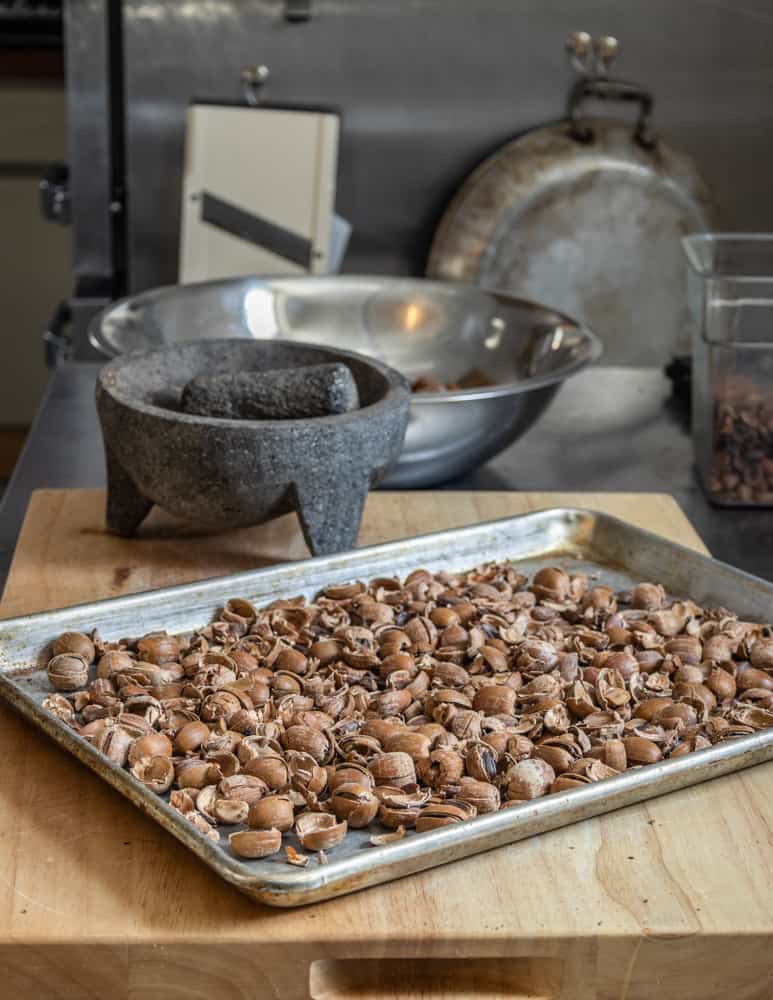 There's plenty of acorn flour recipes online that show you how to make sweet things, but most of them suggest using acorn flour as a sort of seasoning or additive, trying to create something new by substituting in, say, 30% of the wheat flour in a recipe with acorn flour.
I've found I like using a blend of wheat and acorn flours in some recipes (acorn crepes), but I wanted to make something new to encourage people to look beyond the 70/30 (roughly) rule of wheat to acorn flour. For the book, nothing less than 100% acorn flour would do.
Challenging the 70/30 ratio
If you're not familiar, the 70/30 and similar ratios of wheat flour to acorn flour allow the gluten in the flour to still be strong enough to trap carbon dioxide.
The blending of flours allows things to still rise, as acorn flour is, just dried nut powder, after all, and if you tried to substitute acorn flour completely for wheat flour in, say, a cake, you'll likely going to end up with a heavy, edible brick.
An idea came to me as I was eating a nice, creamy slice of black bean cake that my friend Dorothy Bacon made. As I ate the cake, noticing how moist it was, I asked how she made it and she told me it was basically some beans, eggs, and sugar.
It hit me then like a gunnysack of acorns to the head: what if, instead of trying to make acorns conform to European wheat flour recipes, by sneaking in a little bit, I do something different entirely?
I figured I could cook them into a thick mash as you would polenta, using that as the start of the cake batter. After a few tries, and some helpful feedback from tasters in the Gerasimo family, I made the version that's in the book.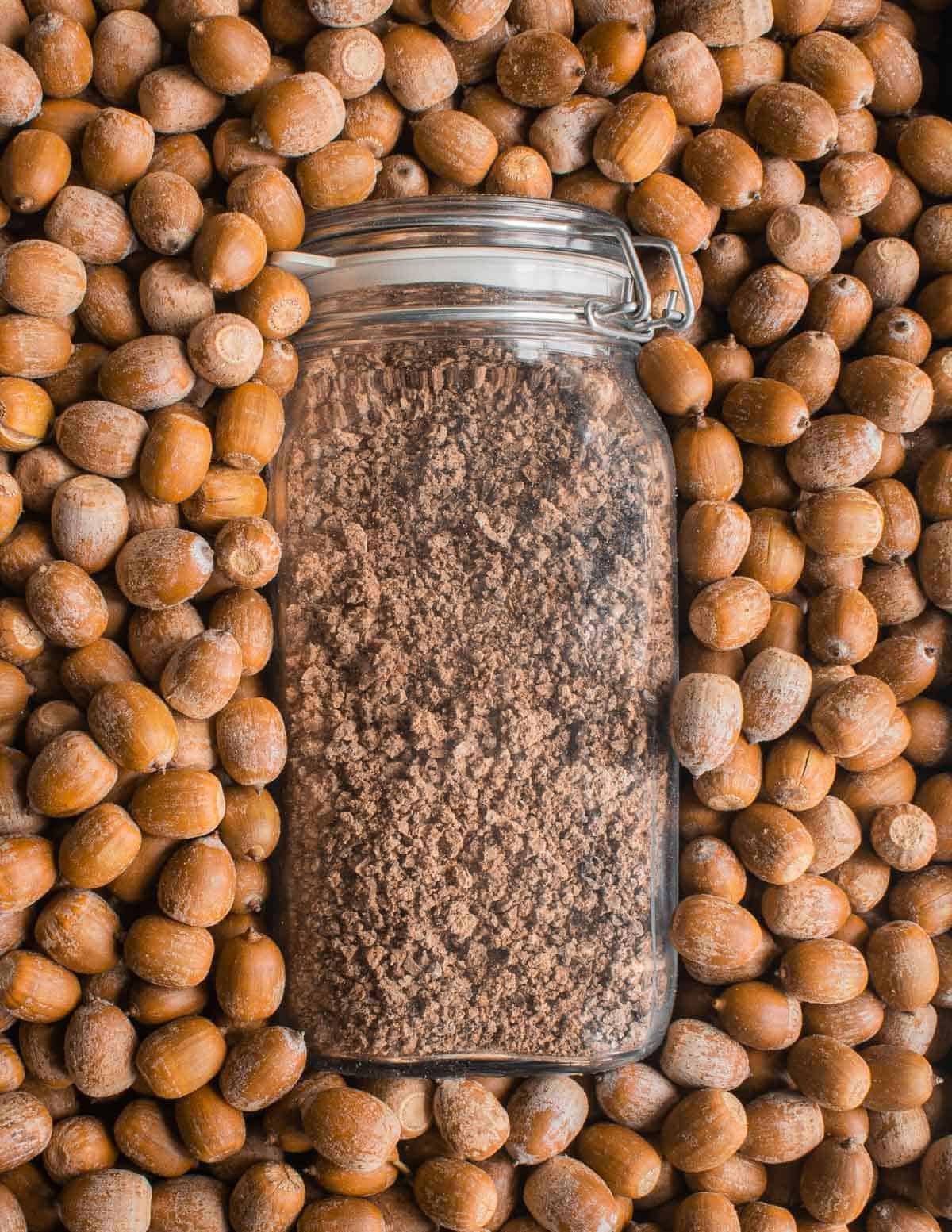 The only trick was figuring out how to lighten the cake a bit. A little baking powder would be in order, but I also figured I could use a base of whipped eggs as in the beginning of many European cakes to help give it some lift and lighten the texture.
Dealing with maple's water content
The other component was the sweetener. I wanted to use all maple syrup to get as close to a 100% forest product as I could, but that's a difficult proposition. Anyone who's cooked with maple syrup knows that it contains a lot of water, and adding that to eggs and cooked acorn mash will probably make a wet, sloppy, expensive mess.
I needed to remove the water from the maple in a way that wouldn't make the cake soggy, so I tried cooking my ground acorn flour directly in the maple syrup. The acorn flour absorbs all the water from the maple syrup as it hydrates, killing two birds with one stone. From there, I mix the acorn-maple paste into some eggs whipped to full volume, pour the batter into a springform pan, slip it in the oven, and, that's it.
The finished product is rich and sustaining, similar to a black bean cake if you've ever had one (go figure). As for the taste, acorns are mild, but I'd describe this as reminiscent of coffee cake, with the bite of a firm cheesecake with an interesting, pleasant texture.
It's sweet, but not cloying, and it's something I feel good about serving because there's not an ounce of processed sugar in the entire thing. Conversations at the dinner table about the labor and process of what it takes to work with acorns make it taste even better.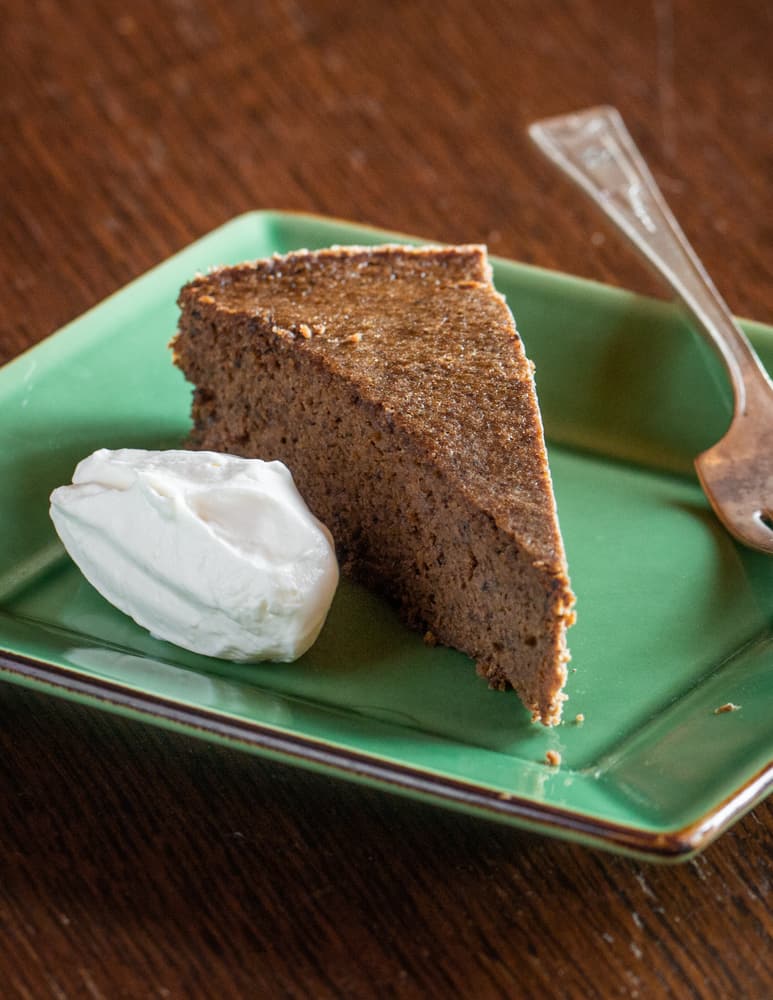 More Acorn Flour Recipes
Korean Acorn Jelly (Dotorimuk)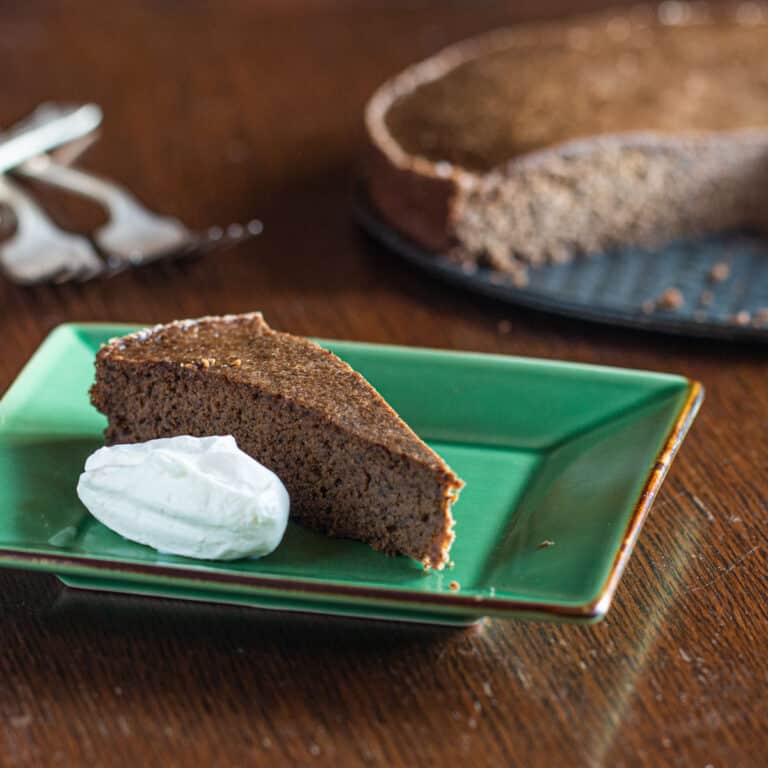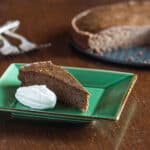 Print Recipe
Maple-Acorn Torte
A rich cake made from acorns, maple syrup and eggs. Inspired by traditional uses of chestnut flour. a dense cake made with nothing more than acorn flour, eggs, maple syrup, and a little bit of technique.
Ingredients
Acorn Base
1

tablespoon

maple or white sugar

for dusting the pan

5

ounces1 cup

140 g acorn flour, finely ground and sifted

1

cup

240 ml water

4

ounces

225 g unsalted butter, plus extra for greasing the pan

1

cup

240 ml maple syrup
Seasonings etc
1

teaspoon

vanilla extract

or wild vanilla extract, the recipe for this is in my book

½

teaspoon

ground cinnamon

1

teaspoon

baking powder

¼

teaspoon

salt
Instructions
Butter an 8-9in (20-22cm) springform pan, then sprinkle with maple sugar.

Toast the acorn flour lightly in a skillet or oven until just beginning to darken—don't allow it to burn—then set aside to cool.

Meanwhile, mix the water, butter, and maple syrup and bring to a boil, then add the toasted acorn flour and cook just until it thickens and resembles soft polenta. Transfer the mixture to a bowl, cover it with cling film, and cool to room temperature.

Preheat the oven to 350°F (180°C).

Mix the cinnamon, salt, and baking powder.

In a stand mixer, beat the eggs until light-colored with a whisk, add the vanilla and cinnamon mix, then gradually add the acorn paste.

Mix until combined, then beat the mixture for another minute or two until you get a fluffy batter.

Pour the mixture into the prepared pan and bake for 25 to 30 minutes, or until just barely cooked through.

The cooking here is just like baking a cheesecake. if the middle if puffed and upright, it's overdone and could potentially taste dry. Tap the side of the pan to check the doneness, it should move as one like a custard.

When in doubt, underbake it slightly, as it will continue to cook with the residual heat as it cools. The texture should be smooth, a little reminiscent of a flourless chocolate torte, but with slightly more texture.

Serve with whipped crème fraiche, whipped cream, or sour cream. The cake will keep, covered and refrigerated, for 3-4 days.
Notes
Instead of using acorn flour raw, I hydrate it by cooking it into a mash beforehand. The flavor is slightly reminiscent of coffee cake, but don't expect a light, airy fluff—the acorns add a certain weight to it you'll feel. It's something to behold, simply sliced, possibly warmed, with a dollop of whipped cream and a cup of coffee. You could probably substitute other nut meals for acorn, but I haven't tried.Makes one 8-inch (20 cm) cake
Nutrition
Serving:
1
slice
|
Calories:
130
kcal
|
Carbohydrates:
15
g
|
Protein:
2
g
|
Fat:
7
g
|
Saturated Fat:
4
g
|
Polyunsaturated Fat:
0.5
g
|
Monounsaturated Fat:
2
g
|
Trans Fat:
0.2
g
|
Cholesterol:
66
mg
|
Sodium:
131
mg
|
Potassium:
67
mg
|
Fiber:
0.1
g
|
Sugar:
13
g
|
Vitamin A:
252
IU
|
Vitamin C:
0.1
mg
|
Calcium:
47
mg
|
Iron:
0.3
mg