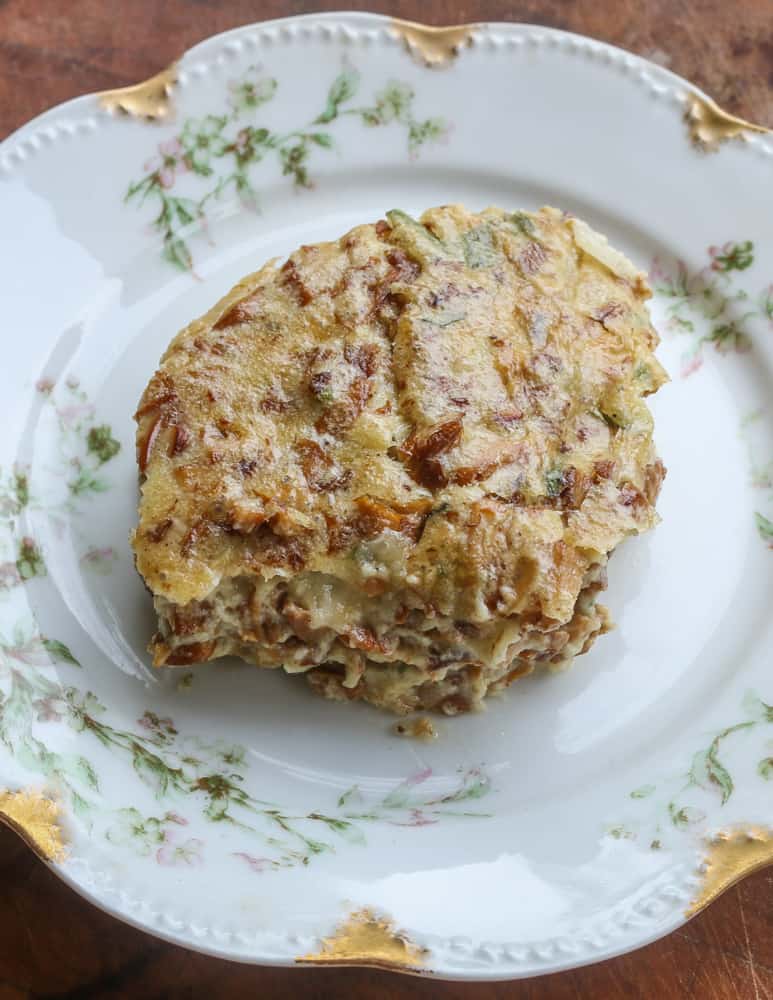 Chanterelle pudding is an old-school mushroom recipe from the one and only Richard Olney, who was one of the defining authors of modern French Cuisine in the era of Julia Child and James Beard.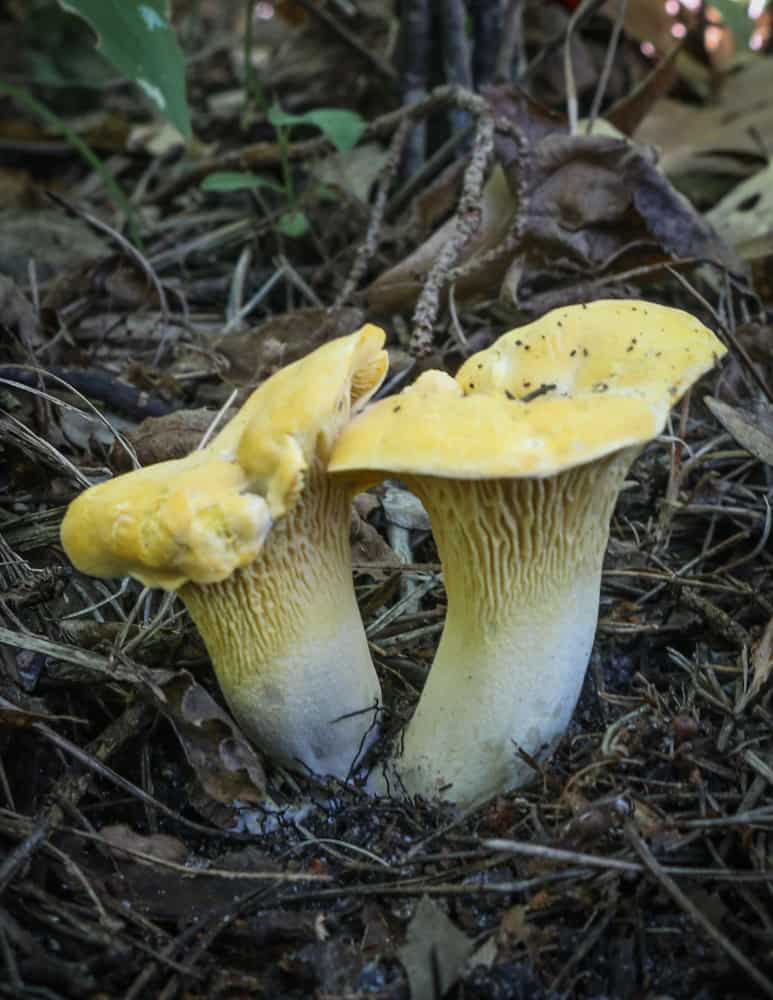 In his most well-known book, Simple French Food, Olney shares a recipe for "mushroom pudding", a sort of side dish or casserole made by mixing a healthy amount of chopped mushrooms with bechamel, eggs and a little parmesan cheese.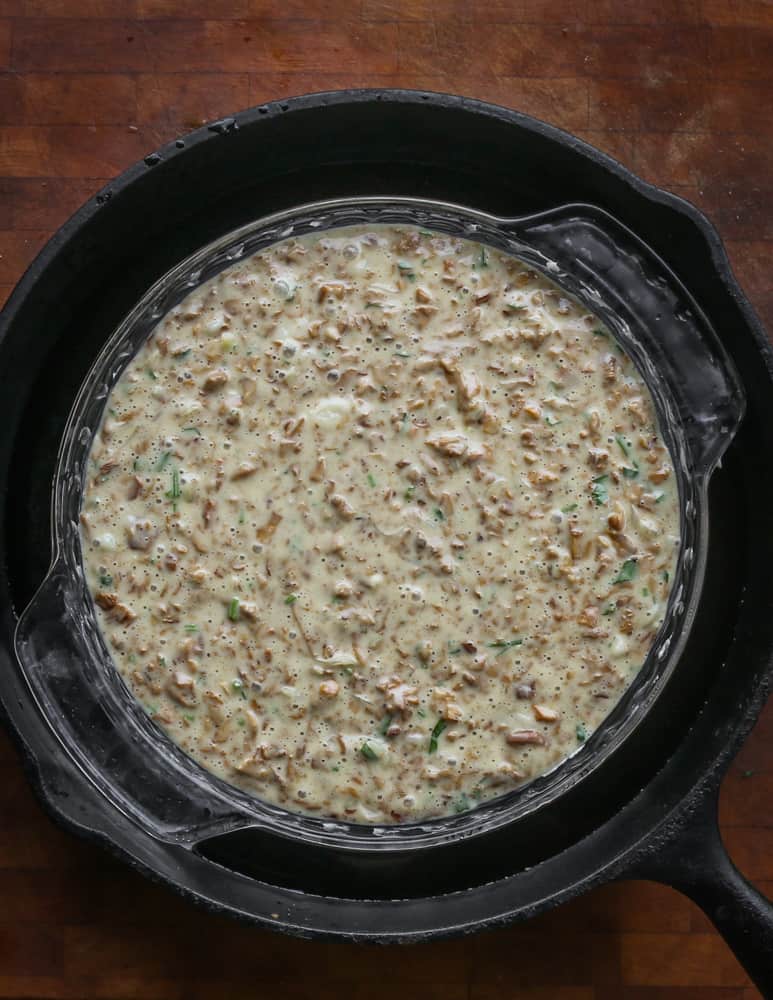 It's a rich, filling side dish, and a great way to use up mushrooms of any kind that you have. I used chanterelles, but other mushrooms, especially chunky ones like porcini would be great too.
You could also use wild mushroom duxelles or frozen mushrooms. Serve as a side dish along with a green salad dressed with olive oil and lemon or wilted greens.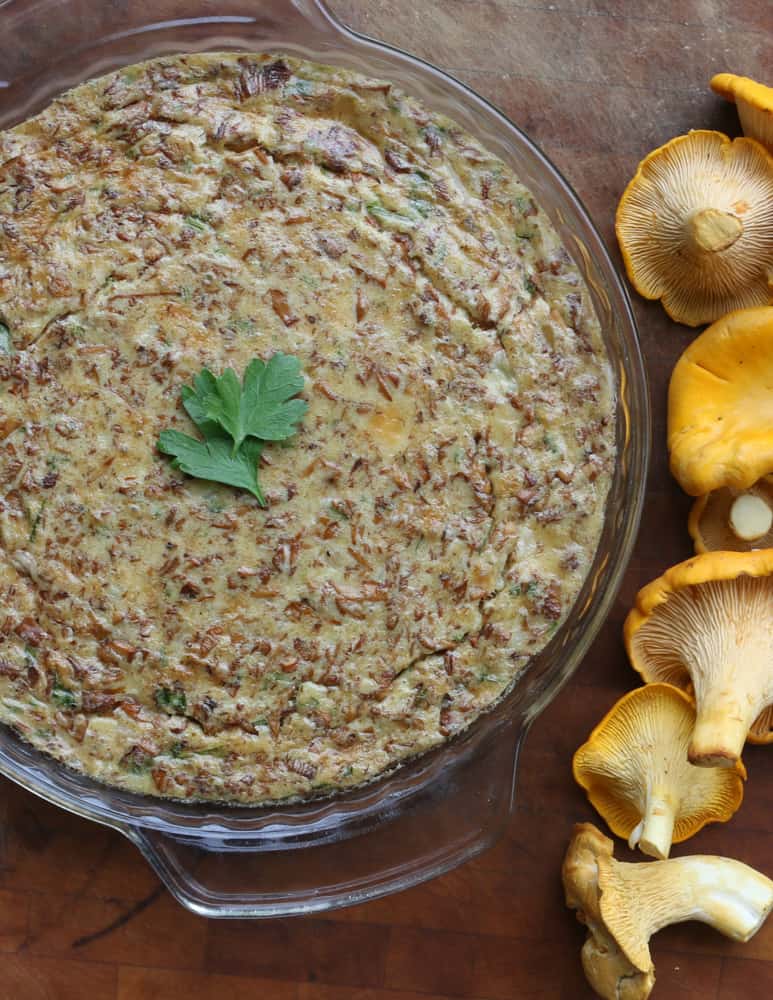 Mushrooms to use
I used chanterelle mushrooms because they were what I had at the time, but this is the kind of wild mushroom recipe where many different types will work. Here's a few that'll be good, with some tips.
Variations
There's lots of ways you can switch this up and tweak the flavor.
Mushrooms love dairy, so after I made this according to Olney's instructions, I used a bechamel where half of the mushrooms were cooked in the sauce to flavor it, mixing in the other half at the end like the original recipe.
Parmesan is fine here, and understated, but a melting cheese like gruyere would be great too.
If you add the egg yolks to the bechamel, then beat the whites to peaks and fold them in it will give the dish more of a fallen souffle feel.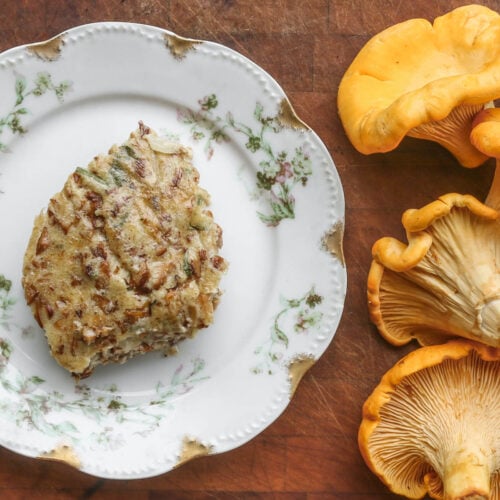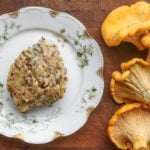 Print Recipe
Richard Olney's Wild Mushroom Pudding
A rich side dish made from chanterelles, bechamel, and parmesan inspired by Richard Olney. This makes an entire 9 inch pan full, so feel free to cut it in half. Serves 6-8
Ingredients
Chanterelles
20

oz

wild mushrooms

especially chanterelles

1

tablespoon

unsalted butter or oil

½

teaspoon

kosher salt

plus more to taste

¼

cup

dry white wine
Bechamel
¼

cup

minced shallots

3

tablespoons

unsalted butter

1

cup

half and half

3

Tablespoons

all purpose flour or equivalent

Fresh grated nutmeg

to taste

2

large eggs

2

oz

good parmesan cheese

½

teaspoon

chopped fresh thyme

2

Tablespoons

chopped fresh parsley

Kosher salt and fresh ground black pepper

to taste
Instructions
Wash and dry the chanterelles, then chop medium-fine. Heat the chanterelles and salt in a 10 inch skillet, covered, cooking until their liquid has evaporated.

Add 1 tablespoon of butter and stir, scraping up any browned bits.

Add the wine, stir, and turn the pan off.

Meanwhile, sweat the shallots in the 3 tablespoons of butter, then add the flour, stir, and gradually add the cold half and half, heat, stirring aggressively with a spoon or spatula until thickened.

Preheat the oven to 400.

Season the bechamel with nutmeg and pepper, then mix in the chanterelles and cheese. Let the mixture cool for 5 minutes, then beat in the cheese, thyme and parsley.

Taste the mixture and consider it if needs additional seasoning. Adjust the seasoning until it tastes good to you, then beat in the eggs.

Liberally butter a pie dish, then place in a larger pan, put in the oven, and, using a pitcher, pour warm water into the pan in the oven to come up ⅔ of the pie dish. Bake for 30 minutes or until just set.