If you process acorns, and make your own acorn flour, you have to try acorn flour crepes. They're easy to make, and you can serve them sweet or savory.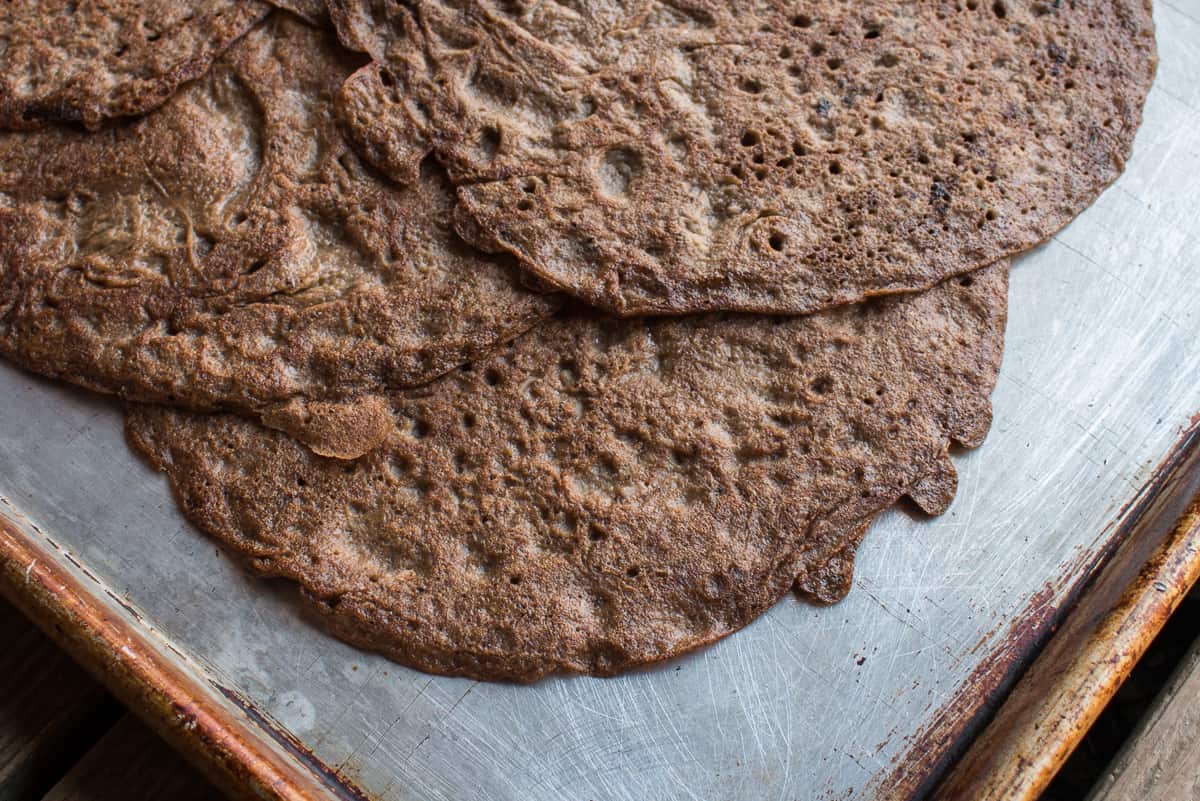 I love the taste of acorns, but I don't use much of it at one time, since acorn flour is heavy, dense stuff, almost like nut meal, but more starchy and dense. I typically use it in a blend for most recipes.
Crepes are great all-around, but they're really well suited for acorn flour for a number of reasons. First, crepes contain a good amount of egg, so gluten is really a non-issue--you can make a crepe out of just about any flour.
Even so, acorn flour, even bolstered by egg, will still make more delicate and brittle crepes than other flours (buckwheat, for example) so I like to cut it 50-50 with another flour to strengthen it and give a more durable crepe. Secondly, flavor. Acorn flour has a good, potent flavor, and cutting it in half won't diminish it too much.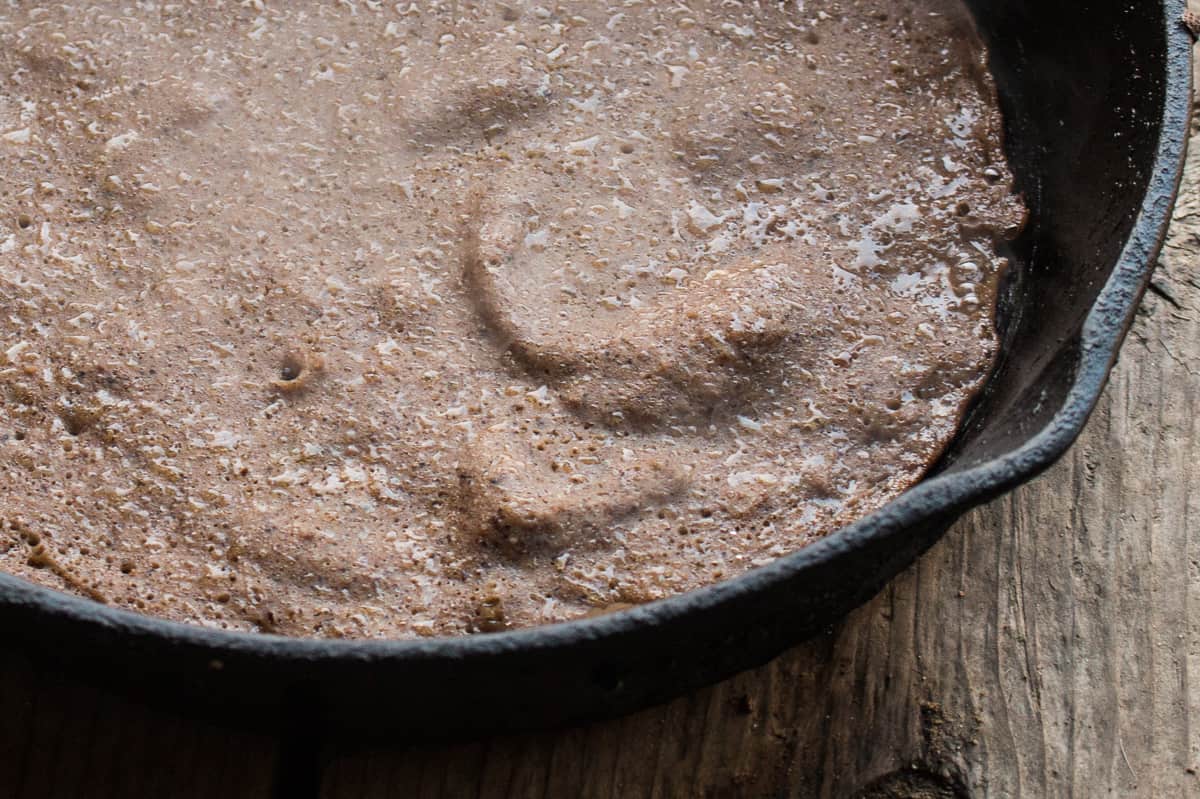 Lastly, as I mentioned, acorn flour is dense, heavy stuff. After eating something made with it, you're going to feel it. Since crepes are nice and light, they're a great way to use some acorn flour and not have to take a nap afterwords.
They're also thrifty, just ½ cup of acorn flour will make 6 crepes--plenty for a couple people to have their fill. That being said, since they're nice and light, after you spread one with butter and jam, piping-hot out of a skillet, you may reconsider sharing them. Oh, and if you aren't familiar with how to make acorn flour/meal, I outline the cold-leaching process here.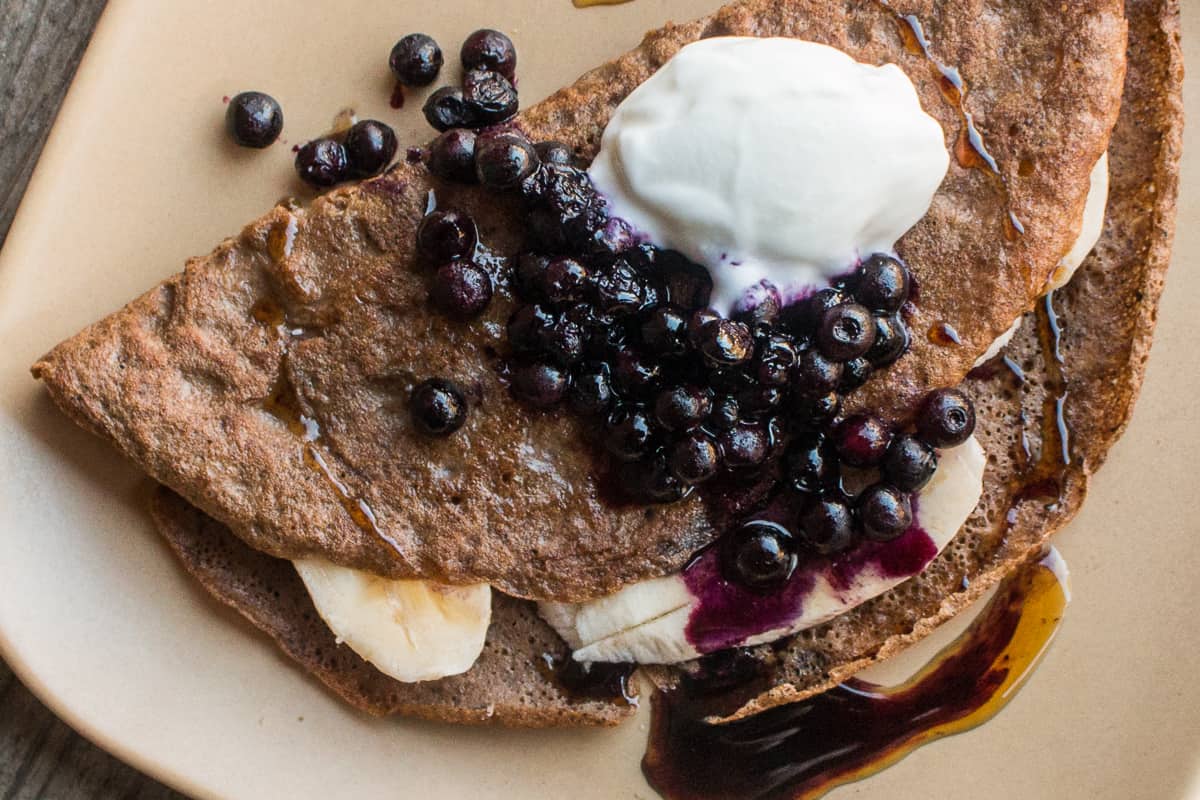 I outline a few restaurant tricks in the recipe below, but just to hammer it home, here's the big points
Chef's Crepe Tips
Use a nonstick pan--no compromise here.
Allow the crepes to steam covered with cling film or something to hold in moisture to ensure tender, pliable crepes.
Cook the crepes on one side only to avoid them becoming crisp and brittle.
Allow the crepe batter to rest, preferably overnight--especially important with acorns, since soaking helps the nut meal to hydrate and soften, if you cook with the batter right away the crepes will be more brittle.
Master swirling the pan to distribute the batter evenly--this will take a few tries
The first acorn crepe you eat should be butter, and maple syrup only, before you get too creative
Serving
Crepes are super versatile, and one of the few things that are good for any meal of the day--sweet or savory. Here's a few ways you might try them:
Sweet
Filled with sliced bananas, a dollop of yogurt, maple syrup and hot blueberries
Filled with jam and cream cheese, and rolled up
Folded in half twice, and drizzled with butter, maple syrup and crushed, toasted nuts
To really taste the acorn, fold them up and serve with nothing more than butter and maple syrup
Savory
Filled with scrambled eggs and chopped peppery greens like arugula or watercress
Use like injera: tear the warm crepe and use it as a utensil to scoop up curries, etc
Filled with chopped, cooked greens and some grated melty cheese like gruyere
Filled with greens, a dollop of ricotta, egg, and a pinch of nutmeg and baked like canneloni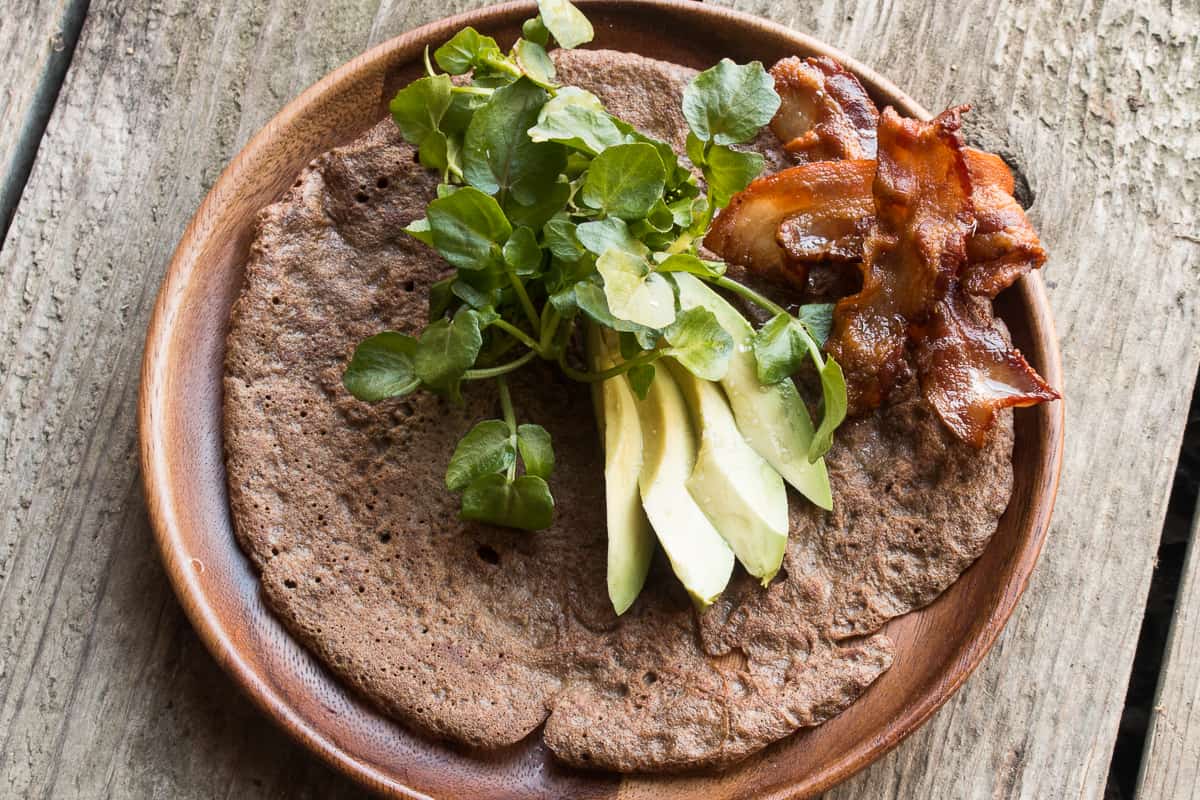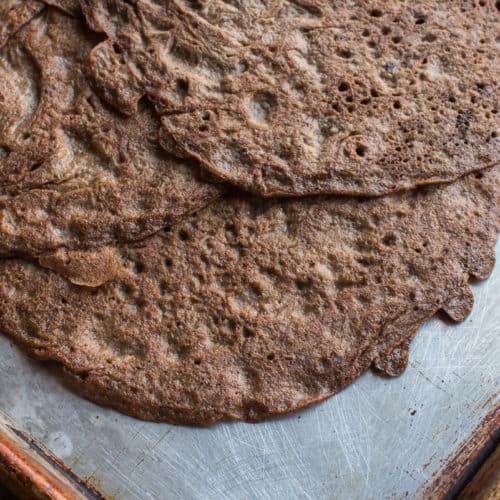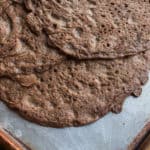 Print Recipe
Acorn Flour Crepes
Crepes made from acorn and your choice of alternate flour. Makes about 7 crepes depending on how many you mess up at first.
Ingredients
½

cup

all purpose flour or equivalent

½

cup

cold leached acorn flour

½

teaspoon

kosher salt

1

teaspoon

sugar

for sweet crepes (optional)

2

tablespoons

melted unsalted butter or other fat

1

cup

plus 2 tablespoons milk or water

2

large eggs

Oil

as needed for cooking—a tablespoon or two (see note)
Instructions
Make sure the acorn flour is very fine—I like to sift it, then grind again. Combine all ingredients except the acorn flour in a blender and puree until smooth, then add the acorn flour and continue blending. Transfer to a container and allow to rest overnight, or at least for an hour or two.

To cook the crepes, lightly grease or spray an 8 inch non-stick pan, and get it hot—very hot. When the pan is smoking lightly, try making your first crepe by drizzling in a generous ¼ cup of batter, swirling the pan so it reaches out to the edges—if it doesn't look great, don't worry—you're going to have some time to perfect your technique,

The first crepe is often scrap since even though the pan is hot, t's not hot enough to really get going. Typically by crepe 2 or 3, you'll be in business.

Cook the crepes on one side only, transferring them to a plate with a spatula gently as they finish cooking, stacking the crepes on top of each other. When all the crepes are done, cover the plate or platter with cling film so they steam and remain soft and pliable, which is the secret to tender, flexible crepes. Alternately, eat the crepes straight away, with your choice of garnishes.
Notes
Lightly grease the pan 
You don't need a lot of oil to cook your crepes, and too much oil can cause them to cook incorrectly. The best thing to use is a stingy amount of panspray, or a greased butter wrapper.
Using other "flours" 
There's enough gluten in the all purpose flour to support using other alternative flours here instead of acorn. Dock seed flour, ground mushrooms and plenty of others will work. 
Nutrition
Serving:
1
crepe
|
Calories:
238
kcal
|
Carbohydrates:
15
g
|
Protein:
7
g
|
Fat:
17
g
|
Saturated Fat:
5
g
|
Polyunsaturated Fat:
8
g
|
Monounsaturated Fat:
4
g
|
Trans Fat:
0.2
g
|
Cholesterol:
97
mg
|
Sodium:
368
mg
|
Potassium:
113
mg
|
Fiber:
1
g
|
Sugar:
2
g
|
Vitamin A:
297
IU
|
Vitamin C:
0.2
mg
|
Calcium:
31
mg
|
Iron:
2
mg