Ramp burgers are one of the first things I ever made after I discovered everyones favorite wild leek. That was years ago, and, unfortunately, the friends I made the burgers for can probably still taste them to this day.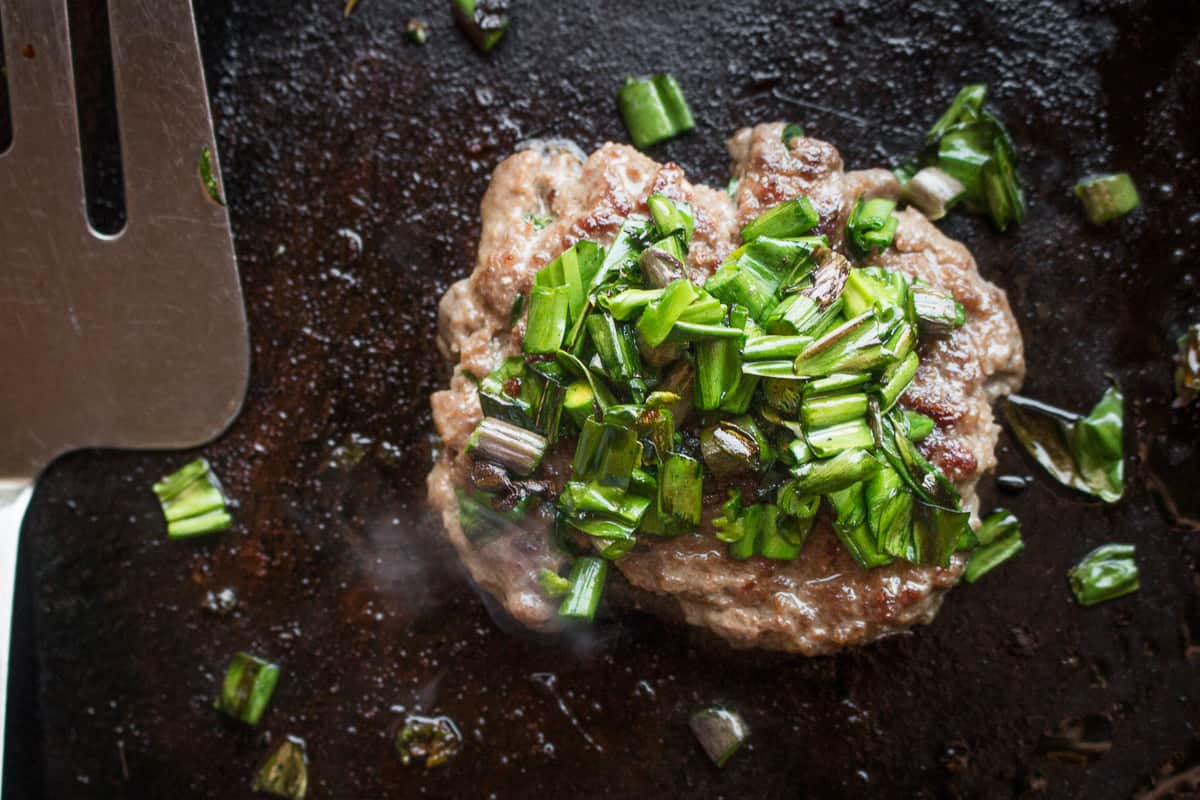 Don't get me wrong--I like garlic and all the oniony, things, but they were a little strong--even for me. I packed a pound of hamburger with a generous handful of chopped ramp bulbs and threw them on the grill. Needless to say, every time I mention ramps to my friend and his wife to this day I get reminded of the casket breath we all shared afterwords.
I still like a good ramp burger, especially with the first ramps of the year, but I make them a little differently now.
First, the ramps bulbs aren't used at all--there's plenty of flavor in ramp leaves, which are easy to cut, and don't require any digging or disturbing the plant (a more sustainable practice in general). Just like green onions and regular onions, too, the flavor in the leaves is milder, and requires a lot less cooking to tame it, which means no casket breath.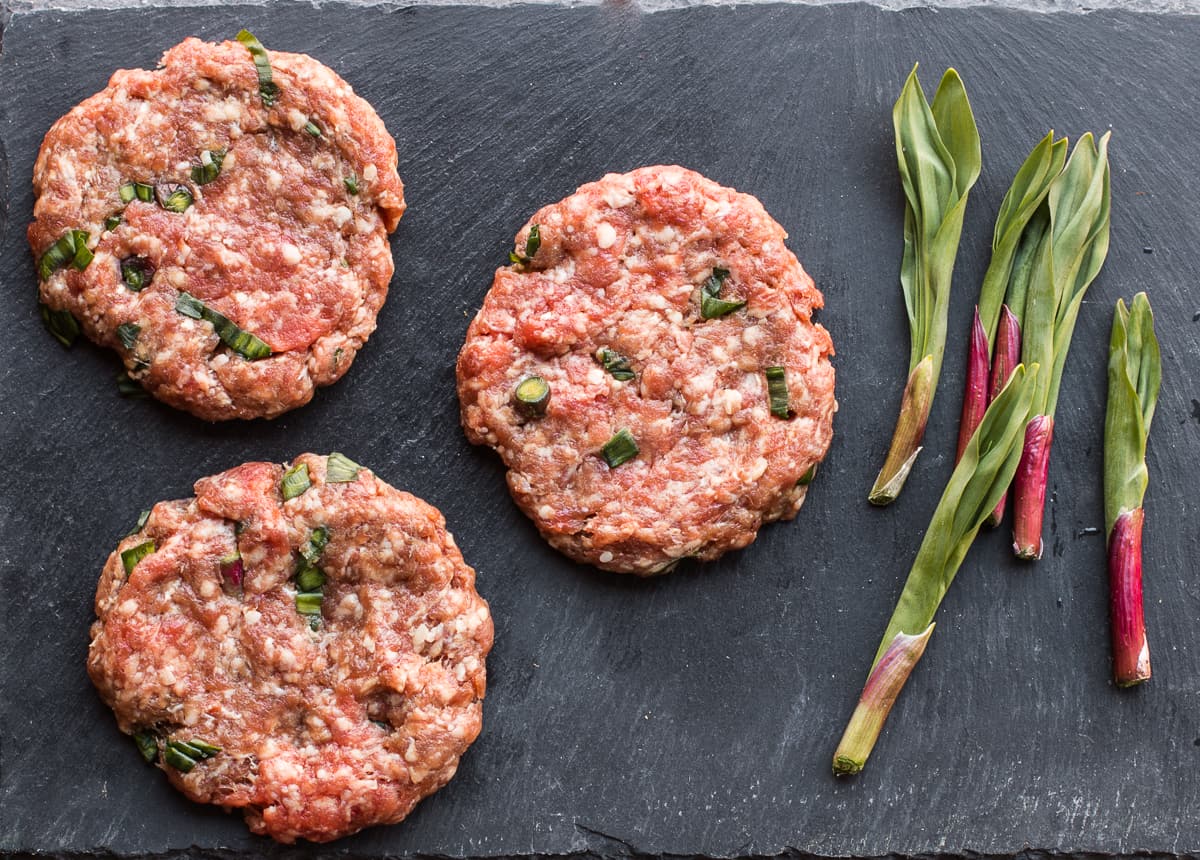 The second thing I do differently, is that I don't make big, enormous burgers. I generally like my burgers one of two ways: big 6-8 oz and medium-rare-rare or flat, spread out, and covered with delicious caramelized crust, pressed down gently with a spatula while they cook to disperse their albumen so it can caramelize on the surface, or what most people would call smash-burgers, or diner-style. Diner-style is what we're talking about here.
Quick side-note: Anchor Bar in Duluth has the best diner burgers in Minnesota or Wisconsin. Fight me.
Ramp sausage vs burgers with ramps
I've saved the best for last though. By far the biggest piece of advice I can share with you is this: ramp burgers are a great idea in theory, but most of the time they end up tasting like beef and ramp sausage.
If you want to make ramp sausage, I have a recipe for that. For the best flavor, think of having a burger with ramps, instead of having "ramp burgers". You do that, by tossing fresh ramp leaves in a pan at the last minute while the burgers are cooking, then piling them on top of the burgers.
I'm outlining the recipe with some ramps inside the burgers too, but know that they'll taste just as good if you just pile a whole bunch on top of regular burgers, if you want. The choice is yours.
Dry brining for the best crust
Another, optional restaurant trick I like to do whenever I have time and plan ahead, is forming the burgers and dry-brining uncovered overnight in the fridge.
With ramp leaves in the burgers, this also serves the dual purpose of giving the chopped leaves extra time to infuse the meat with their aroma, a bit like how I cook with truffles. The real magic is in the salt though, and allowing the meat to sit out uncovered overnight.
The key to a good crisp crust on a burger, or any meat or fish, is high heat, and a dry surface. Salting the meat on the outside allows the meat to dry out, as well as seasoning it, and the difference in the sear and crust you get will be noticeable. Give it a try the next time you've got a few ramps laying around.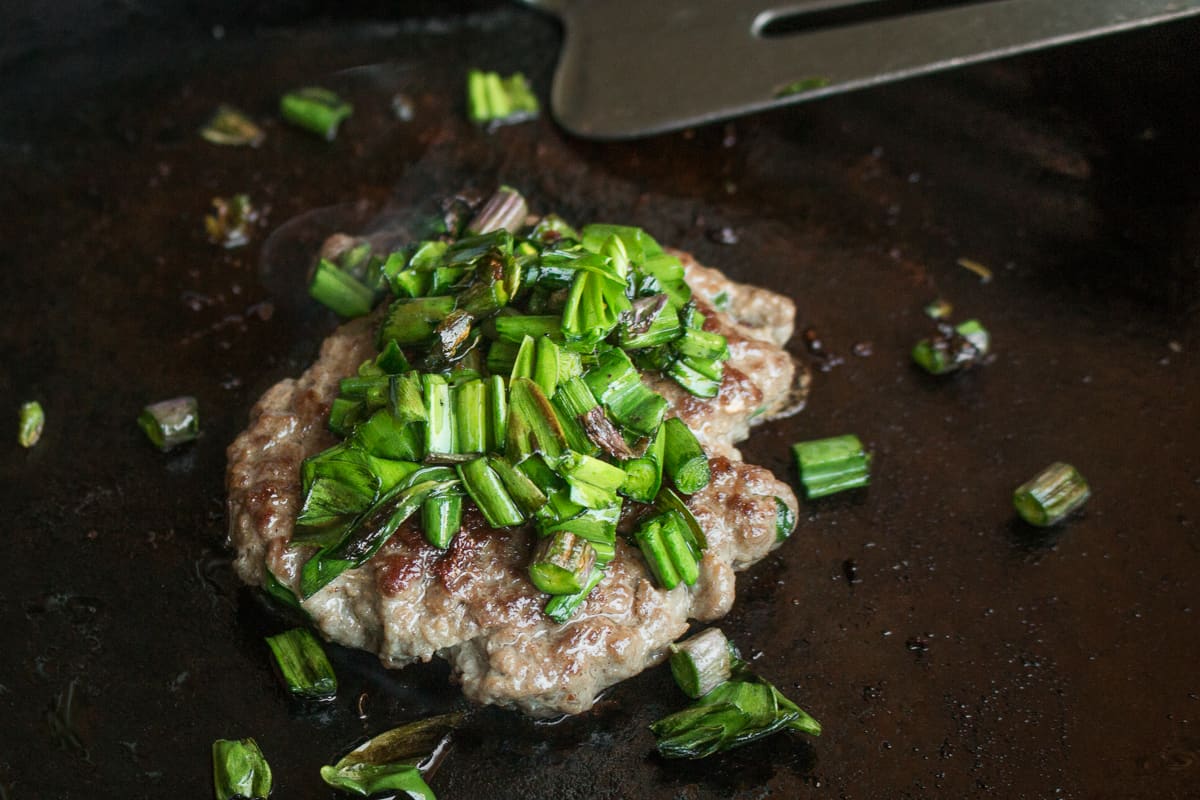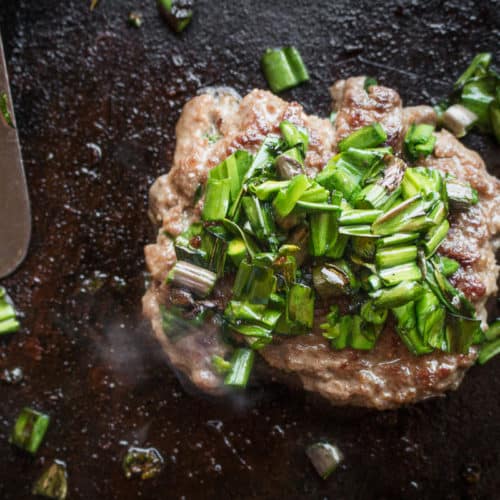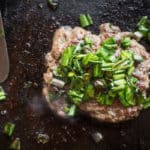 Print Recipe
Ramp Leaf Burgers
Simple home-style burgers flavored with ramp leaves. Serves 2-4
Ingredients
1

lb

ground beef

½

teaspoon

kosher salt

¼

teaspoon

ground black pepper

4

oz

fresh ramp leaves, cut into ½ inch dice

about 2 cups

Cooking oil or lard

as needed

Optional burger garnishes of your choice

mayonaise, ketchup, pickles, lettuce, buns, etc.
Instructions
Mix a handful of the ramp leaves and burger well, then form into 4 patties, a bit thinner than you might typically make--it's fine if they're irregular, season all over with the salt, and allow to rest overnight in the fridge, uncovered.

If you can remember, try to flip the burgers at least once to help both sides dry out.

To cook, heat a heavy pan or griddle with a little oil until it begins to smoke (turn on the hood vent or open a window, etc) then sear the burgers, cooking for about 1 minute on each side for a good pink, pressing down once or twice to help some albumen come out and caramelize.

Toss in the remaining chopped leaves right as the burgers are just about done cooking, turn off the heat and stir for a minute to take the raw off, season with a pinch of salt, then smother the finished burgers with them. and serve however you like.


Notes
Most of the time, I don't bother to go all out with buns at home. Typically I eat these open-faced on a good piece of toasted bread with whatever fixings I like, and a big green watercress salad on the side. 
Nutrition
Calories:
595
kcal
|
Carbohydrates:
4
g
|
Protein:
40
g
|
Fat:
45
g
|
Saturated Fat:
17
g
|
Polyunsaturated Fat:
1
g
|
Monounsaturated Fat:
20
g
|
Trans Fat:
3
g
|
Cholesterol:
161
mg
|
Sodium:
742
mg
|
Potassium:
772
mg
|
Fiber:
2
g
|
Sugar:
1
g
|
Vitamin A:
567
IU
|
Vitamin C:
11
mg
|
Calcium:
83
mg
|
Iron:
5
mg
More
Ramps: Harvesting, Sustainability, Cooking and Recipes