Crisp burbot crusted with wild mushrooms and served with an optional crayfish butter is an appetizer for a special occasion.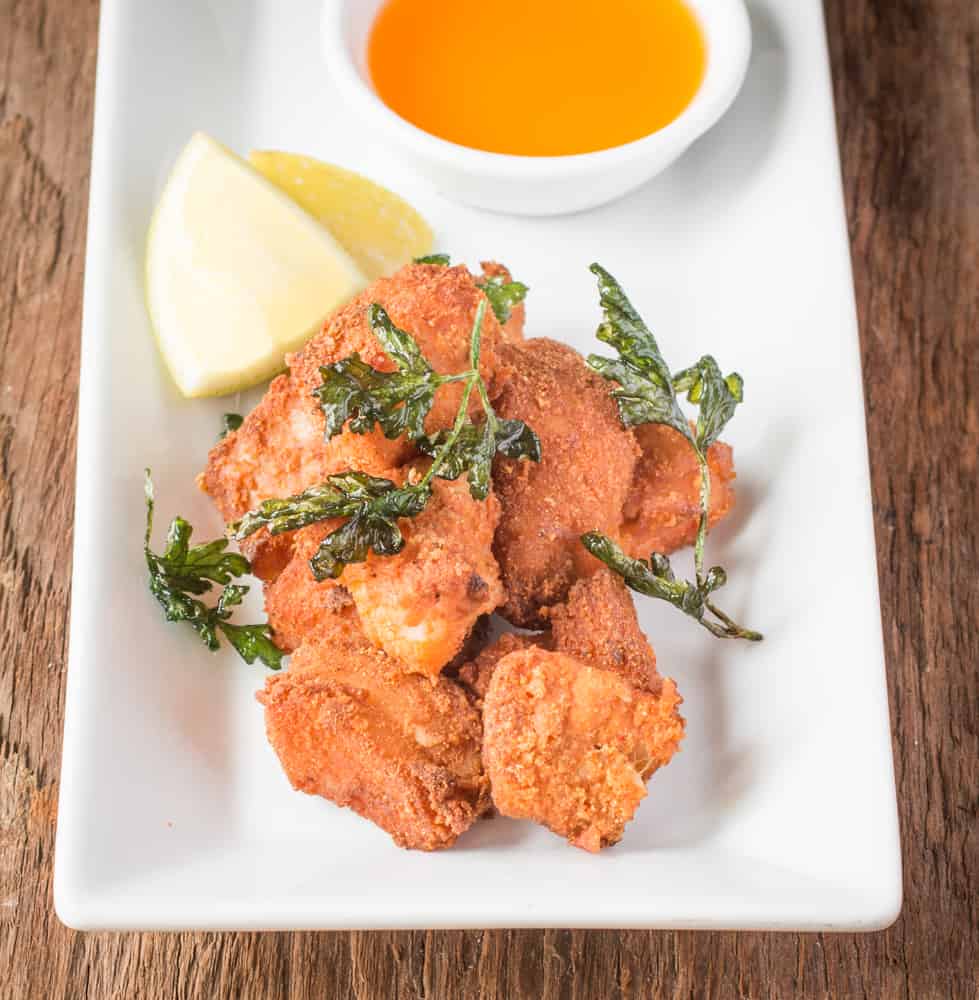 Burbot was one of those interesting local fish, like sunnies, crappies and perch that were hard to source through fish purveyors, no one seemed to carry it. Eventually I got to try my first after someone was nice enough to grab me a couple packages from a fish shop up in Cumberland, Wisconsin.
I knew that burbot had been compared to monkfish, kind of, since they both get referrred to with the name "poor man's lobster". After trying a couple batches, I almost agree, but I'd say monkfish is much more of a lobster-esque flavor and texture, personally.
There's a nice meaty-ness to the burbot, and since monkfish definitely isn't local to me, I made a few fun things with my lingcod (one of it's other names, along with eelpout and fresh-water ling) and these simple burbot nuggets were the winner. If you don't like burbot, skip down to the crayfish butter, which you can make with lobster, shrimp, crab, or any crustacean shells you have.
"Poor man's freshwater lobster"
Here's the jist of the recipe: my burbot filets were a little on the haphazard / uneven side, so I cut them into bite sized morsels. Keeping with the lobster theme, I ground up some clean, dried lobster mushrooms and seasoned them to make a crispy, tasty dredge, since I love coating any fish in ground lobster mushrooms (poultry is great too).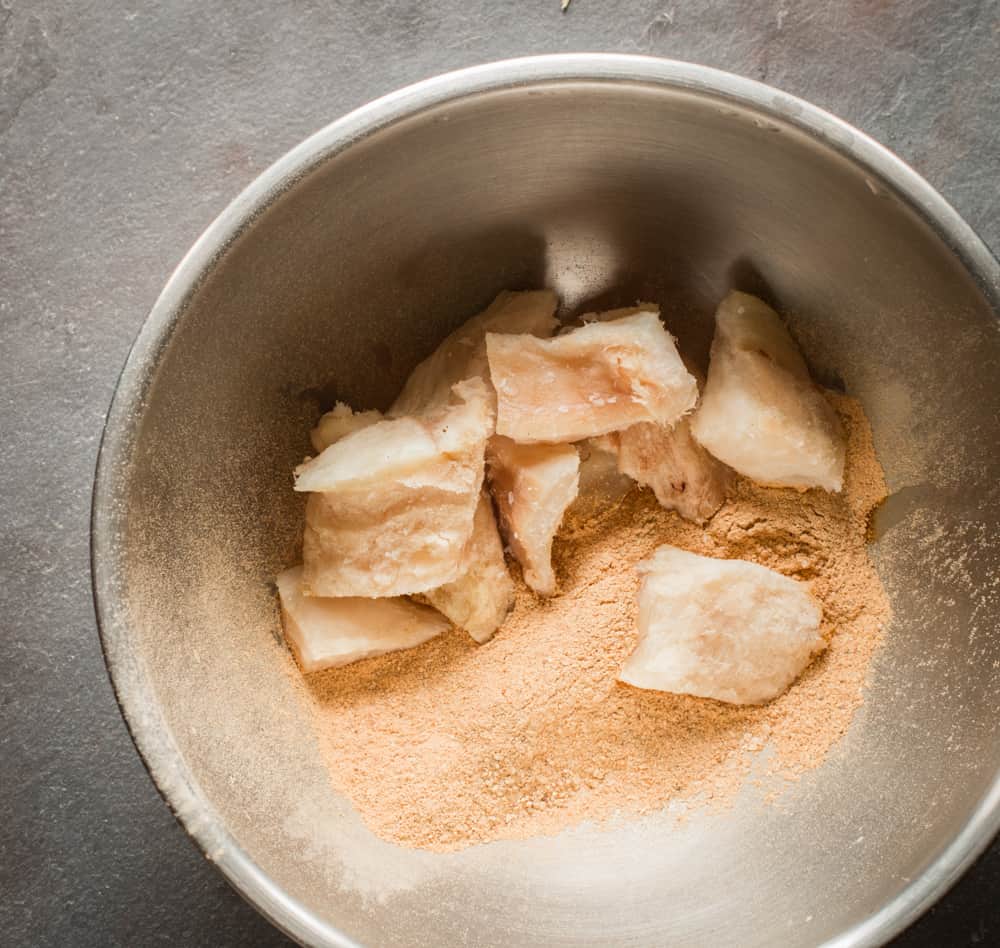 In keeping with tradition, there's a butter element, since anything tastes good dipped in clarified butter. Since I like to clarify the butter to make it clear, it gave me an excuse, and option to force another locally available lobster-themed creature into the mix: crayfish.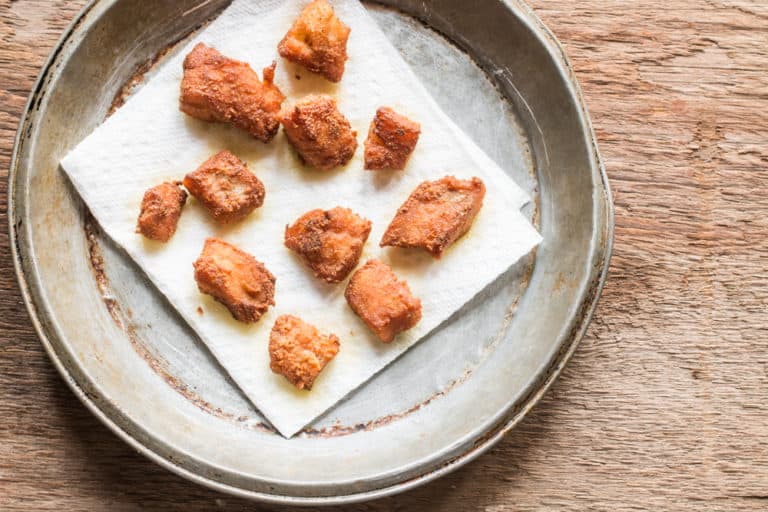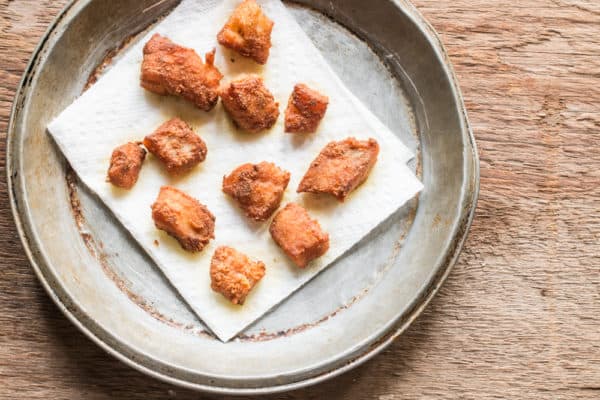 Crayfish, lobster, shrimp or crab shell butter
This is a great chef secret. I'd just done an event where I used a bunch of crayfish tails for bisque, and since there weren't near enough heads to make the stock, I had to make the stock with shrimp shells.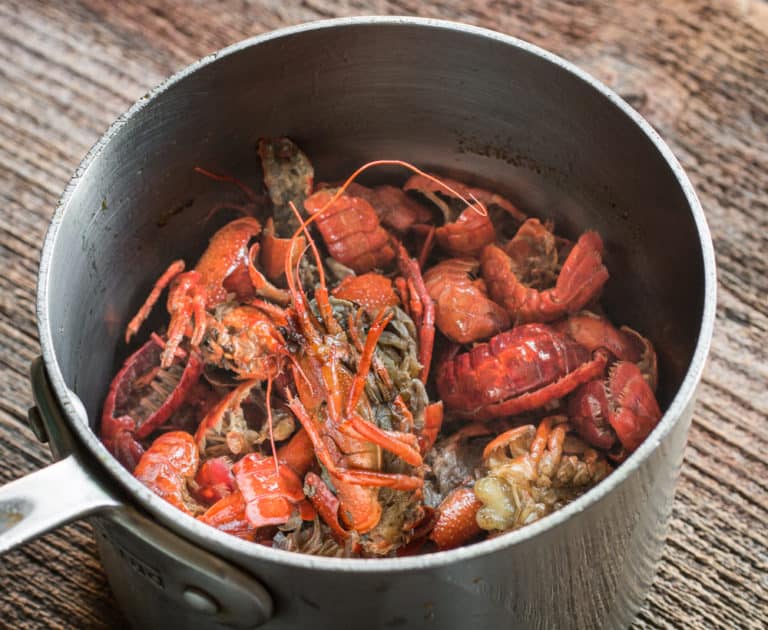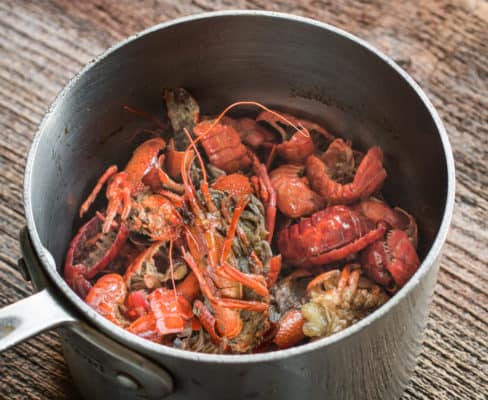 Besides stock, ditch lobster heads, or any crustacean shells, pounded and then cooked with butter makes a fantastic infused drawn butter for dipping things in.
I can't speak to the science of it, but the tasty compounds in any crustacean shell infuse like a dream into fats and oils, an old trick I gleaned from watching a line cook I looked up to playing around one night, back in my Pazzaluna days. The beauty too, is that you only need a tiny amount of crayfish shells to infuse some butter, as a little mudbug goes a long way.
The end dish is really simple, you dredge the burbot nuggets in the lobster mushroom coating, fry them up, then dip in the infused butter. A little fried parsley and lemon wedges add color to the plate and count as vegetables.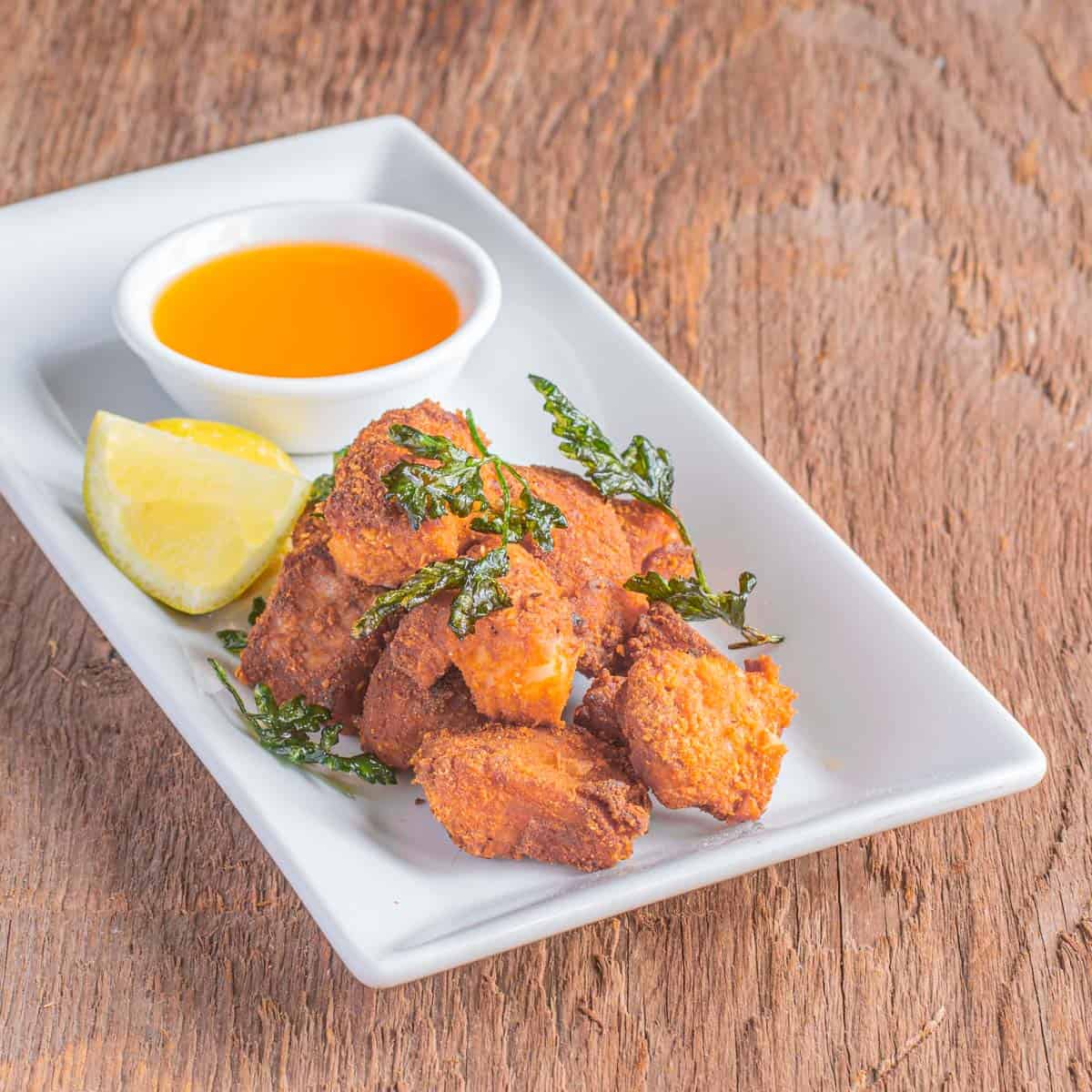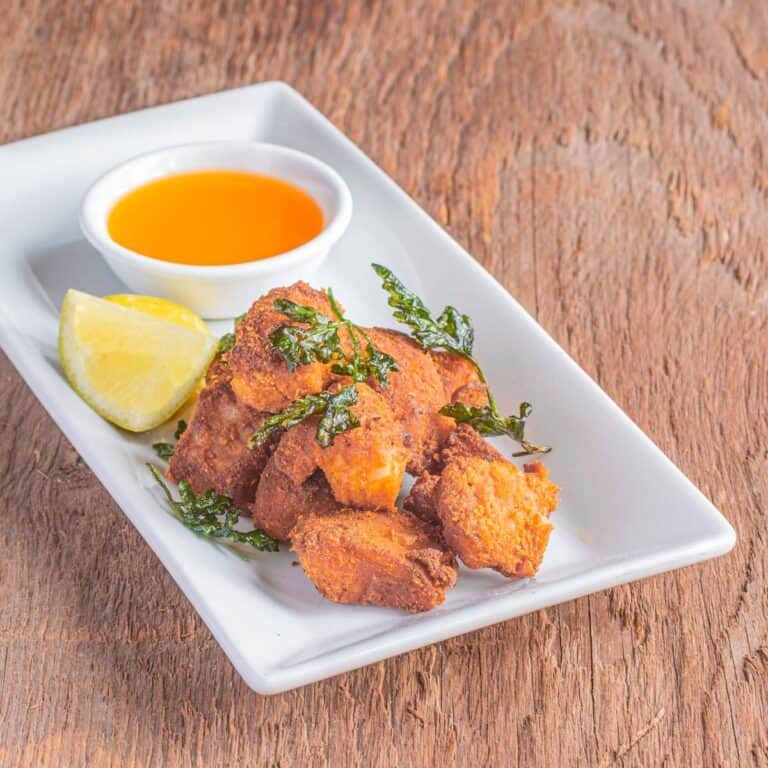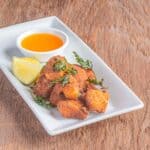 Print Recipe
Lobster mushroom crusted burbot with crayfish butter 
Sauteed burbot with a lobster mushroom crust served with crayfish infused butter
Ingredients
½

cup

lobster mushroom rub

or substitute ground lobster mushrooms

8

oz

Burbot filets

cleaned, trimmed, and cut into bite-sized pieces (other white fleshed fish like whitefish, walleye, or sunfish are great too)

Kosher salt

as needed

1

handful

Italian parsley

optional

Crayfish butter

as needed, about 1 tablespoon/person

4

Tablespoons

Flavorless oil

for sauteeing the burbot
Instructions
If you want to use fried parsley as a garnish, pick a good handful of leaves and deep-fry them at 350 until just cooked, carefully remove the crisp leaves and drain on a towel. Reserve the fried parsley (it can be made hours, or in some lazy restaurants, days in advance).

Season the burbot pieces with salt, then dredge in the lobster mushroom mixture and dust off the excess. Meanwhile, heat some oil in a pan until hot, and fry the burbot pieces, turning once to caramelize each side, working quickly so they don't overcook.

Remove the cooked burbot pieces to a paper towel to drain, then serve immediately on a warmed plate with lemon wedges, fried parsley, and warmed ramekins of the crayfish butter.
Shellfish butter
Here's how to make shellfish butter: Take some raw or cooked shells, pound them with a mallet to release their juices and squish them all up, or mash in a stand mixer. Put the shells in a pot and add melted unsalted butter just to cover, then simmer on the lowest heat possible, about 30 minutes,

adding a little water to make the butter float. After 30 minutes, the butter will taste like crayfish, strain and chill. Remove the pure orange butter after chilling, then simmer to sterilize it and remove water.

Refrigerate the butter for a couple months, or freeze for longer. Use as a dip, drizzle, base of a sauce, or cook shellfish or even poultry with it.
Notes
Here I use lobster mushrooms for a crust, but you can feel free to use any dried mushroom you like. Porcini make a great crust, as do black trumpet mushrooms. 
Nutrition
Calories:
177
kcal
|
Carbohydrates:
3
g
|
Protein:
10
g
|
Fat:
14
g
|
Saturated Fat:
2
g
|
Polyunsaturated Fat:
8
g
|
Monounsaturated Fat:
3
g
|
Trans Fat:
0.1
g
|
Cholesterol:
24
mg
|
Sodium:
32
mg
|
Potassium:
293
mg
|
Fiber:
0.4
g
|
Sugar:
0.1
g
|
Vitamin A:
107
IU
|
Vitamin C:
2
mg
|
Calcium:
11
mg
|
Iron:
0.3
mg