Day lily shoots are a great spring edible, and one of the very first things that come up where I live and hunt in Minnesota and Wisconsin.
Day lily shoots are delicious in all kinds of things, but a classic Japanese gomae preparation is one of the first things you should try with them. The basic recipe is really easy: take some nuts or seeds (sesame are traditional) toast them and mash up in a mortar and pestle, then add some soy sauce, a dash of maple syrup or sugar, and some of the same oil of the nuts or seeds that you used.
Traditional gomae does not often include oil, but I find it indispensable in the ones I make, and allows you to really deepen the flavor and focus on a single nut or seed. Although sesame is one of the most delicious, and the one I have pictured here, there are many different combinations you can use. Here's a few examples:
Nut and seed combinations
Sunflower oil + sunflower seeds
Pumpkinseed oil + pumpkinseeds
Black walnut oil + black walnuts
Pecan oil + pecans
Hickory nut oil + hickory nuts
Acorn oil + ground acorn meal
Soy sauce substitutes
Soy sauce is good, but there's lots of other things you can use. Mushroom ketchup, fermented mushroom ketchup, garum, colatura--any sort of salty delicious sauce will be good here.
Sugar Substitutes
Traditionally white sugar is used, but maple syrup, birch syrup, or honey are all good too.
Other Shoots to Use
Warning: Don't eat daylily shoots raw
Day lily shoots should never be consumed or served raw. Some people can tolerate them, but most (including myself) cannot. Intense nausea and dry-heaving typically follow just eating just a few grams.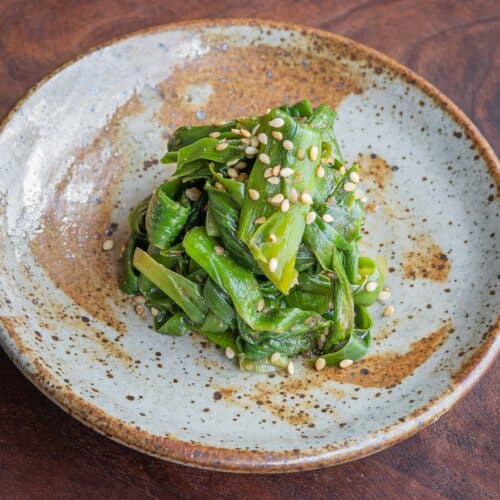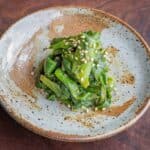 Print Recipe
Day Lily Shoots Gomae
Day lily or tiger lily shoots served in the classic Japanese style tossed with gomae dressing.
Ingredients
3

tablespoons

nuts or seeds

such as sesame

1

tablespoon

soy or equivalent

1

tablespoon

oil from the same nuts

1

tablespoon

maple syrup

4

ounces

fresh day lily shoots
Instructions
Blanch the day lily shoots in boiling water for 45 seconds, then drain and spread out on a tray lined with a towel to dry naturally and cool.

Toast the nuts, then grind to a paste in a mortar and pestle, and stir in the remaining ingredients.

Toss ½ of the dressing with the greens, double check the seasoning, adjust as you see fit, adding more dressing to your taste, and serve, cool, lightly chilled or at room temperature, fashioned into high mounds on small appetizer plates, garnished with additional toasted nuts or seeds, and served with chopsticks.