Hickory nut milk (hick milk for short) is the best nut milk I've ever tasted, and, unfortunately for non-foragers, I doubt it will ever be on a store shelf. It's hard to put into words how fascinating it is, and, to be honest, to me, the name nut milk undersells the product, as well as the deep cultural history hidden within it.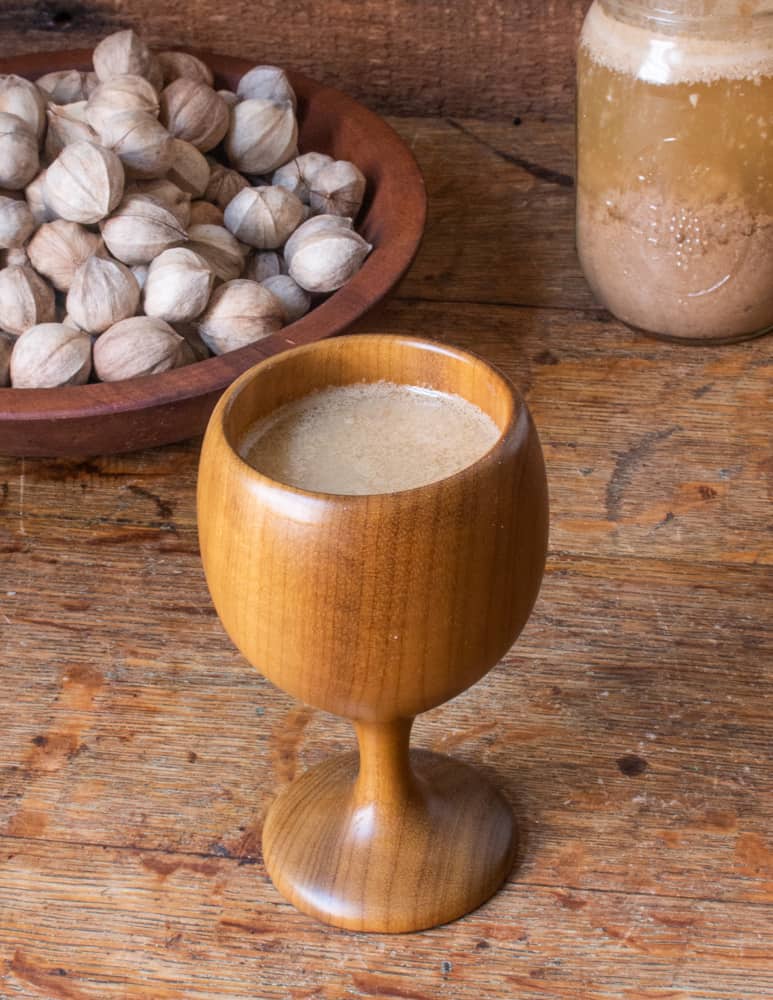 Comparing hickory nut milk to something like a carton of almond milk, is like comparing truffles to button mushrooms. They are not the same.
Kanuchi, the Cherokee name for a sort of ball of pounded hickory nut meats and shells the milk is derived from, is probably the best known, ancestral name.
To truly appreciate what it is, and to understand why I'd hype up a glass of brown nut water, kanuchi is a word you need to know. Below is a great video of Cherokee elder Edith Knight making her kanuchi that my friend, Cherokee Chef Niko Albert turned me onto-definitely give it a watch!
A wasi'chu myself, I'm not an expert on the history of Kanuchi by any stretch of the word, but I've made enough of it to describe the process, especially after watching Sam Thayer demonstrate it at a solstice party we had a few years back. Sam also describes the hick milk process in his book Incredible Wild Edibles that I consulted regularly while working on the section of my book on hickory nuts.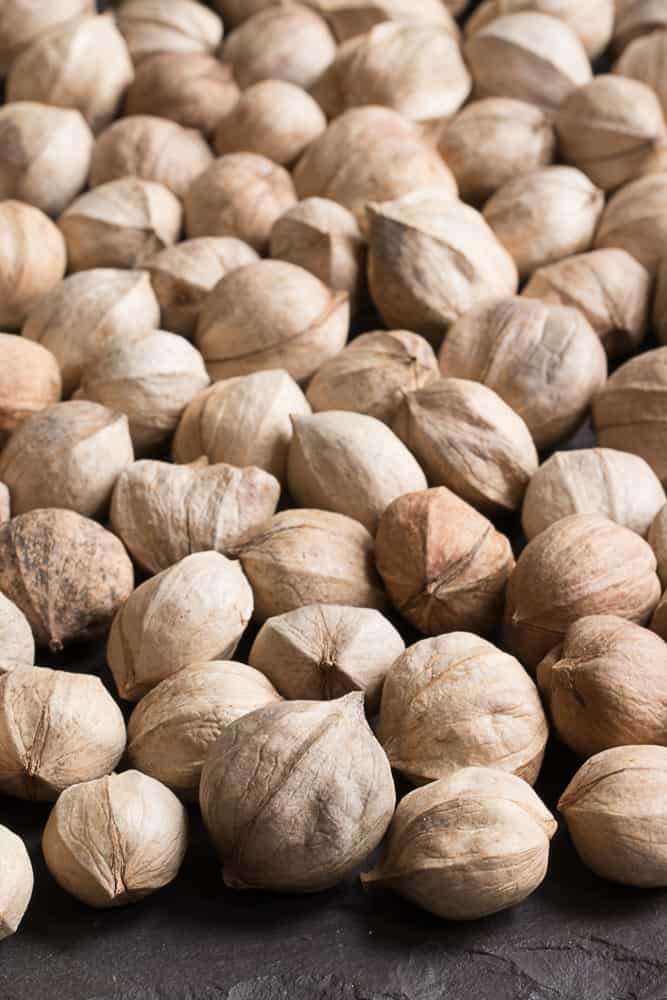 At the party, Sam walked up to the house carrying a bootagen-a length of birch trunk, (as I understand it, birch is less prone to splitting than other woods). The log is slowly, painstakingly hollowed out using a progressive fire technique, making it essentially a large mortar and pestle, Sam's pestle was a long stick about the size of a canoe paddle or a boat oar (see below).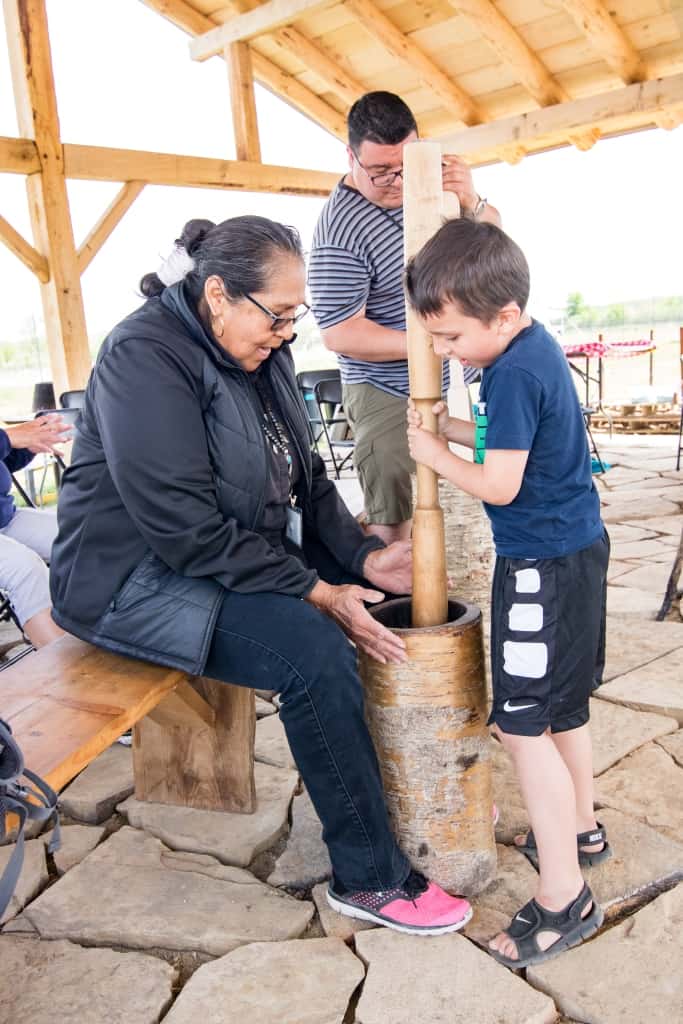 Sam cracked some nuts, each one individually to check for any rancid nuts (which can be a real issue with hickory nuts, as I've come to find out) then, in one of the most impressive demonstrations of ancestral food I've seen, proceeded to pound the nuts, shells and all, into a sort of coarse paste in the tree trunk mortar with the sort of force that made the floor of the house shake with each strike of the massive pestle. It was a showstopper, to be sure.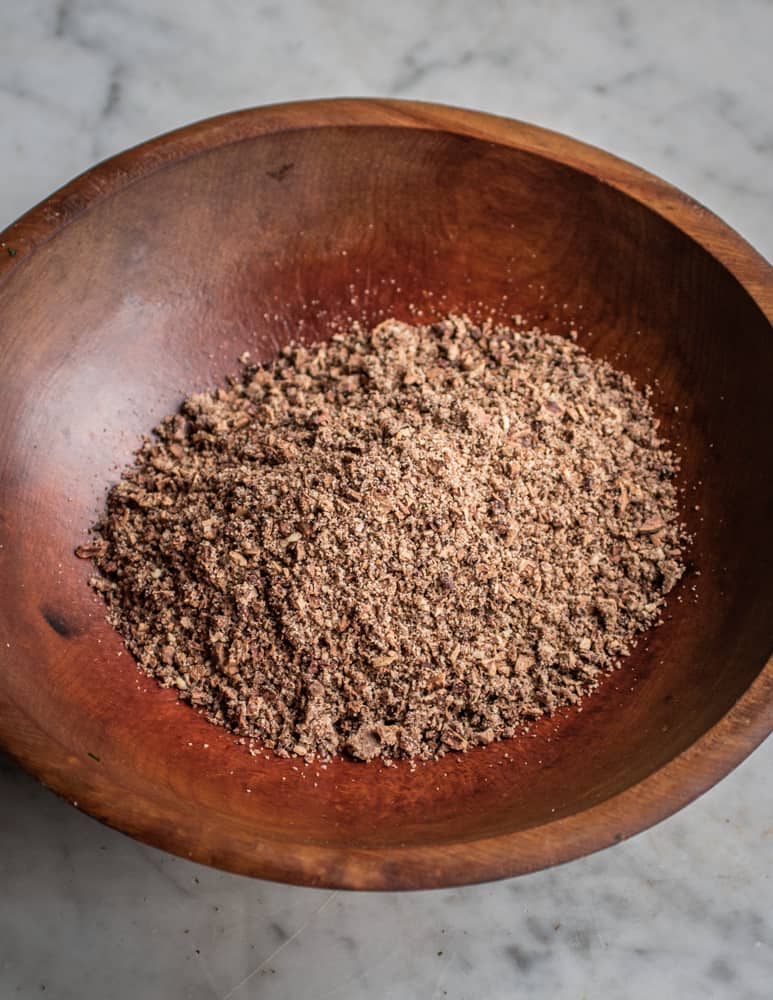 After the nuts and shells are pounded into a mash (I use a Vitamix dry bowl, and it's loud, but it works) they're traditionally made into a ball, which I've heard could be given as a gift.
To prepare the hick milk, the mashed nuts and shells and added to water and simmered for a while, releasing an unmistakable aroma of pure, buttery hickory-pecan-esque goodness into the air.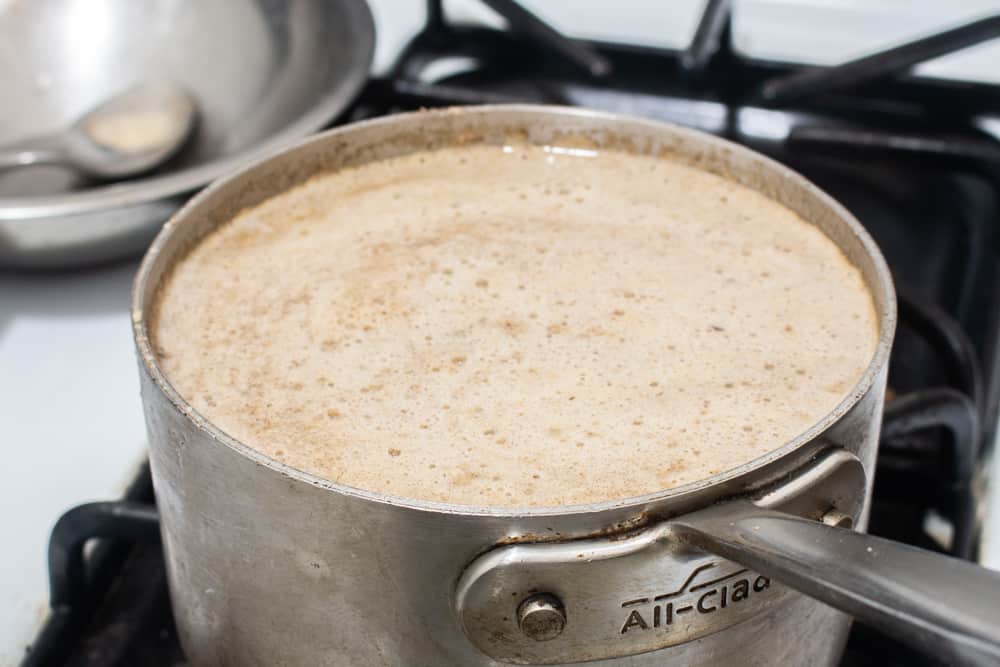 After simmering is when the magic happens. Once the nut milk has cooked for a bit and has a good flavor, you stir the pot, then stop for a few seconds. Once you stop stirring, the hickory nut shells, being more dense than the nut meats, sink to the bottom, and the resulting, semi-chunky nut milk is ladled off into another dish, or into cups.
Seasoned with a pinch of maple syrup and a dash of cinnamon, it's a nectar of the gods, and, if you're like me, you'll never think of nut milk the same way after your first taste. I mean really, from a practical standpoint, an indigenous non-animal fat source derived from hickory nuts that bypasses the tedious shelling process is pure genius, right?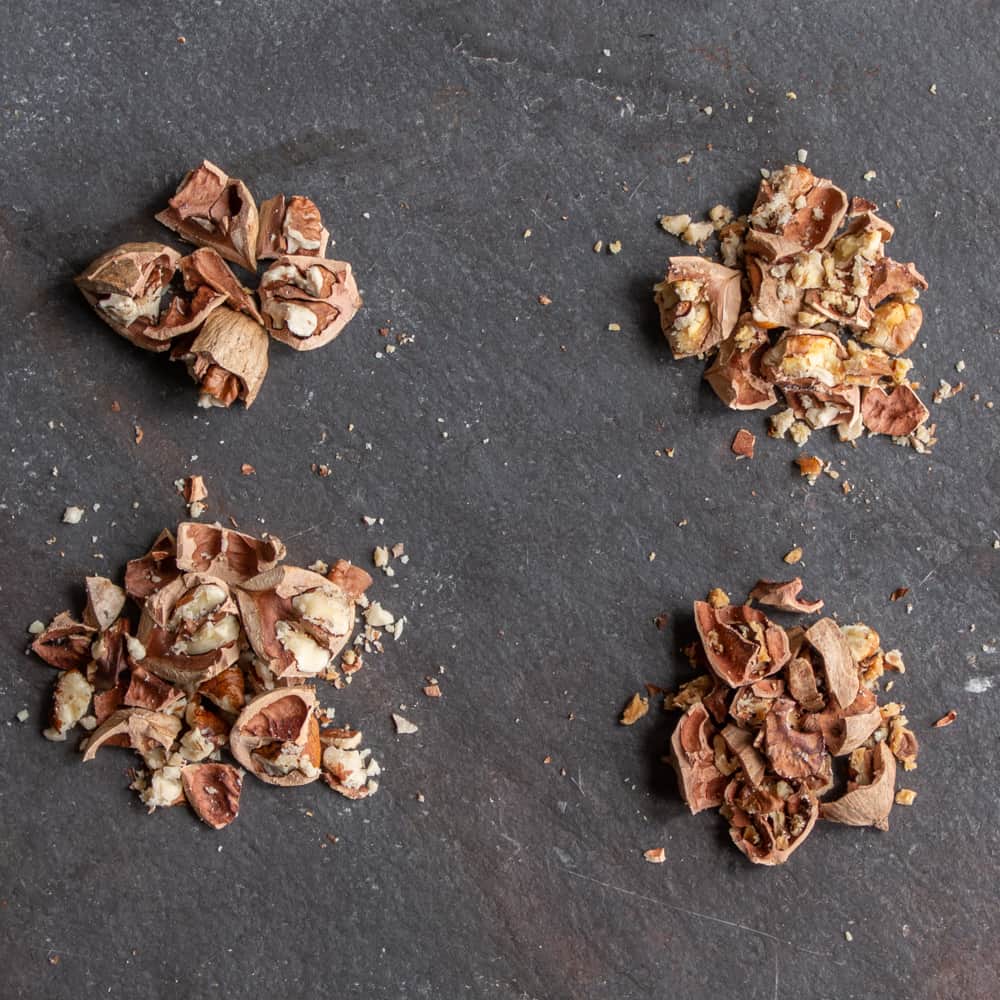 The second wash
After the nut milk is ladled off of the settled shells at the bottom of the pot, it's ready to go, but you're not done yet. As Sam writes, there's still plenty of delicious hickory nut solutes in the pot that you can harvest by adding some more water, simmering again to make a weaker, but still useful second wash as I call it (a term I would use with my cooks for when we were going to make a remoulage-a stock made from bones that had already been simmered once).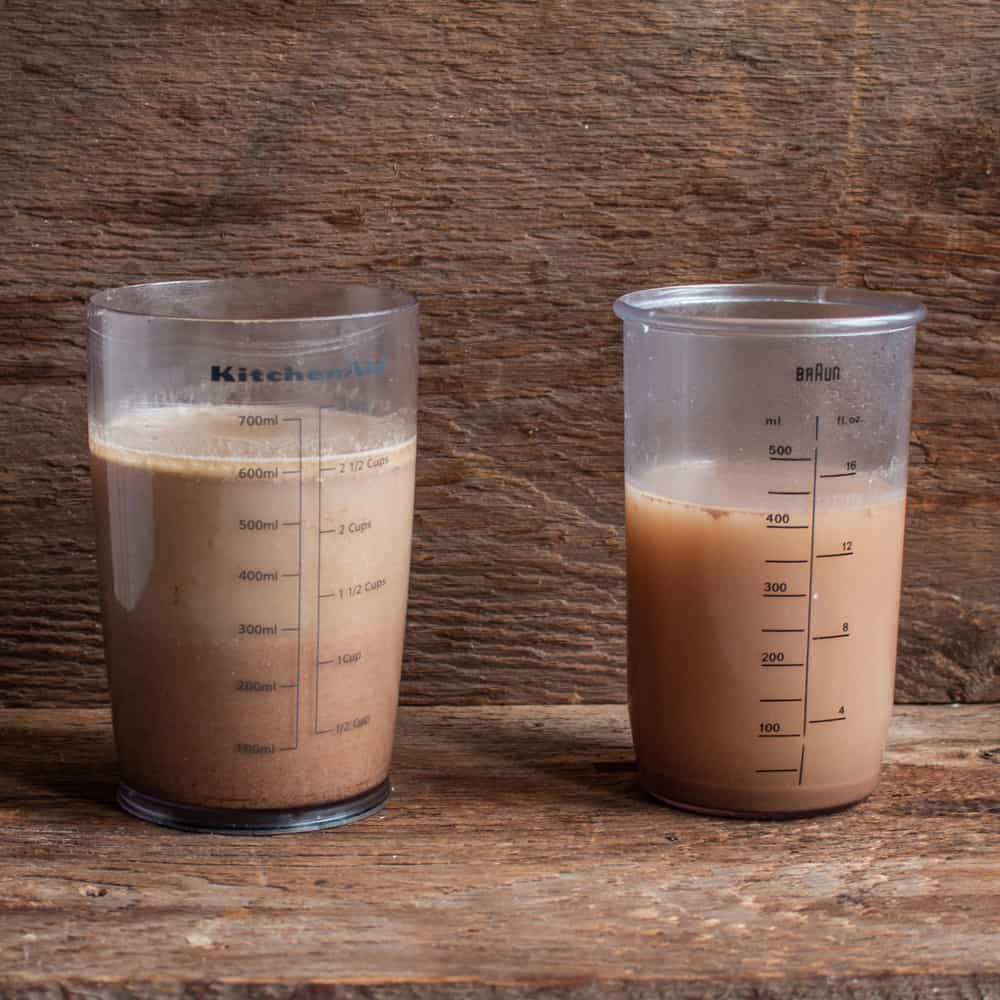 The second nut milk has different properties than the first wash in that it's not thick. The lack of thickness means it's great for using as the base of a soup, or, arguably the best: cooking a pot of real wild rice.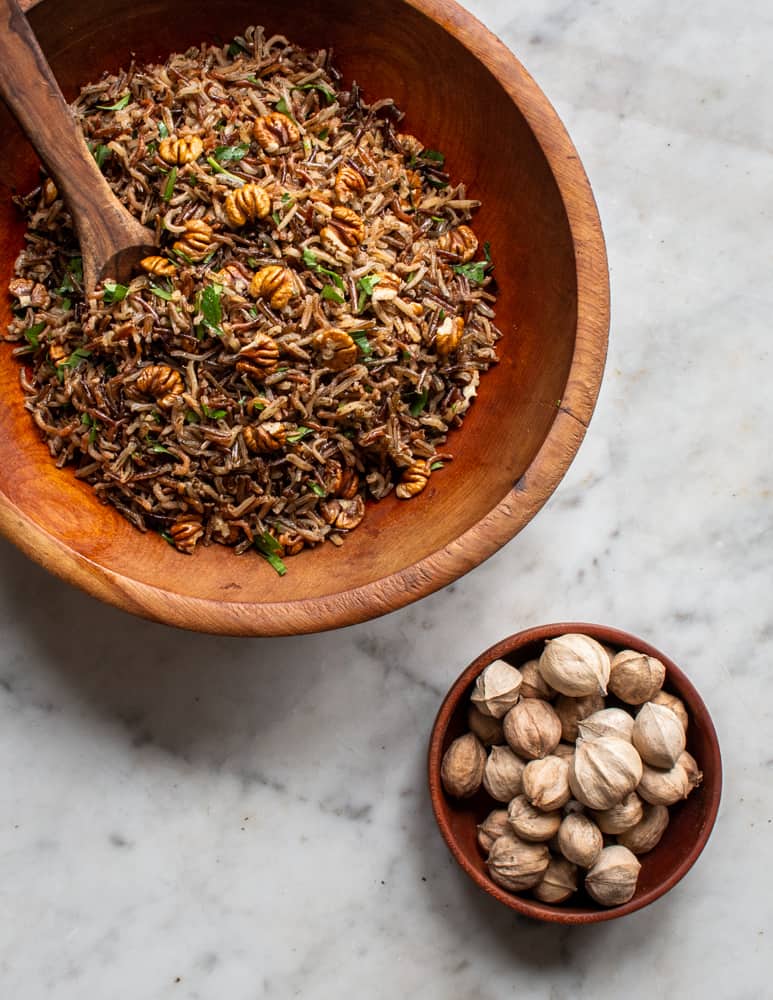 What follows is the beginner version of hickory nut milk I developed and, compared to with other recipes, it will seem like a small batch for the amount of work involved—and it is. Once you get the hang of cracking the nuts and inspecting them for off ones, I'd encourage you to make larger batches.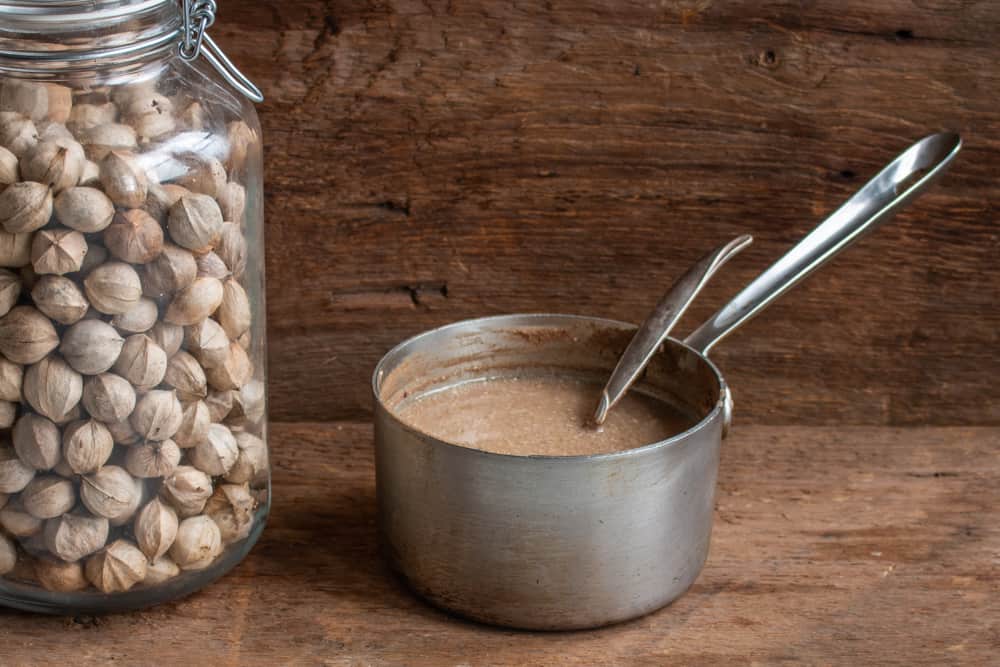 Related Posts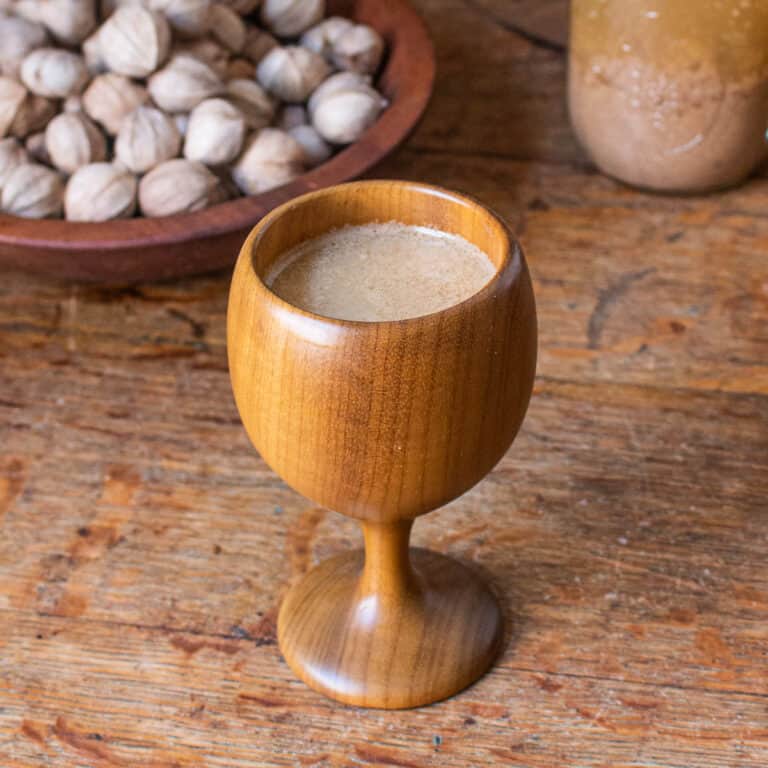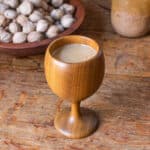 Print Recipe
How to Make Traditional Hickory Nut Milk (Kanuchi)
Traditional hickory nut milk made from ground, whole hickory nuts and water. Try it with a little maple syrup and a pinch of cinnamon. Makes about 3 ½ cups.
Ingredients
8

ounces

225 g crushed hickory nuts and shells

4 ¼

cups

1 L water

Serving

Maple syrup

to taste

Cinnamon

a pinch
Instructions
Crack each nut individually, inspect for (and discarding) any that smell off, are hollow, or have dark interiors. Take the cracked nuts and put them in a high-speed blender and process into a coarse meal—it will be loud. Add the nut mash to the water and bring to a simmer, stirring occasionally.

When the pan starts to simmer, a raft of frothy nut cream will form on the top. Virtually all of the shell particles sink, but inevitably some will be caught in the foamy cream, so I like to spoon this off and add it to the "second wash" for extra flavor, and to remove nut shells from the finished milk.

After you've skimmed the foam, let the mixture simmer for another 15 minutes or so, then turn off the heat, wait a few seconds to let the larger shell pieces fall to the bottom, and start ladling off nut milk.

There's a real art to ladling off the milk; you want to wait just long enough to let the large shell pieces settle, but not so long all the nut meats go with them.

Gently swirl the pan a bit, and you'll get the hang of it. Eventually you'll need to tilt the pan to continue scooping off nut milk, but don't try to get it all or you'll get shell particles.

Season the finished nut milk with maple syrup to taste and a tiny pinch of cinnamon.

Save the remaining nut meats and milk to make the second wash—a weaker nut milk that's perfect for cooking rice or, polenta, or as the base of a soup, since it's not thick like the first milk. Squirrel soup cooked with nut milk is delicious, and makes me chuckle.