A smoky, sweet syrup made from toasted hickory bark, shagbark syrup has been a forager's secret for a long time. It's a bit like a hickory nut recipe without the hickory nuts, which also means it can be something useful to make on years when the trees aren't producing enough nuts to gather, since bark is always available.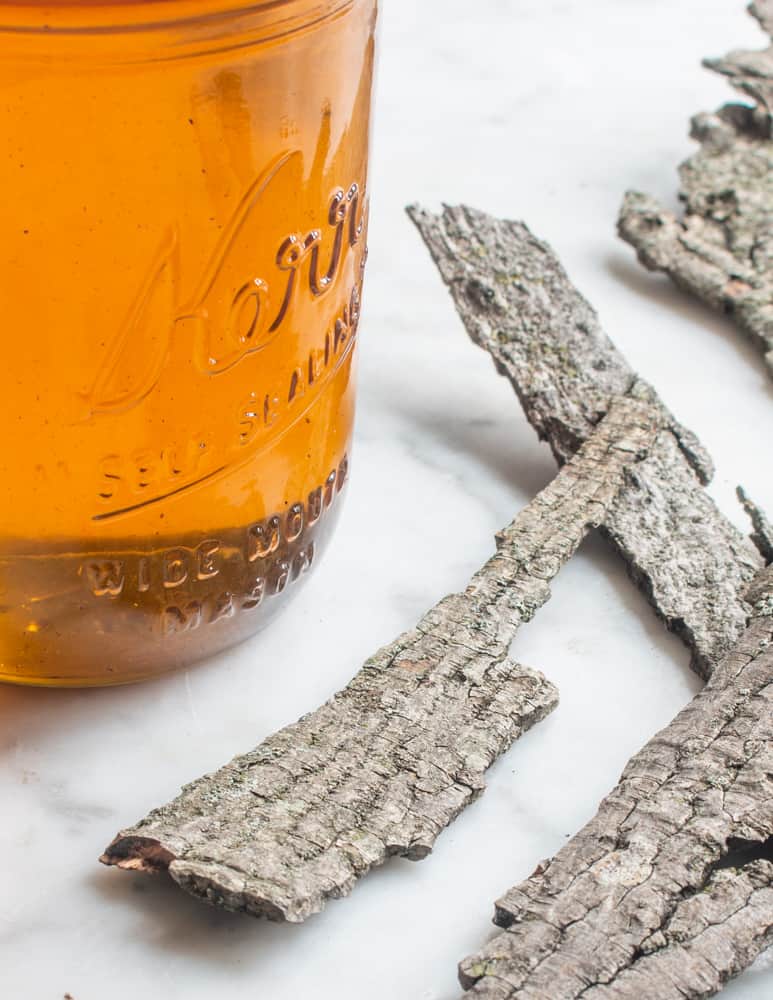 I've been seeing the syrup creep its way into farmers markets as an interesting value-added product in recent years. Today I'll describe how it's made, and what you can do with it.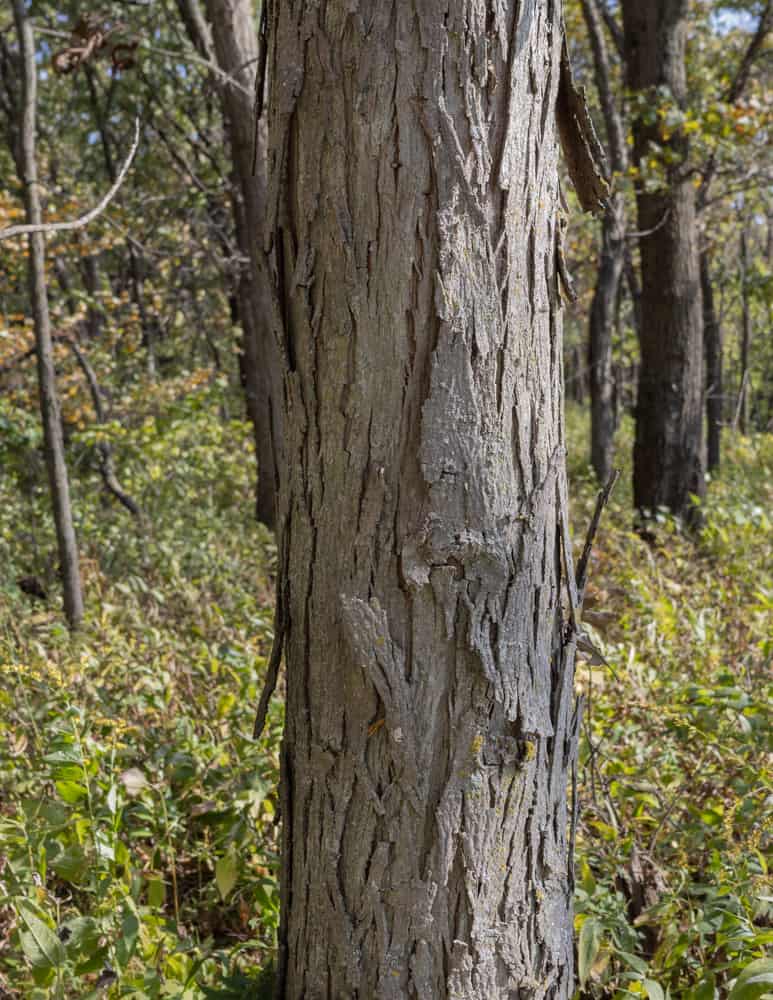 Known as a kind of maple syrup substitute, shagbark syrup, unlike other tree syrups made from sugar maples and others, is made from a tea or infusion of roasted hickory bark (Carya ovata is the only species I use) and sugar. The finished syrup tastes good, but I think it's important for me to tell you it's more of a "poor man's maple syrup" and definitely isn't worth as much as the real deal.
Harvesting tree bark as food
Bark isn't something that we often think of as food, so it's important to go over a few things. Here's a quick list.
Harvest living bark
You must harvest bark from a living tree to make this. It should look clean, and be free of moss, spiders, mold, and other things you wouldn't want to eat.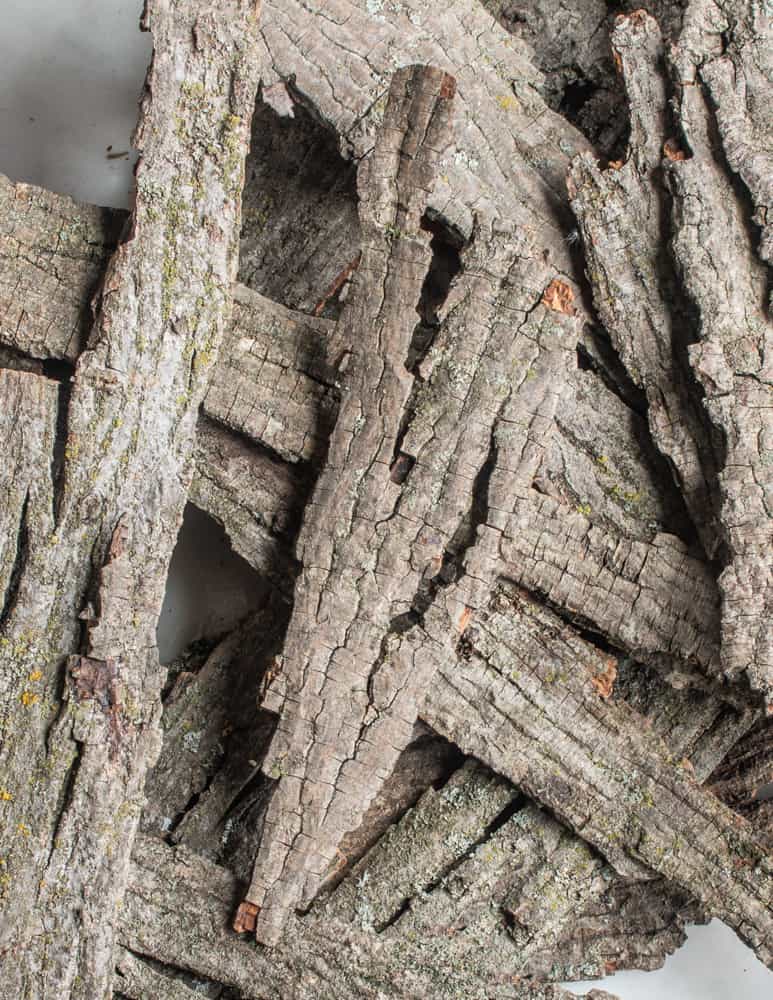 Cooking and cleaning
After you've harvested your pieces of bark they should washed and scrubbed with a brush to remove any excess particles that could get into the syrup (you'll strain it too so don't worry too much). After cleaning, the bark is roasted which gives it a nice toasty, slightly smoky flavor.
Avoiding overharvesting
I don't think this is a huge issue, but it is worth mentioning. Shagbark trees have lots of shaggy bark to spare, but I think it's good to mention that you shouldn't harvest heavily from a single tree. Make sure that you're harvest isn't noticeable to the naked eye, and that you're not harvesting heavily that could leave the tree vulnerable to pests and molds.
How to make the syrup
To make the syrup, you take your cleaned, roasted bark (half a pound of bark is plenty and will make about 4 cups) broken into pieces a few inches long, add water to cover in a large pot and simmer for an hour to make a smoky hickory bark tea.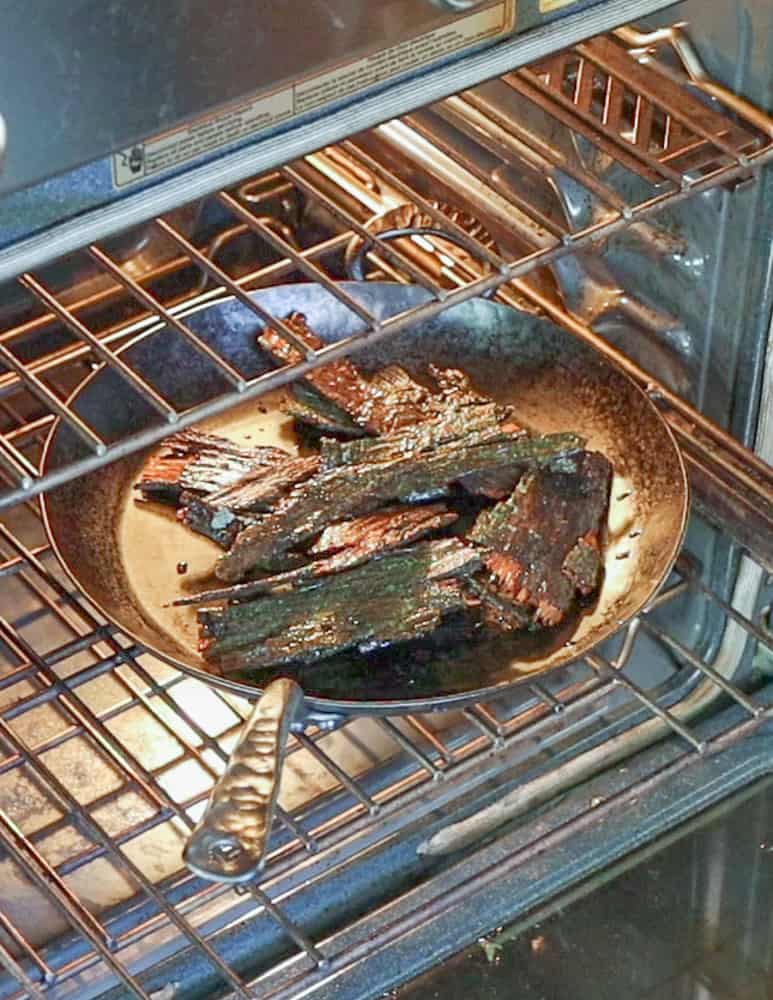 Afterward the tea is strained, mixed with an equal volume amount of sugar, and simmered until the simple syrup reaches 225 F on a candy thermometer. That's it.
After the syrup reaches the proper temperature, you can pour it into mason jars, top them with a lid and store in a pantry. The finished syrup is great and a good way to start using it is in place of maple syrup on pancakes or used to flavor custards and ice cream.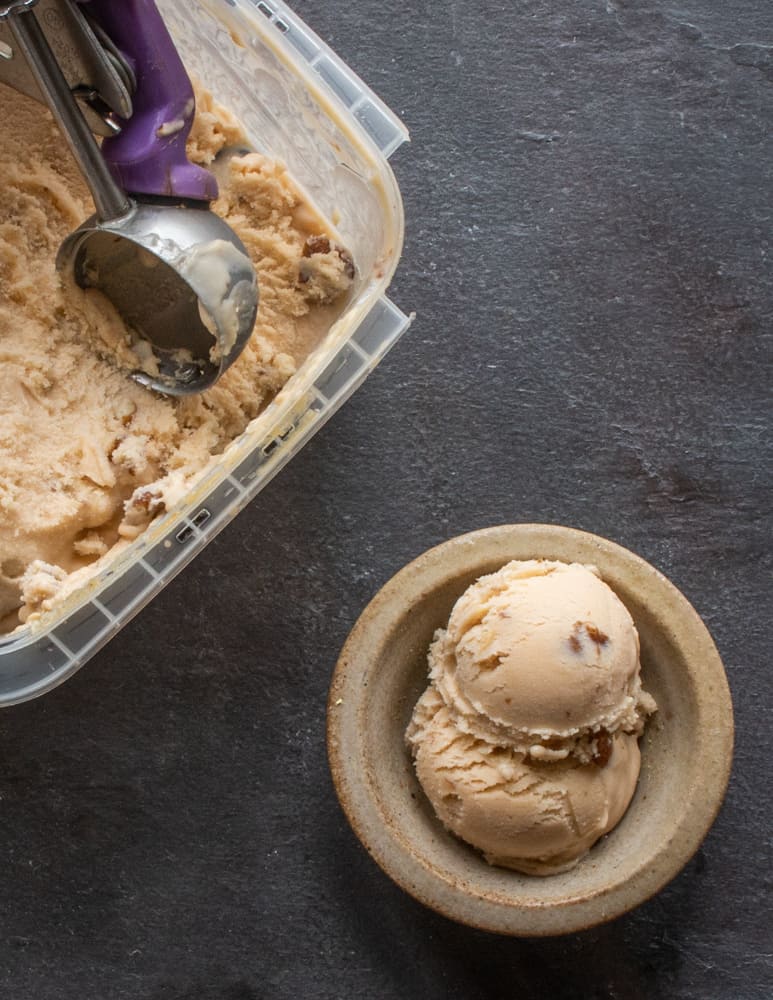 Dealing with crystallization
Crystallization can happen in the syrup if it's cooked too long and reaches a temperature over 225 F. Some people will tell you to use corn syrup to help it not crystalize (long story it's an invert sugar and helps things to not crystalize).
I can't stand corn syrup and try to avoid it whenever possible, so I only use cane sugar here. If your syrup crystalizes after it's chilled, just microwave or warm the jar up to refresh and melt it.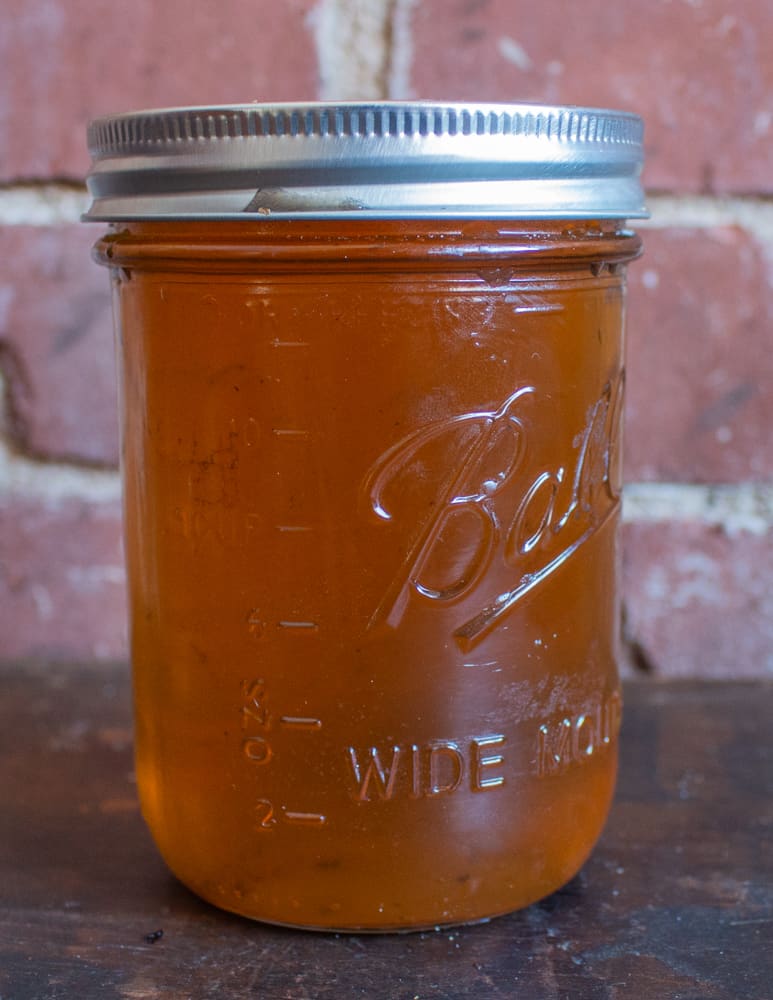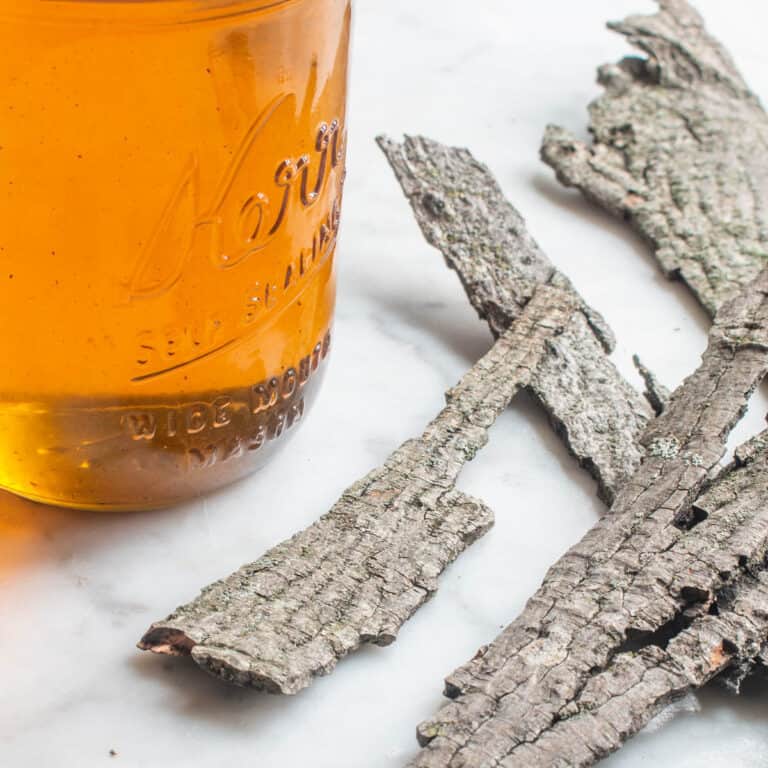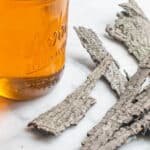 Print Recipe
Shagbark Hickory Syrup
A light, slightly smoky tasting syrup made from an infusion of hickory bark. It's popular as a poor mans maple syrup and often sold at farmers markets as a value-added product. Use it wherever you'd use maple syrup. Makes 4 cups or 2 pints jars
Ingredients
8

oz

shagbark hickory bark

6

cups

water

4.5

cups

white sugar
Instructions
Harvest the bark
Harvest hickory bark from a living tree that looks fresh and clean, without any evidence of mold, moss, fungus, or discoloration.

Bring the bark home and scrub it in a sink of warm water. After the bark is cleaned, put it in bowl with warm water and allow it to soak for 15 minutes. Next, drain the bark and put it a pan then into a preheated 400F oven for 25 minutes.

Remove the bark and allow it to cool, then break it into 3-4 inch pieces.
Hickory infusion
Put the bark into a pot with high sides, add the water to cover, bring to a simmer and cook for 30 minutes, then allow to cool with the bark still in the water. If you cook it too much and the water level gets low, add another cup of water to keep it submerged-it's not an exact science.
Making the syrup
Once the hickory bark tea has cooled, strain it through a fine strainer to remove any particles, put it back into a pot, preferably 8 inches in diameter that you can simmer it in, add an equal volume of sugar (one cup sugar for each cup of bark tea) bring the mixture to a boil, and cook until it reaches 225F on a candy thermometer. This should take about 20 minutes.

Once the syrup hits the proper temperature, pour it, boiling hot into two clean pint mason jars, screw on the lids, and allow to cool.
Storing
You can keep the finished syrup in a pantry for a long time, but it should be refrigerated after opening as it will eventually turn to vinegar if left out.
Serving
Use the finished syrup anywhere you use maple syrup, but know that it's lighter in volume. It's not maple syrup, but it's cheap, and fun to make.
Notes
I use shagbark hickory bark here, but many different species of hickory can be used. 
Allergy Note 
I have friends that sell this at farmers markets. Inevitably people with nut allergies come around and want to try it. So far no one with a nut allergy has had a reaction to consuming hickory syrup as it's made from bark, not nuts. 
Nutrition
Serving:
1
Tablespoon
|
Calories:
347
kcal
|
Carbohydrates:
90
g
|
Fat:
0.3
g
|
Sodium:
8
mg
|
Potassium:
2
mg
|
Sugar:
90
g
|
Calcium:
5
mg
|
Iron:
0.04
mg
Related Posts
Forager's Guide to Shagbark Hickory Nuts
More Wild Nuts