Freezing can be a great way to preserve your harvest. Unlike drying and pickling mushrooms, there's a lot of misinformation and weird opinions out there, so I'm going to try and set the record straight a bit, as well as share the methods I use.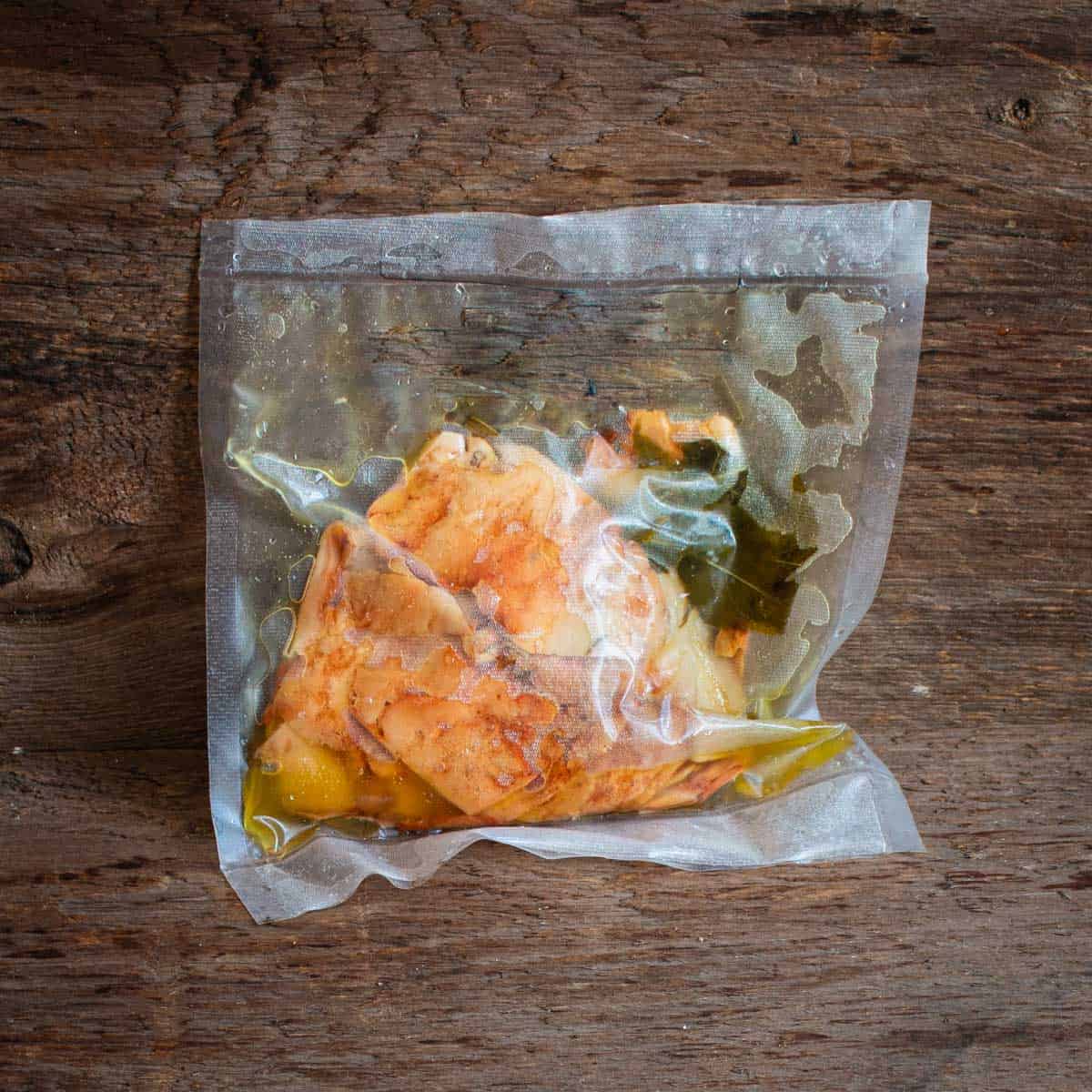 If you're a mushroom hunter, even a beginner, you're going to have excess shrooms, and that's a good thing. But you'll want, and need to have some solid methods for preserving them in your bag of tricks to make the most of your harvest.

Drying and pickling are my favorite methods. But, if you've ever had a big harvest, you may have asked yourself: "what's the best way to freeze wild mushrooms?"
You should know though, if it's your first time, that frozen mushrooms, wild or cultivated, will never be as good as fresh, and some freeze better than others.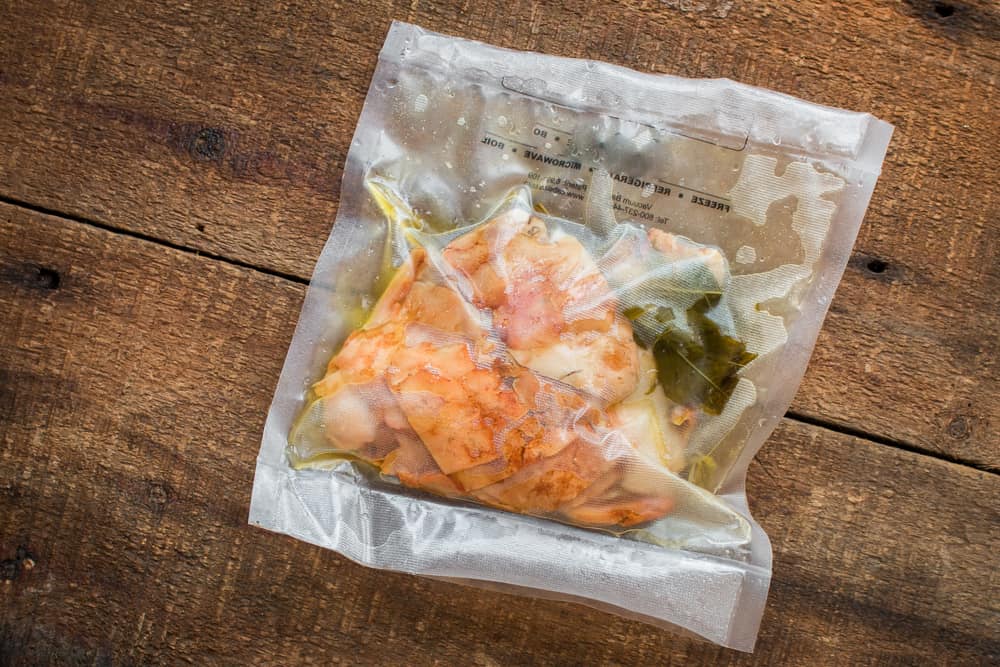 Chicken of the woods mushrooms, cooked and ready for their journey to the deep freeze.
Can You Freeze Wild Mushrooms Raw?
This can work with some wild mushrooms, but can ruin others. Freezing will give you flaccid, soggy mushrooms. Why? The reason all has to do with what happens to water when it freezes.
Expanding ice crystals tear flesh
When water freezes, the particles freeze, but more importantly, they expand, and that expansion will tear, burst, rip, and basically destroy anything that tries to stand in it's way, although you can't see it with the naked eye.
This is why uncooked, raw, wild mushrooms are limp and watery after thawing. If you do have wild mushrooms you can freeze raw, you'll want to cook them directly from the freezer. Sweating mushrooms in some butter, lard or oil with a healthy pinch of salt before freezing will help to remove some of the water they contain.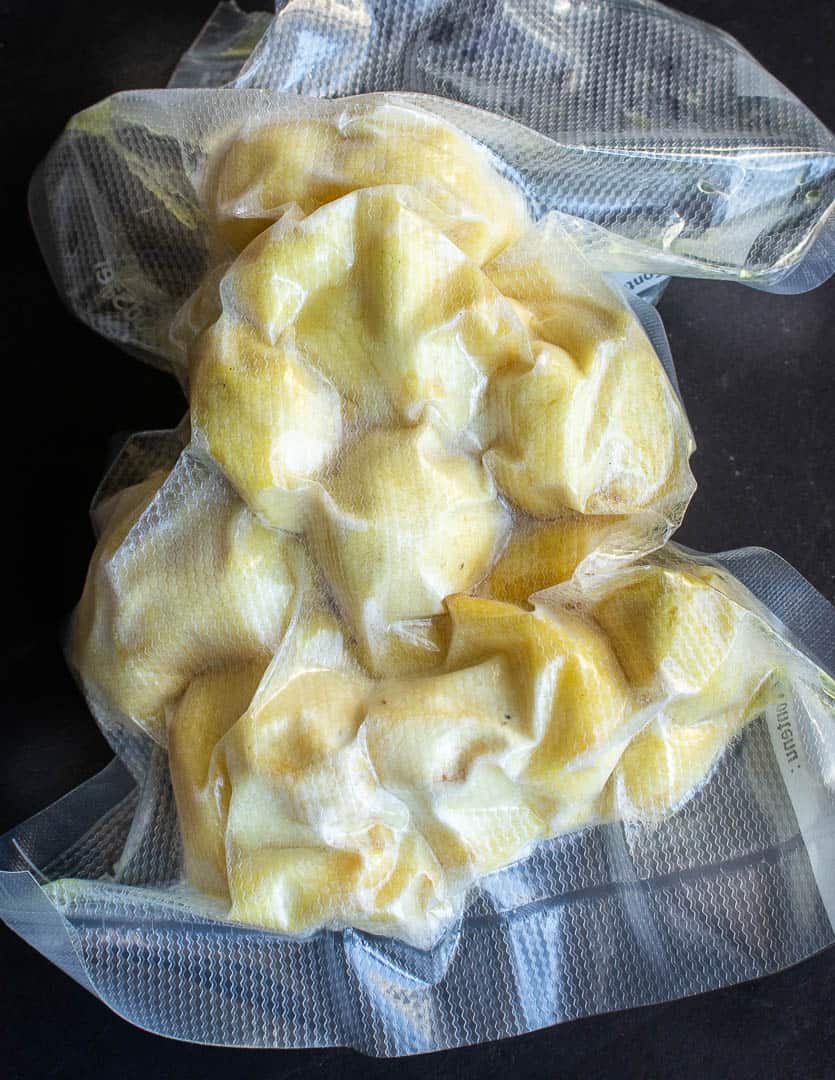 Mushrooms frozen raw can develop off-flavors and colors
Refer to the picture of vacuum-sealed Hericium (lions mane) frozen raw above. These are one of the best examples of why you should cook mushrooms before freezing.
Frozen raw and vacuum sealed, then thawed and cooked, the texture is soggy, but even worse, the Hericium developed a foul musky, bitter flavor that cooking will not remove. They also turn a dingy, dishwater yellow. The same thing happens to puffballs, but it's worse.
Cooked mushrooms save space
In my world freezer space is at a premium. Taking a whole clump of chicken of the woods or another large mushroom and just bagging and putting in the freezer is going to take up valuable real estate. Trust me, you have better things to do than argue with your spouse about what that giant orange thing taking up space in the freezer is.
IQF Mushrooms (to freeze mushrooms raw)
Some mushrooms can be frozen raw, some can't. Each mushroom is unique.
IQF is a popular technique that some people use who like to freeze mushrooms raw. I don't use it often, but it does work for some species. Here's how to do it: take your cleaned mushrooms cut into pieces that you would throw into a pan to cook, and put them on a cookie sheet lined with parchment, a silicone mat, wax paper, or just use a non-stick tray.
Freeze the mushrooms. When they're completely frozen, transfer them to a vacuum bag or a freezer bag. Most people I know cook the mushrooms like this directly from frozen, without thawing. It will not work for every mushroom. Here's a list of mushrooms that it will work with
Morels
Matsutake
Oyster Mushrooms
Frozen breaded morels
This is a very popular treatment in rural areas of Wisconsin and Minnesota where I hunt morels. Take your large, cleaned morels and halve them, then dredge first in seasoned flour, egg, and breadcrumbs.
Put the breaded morels on a cookie sheet lined with parchment or a silicone mat and freeze them. When the mushrooms are frozen and stiff, transfer them to a vacuum bag or a freezer bag. Cook the breaded mushrooms directly from frozen in a shallow layer of oil until golden.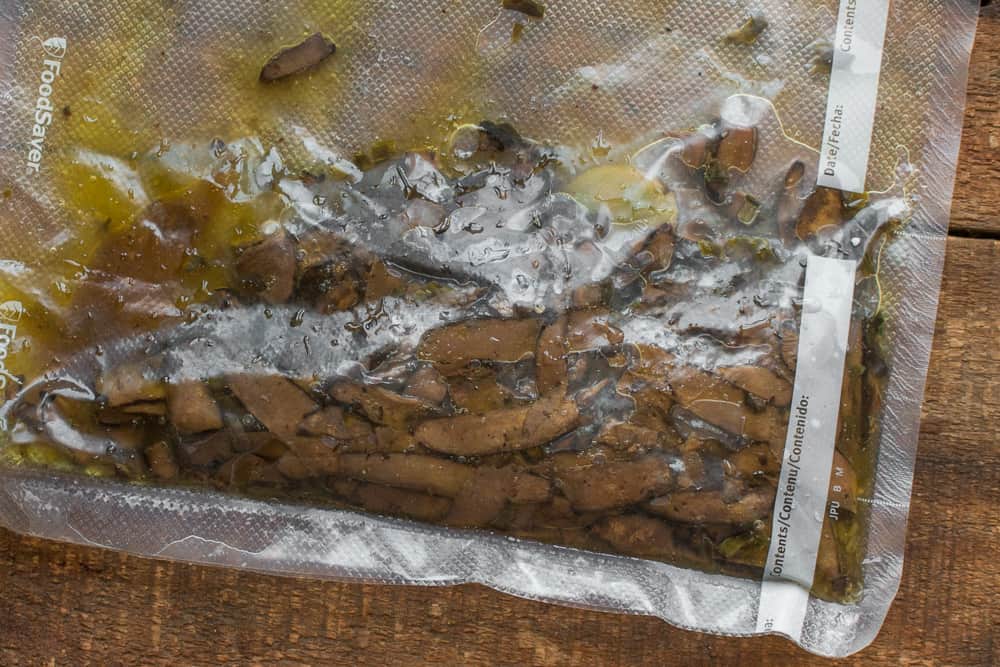 Vacuum Sealed, Sous Vide Wild Mushrooms
If you're a forager, you need to have a vacuum sealer. Now, I have mixed feelings about sous-vide cooking, since it can quickly turn into a crutch for young cooks, but preserving your wild mushroom harvest is one place where it is incredibly useful and indispensable for me.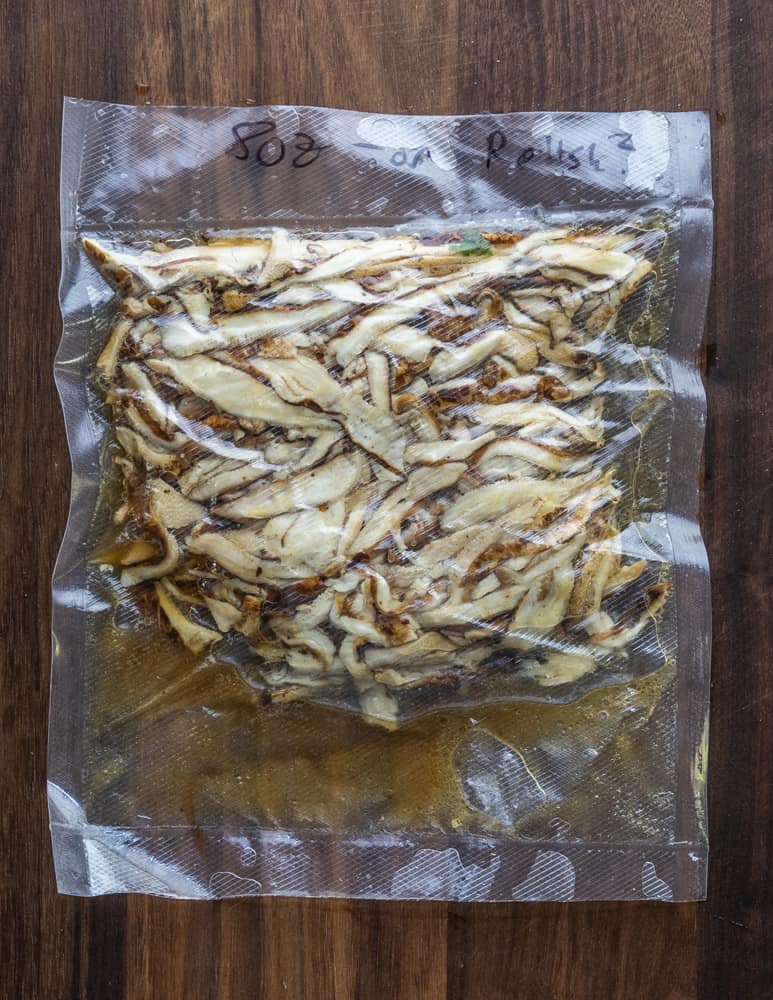 Sure, you can cook your wild mushrooms, and then vacuum seal them, but portioning them after cooking, especially if you're using a method that has a lot of fat or oil, which helps ward off freezer burn, can get messy.
Portioning some wild mushrooms into a vaccuum bag, adding some oil, salt and herbs, then cooking and freezing means everything is completely contained, and nothing has to be done after the mushrooms are cooked.
Don't Squish Your Mushrooms
Another bonus of cooking your mushrooms after sealing is that vacuum sealing raw mushrooms and cooking afterwords is more gentle on your harvest. Vacuum sealing cooked mushrooms on the other hand, especially with delicate species, can flatten, compress, and ruin them, especially if they're small buttons, like chanterelles or yellowfeet.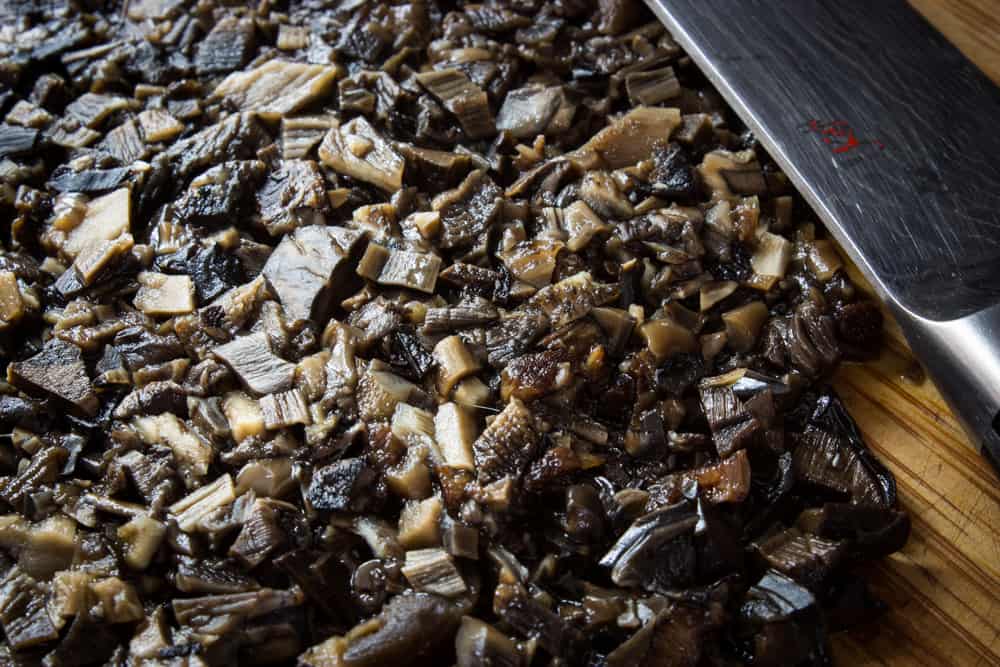 Freezing Mushroom Duxelles
The tried and true space saver for the freezer is a classic mushroom duxelles. If I do freeze wild mushrooms, 99.% of the time this is how I do it. Freezing is probably the best way to preserve these for the long haul, since there isn't any vinegar or high amounts of salt, and they'll go bad relatively fast in the fridge.
With freezing duxelles, you also don't have to worry about any loss of texture, since the mushrooms have been cooked, and finely chopped. This is also a decent way to freeze puffballs, but prepare yourself for lots of dicing.
Portioning Duxelles in Ice Cube Trays
A great way to portion duxelles (and a lot of other things) is to freeze them in ice cube trays, pop them out, and put in a freezer bag. Make sure the freezer bag is a heavy duty one though, since portioning into cubes increases the surface area that contacts air, which, over time can be susceptible to freezer burn.
Vacuum sealing the mushroom nuggets is a great way to save their quality too, especially in some of the vacuum bags that can be sealed, opened and re-sealed using a vacuum attachment.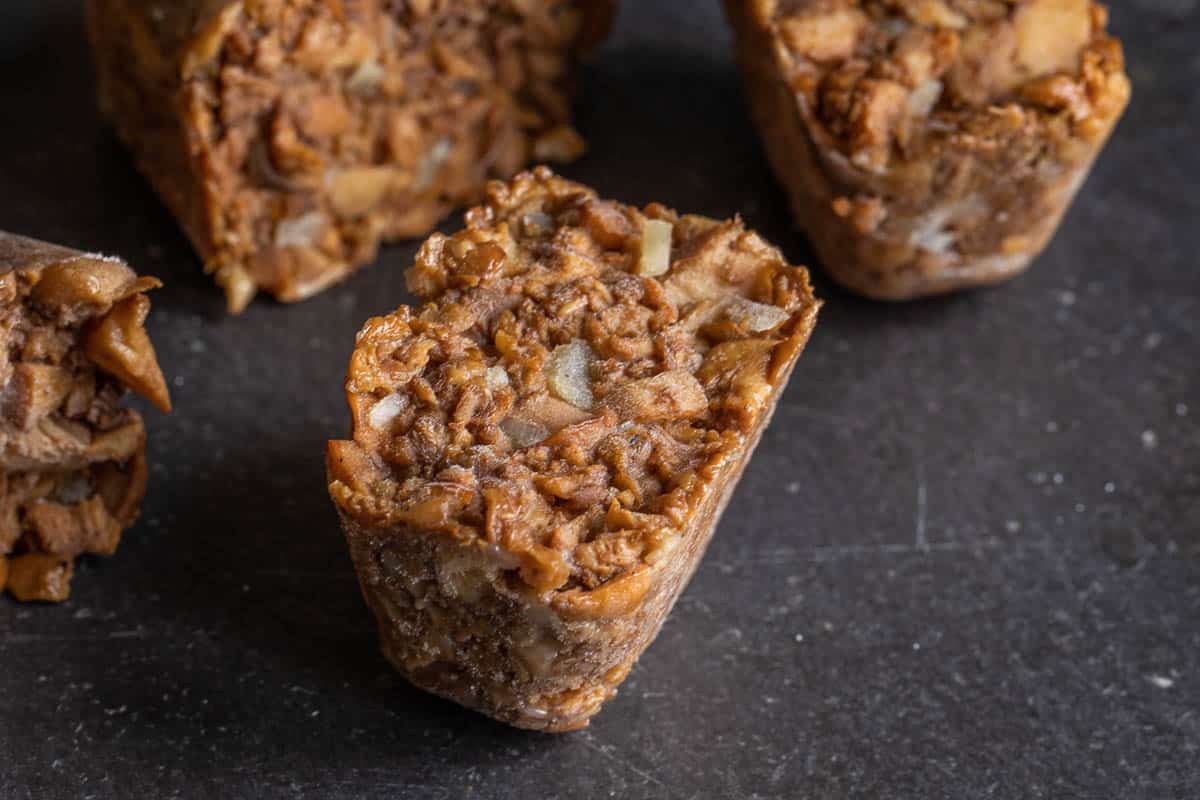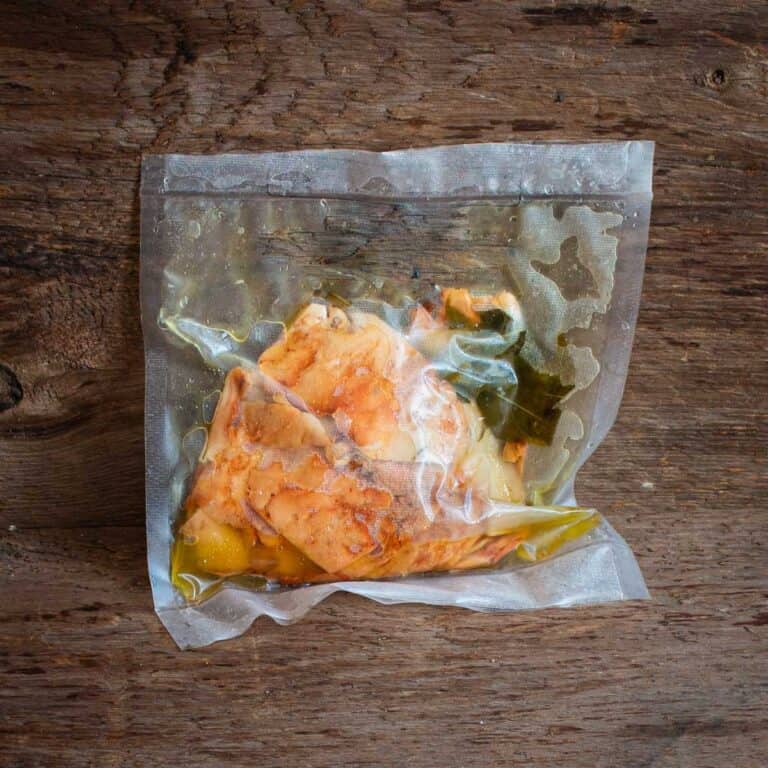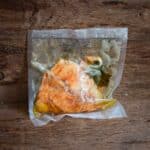 Print Recipe
How to Freeze Wild Mushrooms
Freezing cooked wild mushrooms is easy when they're frozen in a vacuum bag.
Ingredients
1

teaspoon

kosher salt

2

lb

Wild mushrooms, such as chicken of the woods or chanterelles

2

T

unsalted butter

(you can use oil but you may want to freeze it in an ice cube tray to ensure a good, solid seal).

Fresh herbs, especially thyme or bay leaves

optional
Instructions
Clean your mushrooms well.
Basic method
Put the mushrooms into a large pan with ½ cup of water, butter or oil and salt. Cook the mushrooms, covered, until they're wilted and completely cooked. Cool the mushrooms, then transfer to a zip-loc bag and freeze.

For the best result, put multiple bags of cooked mushrooms in a resealable vacuum bag for easy portioning and removal.
Sous vide method
Season the mushrooms with salt, then put into the vacuum bag with the herbs and butter.

Cook the mushrooms at 165F for 2 hours or until completely cooked using the sous vide machine.

Immediately cool the mushroom bag in cold water, then dry the bag off and freeze.
Notes
Freezing mushrooms raw
Some mushrooms can be frozen raw and keep a decent texture, such as hen of the woods and matsutake. If possible, pull the mushrooms apart into pieces and cook directly from frozen.