Beautiful, pink-yellow chrome-footed boletes, or Harrya chromapes, formerly known as Tylopilus chromapes or Boletus chromapes in older field guides are a delicious mushroom every forager should know.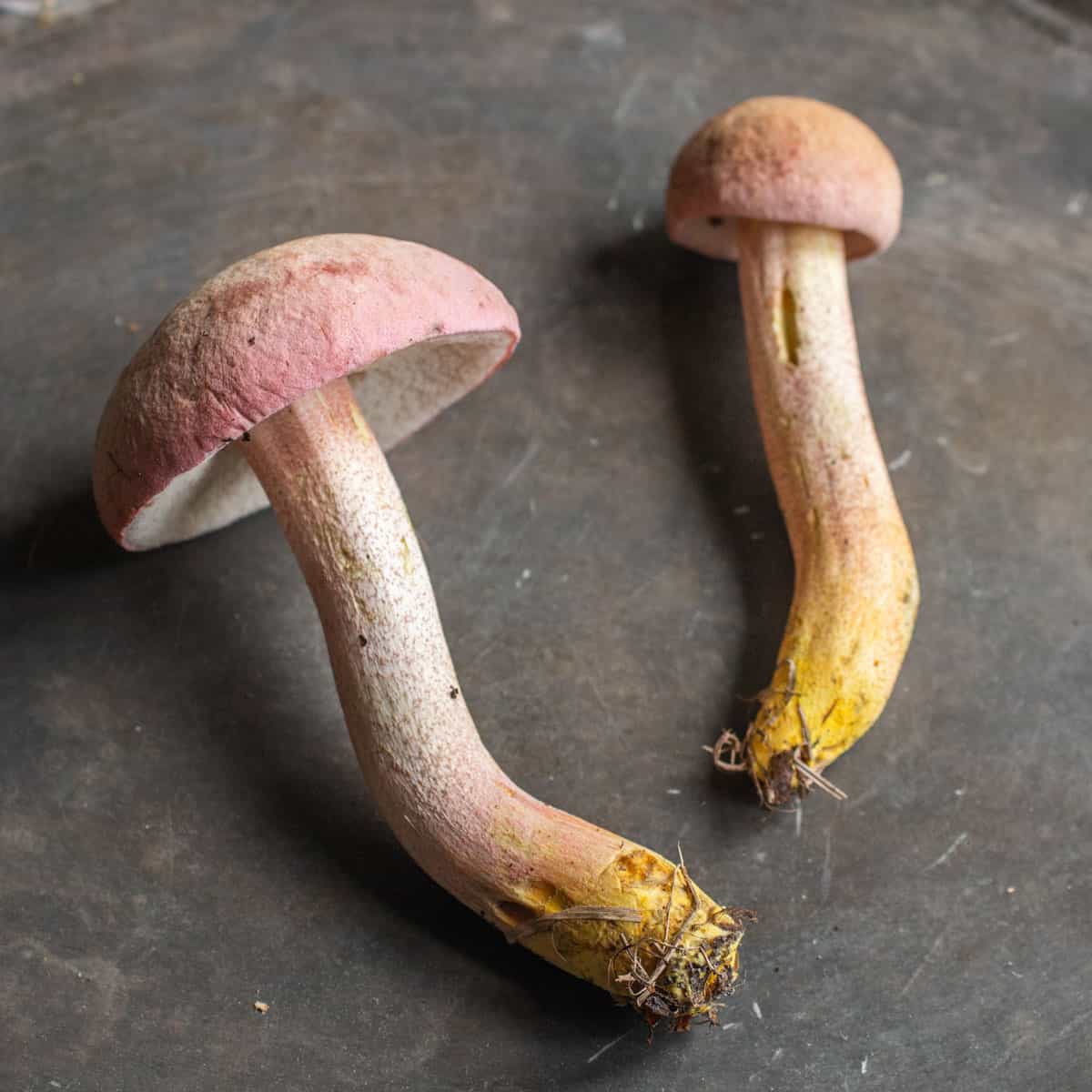 Habitat
The only forest I see these in around Minnesota and Wisconsin is mixed hardwoods, although they're found across North America down to Costa Rica. In Costa Rica there's also Harrya atriceps, a rare cousin with a black cap.
Like other boletes, they're mycorhizal, growing on the ground, and never from trees. I usually see them near red and or white oak, but they are known to grow with conifers too. When we go out for black trumpet mushrooms, we're usually going around late July, or August, and the chrome feet are pretty dependable every year.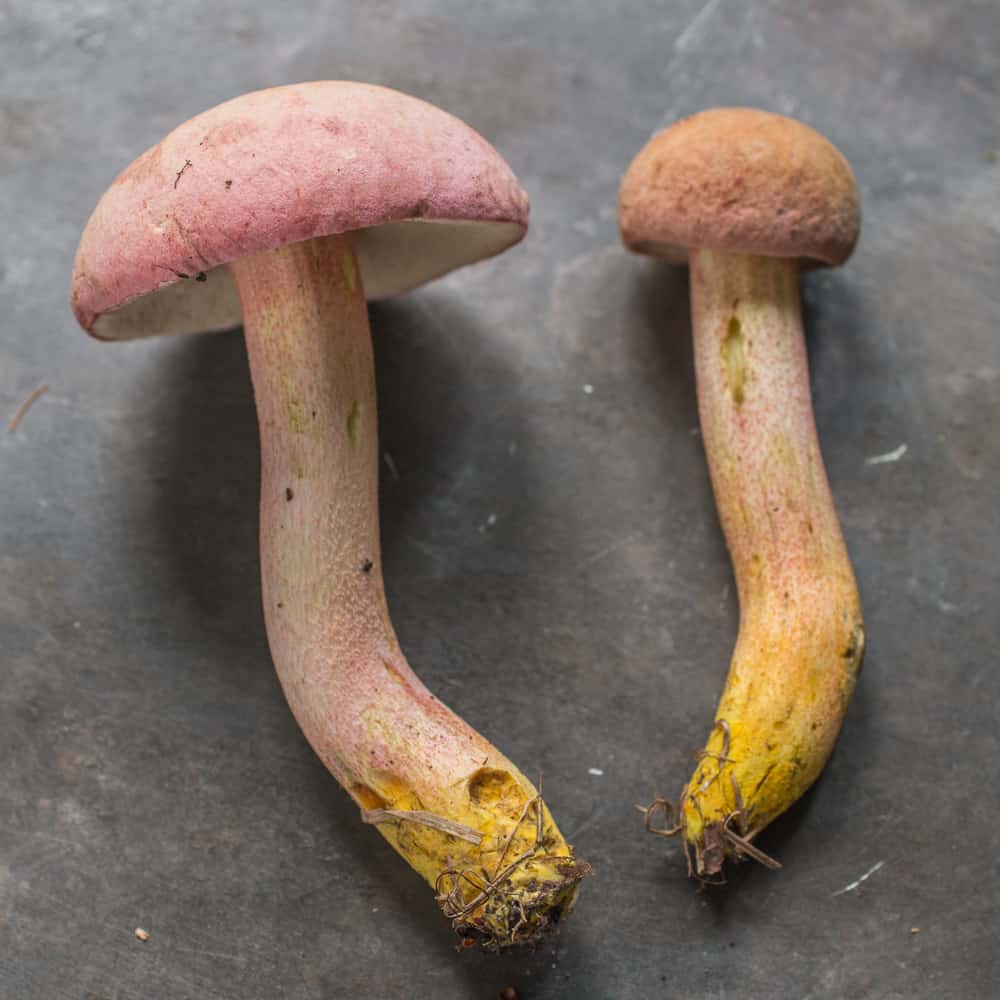 Identification
Grows on the ground in hardwood forests
Striking pink-colored cap that may turn pinkish brown or pinkish tan with age
Bright yellow stem base
Pink scabers on the surface of the stem that resemble fine hairs
Cap surface is suede-like and velvety
Generally has a tight, firm pore surface
Scabers, Tylopilus, Leccinum, and Harrya
These are one of the most striking boletes I know of, but there Linnean classification has gotten complicated, like a lot of others.
They've been put into both Genuses Tylopilus from their cocoa brown spore print, and Leccinum for the presence of "scabers" on their stalk. As well, unlike most Leccinum I harvest, chrome footed boletes don't stain after cutting. Currently they're placed in the genus Harrya.
Below is an orange scaber stalk (left) and a chrome-footed bolete (right). Notice how they both have scabers on the stem, but only the orange bolete is currently classified in the Leccinum genus. Either way the similarity of the stem surface is indicative of a relation, however distant it might be.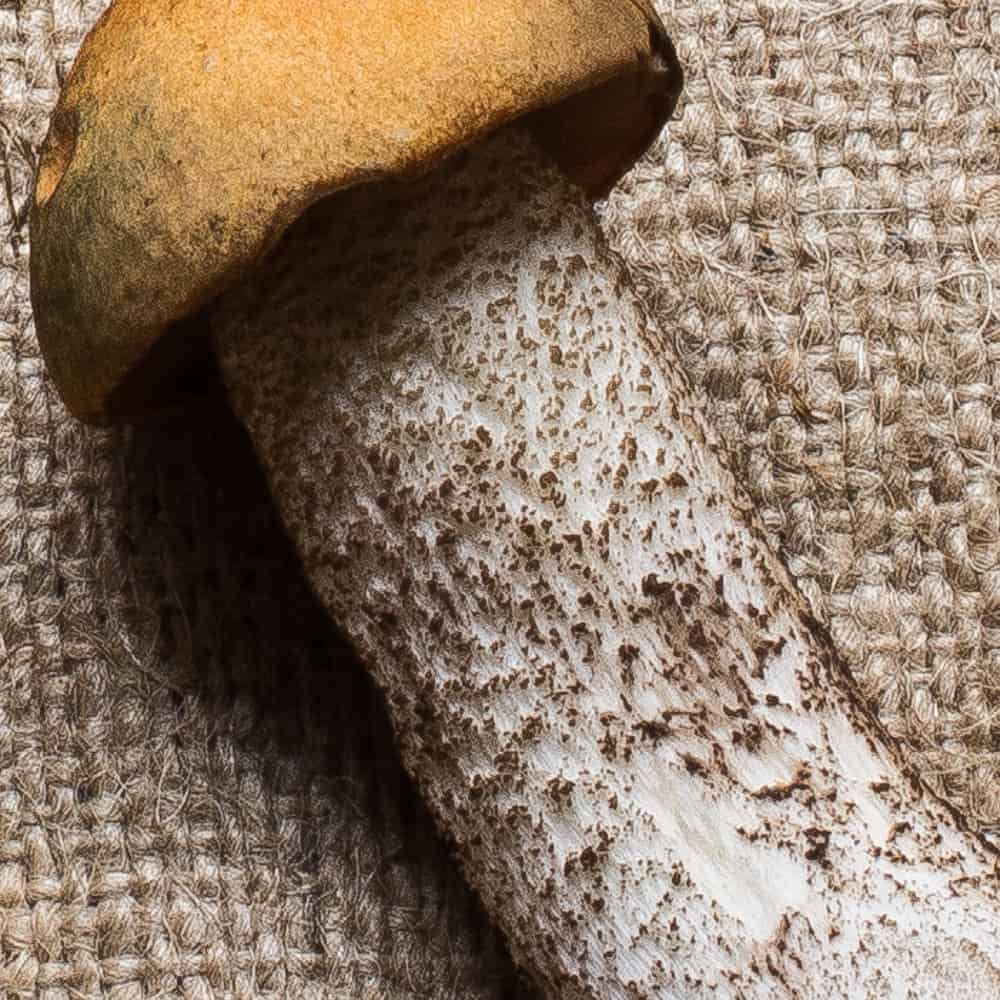 In the Kitchen
Chrome footed boletes are a great mushroom for the table. Unlike their Leccinum cousins, they're more likely to have bug damage, but it isn't anywhere near something like a porcini. Like other boletes, they dry very well, and the flavor of these is improved and concentrated a bit by drying.
They're not crazy flavorful, but they're not skunky like a Suillus at all either, just nice and mild tasting.
The chrome feet I've eaten were a bit similar to Boletus pallidus, another mild tasting bolete. Enjoy them dried in a blend, fried up fresh with a little garlic and parsley, or, if you want to taste them all by themselves, take some notes from my lamb broth with boletus pallidus, or dried lactarius broth. One of my favorite chrome foot recipes is a saute with lentils below.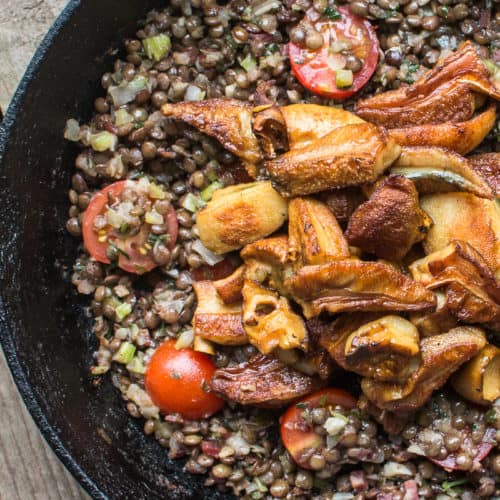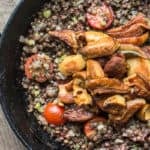 Print Recipe
Warm French Lentils with Sauteed Chrome Footed Boletes
Serves 2-4 as a side dish or entree
Equipment
2 10 inch cast iron skillets

or similar
Ingredients
2

cups

cooked French lentils

Kosher salt

to taste

1

handful

chopped fresh herbs

such as parsley, chives tarragon and cilantro

2

oz

pancetta or bacon

Optional

2

tablespoons

Extra virgin olive oil

as needed for cooking and serving

1

tablespoon

cooking oil

Fresh lemon wedges

for serving

2

oz

fresh cherry tomatoes

halved

2

oz

Half a rib of celery

2

oz

shallot

1

medium

garlic clove

1

splash

dry white wine

4

oz

fresh chrome footed boletes,

or other boletes, thickly sliced

Fresh ground black pepper
Instructions
Mince the bacon if using, celery garlic and shallot, then sweat with the EVOO oil for a few minutes.

Add the wine and cook off, then add the lentils and some of their reserved cooking liquid and simmer for a bit until the vegetables are soft. Keep the lentils moist.

Double check the seasoning and adjust for salt and pepper. Toss in a handful of cherry tomatoes at the end just to warm them through.

Meanwhile, heat the cooking oil in a pan and brown the mushrooms, then season with salt and pepper.

Toss the lentils with the extra herbs and a drizzle of olive oil and spoon the mushrooms over the top, You can also serve them from the pan family style.
Notes
Substitutions 
French lentils du puy and black lentils are the best here. Brown lentils will work in a pinch. 
Nutrition
Serving:
5
oz
|
Calories:
847
kcal
|
Carbohydrates:
118
g
|
Protein:
57
g
|
Fat:
13
g
|
Saturated Fat:
4
g
|
Polyunsaturated Fat:
2
g
|
Monounsaturated Fat:
5
g
|
Trans Fat:
0.04
g
|
Cholesterol:
19
mg
|
Sodium:
203
mg
|
Potassium:
236
mg
|
Fiber:
60
g
|
Sugar:
5
g
|
Vitamin A:
10
IU
|
Vitamin C:
11
mg
|
Calcium:
123
mg
|
Iron:
15
mg