My friend has one of those private land patches, the kind you keep to yourself. Typically we might try to go there together specifically for black trumpets during the season, and the picking is incredible--calling it hunting is not even the right term when you bring a scissors instead of a knife.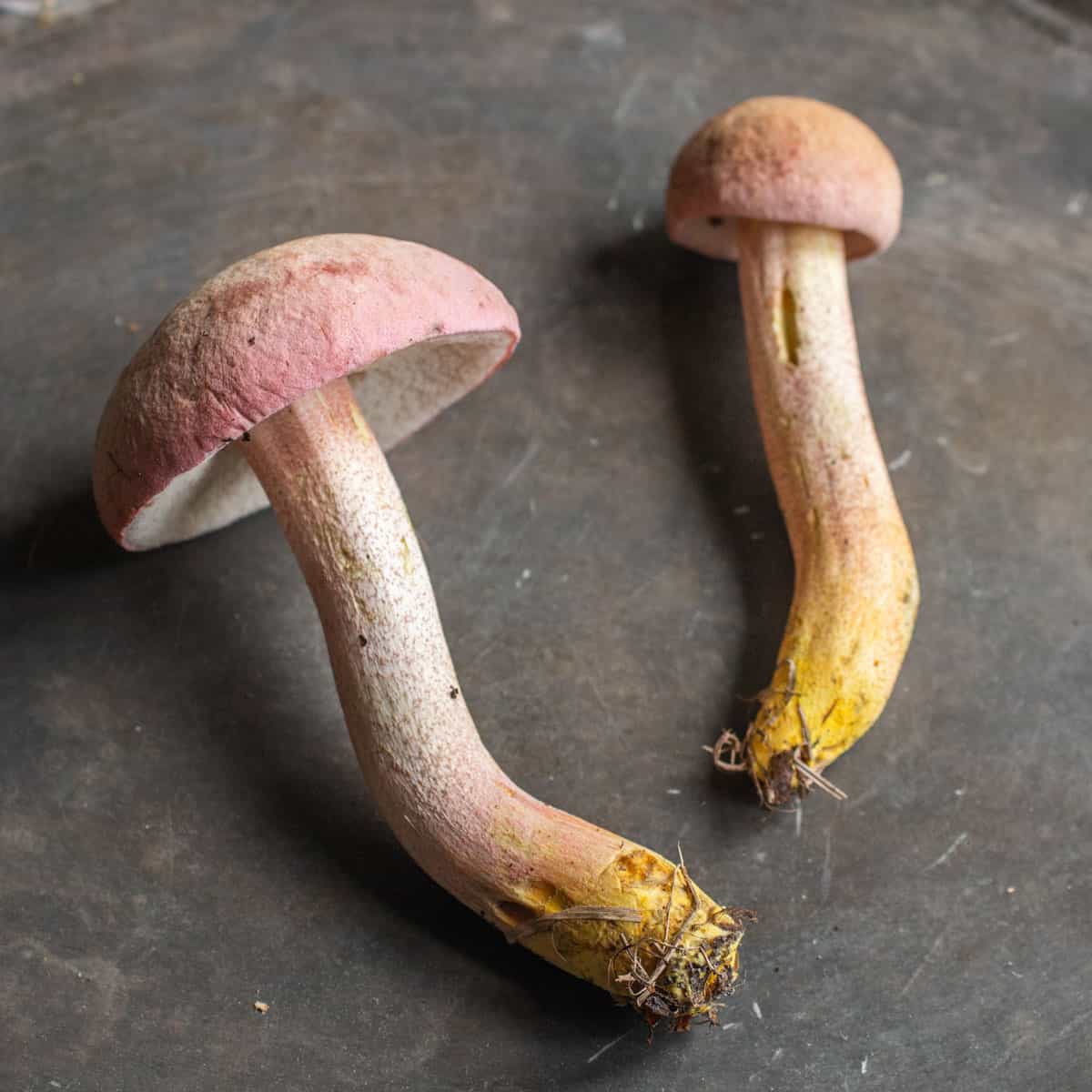 Some years it's almost comical, and it helps to be on your hands and knees clipping when the fruiting gets really heavy.
Some years though, there might not be any at all. During the dry years, we switch gears, get whatever small flushes of trumpets we can, some hedgehogs, yellowfoot chanterelles, and beautiful, pink-yellow chrome-footed boletes, or Harrya chromapes, formerly known as Tylopilus chromapes or Boletus chromapes in older field guides.
Habitat
The only forest I see these in around Minnesota and Wisconsin is mixed hardwoods, although they're found across North America down to Costa Rica. In Costa Rica there's also Harrya atriceps, a rare cousin with a black cap.
Like other boletes, they're mycorhizal, growing on the ground, and never from trees. I usually see them near red and or white oak, but they are known to grow with conifers too. When we go out for trumpets, we're usually going around late July, or August, and the chrome feet are pretty dependable every year.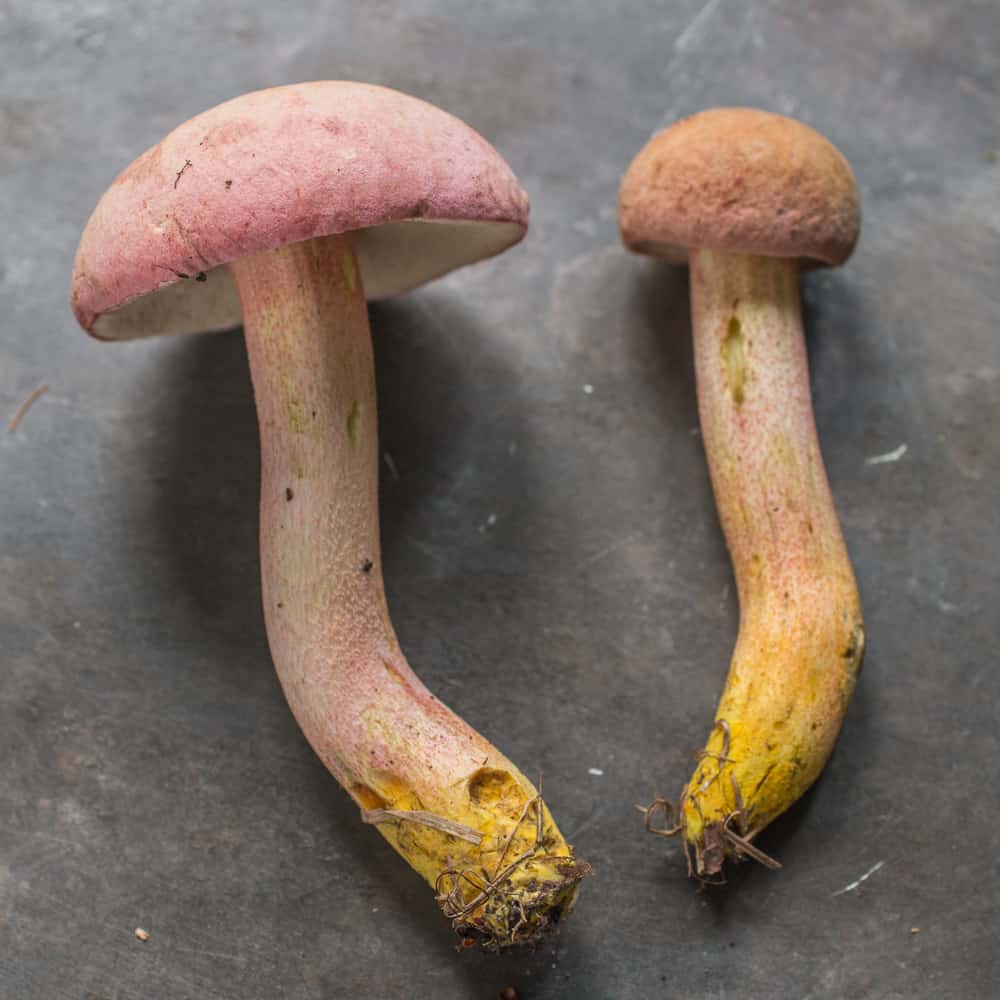 Identification
Grows on the ground in hardwood forests
Striking pink-colored cap that may turn pinkish brown or pinkish tan with age
Bright yellow stem base
Pink scabers on the surface of the stem that resemble fine hairs
Cap surface is suede-like and velvety
Generally has a tight, firm pore surface
Scabers, Tylopilus, Leccinum, and Harrya
These are one of the most striking boletes I know of, but there Linnean classification has gotten complicated, like a lot of others.
They've been put into both Genuses Tylopilus from their cocoa brown spore print, and Leccinum for the presence of "scabers" on their stalk. As well, unlike most Leccinum I harvest, chrome footed boletes don't stain after cutting. Currently they're placed in the genus Harrya.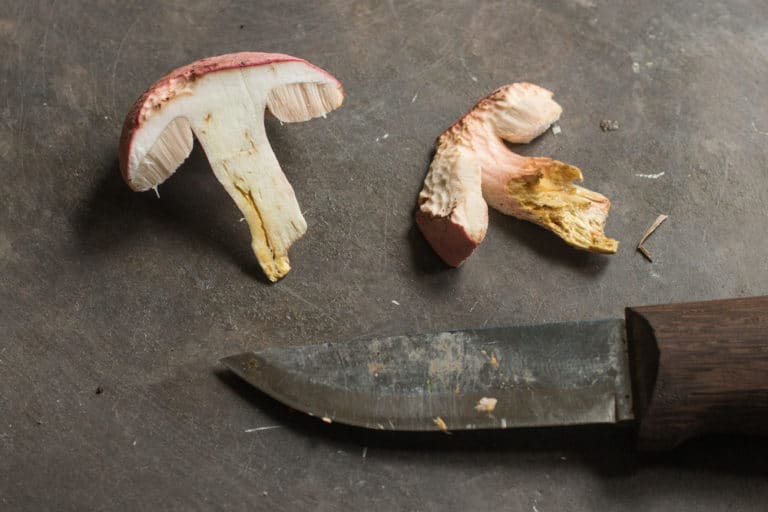 Below is an orange scaber stalk (left) and a chrome-footed bolete (right). Notice how they both have scabers on the stem, but only the orange bolete is currently classified in the Leccinum genus. Either way the similarity of the stem surface is indicative of a relation, however distant it might be.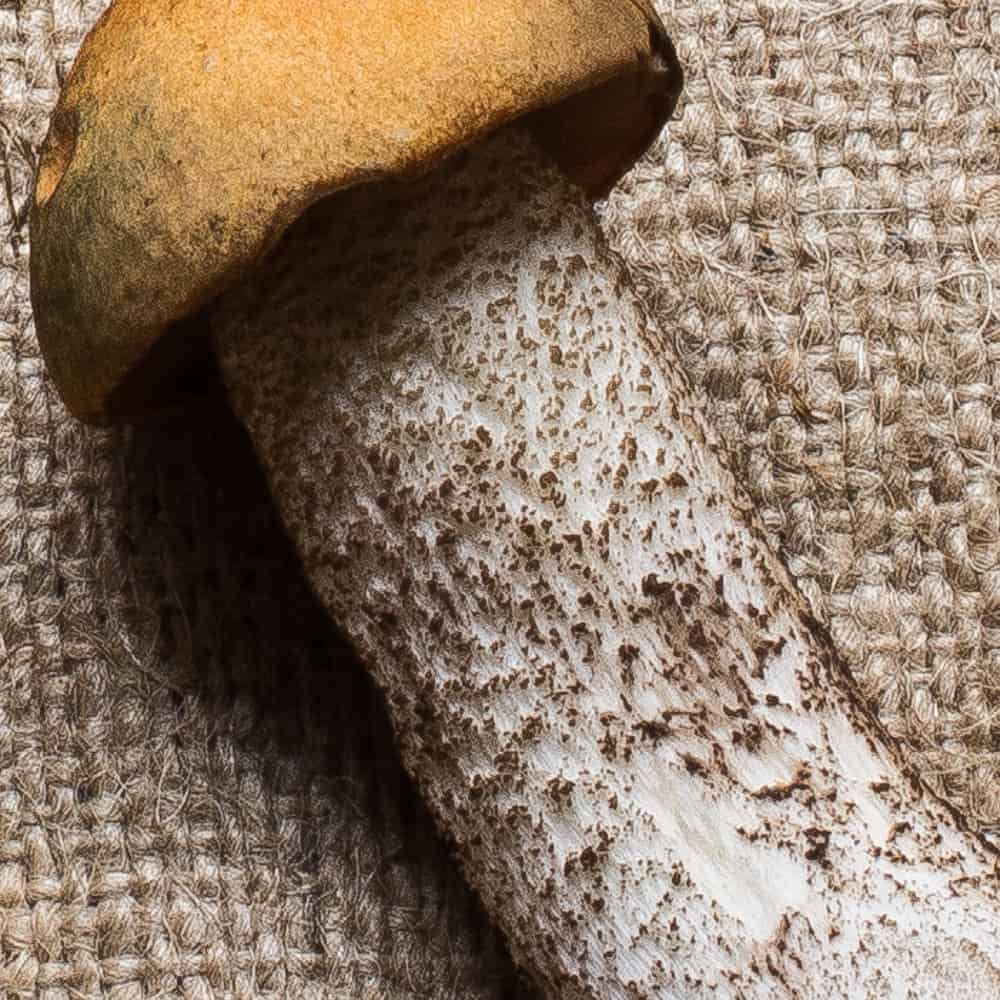 In the Kitchen
Chrome footed boletes are a decent mushroom for the table. Unlike their Leccinum cousins, they're more likely to have bug damage, but it isn't anywhere near something like a porcini. Like other boletes, they dry very well, and the flavor of these is improved and concentrated a bit by drying.
They're not crazy flavorful, but they're not skunky like a Suillus at all either, just nice and mild tasting.
The chrome feet I've eaten were a bit similar to Boletus pallidus, another mild tasting bolete. Enjoy them dried in a blend, fried up fresh with a little garlic and parsley, or, if you want to taste them all by themselves, take some notes from my lamb broth with boletus pallidus, or dried lactarius broth.