Whole animal butchery is something I've wanted to be more skilled at for a number of years. Sure, I've purchase thousands of pounds of ruminant meat and try to process whole fowl whenever I can, but whole lamb, pigs, and cows can be big, costly and intimidating.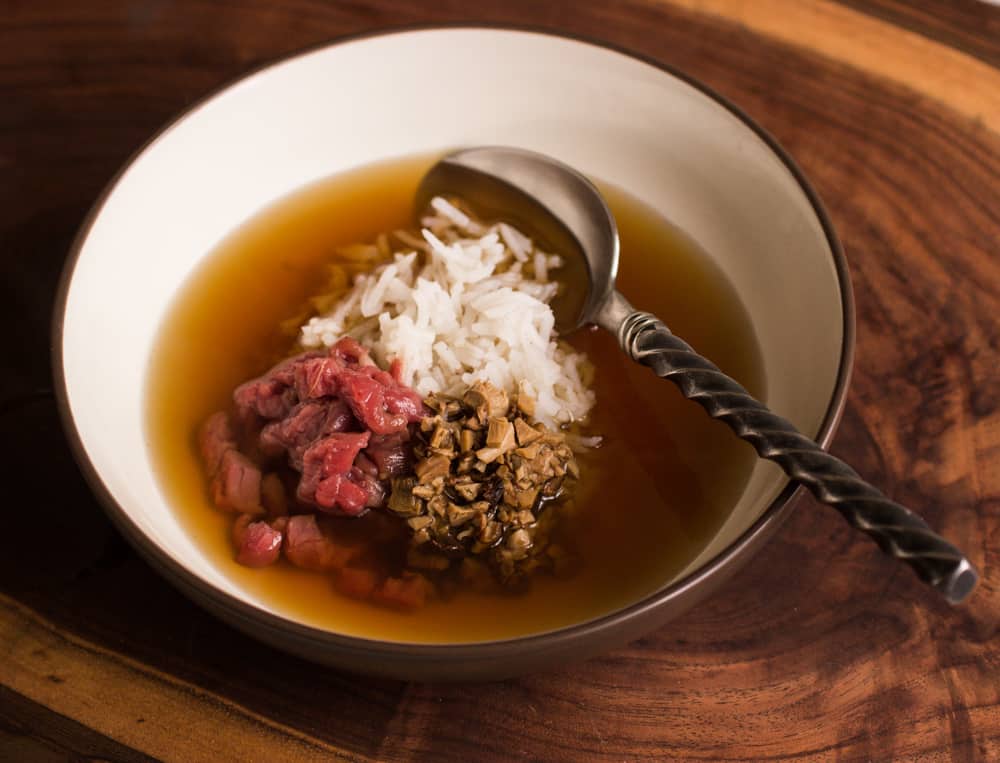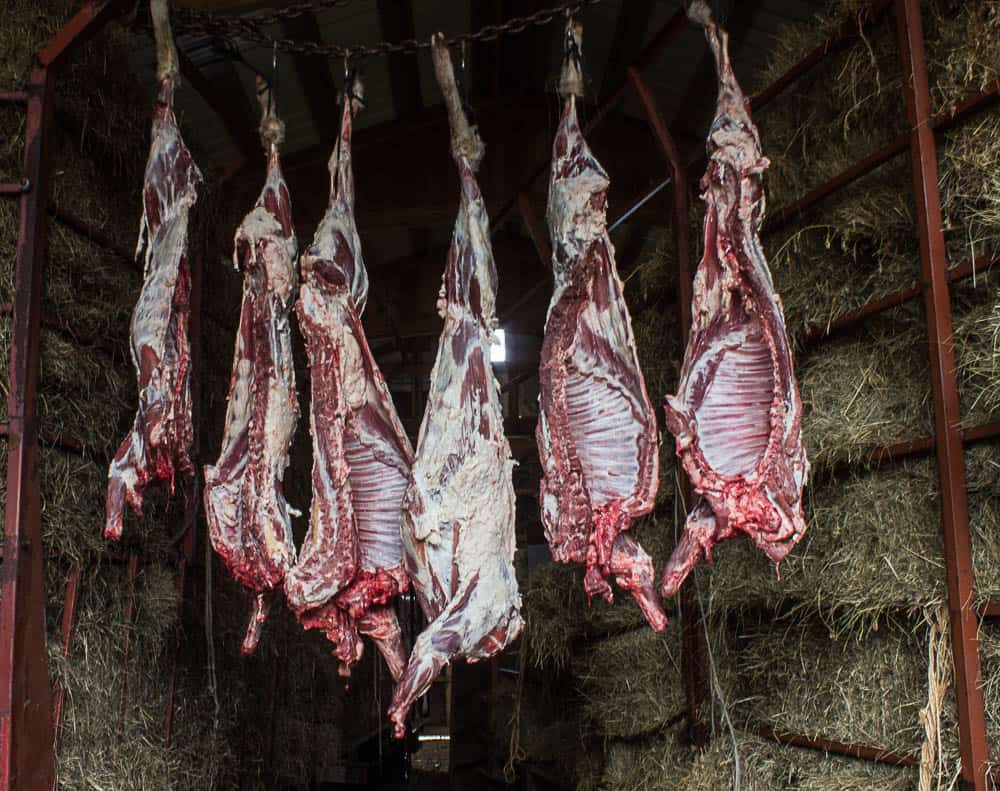 Luckily my girlfriend has a farm where all sorts of creatures live, and 2 years ago I got asked to be a part of my first whole-lamb butchery. My sous chef from Argentina came out with me and we cut up a couple of lamb into manageable pieces for the family.
Afterwords there was a lot of trim. Most of it went into a grinding pile for making sausage, but some of it I squirreled away, especially the parts with lots of cartilage and bone attached, since it makes wicked broth.
I ended up making a couple really simple dishes with the broth I made. My favorite was the simplest, just clear lamb broth infused with dried boletes poured hot over some cooked rice and diced raw lamb. It was reminiscent of the hot broths with raw meat you get at Asian restaurants here and there. The hot broth cooks the meat as you stir it but doesn't cook it so far as to make it tough-it's a bit like poaching, giving a nice, tender result.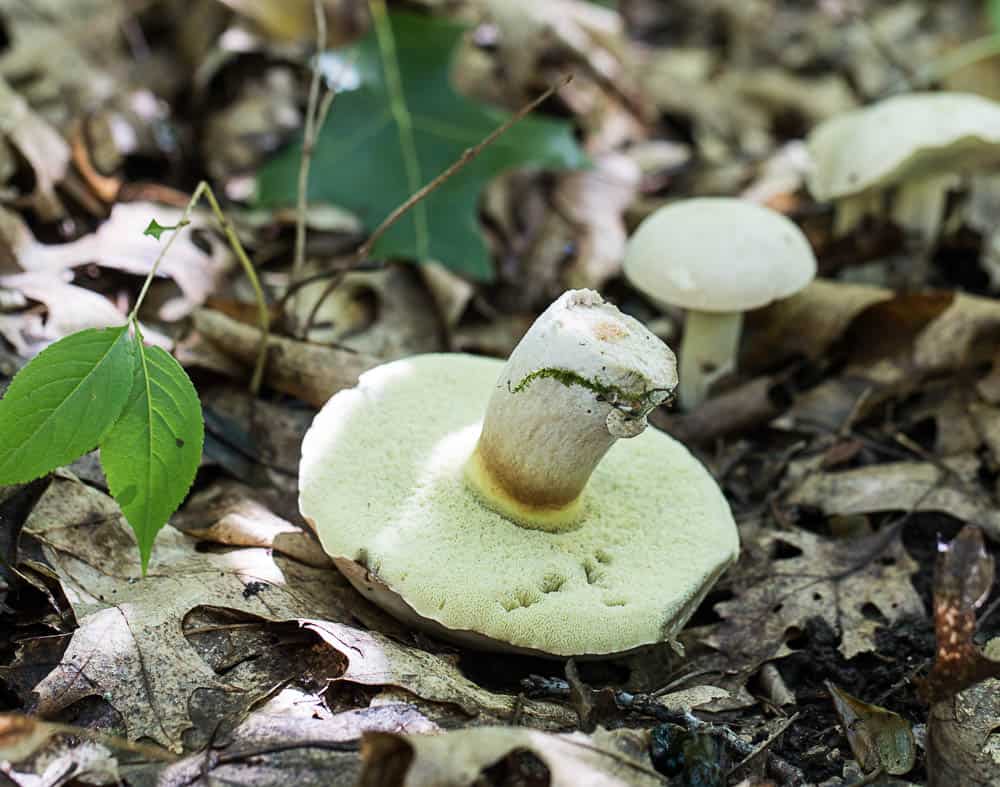 It was a great way to use up some of the Boletus pallidus I'd found this year, which are a little different from porcini you'd typically see people picking. Like their name impllies, they're a bit pale looking compared to typical Edulis family boletes/porcini, and they don't have the bulbous stems sported by some of their cousins.
Either way, Boletus pallidus is an excellent shroom for the table and seems to have a slightly better resistance to bugs, which is always appreciated. As far as flavor goes, it seems to have a lighter flavor than other boletes I'd label as porcini. Individual identities of mushrooms can be impossible to showcase in complex dishes, so this is all about the mushroom aroma: really good, but simple broth, rice and mushrooms. Less is more.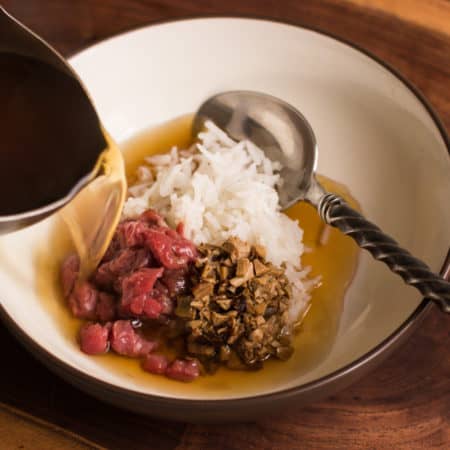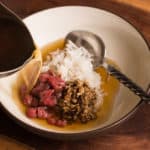 Print Recipe
Lamb Broth With Boletus Pallidus Broth and Rice
Yield: ½ gallon of stock, enough for 4-6 entree servings, or 8-12 smaller appetizer portions.
Equipment
Cheesecloth, Strainer, Stock Pot, Roasting Pan
Ingredients
Broth
5

lbs

of lamb trim and scrap

and a few bones (or use all bones if trim isn't available)

2

cups

each cut into large dice: carrots onion and celery

1

cup

dry red wine

¼

cup

flavorless oil

like grapeseed, safflower or canola

Water

to cover about 3 qts
Bouquet: wrap these ingredients in cheesecloth and tie with twine
A few cloves of garlic

whole

10

black peppercorns

a few sprigs of fresh thyme

2

fresh bay leaves or 1 dried

1

bunch of parsley

The green top of a leek

washed and cleaned of dirt
For finishing the dish
Cooked jasmine or basmati rice

or another grain or rice you like

3

ounces

fresh lamb meat per person cut into small dice or roughly ¼ inch cubes

1

ounce

dried Boletus pallidus mushrooms

or another dried mushroom, like porcini or other boletes
Instructions
Pre-heat an oven to 375, then lay the lamb trim out on a sheet tray lined with parchment (it makes cleanup easy afterwords) and roast until deeply colored and golden brown, roughly 45 minutes, during the last 15 minutes, toss the vegetables with oil and add the vegetables to the sheet tray (this may take longer depending on your ovens intensity).

Next, transfer the roasted trim and vegetables to a slow cooker ( I like the 6-7 qt size), then add the wine and lamb. Cover with water until the ingredients are nearly covered, but not covered completely (I describe this to line cooks as when the vegetables look like hippopotamuses floating in the water).

Cook for 6-24 hours at a slow simmer or high setting on a slow cooker (preferably 24 hours for maximum collagen extraction) until the broth is deeply colored and aromatic. Strain out the solids and reserve the broth, you should have about ½ gallon of liquid.

Season the broth lightly with salt to taste, add the mushrooms and infuse for 20 minutes, remove, chop finely and reserve. Cool the stock.

To serve, put some cooked rice, raw diced lamb, and some of the finely chopped mushrooms in a warm bowl. Ladle very hot broth over the ingredients at the table, then serve. You can also let guests pour hot broth out of a coffee pot or something similar at the table for a DIY effect/interactive course.
Notes
This is just a basic template, by all means, jazz it up and put some wilted greens in it, top it with a poached egg and some herbs, put in a fun grain instead of rice, make the stock with only bones, etc.