I've created more versions of pates and terrines than I can count, and some of them blur together, but one sticks out above the rest: the beef neck terrine.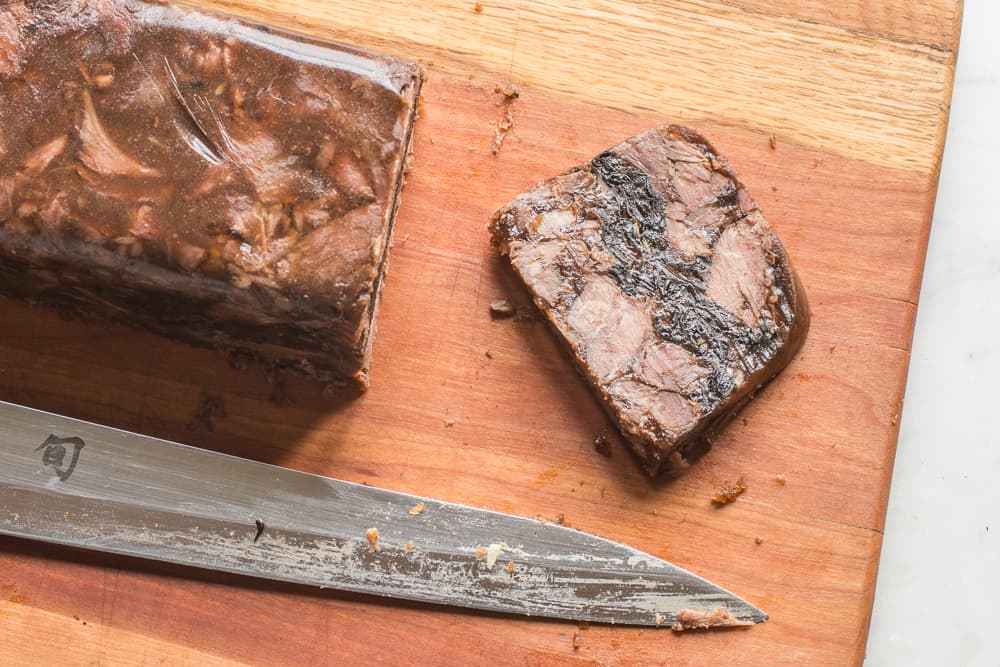 It was a crowd favorite, but also burned in my mind as one server repeatedly asked me to show her where the fruit was. She was a vegetarian, and had been describing the terrine as "the beef nectarine" to guests, which, during the heat of service, was always a great way to get me angry.
Some of the line cooks coined my charcuterie board "an amusement park of meat", and it was. On any given day there were around 8-15 different types of homemade cured meat, the exact number of which I'd dial up or down depending on if the cook working the station that day had angered me lately.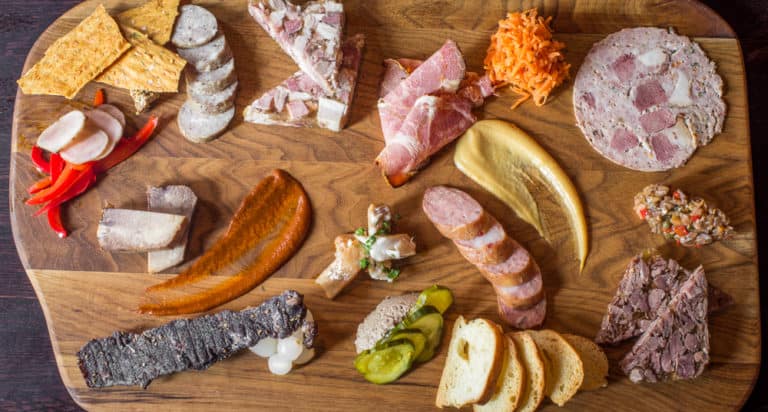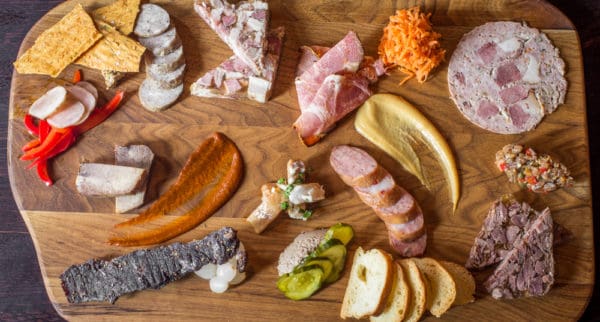 On any given day there might be torchons of butter soft foie gras scented with cognac and orange served with preserves, whole de-boned chickens put back together in the almost Frankenstein galantine: a perfect cylinder of pounded breast wrapping an emulsified mousse of dark meat flecked with duxelles, all wrapped in the birds skin.
There were rustic salami, pork shoulder eyes made into coppa ham, Tasso ham, smoked fish, dried meat, corned beef heart sliced or in terrine form, headcheese, hot dogs, mortadella, blood sausage, pickled bison tongues, apple and liver pate, or another favorite: Thomas Keller's rabbit and liver terrine wrapped in homemade bacon.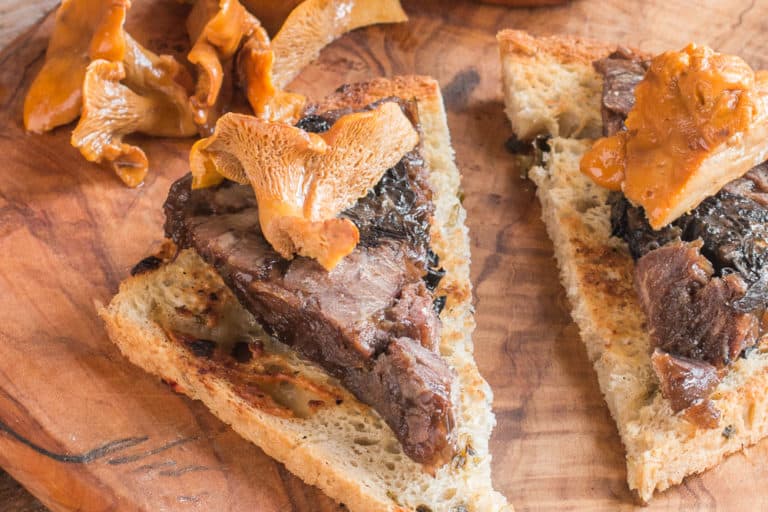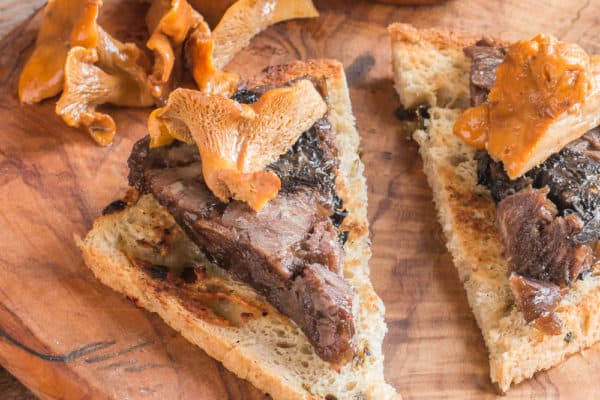 All of those were good charc board fare from a chef that makes everything in house, but none of them, at least from a guest feedback standpoint, could hold their own against the anchor of the board, which was a terrine I developed from meaty beef neck bones, a lowly cut made for stock.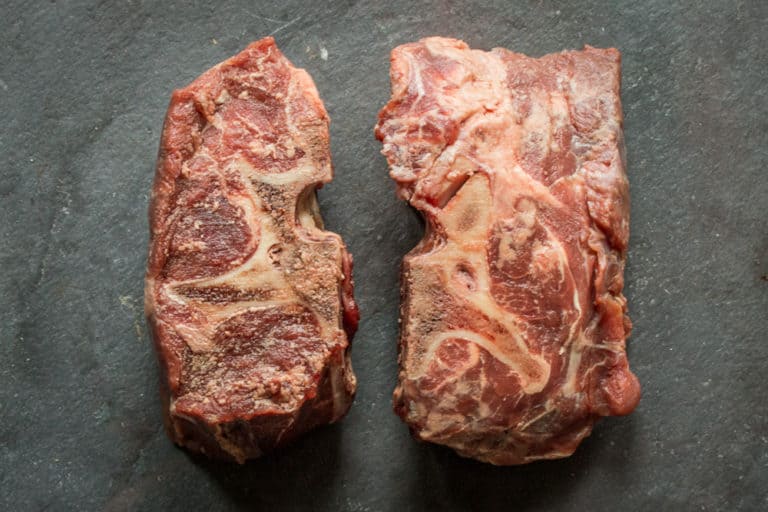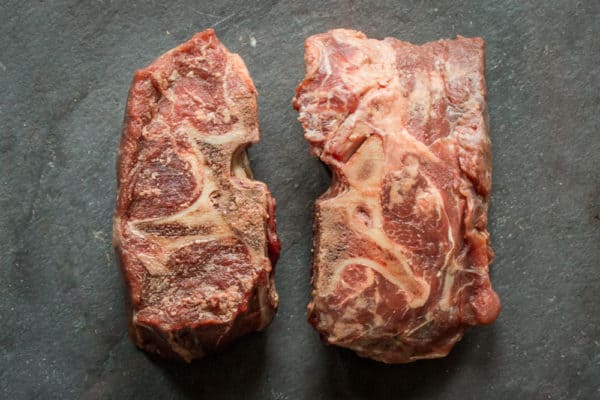 I started getting meaty neck bones in for prime rib jus and, after noticing how much meat was left on the necks after cooking, I wanted to make a terrine en gelee modeled after headcheese, and a shank terrine my friend Mike, a chef and butcher from New Zealand I used to work with used to make. It ended up being the most popular piece of charcuterie I've ever made.
It's popularity wasn't due to the fact that it took 3 days to make (when it was done properly), or the high quality beef necks I used to make it, or the subtle ways to build flavor I tweaked gently with each passing month, like adding mushroom trim to the braising liquid, scenting it with a rosemary branches burned over a fire, or upping the quantity of wine.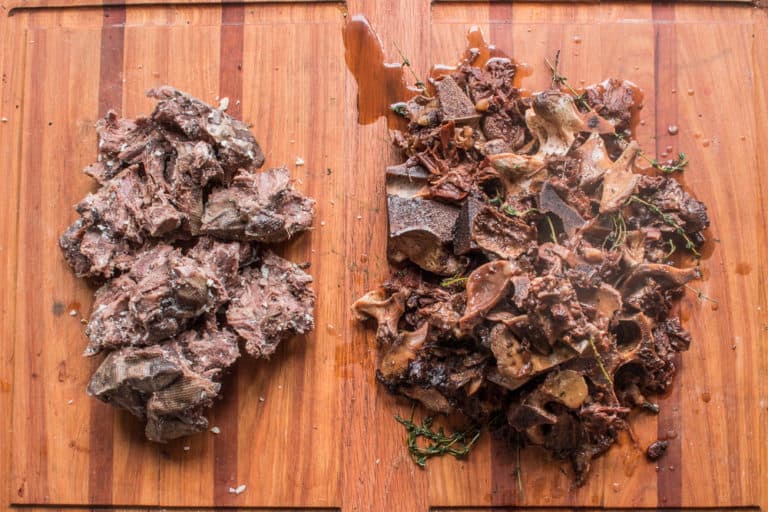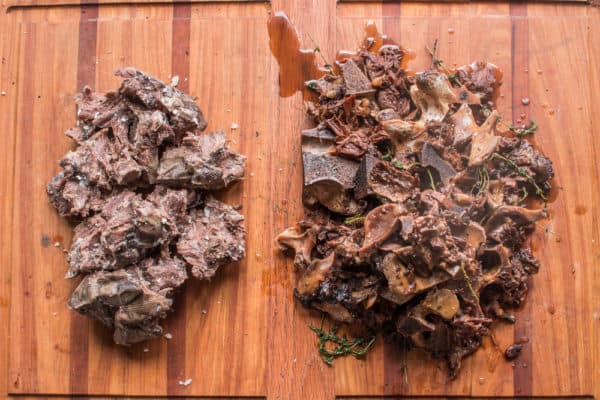 The secret was it was approachable to everyone, because each bite tasted like the pure essence of beef stew. It tastes like comfort food. Not everyone is ready for bison tongue (I used to just call it ham depending on what I thought each table could handle) or headcheese or liver, but everyone likes beef stew.
Once you get the technique of reducing stock to the setting point, you'll understand how to play with this. Any meat cooked until soft can be molded en gelee. I added directions for including the black trumpet inlay pictured, but it's fine without, too. I should also mention that the method of making this is identical to classic pork headcheese, so if you can make a neck or shank terrine, you can make that, too.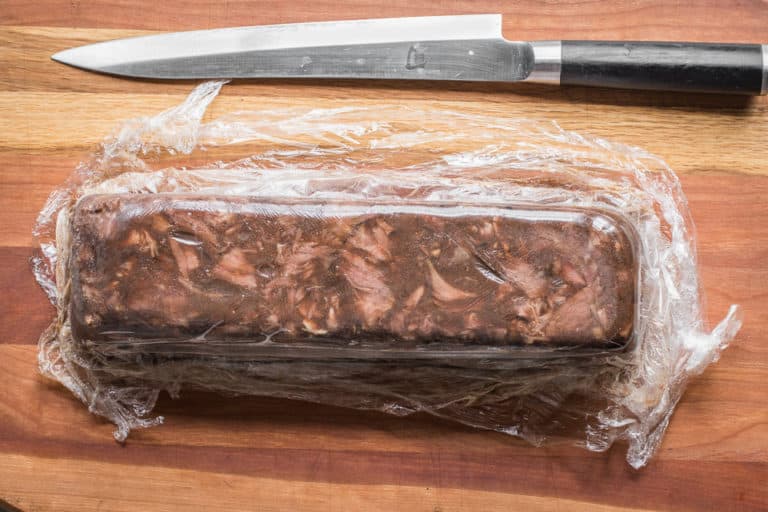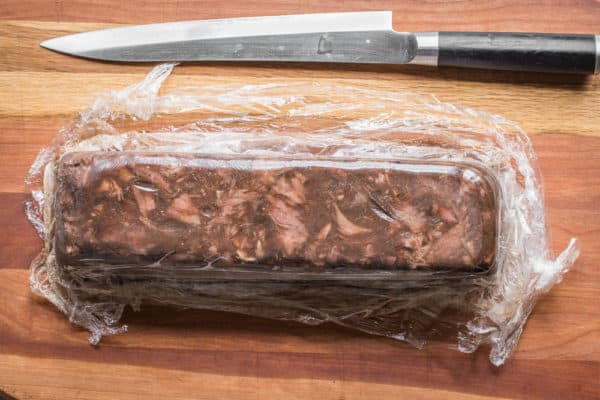 The most forgiving terrine
Here's another tip: if you mess it up and the terrine falls apart or crumbles when you slice it, or if it needs extra seasoning, you can remelt it, strain the liquid and cook with a piece of gelatinous meat and some extra water (or add gelatin), mix the reduced stock back with the meat and repack it. It's very forgiving. It's also excellent with prepared horseradish, on a sandwich, cut into cubes as a canape, or eaten as an open faced sandwich.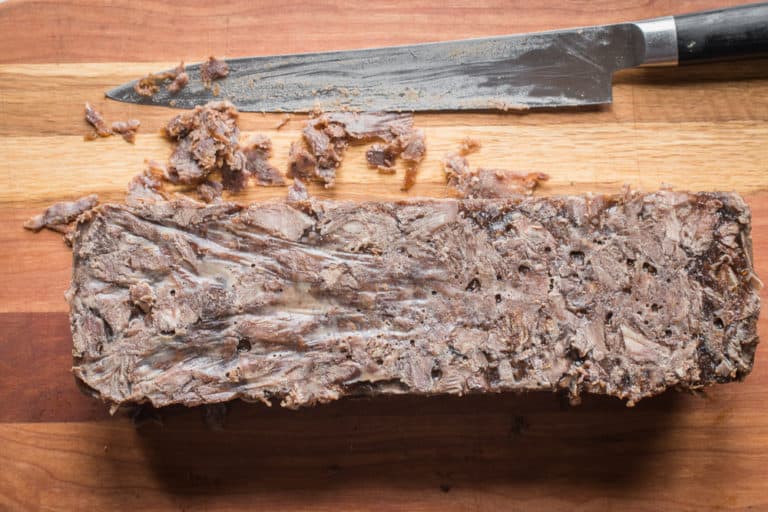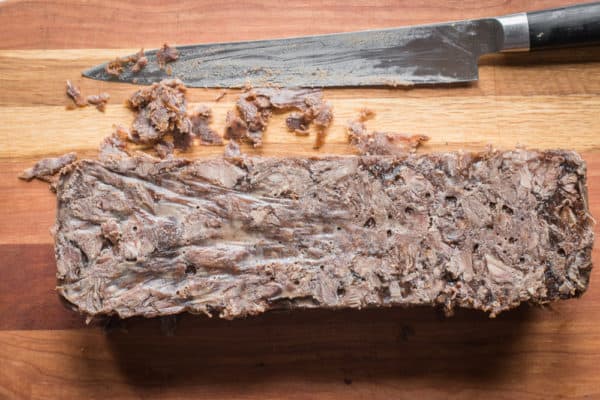 Notes
Pay attention here. The terrine won't set without extra collagen preferably from pork. I use either a half or whole pig foot, or some pieces of pig skin to add collagen. A couple chicken feet or some demi-glace would also work, but using just beef necks, even if you cook the remaining bones overnight after removing the meat to extract extra collagen, will give a weak, crumbly set.
I'm using beef neck bones cut for soup here, some butchers may sell necks with more meat on them, compare to the image of the raw necks I used in the post. If your neck bones are very meaty you can get away with less starting weight of meat.
This makes an entire 6 cup terrine mold, you can easily cut the proportions below in half and make a smaller batch to practice.
You don't have to use a fancy terrine mold like I used here. Anything that can form this will be fine, a bread loaf pan, a bowl, you can make it in any shape you want.
I used to burn a rosemary branch lightly over a flame and add it to the initial braise, it's a nice touch.
Without adding garnishes that can shorten the shelf life (whole pieces of mushrooms) the neck terrine will keep for a solid week in the fridge. It can also be cut into sections and frozen for using whenever. Try it on a sandwhich with horseradish.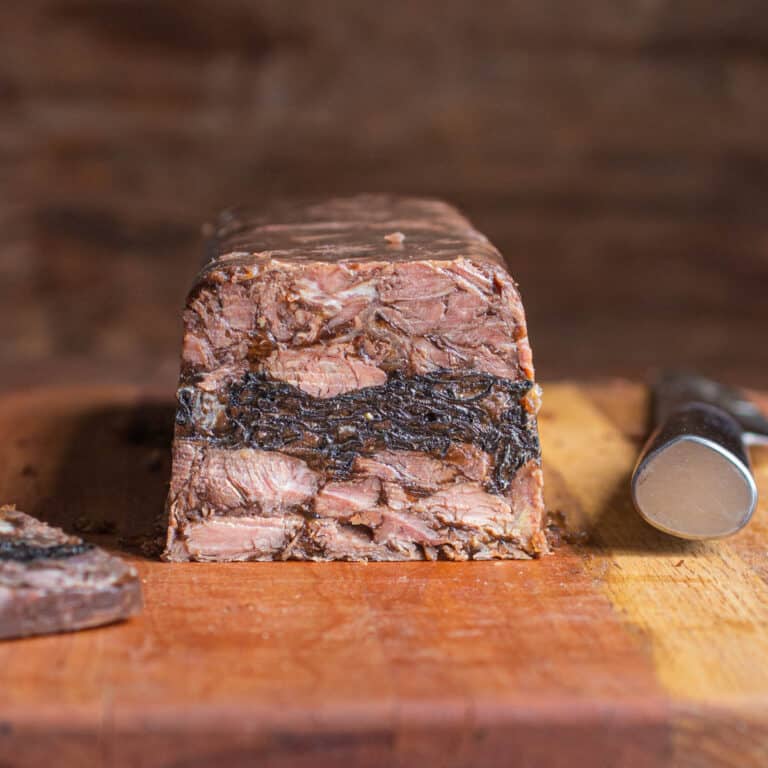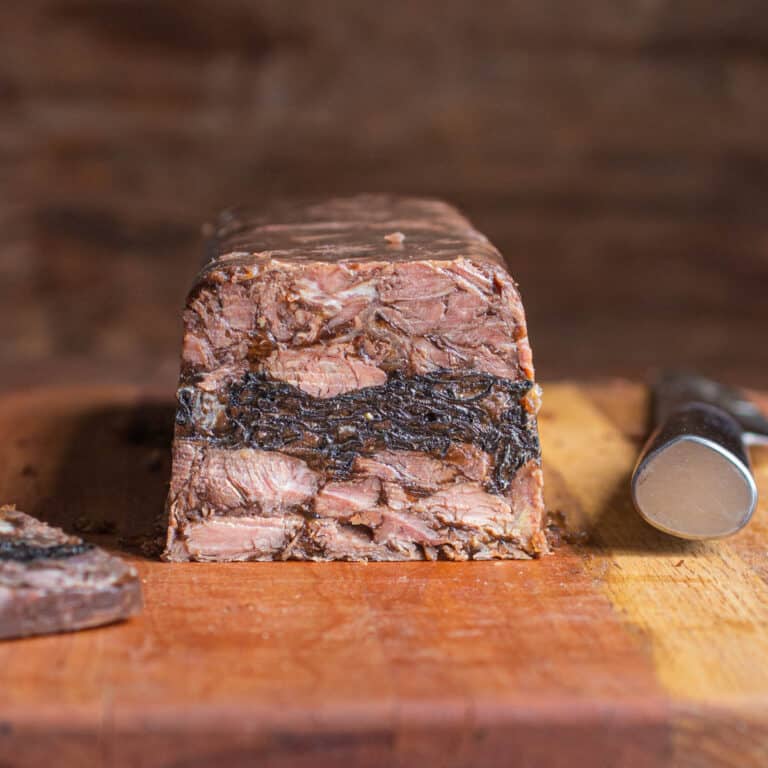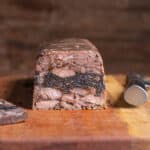 Print Recipe
Beef Neck Terrine 
A rich terrine made from scrap beef meaty neck bones. One recipe will yield one 6-cup terrine, but it can be halved easily.
Ingredients
7.5

lbs

meaty beef neck bones

2

tablespoons

flavorless cooking oil

1

bottle of dry red wine

2

teaspoons

kosher salt

1

large carrot

halved

A rib of celery

halved

1

small yellow onion

peeled and halved

1

gallon

water

½

cup

kosher salt

Bouquet Garni

2

dried bay leaves

Small handful of fresh thyme

1

large sprig of rosemary

½

a pig foot

or a small handful of pig skin
Instructions
Whisk the water and salt until completely dissolved, then add the meaty neck bones and brine overnight.

The next day, pour off the brine and discard. Put the necks, wine, and remaining ingredients into a pot and fill to cover with fresh water.

Bring the pot to a simmer, and cook, gently skimming off fat and albumen regularly, until the meat easily removes from the bone, a few hours.

Remove the hot bones to cool, covered with cling film (this prevents them from drying out). Meanwhile, pass the stock through a fine strainer and start reducing it on medium-high heat, skimming any fat and foam, until exactly 2 cups remain. This will take a while.

Very carefully pick the meat from the bones. It's important to only pick pieces of meat that you know will be pleasant to chew.

Work slowly-there is a lot of cartilage and funky tissue, but also pockets of amazing meat on the necks you want to save. Reserve the meat.

Freeze a small plate to do a set test (optional).

The cooking liquid should now be thickened like warm honey. Drop a teaspoon on a frozen plate, it should hold it's boundary and begin to sieze up like jam.

Taste the cooking liquid, it should taste very well seasoned-a little too strong, salty and rich. If it tastes too salty for you at first don't worry, it's going to be dispersed in a bunch of meat, and you want it strong since it's served cold.

Meanwhile, remove the meat from the fridge, and inspect it, if it looks like a lot of fat has congealed on it overnight, put the meat in a colander and gently pour drops of boiling water from a teapot or similar on problem spots to remove excess fat. If the meat doesn't have too much fat on it, great, skip it.

Meanwhile, coarsley chop the meat and mix well with the reduced stock, then pack the mixture into the terrine mold lined generously with cling film, pressing cling film onto the surface to hold everything down. Chill until completely set, 3-4 hours or preferably overnight.

To serve, carefully unmold the terrine, remove the cling film, inspect the bottom for any unwanted particles that may have risen to the top and trim, then use a long sharp knife to cut ½ inch slices. Don't forget the horseradis
Notes
Black Trumpet Mushroom Inlay
(optional)
25 grams dried black trumpet mushrooms (two generous handfuls, or ¾ cup lightly crushed dried mushrooms)
2 tablespoons flavorless cooking oil
1 teaspoon chopped fresh thyme, or more to taste
Kosher salt
Rehydrate the trumpets for 15-20 minutes in water just to cover. Strain the water and add to to beef neck cooking liquid.
Meanwhile, coarsely chop the trumpets and sweat in the oil, seasoning with the salt and thyme. Don't brown them, just sweat and stir to warm them and distribute the seasonings.
From here the trumpet inlay can be made ahead of time. When packing the terrine into the mold, lay down half of the beef, put the trumpets in the middle, then put the rest of the beef on top.
Nutrition
Calories:
292
kcal
|
Carbohydrates:
10
g
|
Protein:
1
g
|
Fat:
28
g
|
Saturated Fat:
2
g
|
Polyunsaturated Fat:
8
g
|
Monounsaturated Fat:
18
g
|
Trans Fat:
0.1
g
|
Sodium:
61431
mg
|
Potassium:
174
mg
|
Fiber:
2
g
|
Sugar:
5
g
|
Vitamin A:
15
IU
|
Vitamin C:
8
mg
|
Calcium:
178
mg
|
Iron:
1
mg
Related Posts