When I heard that suckling pigs were coming into the kitchen, I squealed with joy.
I knew that the heads would be leftover since they wouldn't give up the amount of meat a large pig would for our typical headcheese. I begged the butcher to save the heads for me, so I could save the little piggies from the fate of the stockpot that awaited them.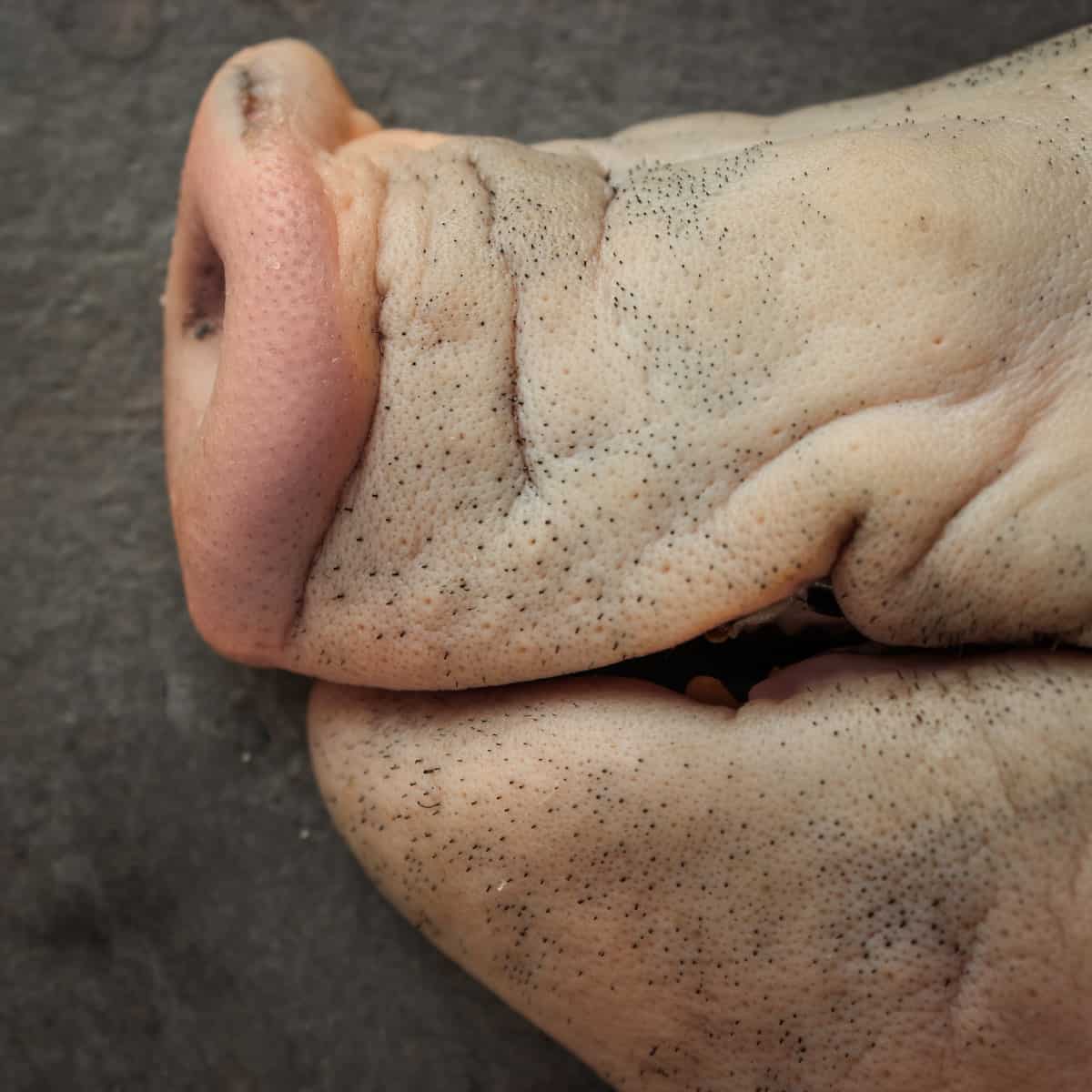 It's not that I'm morbid or have some fascination with eating baby animals. The way I see it, I enjoy animals on two levels: platonically, as in those I might keep as a pet, and culinarily, as in those I would like to eat.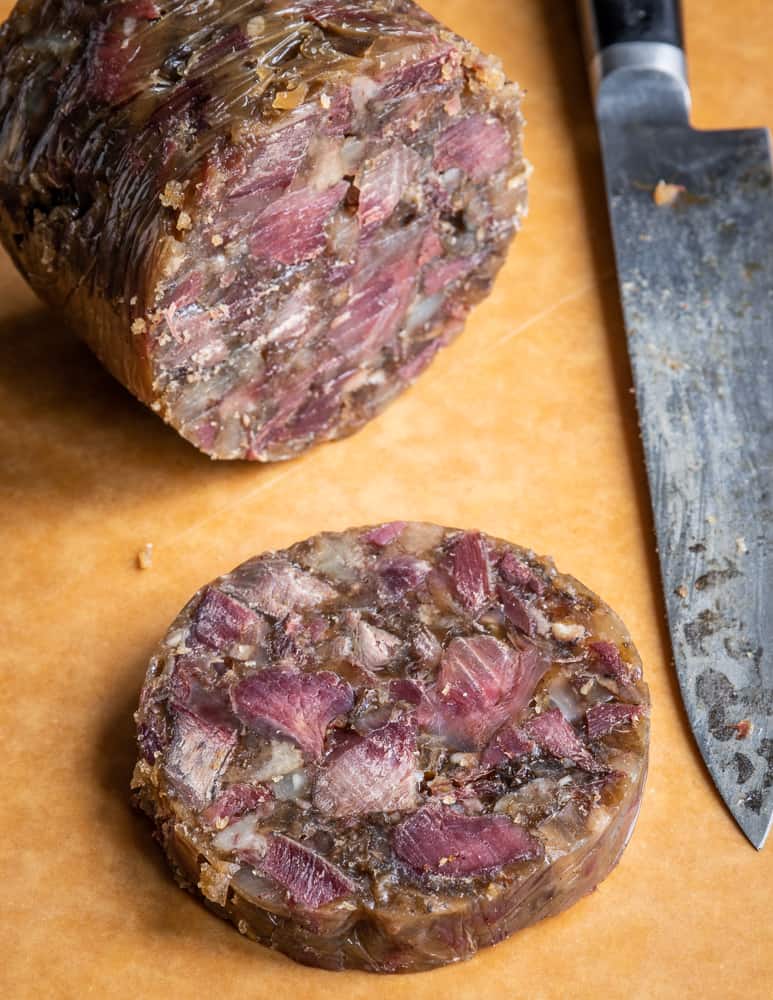 Part of appreciating animals to me is cooking with offal/organ meats. There is more to dining than skinless, all white meat chicken, much more. But of all the things you can make that are offal related, headcheese is one of the great triumphs, as well as something that will turn the stomach of your average American.
It's an example of the great food inspired from frugality, where nothing goes to waste. There is beauty too in the transformation the meat undergoes, the act of turning a head into a showstopping terrine to me is alchemy, something magical. When it's made correctly too it's a work of art, and ends up looking like a mosaic, or a stained glass window.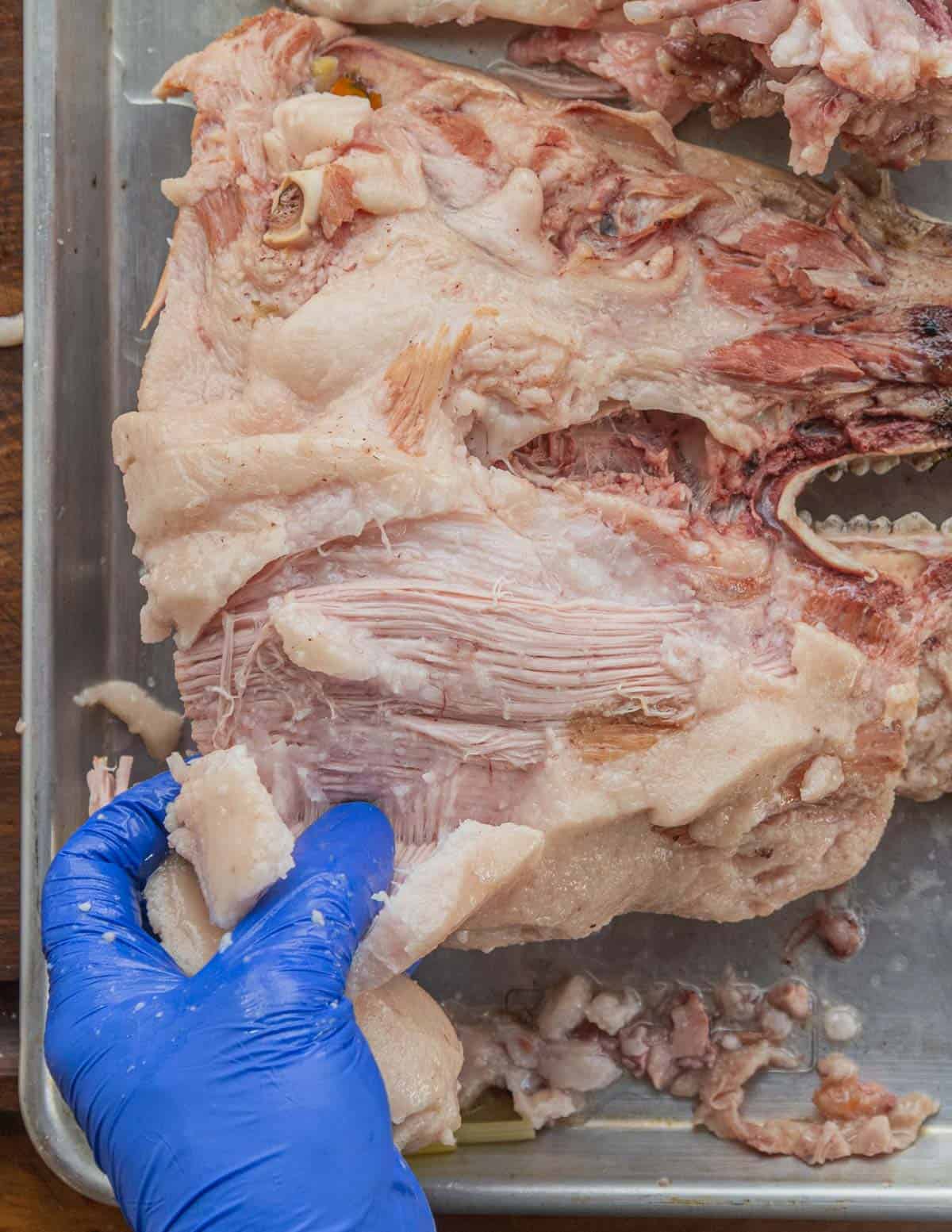 There are a couple things to know about headcheese well. First you need a pork head, preferably sawed in half by a butcher so you can get at all the tidbits and secret chambers of the head easily.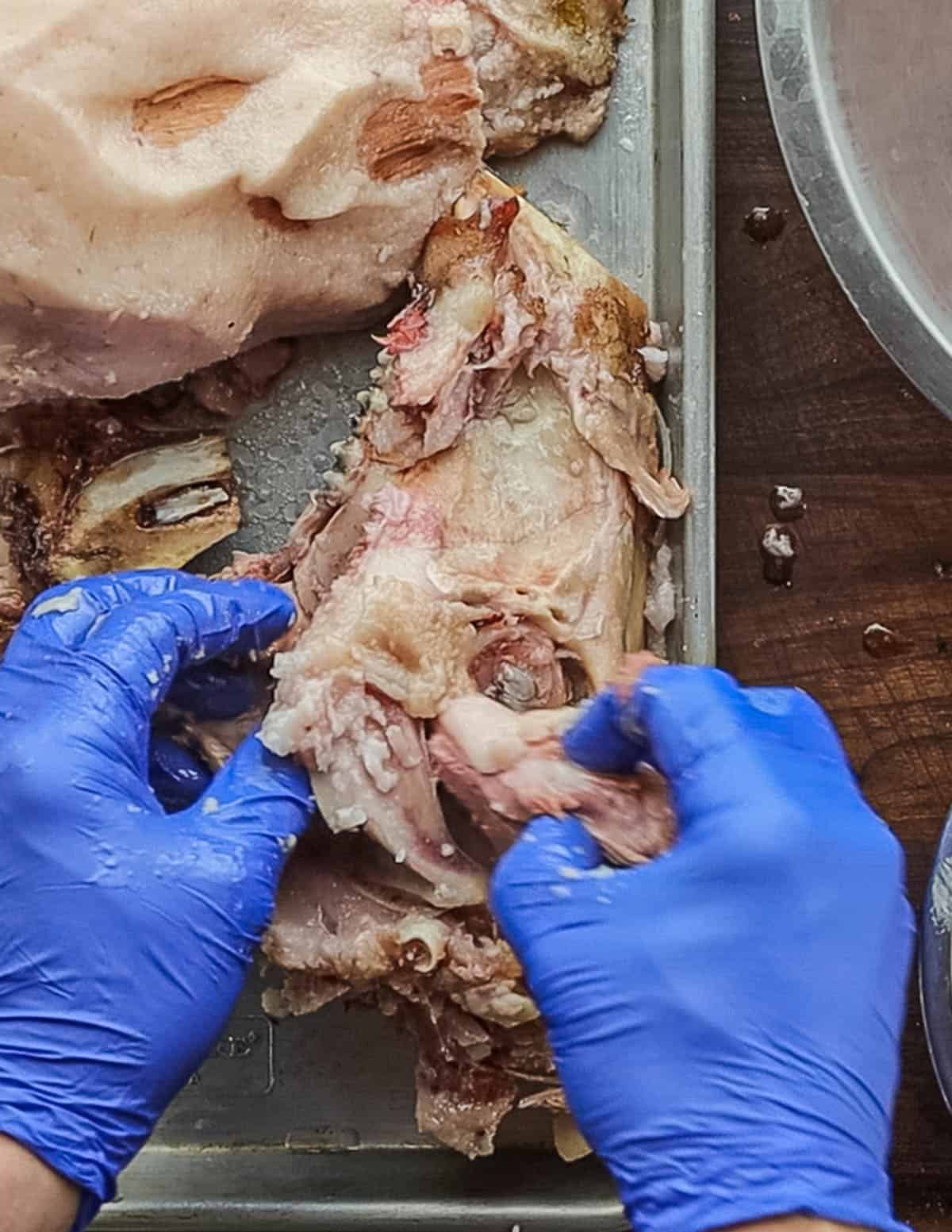 You also need the tongue, some pork trotters, and a little pink salt if you want to keep it brightly colored, which is optional, but pretty. Other than that there isn't really much to it except the 3 days it will take to cook. The head must be brined, then braised, then the meat picked and pressed into a loaf-type pan.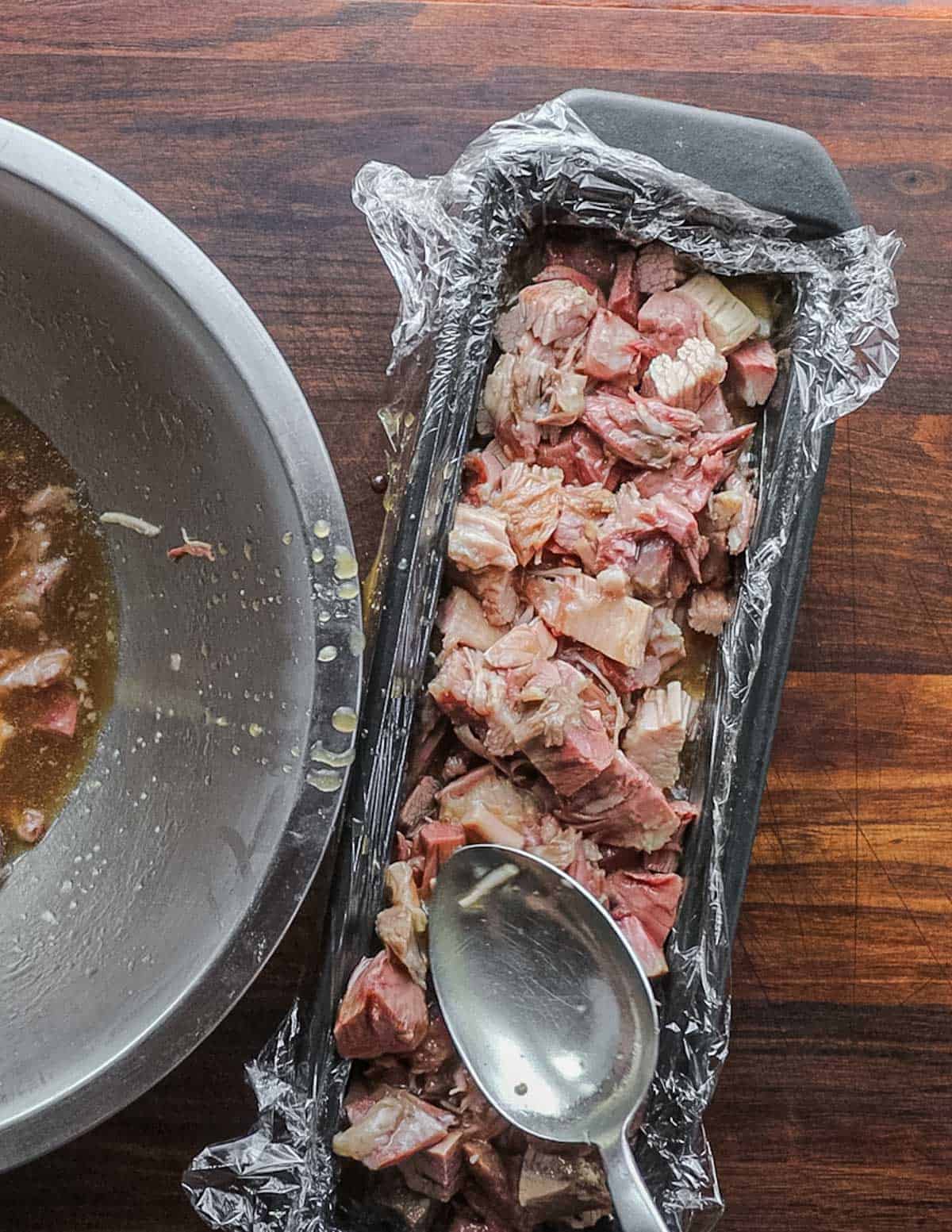 Last but not least, you will need a pair of balls. You will get sticky, greasy, and messy. While braising the head, you had better tell the kids to go outside, and your spouse will thank you for opening a window.
You'll be knuckle deep in pig face, peeling meat from a skull like a cave person. But, if you do it well, you will have some serious bragging rights among your friends, and a delicious snack to boot.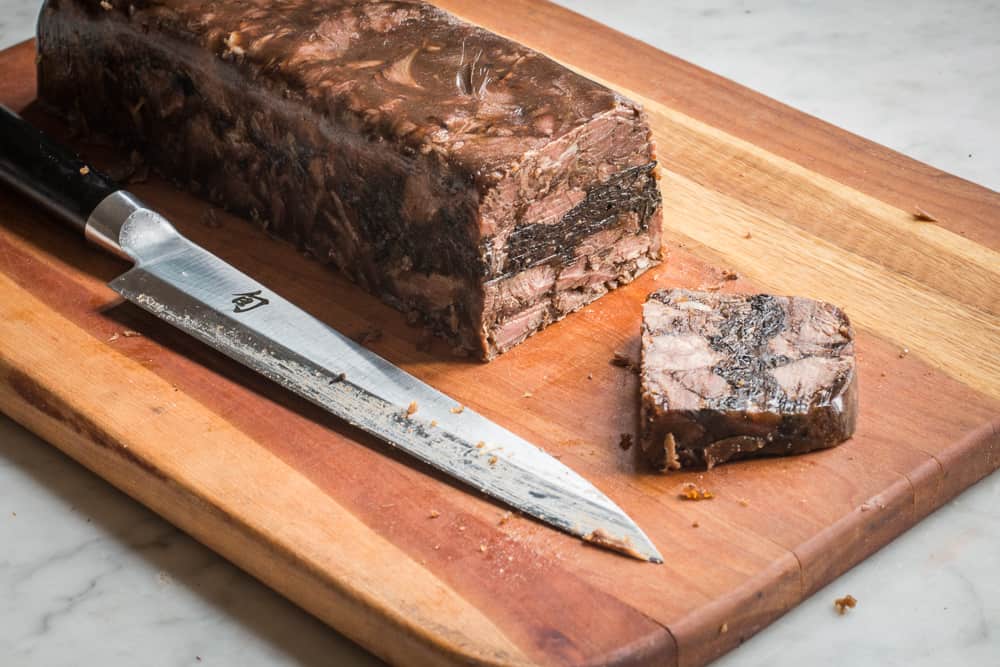 In the end, you'll have reclaimed a piece of something likely no one in your family remembers how to do. Best of all, the next time you meet someone that annoyingly waxes poetic about foie gras and truffles you can tell them where to put'em, because you will be the real "foodie".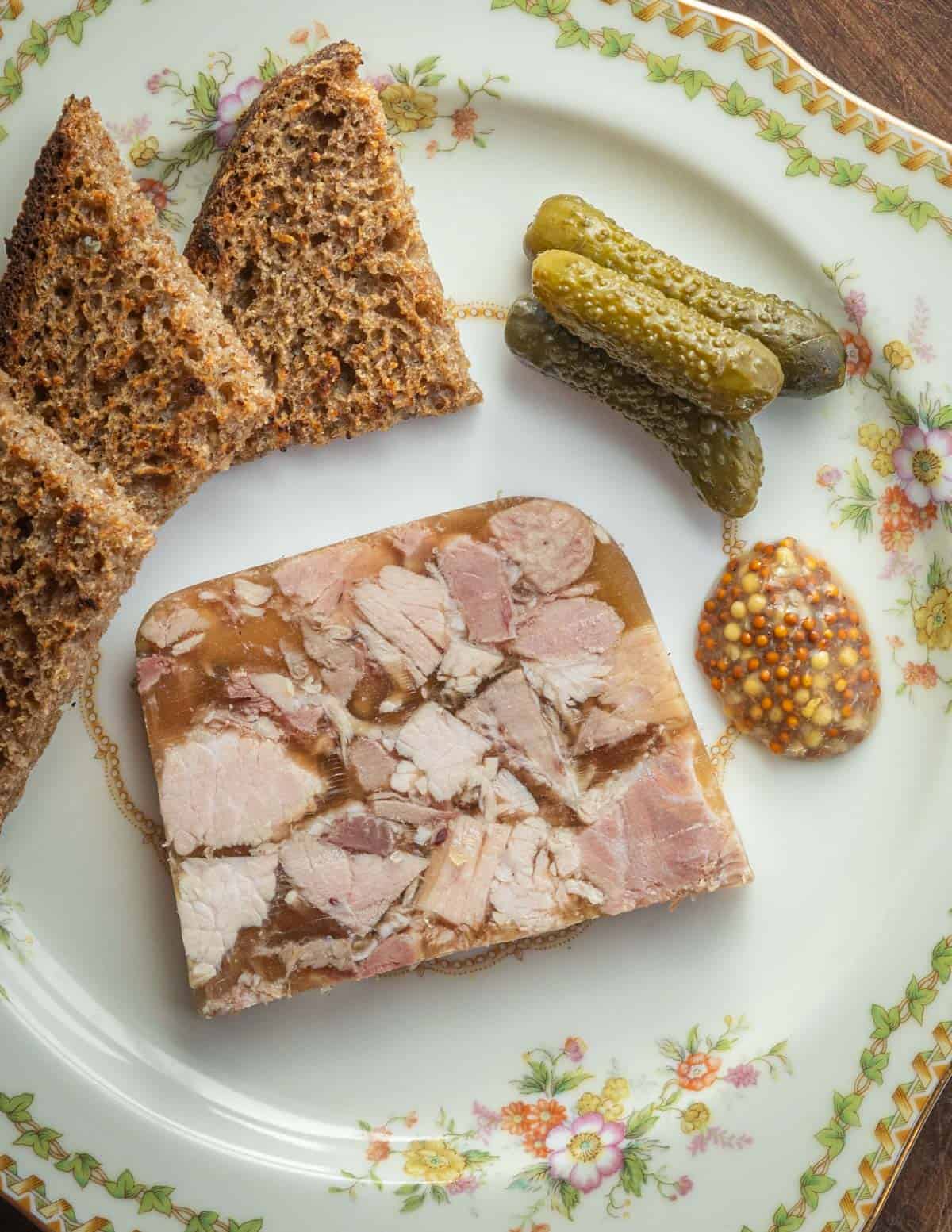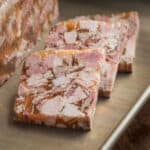 Print Recipe
Classic Pork Headcheese
Yield: 1 entire halved pork head and tongue will make a large 9inch bread pan filled with headcheese. Depending on the size of your pot, you can also make a smaller version with one head. For a half batch, use the same proportions and recipe, althouhg you may not need all of the brine.
Ingredients
Brine
1

gallon

water

1

cup

salt

½

cup

brown sugar

4

oz

(10tsp) pink salt

(prague powder, not Himalayan pink salt)
Head cheese
1

pig's head

halved, brains removed and saved for another purpose (like ravioli)

1

pig's tongue

1

pork trotter, halved (optional)

This will give the stock extra gelatin, but is optional.

2

cups

each chopped carrots

leeks, and celery

1

garlic bulb

halved

1

gallon

water

3

cups

dry white wine

For the bouquet garni

10

sprigs of thyme

1

bunch of parsley

3

fresh bay leaves

10

black peppercorns

5

cloves

1

whole nutmeg

5

whole allspice

1

tablespoon

yellow mustard seed
Instructions
Brine
Bring the ingredients for the brine to a boil, then allow it to cool. Place the halved head, tongue, and trotter if using In a large container (consider a Rubbermaid tub or something similar) and cover with the brine, making sure they're completely covered. If you don't have a large fridge, consider doing this in the winter so you can keep it cold outside--the salt will prevent it from freezing.

After 24 hours, remove the head and tongue from the brine and put into a large stock pot with the bouquet and remaining headcheese ingredients. Bring the mixture to a simmer, then cook covered for 3-4 hours, or until the jaw wiggles easily from the skull. Using tongs or a large skimming tool like a metal strainer, remove the pork and allow to cool just enough so that you can handle it.
Picking the meat from the head
Tongue
Peel and diced the tongue into ½ in cubes.
Head
Working carefully to avoid bone fragments, remove the meat from the head and shanks discarding connective tissue, skin, fat, bone, cartilage, or anything that doesn't look delicious or feels like it would be awkward in your mouth--you want meat, and only the meat. Chop the meat roughly, mix with the tongue, and reserve in a covered container. Don't miss the ocular meat behind the eyes as it's some of the best.
Reduce the liquid
While you're picking the meat from the head, strain the braising liquid, then return it to a simmer on the stove in a wide pot. Reduce the liquid by half.

Test the gel of the braising liquid by spooning some onto a plate and refrigerating it. The liquid should gel easily when it cools. If it doesn't, reduce the liquid in ¼ increments, continuing to test until it gels and sets nicely. Contrary to popular opinion, it is possible to over-reduce the braising liquid, which will give your headcheese the texture of a super ball. It should be solid, and able to be cut with a knife, but not so hard that it's rock-like, or rubbery. It should be pleasant tasting.
Chill and Form
Line a terrine mold or bread pan with plastic wrap so that there is enough plastic hanging over the edges to cover the terrine completely when the pan is filled. Mix the diced, braised meat in a bowl, then pack it into the pan or mold. Pour the reserved braising liquid over the top, then wait for it to settle completely, tap the pan on a cutting board or another hard surface to help the liquid distribute throughout the terrine.

Afterwords, fold the plastic back over the mold, then cut a piece of cardboard to fit on the pan. Weight the terrine over night with a heavy object, making sure the weight it evenly distributed, and placing the entire pan on a cookie sheet in order to catch any drips of gelatinized stock.
Serving and Unmolding
The next day, un-mold the headcheese remove the plastic, and slice ½ in thick with a long, sharp knife to serve. The headcheese will keep for a week.
Notes
Since it will be hard to find suckling pig heads, or find time to devote to making a headcheese that only yields a 1lb terrine, I'm scaling this recipe to work for a whole pig's head, but it would work fine for smaller animals too like a lamb or goat's head, which both make great headcheese too. 
Your headcheese will be amazing on a plate with pickles, mustard preserves and wine, as the main component of a sandwich, or for the ambitious: diced, breaded and deep fried.