Nothing seems to change paradigms about wild food faster than seeing a dish garnished with edible wildflowers. The sheer variety of shapes, textures, colors, flavors and uses are incredible. Without further ado, here's a list of over 40 edible, truly wild flowers, with a brief background on each. If you think of any I've missed, please leave a comment.
Milkweed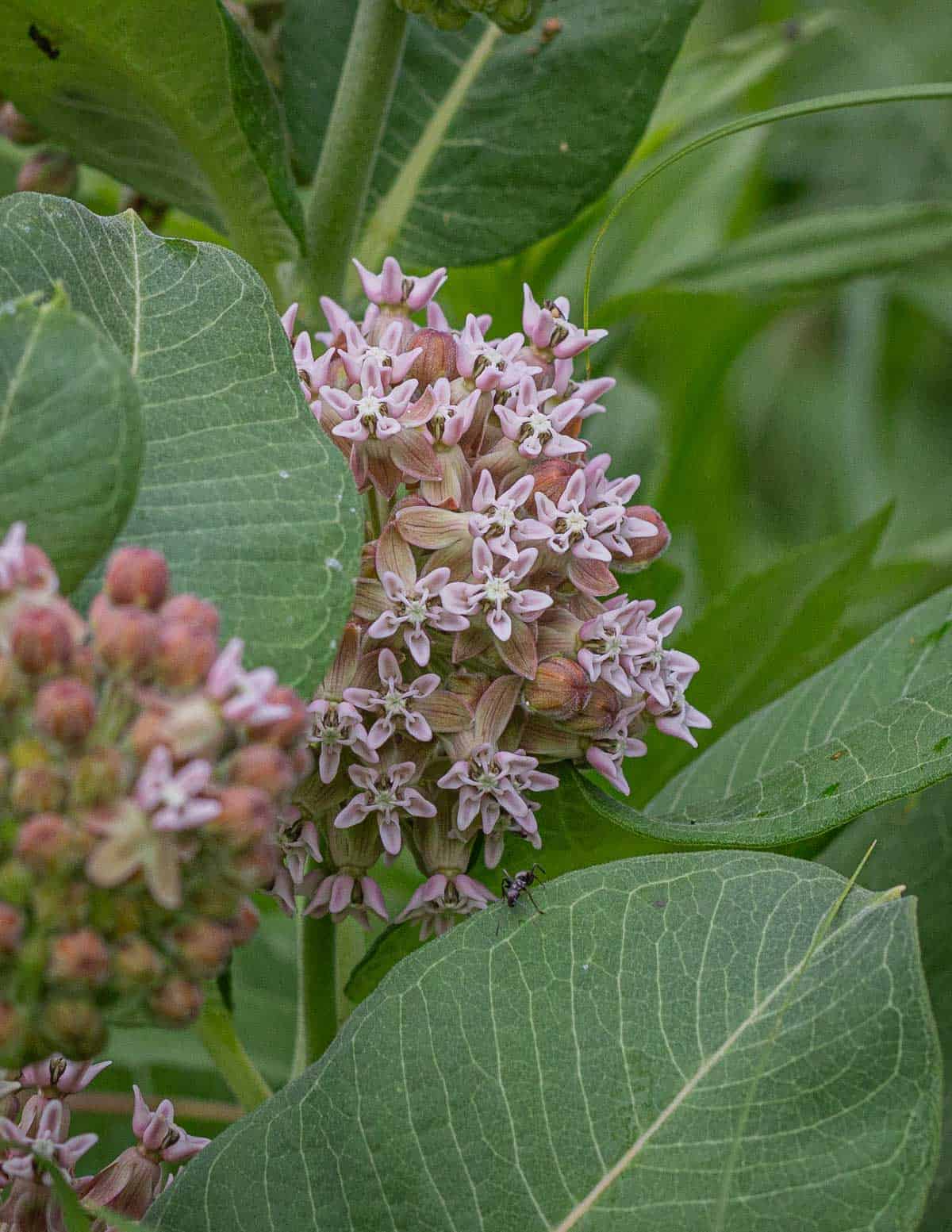 Common milkweed (Asclepias syriaca) and showy milkweed (Asclepias speciosa) are two of the best edible flowers I know. The smell is fruity and intense, and the color adds am attractive touch of purple to sweet or savory dishes.
The aroma can be used to infuse drinks like milkweed shrub or syrup that makes summer punch taste like watermelon jolly ranchers. They make a brilliant red vinegar (pictured below) and an interesting soup vegetable.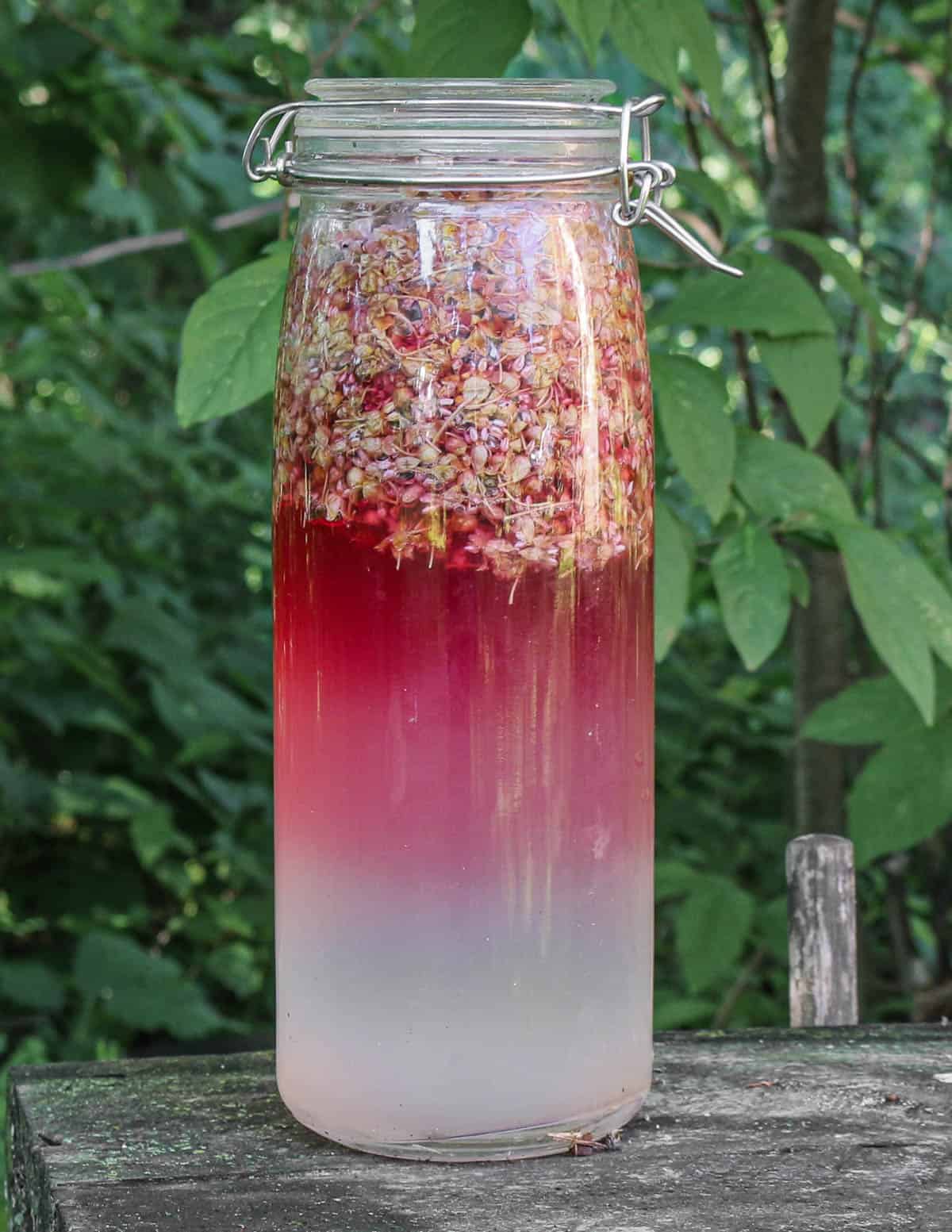 Below: white poke milkweed flowers (Asclepias exaltata) are edible too, but lack the intense fruitiness of their cousins and I harvest them sparingly.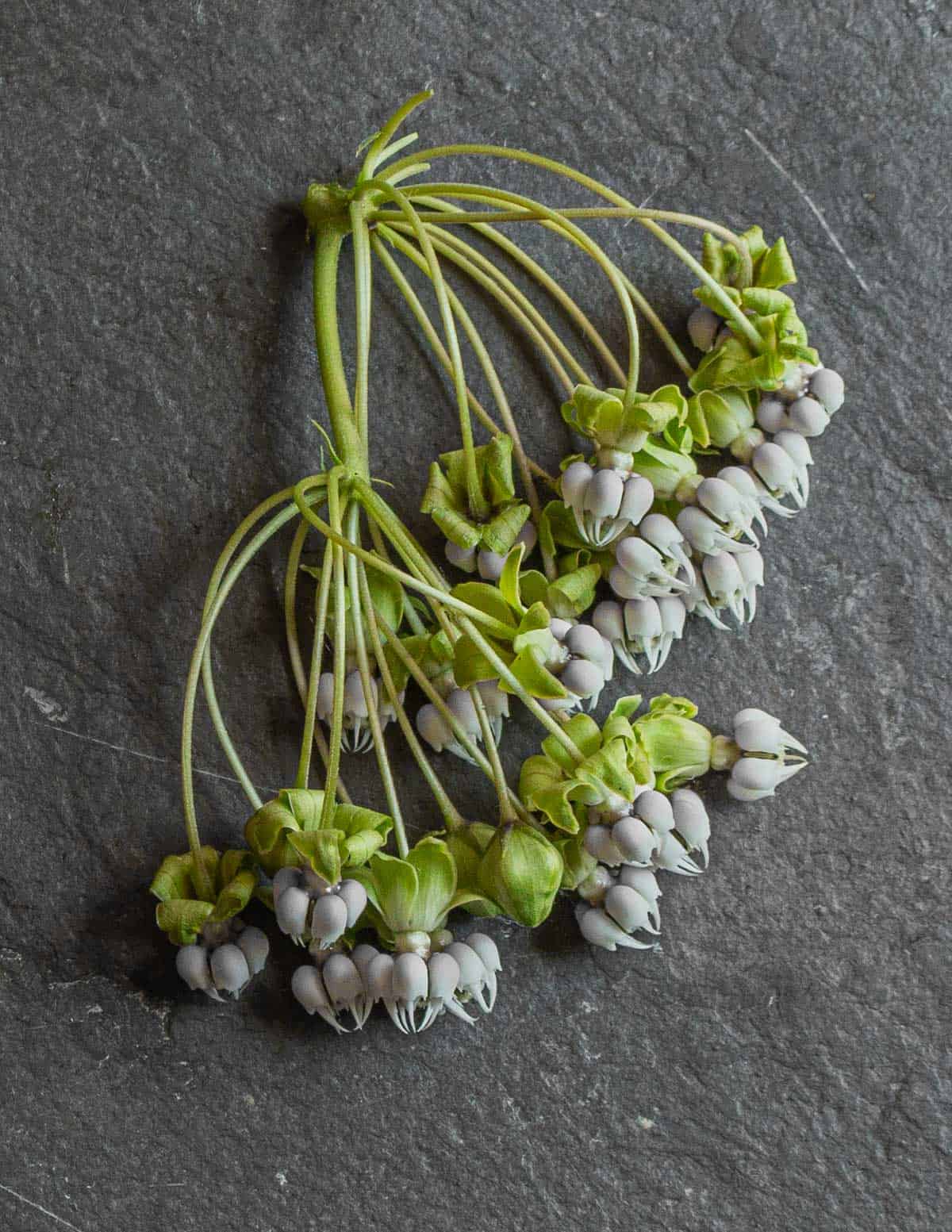 While both common milkweed, showy milkweed, and poke milkweed flowers are edible, they must be used in small amounts when consumed raw-a sprinkle is all you need. No other milkweed flowers should be used raw or cooked and can make you sick.
Creeping Bellflower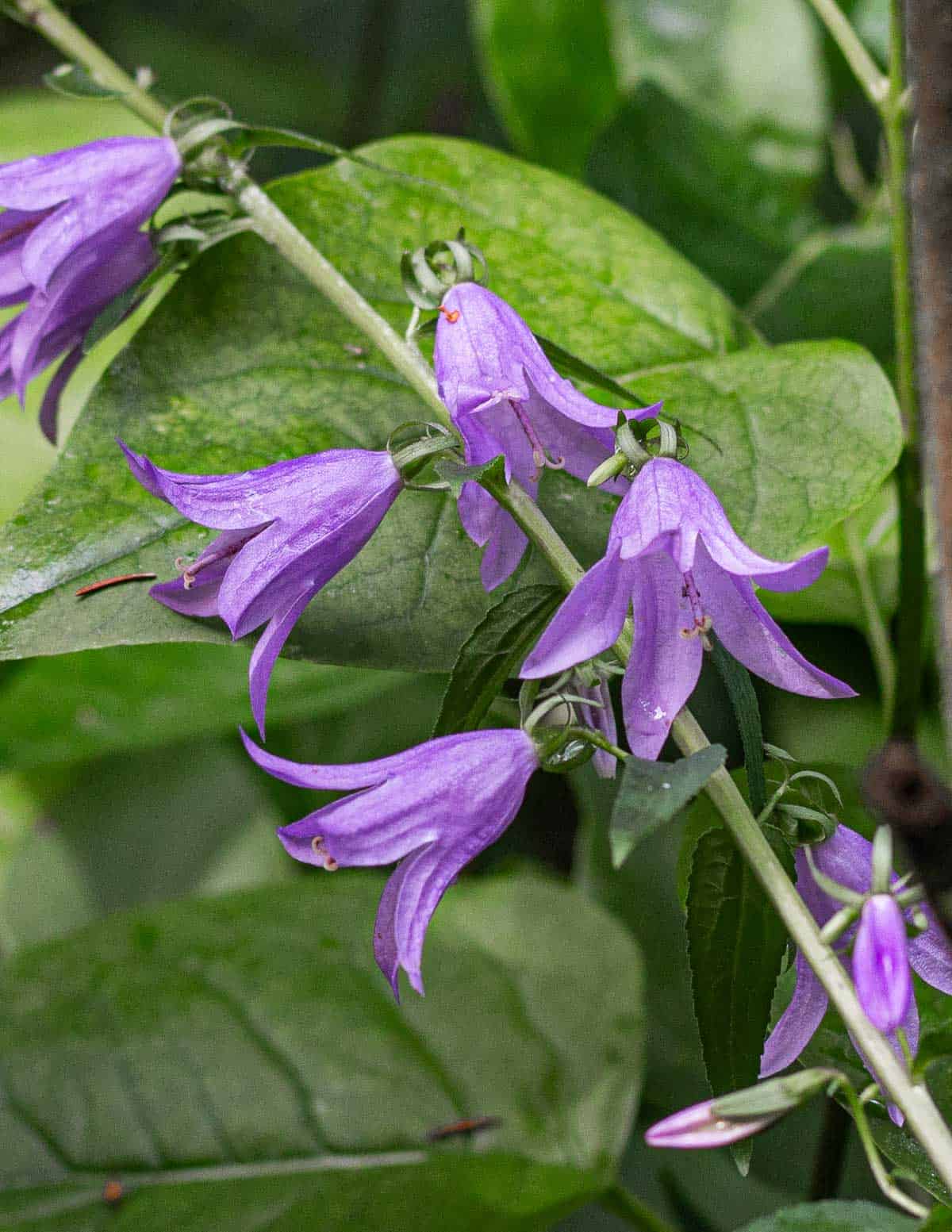 Creeping bellflower, also known by the delicious name hairbell and Campanula rapunculoides are a common garden weed. The pretty purple flowers always get compliments when I serve them to people and they have a neutral taste that makes them good for both savory and sweet dishes. Mine are usually ready in July.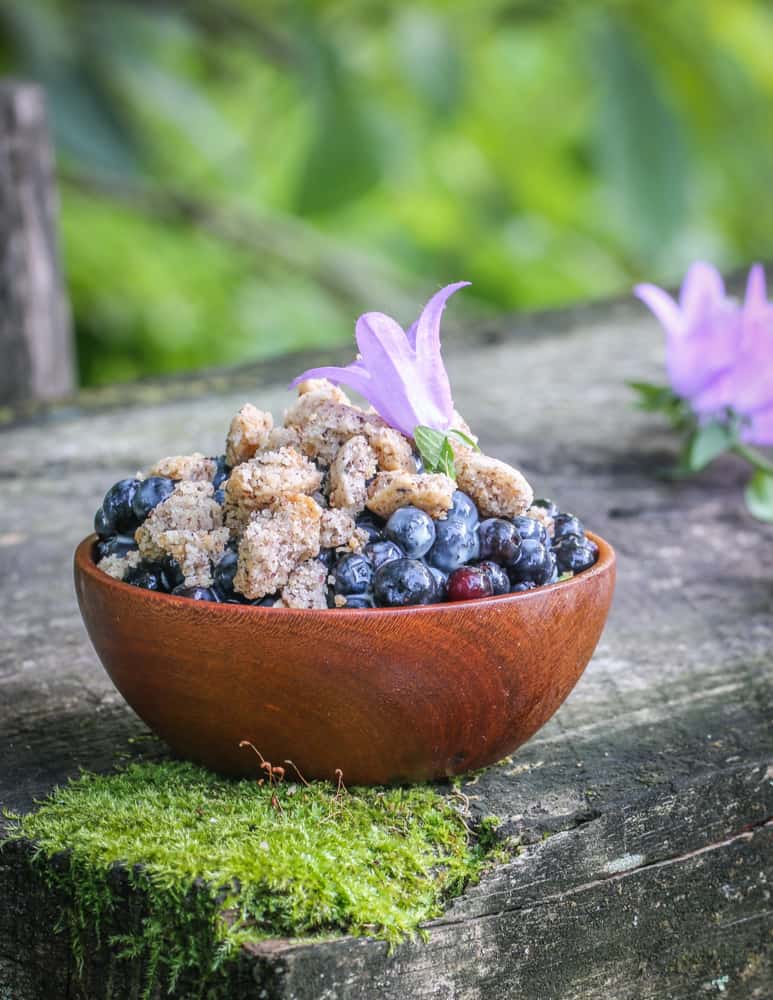 C. rapunculoides is only one of a number of related plants that will make similar edible flowers. The French harvest campanula roots and cook them like carrots.
Spring Beauty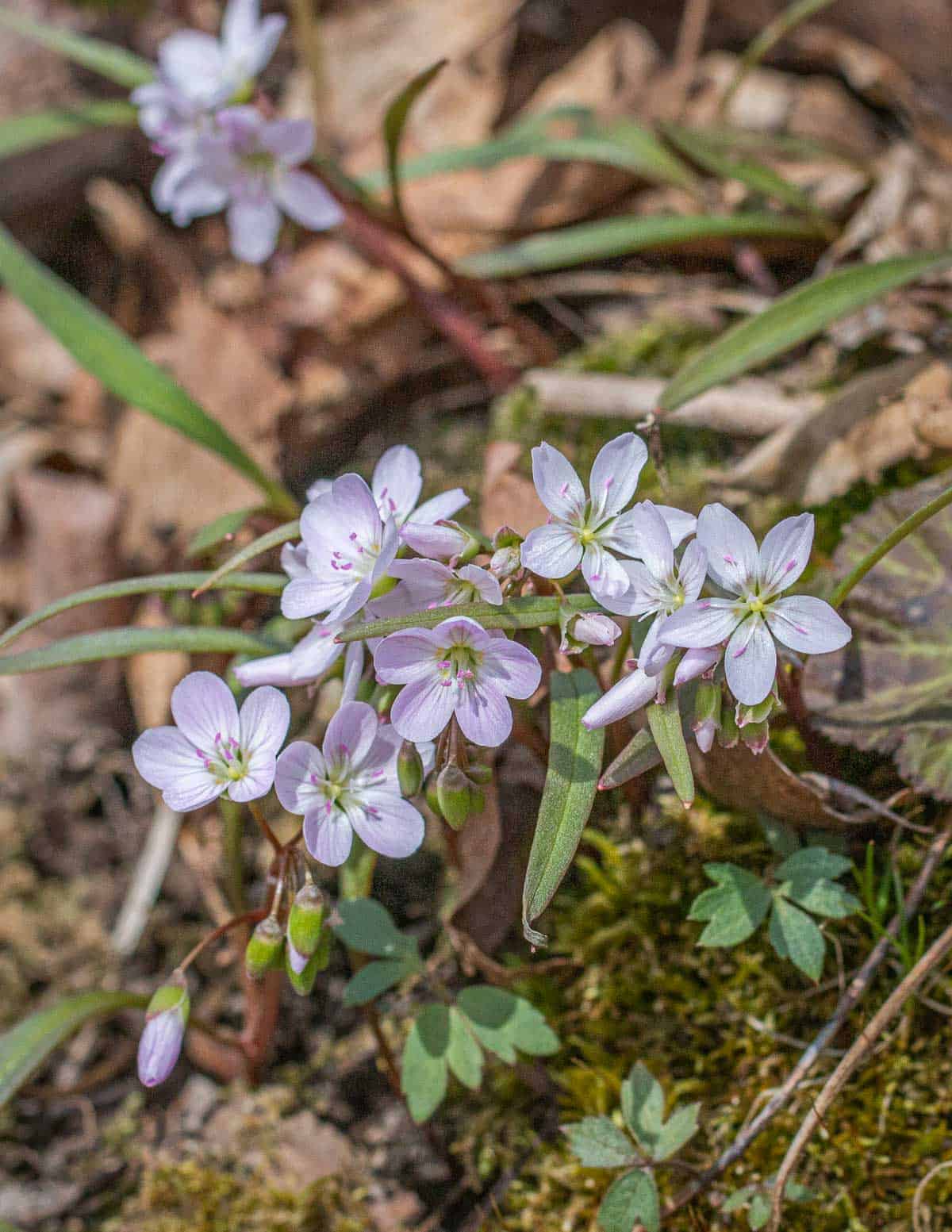 Spring beauty (Claytonia virginica) is a spring ephemeral that loves to grow in maple sugar bush forest with ramps, toothwort and others. It's related to miners lettuce and has a similar mild, grassy flavor.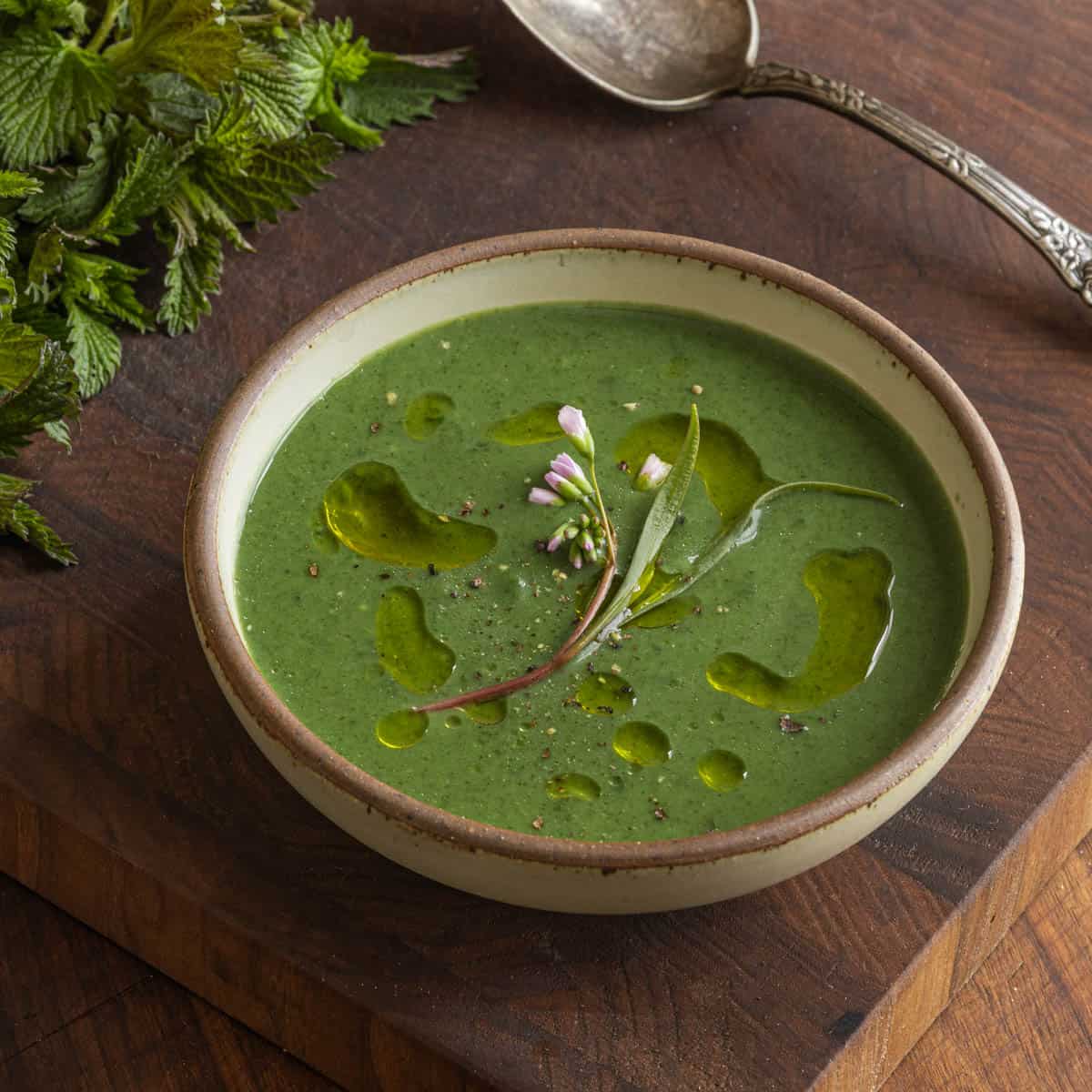 Unlike most of the other flowers in this post, the entire stem and leaves should be eaten as a small raw vegetable as it would be impractical to remove the flowers. It's succulent texture is excellent in salads or lightly dressed as a garnish. They're available in May.
Toothwort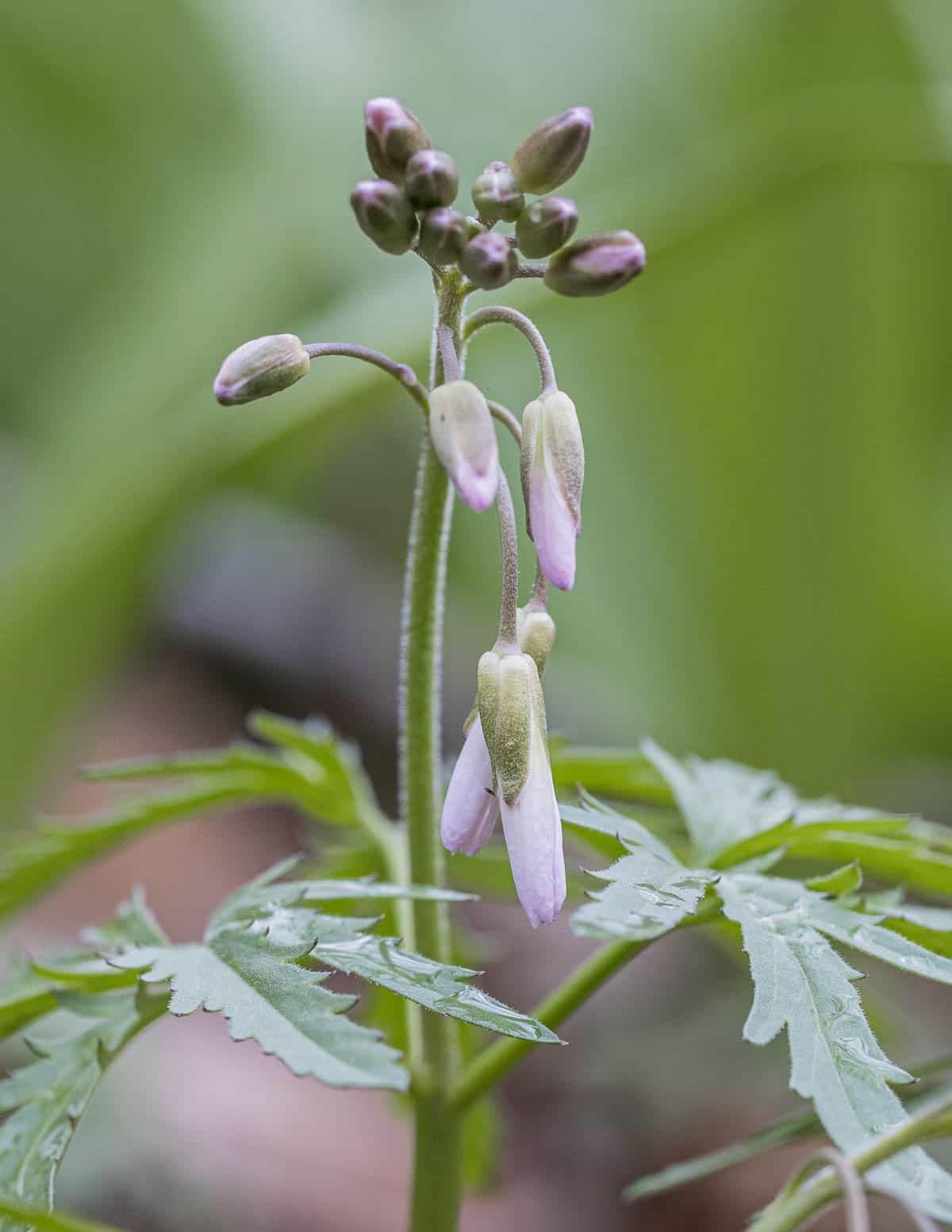 Cut leaf toothwort (Cardamine concontenata) is another spring ephemeral, and a common sight in maple sugar bush forest alongside ramps, trout lily and spring beauty.
There's a few other varieties besides C. concontenata, like C. diphylla, which has large rhizomes that can be made into a horseradish substitute.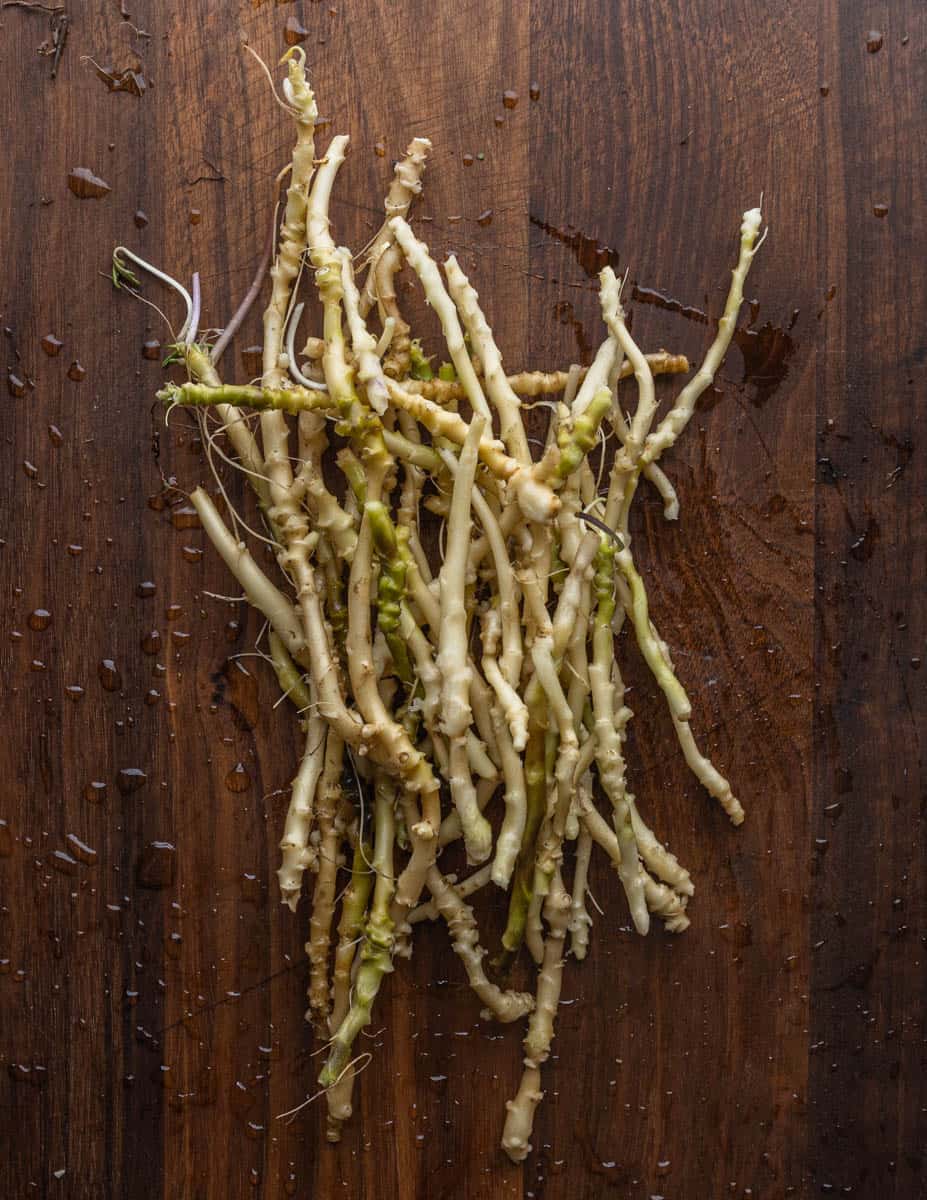 The flowers are small and delicate, and I usually leave them attached to the plant if I add them to a dish. Like the green leafy parts, they have a spicy, bitter flavor reminiscent of horseradish. Pictured below on goat tartare.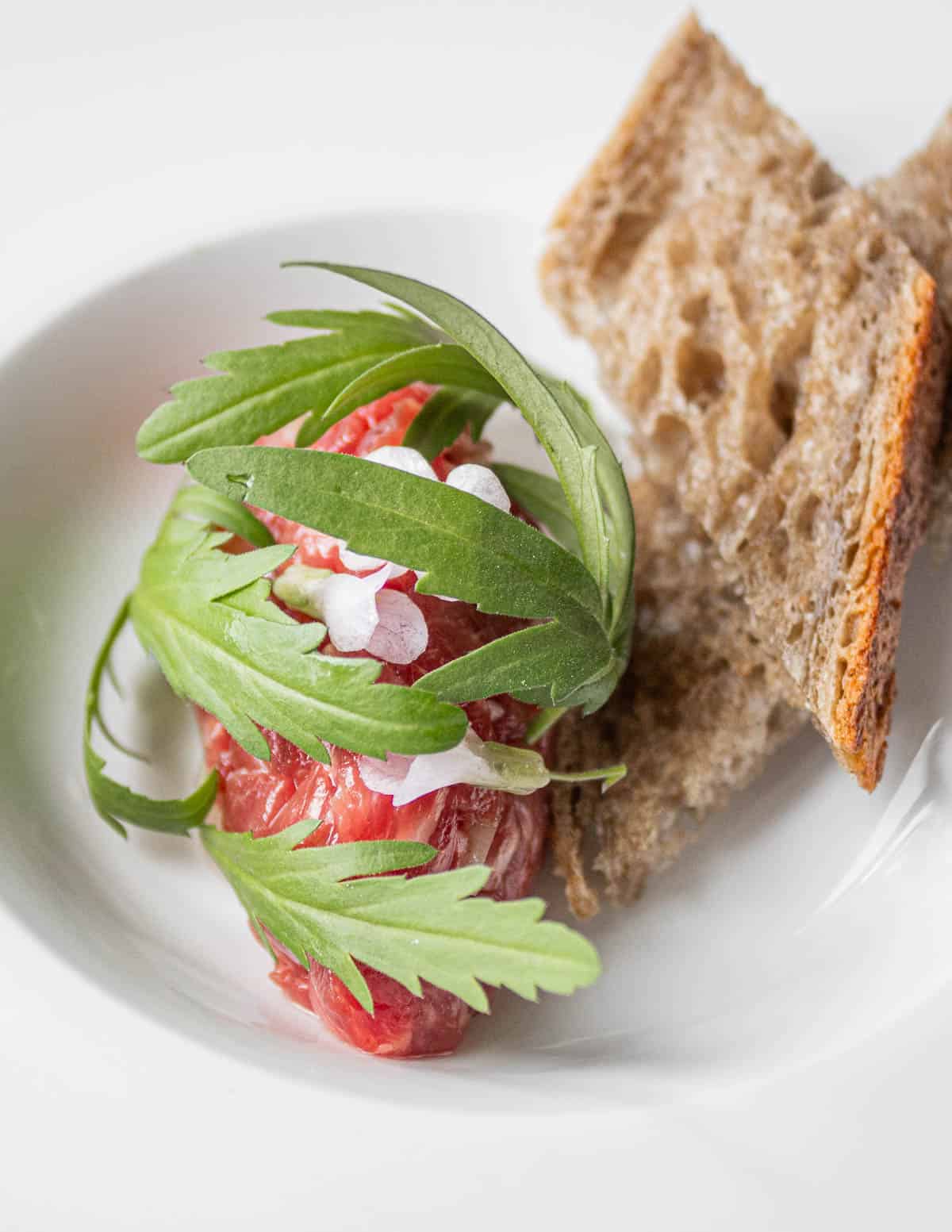 Trout Lily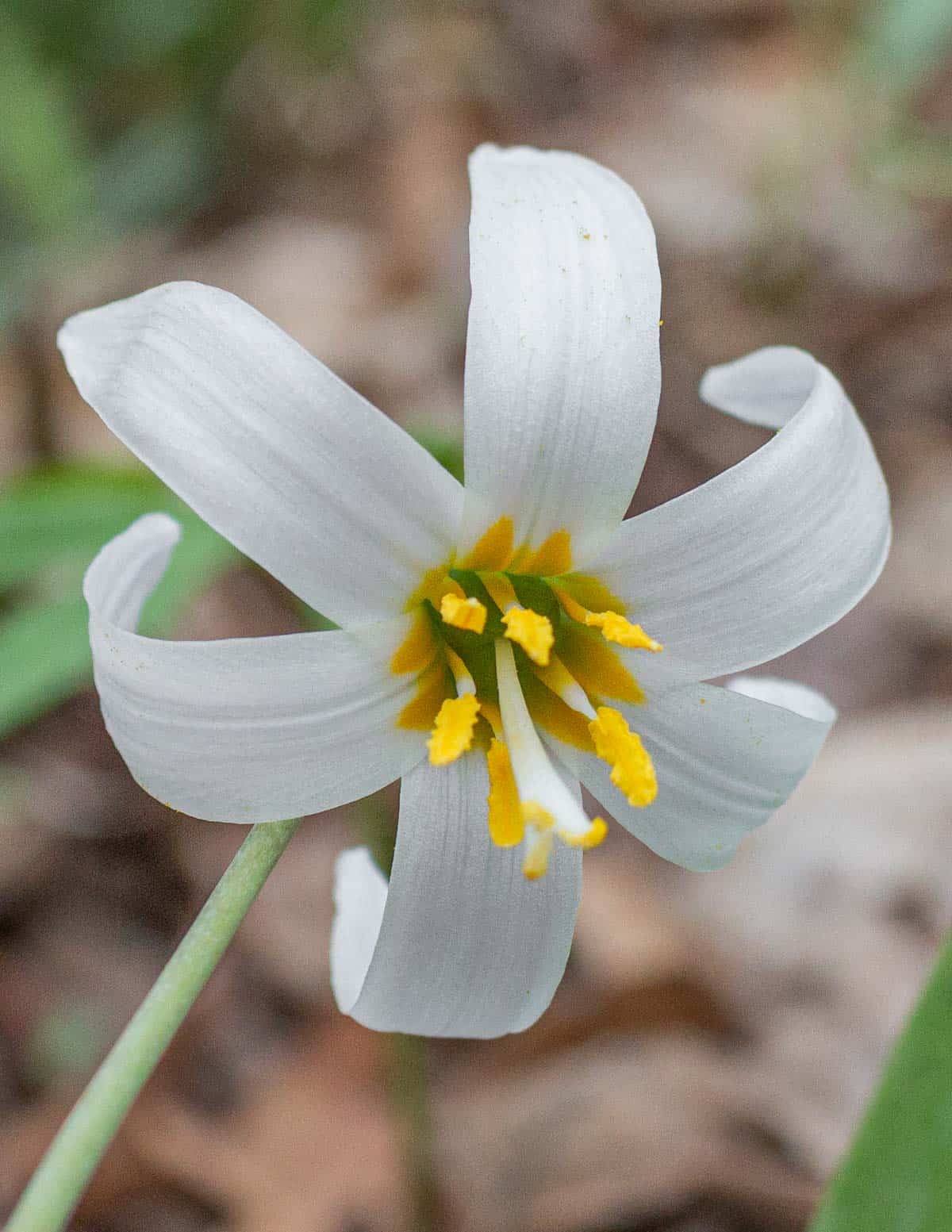 A spring ephemeral common in areas with ramps like maple sugar bush forest, trout lily flowers (Erythronium) can come in a few different colors. They have a mild flavor and can be used to garnish sweet or savory dishes like the wild garlic soup, pictured below. Look for them in Late April through May.
I typically see Erythronium americanum. It's important to know that Erythronium propullans is endangered in Minnesota and Federally protected. I have never seen it, personally.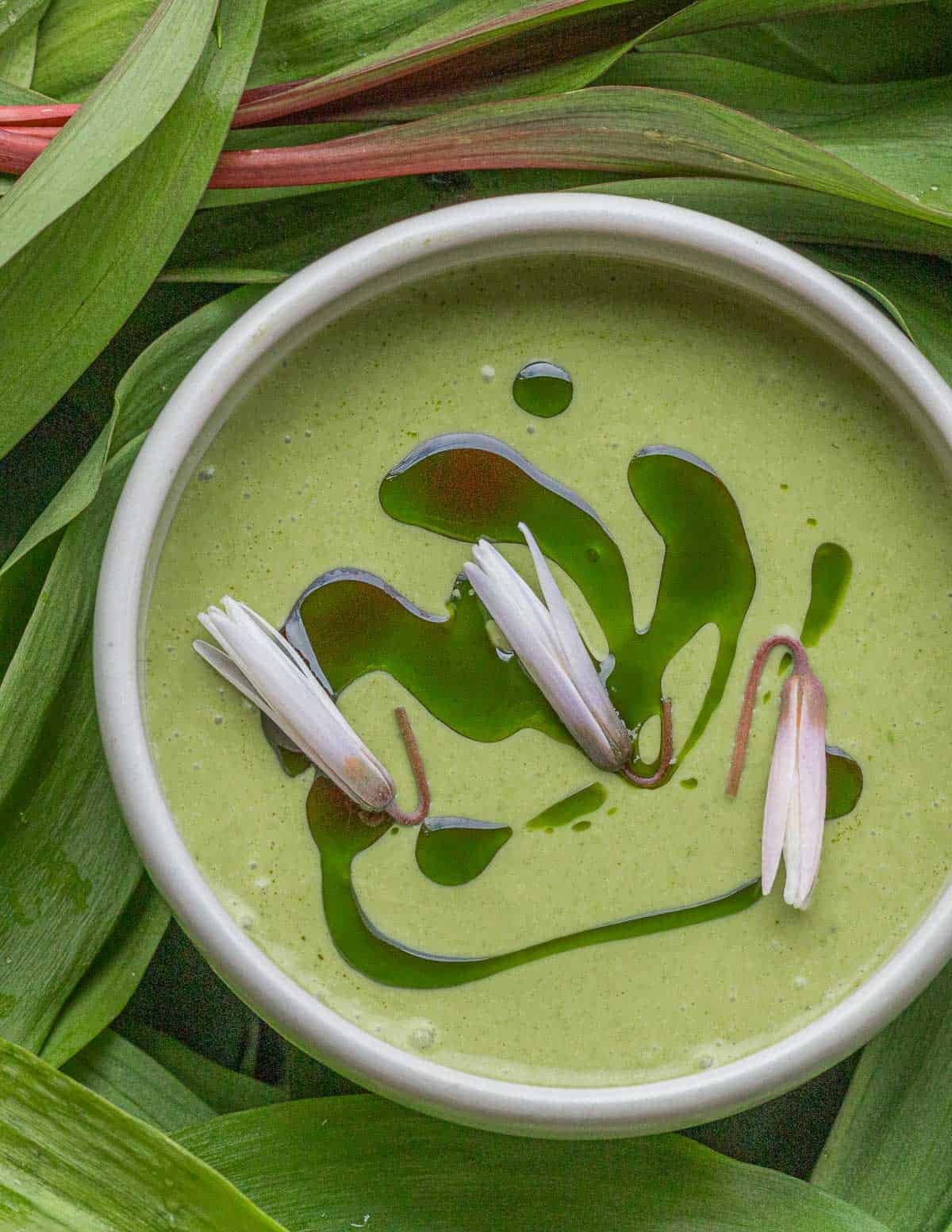 Just like the leaves of the plant, trout lily flowers should be used in moderation. Only put on or two on a dish as large amounts can cause digestive upset in some people.
Virginia Waterleaf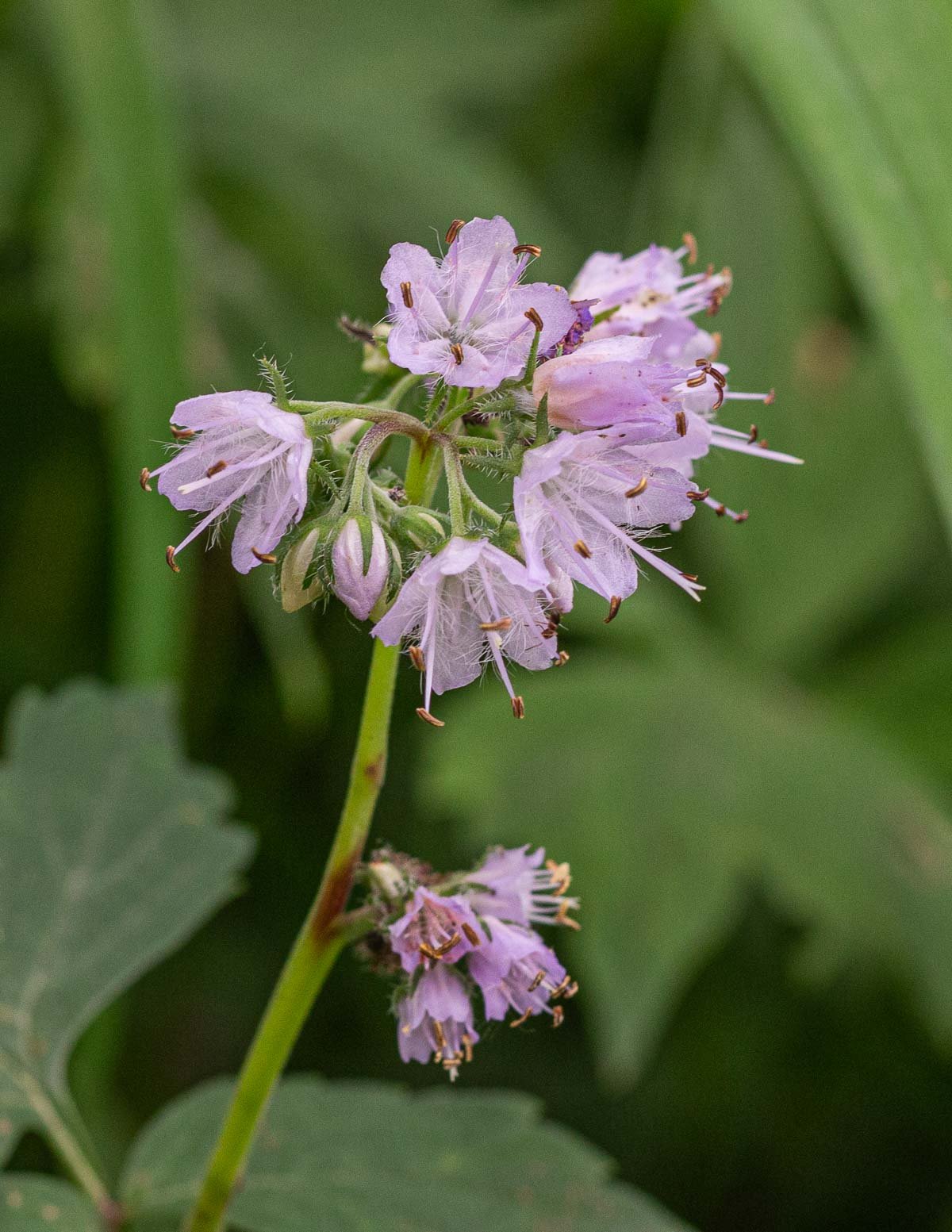 Virginia waterleaf is kind of a spring ephemeral. While it appears in the early spring, it stays around longer than the others, persisting throughout the year, especially if it gets mowed.
The flowers are delicate, but can make a nice addition to salads and sprinkled on dishes when they're available in May. The whole plant is edible and the greens can be decent cooked in a blend of plants.
Virginia Bluebells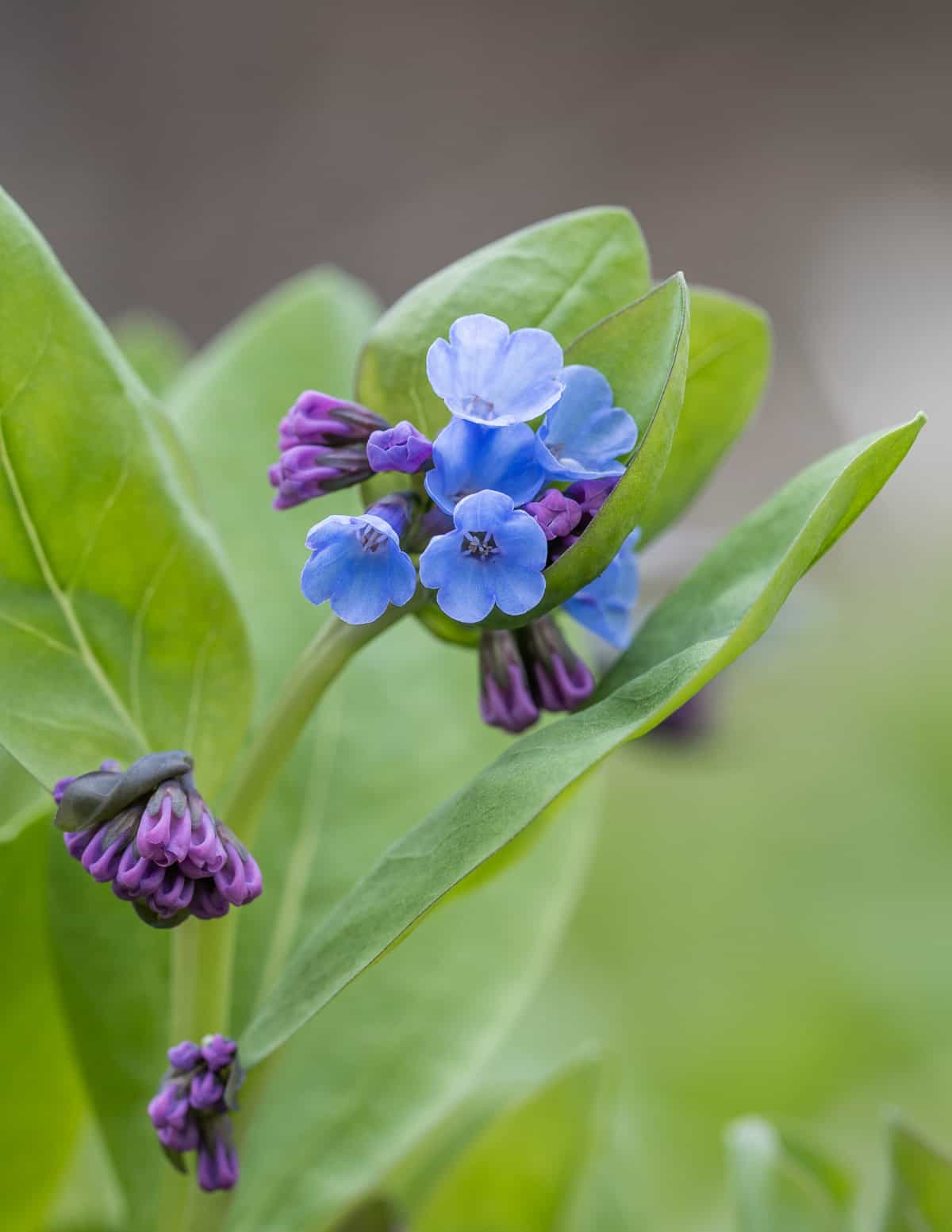 A cousin of borage, and in the same family (Boraginaceae), Virginia bluebells (Mertensia virginica) as well as their cousin Mertensia maritima are edible and delicious. M. maritima is a traditional food in Alaska.
The whole plants can be eaten. The young leaves and tender stems can be cooked like spinach or eaten raw in salads. Below they're served in a rich mushroom broth. Look for them in early to Mid April.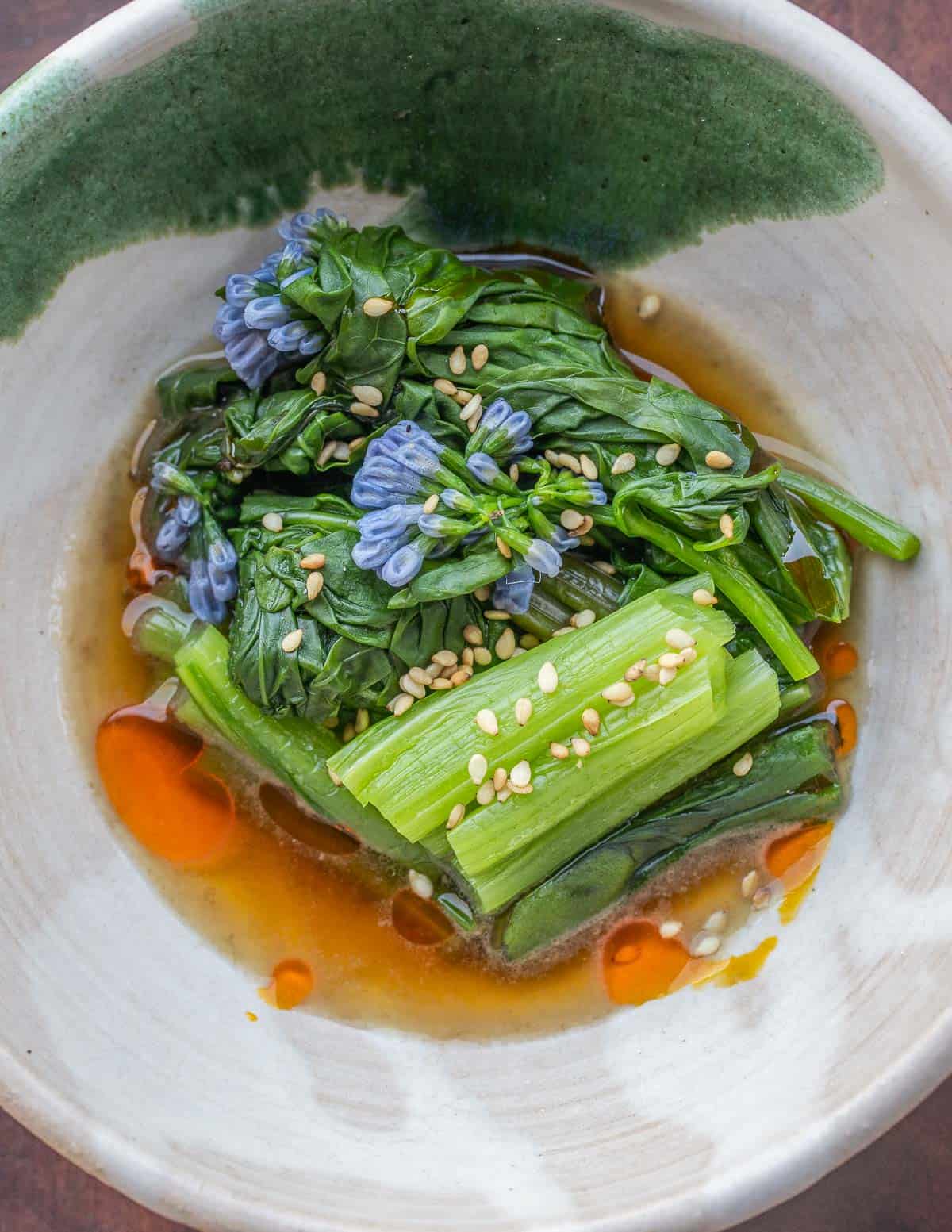 A great example of the importance of Latin names, it's important to know that if you're in Britain, Hyacinthoides non-scripta is also called the common bluebell, and is poisonous.
Wild Roses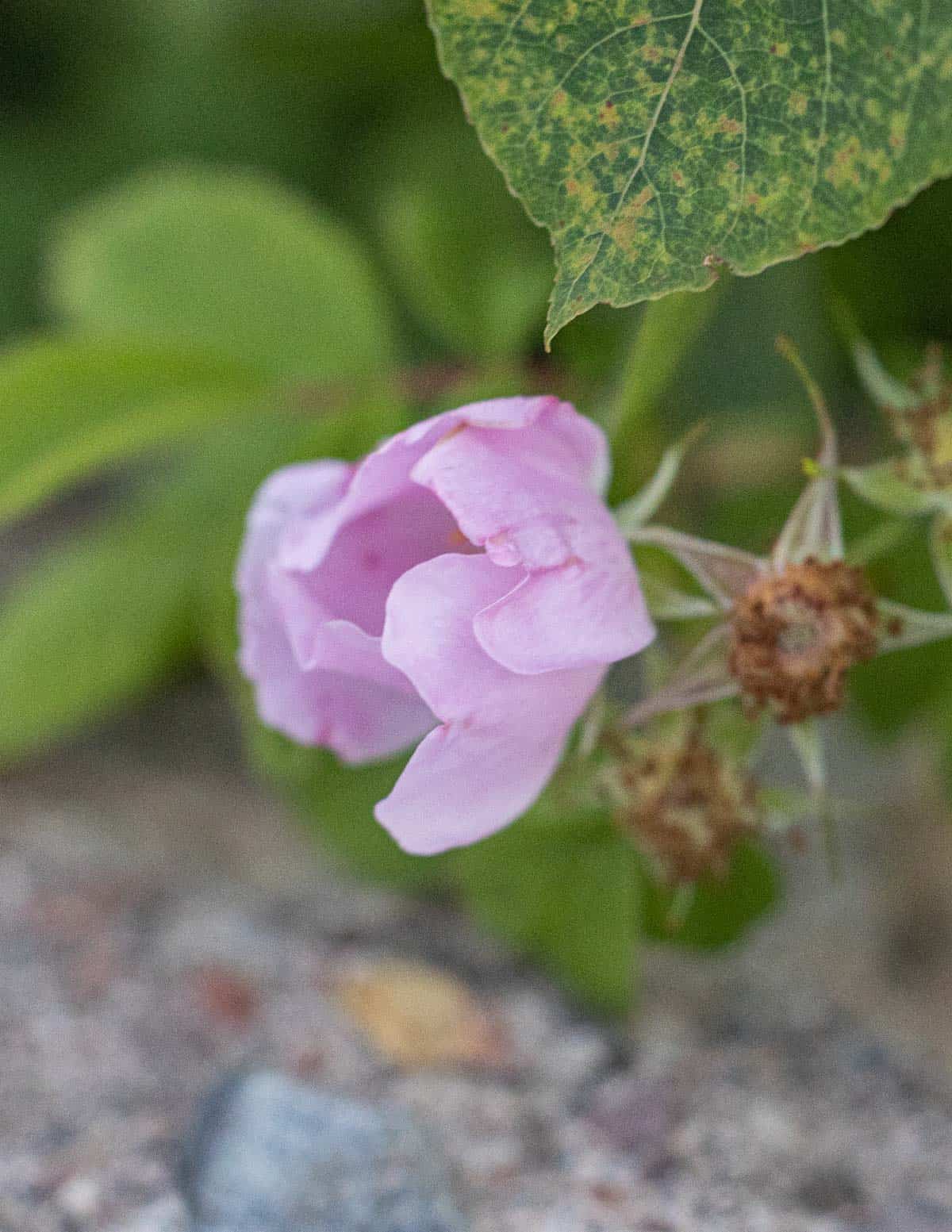 Smaller and more fragile than they're famous cultivated cousins, wild roses (Rosa spp) also don't come in a kaleidoscope of colors. The flowers are pink, have a strong aroma of rose, and can be used in salads, candied, or harvested en-masse to make things like rosewater. They can also be dried for teas and infusions.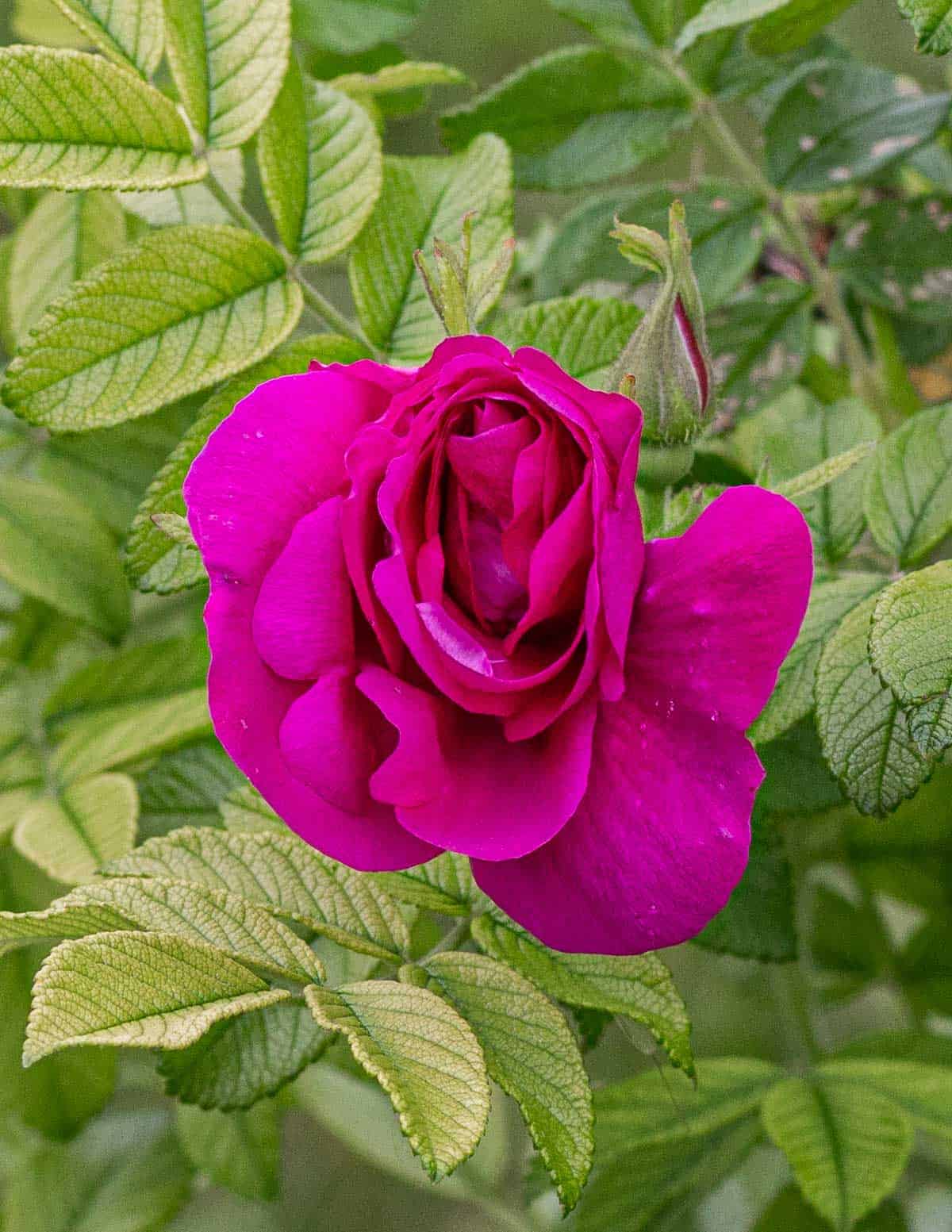 Don't forget that rosehips come after the flowers have been pollinated, and are also fantastic dried for tea. Larger varieties like Rosa rugosa make hips that can be trimmed and cooked into jams and preserves. Look for them in July.
Jewelweed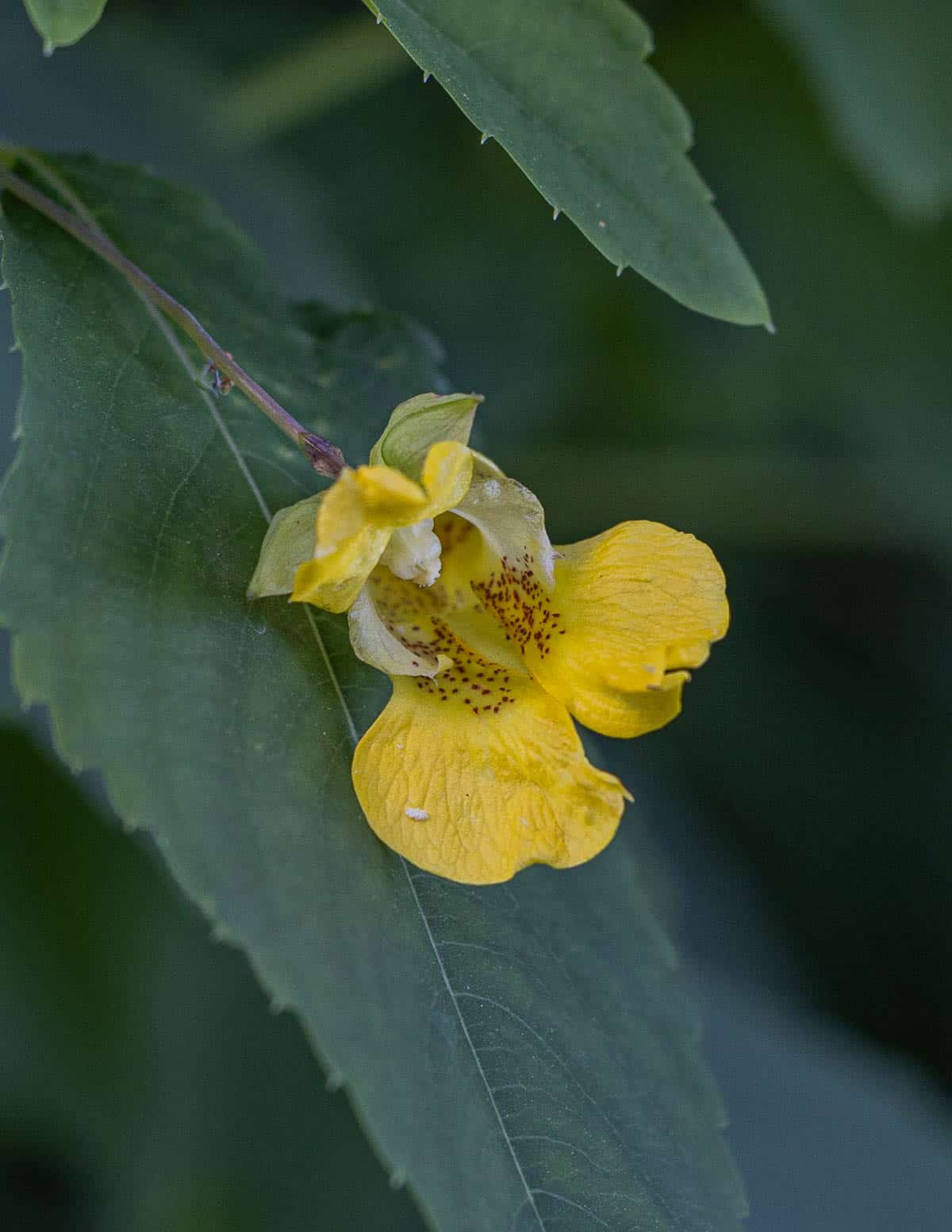 Jewelweed (Impatiens capensis) is a tall leafy plant with succulent, thin-walled stems. Most people know it for its use as a treatment for nettle stings, poison ivy and other skin irritations. Another fun part of the plant many will know is the "exploding" seed pods.
The flowers are edible with a mild, pleasant flavor. They're delicate, so they should be used soon after harvesting.
Lilacs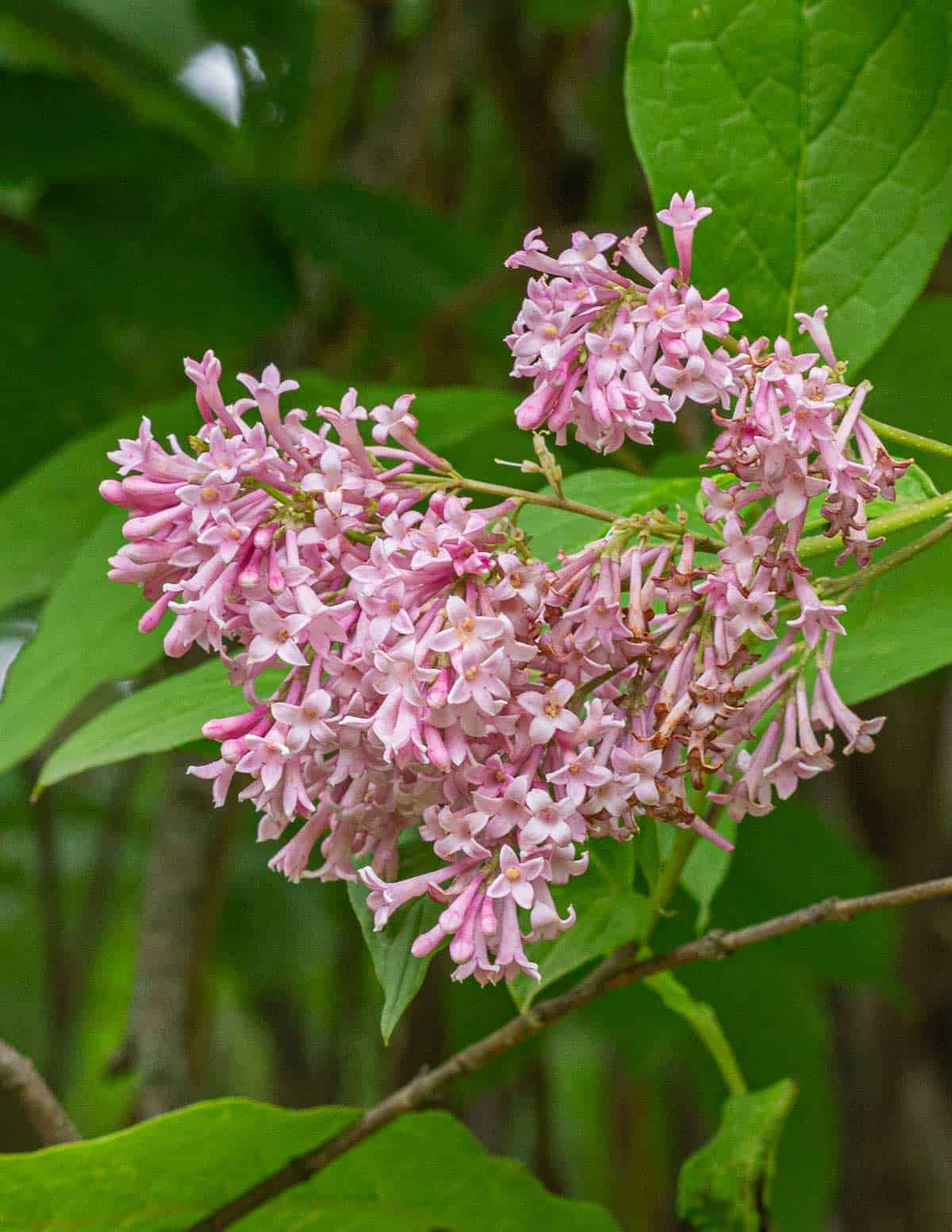 Arguably the most famous spring flower, lilacs are mostly seen in landscaping and in yards, but can escape and spread.
The flavor is slightly bitter and the texture a bit chewy, but their intense floral aroma can be infused into dairy, dried for tea, or mixed with sugar to make lilac sugar. Sometimes I use them to garnish dishes made with morels in May to celebrate the season.
Dead Nettle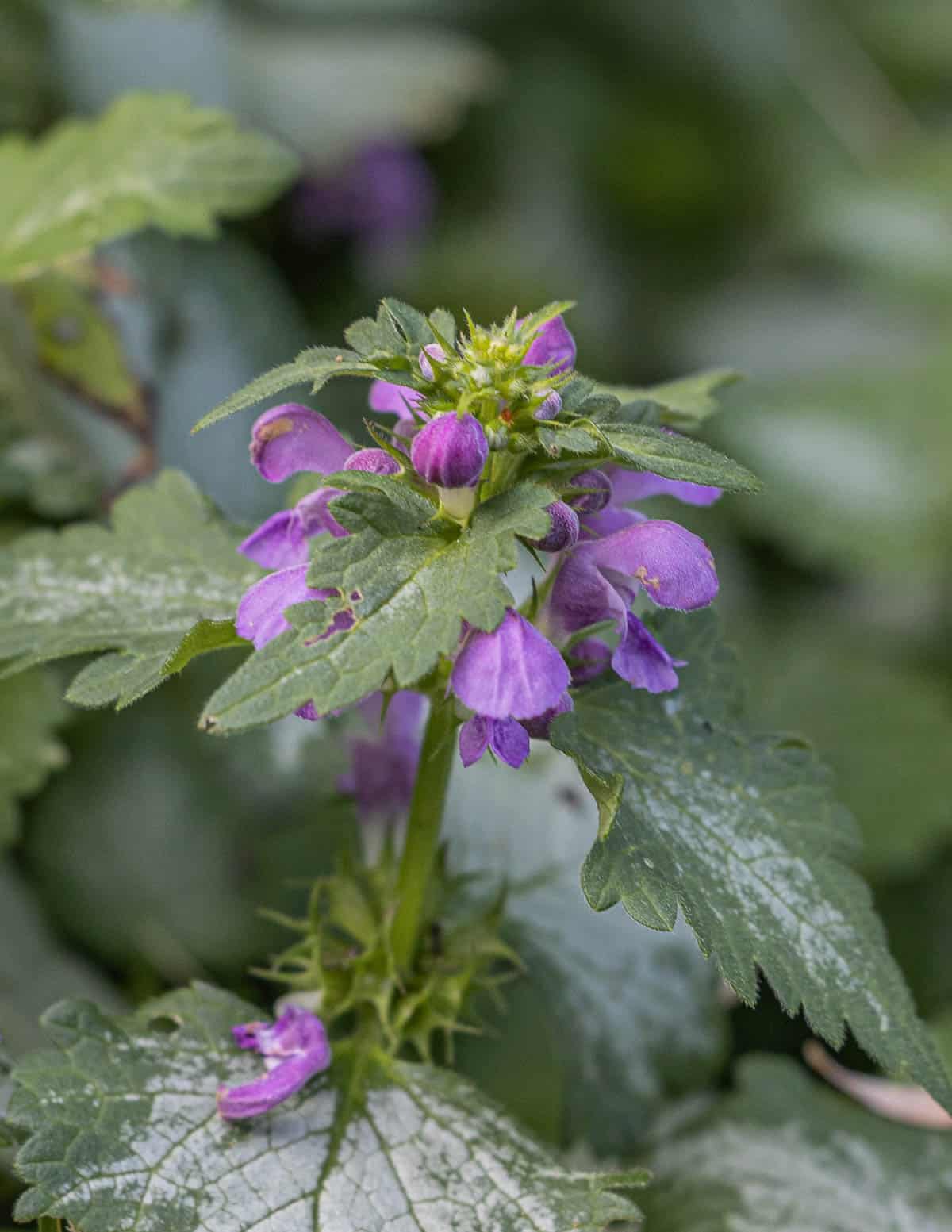 Also known as mushroom mint, dead nettles (Lamium spp) are edible, just don't expect to use it to make mint ice cream. The flavor is deep and earthy and will be unpalatable for some.
The pretty purple flowers make a good garnish for salads and savory dishes. Some varieties can be aggressive, and I used to harvest them by the grocery bag for serving in restaurants when I ran into large colonies.
Nasturtiums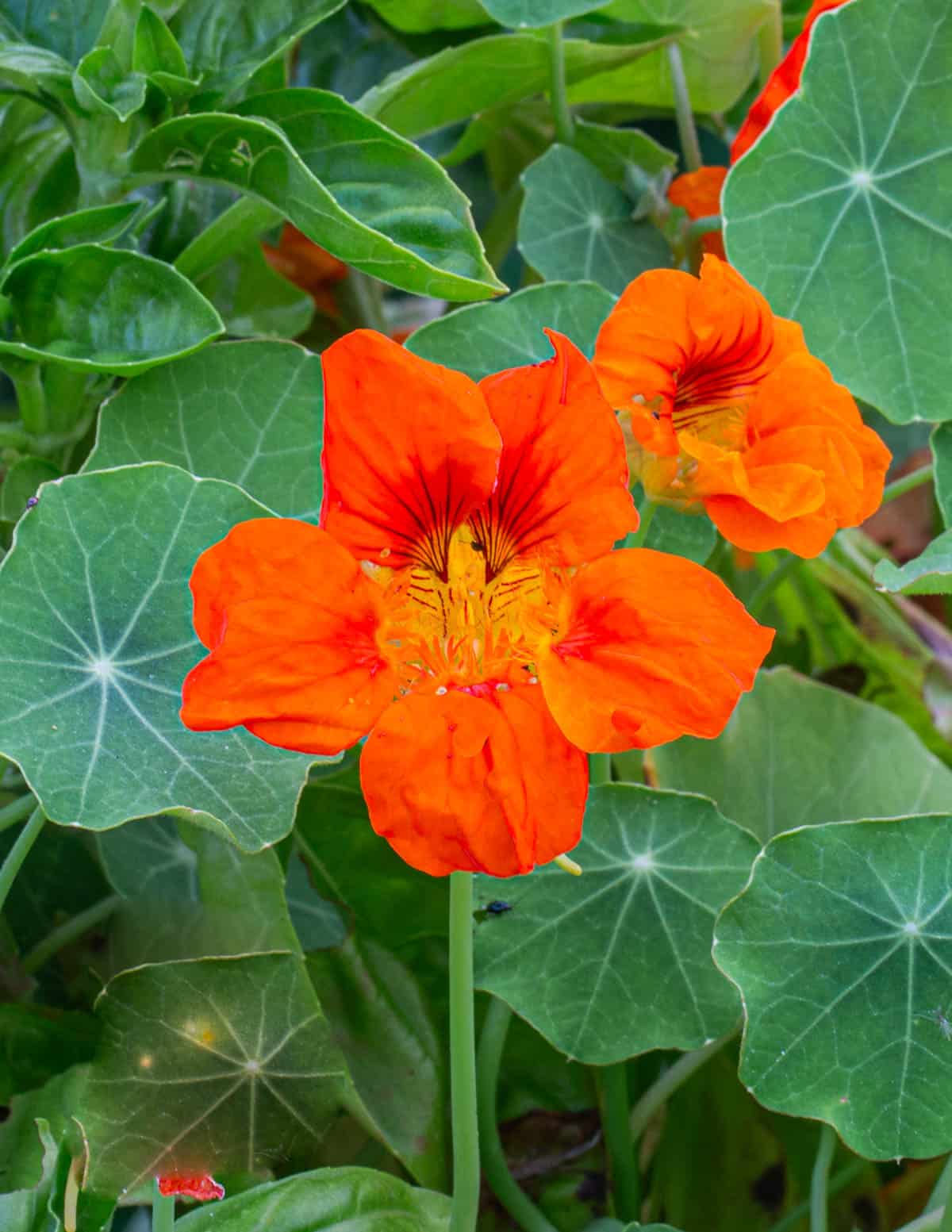 One of the finest edible flowers, nasturtiums come in a variety of colors. Mostly known as a garden plant, but nasturtiums also grow wild on the west coast of the United States. I often see them in the Bay Area.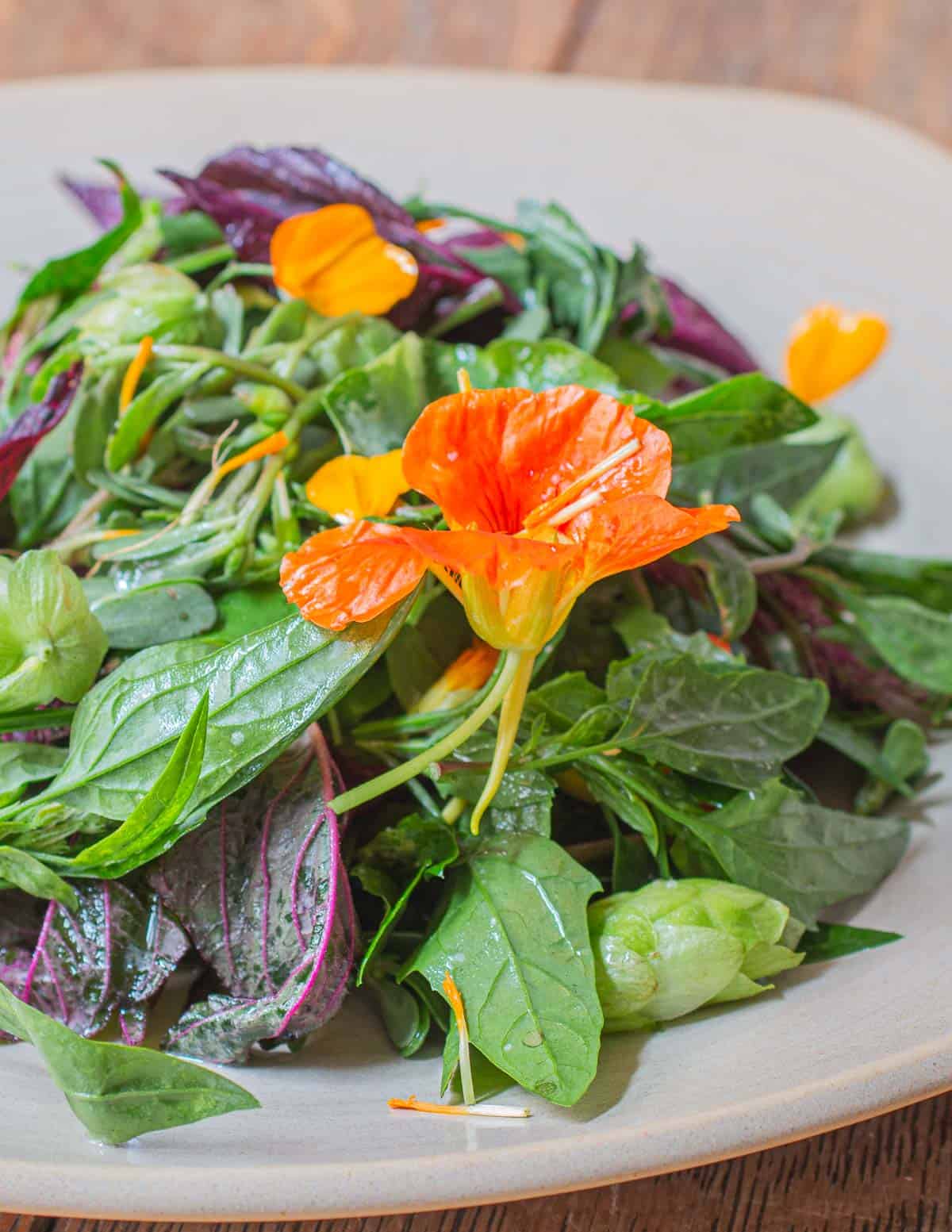 Their spicy, sweet taste and perfectly crunchy texture can be used to garnish sweet and savory dishes. Chef Jeremy Fox even makes ice cream out of them. Besides the edible leaves and flowers, the unripe seeds are one of the best for making fermented capers.
Day Lily
One of the first wild flowers I ate, day lilies (Hemerocallus fulva, and cultivated varieties) are common in yards, gardens and along roads. Unripe flowers can be cooked like a vegetable, fried, pickled or fermented.
The mature flowers are large enough that the pistils can be removed and the flowers piped full of mousse or filling. The colorful petals are perfect for picking off on top of a salad and have a mild, sweet taste. Look for them in late June through July.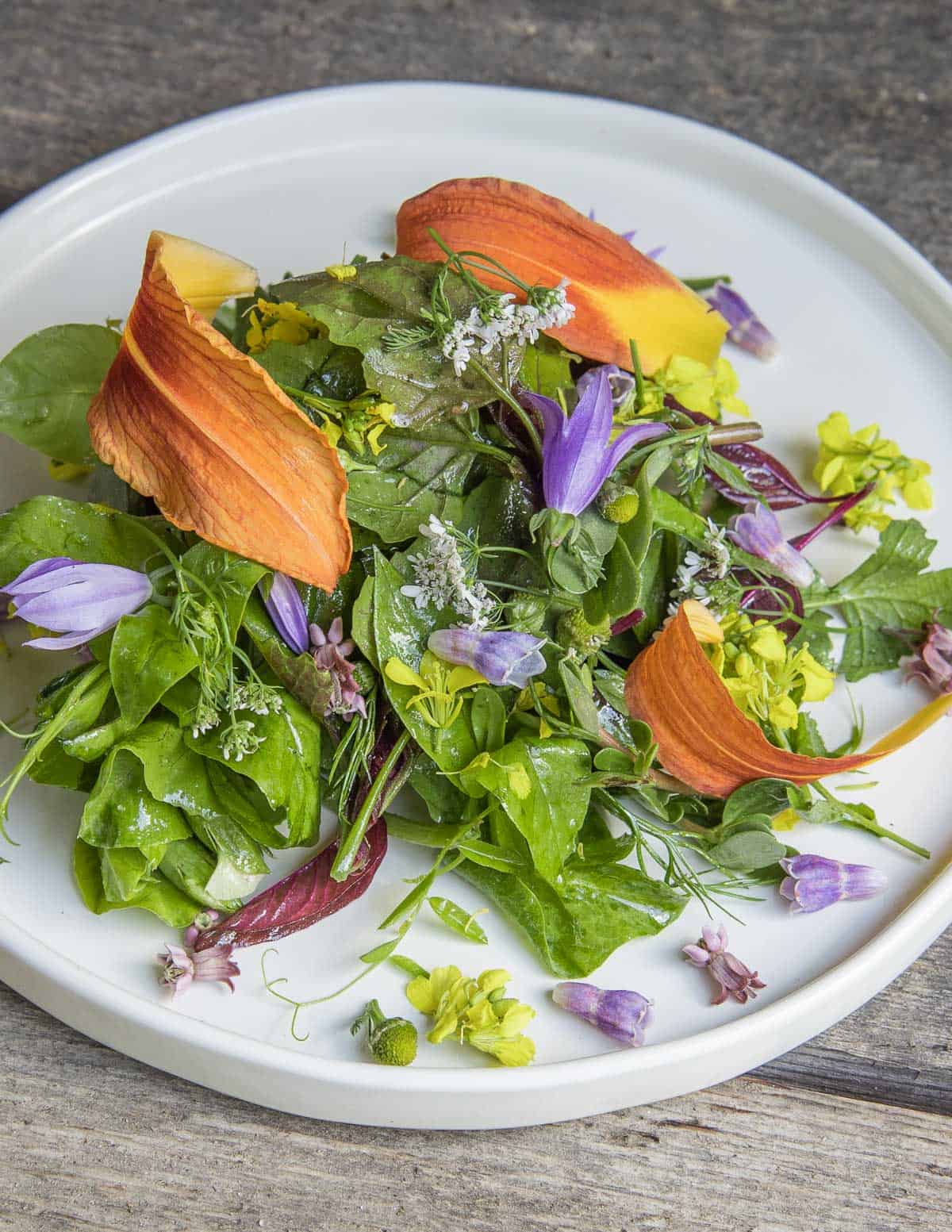 I've never had a problem eating day lily petals, but it's important to know that the shoots can cause intense nausea if eaten raw.
Bee Balm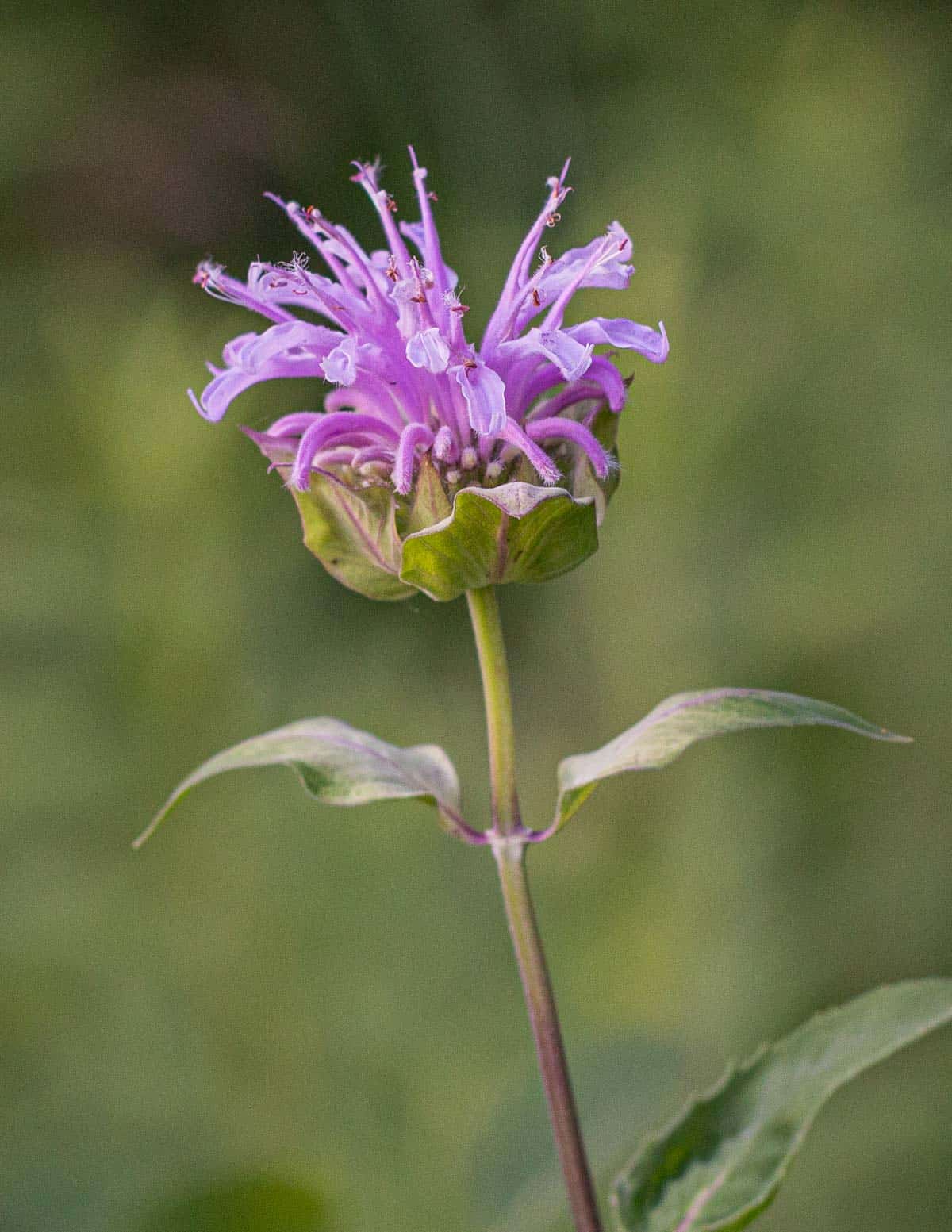 With its taste of oregano mixed with thyme, wild bee balm (Monarda fistulosa) is one of the best wild herbs available to foragers. The flowers have a savory taste that's identical to the leaves, and make a beautiful garnish for salads and savory dishes wherever the flavor of oregano would be welcome.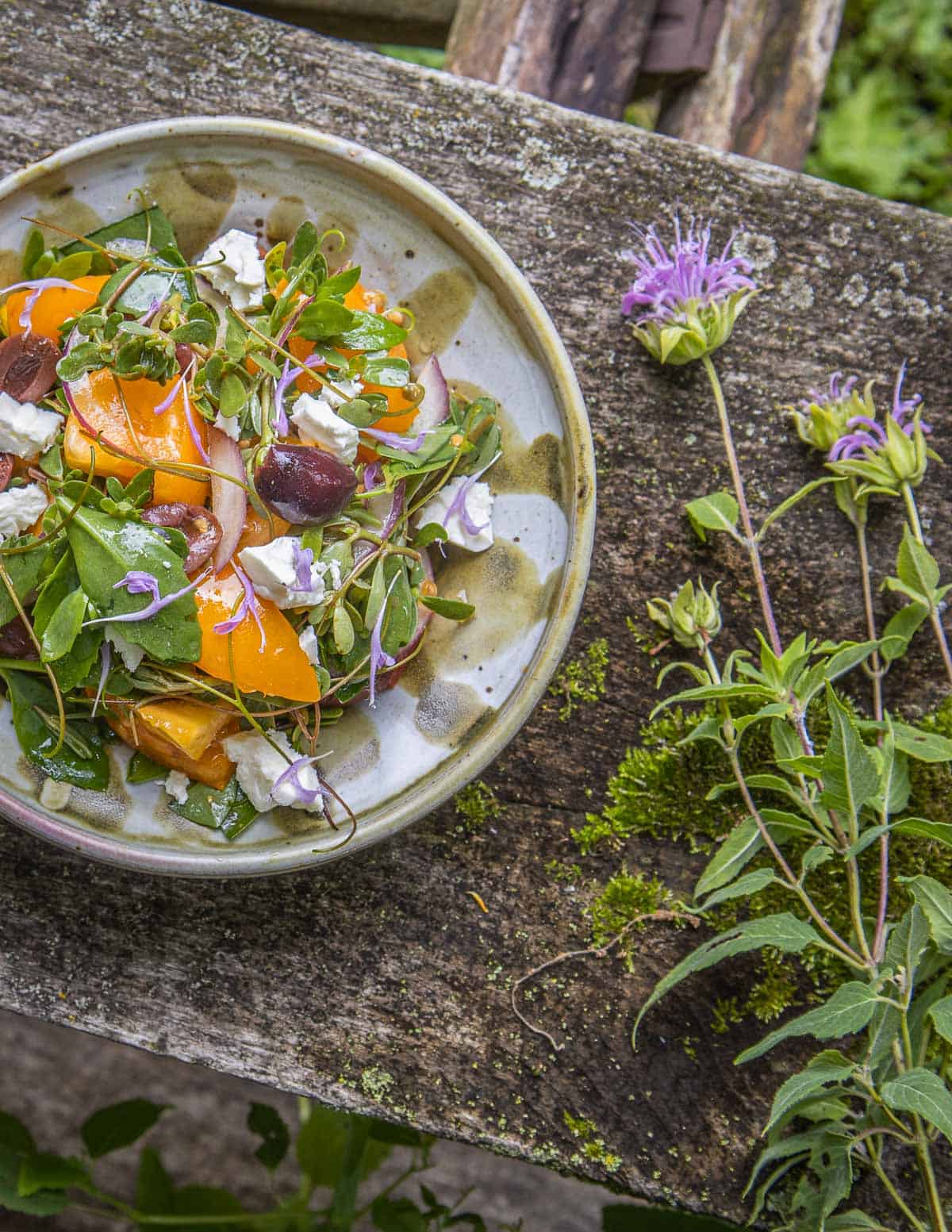 I like to dry the blooms whole and crumble them to use as an herb. It's one of the best herbs for flavoring tomato sauce and vinaigrettes. I use it to make a semi-traditional Italian Salmoriglio Sauce.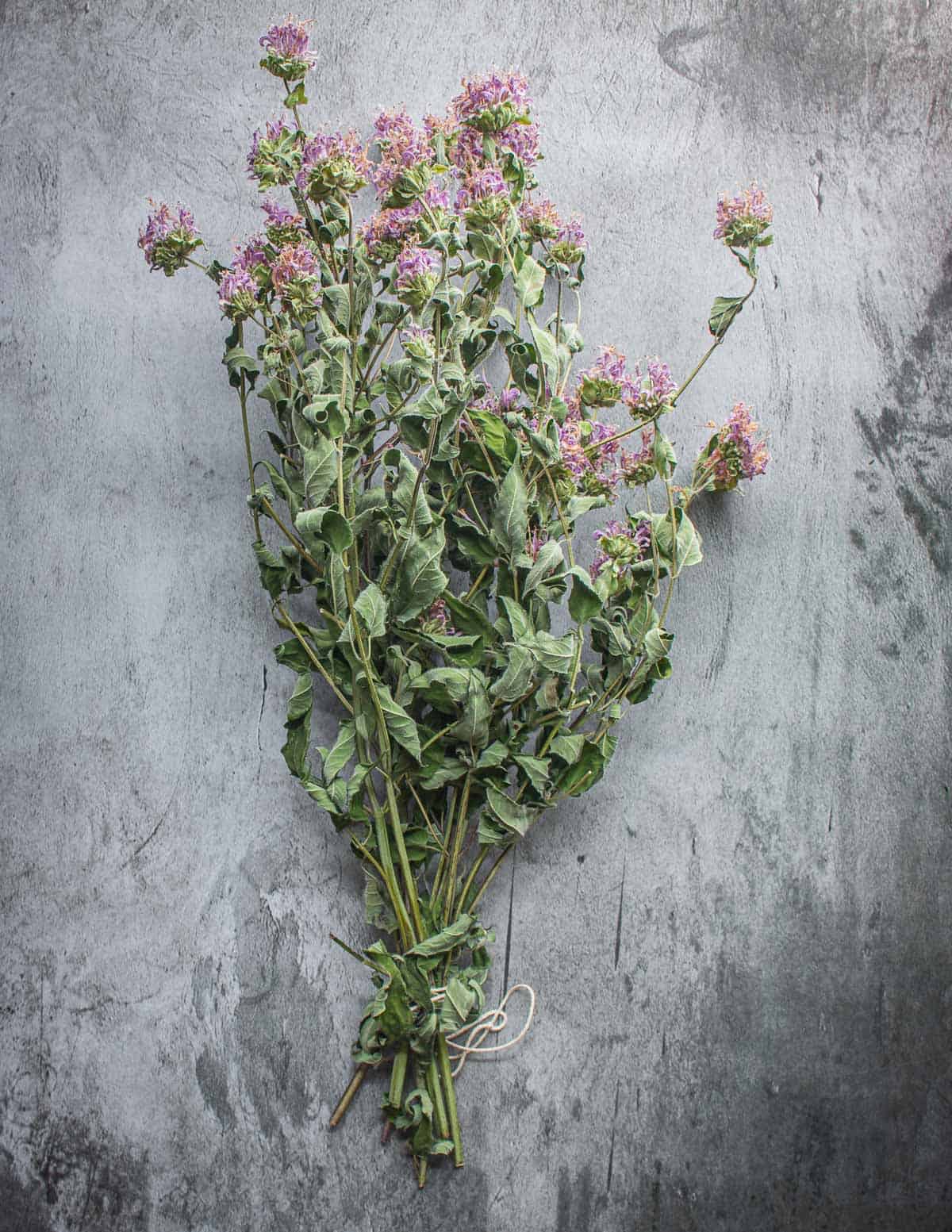 Scarlet Bee Balm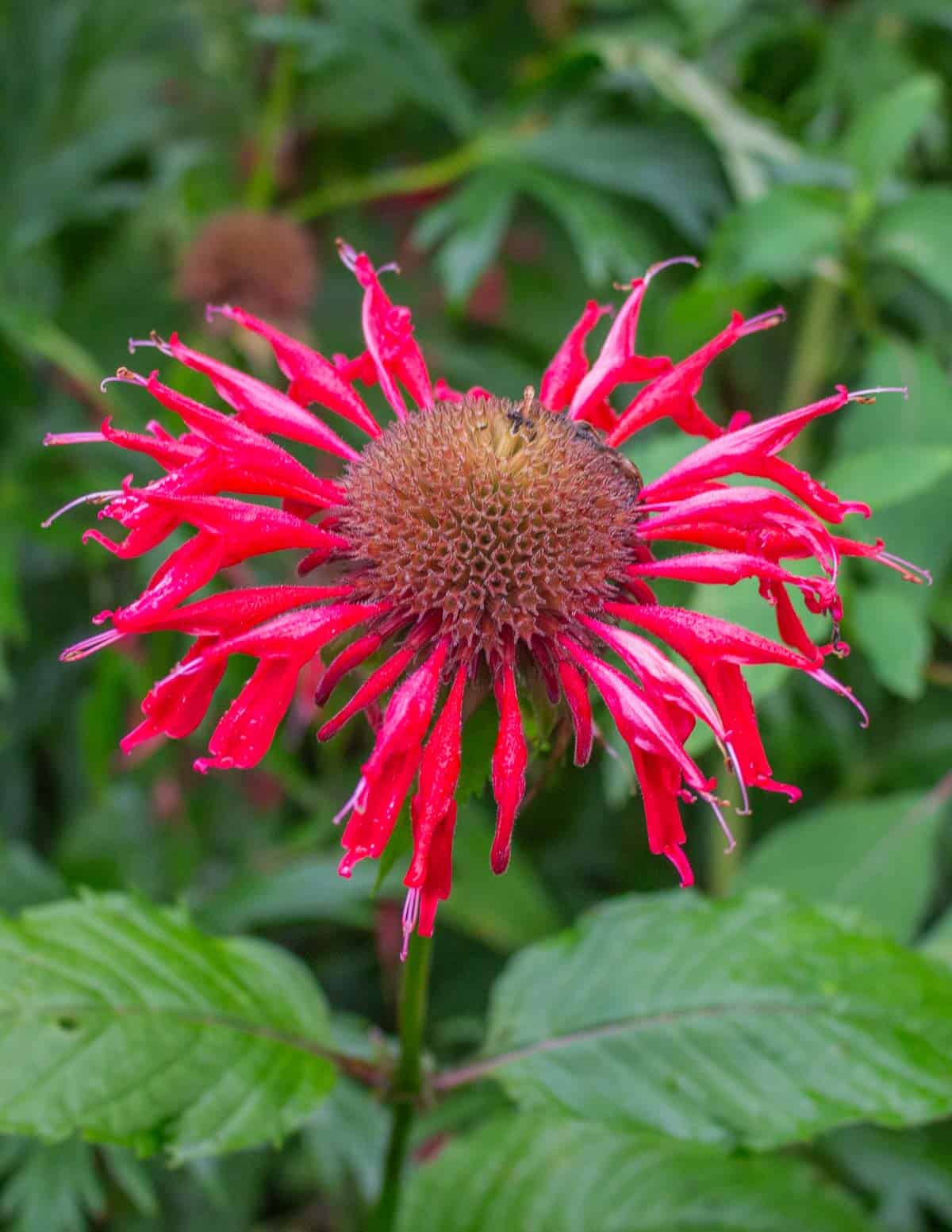 A cousin to common bee balm, scarlet bee balm (Monarda didyma) is mostly known as a garden plant where I live, but will grow wild on the East Coast of North America. Unlike M. fistulosa, the leaves have an inferior taste to the flowers I describe as "raspberry-oregano".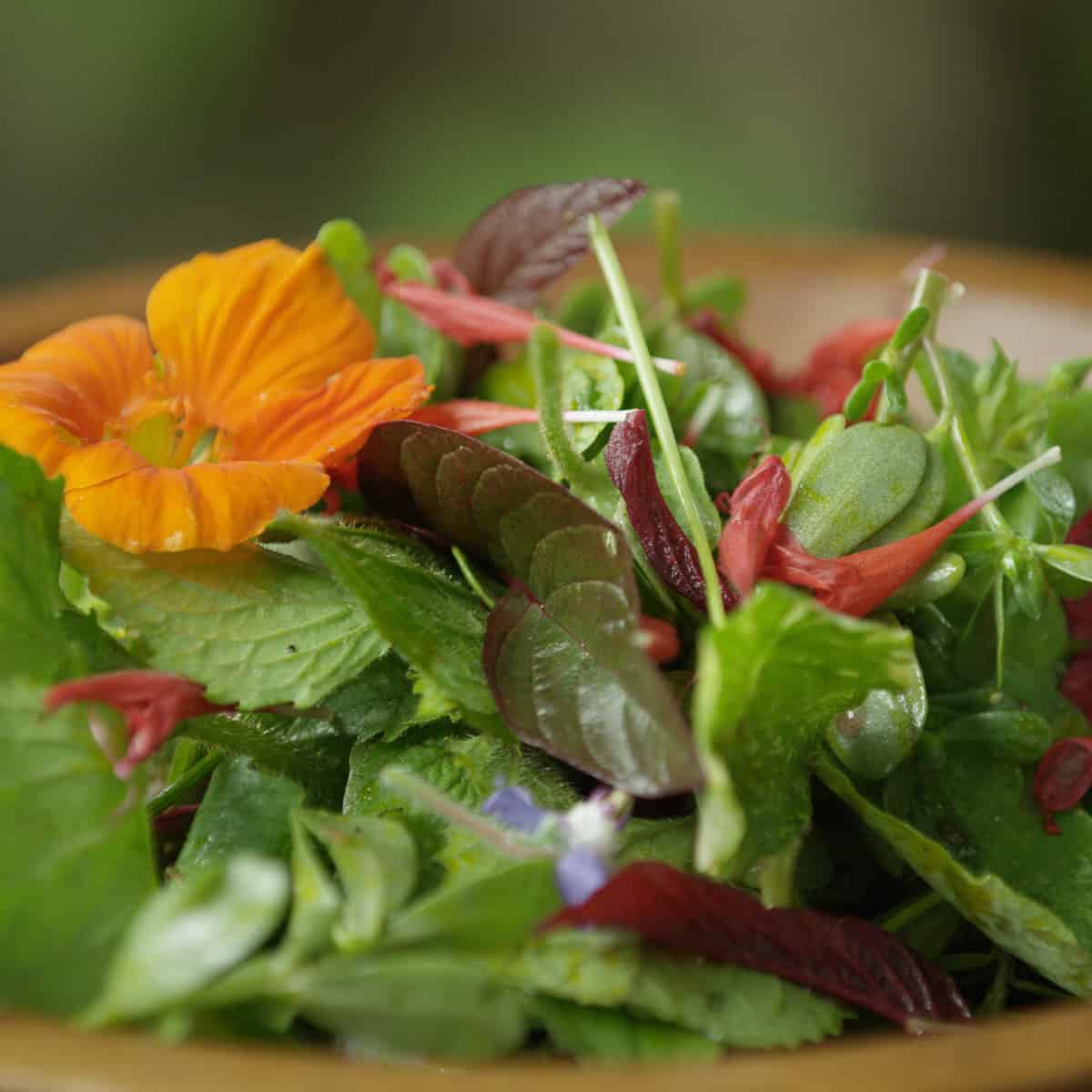 Above: Lambsquarters salad with scarlet bee balm flowers. Image by Jesse Roesler.
I don't use the leaves of M. didyma, but the flowers are a contender for one of the best around, and were the personal favorite of Chef Jonathan Gans when I was supplying the bachelor farmer. Just a sprinkle will enhance any dish with pops of sharp, fruity flavor.
Angelica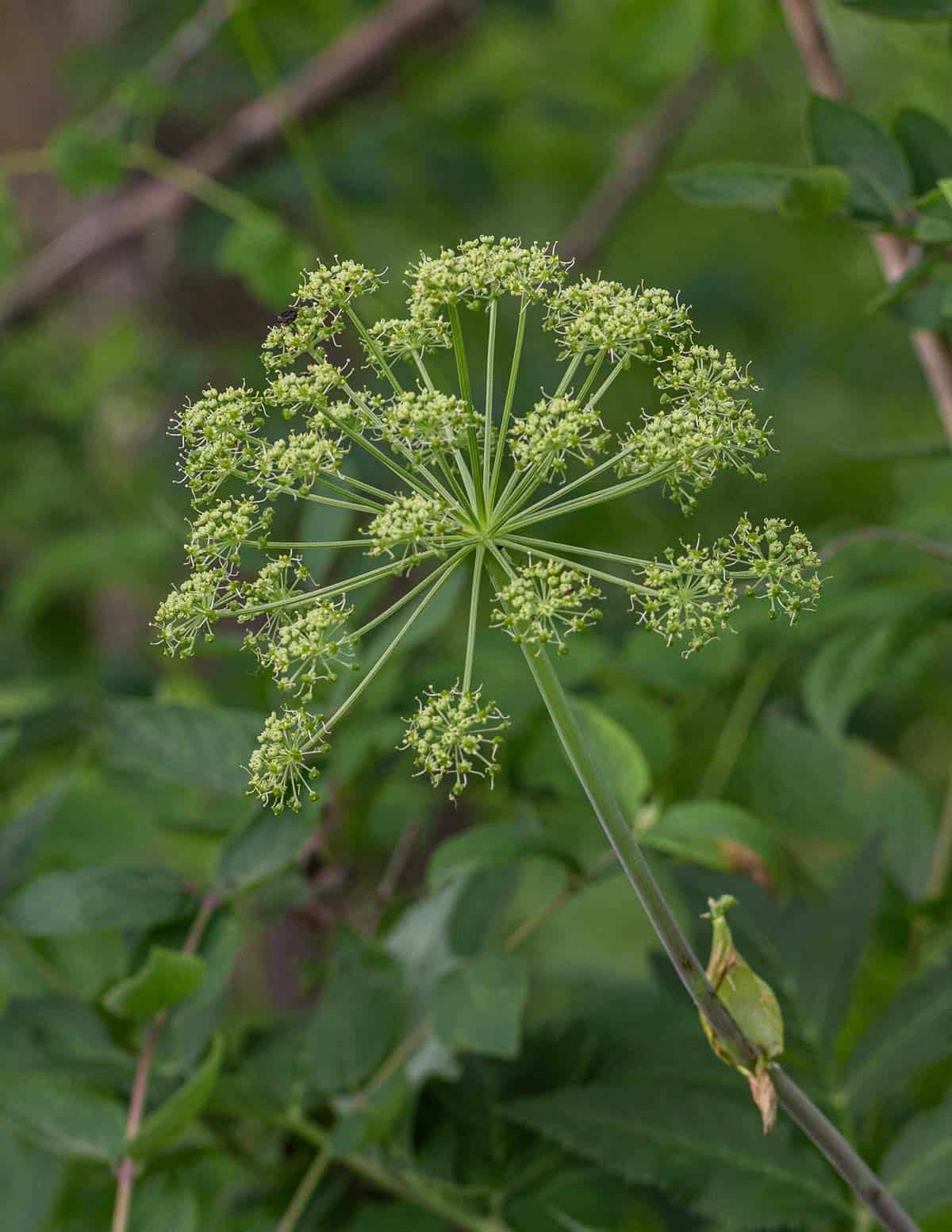 The flowers of angelica are small, but powerful. I use my local wild angelica (Angelica atropurpurea) but there's many varieties around the world. The flowers have the same strong, herbaceous aroma as the green parts of the plant, but are less aggressive in taste as they're smaller in size.
They can be clipped with a scissors and added to salads with fruit, green salads, or used to garnish fish. The whole blooms can be added to liquors and infusions.
Like some other carrot family plants, angelica sap is a phototoxin, so be mindful of keeping it off your skin or harvest with gloves.
Cow Parsnip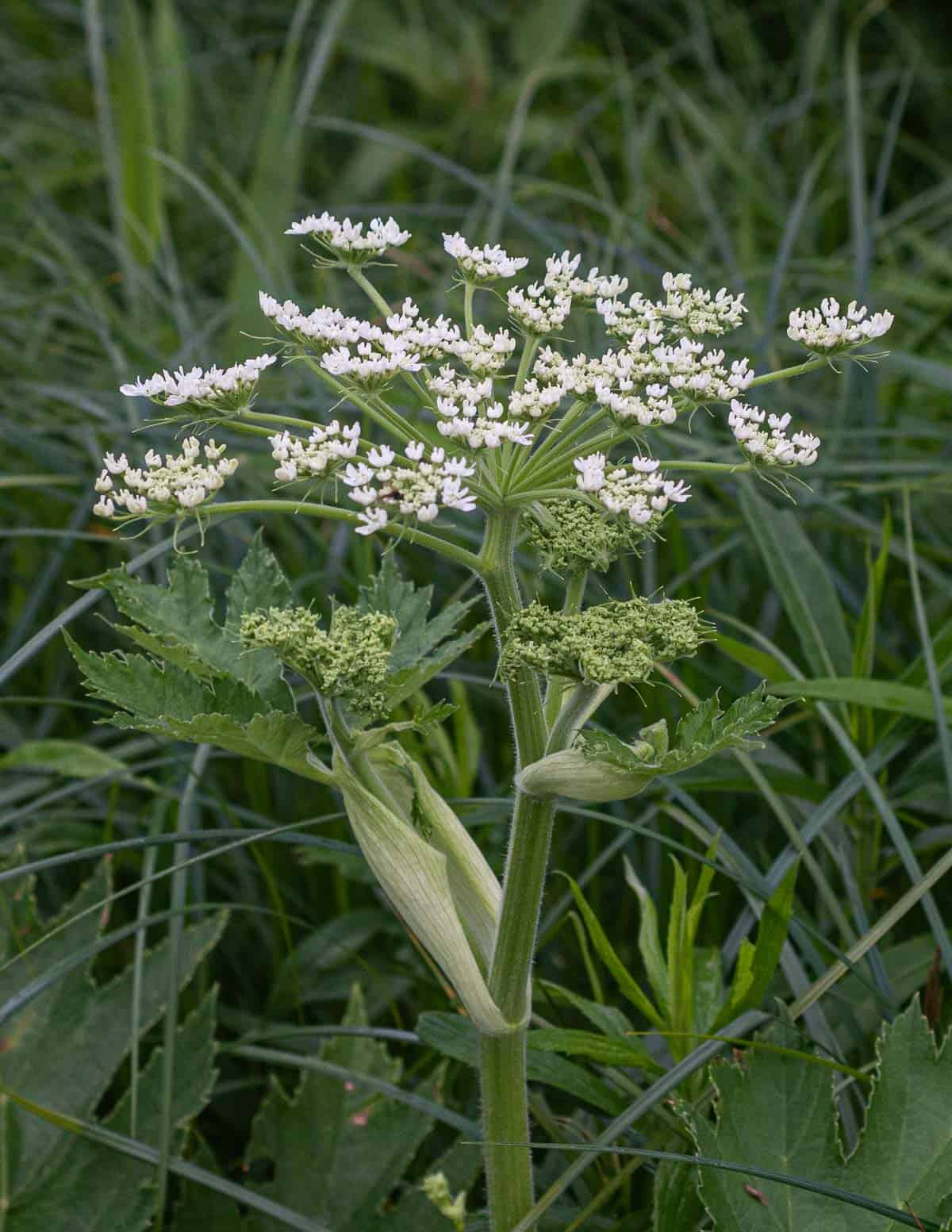 The large blooms of cow parsnip (Heracleum spp.) have a pleasant aroma and can be used to garnish sweet and savory dishes. They're small, but I used to harvest them en-masse for selling to restaurants, where they can be used as a spinkle on salads, dried for tea, and used in infusions.
The sap of the green parts of the plant is a phototoxin and can cause photodermatitis, just like wild parsnip and garden parsnip.
Wild Carrot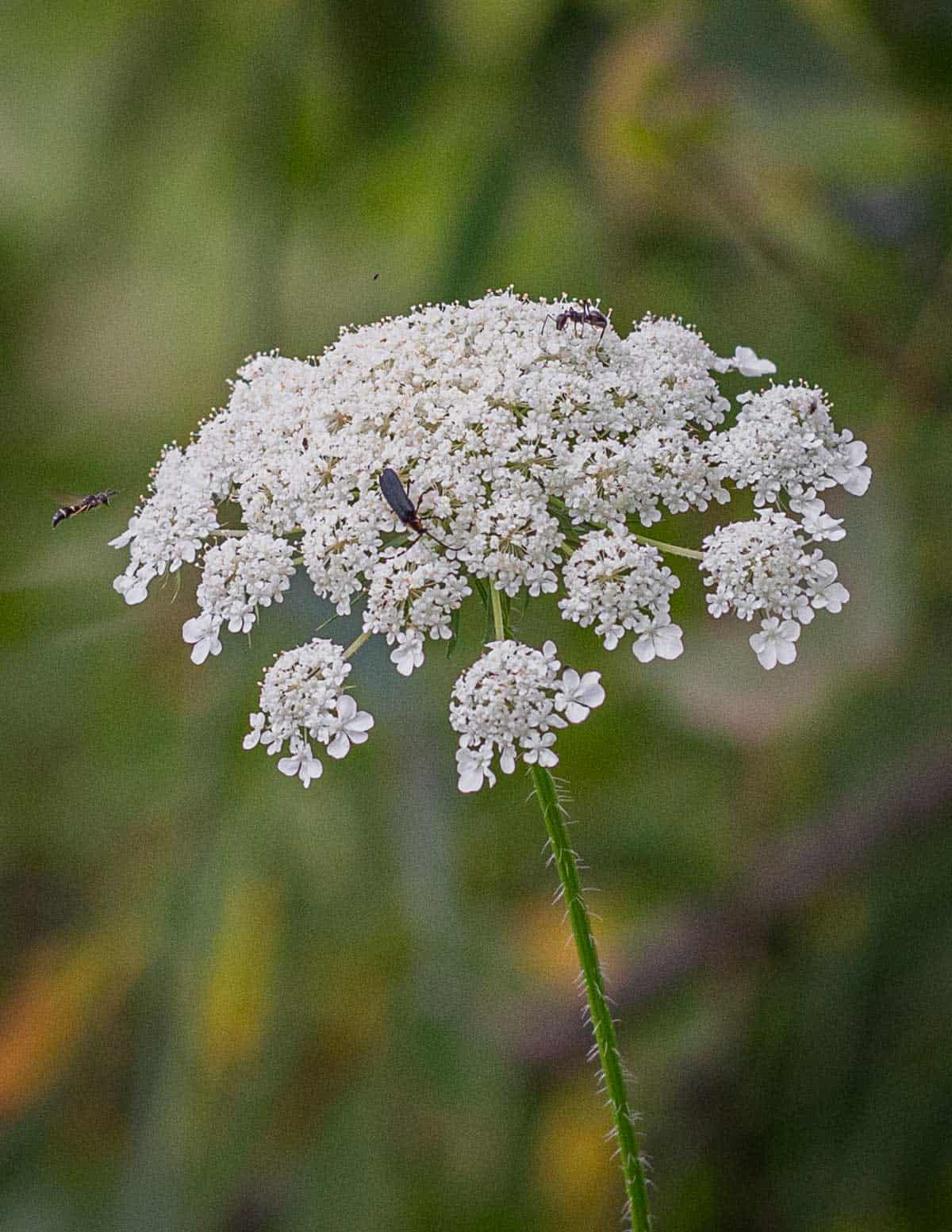 Along with the seeds, wild carrot flowers are the most useful part of wild carrot plants. The aroma is sweet and reminiscent of carrots, and can be used to flavor liquors, teas and infusions. The seedheads (pictured below) are my favorite part of the plant and are even more useful.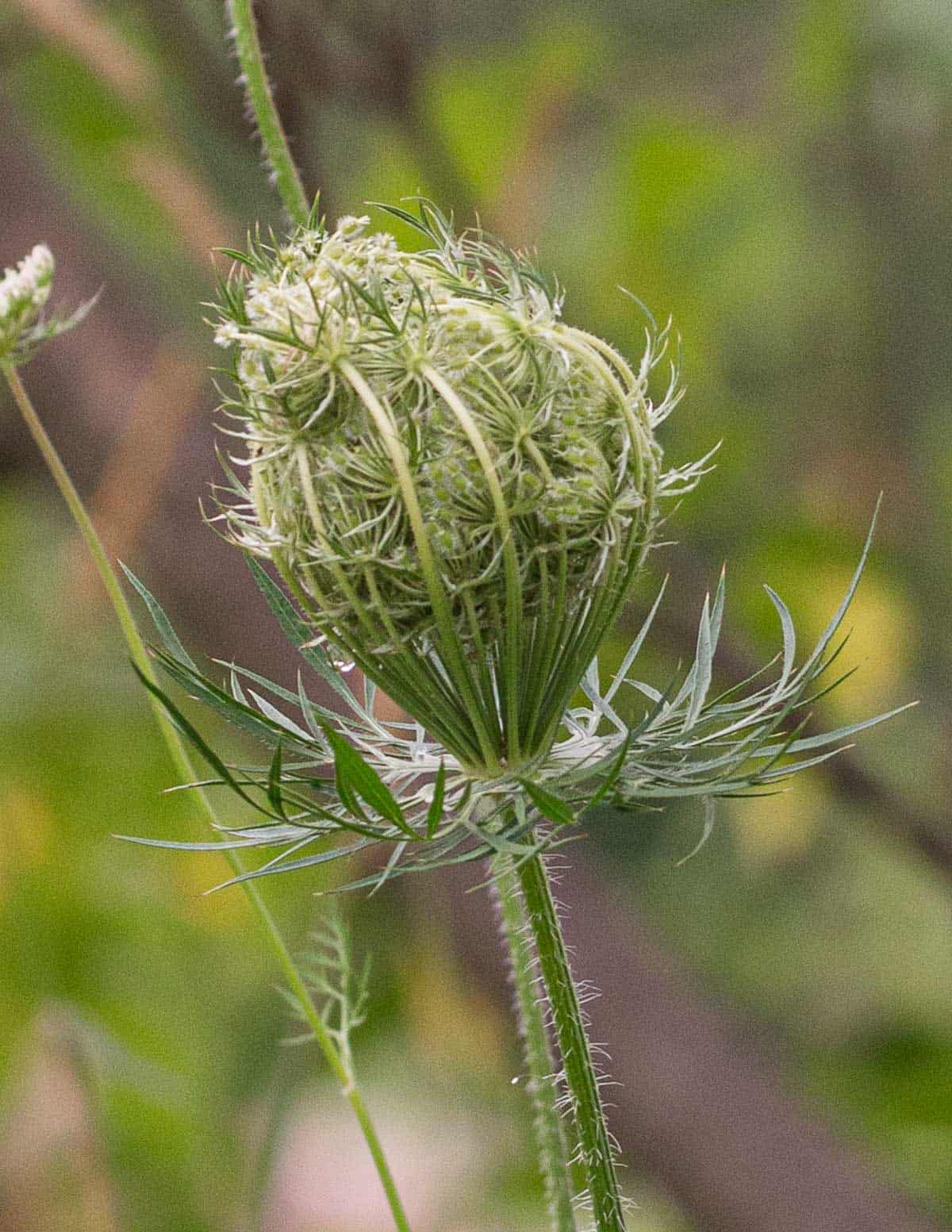 A strong decoction or reduced tea of carrot flowers has been historically used as an abortifacient. That said, dosage is important here and a few flowers sprinkled on a salad is fine.
Oxe Eye Daisy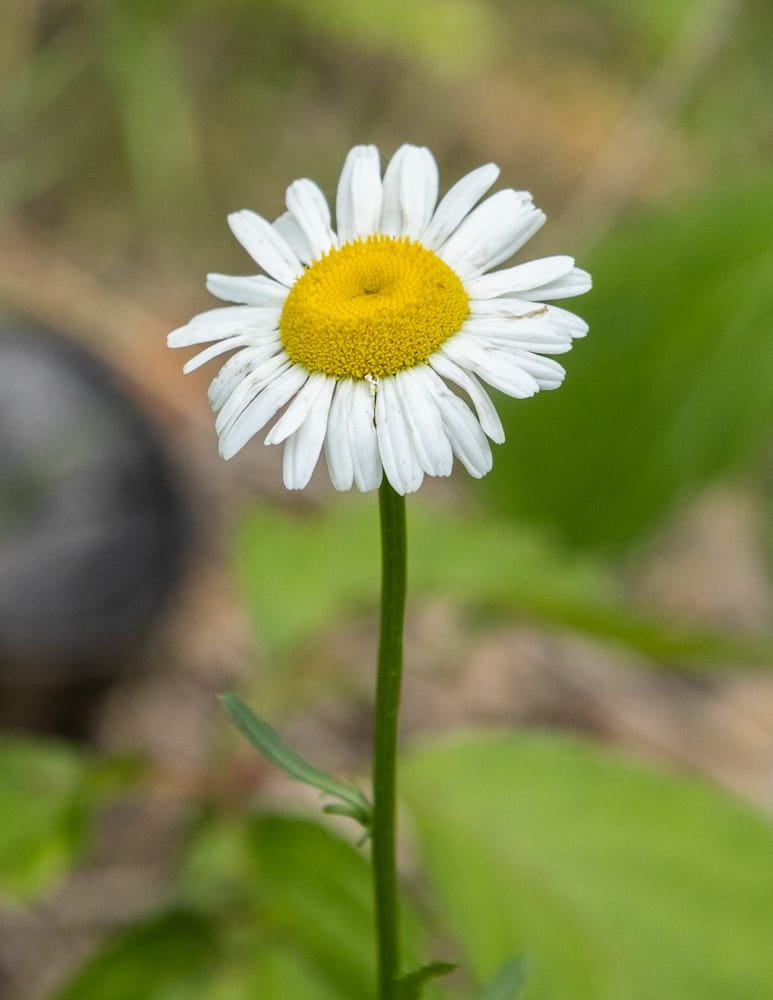 One of the largest and sturdiest flowers, oxe eye daisy (Leucanthenum vulgare) are listed as a noxious weed in some places, so you can harvest as many as you like. The crisp, mild tasting flowers have a subtle aster flavor, and are fun to eat.
Some of my friends enjoy putting them in spring rolls but they'll be great added to just about any cold dish or composed salad.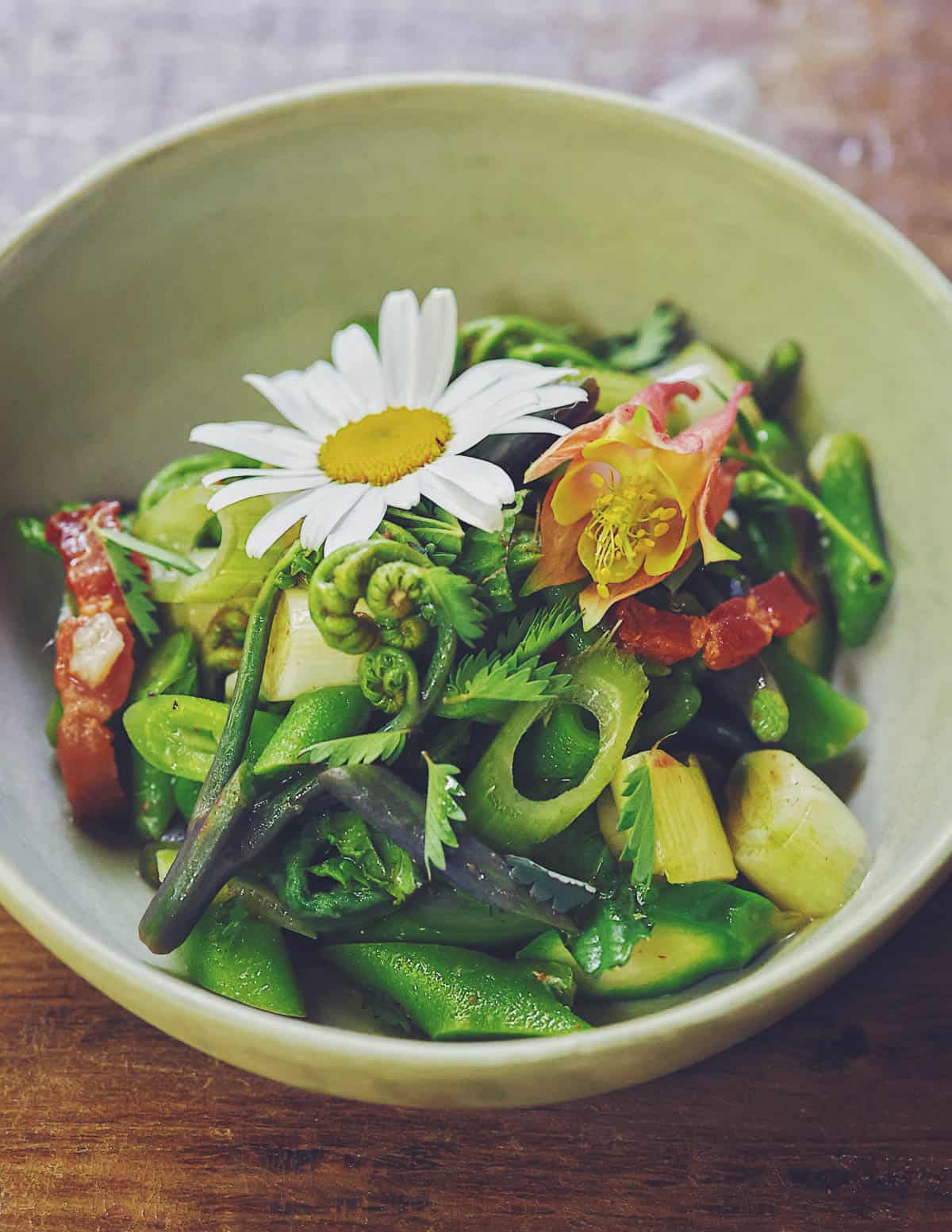 Above: spring shoot salad with oxe eye daisy, columbine flowers, mint and bacon vinaigrette. Image by Jesse Roesler.
Daisy Fleabane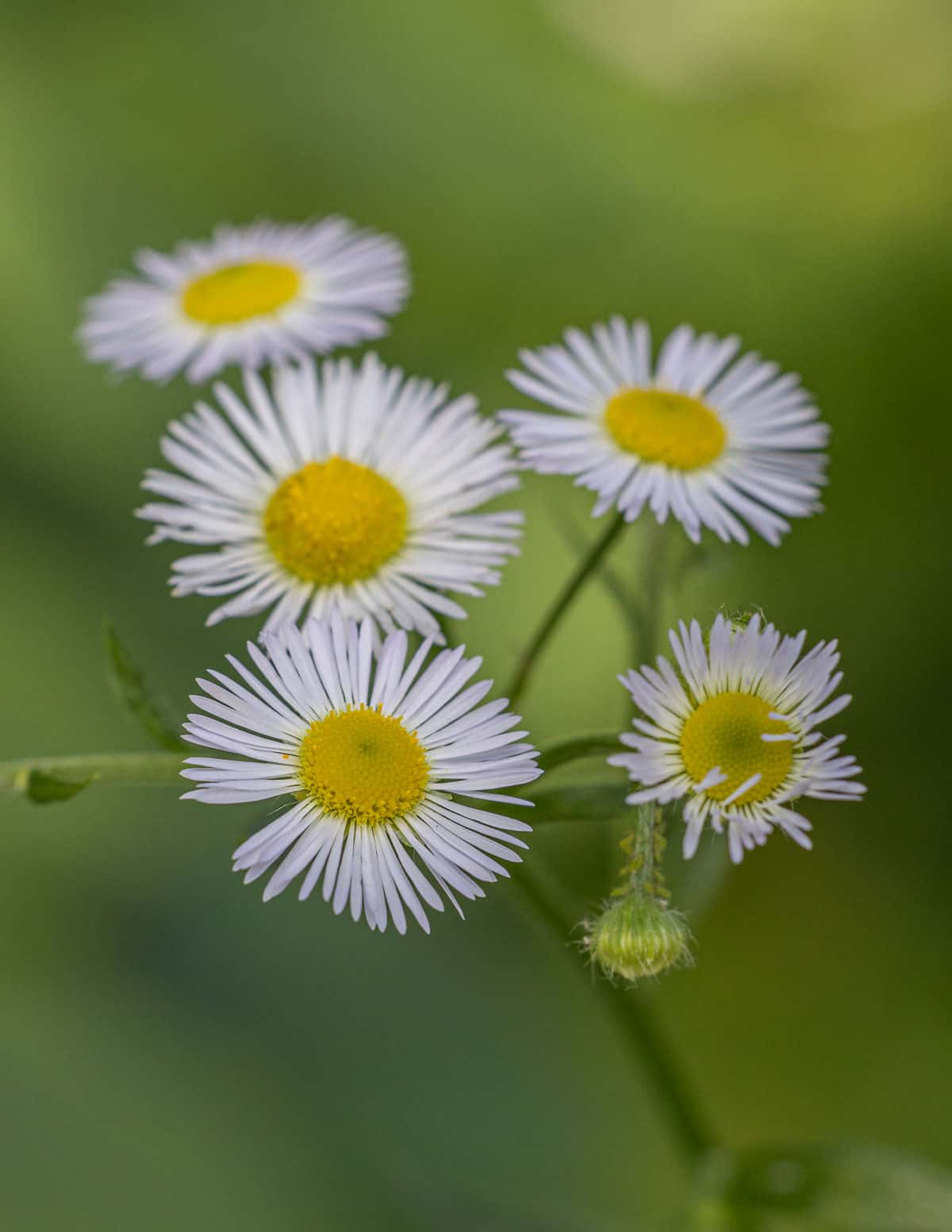 A smaller cousin of oxe eye daisy, daisy fleabane (Erigeron annuus) is much stronger and has a stronger flavor some people won't care for, at least all by themselves. The flowers can be added to salads or dried for tea, and have a tradition of use in Europe.
Most notably, a few years ago they were mentioned as one of the common plants harvested by a group of professional foragers from Switzerland. Personally I don't care for them.
Aquilegia / Columbine Flowers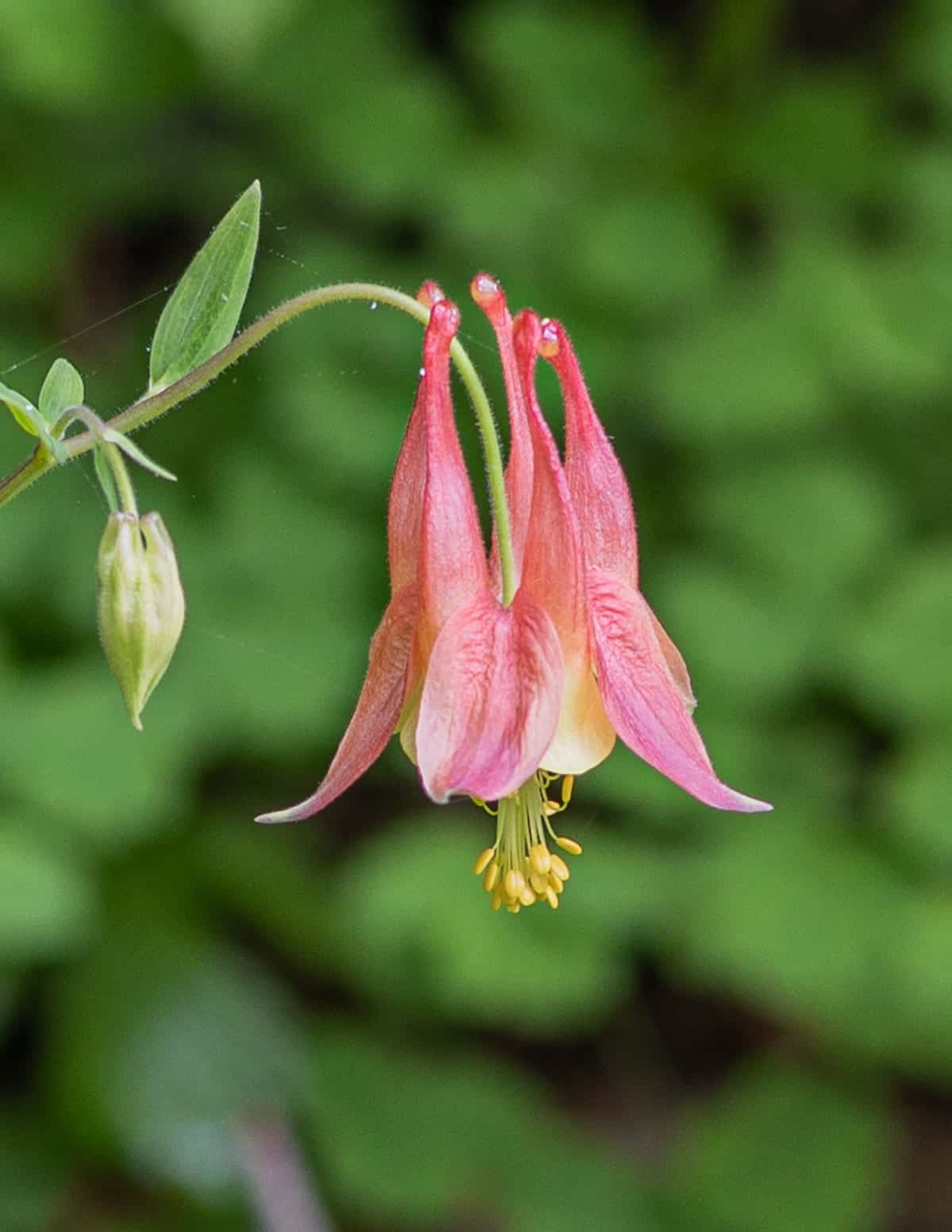 One of the most striking wild flowers, Columbine (Aquilegia canadensis) have a slightly sweet taste. Most people will known these from nibbling the sweet tips as children.
Only the flowers of this plant should be eaten and the rest of the plant can cause gastro-intestinal distress.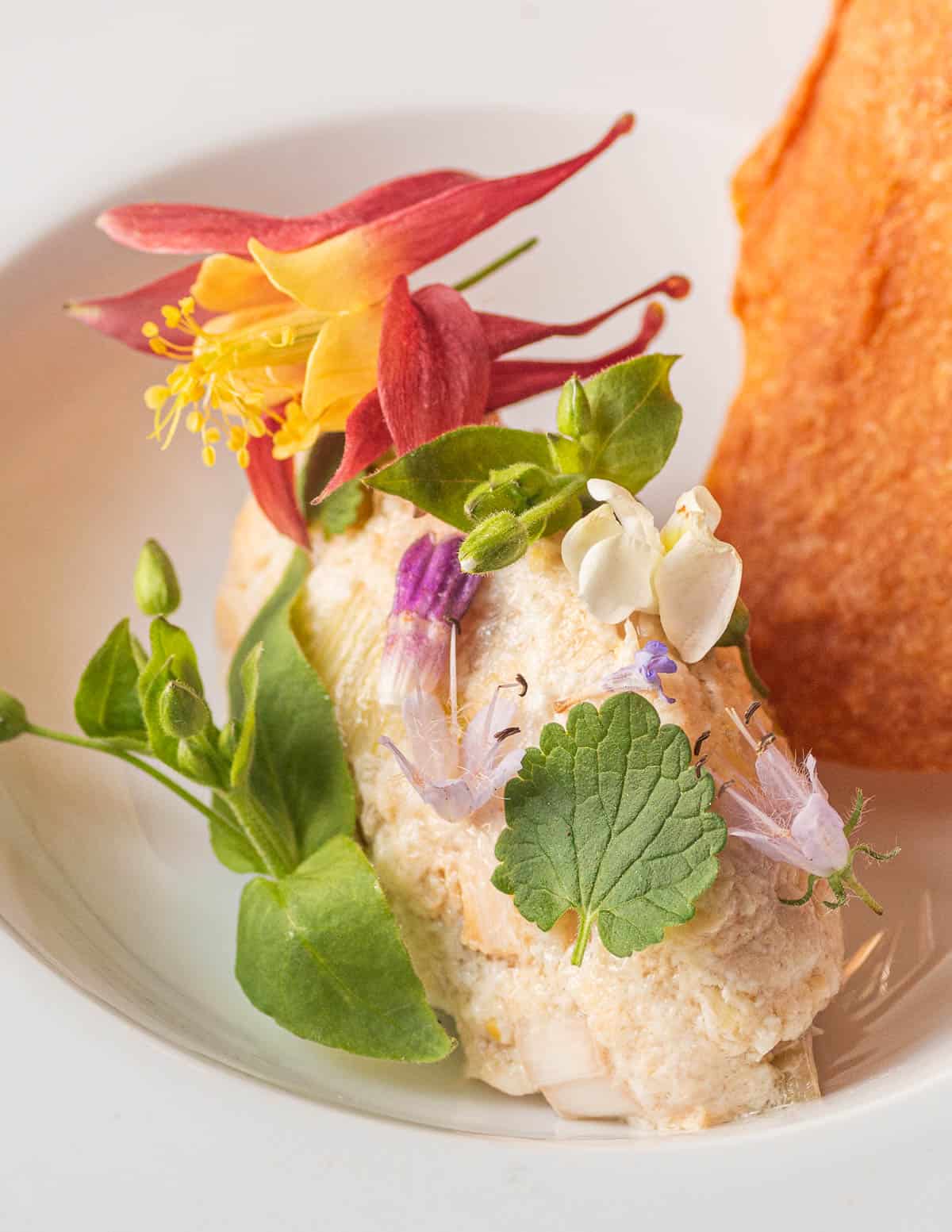 The flowers have a mild flavor and can be used to garnish sweet and savory dishes. Look for them to start blooming in June.
Violets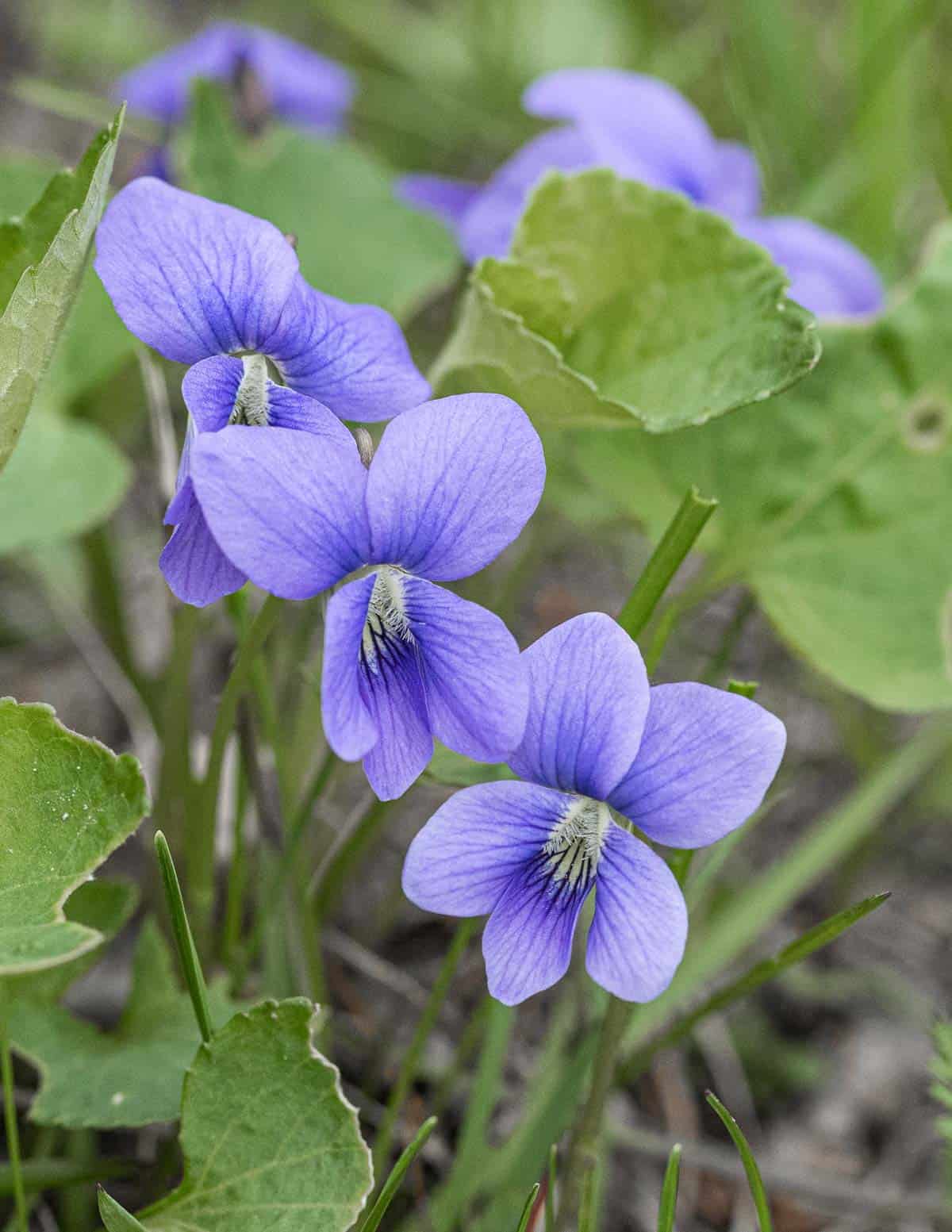 Woodland violets (Viola spp) are common in gardens, disturbed areas and the woods and come in a number of colors. All varieties of violet flowers are edible. They have a mild flavor and can be used to garnish sweet and savory dishes.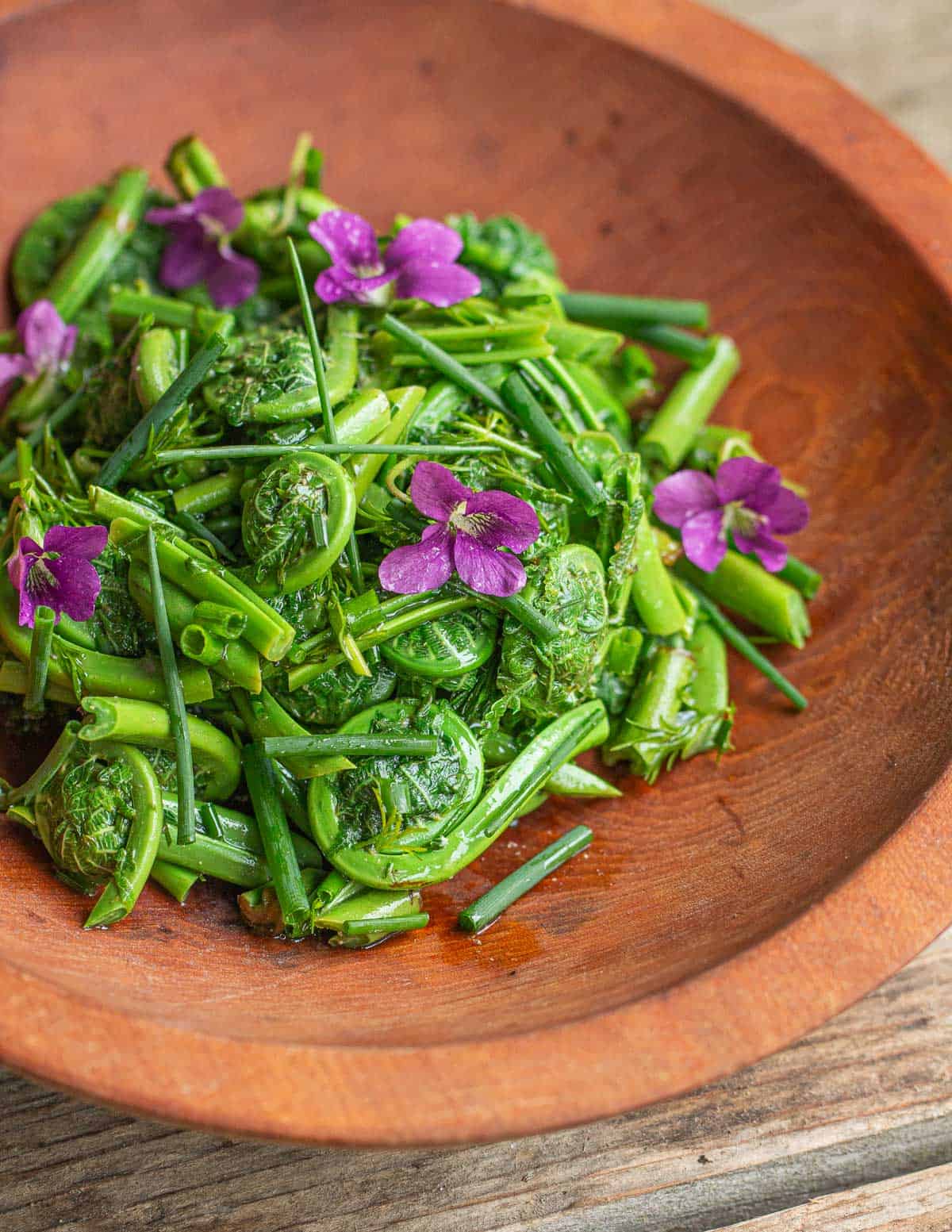 One popular recipe people make is violet jelly and syrup, which changes color from blue to purple when the pH is adjusted with acid, typically lemon juice.
Black Locust Flowers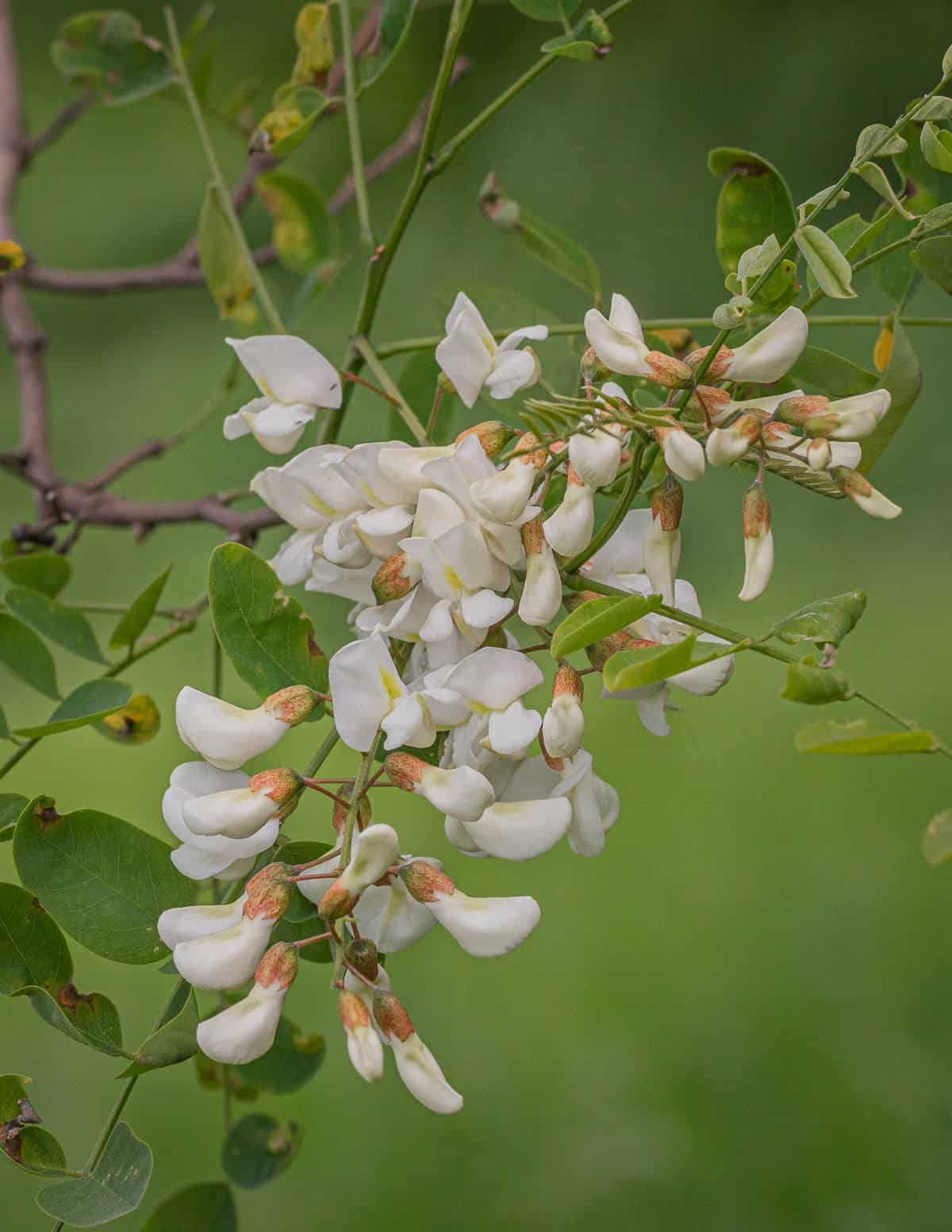 Easy to identify and harvest in great quantity, black locust flowers (Robinia psuedoacacia) are a leguminous tree flower with an intense aroma of jasmine perfume.
Possibly the greatest edible wild flower, they can be added to both sweet and savory dishes, and are so mild tasting they can be eaten by the handful or cooked as a vegetable.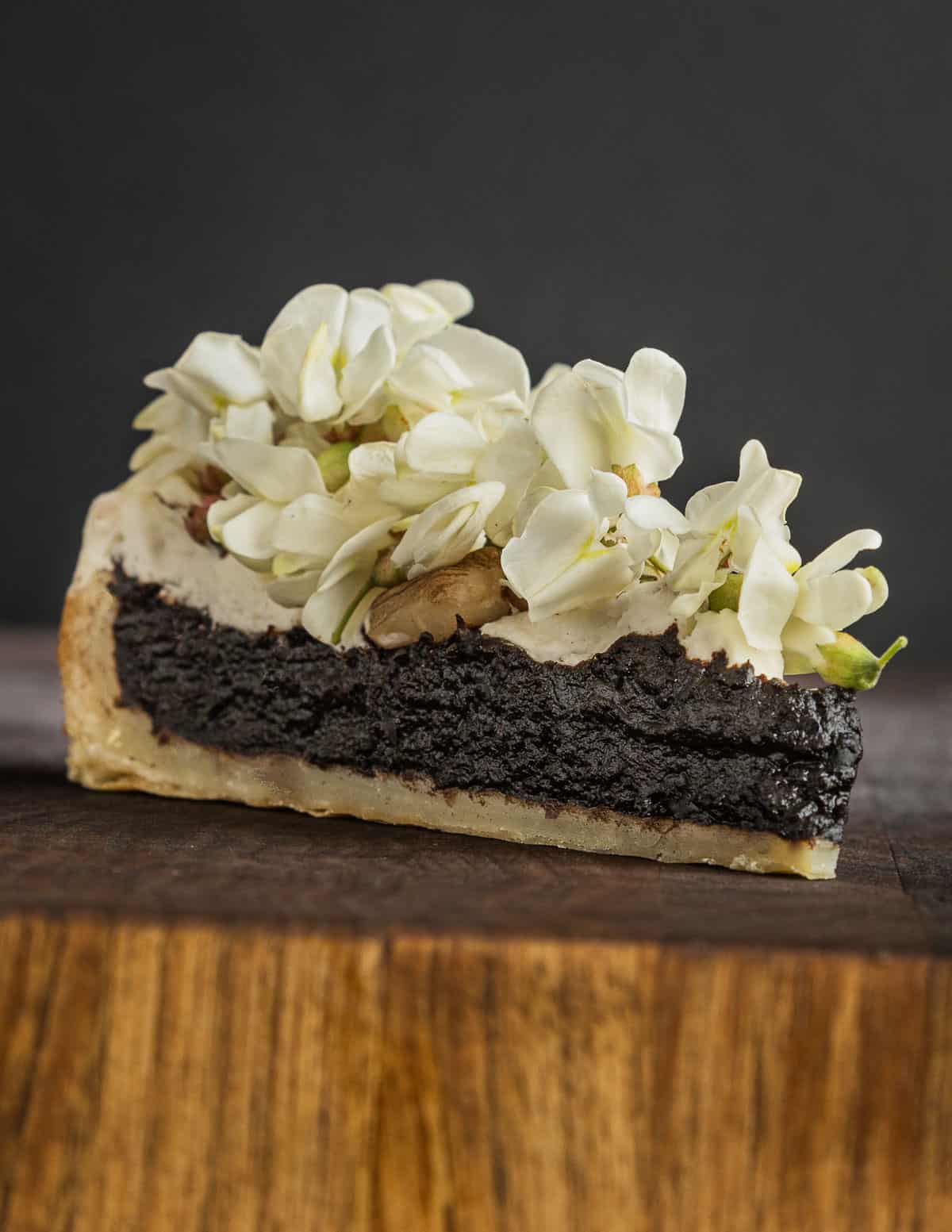 The season is very short, often only a few days, rain willing. Look for them in Early June. Bristly locust flowers (Robinia hispida) are related, have a deep red/pink color and can be used in the same way.
White Campion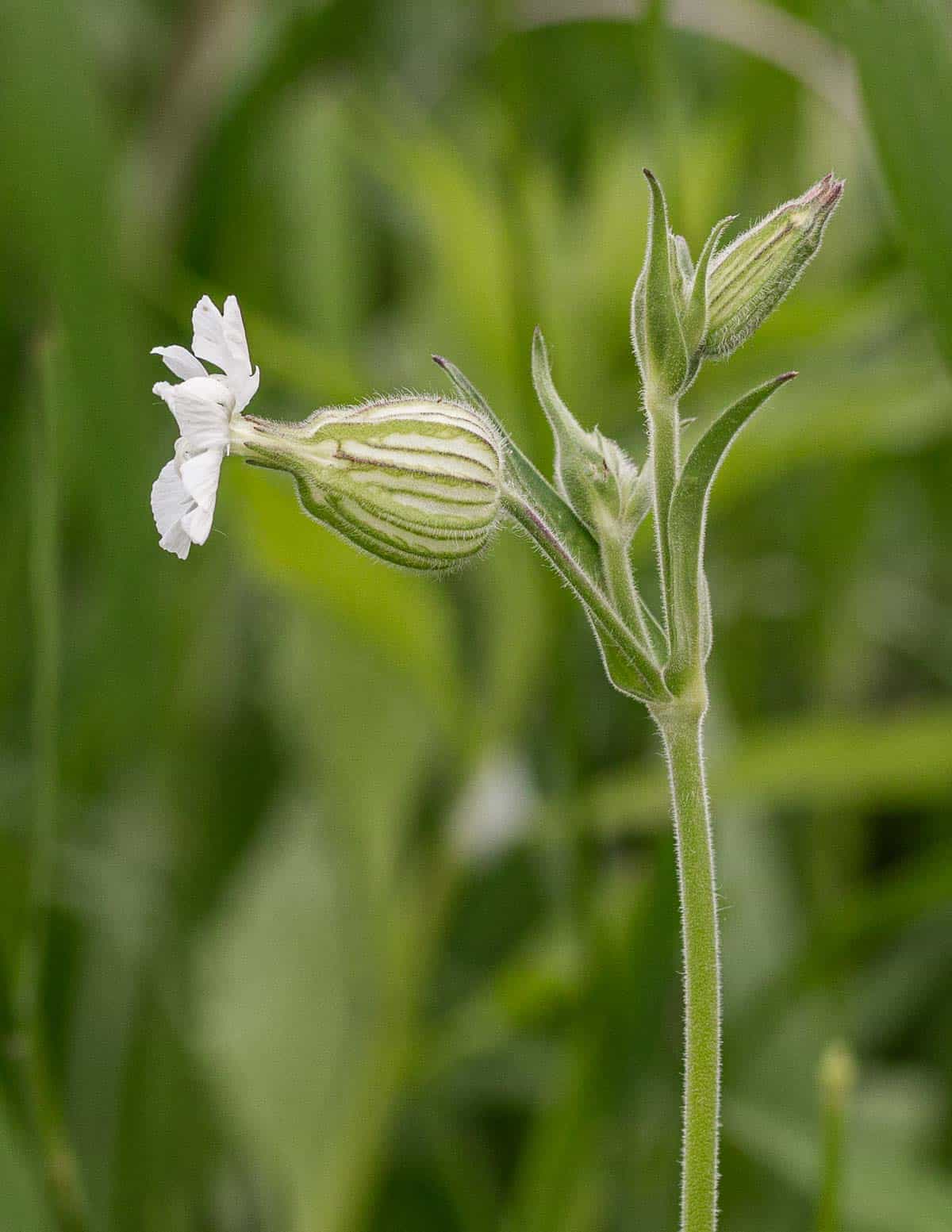 One of two campions I harvest, white campion (Silene alba) has inferior greens to bladder campion (Silene vulgaris). Contrastingly, the flowers of white campion are larger and better than bladder campion (Pictured below), which are astringent and make my throat tingle. I love their shape, which reminds me of the puffed sleaves of a Victorian dress.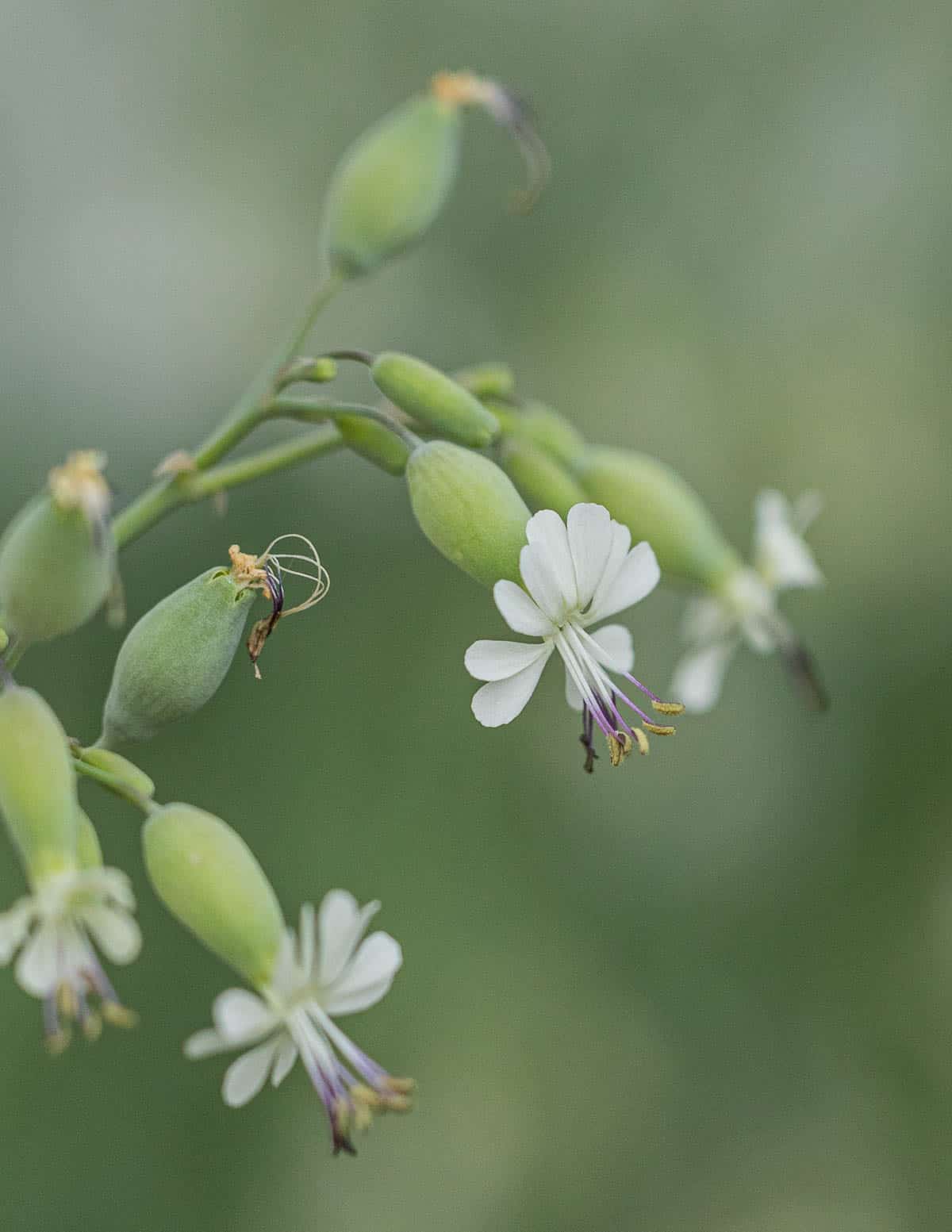 Easy to identify with a mild flavor, the white flowers are a great addition to salads, and just about any dish where a few flowers would be nice. Look for them in late spring through June.
Ramp Flowers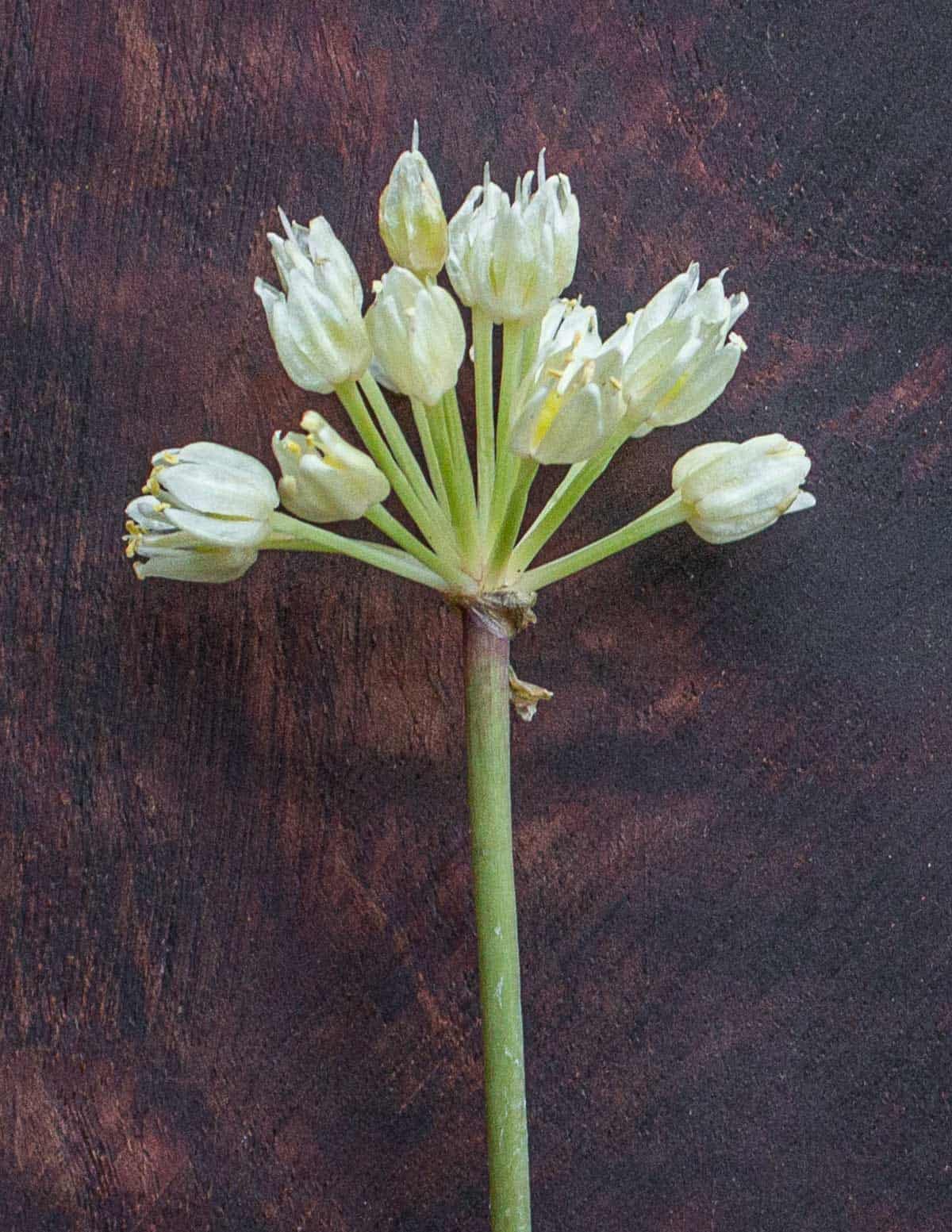 One of the most savory flowers available to foragers, ramp flowers, along with their cousins like bear garlic (allium ursinum) can be used on savory dishes. They're particularly good in dishes with raw meat and fish, or vegetable dishes like the burdock noodles pictured below. Just like every other plant, they have a strong flavor of garlic. Look for them in June.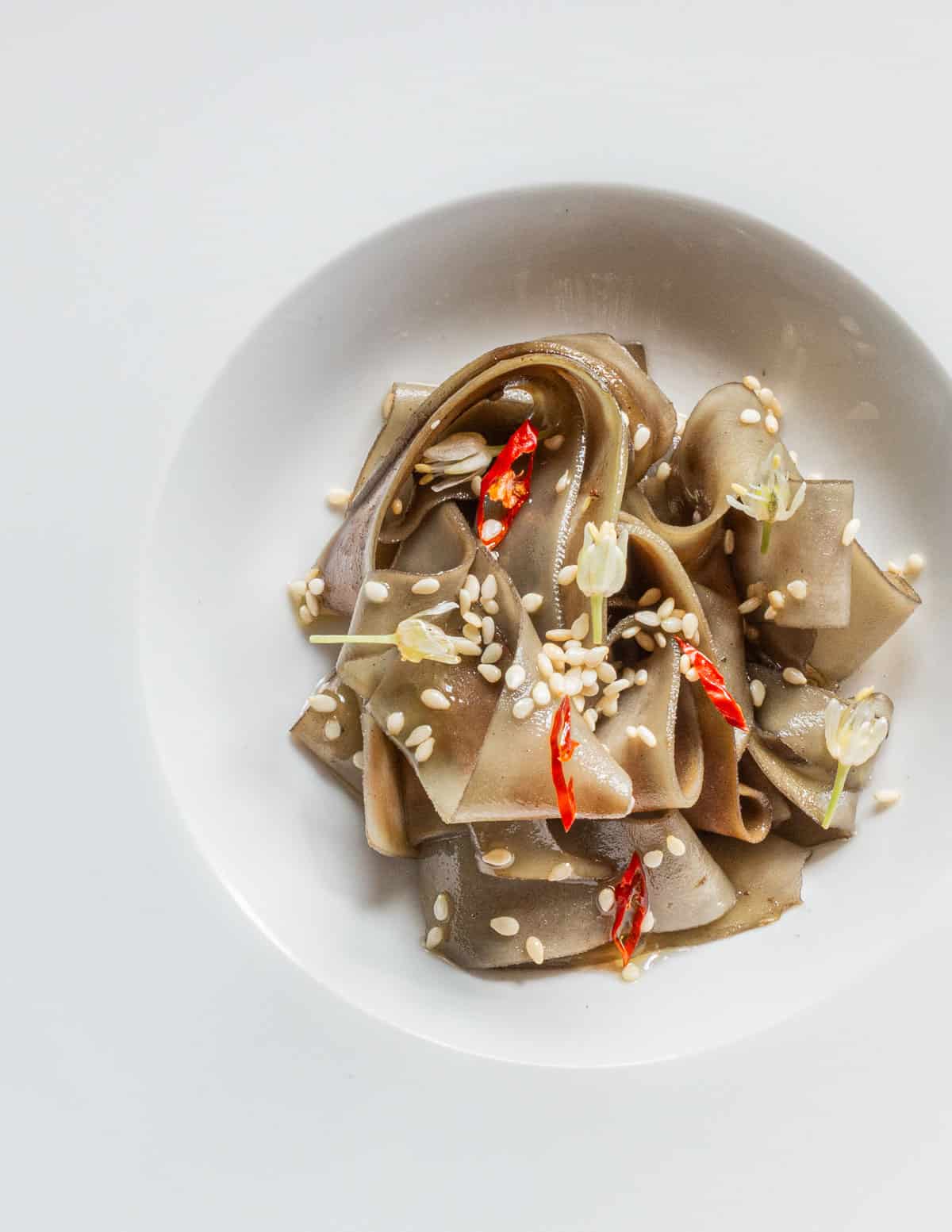 Sochan
Sochan (Rudbeckia laciniata) the traditional Cherokee food plant known for its delicious greens that can be harvested 4 times during the growing season each year.
Sochan flowers are edible, with a mild flavor reminiscent of the aster taste the rest of the plant has. To use the flowers in a salad, pick the individual petals off and discard the rest. They're not the most incredible in taste or texture, but they can add a pop of color. Sunchoke flowers (pictured below) are edible but so bitter most won't care for them.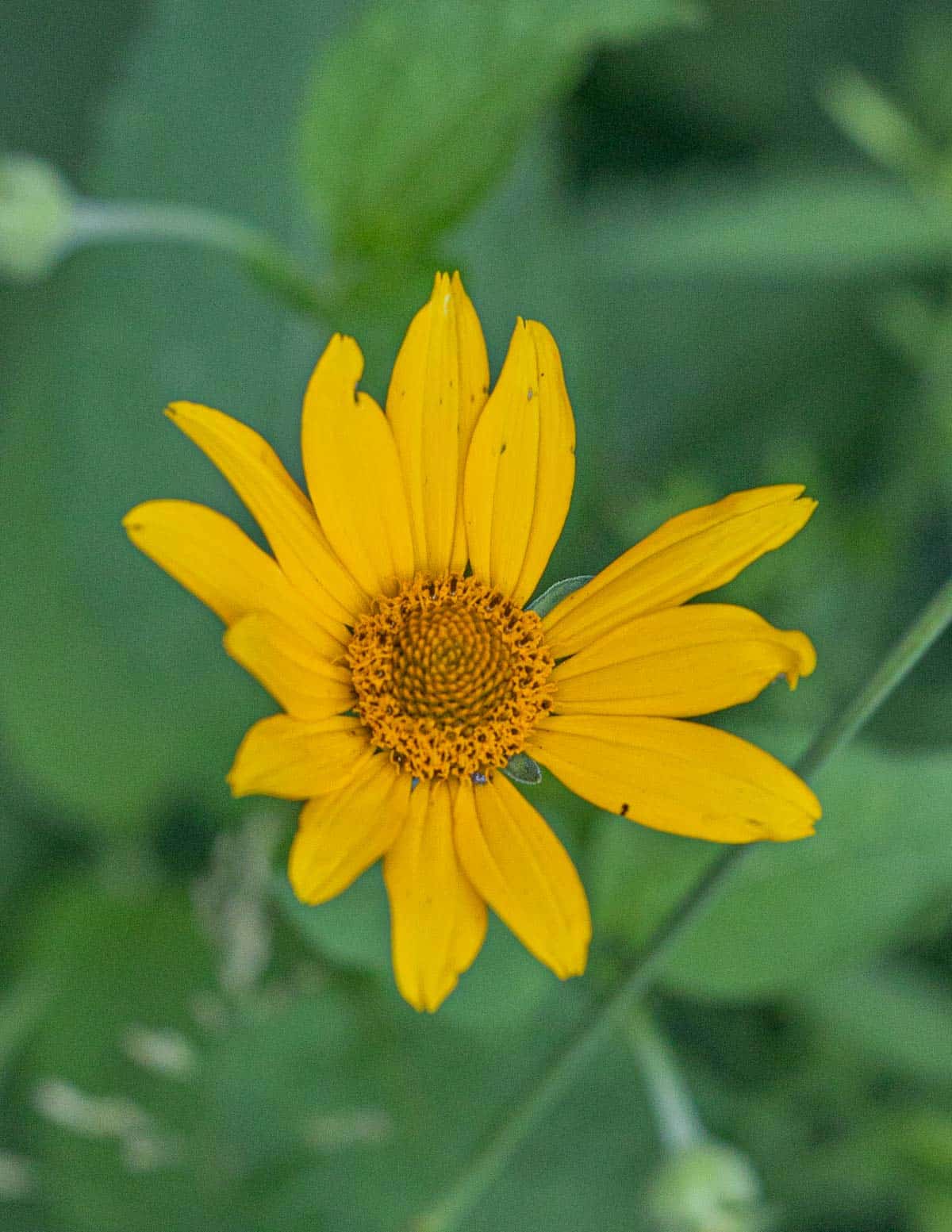 Dandelions
Arguably the most famous edible wild flower, dandelion flowers can be cooked like a vegetable in dishes like dandelion fritters. The young, unopened buds can be pickled or fermented like capers.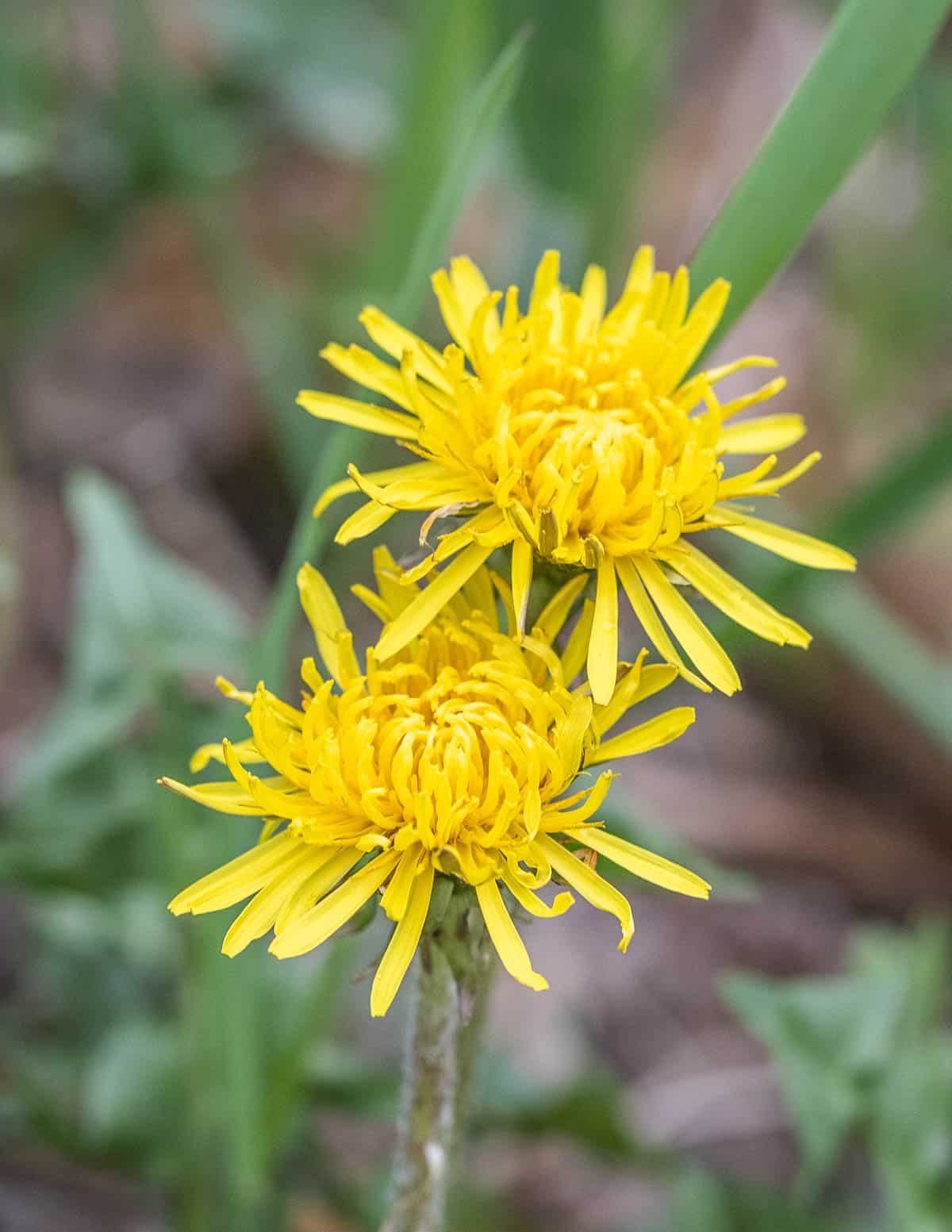 The petals can be picked off and used to make tea, syrups, and jellies. My friend, Chef Iliana Regan uses them to make a sunny yellow vinegar with raw honey she uses in place of lemon juice. Dandelion flowers appear in Mid-May.
White and Red Clover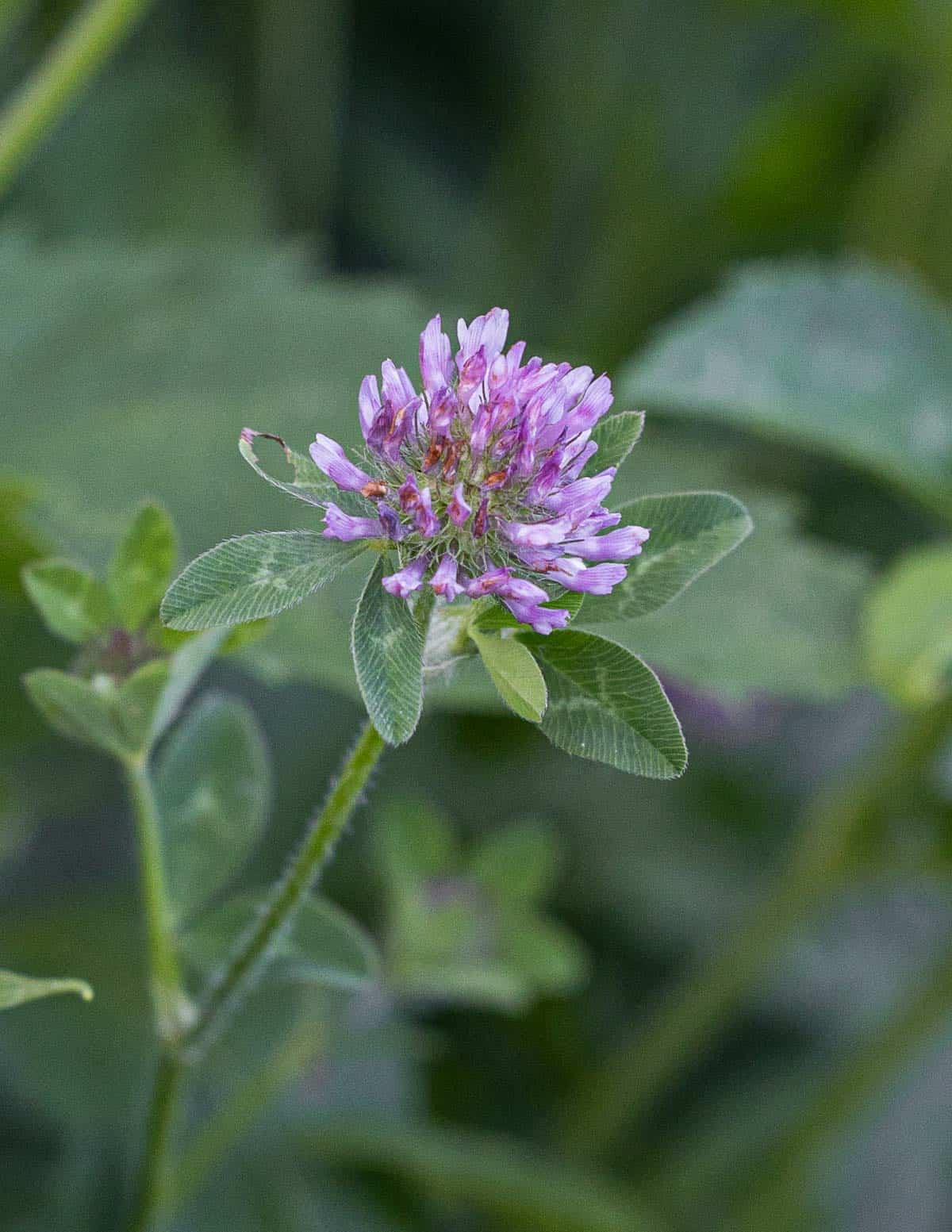 Red clover (Trifolium pratense) and white clover (Trifolium repens) flowers are a common plant of meadows and fields in June that's easy to identify for beginners. As they're nitrogen-fixing legumes, they can be used as a cover crop for rotational farm fields or in pollinator habitats.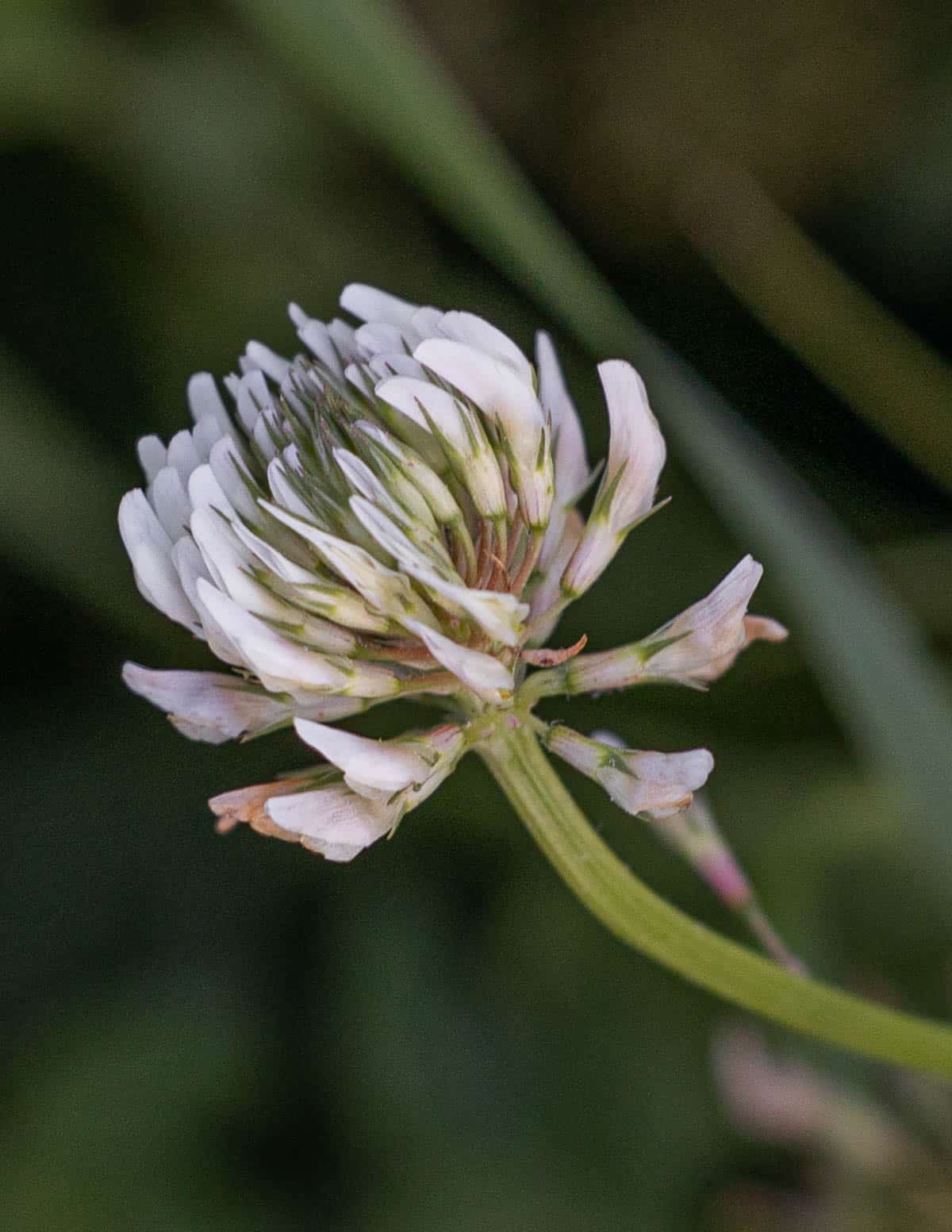 The flowers I find chewy and tough, but they have a good aroma and are great added to a tea blend or used in infusions.
Linden Flowers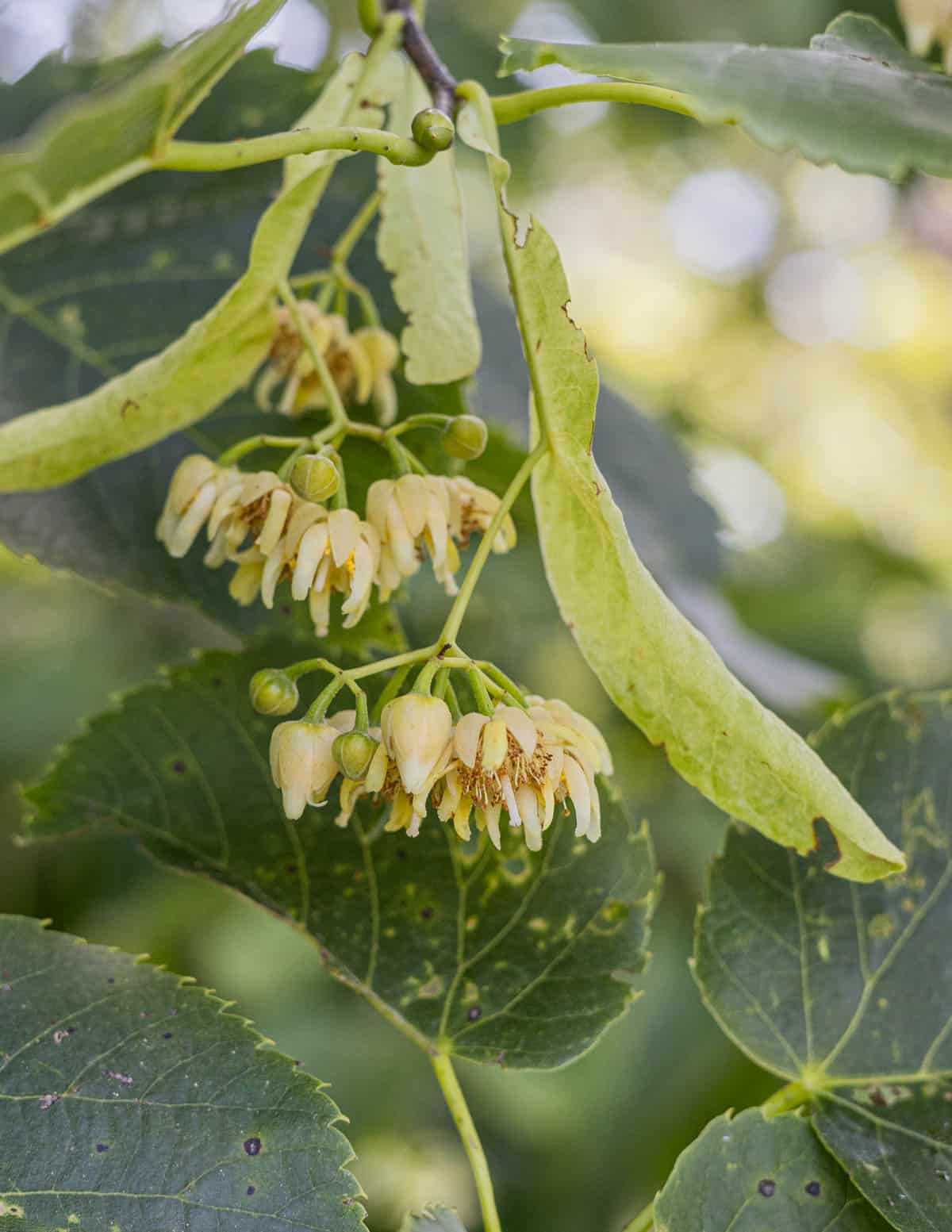 One of the few edible flowers that grow on trees, linden flowers have an incredible aroma I often smell before I see them when they're available in June. While you won't be tossing them in a salad, the flowers can be dried for tea and used to flavor liquors. Chef Jacques Chibois cooks them in a light syrup with fresh cherries.
The seeds are also harvested and roasted, combined with sugar and used to make a "chocolate" substitute. The young leaves of the tree are delicious added to salads when young and translucent.
Elderflowers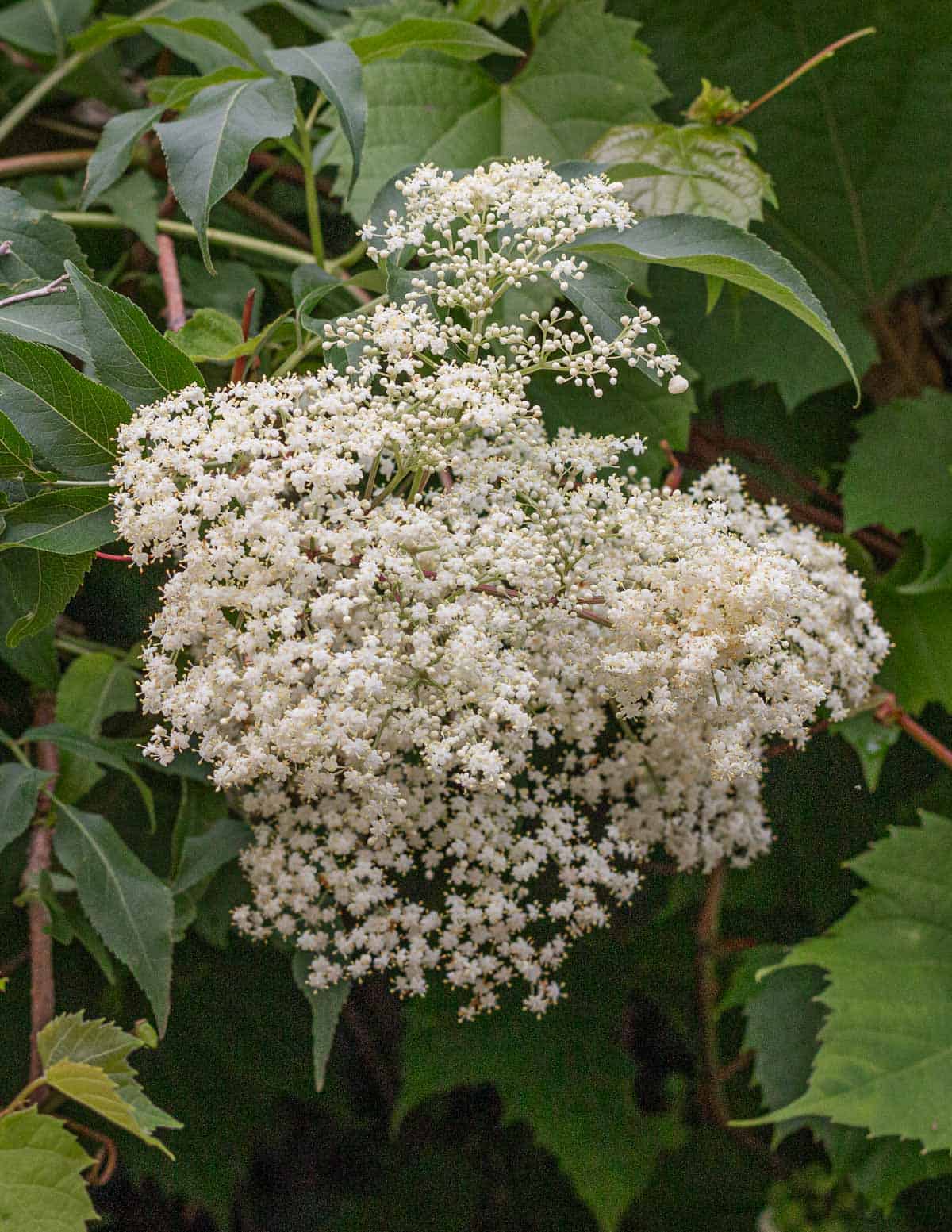 Famous as the main ingredient in the liquor St. Germaine, elderflowers (Sambucus nigra) are well-known in the wild food community. Their aroma I describe as sickeningly sweet.
The flowers can be dried for tea, and used to garnish salads and other dishes fresh, but are mostly used to flavor liquors like elderflower cordial and syrups. Look for them in July in disturbed areas and on the edges of woods.
Meadowsweet
Basically unknown outside of Europe, meadowsweet flowers (Filipendula ulmaria) are incredible and superior to elderflowers in my opinion. The delicate blooms appear in mid-july. A plant in the rose family (Rosaceae) they share the almond flavor that many prunus plants have in their stones and seeds.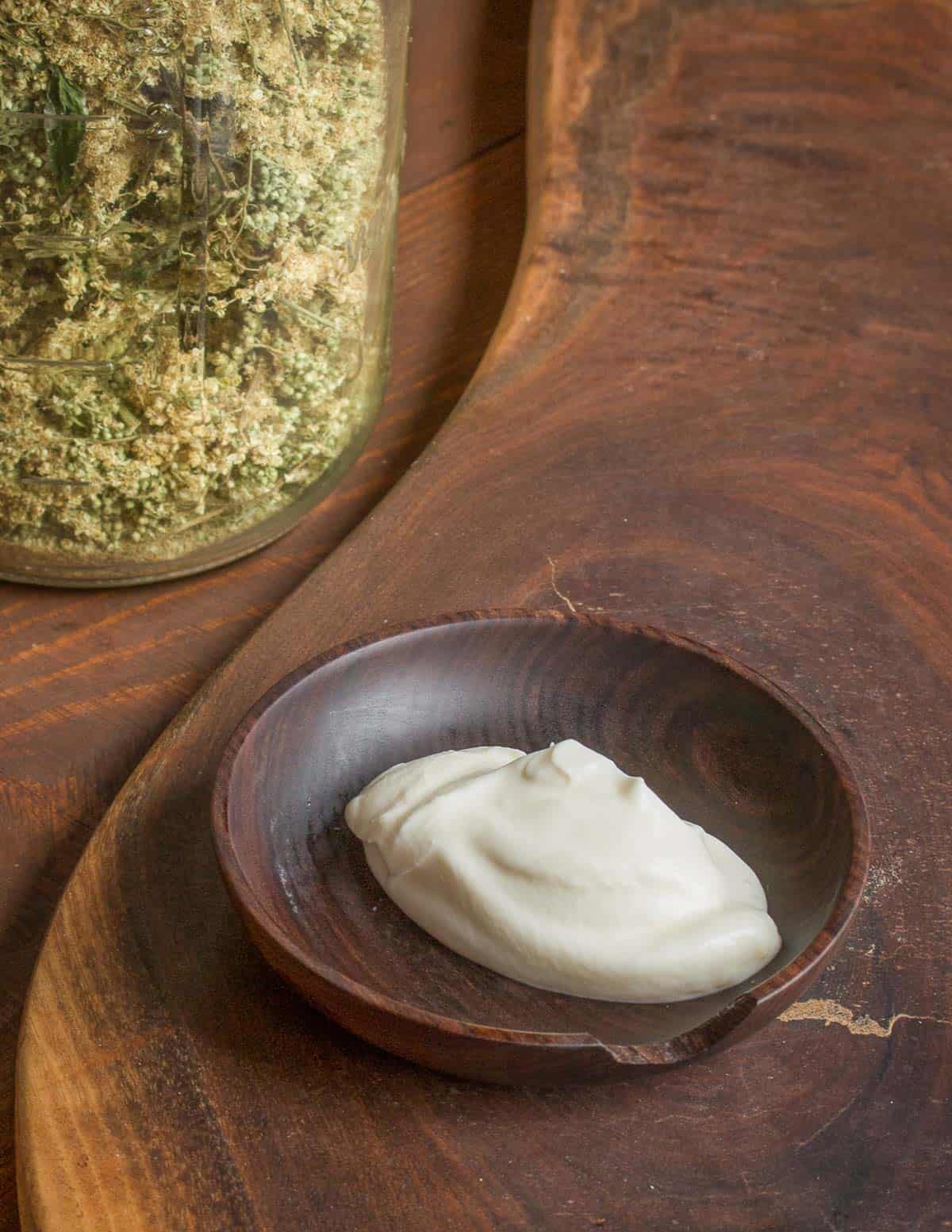 The flowers can be used fresh, but I prefer the concentrated flavor of the dried flowers. They can be used to lend an almond flavor to teas, cream based desserts like panna cotta, whipped cream and creme fraiche.
Comfrey
Mostly known as a medicinal plant that's great for pollinators, comfrey flowers (Symphytum officinale) are one of my all-time favorite edible flowers. A cousin of borage in the Boraginaceae, they're common in gardens, but I also see them escaped growing wild on occasion.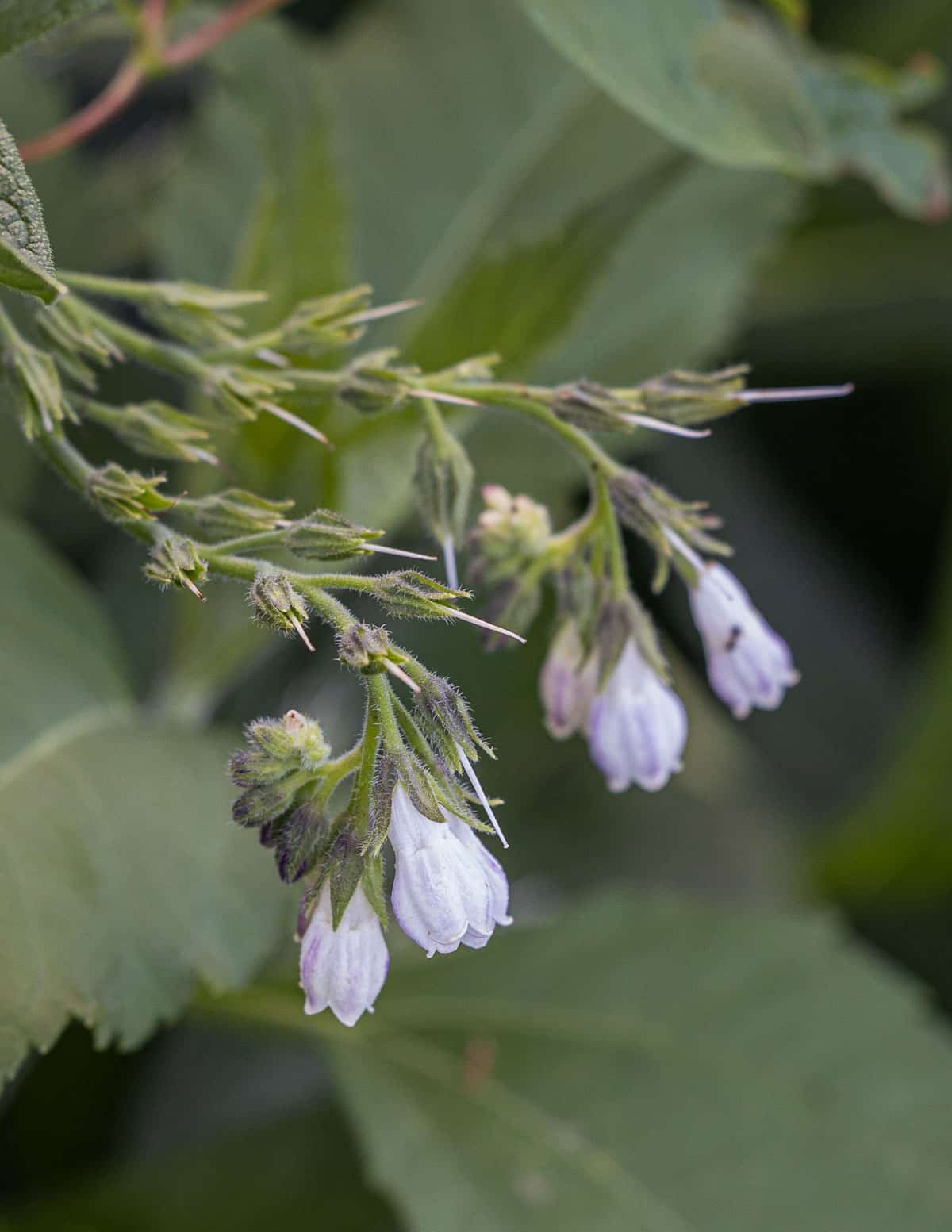 The greens can only be used in small amounts, cooked, and are found in some traditional Italian recipes. The flowers can be sprinkled raw on dishes in small amounts. I love them for their bright purple color and mild flavor reminiscent of cucumber.
Dames Rocket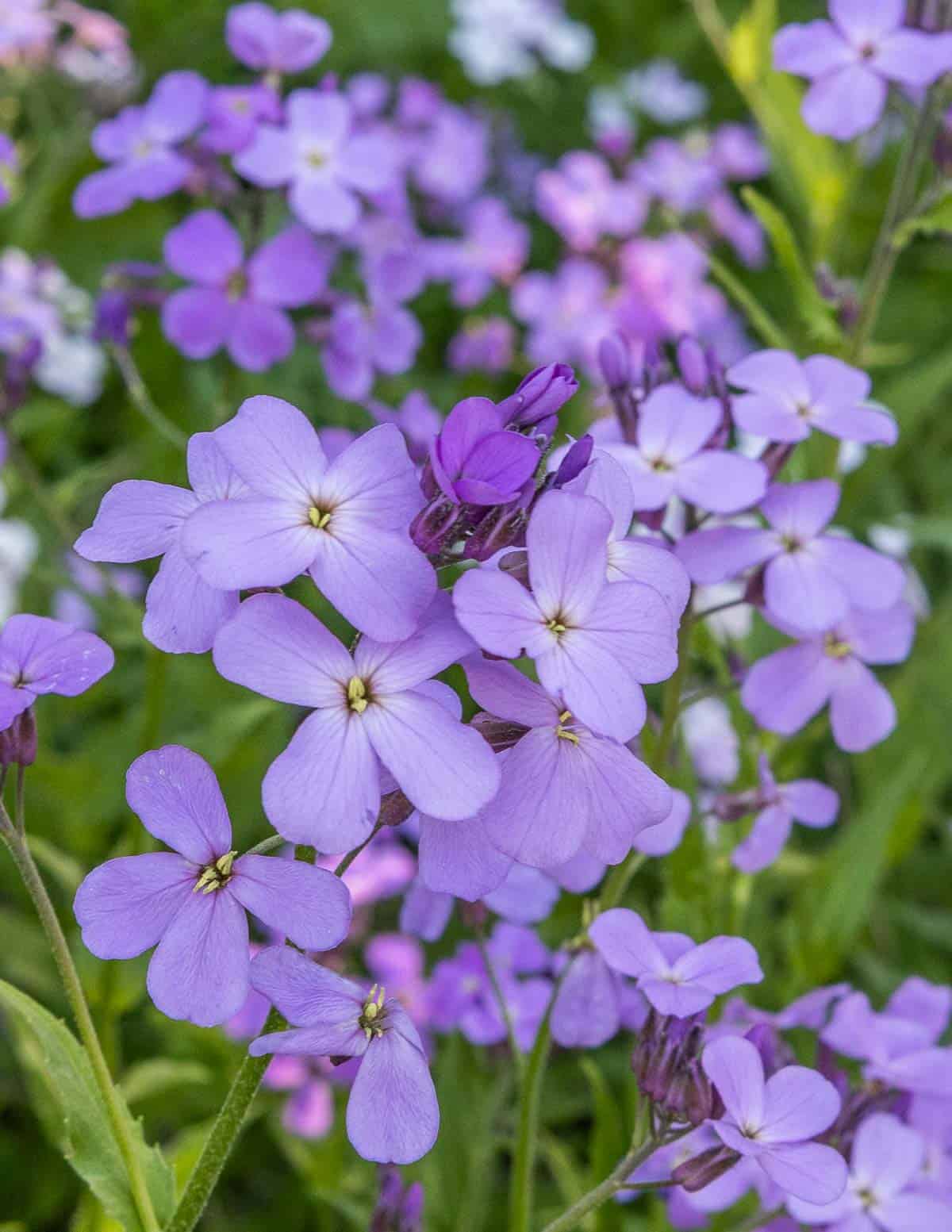 A common invasive plant in the mustard family where I live, dames rocket (Hepseris matronalis) will seem to be everywhere when it's in bloom. The easily identified, four-petaled purple or white flowers stick out like a sore thumb on the side of roads and on the edges of woods.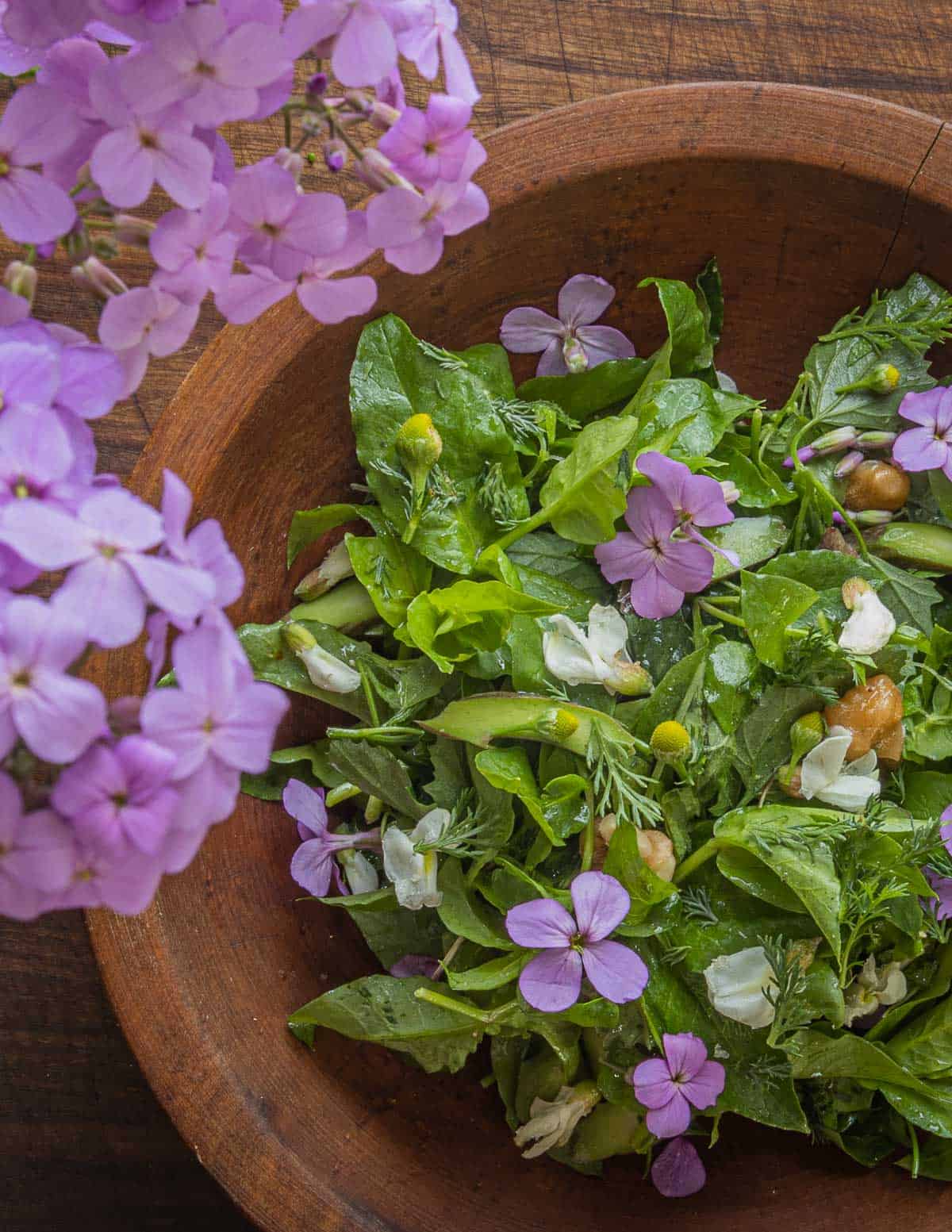 The have a spicy mustard flavor and are great used to garnish savory dishes like salads. Look for them in early June.
Phlox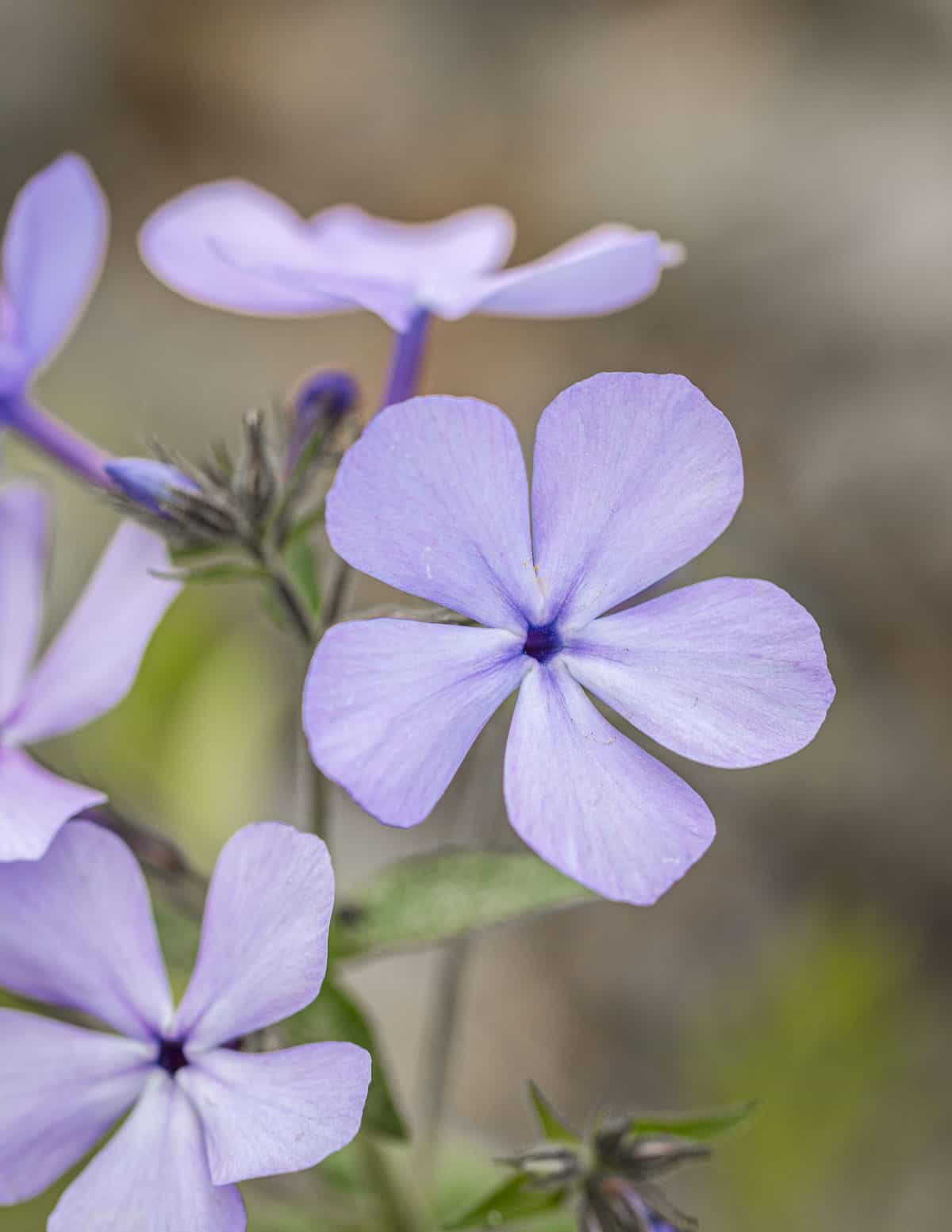 Garden phlox is often confused with dames rocket. Wild phlox (Phlox divaricata) is much shorter and I haven't ever seen plants grow past my knee. The flowers look very similar to dames rocket, but will always have five petals instead of the four dames rocket has.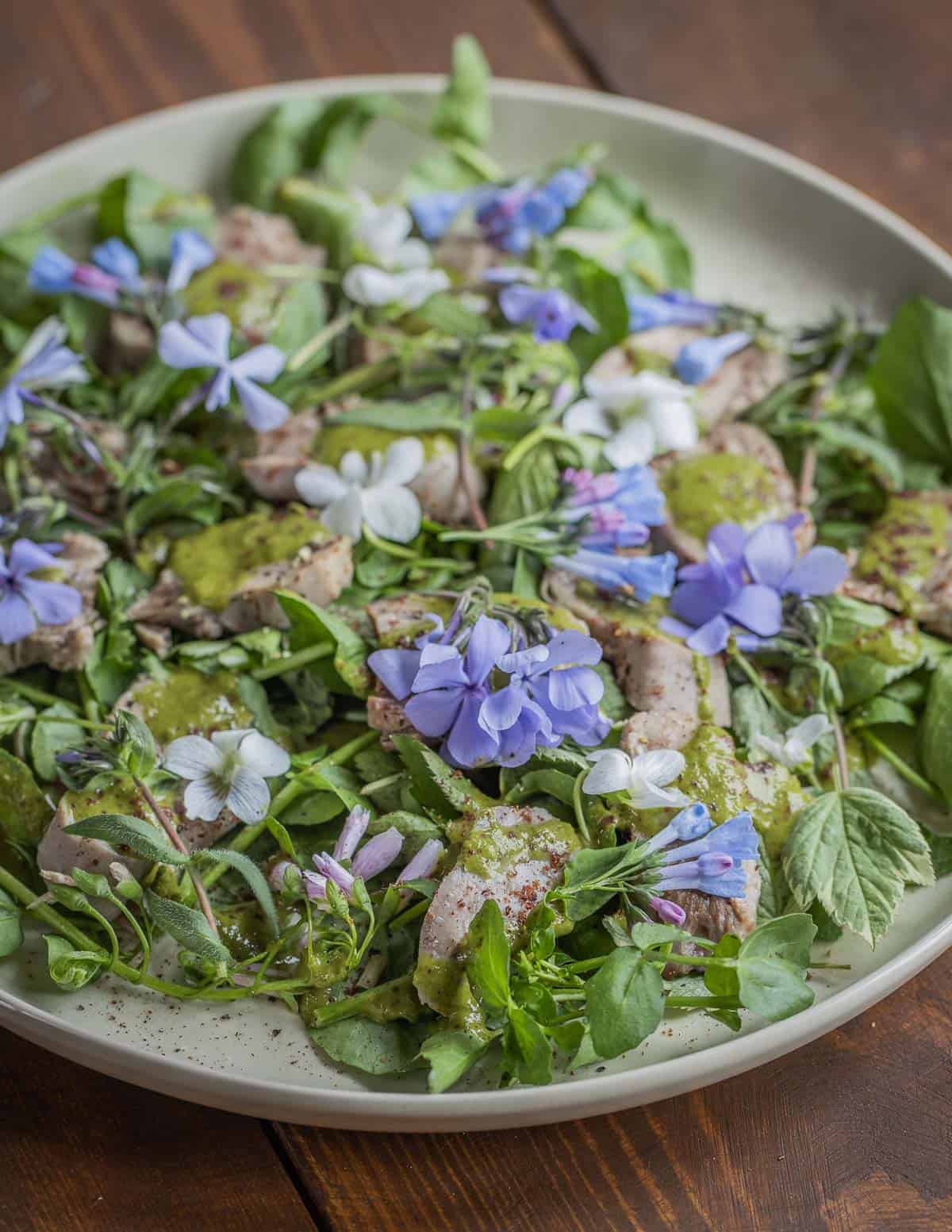 They have a mild flavor and can be used to garnish both sweet and savory dishes. The flowers appear in late June.
Wild Mustard Flowers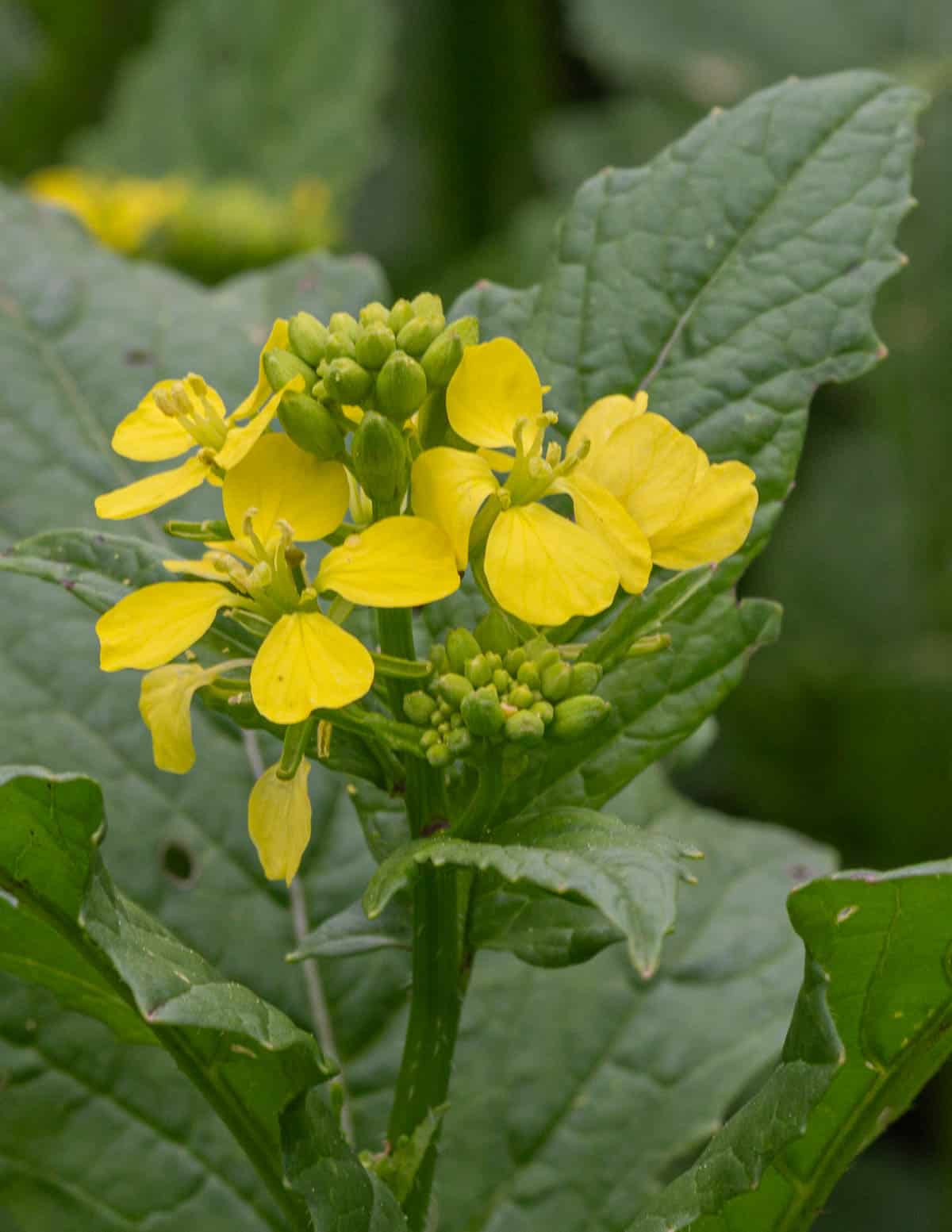 There's a staggering amount of wild mustard varieties available to foragers. All wild mustard flowers are edible, and most of them will be yellow. Like the leaves, mustard flowers will have a slightly spicy taste, with the intensity varying between individual species. The flowers can be gathered in large amounts and pureed with oil and salt to make a mustard substitute.
One of the easiest ways to tell a mustard flower is that the flowers will always have four sepals, located directly across from each other and forming the sign of a crucifix, which is where the name crucifer comes from.
Vetch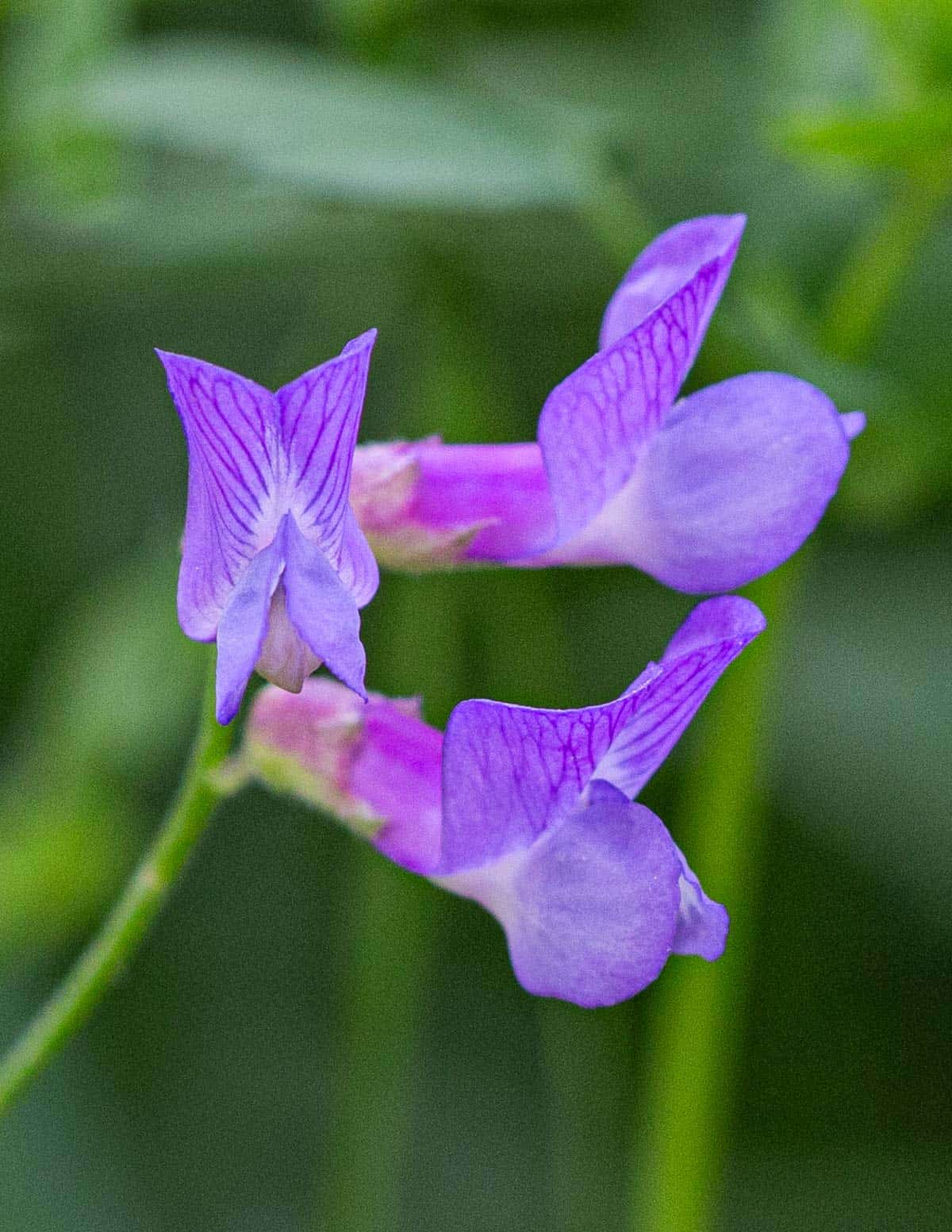 A native leguminous vine, vetch (Vicia americana) is relatively unknown in the foraging community, but the flowers and young tips can make a good addition to salads. It's a relative of peas, so the flowers resemble pea flowers.
Look for them in July. While some may say that this plant is poisonous, that opinion is probably caused by conflating livestock poisoning with humans. There will be no issues with this plant unless you eat, say, 5 lbs, or a cow-sized serving.
Beach Pea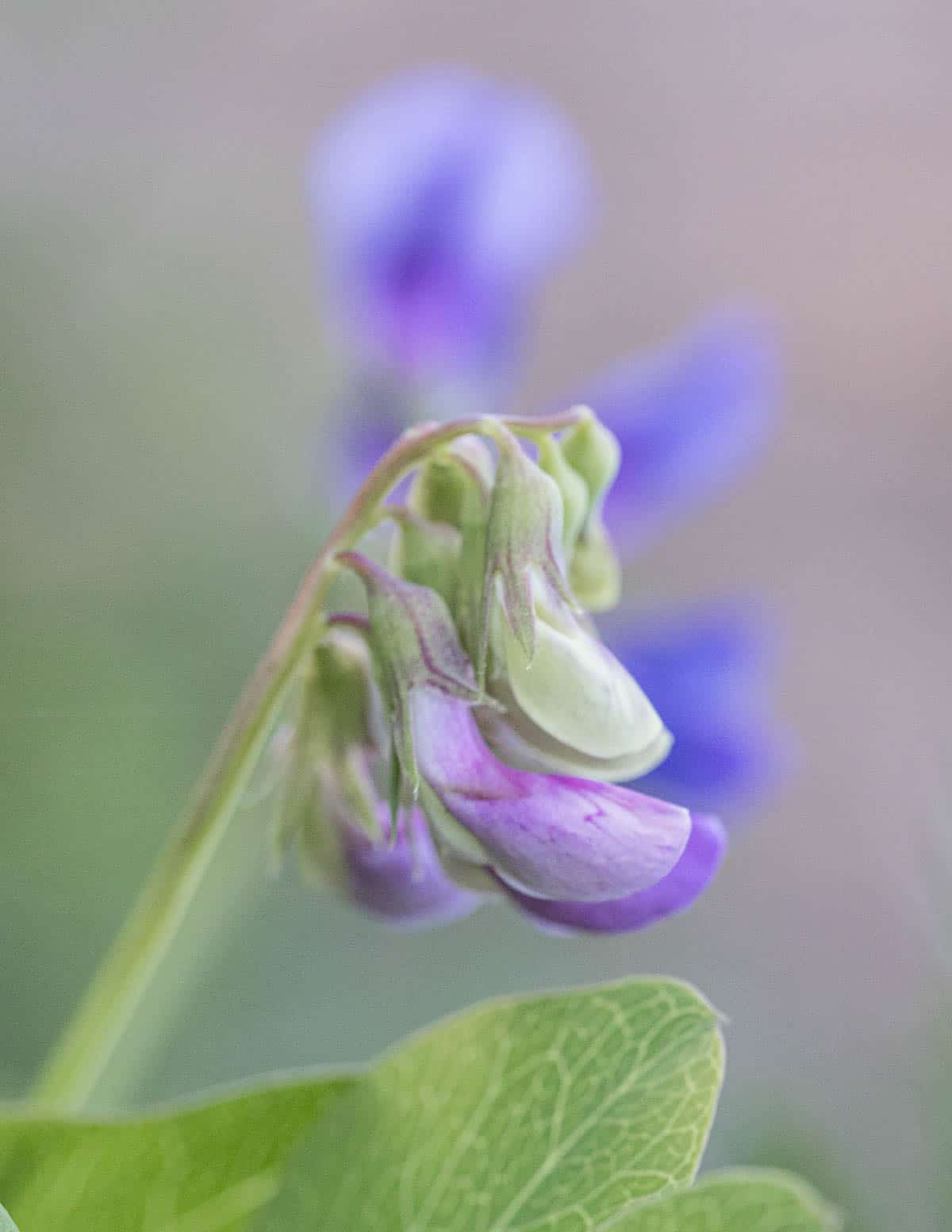 Another low-growing leguminous plant, beach peas (Lathyrus japonicus), as their name implies, like sandy soil near water. I see them mostly on the South and North Shore of Lake Superior.
They're similar to vetch in taste and form, but are larger and give you more bang for your buck. As a bonus, the plant also makes pods that house very small peas that can make a nice trail snack. The flowers appear in late July.
Purple Prairie Clover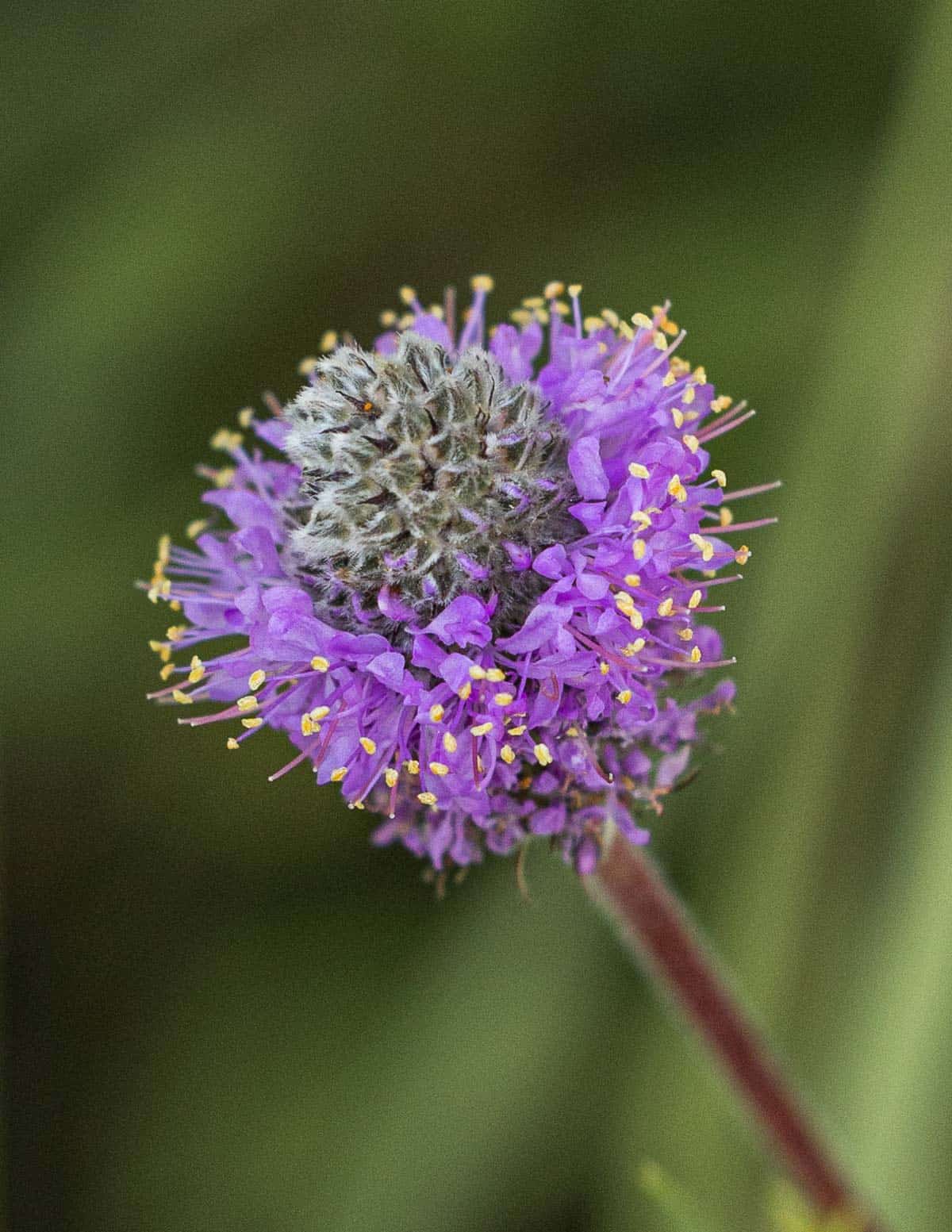 Most foragers who know it will agree purple prairie clover (Dalea purpurea) is the most delicious least well-known of the edible clovers. The gently fruity aroma has notes of orange peel and ripe fruit.
Like its cousins, it can be dried and makes excellent tea and drinks. Strip the leaves from the stem and dry with the flowers. The flowers appear in July.
Pinneapple Weed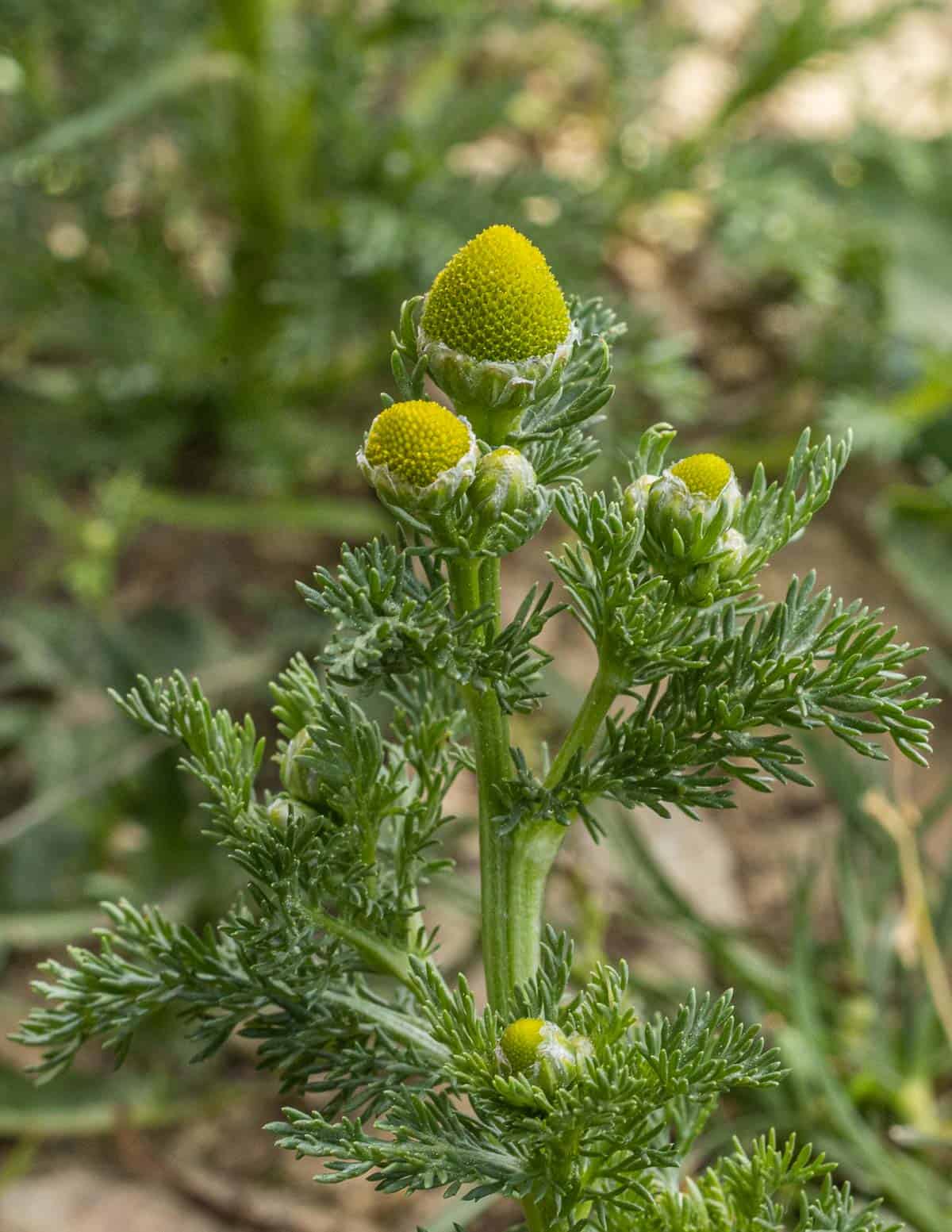 A common sight in the compacted soil of gravel driveways and parking lots, pineapple weed (Matricaria discoidea) has a taste and aroma reminiscent of pineapple. Some refer to the plant as "wild chamomille" which is technically incorrect, although both plants are interchangeable in recipes.
The small cone-shaped flowers are delicious eaten raw in salads or in relishes and quick herb salads for fish. Like chamomille, it can be used fresh or dried, or used to infuse alcohols and syrups. It makes excellent iced tea.
Wood Sorrel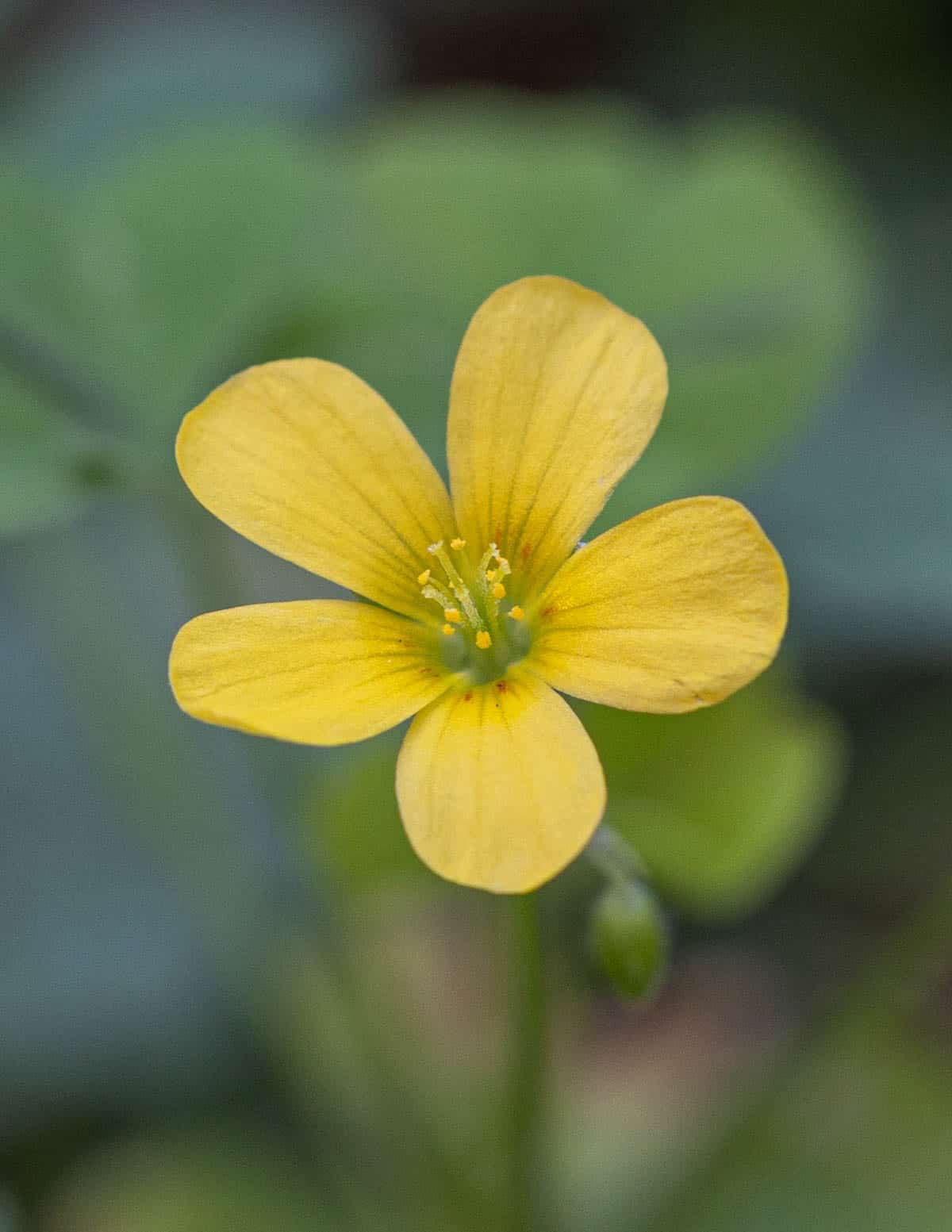 Wood sorrel (Oxalis spp) may be small, but the flowers can be a nice addition to salads and cold dishes. Just like the greens, they have a slightly sour taste, but are mostly for looks.
Smaller plants will make tiny flowers that are hardly worth harvesting, but larger plants will make larger flowers. Look around for the largest plants you can find. I like to roughly chop it or add it by the handful to dishes like soups and the mushroom salad pictured below.